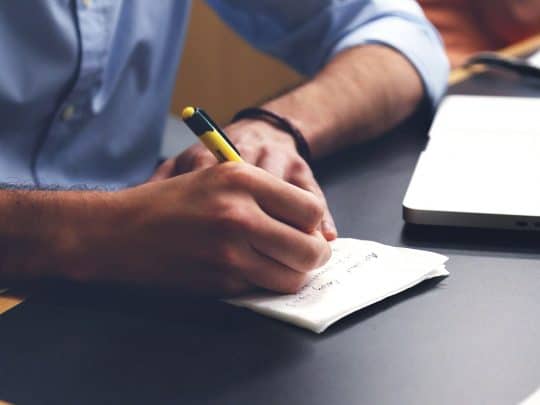 If you want to start with content marketing, you have the best ideas.
You have the best ideas. You think that you can let off steam and get creative.
You can see how your content is going viral and loved. You dream of creating the largest content hub in your industry that is respected and even a little idolized.
Everything is super. Everything is rosy. So you just get started. You start without a strategy. And without a plan.
And what happens? Nothing. The success is missing.
Why? Precisely: lack of planning. All of this is just not so well thought out.
I understand you all too well. I am a big fan of "hands-on" and "just do it". But you have to plan! At least a bit.
Therefore, create a simple content strategy. And then a simple content plan. We will now discuss in detail how the latter works.
But one by one.
What is a content plan?
A content plan is similar to a project plan. There you define activities, milestones, and dates.
In principle, you do precisely the same thing with content planning, only about content marketing.
With your content strategy, you first determine the rough direction you want to go. You answer the following questions:
Where do you want to go
Why do you want to go there
How do you want to get there roughly?
In your content plan, on the other hand, you describe the exact things you want to do to make your strategy come true. Your questions become more detailed:
What exactly do you want to do?
How exactly do you want to do it?
When exactly do you want to do it?
So it's the tactical plan you want to go to. So it's far more than a simple editorial policy.
Why is a content plan so important?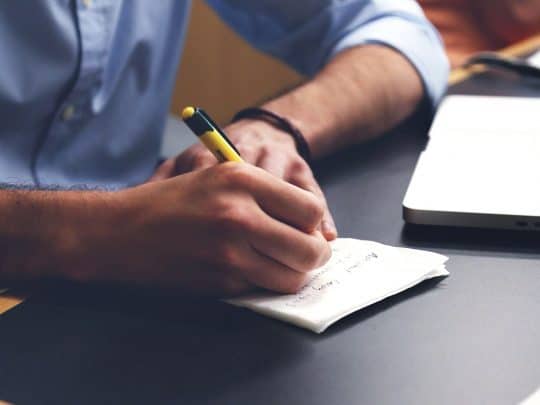 Benjamin Franklin once said: "By making mistakes in preparation, you are preparing for the mistake."
And if you don't prepare at all, it can only be a mistake. Then how can you win at all?
With proper content planning, you simply increase your likelihood of success.
If you want to go on vacation and have no plan at all where, how, and when you want to go there, how do you ever want to get there?
A content plan clarifies the path you need to take to make your content strategy a reality.
So you save time that you would otherwise waste by going the wrong way. This makes everything more efficient, effective, and targeted.
If you then document the whole thing, i.e., write it down, you double your chance. Because 60% of companies that have a documented content strategy feel effective, 39% only have a verbal plan.
It's really like this: A solid strategy and a solid plan distinguish good from great content hubs.
Step 1: set your content goal.
Think about precisely what you want to achieve with your content plan. What is your goal? Why do you want to do content marketing at all?
You usually have the following options to choose from:
Awareness – You want more people to know your brand, company, or you.
Visitors – You want more traffic on your website.
Contacts – You want more leads or more subscribers.
Customers – you simply want more customers. (We all want that!)
Customer Loyalty – You want your customers to stay longer, buy more and more.
Unique selling point – you want to set yourself apart from your competitors through content.
Authority – You want to position yourself as a thought leader and expert in your industry.
We mostly want to achieve all the points. Nevertheless, you should commit to one goal, if possible – The One Thing.
Then you align everything towards this goal. You make sure that you achieve the goal or that the key figures go up.
You are speaking of critical figures. Also, think about how you want to measure your goal. If it is known, it will not be that easy. You can measure the rest with Google Analytics or Matomo.
For example, we only focus on our subscribers. As long as they grow, everything else becomes (shares, registrations, sales, etc.). So we don't think "in leads," but "in the audience." Our goal is to build a growing audience.
For example :
Step 2: Choose a content medium (and a content hub)
The next step is about your content medium, which in turn determines your content hub.
You have the following options to choose from:
Text – Create an excellent blog.
Audio – Create a podcast (which should technically also be on a blog).
Video – Create a video channel (which should also be technically in a blog).
Image – Create infographics (which should also be technically in a blog).
Course – Create a free member area.
Print – Create a magazine or book (technically, you would need at least one landing page for that ).
I observe some who want to serve all media at once. So a great blog, a great podcast, and a great video channel. Everything at the same time. And then best of all, a print book afterward! Good luck!
Therefore, you should always concentrate on one medium at a time. You have to master one medium before you can start with the other.
Also, you may not like every medium. Or not every medium fits your company and your customers. And that's okay too.
At the moment we are only focusing on text, for example (although I am so keen on podcasting again). We want to keep this focus for some time. At the same time, I'm writing a print book.
Example:
Step 3: Choose your content formats
Now you are considering which content formats you want to use. The forms are related to the choice of your content medium (and content hub).
You have the following formats to choose from:
items
Podcast episode
Video
Infographic
Webinar
PDF (e-book, white paper, etc.)
Print book
Print magazine
Photo / graphic / sketch note
Slides / Slideshare
You can also focus on e-mail and create a pure e-mail newsletter, such as The Hustle or MorningBrew.
However, I would not commit myself so strictly here. For example, if you usually create blog articles but have the idea for an infographic, you should also cut out the infographic.
Of course, you can also combine the formats, for example, insert slideshares in your blog article.
But in the end, this is also about the focus:
Therefore choose as few formats as possible.
Also, don't just choose a format because it's hot right now (it might even be smarter to choose the opposite). Choose the sizes that suit your company, your customers, and you.
For example, I would like to see infographics and podcast episodes again. But until I muddle in there, it's quicker and more efficient just to write a blog article.
Example:
Step 4: determine your content mix.
A solid content mix rounds off your content marketing. It ensures that everyone is happy and that you get the most out of it.
To determine your content mix, you should know the different properties that make up your content.
Let's take a closer look:
News content – current content.
Entertainment content – only entertaining content.
Evergreen Content – Useful, timeless content.
Think about what kind of content you want to create. I always recommend Evergreen Content because it is the most efficient in the long run. The other two can also work.
Search content – content that is found in the search results.
Viral content – content that spreads virally via social media.
Think about whether you want to focus on the search engine or virality. Back then, with the monkey blog, for example, there were no searches. So I only focused on viral content.
Quality content is of high quality (e.g., a blog article with 1,000 words).
High-Quality Content – content that is of very high quality (e.g., a blog article with 2,000 words).
Skyscraper content is very long and of very high quality (e.g., a guide with 10,000 words).
Determine how deep you want to go in your content creation. This is a crucial unique selling point.
Company content – content that revolves around your company.
Personal content – content that revolves around you.
Influencer content – content that revolves around influencers in your industry.
Opinion content – content that has a clear opinion and divides the camp.
Heart content – content that is close to your heart, and that simply need to be said.
Community content – content that comes from your community.
These points already go in the direction of content ideas. But you must think about it. These are all essential qualities that you should address and should not forget.
Guest Content – Content created by guests.
Sales content – content that revolves around selling your products or services.
Finally, determine whether you want guest posts and guest appearances as well as sales-oriented content at all.
You can now make individual pieces of content from these content properties (e.g., "The ten best marketing experts"), or you can weave them in again and again if it fits (e.g., you mention the ten marketing experts in 10 different articles).
But I wouldn't be super strict here either. If you don't usually create skyscraper content, but suddenly have the idea for it, go for it!
Example:
Evergreen content only
Focus on search content
Quality (+ a bit of high quality)
Integrate Company + Personal + Influencer + Sales
Guest content (if it fits)
Step 5: Choose your content frequency.
In this step, you determine how regularly you want to publish content.
You simply answer the following three questions:
How many times a day/month/year do you want to publish?
On what day of the week you want to post?
How much are you want to publish?
Make sure that you plan enough time. Instead, publish less, but correct and in good quality. As a rule, you also have to deal with day-to-day business.
In general, regularity is essential. This is how you demonstrate that you are reliable. This is the only way to build a stable relationship of trust with your potential customer.
Example:
2 times / month
on Monday
8:00 a.m.
Step 6: create your content calendar.
Your content calendar is your editorial plan . It shows how your content marketing looks from a bird's eye view over a specified period.
You can map it analog (e.g., as a calendar on the wall), digital (e.g., as a Google spreadsheet ), or as an app (e.g., with Trello ).
When creating a content calendar, pay attention to the following columns, which should be there:
Headline – What is the preliminary headline?
Tags – Which tags, topics, or categories can you assign?
Author – who is the author of the content?
Date – When should the material be published?
Status – Is it still in the idea or draft stage, or has it already been published?
In theory, you can even omit the date. You have already set the content frequency. Then you would just knock the part out once it's done. But a specific time ensures that you also comply with the publication.
After you have created a structure for your editorial plan, you have to fill it out.
Plan only 3 to 6 months. Things just change too quickly today; you have to be able to react to them. Therefore, also plan a buffer. It always takes longer than you think. And you can then respond quickly to trends.
Example: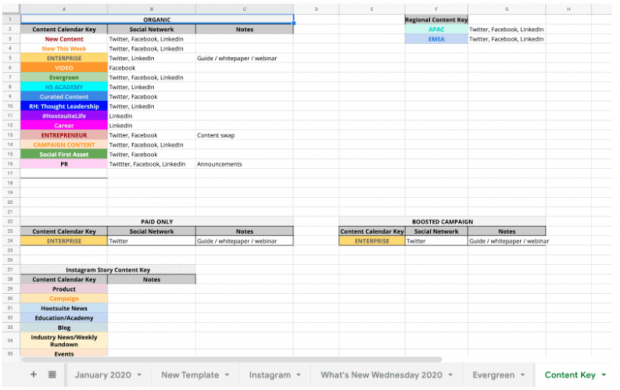 Step 7: define your content guidelines.
Finally, we set a few rules. These ensure that you, your team, and your external content creators (e.g., freelancers and guest authors) produce a uniform appearance.
There are no rules on how to set up such a set of rules. But here are some points that you should consider:
General
Length – How long should your content be? (eg "at least 1,000 words")
Art – How should your content be? (e.g., "profound, detailed and concrete")
Salutation – Duzen: How should the "d" be written?
Spelling
Brand names – Are there any special features about your brand name? (e.g. "monkey blog" – the "a" was always small)
Terms – How do you write English terms, like German-English terms? (e.g. "content marketing" – i.e., without a hyphen, but "content creation" – with a hyphen)
Numbers – spelled out or as a number? (eg "6 months")
Percent – written out or as a sign? A space in between? (e.g. "7%")
Area – What about "from-to"? Spelled out or as a sign? Also, a space in between? (eg "10 – 20")
Bullet points – what needs to be considered? Do they have a period in the end?
miscellaneous
Formatting – How do you want to emphasize things? Bold or italic?
Links – How to link? As short as possible or whole groups of words?
Abbreviations – Is there something to be considered here? Do you want to use any at all?
Emojis – is there anything to consider here? Do you want to use any at all?
GIFs – Is there anything to consider here? Do you want to use any at all?
Response times – How quickly should a comment be answered?
Wordlist
Finally, you maintain a list of words with words that everyone writes differently and thus define a uniform spelling (e.g., "e-book").
Your content guidelines are a living document. So if you stumble across something (such as a new word for your word list), add it.
Example: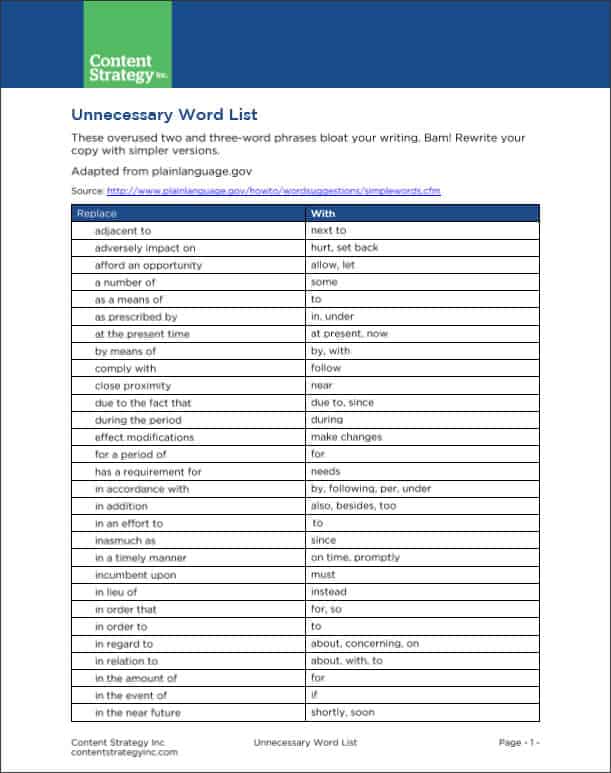 Conclusion
As I said, I always start with one thing immediately. But so that your dreams and ideas do not burst, you should first create a content strategy and then a content plan.
It can be effortless. You can do that in my head too. The main thing is that you think about it and don't just get started. Then I would be happy!
Currently, our content marketing finally feels good! A bit of strategy and planning has never hurt anyone!