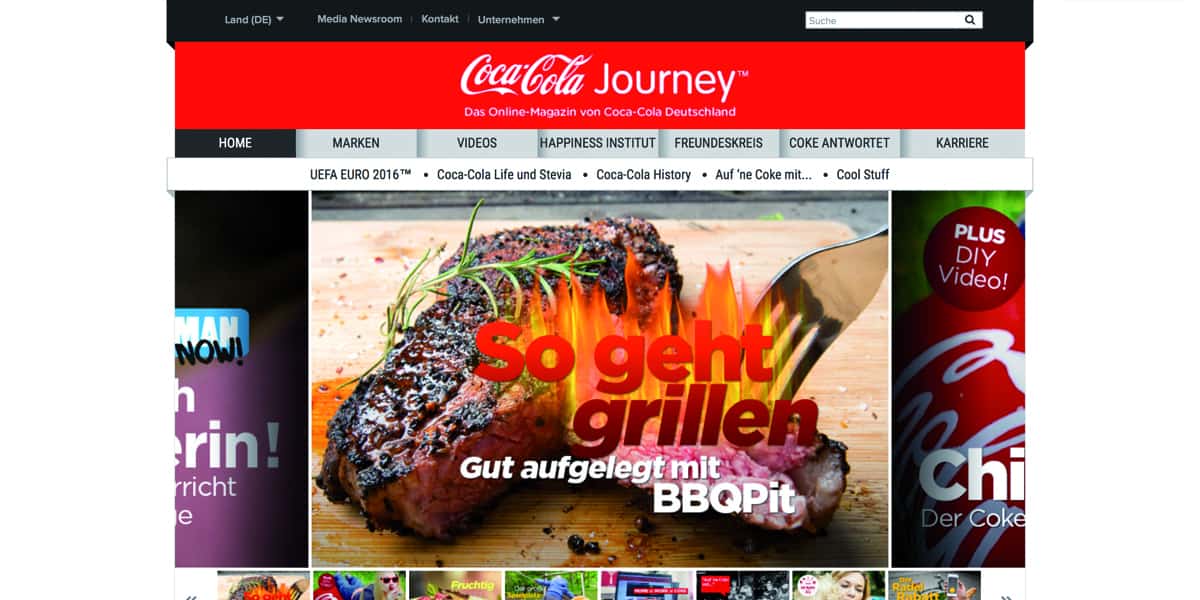 Many small companies, solo entrepreneurs, and startups do not yet have inbound marketing.
Unfortunately, too many still have a static brochure website that tells a little about the company.
Some go a step further and use a corporate blog, as studies show that blogging companies generate more visitors, leads, and sales.
But success often falls short of expectations.
Why? Because many companies see it as a pure social media channel. There the employees' successes are celebrated diligently, or any awards are put on display.
All well and good. But if you want to win customers with it, you have to do some things differently.
Because of the digital change, the virtual landscape and buying behavior has changed in recent years. Multimedia formats such as e-books, infographics, and webinars were added, which are much more efficient than plain text.
These formats now also need a home.
What is a content hub?
First of all, we have to accept that blogging has grown up. Blogs (or content) are a central component of online marketing.
If you look at the different definitions of content hubs, you will quickly notice that you disagree. We define it as follows:
A content hub is the home of your content. It is the place where your content rests.
That is why a blog is a content hub. But only partially. A content hub is more significant than a blog but smaller than a website.
A real content hub focuses on the questions, problems, wishes, and needs of the customer. He answers or solves them in the perfect and most efficient format. This is sometimes a blog article, sometimes an infographic, sometimes a white paper, or sometimes a webinar.
Some people love to read a text in peace. Others like to listen to a podcast during a long drive. Others need videos because otherwise, they get bored quickly. Some even need all three types of media, depending on the situation.
A content hub offers your customers what they need and adapts perfectly to their customer journey.
That's why you don't have to say "blog." Some also call it "Portal," "Resources," "Learning Center," or "Knowledge Center."
Do you even need a content hub?
Let's say that your blog articles live on your blog, your videos on your YouTube channel, and your white papers are in PDF format on the server.
Instead of drawing your customers' attention directly to them, you direct them to a central hub where you can ensure a consistent customer experience.
In this way, you don't necessarily force your visitor on your content by date or content format. B. sort by topic or persona and make it easier for him to find relevant content.
The thing is, you always need some kind of base, a control center, a central warehouse.
Focusing and centralization are always efficient.
If you don't have a content hub, where should all of your marketing activities come together? On your brochure website? That would be okay, but not the maximum.
Because where would your potential customers get further information to help them make their purchase decision? Where would he be actively accompanied until he became a customer?
In principle, you have to imagine this integrated approach as follows: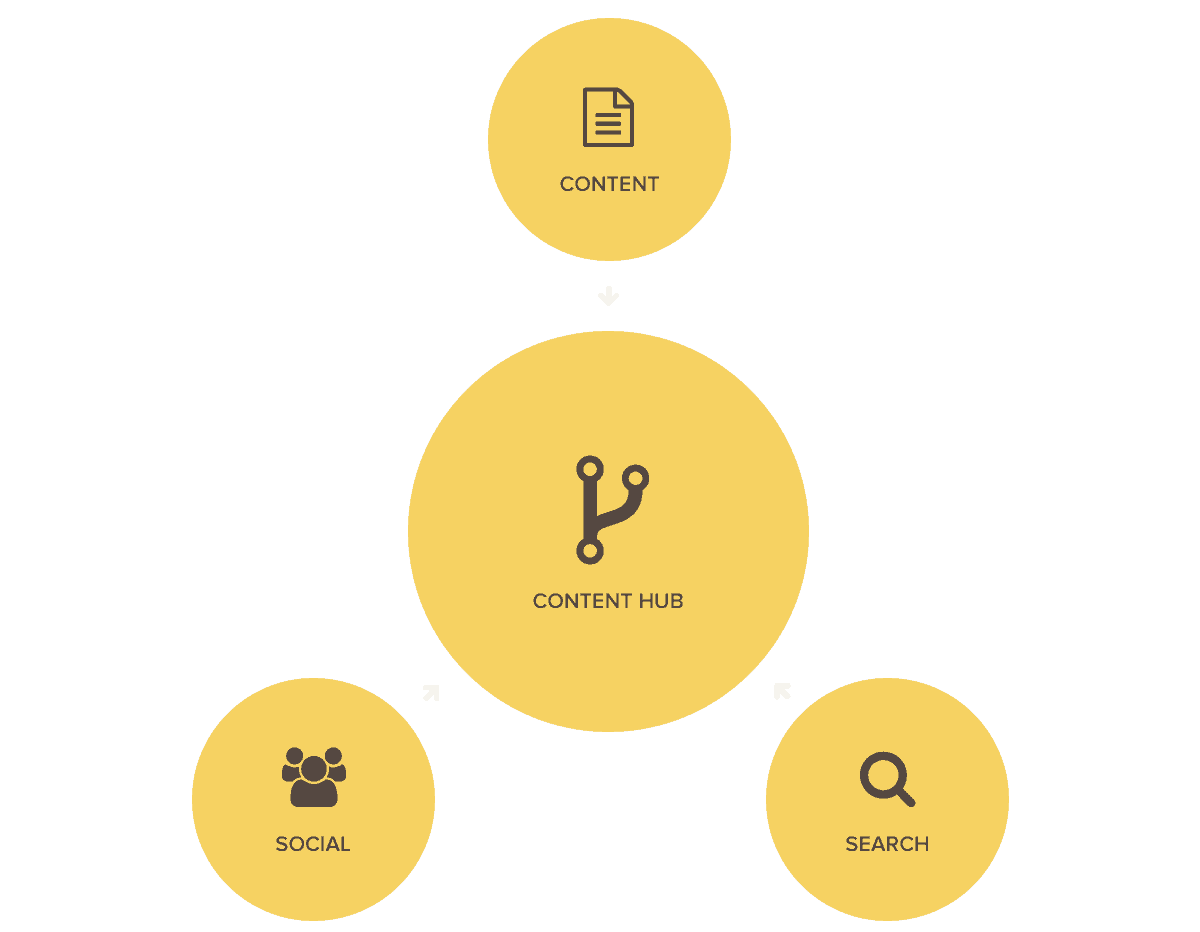 Social and search are only distribution channels that promote your content and slowly transfer your potential customers to your content hub.
Also, content on social media has a short lifespan, and you cannot control these platforms. Your content hub, on the other hand, is a safe place where your content can always be found and accessed quickly and easily.
A single source of truth.
Six advantages of a content hub
If you're still not convinced, let's take a look at the specific benefits that Scoop.it has put together in their white paper :
Authority – If you regularly publish high-quality content in one central location under one brand, you will be increasingly perceived as an authority.
Reach – The more high-quality content is in a central location, the more likely it is to be viral and ranked higher in the search engine.
Commitment – If you put "cold metrics" on, you won't get far. Content hubs put people and interaction as well as dialogue with him in the foreground.
Control – Foreign platforms and networks are continually changing. With your content hub, you have control over the entire customer experience.
Leads – Your content hub attracts many potential customers, whose contact details you should ask for to convert them to leads and later to customers.
Insights – Since there are a lot of people on your content hub and exchange ideas with your company and with each other, there is a lot of insights and data. That's why you know correctly which message works and which doesn't.
The bottom line is, as always, about trust. People like to buy from people, not from faceless companies. Therefore, you should first deliver high-quality content before you take anything and promote dialogue with your visitors, customers, and fans.
Ten examples of a content hub
This article would not be complete if I didn't have a few good examples:
1st American Express OPEN Forum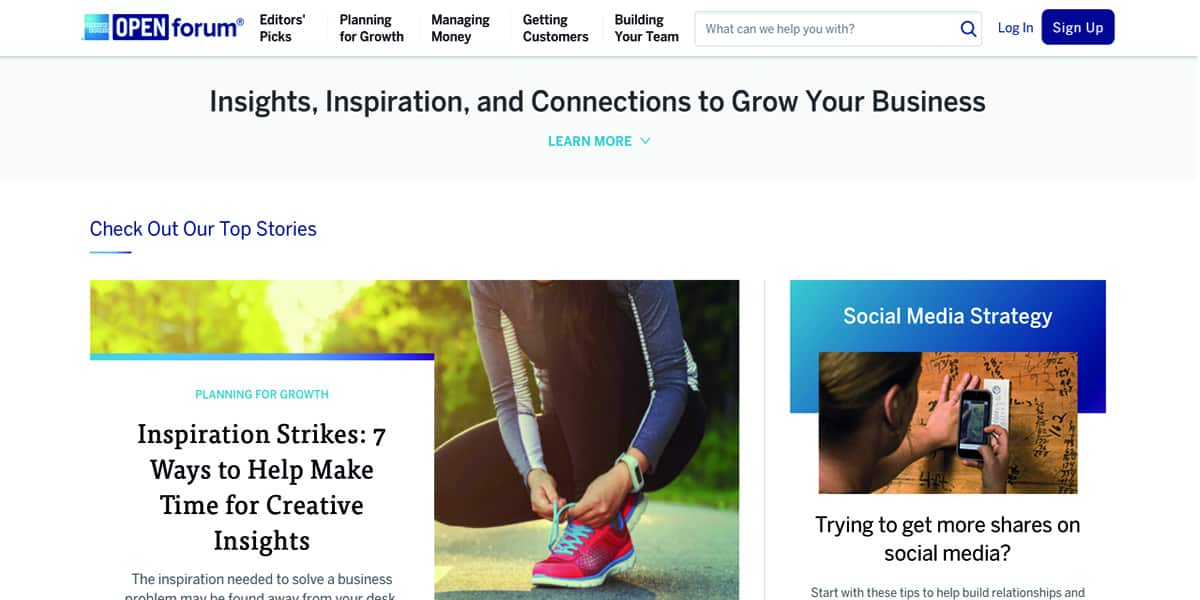 American Express' OPEN Forum is often rightly named as a pioneer and showcase. The hub has existed since 2007 and provides small companies with helpful tips for growing their business. It is interesting here that the content hub has its brand name, but runs over the main domain. As a result, the central area is strengthened correctly from an SEO perspective.
2. Think with Google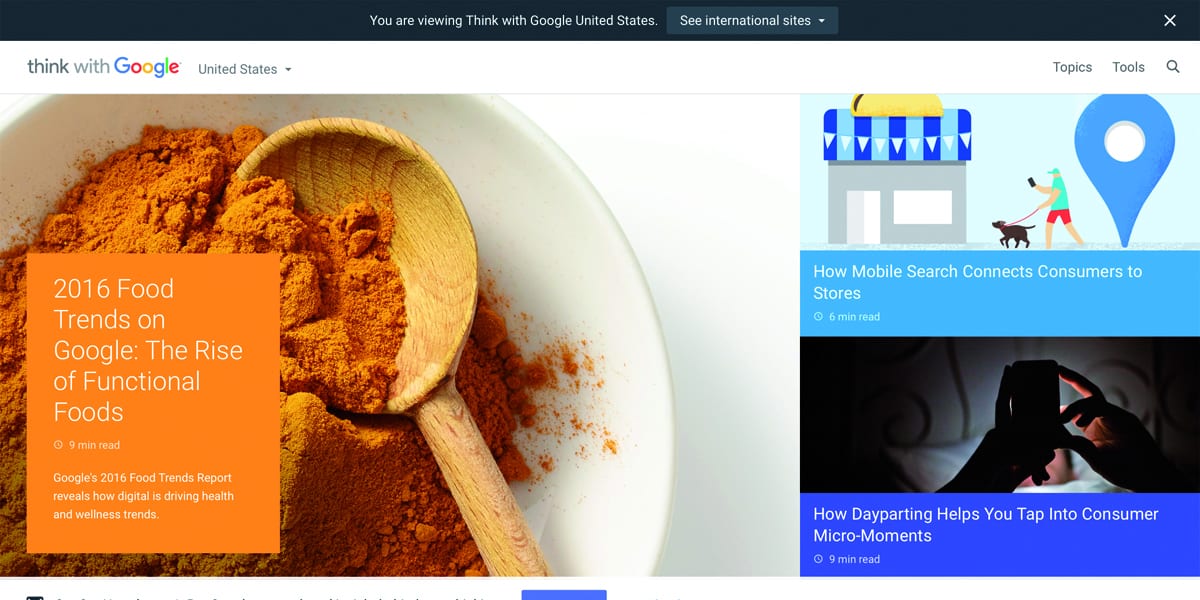 Of course, the search engine giant also has a content hub where you can find interesting statistics. Google strengthens its reputation by sharing data that the company collects anyway. This is something I love about content marketing: You can simply pack the knowledge or information that you have a little bit anyway and use it for marketing.
3. CMO by Adobe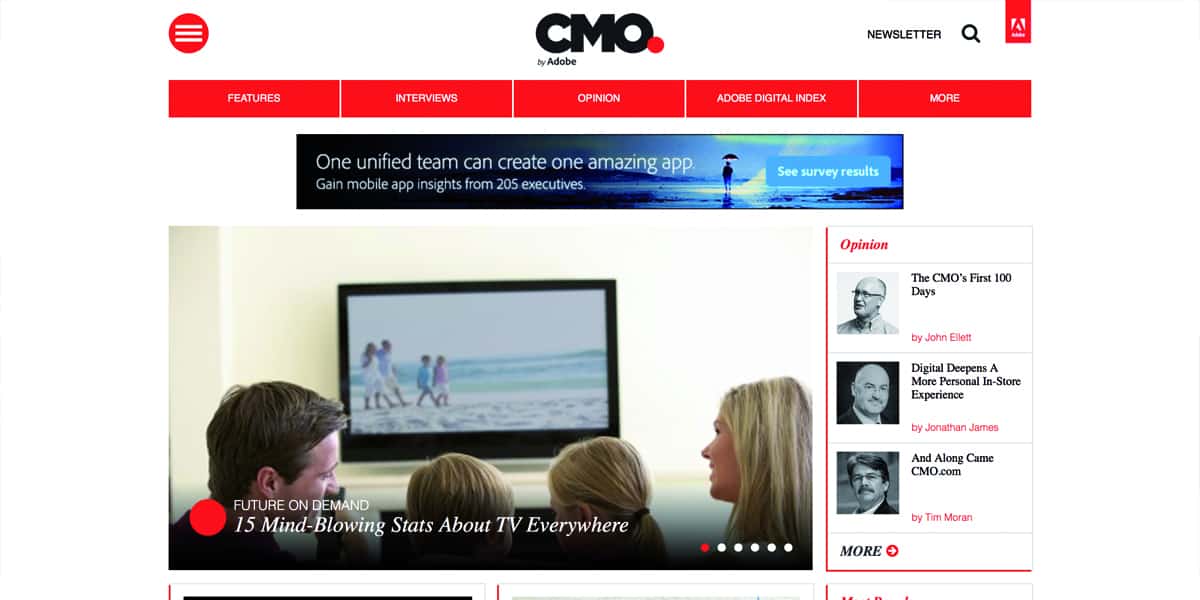 At first glance, this example looks more like a classic magazine or an established blog. Adobe delivers good content that the audience is looking for. Without hype and many frills. This ensures strong customer loyalty. And as luck would have it, Adobe offers a marketing solution for this target group!
4. Content Loop (Powered by Capgemini)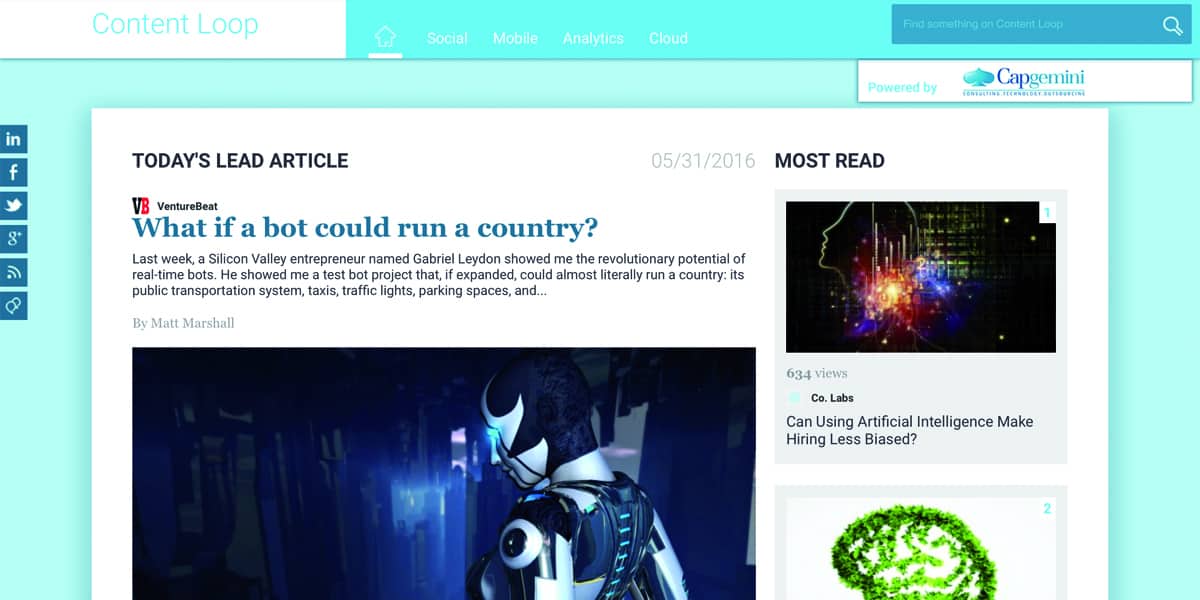 The consulting and IT service company also has a content hub with its brand name at the start. It is interesting here that they have chosen a middle ground. A separate brand name was selected for the center, but the visual branding was retained.
5. Oracle Modern Marketing Blog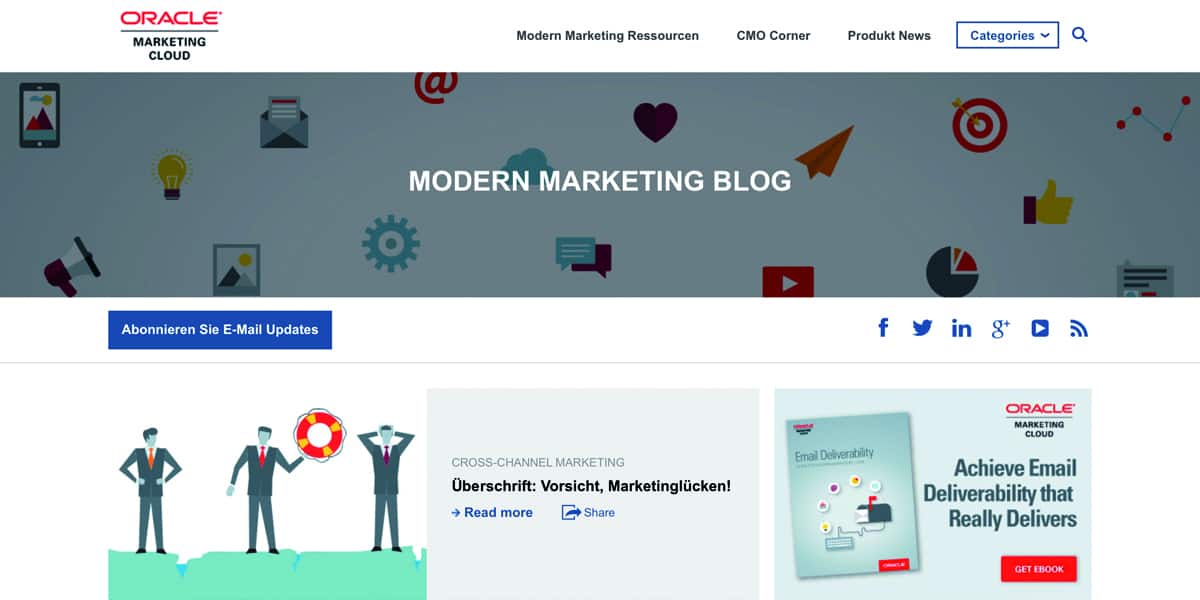 The software and hardware giant has a blog for its marketing cloud, where there is helpful content on the topic of marketing. I took it as an example because it looks similar to an established blog in terms of positioning and appearance.
6. Canva Design School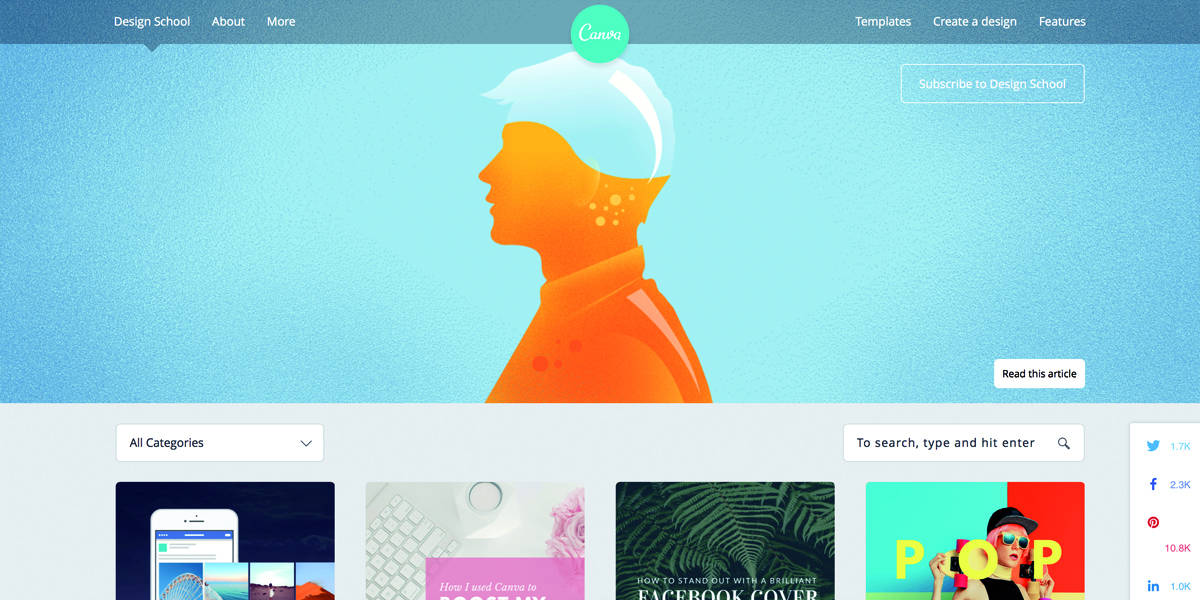 It makes a lot of sense for the design startup to use its strengths. Here beginners can learn to design, and experienced designers can perfect their skills. The idea here is again to use internal resources and use them for marketing purposes.
7. H&M Magazine
In this magazine, the customer will find many tips and stories about fashion and lifestyle. In the end, the products mentioned are listed and linked, which, of course, promotes sales. A simple and uncomplicated but efficient solution.
8. Williams-Sonoma key
One of the largest retailers in the United States, which sells cooking utensils and household goods such as knives or pots, gives great recipes and cooking tips with a unique California flair on its content hub. A super round thing, right?
9. Coca-Cola Journey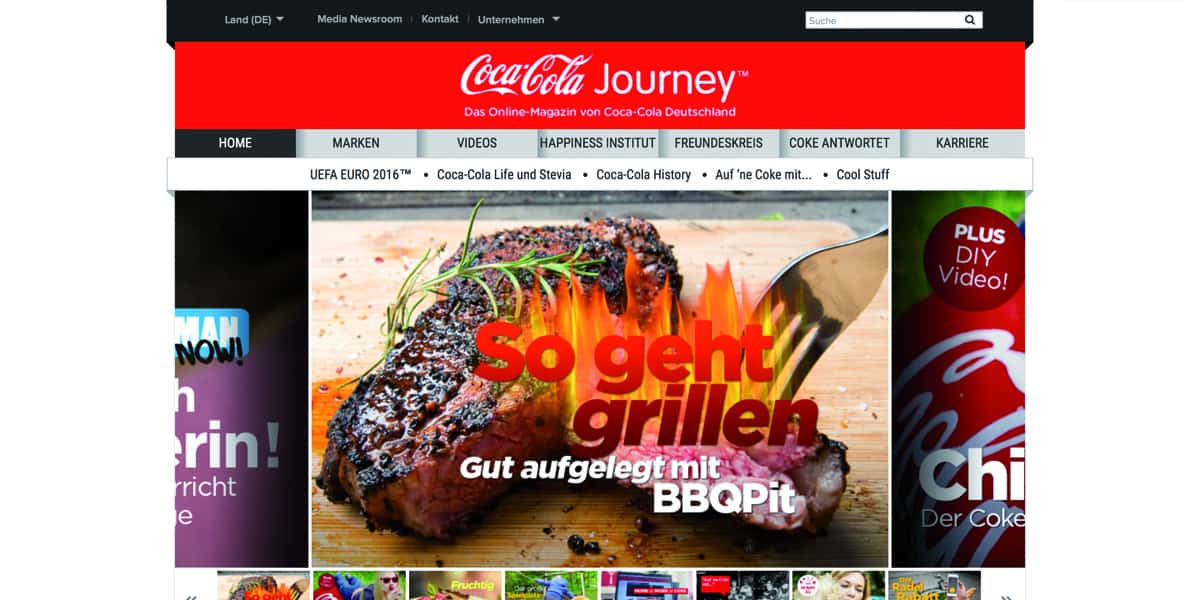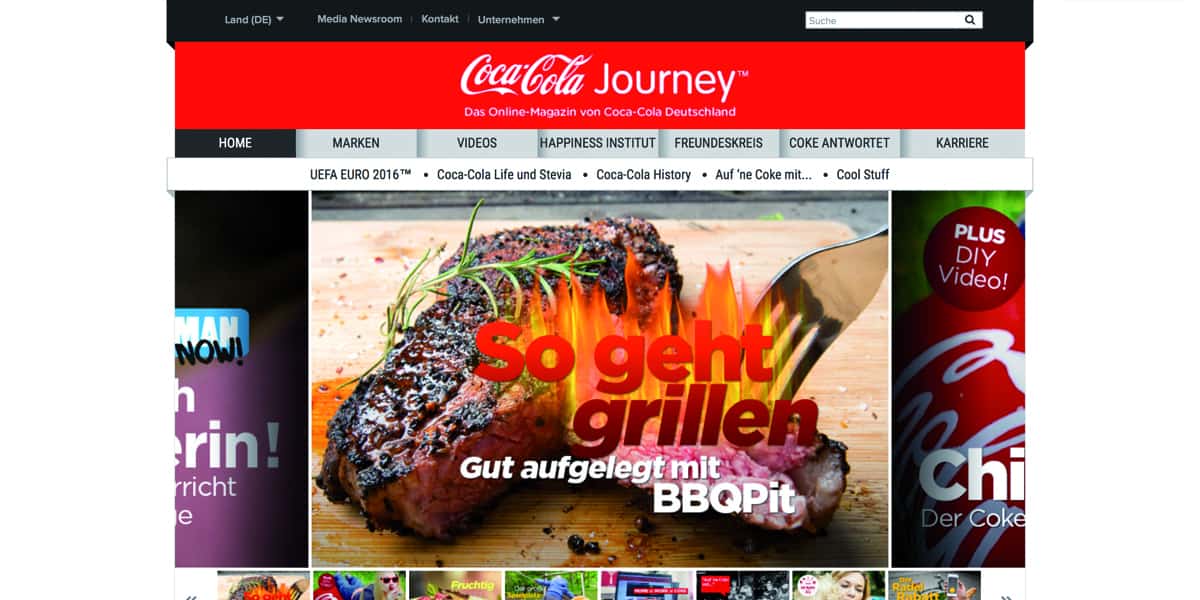 Cola is often used as an excellent example of content marketing. I find it exciting to see that even "blunt" B2C products like Cola (or Pepsi ) turn their corporate websites into great content hubs.
10. Makeup.com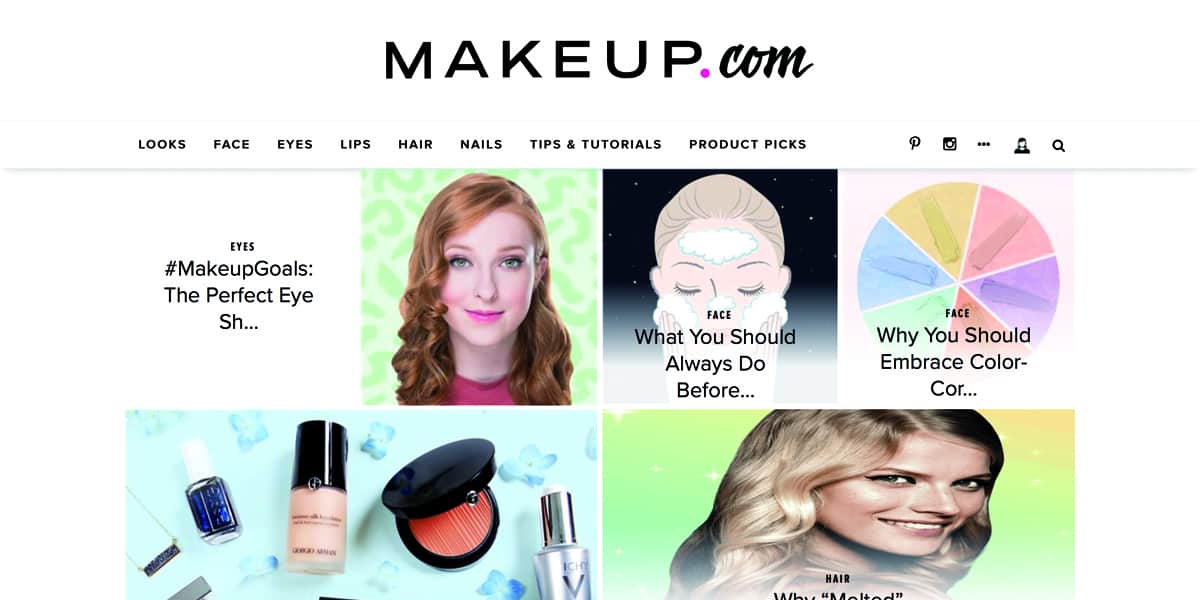 Finally, an exciting example that, at first glance, represents an independent brand. Only when you look closely in the footer can you see that L'Oreal is hiding behind it. The company is a good example here that dominates an entire category. And with it, the organic traffic and visitors via the search engine.
If you have still not enough, then you will find here more examples of good content hubs.
These were almost all major brands now, but it gives you a good feeling of what a content hub is and how it should look. Also, you can wonderfully orient yourself and be inspired by the examples.
How to create a content hub
So far, so good. I hope I was able to convince you of a content hub and its advantages.
The question now is, how do you create one if you don't already have one?
Let's start with branding. Here are three different ways you can go:
Private Label – You can simply run a content hub under your brand. This is the most straightforward solution (e.g., Oracle).
Middle way – You can choose your brand name for your hub but keep your visual branding (e.g., content loop).
Own brand – You can create an independent brand without immediately apparent reference to your brand (e.g., Makeup.com).
After your brand name sits, your design should be adjusted. Content hubs can have many different designs. It is essential that the visitor can quickly find the information that is important to him, browse comfortably, and can easily interact with the company.
First of all, you should just start and create a simple layout, as you know it from many blogs:
For the sake of simplicity, you can limit your content to a content medium. Text is the closest thing here.
Later, when you have different content media, different content formats, and different target groups, you make a "real" content hub out of it:
Here you change the organization and focus on the questions, problems, wishes, and needs of your customer.
So you nestle optimally around your customer and can e.g., B. sort according to the following points:
Topic – You can arrange your content according to a specific topic to allow the visitor to delve deeper.
Market – If your solution is attractive for different markets or niches, you can create your content for each of the targeted markets.
Target group – Even more comfortable: You can also sort your content according to your target groups.
Persona – You should generally create personas from your target group. So you can group the entire content for each customer.
Finally, it is essential that you create the right content for every stage of the customer journey, sort it as just mentioned, make it easy to find, and accompany your customer through to the sale.
Conclusion
A content hub is a home to all of your content. It is the central storage location. It is your control center.
A content hub focuses on your customers and answers their questions, solves their problems, or satisfies their needs. So you make sure that you create content that is easy to find, visually appealing, and also has a little entertainment.
This has the advantage that the content can be found, sorted, and, above all, relevant for the visitor quickly. On the other hand, you have the power that this gives you more authority, control, and insights.
It is essential to understand that you need a single point of contact, where all of your marketing activities come together and where you can slowly guide your potential customers through the decision-making process through to the purchase.
So if you still have a brochure website or a corporate blog that is regarded as a pure social media channel, please think about whether a content hub is not much more effective.
It used to be that 15 static pages made up your entire website. Today you may have ten static pages, but 300 pages that deal with content.