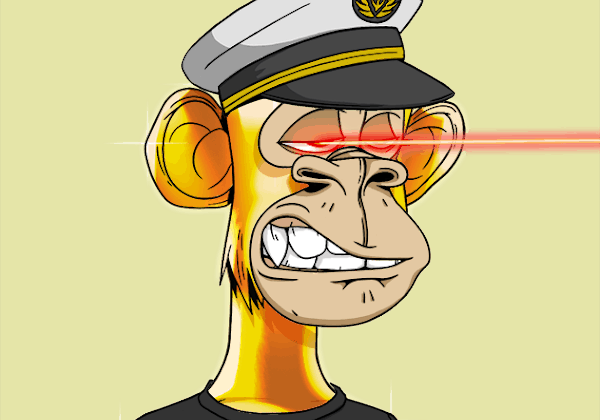 Bored Ape Yacht Club (BYAC) NFT #3749 sold for 400 Etheriums on Wednesday, August 11th, 2021. As of the date of sale, 400 Etheriums were worth USD 1.29 Million.
This is the first ever million-dollar sale of any Bored Ape Yacht Club NFT, while several CrpytoPunks and other NFTs have already achieved this feat.
What is NFT?
NFT or Non Fungible Token is an application of blockchain which can certify a ledger entry to be unique (non-interchangeable).
This is unlike Bitcoin and other cryptocurrencies which are fungible (my bitcoin is not any different from your bitcoin).
NFTs can be used to mark a unique digital (or non-digital) asset, and then its ownership and history can be permanently registered over the blockchain which is publicly available to see and verify.
NFTs are gaining attention as a method to sell unique items like collectibles and other unique digital artworks.
What is Bored Ape Yatch Club
Simply put, an interesting application of NFT. It is a collection of 10,000 unique bored ape tokens randomly generated by a software with combinations of different traits and characteristics like background color, eyes, mouth, fur, and hat.
Some of these attributes are more common in other apes than others, making some apes rarer and hence more valuable.
What is so special about Bored Ape token #3749
Firstly, the whole NFT market is gaining sharp upward trend in general.
Along with other limited edition NFTs, Bored Ape Yatch Club collections are also in huge demand, raising the prices.
But, this particular BAYC token is one of the apes with the rarest attributes. Since not all of the top rarest apes are for sale, buyers who want to enter the fad have to give excessive prices for the available ones.
According to a rarity evaluation tool, Ape #3749 is only 27th rarest bored ape token.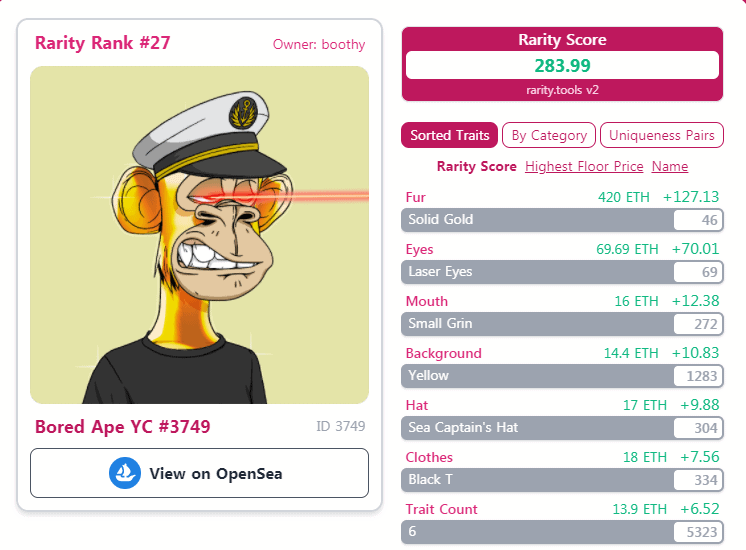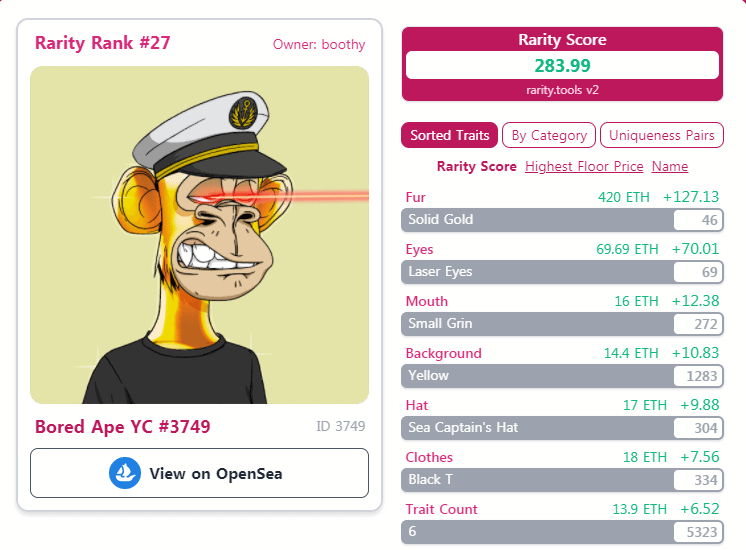 It is one of the 46 Apes with solid gold fur.
It is one of the 69 Apes with laser eyes. and so on.
In fact, it is the only ape with this combination of fur and eyes.
But that is just one of the aspects to evaluate. This is an artwork and hence can be valued differently by each individual or algorithm.
The seller just minted USD 0.97 Million
According to the sales history available on OpenSea website, BYAC #3749 has sold only once earlier. It was sold for 105 Etheriums on July 16th, 2021. This might indicate that within a month the previous owner has turned his USD 318,000 investment into a 972,000 USD profit within a month.
The new owner of the NFT is Boothy, who also purchased BAYC #9507 for $175,140 the same week.