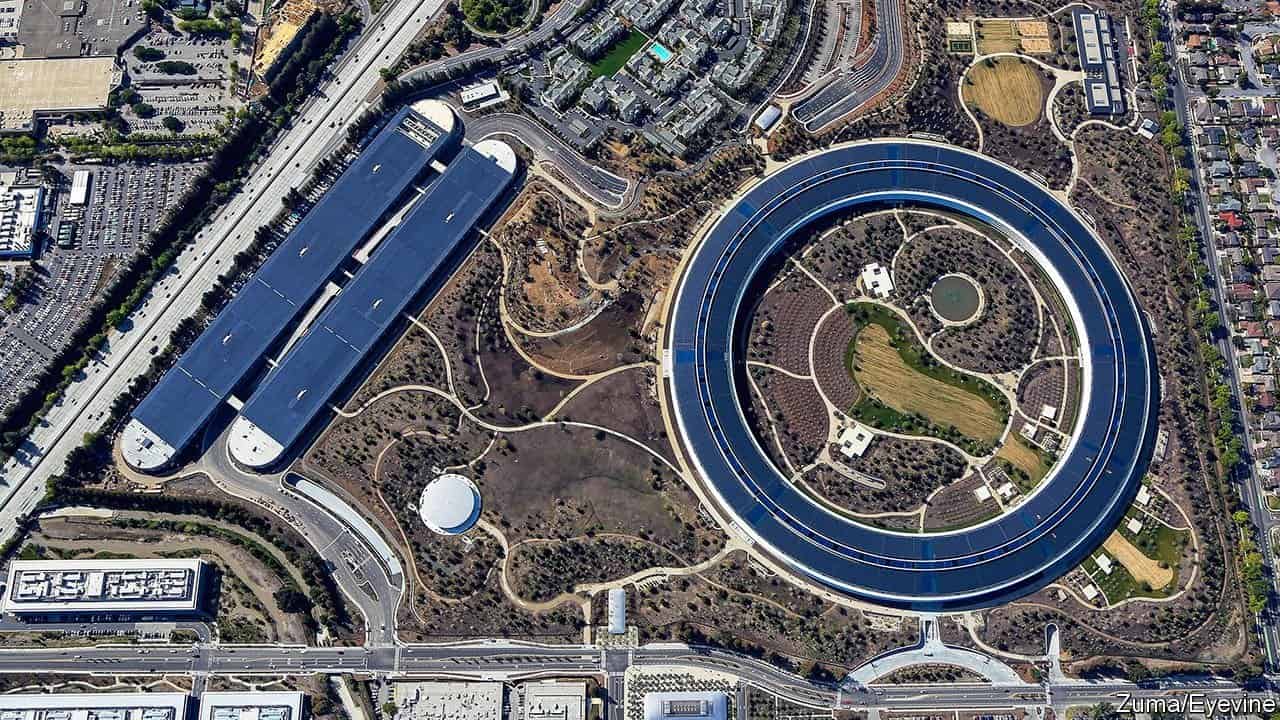 Known as the tech region, Silicon Valley is starting to be a problem for Apple and its employees.
Four years ago, Apple employees discovered their new workplace, Apple Park, in the heart of Silicon Valley. Although the company has many offices around the globe, the majority of operations take place there, but also in Cupertino and other California campuses. However, according to Bloomberg journalist Mark Gurman, the firm would try to reduce this dependence, which is increasingly problematic in attracting new talent.
More and more difficult to recruit for Apple
For several years, Apple's executive teams persisted in thinking that the future of technology was only in the California region. However, in his weekly newsletter Power On , Mark Gurman explains that the leaders of the firm "intensify their efforts"  to "decentralize" . In question, the difficulty to keep his talents, and to recruit new ones.
The main reason is the cost of living in Silicon Valley. As new tech firms settle there, it becomes more and more expensive to live in the California region. "The company has lost talent who (…) said they could barely afford the extraordinary cost of living in the San Francisco Bay Area" , explains the journalist, who spoke to employees of Apple.
Cupertino realized that the higher wages applied in Silicon Valley would not be enough to keep its employees. Several of her engineers gave up working for her because of living expenses, such as their children's school fees or their retirement savings. "Apple realizes that it can no longer wait for the best designers and engineers to revolve around its spaceship. He has to go where these people live today," says Mark Gurman.
In addition, Apple had to face additional problems. Among them, the difficulty in diversifying its teams and attracting talent from a remote geographical area.
Apple is gradually decentralizing
For these reasons, restricting oneself to Silicon Valley appears more and more as a disadvantage according to the leaders of the firm. Several of them are speeding up to open offices outside the California region. In recent years, some have emerged in Los Angeles, Nashville, Florida and Texas, Oregon, but also in Israel, Germany and parts of Asia.
According to Mark Gurman, the company has also invested $ 2 billion to build new campuses in Texas and North Carolina. In addition, several of the company's engineers have been hired in Canada, Germany, New Zealand, Spain and the United Kingdom. In total, tens of thousands of jobs outside of Silicon Valley will be created.
Not only would this allow Apple to recruit more easily, but above all to save money. The new premises would potentially cost less than those at Apple Park, and wages could be lower in other US states.
The extension of telework would have greatly contributed to the expansion beyond Silicon Valley. In fact, Tim Cook recently indicated that he was in favor of a hybrid device from the start of the school year. It required three days face-to-face and two days at a distance. "For all that we have been able to create while many of us were working from home, the truth is that there was something essential that was missing last year: to see each other in person," said the CEO.
This decision did not please its employees, especially after the other tech giants offered their employees to completely continue their telecommuting activities if they wished. If Tim Cook is not ready to compromise on this new organization, he nevertheless intends to physically bring the company closer to its employees, at least in North America.