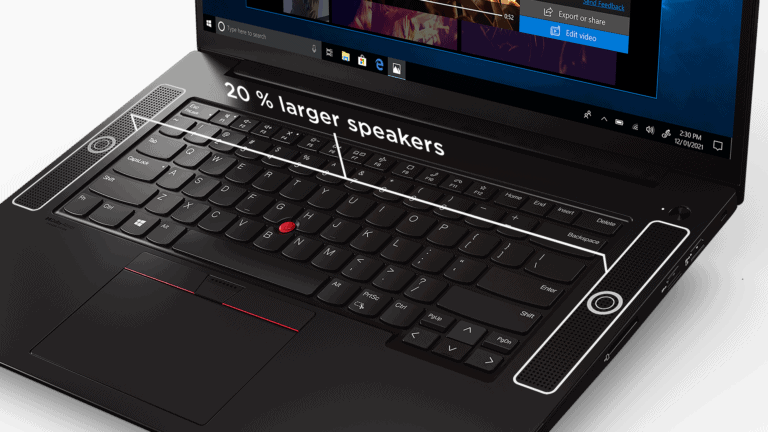 Notebooks should be small and light, right? But the Excel table no longer fits on the screen. Annoying when you actually want to work with the laptop. Small and light laptops also quickly reduce processor performance. Or they heat up.
Lenovo created the ThinkPad X1 Extreme to combine a big screen with outstanding performance while remaining mobile. At MWC 2021, the company now presented the fourth generation – without being represented on site as an exhibitor.
The ThinkPad X1 Extreme Gen 4 is not a facelift, but a fundamental overhaul:
16 inch screen instead of 15.6 inch
16:10 aspect ratio full of 16: 9
new keyboard, larger touchpad
11th Generation Intel Core i9H
better graphics
new three-stage cooling concept
If the device later confirms in a practice test what it promised when it was introduced, then the ThinkPad X1 Extreme Gen 4 could be the ideal laptop for mobile web workers with high demands.
ThinkPad X1 Extreme Gen 4: Processor + GPU
The ThinkPad X1 Extreme Gen 4 is extremely powerful.
from Core i5 to 11th gen Intel Core i9H with vPro
up to 64 GB DDR4 (3200 MHz), non-ECC memory
up to 4TB memory, 2 SO-DIMM slots for M.2 2280 PCIe NVMe Gen 4 performance SSD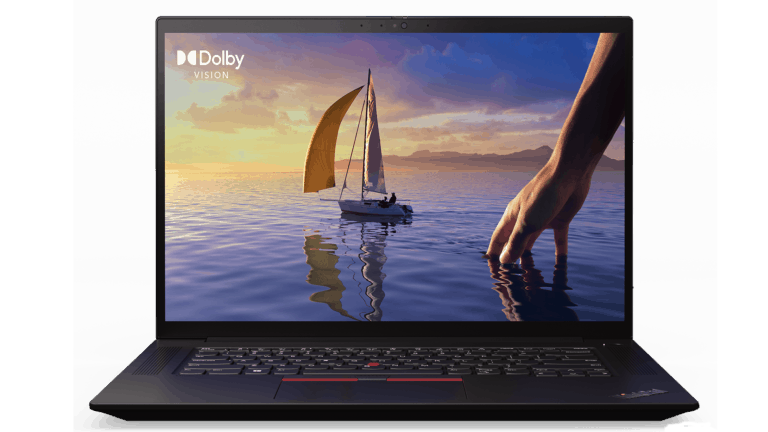 You can also use the ThinkPad X1 Extreme Gen 4 with an integrated Intel UHD graphics card. But if you're buying a laptop for work-intensive units, you shouldn't be without dedicated graphics. There are four GPUs to choose from:
Nvidia GeForce RTX 3050Ti
Nvidia GeForce RTX 3060
Nvidia GeForce RTX 3070
Nvidia GeForce RTX 3080
There is rarely so much computing power in a laptop. The downside is a short battery life of 10.7 hours and a high level of heat development. But Lenovo also wants to get this under control.
ThinkPad X1 Extreme Gen 4: New cooling system
What many forget when buying a laptop: Lots of power also means a lot of heat that needs to come out of a thin laptop.
Either the fan starts up quickly and runs hard to move a lot of air. Or the performance is quickly reduced again, and the performance promised on paper is not achieved in everyday life.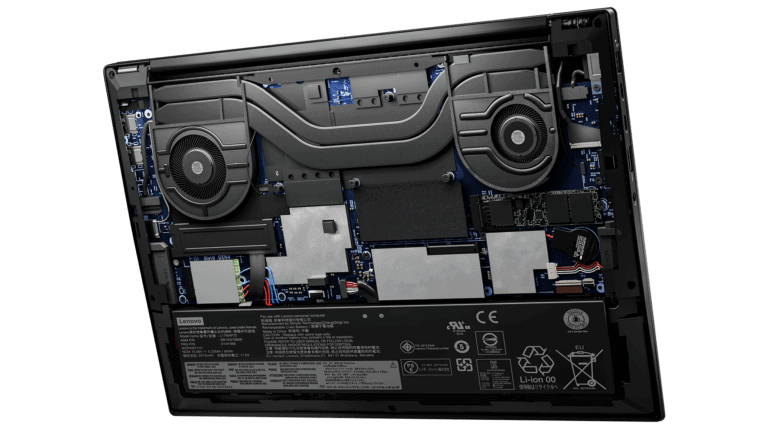 With the ThinkPad X1 Extreme Gen 4, Lenovo focused on how air is routed through the laptop and combined three new complementary cooling systems.
A hybrid cooling system uses conventional heat pipes and a large steam chamber. The latter distributes waste heat from a chip quickly and evenly to a large area heat sink.
Cool air can circulate through the keyboard without losing its protection against splashed water.
A dual bypass architecture allows air to flow over the top and bottom of the cooling system, improving thermal insulation.
A lot of air cools a lot. This allows the ThinkPad X1 Extreme Gen 4 to run at high speed for a long time. But it could also felt the many drafts in an unpleasant background noise. It criticized earlier models of the ThinkPad X1 Extreme for precisely this.
ThinkPad X1 Extreme Gen 4: Connectivity
The ThinkPad X1 Extreme Gen 4 stands out in other ways such as a good work computer. The laptop has an extremely large number of connections.
WLAN: Intel AX210 2 × 2 WiFi 6 / 6E3
Cellular optional: 5G
Bluetooth 5.2
NFC
2x love at first sight 4
2x USB-A 3.2 Gen 1
1x HDMI 2.0 / 2.1
SD card (UHS-II)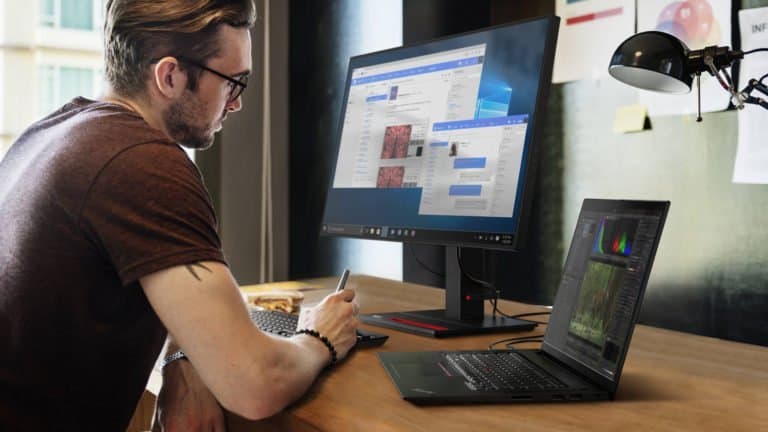 It should not only be pointed out that there are so many connections, but also that they are all up to date – and therefore fast. The only thing missing is a LAN connection for the office.
ThinkPad X1 Extreme Gen 4: form factor + display
The ThinkPad X1 Extreme Gen 4 has a fresh case because it has a bigger screen, a bigger touchpad, and a new keyboard. However, it has not really grown fat and is not heavier.
359.5 x 253.8 x 17.7 mm
1.82 kg
The screen now measures 16 inches instead of 15.6 inches diagonally and has a 16:10 aspect ratio instead of the previous 16: 9. The bezel has become narrower. You have the choice between three screens:
QHD + IPS AG, 2560 × 1600, 400nit, 100% sRGB, 60Hz, low blue light
UHD + IPS AG, 3840 × 2400, 600nit, 100% Adobe, HDR400, Dolby Vision, 60 Hz, Low Blue Light, 8 + 2 bit color
UHD + IPS Touch AR / AS, 3840 × 2400, 600nit, 100% Adobe, HDR400, Dolby Vision, 60Hz, Low Blue Light, 8 + 2-bit color
The last two variants offer an excellent image for work and multimedia consumption with high resolutions, dazzling displays and HDR400 or Dolby Vision.
The keyboard is backlit. However, Lenovo shortened the stroke from 1.8 to 1.5mm. If you leave an old ThinkPad, you might find this negative. However, Lenovo's 1.5mm keyboards still do very well in tests. The touchpad got a bit larger at 115 x 67mm.
ThinkPad X1 Extreme Gen 4: video conferencing + security
The ThinkPad X1 Extreme Gen 4 has an FHD webcam with a slide switch as the camera shutter. As an option, there is also an infrared version to further improve the image quality during video conferences.
You can record your sound using two far-field microphones. It is of course preferable to connect an external microphone. The Dolby Atmos speaker system is user-oriented and is now 20% larger.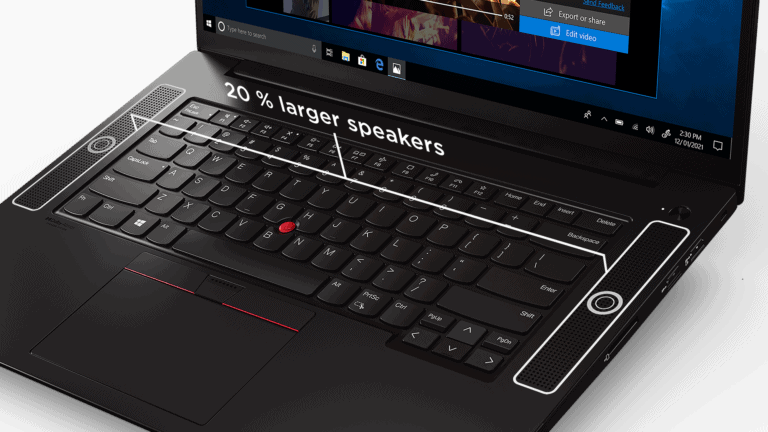 However, the right equipment for video conferencing alone does not make the ThinkPad X1 Extreme Gen 4 a good work computer. Businesses will particularly appreciate the security features of the X1 Extreme:
Windows 10 Professional
Intel vPro processor
DTPM 2.0 chip
Intel Hardware Shield
Intel Remote Secure Erase
Fingerprint reader in the power button
Conclusion: a good notebook for web workers (if you need a big screen and a lot of power)
The ThinkPad X1 Extreme Gen 4 is an impressive laptop. Looks so much better than the mobile calculators most people buy:
larger display
higher resolution
faster processor
own graphics chip
lots and lots of memory
numerous radio connections and standards
very good input devices
Company security
But a laptop is always a compromise. The advantages come at the cost of disadvantages. The ThinkPad X1 Extreme Gen 4 won many high scores with two weak points.
First, the battery life of 10.7 hours is relatively poor. Lenovo measured them using a standardized method. Experience shows that at least two hours should be deducted from this in everyday life. However, this only means normal use.
Anyone who buys an X1 Extreme because of its power will want to use it. This continues to deplete the battery life. So you should see that you always have an outlet nearby when you're on the go.
Second, a lot of computing power also generates a lot of heat. As with previous generations, you should expect the ThinkPad X1 Extreme Gen 4 to boot up quickly and then run hard.