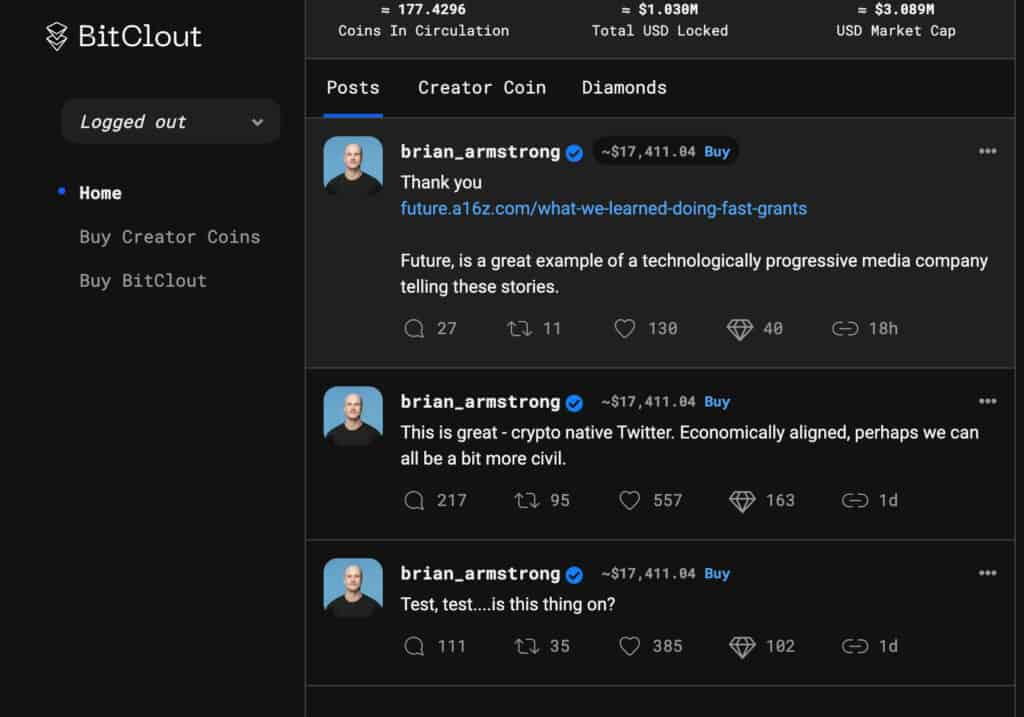 The mysterious platform, which hides the name of its creator, is halfway between a social network and a stock exchange. The performance and influence of people in society is at stake.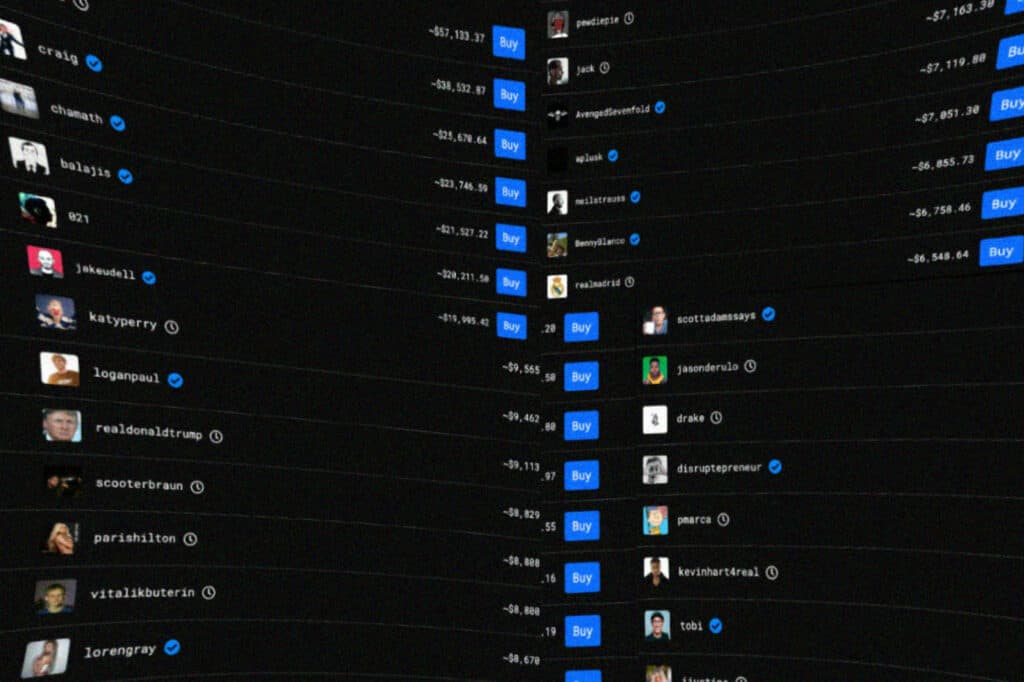 In a tweet, Coinbase CEO Brian Armstrong fueled a controversy that is far from abating. "I just configured my bitclout," he wrote on the media, referring to a platform halfway between a stock exchange and a blockchain-based social network, which continues to attract criticism for its model.
Digital tokens and NFTs have given birth to a new market on the internet, making it possible to give a price to events, digital works, by marketing their certificate of authenticity. Some platforms like Sorare have specialized in sports, such as football, by marketing NFTs on players, like collectable cards.
BitClout goes much further. How to describe it? Perhaps like a stock exchange where users exchange tokens, known as "designer tokens", attached to nothing but individuals. The price of each person's token is estimated based on demand, "correlated with that person's position in society". Forget stocks or cryptocurrencies like Bitcoin, here the list of available digital assets comprises first and last names.
Buy Elon Musk, Justin Bieber, Samsung, FC Barcelona
By clicking on the site, you will discover the thousands of profiles of stars, companies and even football clubs available. The most expensive token is Elon Musk's, which is currently trading at $114, for a full profile valued at $ 56,178. Going through the list, we found absolutely everything: from the most popular singers, to FC Barcelona, ​​to journalists from Reuters, and to average users who created their profiles.
On paper, the platform claims to be decentralized and blockchain-based. It invites its users to exchange bitcoins for its own cryptocurrency, the $ CLOUT, which has also been accessible on Blockchain.com for a few days. For a long time, the site was very difficult to access and use: you had to access a special password to integrate the platform, and it could not exchange again $ CLOUT for bitcoins.
Some users have made enormous fortunes. This is the case of Sigil Wen, a young 17-year-old student in Toronto (Canada), who won a full report by The New Yorker a week ago. Thanks to a few hundred dollars of bitcoins that his mother had bought earlier, on the advice of a friend, the youngster had invested in personalities on BitClout. Today, he has built up a fortune of $1.7 million.
Controversial, but appreciated
Coinbase CEO Brian Armstrong's support for BitClout has led to much criticism, Cryptonews reported yesterday. Besides the model, some criticized the man for pushing young investors towards questionable cryptocurrencies. "You're telling this bullshit instead of helping people understand the importance of Bitcoin," one user wrote on Twitter.
That said, BitClout is far from hated by the crypto community, and even attracts big investors. Sequoia, a16z, Social Capital, DCG, Pantera, Huobi, Winklevoss Capital, North Island Ventures… many of them, and of great renown, have invested in the platform. Before being a simple stock exchange to invest in personalities, BitClout wants to define itself as a full-fledged social network where it is possible to publish posts like on Facebook or Twitter.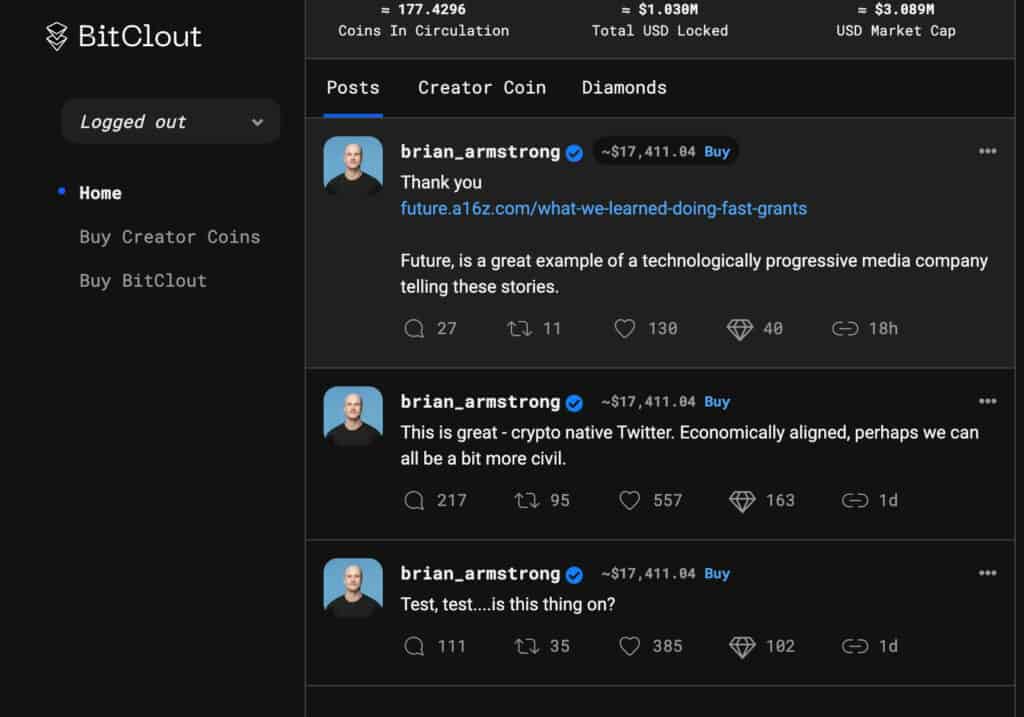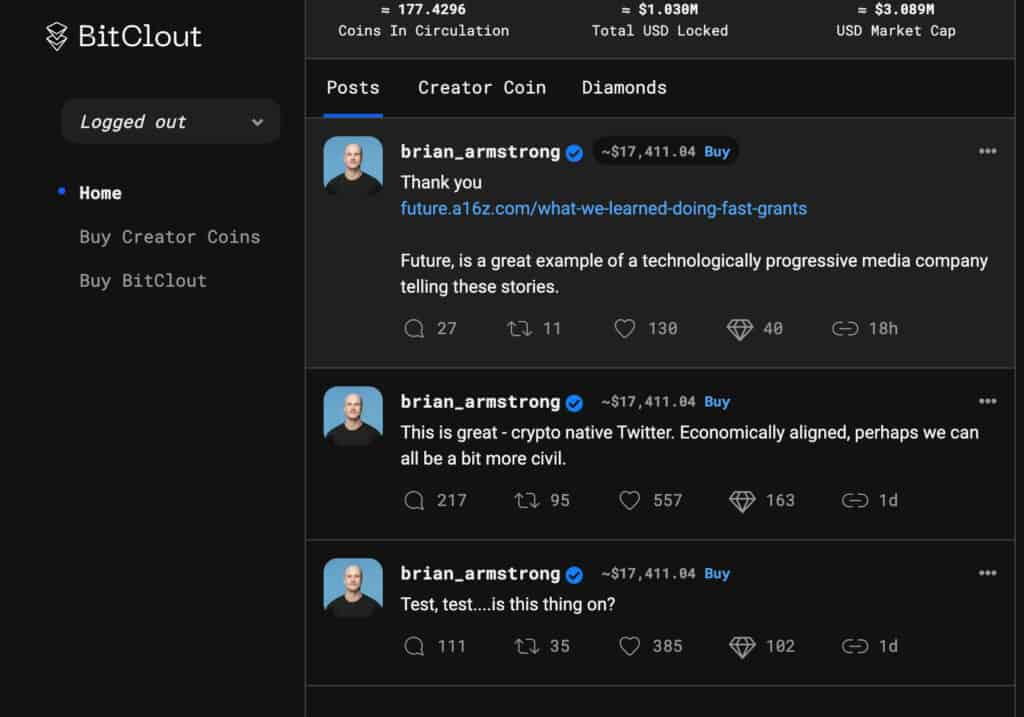 BitClout works the incentive to invest by access to advantages given by personalities. Those who claim their account (BitClout autogenerates their profile, then everyone can accept to manage it or not), can offer rewards such as messages reserved for investors, calls on Zoom..
Difficult to know if the sauce will take. "Starting a cryptocurrency is a bit like starting a religion. Without large-scale membership, the system looks like a cult," wrote New Yorker reporter Caroline Lester. BitClout was released in March in a version accessible only to a few people (long password protected). But already, the company says it makes millions of dollars in transactions every day.