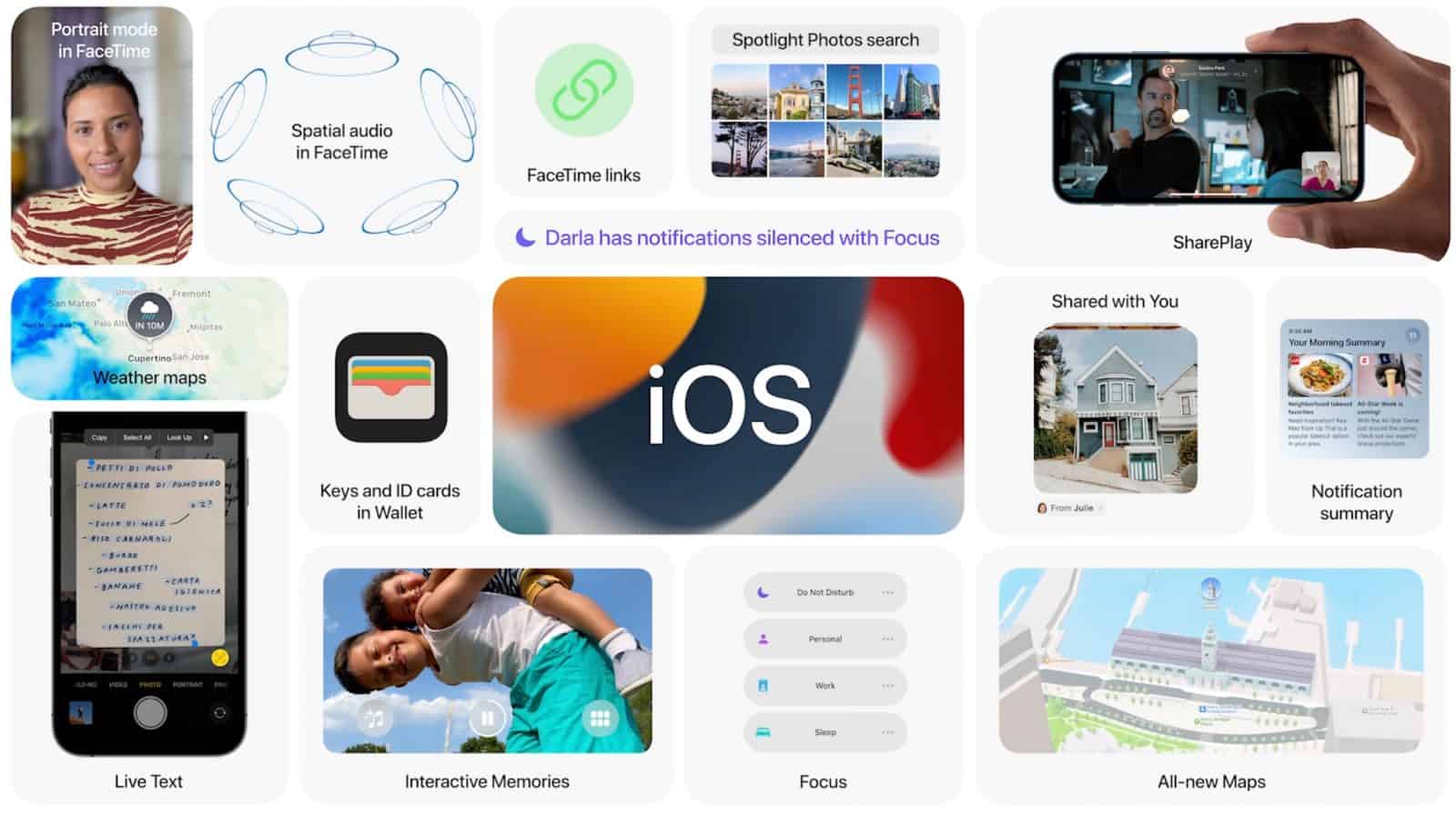 At its annual developer conference, WWDC, Apple presented the latest version of iOS: iOS 15. It incorporates features that make this version more social, through Shared With You and new settings for FaceTime., but also smarter and more open thanks to Focus and Shareplay API.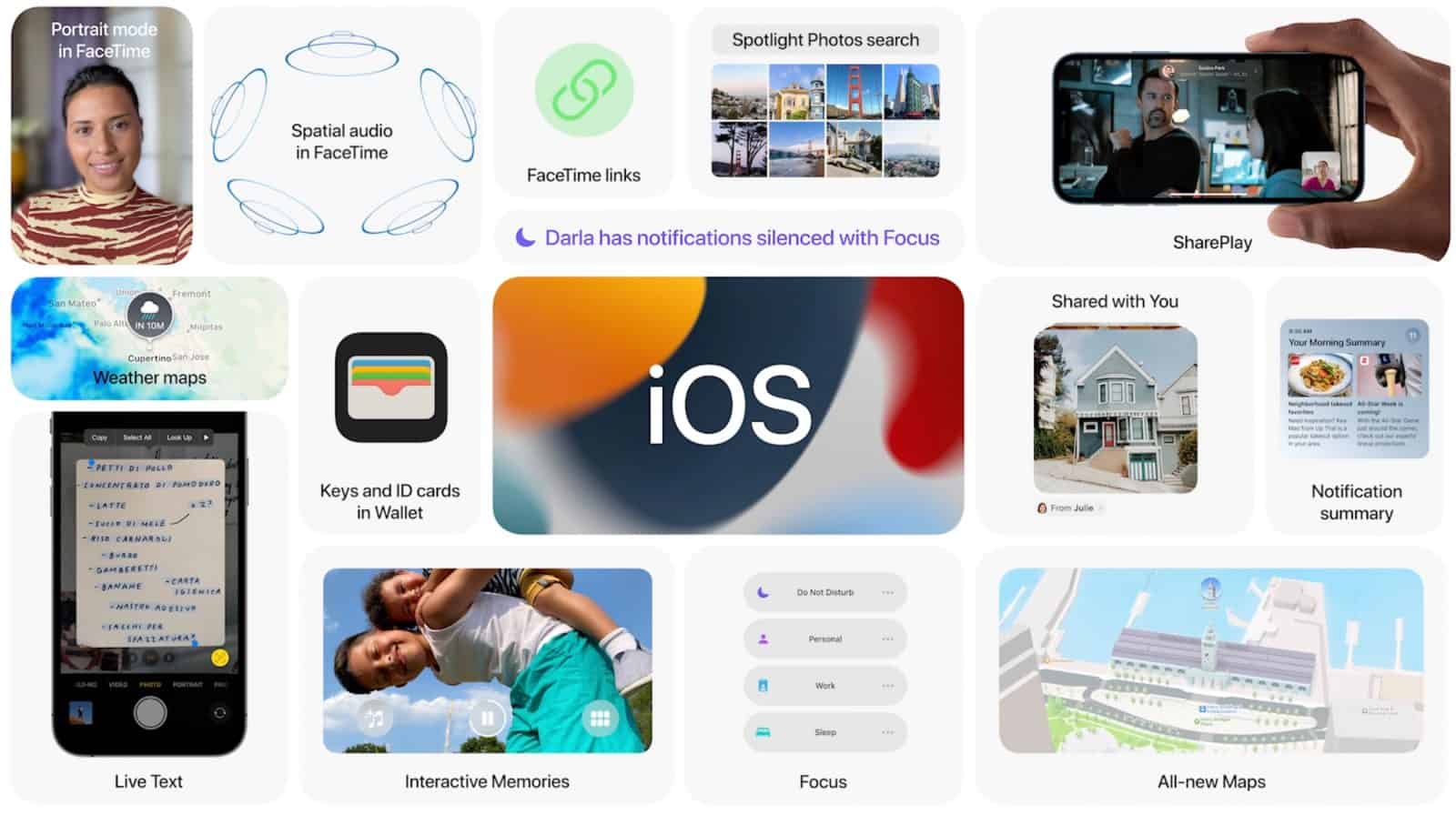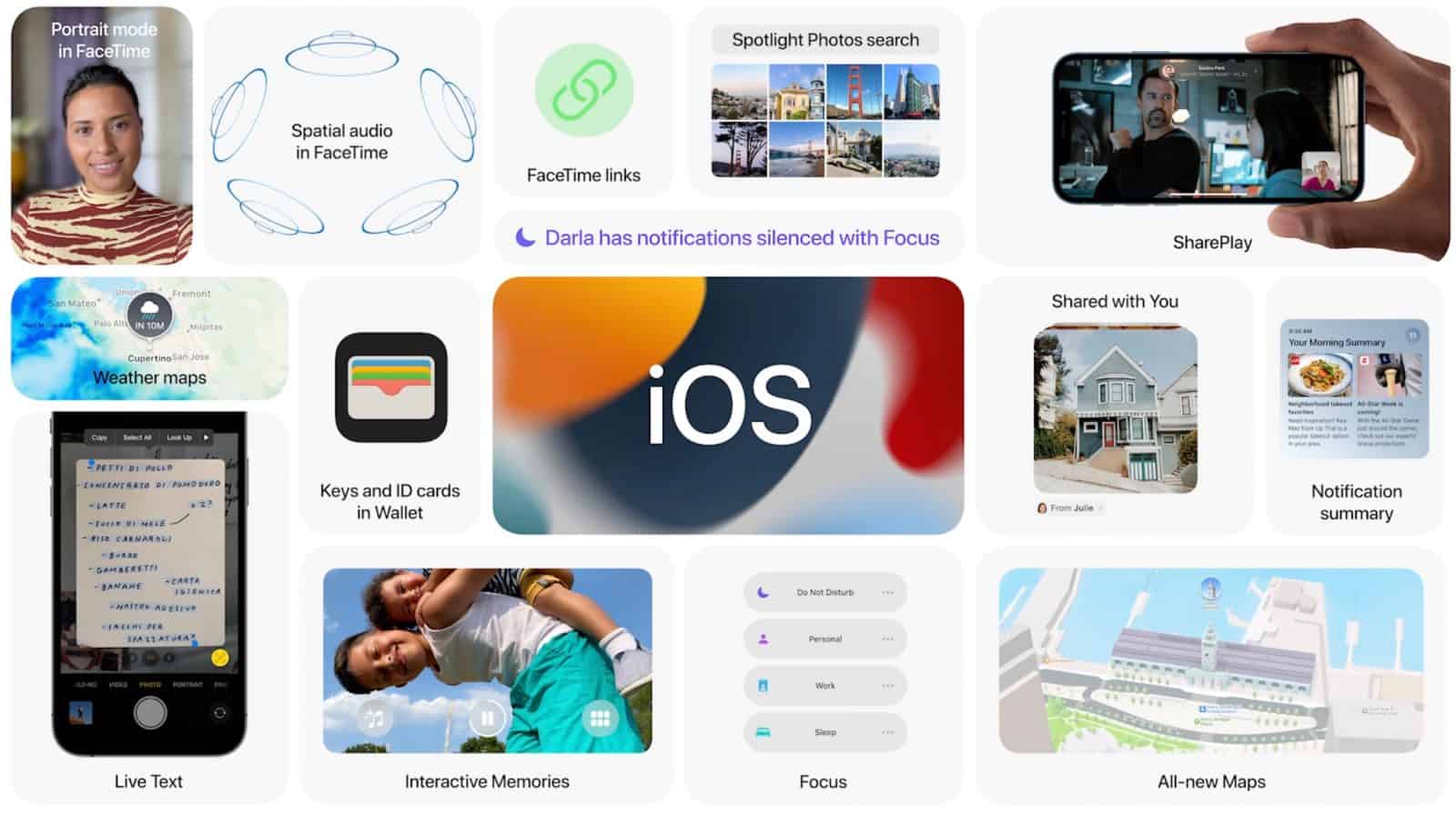 On June 7, WWDC 2021 was an opportunity for Apple to present its new mobile operating system: iOS 15. As always, this new version includes many features, such as FaceTime Links, SharePlay, but also more in-depth contextual research.
iOS 15 brings a touch of freshness to FaceTime
Apple has unveiled improvements for FaceTime, making its audio and video calling app quite sloppy. It is also on this product that the presentation of iOS 15 began, with a reminder of the past year, during which it was necessary to stay connected at work as with his relatives.
Better audio quality for FaceTime
Two big evolutions are coming for the audio experience in FaceTime. The first, Spatial Audio, will improve the sound quality of the entire conversation. The audio output will be reworked, and will give the impression that the participants are in the same room.
Also, Voice Isolation will be an option that a user can activate in order to reduce ambient noise which can degrade the quality of a conversation. A practical aspect when making a call from a cafe or public transport.
FaceTime will no longer collect dust
In order to make FaceTime more attractive, facing size competitors like Messenger, Zoom, or Google Meet… Apple is launching a seduction operation. First of all, two modes can be activated by users. A mosaic mode to see all the participants, but also a Portrait mode to give a professional side to his shooting.
Apple has unveiled a parameter that should increase its usage rate: FaceTime Links. It is a simple link to pass to the participants of a call. In its presentation, the brand with the apple reveals a case where from Calendar, a user invites people to a videoconference, and places a FaceTime link. People who do not have a branded device can then join the conversation on the web, with the link. This operation is very close to what professionals know, especially with Zoom or Google Meet.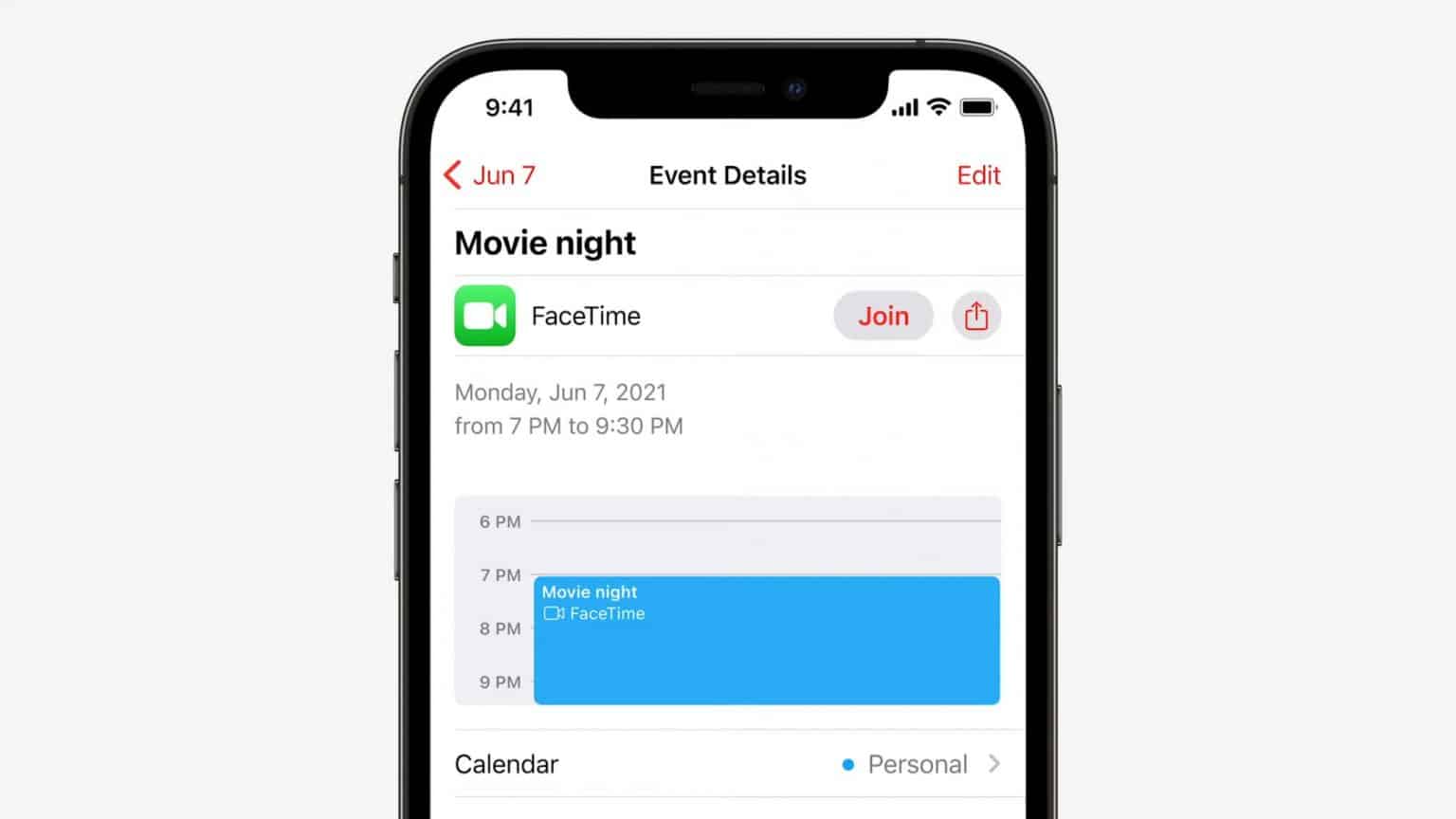 Finally, Apple has added a feature called SharePlay. It allows you to play multimedia content directly in a FaceTime call. Other users can then act in the launched application, even if it is not their phone. Obviously, Apple Music and Apple TV are provided with this feature, but the giant has announced to launch an API for SharePlay. Several partners will already be ready for its launch, including Disney + or Twitch. It remains to be seen whether Apple intends to contain SharePlay for multimedia, or whether it will be possible to play with several people, or to collaborate. All FaceTime novelties will work through connected Apple devices.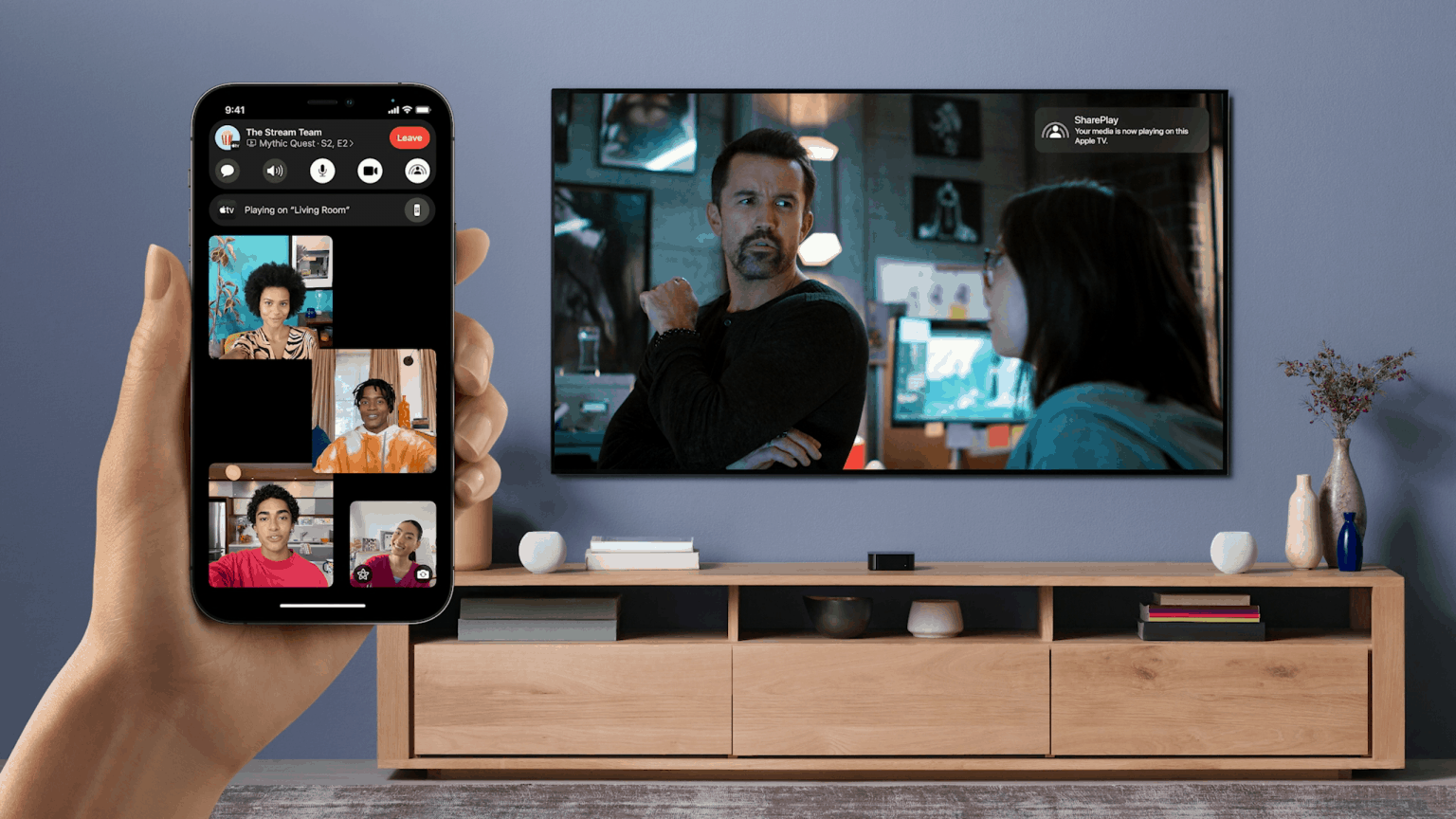 Messages
Apple's messaging app comes with a few social settings. This is particularly the case with Shared with You. If another Apple user shares content, the receiver will find it in another application in the iOS ecosystem. For example, a photo will end up in the Photos app, an article in Apple News, and music in Apple Music. The user can also decide to pin a sent content in a message in order to find it more easily. Shared with You will work across all Apple devices.
Beyond this functionality, the presentation of photos sent in batches will be optimized. It will be more pleasant visually, and from a user experience point of view.
Focus: finally a real mastery of notifications
For a long time, Apple offered users only one solution to reduce the pollution of notifications: the "do not disturb" mode. Now, grouped behind the name Focus, it will be possible to configure several modes: Do not disturb, Personal, Work, Sleep.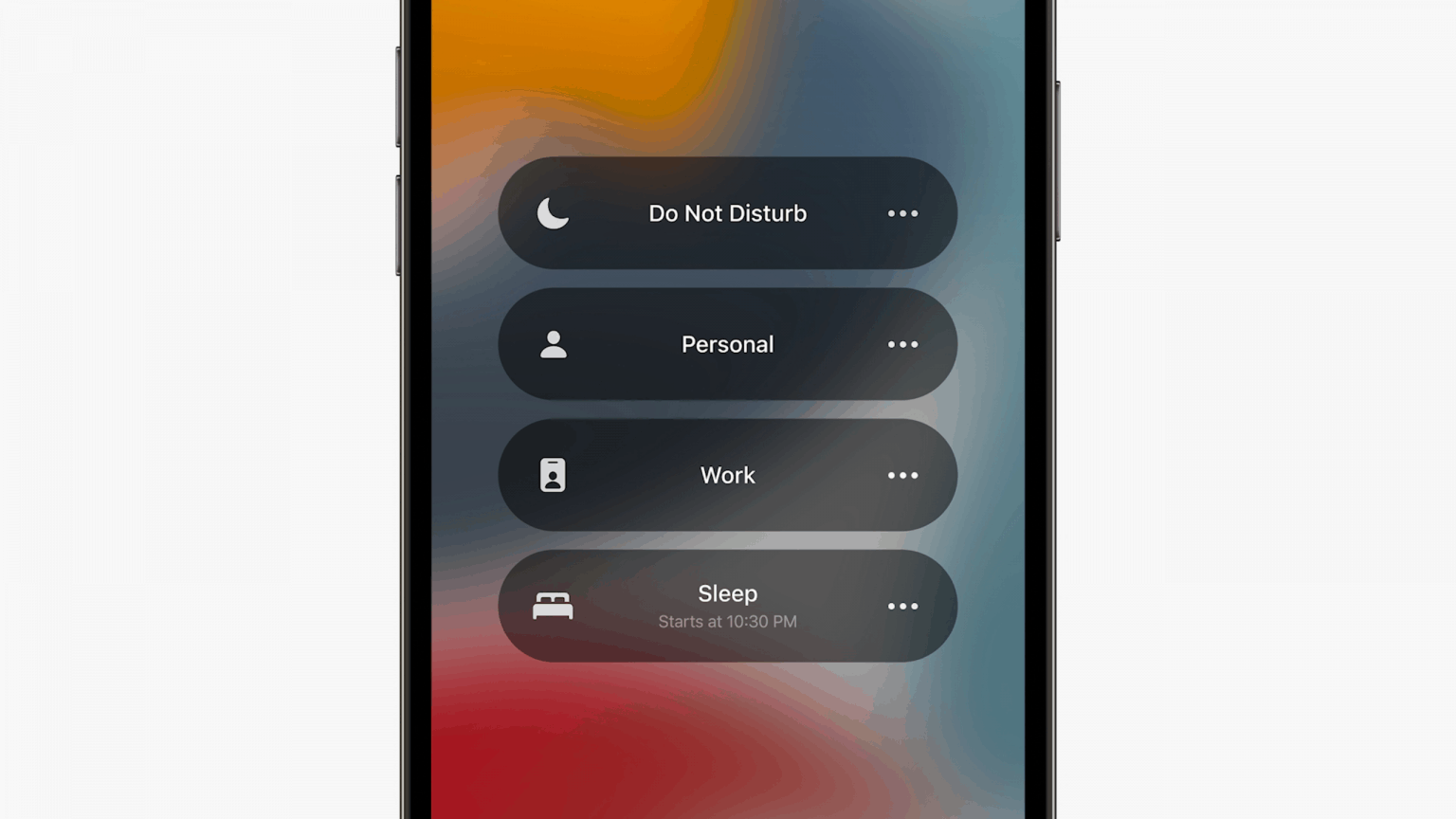 Depending on the mode, the user will decide which applications and contacts may send them notifications. For example, in Work mode, you can cut Messenger and Discord, but activate Outlook and Slack. Conveniently, Focus mode can be activated on all connected devices upon activation.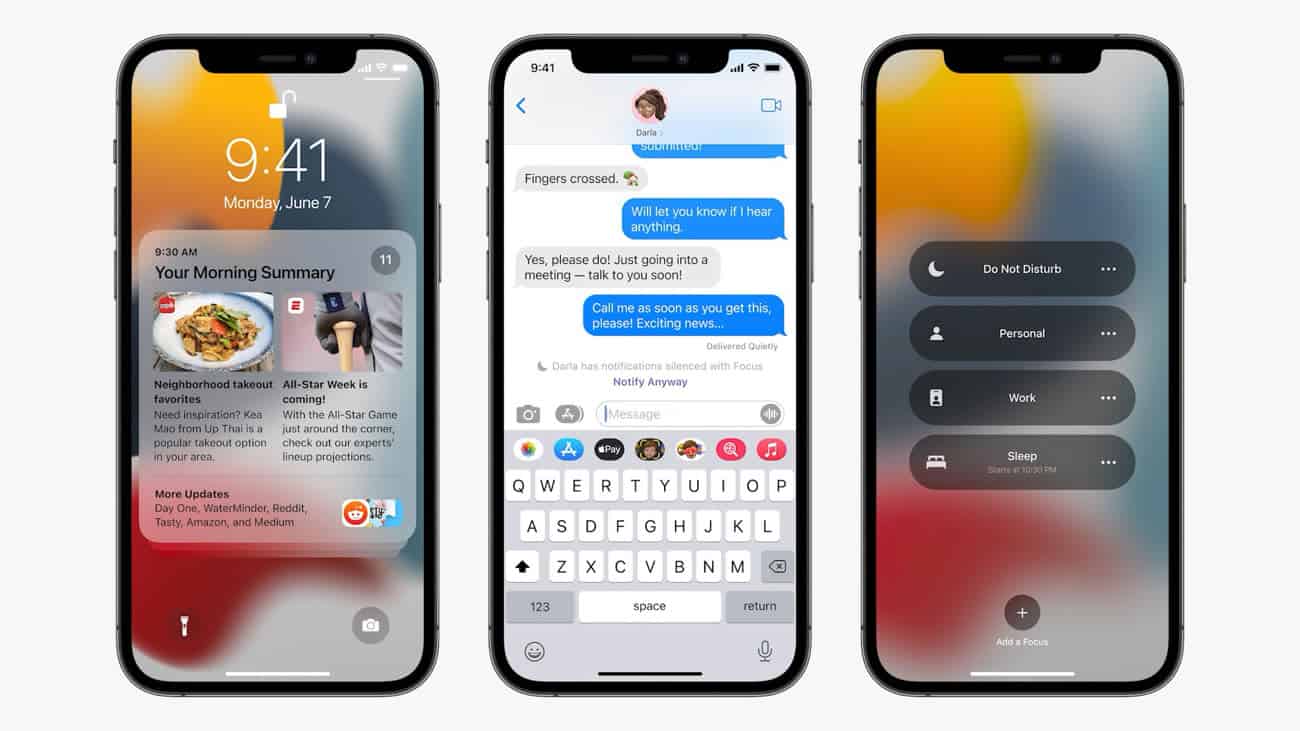 More Intelligence apps on iOS 15
Other services will also be improved, in particular thanks to artificial intelligence. This is the case with the internal search engine, which will now dig into the text written on the photos. What to select the name of a restaurant if you have a photo of its brand, and see a pop-up menu with its address, and the phone number to make a reservation. This also extends to pictures of the board at the end of the meeting, of a recipe… This same approach extends to pictures of animals, buildings which will be scanned and what we see they will identify there. Apple did not provide information on protecting users' privacy and whether they can refuse this new system.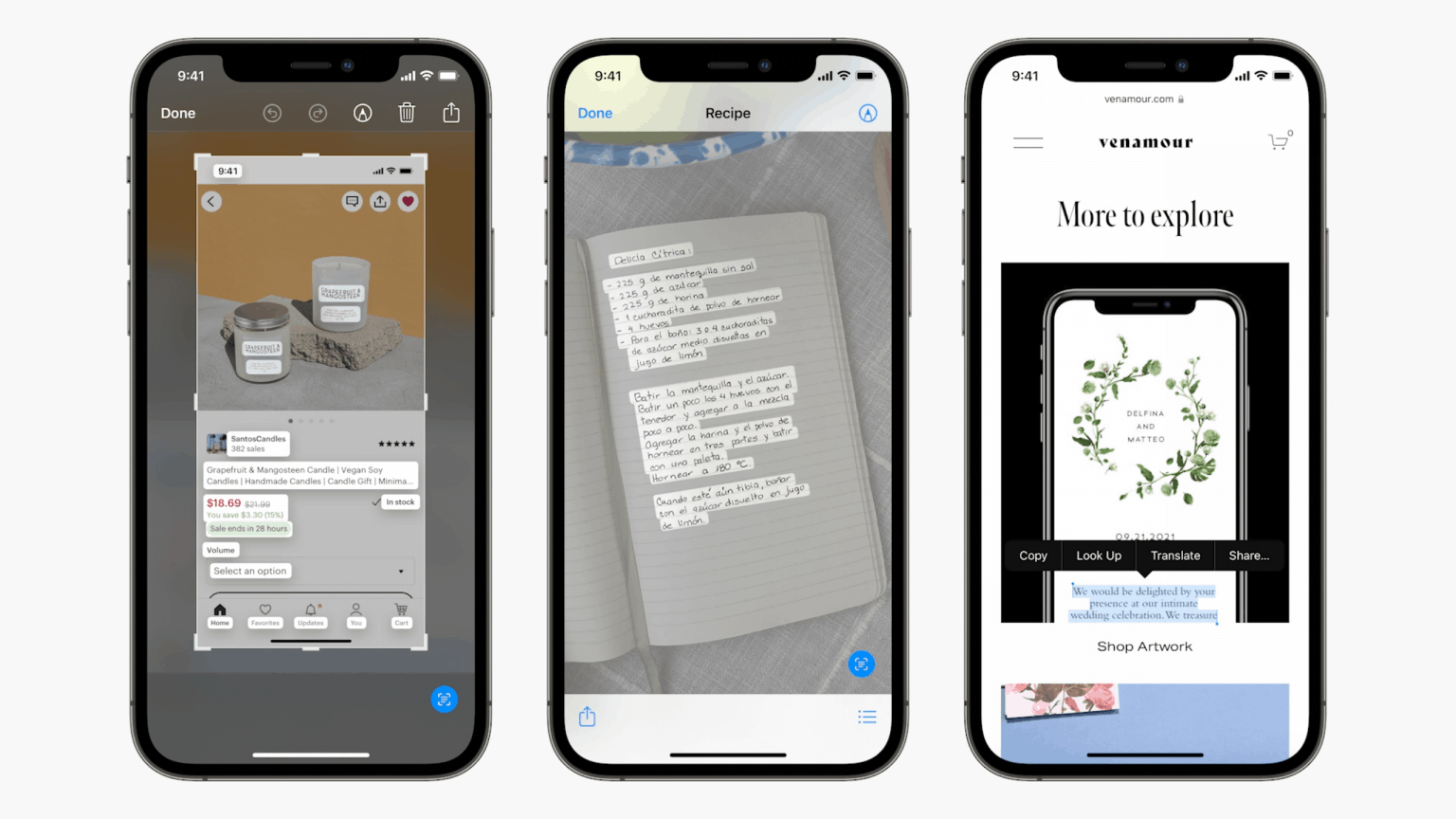 Also, Apple Wallet will evolve with more experience around keys. Thus, after Car Keys, it will be possible to have your hotel card and receive it directly from the application of the brand where you are staying, but also cards for your coworking, etc. Over the years, Apple Wallet will digitize many cards, and even the identity card.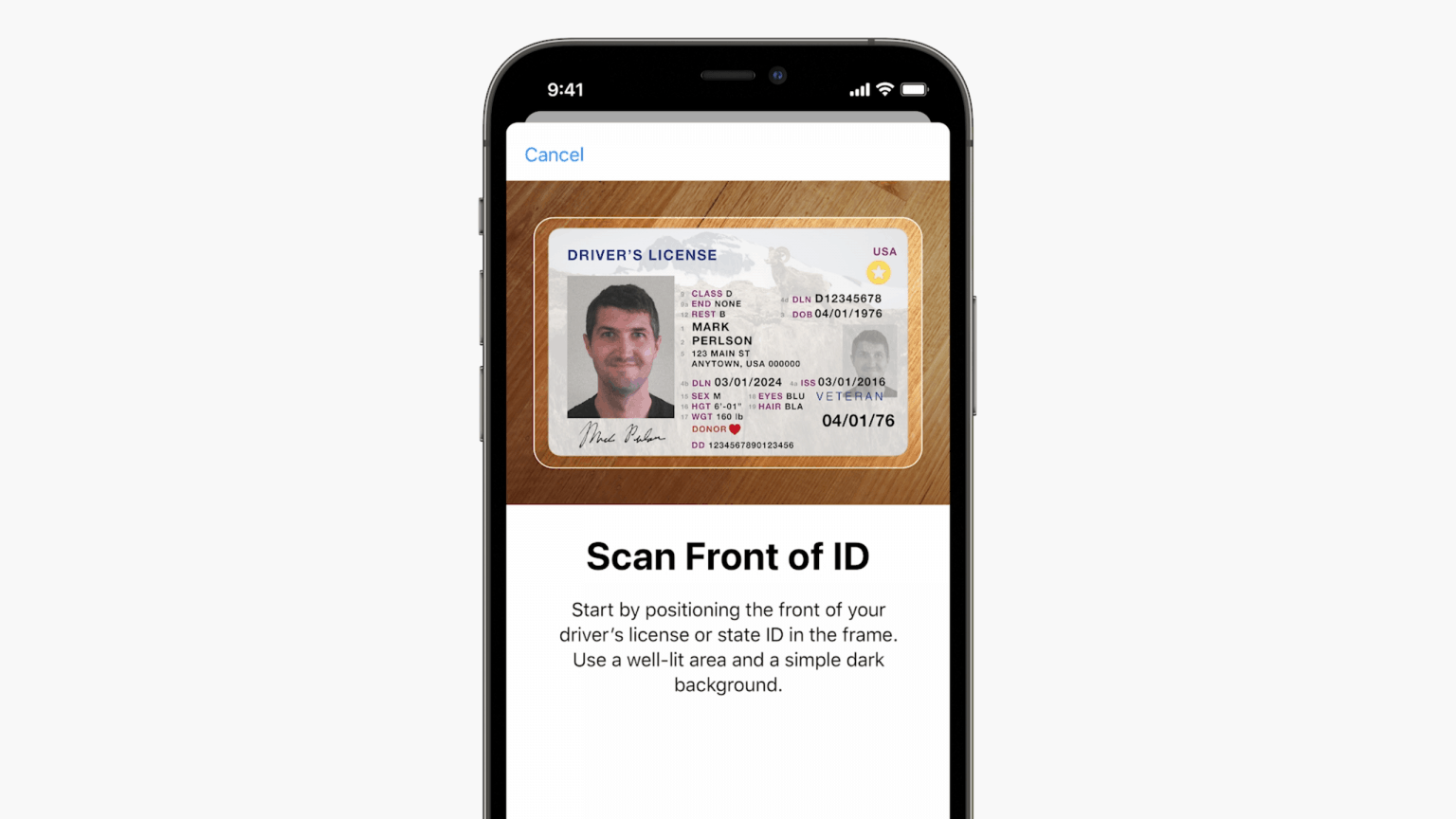 For many English-speaking countries, it clearly improved Apple Plans thanks to a project started several years ago, but seems slow to expand internationally. Especially in the car, the application will show the location of traffic lights, as well as upcoming intersections, and not all. In short, better readability, which will be included in the on-board version for cars: CarPlay. Those used to public transport will also get a better reading of their journeys, thanks to a summary of the stations to be crossed.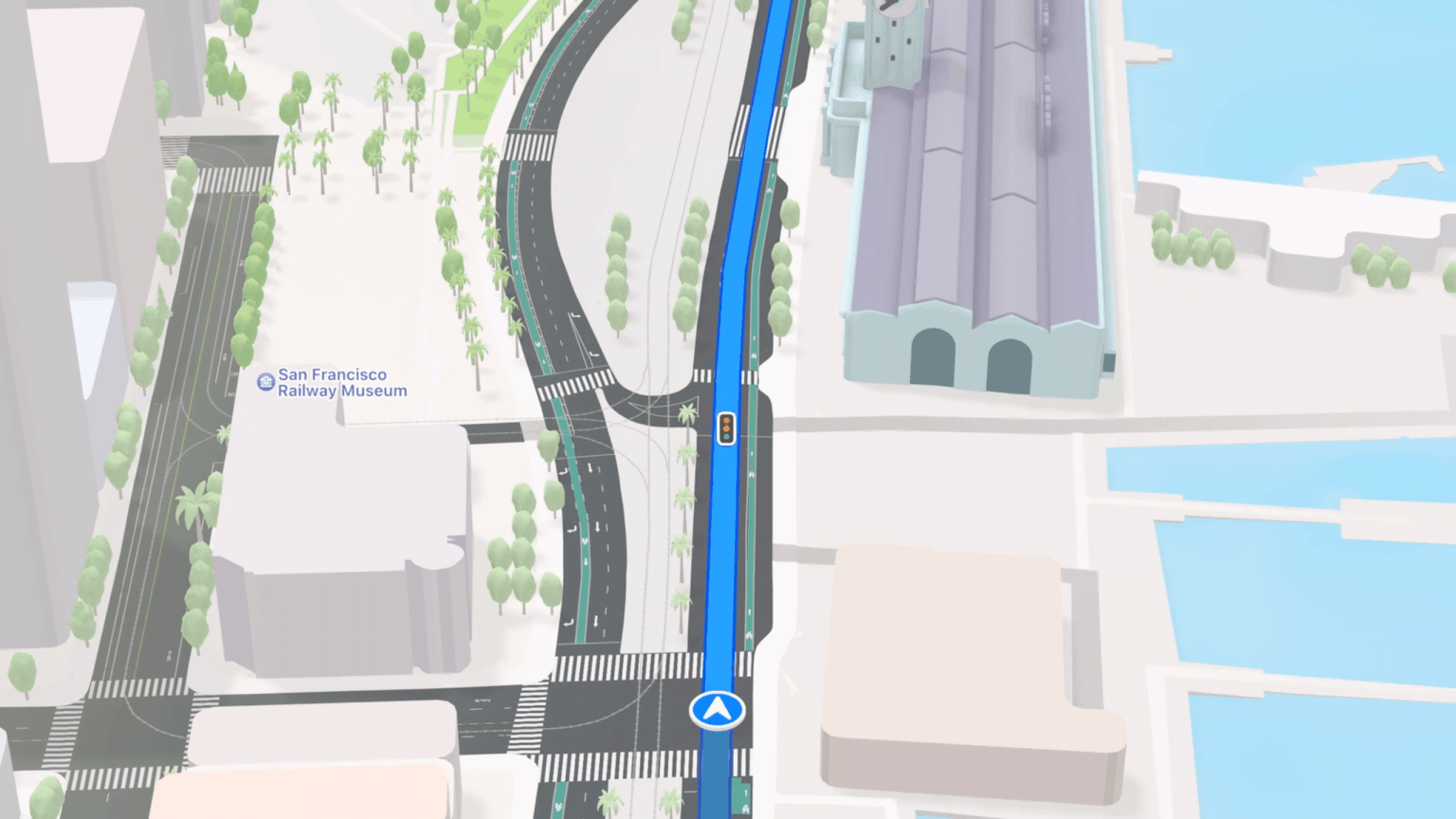 The Weather application will always offer more additional information on a location. iOS 15 will feature animated weather forecasts, as well as a compass for wind direction, and even air pressure.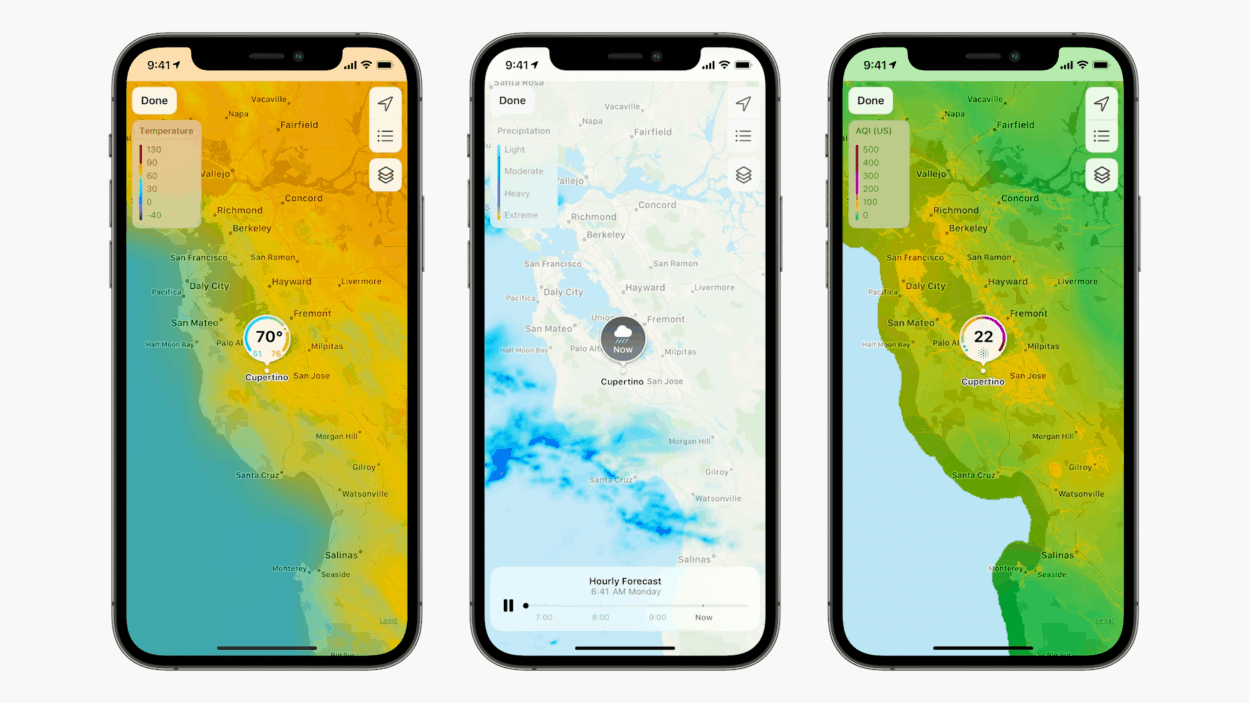 In short, this new version of iOS will strengthen integrations between Apple applications, but also between brand devices owned by the same user.