The key: more secure connections and better web performance.


One of Google's many efforts to make the web faster is now accessible to everyone. With Quic, Google has improved the speed and security of our internet connections. The protocol, tested for 8 years, is now mature enough to be adopted on a larger scale.
Earlier this week, the Internet Engineering Task Force (IETF), the organization that sets many standards for the web, released Quic as a standard. Google first tested it in 2013 in its Chrome browser before other browsers and services exploited it. But the IETF, which has been scrutinizing the technology since 2016, now considers it strong enough to be adopted by the greatest number.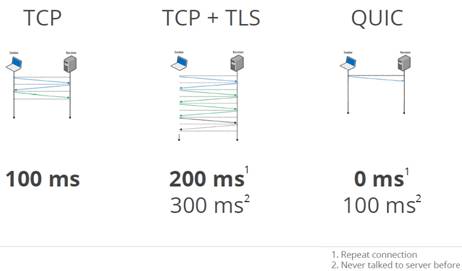 Quic is a protocol for transmitting data between computers. It replaces the good old TCP (Transmission Control Protocol), a protocol dating back to 1974 that manages the way they placed data in addressed packets, routed and returned to usable information. Quic uses the User Datagram Protocol (UDP), allows faster packet retrieval but also offers better connection encryption. The massive adoption of this protocol will thus allow boosted performance for loading videos, better connections during video sessions or even faster browsing on websites. In addition, website visits will be more secure thanks to stronger encryption.
However, Rome was not built in a day and it will probably still be a long time before all widely adopted the protocol. Although the performances displayed can be attractive, it is still necessary that the various services using the TCP protocol have the will and the resources to make the switch.