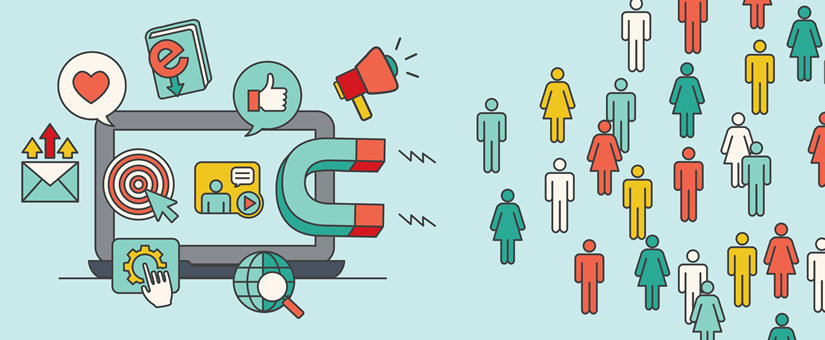 Demand creation is any action taken to educate customers and arouse their desire for a product or service, to forecast the growth of an organization.
Marketers and consumers alike have confused the terms lead capture and demand creation for years. Although the two concepts are related in the world of marketing, they do not mean and pursue the same thing.
The question that many companies continue to ask themselves when deciding to run their business in the online world is: are they putting brand visibility above all else or are they dedicated to capturing the good ones? prospects or leads so as not to waste time with others?
In the lines that follow you will find an answer to this question, you will learn more about demand creation and how it can help you execute the most effective strategies.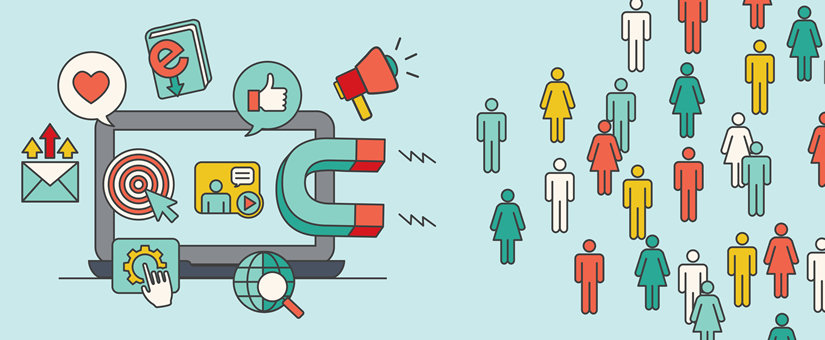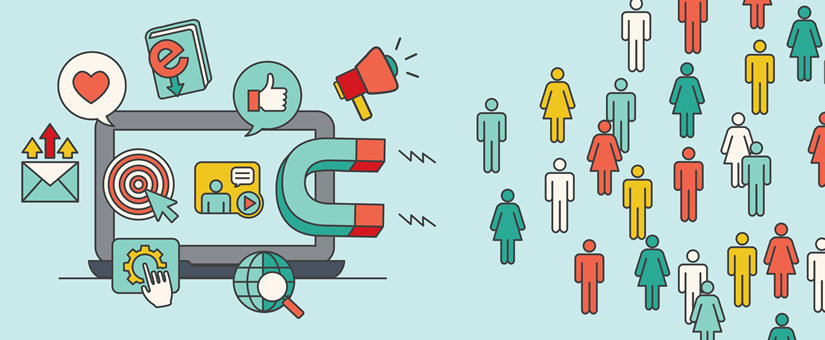 What is demand creation?
This concept involves making known the existence of your product or service or creating a demand for it, as the very terms of the terminology suggest.
It's about building trust, improving your reputation, and essentially making people want to do business with your brand.
Think content marketing: blogging, email marketing, downloadable assets, and more.
All of these help position you as a valid leader or opinion, but while they do create and generate interest in your brand, it shouldn't be necessary for the audience to contact you at this point.
Therefore, if you don't have a content strategy, you run the risk of being left behind by other marketers.
On the other hand, demand creation marketing is the process of identifying potential audiences who might be interested in your product and putting them through a process that will make them a leader.
Audiences that interact with inbound marketing material, such as free content or emails, developed by an effective content marketing strategy, express an interest in your product, service, or business.
This helps to qualify them quickly and ensure that they have a real chance of buying from you in the future.
Demand creation filters out the leads that are most likely to accumulate in the funnel, which can cause more problems and waste valuable time for your teams.
Reasons for its importance
Demand creation has grown in popularity with businesses, and achieving success has become of the utmost importance, but there are a few reasons for this:
Create lasting relationships with prospects
It is also important because it tries to give value to customers by how they spend more time, by offering solutions to their problems, and by accompanying them in their daily life.
With this daily interaction, the creation of valuable and lasting relationships is almost inevitable, so that trust in your brand increases as well as future sales.
Give confidence to the buyer
By continuing to share quality, entertaining, and inspiring content with your prospects, you gain the thought authority in the industry and with it the trust of your users.
This content will help them solve problems and therefore keep your brand in mind so that you can accompany them until they decide to make a purchase.
Generate more qualified customers
Demand creation actions allow your business to focus on the quality of leads and not so much on quantity, because the more skewed the campaigns, the more suitable customers will come.
This is why it is so important to have an ideal customer profile, to gather the most significant characteristics, and to investigate where they spend the most time, both in the virtual world and in the real world.
Increase income
A continued interest in the content and everything related to your business will bring positive results in terms of income.
The main goal of demand creation actions is to focus on the customer to support you in growing your business. Income is the primary focus of this strategy, but it's also a ticking tick when it comes to asking how the tactic is going.
It all depends on your business model, but the average indicates that it sometimes takes six months to a year to see results from this activity. However, income is not the only measure of the performance of your efforts.
Serve as a guide for customers on the buyer's journey
Making a buying decision is not an easy task, especially for customers of a B2B business, as the target audience is not one person, but several people are involved in this decision.
It is, therefore, necessary to nurture each member with personalized messages that help them solve unique problems.
On the other hand, you have to take into account that your prospects will not necessarily make a linear journey through the funnel, since many will be in one phase reading content that corresponds to an entirely different one.
The key here is to have accurate and sufficient information to meet the expectations of future buyers.
Demand creation versus lead generation
It's not about falling into comparisons to see which strategy is better than the other; on the contrary, the best thing to do is to complete these two activities but to understand their differences.
We have already said that several marketers use the two terms interchangeably as if they are the same, but they are wrong.
Demand creation is focused on the long term, aiming to cover every phase of the buyer's journey. Lead building, on the other hand, is a subcategory of the strategy in question, as it has limited reach at the top of the funnel.
The purpose of the latter is to convert specific audiences into qualified leads or the appropriate leads, after gathering the relevant information and using it in favor of the brand to determine if a customer is of such quality to nurture them.
Every organization has a desire to attract potential customers as well as demand, so a good tactic is to develop a demand creation strategy that provides accurate information to prospects at every stage of their journey.
How to implement a demand creation strategy?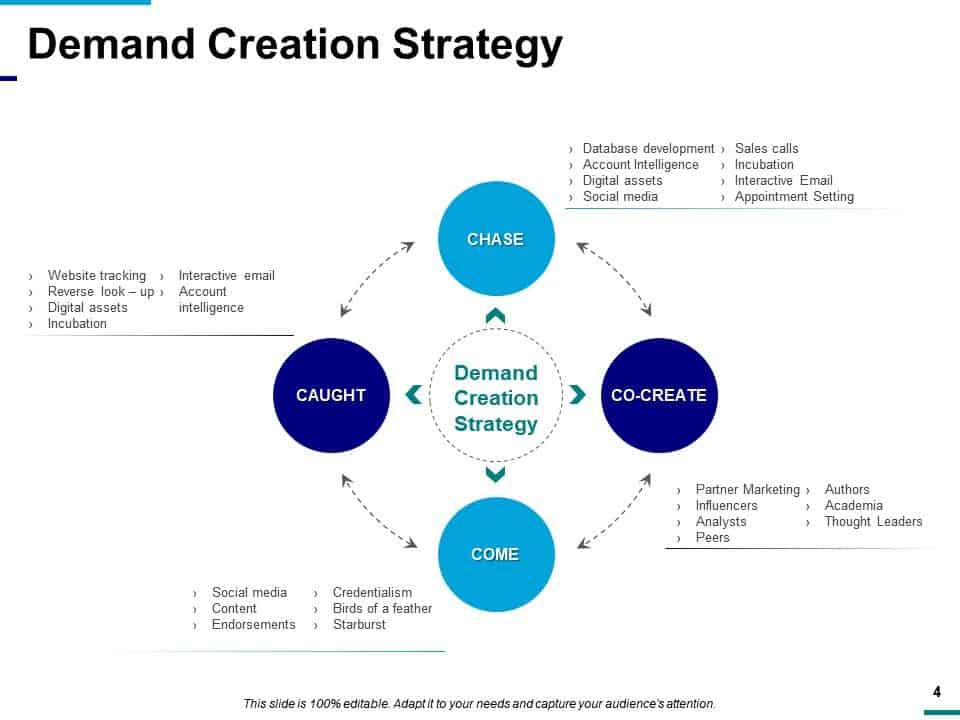 It is not easy to get people excited about the solutions your business enables or offers, especially if your business model is B2B, but there are some ways you can implement a demand creation strategy to be successful.
The first thing to do is to clearly state the objectives. It requires identifying and implementing measurable business growth initiatives, so when formulating these goals you should consider the following
Define the objectives of your campaign with your marketing strategy
Demand creation does not consist of several random actions, but rather activities that are based on data drawn from a strategy.
Therefore, if you want effective campaigns, you need to align your goals with your business and marketing goals.
To do this, take each step of the funnel that is to be influenced by the campaign so that you can place each of these campaigns in one of the three stages of the funnel: top of the funnel (TOFU), in the middle of the funnel (MOFU) or at the bottom (BOFU).
Target the best points of contact to attract the right people
Consider which platforms your target audience is on and where they can be reached in the customer journey.
Having multiple platforms, online and offline, as well as specific contact points generates high demand.
Try to solve your target's biggest problems
It's not about telling your customers that your business is the best, but about empathizing with their problems and showing them the best solutions.
All of this involves knowing your ideal customers in-depth so that you can create personalized messages for those specific people.
Demand creation shows your business as an expert in different industry issues, giving it more visibility.
It's about showcasing your experience and how you've helped former clients get out of trouble.
Analyze before segmenting
If you try to get them all and communicate with them, you will end up having no contact with anyone.
It is therefore necessary to identify the segments to personalize the message you want to convey and not to waste time.
When you make personalization a priority at every step of the customer journey, you make people addicted and more confident in your brand.
Make your campaigns as remarkable as possible for every ideal person.
Create accountability
The opportunities you create must be of high quality, and for that, there must be accountability.
Remember that marketing should be responsible for the amount of revenue it is supposed to generate, not just the number of leads.
Make sure your marketing and sales team goes through a solid lead-building process to ultimately turn those leads into buyers.
Polish your current demand creation tactics ahead of expansion
When building a business, rather than targeting all segments at once, it's time to refine tactics. Especially if you don't have a large team, this approach works well and allows you to reuse what has been successful in other segments.
7 last keys every leader should know
According to Business.com, before implementing a strategy, it is important that as a leader you consider the aspects listed below:
Demand creation increases lead conversion
There is a disjunction on the part of marketers between content as a lead creation tool and unique and valuable content that is only meant to satisfy and help customers.
It is therefore difficult to understand that lead generation and demand creation are complementary aspects: on the one hand, it is impossible to generate leads without a positioned brand and, on the other hand, a company is nameless if she doesn't even have any prospects.
Brand management tends to be more emotional, appealing to the feelings and fiber that drives people to market a business; while lead conversion is more about attracting those who are truly qualified and likely to make a purchase.
Reach new markets
According to content expert Ritika Puri, demand creation covers several marketing strategies that make customers feel excited about the products and services your brand offers.
These campaigns support a business in its process of opening up to new markets, generating expectations around what is offered, and even retaining customers that you have had for some time, by building real relationships.
In short, this tactic creates awareness and interest and finds audiences who were unfamiliar with your brand.
It's a big strategy
According to Puri, online interactions should be established even with prospects who are not in the range of what is considered quality, as someone who is part of Gen Z could be your consumer in the future.
Keep in mind that not all interactions result in a conversion, but you should still answer all questions and concerns you have on all platforms, including social media.
Content marketing has two goals
For the content expert mentioned above, inbound marketing is part of a demand creation strategy.
One of its goals is that, from lead generation, content has an influence on conversions and even on loyalty, taking the data of these people as contact details.
On the other hand, depending on the creation of demand, conversations in social networks help to position a brand as a thought leader and an expert in the sector.
Focuses on general issues
Lead generation has limitations like landing pages where people leave their data, while demand creation has conversations with leads in social media as part of a more general management strategy.
In this case, SEO is different, since it does not focus on specific topics but rather general topics, because it understands that a lot of people are not looking to make a purchase but simply to get information.
Position your organization and give it a reputation
If your prospects seek to clarify doubts through your brand online, you will position yourself as an authority in the industry.
Remember, people only buy products and services from brands they trust and believe in, so awareness has great benefits.
It's a cycle
With Inbound Marketing, we can convert leads into current customers, and over time they can even become brand ambassadors.
Want to know the best part?
Word of mouth continues to be the most powerful weapon today in attracting more customers; therefore, those who talk about your brand will be able to fuel your funnel with new customers depending on the creation of demand.
Conclusion
Demand creation is a complementary strategy to lead generation and is arguably the best tactic to stay in consumers' minds along the way.
Without this complementarity, a strategy would be incomplete, since there is no point in capturing and attracting prospects if they are not moved by the emotion of what you are offering them to finish deciding to make a purchase.
The best promoters of your brand are the ones who see you as an authority online, who trust and believe in what you are offering so much success!