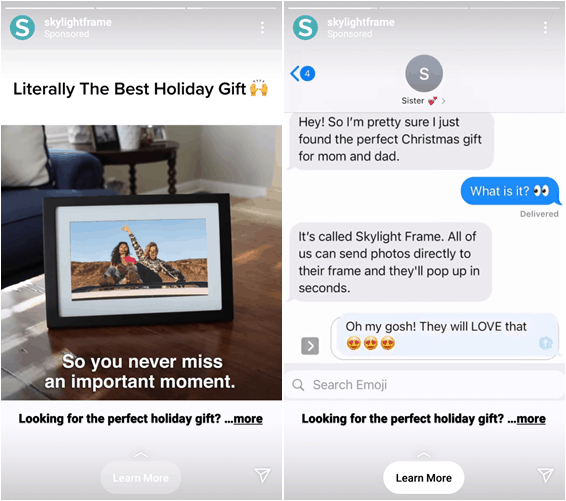 In recent years, Instagram has joined the group of social networks that allow sponsored content. After trying them out for a few months, we want to share with you a complete guide with 10 steps to create a campaign, real examples of ad types, and tips on how to make them work well.
The importance of Instagram as an advertising channel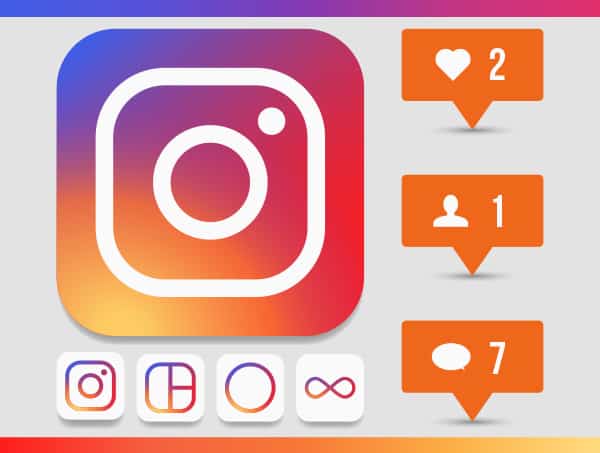 Even though it takes little time, it has become one of the best advertising alternatives due to its low cost and the power of attraction that images generate. The number of users already exceeds 400 million and the level of participation is very high. It's still early days to know if ads get more clicks with conversion here than in other systems, like Facebook or Twitter ads, but what we do know is that users are actively linking and following their brands. preferred to be informed, for example, of discounts and contests. This means that Instagram targeted ads can be very effective.
Some interesting facts about Instagram :
Over 60% of active users are women (18-45 years old). Most statistics put women above men when it comes to internet shopping.
With Facebook and Youtube, it is the social network where users spend the most time online (time spent online), so the probability that our message reaches them is high.
Are Instagram campaigns cheap?
Currently, and this happens every time a platform starts up, CPC costs are very low. The cost per click is usually between 0.05 and 0.15 Compared to Google Adwords, Linkedin Ads, or even Facebook or Twitter Ads, it is very cheap – you can get visibility for very little money! It won't last forever, so you have to take advantage of the present moment and the novelty. Think that the more advertisers there are, the more competition there is and therefore the higher the offer or the cost per click.
Managing Facebook Ads Manager
Another feature of Instagram Ads is that it does not have its ad manager, but is managed by Facebook's ad manager or Ads Manager. Far from being negative, this is a great advantage as you can manage Instagram targeted ads, Facebook targeted ads or both networks at the same time from the same site. It may sound confusing, but in practice, it is a very useful and efficient function. I'll show you an example later.
Step-by-step Instagram guide to ad creation
Here's a 10-step guide to setting up a start-to-finish Instagram Ads campaign and a set of tips you can use to design your ads and set your campaign targeting and budget. You can also check out our article 14 Creative Techniques for Adwords Ads and Social Media + Video where you will find some creative ideas that you can implement in your Instagram campaigns.
Instagram link with Facebook
If you are sure you want to test an Instagram campaign, the first thing you should do is link your account to its respective Facebook page. This is a simple but important step. If you haven't created a Fan Page, you won't be able to advertise on Instagram. And if the Fan Page name and logo do not match the Instagram name and logo, it will be reflected in the ad.
To link the two accounts, go to the "Settings" section of your page and click on " Instagram Ads" in the left sidebar. Click on "Add an account" or "Remove an account" if you wish to change it to another account.
A fan page can only have one associated Instagram account
Types of campaigns and objectives
The next step is to choose the type of campaign that best suits your goals. There are currently five types, depending on whether you want to advertise a post, get web traffic and conversions, have them install a mobile app, or have them watch and play your video.
Promote publications
You should choose this type of campaign if you want to increase the visibility of one of your published posts organically. You can reuse the posts you posted on your Facebook page. It's a good option for brands that want to improve their reach and get user participation in the form of likes and dislikes. The trick to making this type of campaign work is to sponsor creative, original, funny, or useful content for users. I advise you to avoid commercial messages in this type of campaign.
Get web traffic
These are campaigns that aim to get visits to a specific page or the website in general. The ad has a button that automatically redirects to where you want it. Something really interesting and useful is Instagram. (In normal publications, it is not possible to establish links between the contents).
Get conversions on the website
It is identical to the previous one, but it has a built-in mandatory conversion tracking system. These are campaigns that target not only web visits, but also the achievement by the user of a kind of valuable conversion such as contact form, purchase, subscription, download, etc.
Installing applications
These are campaigns that aim to entice users to download your mobile application. They are very interesting and effective because most, if not all, of the users, use Instagram from their mobile phone which will increase the download percentage! These campaigns are highly recommended if you have apps.
Video playback
Along with pictures, videos are and will continue to be the most striking and attractive format on the networks. This campaign will help you increase the number of times your video is shown and reach many more people with small clips and video spots from your brand.
Targeting options
When it comes to segmenting and reaching your ideal target audience, you'll have the same options that exist on Facebook. On the one hand, there are the basic segmentation options which include filters for geographic segmentation, language, age, and gender. And on the other hand, we have advanced targeting options such as
Personalized audiences
It is used to create your user lists depending on whether you want to use a database (emails) or list the users who browse your website (remarketing). With these two options, you can target your ads to people who already know you in one way or another, so that you have a chance of return and conversion.
Demography
In this section, you can segment according to the personal aspects of the users. If you are targeting a Spanish audience, I recommend that you only use the education, relationships, or work filters. The others are not available in Spain or do not work well.
Interests
This is an option that can help you reach people based on their interests, related to the pages you follow and the type of content they participate in. These are for example sports and outdoor activities, technology, food, and drink, etc. In every main interest, there are sub-interests. By doing research, you can find one that is suitable for your target audience.
Behavior
With behavior filters, you can reach users based on their current activities or based on their behavior on the network itself. For example, you have the option of targeting your ads to "people who are currently traveling" or to "people who are Facebook page managers".
Connections
This segmentation option will be very useful for adding or excluding fans from your Facebook page as part of the campaign. It also gives you the option to add or exclude similar users (having interests, gender, age, language, etc.) to your fans. It also gives you the ability to add or exclude people who attended your events or interacted with your app.
How to choose the budget and the application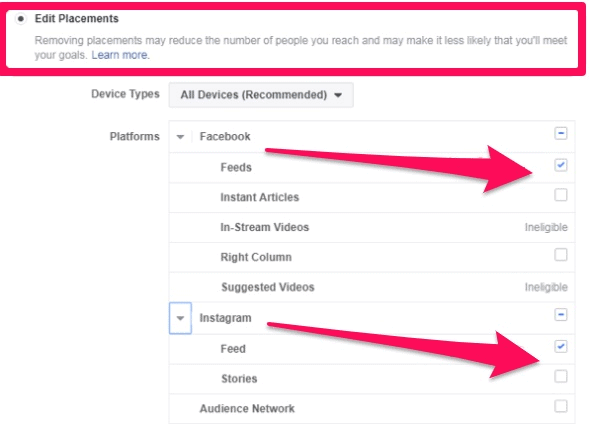 After segmentation, it's time to define the campaign or ad group-level budget and bidding strategy. Like I said at the start, if you just want to target the campaign on Instagram, the total cost will be cheap. The minimum budget that you must set is 5? per day.
The length of the campaign and the targeting will affect how quickly or slowly the budget is consumed. I advise you to try to concentrate the budget in a few days (1 to 3) to make the visibility more intense.
In the "Optimization for ad serving" section, you'll find a drop-down menu that lets you choose why you want to pay for your campaign and you'll normally find 3 options: by interaction (or clicks), by impressions, or by unique daily reach. When to choose one or the other? Think about your goals to decide:
If, as an advertiser, you want to get a response from the user, it is advisable to make an offer per interaction or click.
If what you want is just awareness, branding, and a lot of exposure, impressions.
If you want to limit the volume of impressions, 1 per user, the third option of the daily unique reach.
Ad formats + example
You currently have 4 types of ads to design your creations and surprise users. Whatever you do, try to be original and daring. Pay attention to the quality of the images, they are the most important thing on Instagram!
Carousel
It is a powerful and very attractive advertising format. It allows adding up to 5 images to the ad that users can move. Many brands use it to add emotion to the product or even to tell a story through advertising that conveys the brand's values.
Single image
This is another option that can be useful if you have a good quality image that transmits itself. Besides the image, you can always add a button that works as a call to action.
Image reader
This is a new option that allows you to download up to 5 images to be played on their own. It's a mix between video and carousel. The effect is that of a video, but with the ease of having to add only several images.
Video
For now, only one video can be added to the ad. The only thing to take into account is the time, which should not exceed 60 s.
Important> After selecting the format of your ad and previewing its appearance, it is important to choose the space in which it should be displayed. To the right of the ad, you will see the option to "add" or "remove" depending on whether you want it to jump on the Facebook wall or the Instagram wall.
Strategy: ads with quality content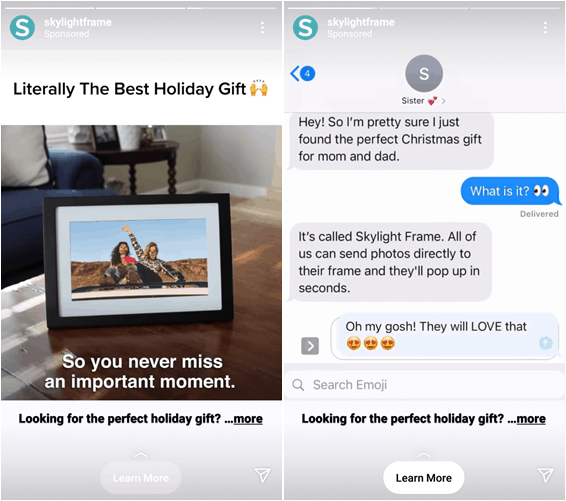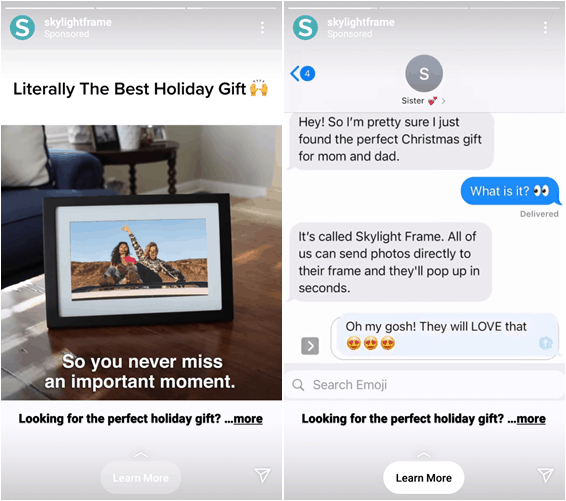 He believes advertising is changing and commercial content is no longer useful. You have to innovate and do different things. It works for us and that's why I recommend that you occasionally alternate commercial content (discounts, contests, offers, new products) with ads that offer VALUED CONTENT.
There are thousands of options to encourage participation and good understanding with your community. Funny mini-videos using common applications (Boomerang or MSQRD), to personalize certain designs and share motivational phrases or convey an extraordinary activity in the daily life of the company (event, birthday, team challenge, etc.). You can also advertise your business stories. Here is a collection of 27 example formats for Instagram that will inspire you.
Tips for creating Instagram ads
Use the most used hashtags in your industry (between 3 and 7).
Use a specific hashtag for the campaign or your brand.
Add cool emoticons with the Emoji Input extension.
You have to be brief and get straight to the point, less is more.
Write the announcement in close and familiar language.
Repeat the call to action in the text (e.g. buy, enter now, view, download, etc.)
Add your domain at the end.
Ask questions to encourage participation.
Always use the brand's colors.
Do not reload the image of the text.
Use high-quality images.
Define the conversion pixel
As with Facebook campaigns, you can create a conversion pixel from your manager or ad manager to measure the impact and results of your Instagram campaign. The first thing to do is to define what kind of conversion users can do when they see your post and then create the pixel to access the HTML code.
Once you have the code, you need to insert it into the page that confirms the conversion. If your conversion is a purchase, you must add or tell the site designer to insert the tracking tag in the "thank you for your purchase" page. This is how you make sure that the user clicked on your ad and ultimately bought.
Then, to measure the number of conversions, you must select the campaign type "increase conversions on your website" and attach the pixel to it.
How to interpret the results
Your campaign details will appear next to the Facebook campaign details in the ad manager panel. The panel has now been greatly improved to make it more intuitive so that you should have no problem tracking your campaign and ad set. Many advertisers prefer to use the Power Editor (accessible from the menu) to create campaigns and study data, but you can also do it from the main panel in a more synthetic way. I recommend this second option until you have gained more experience.
To better understand the statistics, don't skip these steps:
Customize columns + Save as default
Use this function to choose what you want to see in your columns. You must do this according to your goal (clicks or impressions). You can also customize the order of the data, from most important to least important.
On the left, you have a menu to choose the measures, in the center you select them and on the right, you place them in the desired order. Take a look and if you have any doubts about the meaning of each thing, add it to see its definition later by clicking on the "i".
Compare the main indicators
Take a look at the campaign level to compare the last ones you've run. Check which one you had the most impressions + reach, the results of clicks, and your CTR. Compare that with cost per click and total spend.
Campaign optimization
The cost per CPC being very low, it will be rare that a campaign is not profitable because of the visibility obtained. Even so, I recommend that you carefully study your stats and jot down a list of optimization tasks to further improve your future campaigns. I leave you with a list of the most important questions you need to ask yourself to analyze what is right and wrong and what you can do to correct the result:
Did I reach the expected number of impressions? > If you need to increase your reach, use fewer targeting filters or increase your budget and bid.
Is the campaign CTR or hit rate (the two KPIs to compare snapshots and impressions) greater than 2%? Otherwise, you have to increase the bids to increase the number of impressions and thus get a good click-through rate.
Did I get any clicks or results (interactions)? > If the answer is no, or very little, re-edit the design and message of the ad. Think about whether the segmentation has directed you to the most appropriate target audience and change it.
If you had multiple ads in the campaign, which one worked the best? > conclude the ad that had the most clicks to find out which model is the most interesting for your audience.
What do you think of Instagram ads?
Hope you liked the post and find it useful for your projects. Online advertising is a crucial area of ​​marketing for many businesses and the demand for certified and managed professionals on all major platforms is increasing. In our online and face-to-face courses on Google Adwords, we check it every day. What do you think? Would you like to try Instagram ads? Do you already have a campaign? Your feedback is important to us. We want to hear from you, so if you want to share your experience with us or add something to the article, we're all ears.