Hello, today we want to share with you a guide to show you how to market on Pinterest. Discover in 21 steps how to improve your tips and add value to your community on Pinterest. Pinterest is consolidated as one of the social networks of the moment. I'll tell you what works best for us and how you can also put it into practice today with your brand.
Below is a guide for businesses with the best techniques and tips for fully expressing the benefits of Pinterest. Do you stay?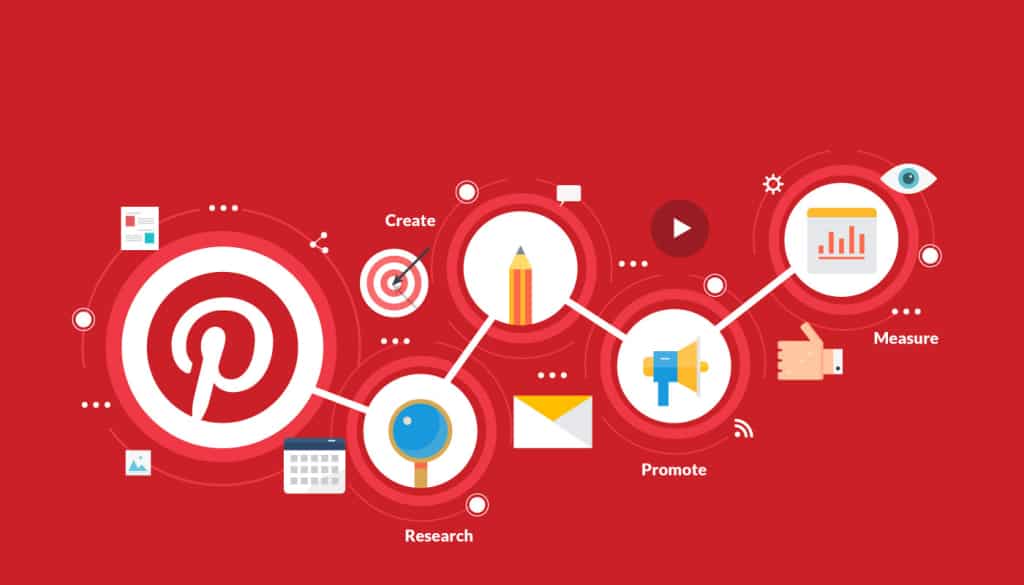 Before you start, set your goals
It will be essential to correctly define the objectives and goals that you want to achieve with Pinterest. The goals will depend on various factors and your current situation. Here are some of the main goals you might want to consider that this social network can help you achieve
Have brand presence and awareness.
To achieve this, you will need to perfectly configure your account description and customize your boards and pins to reflect your business.
Generate web traffic.
If the images and content are attractive enough, you will get a high percentage of Pinterest users who know your website.
Increase sales volume ( ROI ).
This is the most ambitious goal and it will be possible to achieve it as long as the presence, content, and attitude of the brand towards the community is constant and participatory.
Take advantage of Pinterest web traffic in your e-commerce strategy

It may seem like a simple detail, but one of the keys to this social network is that through an image or a pin, it is possible to directly access the website where it comes from. Its efficiency in directing consumer impulses and completing a buying process that makes Pinterest so valuable.
No wonder it has become the preferred platform for businesses selling online or e-commerce. If this is your case, you must use this network to get in touch with your target, offer interesting content of value and also, why not, show your products in the best possible way to direct people to your information page. and purchase.
Verify your account
You can create a business account or convert an already created profile directly from the Pinterest for Bussines section. Remember to complete the verification process to add official status to your account. Only verified accounts have access to the analysis section, where you will get statistical information on user behavior with your pins. Additionally, verified accounts are more visible in search results.
Transform, adapt and make transmedia with your content
It's not just e-commerce that keeps Pinterest alive, that's for sure. Other types of businesses may be successful and have the same or better results than selling online. Whatever your business has to offer, you can turn it into visual content. Pinterest will help you bring out the more creative side of yourself. There are thousands of ways to impart knowledge, information and make yourself known. You just need to think about it and have a specific goal with each tip. AT
Create a calendar and plan your content
You can create a weekly or monthly calendar for days and times depending on the time available and how important Pinterest is to your brand. Get in the habit of spending at least 10 minutes a day completing your tables and brainstorming new ideas that will give you valuable content. If you have a constant presence and gradually increase the amount of content, you can more easily increase the number of followers and increase the likelihood of driving traffic to your website.
Daily tasks
Examine notifications, complete dashboards, respond to comments, follow up on potential customers …
Frequent tasks
Connect with Pinterest followers in other feeds, create or join company boards, get ideas for new boards, do research.
Sporadic tasks
Special campaigns: offers, discount coupons, promotions, contests, holidays …
Difference between valuable content and commercial content
It doesn't make much sense to use Pinterest exclusively to have a catalog of your products or services. To get followers for your boards and gradually increase the impact of your pins, don't limit your presence to just sharing what you sell and your products. She might be too aggressive and you might become one of the many players without differentiating yourself by offering something really useful.
Always bet on valuable content.
Example
Another of our tips is devoted uniquely and exclusively to compiling the best marketing and social media agencies in France in the form of pins. This is really valuable information for people looking for a job, who want to contact them, read their content, or use their services. You may think that this makes the competition too visible, but it's quite the opposite. Submit valuable content (even if it's not directly yours) and your community will trust you.
Types of tables
Choose with your head the type of tables you want to create and combine the different formats in the best possible way. It will make your chalkboard grid look dynamic, different, and creative. By spending more time developing content on Pinterest, you'll be able to detect which types of cards work best for you and eliminate the ones that don't.
Collaborative tables
This type of table is characterized by the fact that it can be managed and completed by several users at the same time. It's a great way to encourage your fans to participate, make them the protagonists of your content, and work as a team. To be able to invite other users to your board of directors, there must be a reciprocal follow-up. The brand must follow the user and the user must follow the brand. The same strategy, but in reverse, would be to participate with your brand in the advice of other brands or users.
Example
To get an idea of ​​what I'm talking about, take a look at the "Recommend a Book" board created by the Quelibroleo brand, it has over 2000 pins and 260 participants. Another one that I recommend you to see is the Super Star user 'Nerds United' board, which managed to get over 1628 users (between brands and profiles) to complete the collection with over 118,300 pins!
Table map
It is one of the most special due to its peculiarity and shape. It allows you to geolocate different pins on a visual map using Foursquare. For this to work correctly, you must first add the pins, then locate the image using the "Add a place" button. It is particularly suitable for tourism companies because it allows creating different routes and powerful tourist information, but also for other types of companies who want to share information through a map.
Example
See what a good example of information and advice you have on this board. I chose it because it is a card and also because it is collaborative: Mapa Travel: Paris board created by Foreigner and in which Air France participates, in a very intelligent way.
Internal content table + inbound traffic
This is one way of referring to bulletin boards on your website. That is content that automatically redirects to a page or a home page of your site. Save time and work by enjoying your blog content. AulaCM in Pinterest top
Example
One of our forums is called TOP: Posts and Guides and it brings together the best entries and valuable content from our blog.
Table of internal or external content + incoming traffic
In this case, the pins that complete your tables are characterized by a URL that redirects to an external page that has nothing to do with your site. This type of collection is appreciated and very well valued. Brands and users drive traffic both ways. Tip: Collect useful material for your potential customers and at the same time generate the need to consume what you are offering. Likewise, this strategy will allow you to gain the loyalty of your followers, something equal or more important than the previous one.
Example
We put a lot of money into several such boards, for example, the social media benchmark board where each pin is directly linked to each expert's Twitter profile.
Customize the covers (branding boards)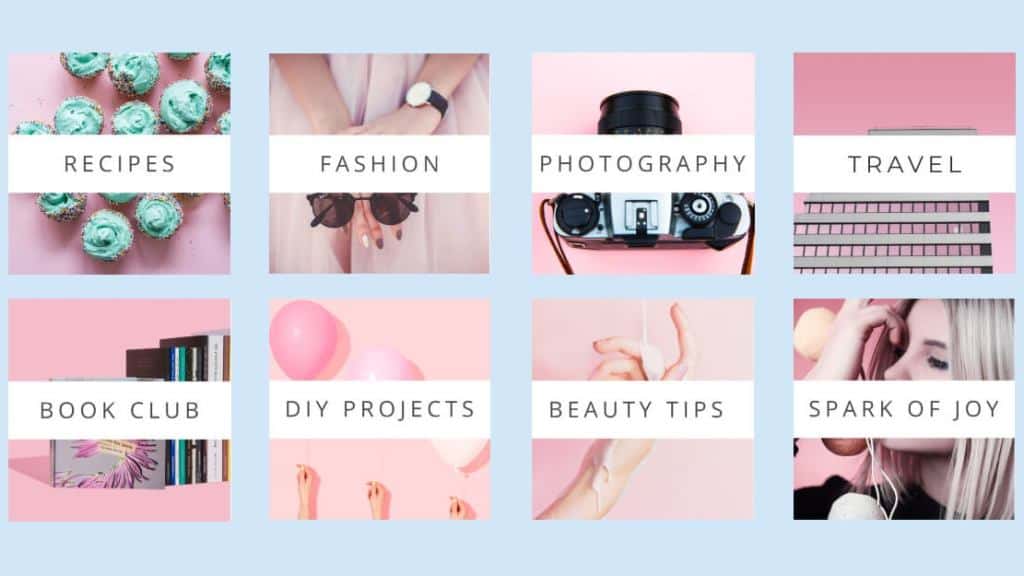 Pinterest is the ultimate visual social network and you need to make the most of all the possibilities available to you to convey and facilitate content directly and intuitively. What's the first thing a user sees when they land on your account feed? Your advice. This is your first asset in surprising them and attracting their attention. Make it easy and attractive. Play with the visual space and personalize the cover of each of your paintings.
Examples
Name covers.
One of the options for building your brand that works quite well is to use the same typography, color, and style as on the website and name the board according to the content. Personal Ink also names the covers and includes custom icons.
Mosaic with planks.
If creativity is your thing, draw using one or more images on each cover to form a mosaic or collage. You can see examples of this type on the Villarrazo Madrid account or the Air France account.
Pinterest Analytics
Once you verify your account on Pinterest, you will have direct access to the Analysis section from the options drop-down panel. Here you'll find some really useful information about your webpage activity and the impact of your Pins. You have three main sections for browsing and extracting data. You can choose a custom date range and you also have the option to export all data.
Your Pinterest profile/account: general information about your account
In this section, you can see and compare several consecutive graphs at a glance. The data shows, for example, the number of followers, the pins with the highest number of impressions, and the number of repeats or pins recorded. You can also see the number of visitors, clicks, and impressions of your images. Impressions are the average daily number of times your pins appear in the general search engine and search results.
In the second graph, you have the Repin count which shows the number of people who have pinned images from your boards, and in the Repinners row the number of people who repinned.
When measuring results, determine how much traffic this represents for your website.
Audience: facts about the people you reach
In the second table, you can get some very interesting data about the users who interact with your content. For example, you can know the average number of visitors per month and the average number of participants per month. You also have information on the country of origin of your followers, the city where they live, the language, and the gender.
Under the 'Interests' tab, you'll find a collection of the topics most popular with your audience so you know what else they like on Pinterest. Tables of other users with your images and a list of other brands with which your followers (possibly your competition) participate.
Website metrics
Pins created from your website and then shared on Pinterest. It's a way to measure the impact of your content on Pinterest and it's also a way to calculate the web traffic that these images can generate. If many users share photos of your site on Pinterest, the number of visitors will increase.
Statistics of interest recently included a drop-down list by device, if you want to compare data from a computer, cell phone, or tablet.
Create a report with the results
Like many social networks, Pinterest gives you the option of exporting the data to a CSV file from the analysis section, "export". With this information and what you can collect from Google Analytics, you can report results periodically as you see fit. Getting data is just as important as knowing how to interpret it.
Measurement and monitoring tools
This is a free tool in the style of Google alerts. It lets you know which people have clicked on your website, through an alert system that you receive in your email, by selecting certain search parameters and tags.
Tailwind.
This is a very comprehensive analysis tool that you need to know to complete the statistics that Pinterest offers you. In its free version, you can get information about your most influential followers, pins and boards, percentage and increase in followers, latest comments and follower charts. I especially underline the individual and detailed information extracted from each of the tables because they allow to compare and to know which one works best.
Application that allows you to promote your pins according to what you are willing to pay. According to the website, simply signing up for Viralwoot will recommend you to other users in their Pinterest accounts.
A paid application that allows you to contract a service through which influential users give you visibility and make your content known.
Previously known as Pingraphy, it is a program that allows programming in Pinterest. It has a demo version and allows you to upload images to your account from your computer or other apps like Instagram.
Content creation tools
Simple but effective if you want to create images with sentences and text.
This is a tool for creating quality and professional looking online designs. It allows to configure a thousand images, logos, posters, covers possible and with the possibility of selecting a template of the size defined for networks such as Pinterest, Facebook, Twitter or blogs.
Set up a few extras: apps, bookmarks and buttons
Collecting images has never been easier. The methodology to follow will depend on your objective and the origin of the images. Collect images directly from Pinterest using the "Pin it" button or find images on different blogs, networks and platforms by installing the Pinterest extension on your Google Chrome browser. If you decide to upload an image straight from your computer and turn it into a pin, don't forget to edit it later if you want to add a link that redirects to your website or another. Extensions and supplements will help you optimize your time.
Pinterest also from your mobile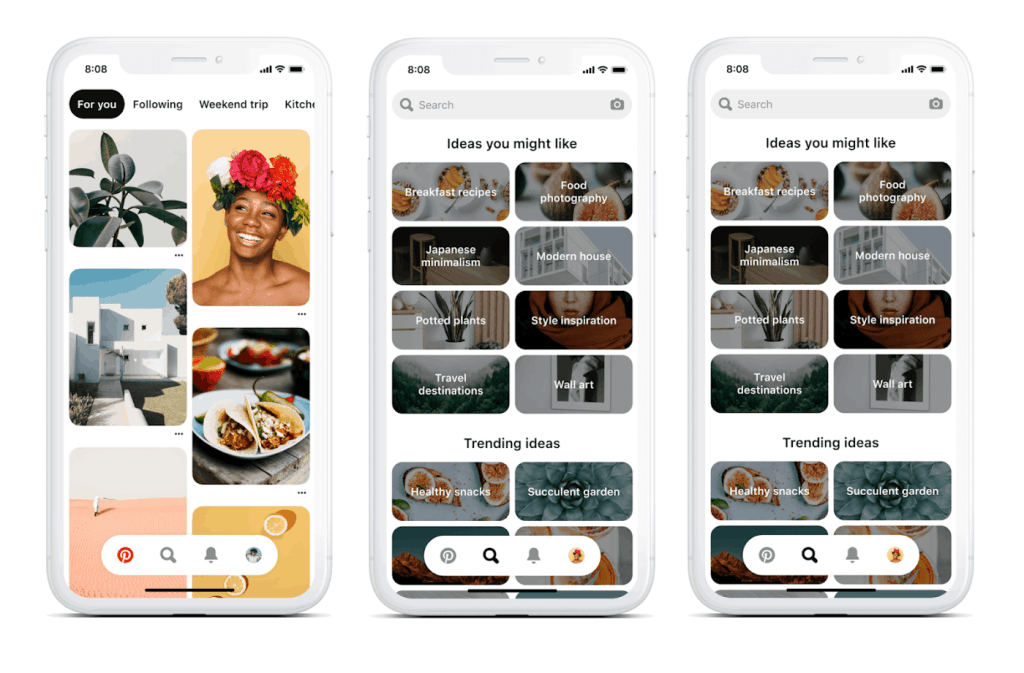 The Pinterest app for iOS and Android is available. I recommend that you use it to monitor your followers, comment, and continue to complete your collections. It has a fully tailored design and allows you to use your account quickly and from anywhere.
Improve SEO on pins and tables
If you want them to find you and visit your boards, you need to put up engaging titles and describe each Pin correctly. Include keywords and calls to action to set yourself apart from your competition.
Link Pinterest to other social networks: Twitter, Facebook, Youtube…
Periodically take into account the link between different social networks, this way you will manage to attract more users and get more visits. You can share a post on your Facebook wall that encourages participation and invites people to visit your boards.
On Twitter, post a tweet with a link and an image to increase your visibility. Another thing you should do is install a Pinterest app on your Fan Page to increase the likelihood that users will come to your forums through your page. There are many such apps, you can try installing Tab for Pinterest app or Pinterest Page App.
Check the "Popular" category from time to time
It can be helpful to know what the trend is and what is generating the most repins. This is a section that summarizes the activity of all members of the Pinterest community. It can be used as a thermometer to analyze the tastes and interests of users, competitors and brands.
Some creative ideas to inspire you
Here are several examples that I put forward for their originality and their good work. Most of them are successful brands and also from certain users. Their paintings and their collections can help you and give you ideas
# 1 Petplan Pet Insurance is a brand of pets and accessories that, in one of its charts, for example bets on pins that turn out to be information chips on each breed of dog. They offer additional information and curiosities for people who are interested in pets.
# 2 Pantone Color has managed to showcase its greatest virtue by collecting pine trees on boards of different colors. It collects images with different chromatic ranges. Other brands like Red Bull with its "Blue" board and users like Edna Rodriguez also collect images based on a shade or color. In the first case, sports, events, acrobatics and in the other, a large collection of fashion accessories.
# 3 Red Bull in its "focus on sequences" table bets on visual effects in images. Collect pins on your theme and extreme sports that manage to make an impact and keep users entertained with different motion effects.
# 4 EspnW with its sign "MaketheRules" or Decathlon Es with "The greatest sport in the world" promote sport with signs that collect positive phrases and messages emotionally linked to the spirit of sport.
# 5 Buzz Feed is betting on the marketing of emotions on the set of "Nostagia 90's". They manage to connect with users, generate empathy, and bring together the most famous and well-known images of an era.
# 6 Lowe's is a famous American brand of furniture and home decor. One of their boards called "Buit it" brings together a lot of things you can do and build yourself, the so famous #DIY. If you enter, you will see that the table is made up of pins from different sources and you have direct access to each of the source pages where tips and steps are shown.
# 7 Yorke Antique Textiles is a Canadian company specializing in the sale and production of traditional Japanese kimonos and textiles. Its panels visually present their work and one of the best and most complete collections of this type of clothing. Fans of Japanese culture will be delighted because they also have special tables such as the "Sumo" which brings together the best images and the best characters of this sport.
Common mistakes in the interest that you should avoid
These are some of the most common mistakes you should avoid:
Not knowing what Pinterest is for and thinking it's a direct sales channel
Use all tables as if they were a catalog of your products
Underestimate the power of titles
Do not use keywords in the title and description of each pin
Pinch and don't interact with the user community
Abuse hashtag
Use only pictures
Place the tables at random
Failure to respond to questions, requests and opinions
Don't measure your results
The visual revolution is here to stay
We know it. Pinterest is a real boom for image collectors because of its impeccable presentation, user-friendliness, and ease of storage. In addition, it currently exceeds Linkedin and Google+, receives over 12 million unique visitors per month and continues to grow!
Whether you have a Pinterest account or have been bitten by the virus, keep an eye on this social network because it will get you talking. If you've made it this far, I hope I've helped or at least given you some ideas on how to make the most of your presence on Pinterest and make the most of the visual potential of this social network. Finally, and as a personal tip, seek feedback from your community and always encourage the participation of your new followers to build trust in your brand.