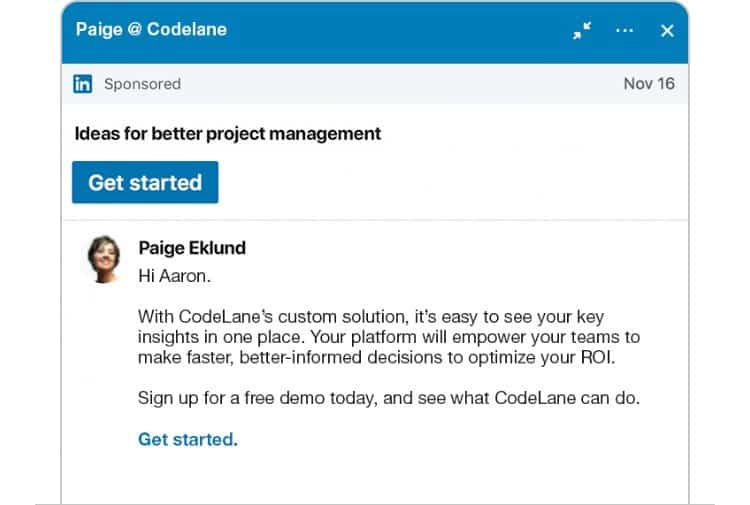 LinkedIn is the definitive B2B social network, connecting you with more than 675 million professionals around the world. While some other networks like Facebook and Twitter are very successful B2B advertising platforms, LinkedIn is the only major network designed specifically for business minds to connect and engage.
In this guide, we'll explain the pros and cons of LinkedIn advertising, explain the cost of network advertising, and show you how to set up your first campaign.
WHO SHOULD ADVERTISE ON LINKEDIN?
LinkedIn is the most unique social network among the big players, making it relatively easy to determine if it deserves a place in your advertising strategy. Simply put, if you are looking for a B2B platform to interact with business decision-makers, LinkedIn is the network for you.
THE PROS AND CONS OF LINKEDIN ADVERTISING
LINKEDIN BENEFITS:
The definitive B2B platform
Business-conscious user base
Great targeting options
Allows you to target decision-makers and high value-added prospects
Written content is less demanding than more visual networks
AGAINST LINKEDIN:
High CPCs
Exporting analytical data isn't the easiest
The interface is not as intuitive as it should be
WHO CAN YOU REACH ON LINKEDIN?
According to data from LinkedIn, the network had over 675 million users worldwide in 2020. Now that might not sound as impressive compared to Facebook's nearly 2.5 billion users or even more than 1 billion Instagram users. However, LinkedIn has the unique advantage of a highly concentrated user base that relies on the network for a specific set of goals – all business-related.
With Facebook, you have to shrink your audience to connect with business decision-makers, breaking down that 2.5 billion user base into smaller fractions. With LinkedIn, you can communicate with these people effortlessly, knowing that there is less resistance to marketing messages because that's why everyone is there in the first place.
LinkedIn users are in business mode and that's a big deal for advertisers.
Here are some more stats from LinkedIn on the type of people you can reach on the network:
75% of LinkedIn members are business decision-makers
Over 180 million are top influencers
Over 63 million are key business decision-makers
Over 10 million are C-level executives
These are the kind of people you want to reach on a B2B advertising platform.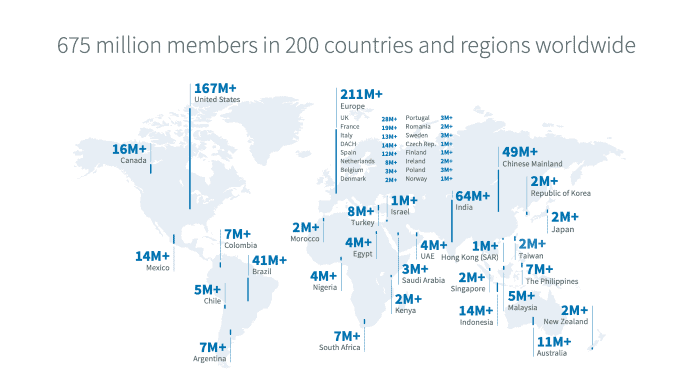 Not surprisingly, the United States has the largest LinkedIn user base in the world, with over 167 million people actively using the network. India comes in second with 64+ million and China has the third-largest user base with 49+ million people.

Then we have the UK, which has LinkedIn's fourth-largest user base, comprising over 28 million people.

LinkedIn's global reach is truly impressive and, to put that in context, there are less than three million Facebook users in China, where foreign social networks generally struggle to gain traction. Likewise, there are fewer Instagram users in the UK (around 24 million) than people actively using LinkedIn.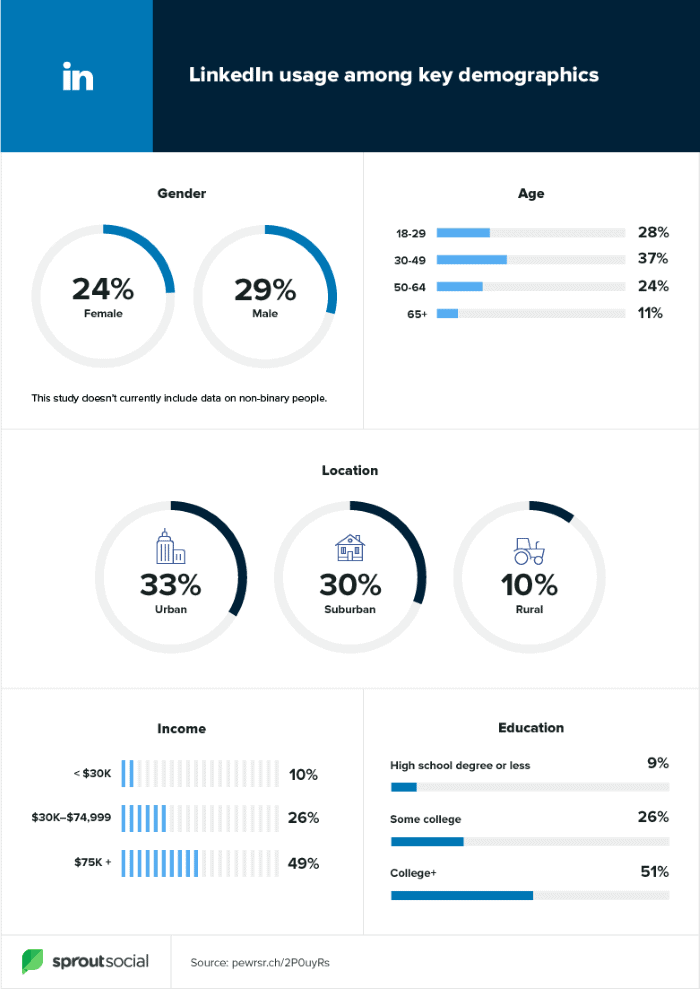 The majority of LinkedIn users are aged 30 to 49 (37%), followed by 18 to 29 (28%) and 50 to 64 (24%). In large economies like the United States and the United Kingdom, around half of the users have high incomes and have a recognized higher education.

To sum up, your key target audience on this network are high-income business decision-makers and that sounds good from an advertising perspective.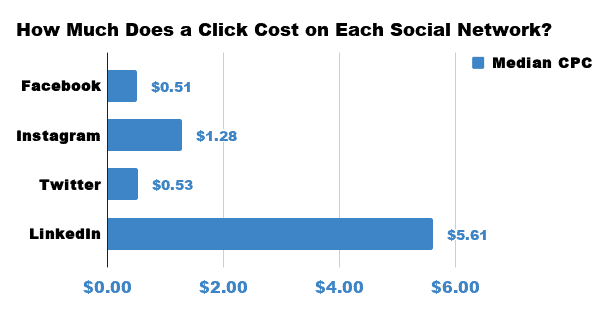 Advertising on LinkedIn has a reputation for being expensive compared to other networks, and in terms of CPC this is generally true. Facebook generally works as the cheapest option per click.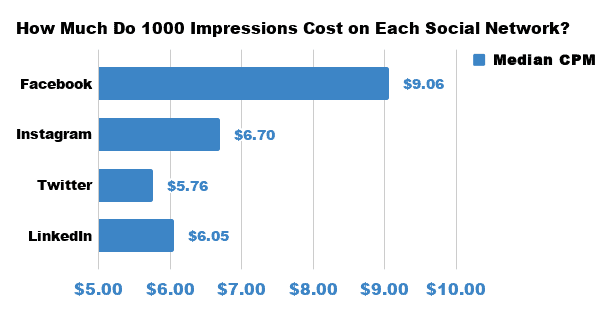 Things look a lot different if you start comparing median CPM, which gives you an idea of ​​how much you'll pay to get your ad seen by 1,000 people on each network.
Of course, the true cost varies from company to company (and campaign to campaign) but the fact remains that you are likely to pay more for each lead generated through LinkedIn advertising than on other platforms.
However, what matters in any advertising strategy is the profit generated by your campaigns and this is where LinkedIn's unique user base begins to shine.
As well as Facebook's targeting options, LinkedIn is simply the most effective platform for reaching specific business decision-makers – the people who will make and endorse buying choices.
This is what makes LinkedIn a special network and higher CPCs won't be an issue once you start generating leads from big spenders.
LINKEDIN AD FORMATS
There are four main types of ads in LinkedIn Advertising, some of which include multiple formats:
Sponsored Content (Unique Image Ads, Video Ads, and Carousel Ads)
Sponsored Messaging (Message Announcements and Chat Announcements)
Text ads
Dynamic ads
You can find more information about these types of ads on LinkedIn's advertising website, but here's a summary of what you need to work with.
SPONSORED CONTENT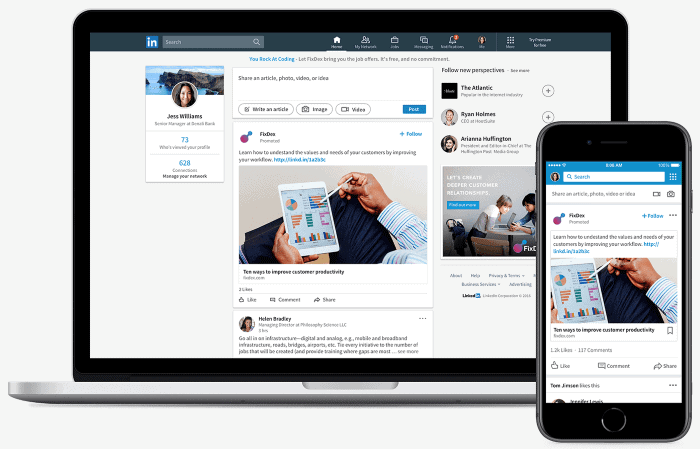 The most common types of ads on LinkedIn are Sponsored Content ads, which appear in the feed on all devices (as you can see above). There are three formats in this type of ad, which are designed to engage users on a visual basis, similar to what we are used to seeing on networks like Facebook.
Unique picture ads
Video ads
Carousel ads
These are native ad formats, which means they appear in the LinkedIn feed the same way as normal content, which is good news for click-through rates. You can also turn those clicks into conversions by using LinkedIn lead generation forms on your sponsored content campaigns to generate high-quality leads from the LinkedIn app.
This is one of the most powerful features in LinkedIn advertising, so take the time to familiarize yourself with Lead Gen Forms.
SPONSORED MESSAGING
Sponsored Messaging allows you to reach individual prospects on a personal basis and start meaningful conversations with the people who matter most to your business.
There are two formats in this type of ad:
First, we have Message Ads, which allow you to send direct messages to users with a call-to-action message and a CTA to encourage immediate action.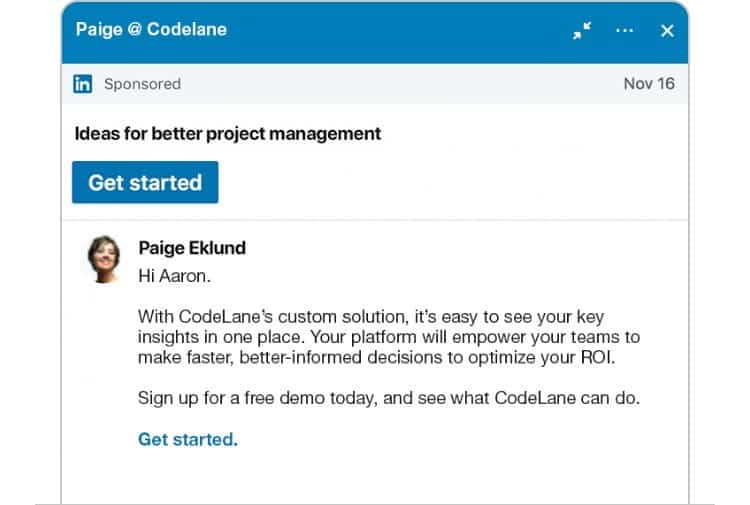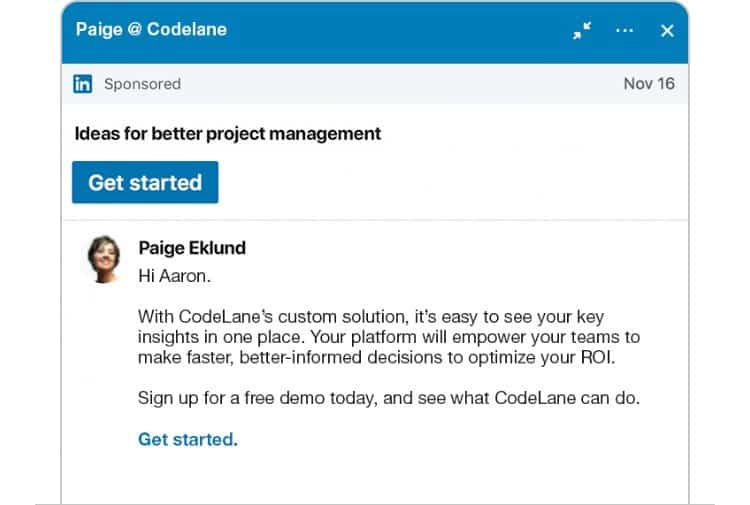 The other format is Conversation Ads, which create a chatbot-like experience designed to engage prospects and guide them through a more complex conversion process.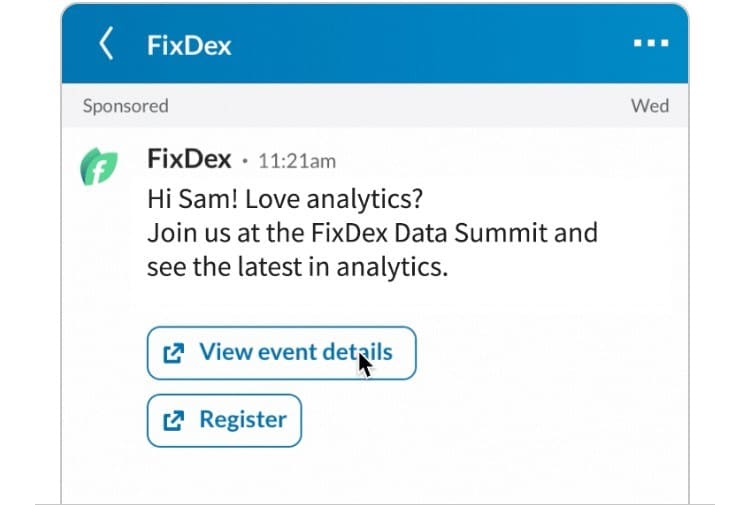 TEXT ADS
Text ads are LinkedIn's simplest ad format, showing in dedicated ad spaces on the platform – for example: in the sidebar for desktop users. Text ads are also the cheapest ad format to use on the network – both in terms of CPC and without the need to invest in visual content.
DYNAMIC ADS
Dynamic ads are a personalized ad format that reaches prospects by name and uses their account data – such as profile photo, company name, and job title – to make quick connections. The ad format places users next to your branding to suggest that the relationship is already there to nurture them and encourages them to follow your brand.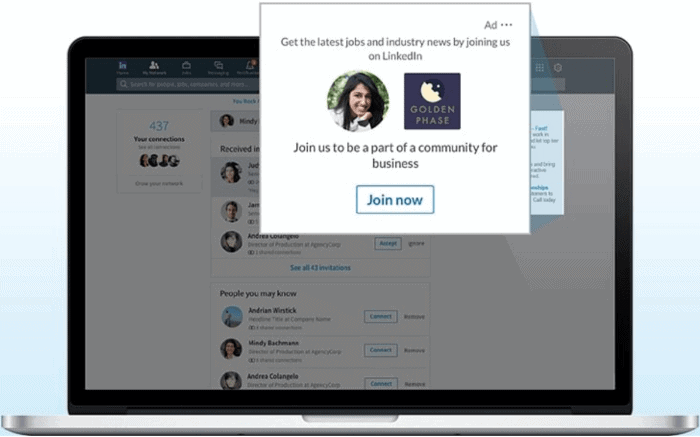 This is a powerful ad format for building brand awareness on LinkedIn.
LINKEDIN TARGETING OPTIONS
LinkedIn already has a highly targeted user base, so it doesn't need a targeting system as advanced as Facebook to help you narrow down your target audience. The biggest advantage of this is that you don't have to spend months familiarizing yourself with LinkedIn's targeting options.
Here is a quick summary of what you can do.
GEOGRAPHIC TARGETING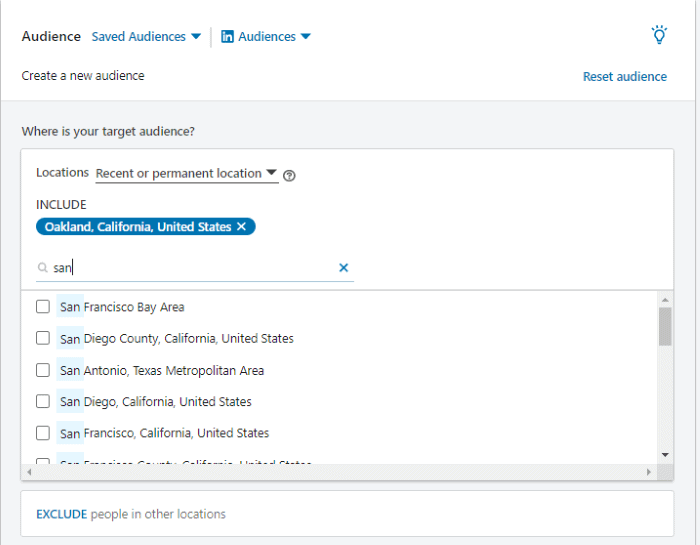 Location targeting is required for all LinkedIn campaigns, which allows you to target audiences based on where they live or visit.
You can create a list of all the placements you want to target in the Understand and you can also prevent people in certain placements from seeing your ads by adding them to the Exclude Field below.
BUSINESS TARGETING
LinkedIn allows you to target users based on detailed information about the company they work for. These are some of the most important targeting options on the platform in terms of locating the users who will do business with you.
Company Connections: This allows you to reach the first-level relationships of employees of the companies you select. This is only available for companies with more than 500 employees.
Industry: The main industry of the company where the member is employed.
Company Size: This allows you to reach members based on the size of the organization they work in. Company size is determined by the number of employees listed on the organization's LinkedIn page.
Company name: The organization that a member lists as their employer. These are based on LinkedIn Pages, which are maintained by company employees.
Company Followers: This allows you to target your followers on the LinkedIn page. To use this facet of targeting, your Ads account must be associated with your LinkedIn page. When you don't use this facet, by default your campaigns can reach both subscribers and non-subscribers.
To get the most out of these targeting options, you need to do audience research and figure out what kind of businesses you want to deal with.
DEMOGRAPHIC TARGETING
Demographic targeting on LinkedIn advertising is really simple. You have the option to target users based on their age and gender – that's it.
EDUCATION TARGETING
LinkedIn allows you to be very specific about the education level of people who see your ads. Three basic targeting options are available here:
Fields of Study: The specialty or field of study of a member's degree.
Member schools: The school, college, university, or other educational institution where a member has taken a course.
Degrees: Recognized degrees granted by a college, university, or other educational institution.
Of course, these can be useful for companies that want to target current students, but you can also use them as an additional targeting layer to identify the business elite who have attended the best institutions.
TARGETING OF PROFESSIONAL EXPERIENCE
Along with business targeting, this is another very important set of targeting options to be aware of. You want to know that your ads are seen by people who influence the companies they work for – people who influence buying decisions.
To do this, you need to target people in the right positions and these targeting options allow:
Profession: Title of the position found on user profiles.
Job function: Much like similar departments – for example accounting, marketing, product management, etc.
Job tenure: Describes the rank and influence of a member's current role in their organization.
Member skills: Skills listed in the Skills and mentions section on user profiles, skills mentioned in the text of their profile, or skills deduced based on their listed skills.
Years of experience: Years of accumulated professional experience.
Again, you can overlay the targeting options and specify which audiences you want to exclude.
TARGETING OF INTERESTS AND CHARACTERISTICS
LinkedIn also offers two types of interest targeting that help you deliver branded and informational content to relevant audiences.
Member Groups: LinkedIn groups where members who share interests or professional associations can meet, discover new information, and ask questions.
Member Interests: Categories of interest identified by and inferred from member actions and engagement with content on LinkedIn.
You also have the option of using Member Traits targeting, which allows you to reach members based on behaviors, such as frequent contributors or regular travelers, for example.
For more information on LinkedIn targeting options, you can find a detailed summary on this support page.
SETTING UP YOUR FIRST LINKEDIN CAMPAIGN
To create your first LinkedIn ad campaign, sign in to Campaign Manager and select the account you want to use (or create a new one). At the top right of the main dashboard, click on Create Campaign and you will be guided through the next steps.
# 1: CHOOSE YOUR GOAL
First, you will need to choose the objective of your campaign from the following three categories:
Awareness: Select the Brand awareness goal when you just want to get your brand known to more people
Consideration: These goals are for campaigns that want to target moderate interest in a business like yours.
Conversions: These goals are best suited for audiences with a strong intention to do business with your brand.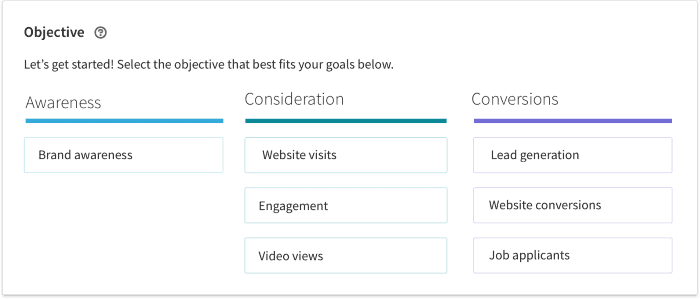 Once you know which of these three goals you're aiming for, select the goal that matches the user action you want to target – for example, website visits, website conversions, etc.
# 2: DEFINE YOUR TARGET AUDIENCE
Your next job is to define your target audience, and you should feel pretty confident that you can do that after reviewing the targeting options in the previous section. Again, it all comes down to audience research, and the most important targeting metrics will normally be company and work experience targeting.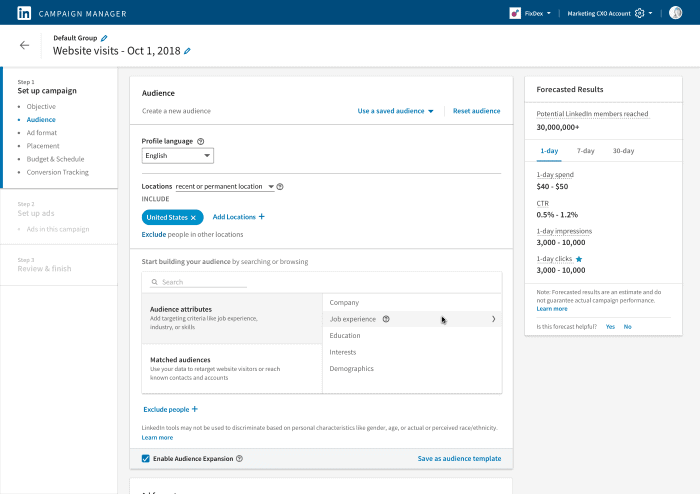 # 3: CHOOSE YOUR AD FORMAT
Then you will be asked to choose your working format and this is where you will have to experiment a bit. Choosing the right ad format is important to achieve your campaign goal. Therefore, if you select website visits, for example, you need to create an ad that will get people to click on your site.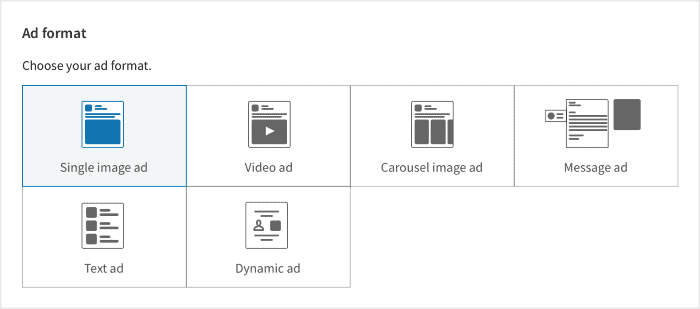 Generally speaking, sponsored content formats (single image ads, video ads, and carousel ads) are great options for awareness and consideration campaigns. However, these are powerful formats for lead generation, too, if you use the LinkedIn Lead Gen Forms, as we mentioned earlier.
Dynamic ads are also great for awareness campaigns, but you might also want to test them and message ads for conversion goals. The increased relevance and personalization of these ad formats can make a real difference.
# 4: SET YOUR BUDGET, SCHEDULE, AND AUCTIONS
Once you've selected your ad format, you'll be asked to set your budget for the campaign and your maximum bids. First of all, you want to set your daily budget and be warned that actual daily expenses can be up to 20% higher than the amount you set – so keep that in mind.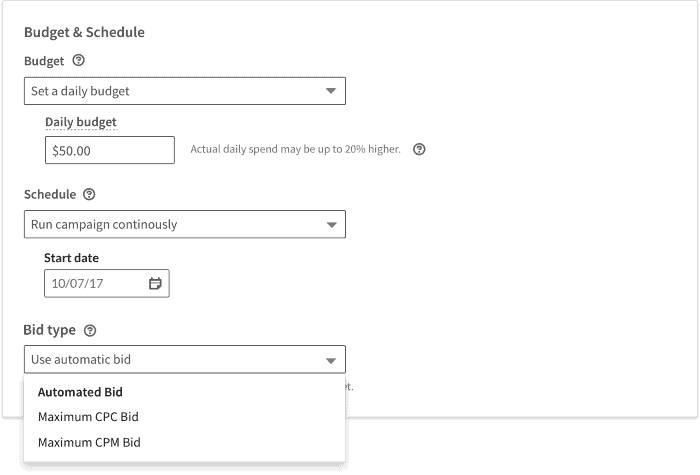 Then you have the Schedule and you can either run your campaign continuously (default) or set specific start and end dates.
Finally, you want to select your auction type and you can choose from Automated Bidding (default), Max CPC Bid (cost per click), or Max CPM Bid (cost per 1,000 impressions).
# 5: CREATE YOUR ADVERTISING CREATION
All you have to do is create your ad creation and broadcast your campaign live. The ad generator will walk you through this process and you can find all the ad specifications for things like image sizes and file formats here.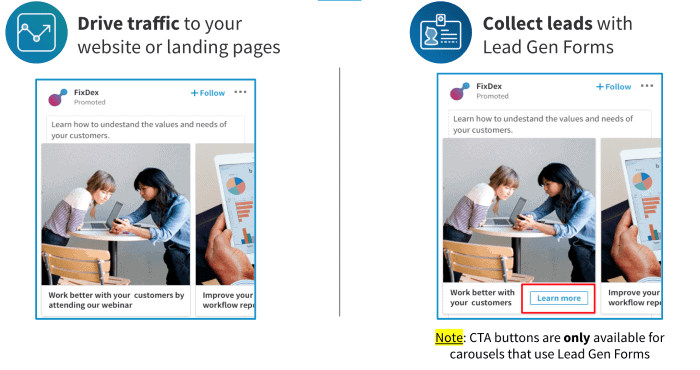 Once you're done, just confirm your billing information (if you haven't already) and your campaign will be ready to go.
IS LINKEDIN ADVERTISING RIGHT FOR YOU IN 2021?
With LinkedIn, this question is really easy to answer. If you want to connect with influential business minds, then absolutely, yes. No other network quite matches LinkedIn in this regard, although both Facebook and Twitter are capable as B2B marketing tools.
LinkedIn has had its issues in the past, but things have improved a lot in recent years and Microsoft deserves a lot of the changes it has made since purchasing the network in 2017.
Yes, these CPCs can be a little scary at first, especially if you compare them to Facebook, but LinkedIn connects you with high-value business decision-makers and it's all about the ROI and profit your campaigns generate.