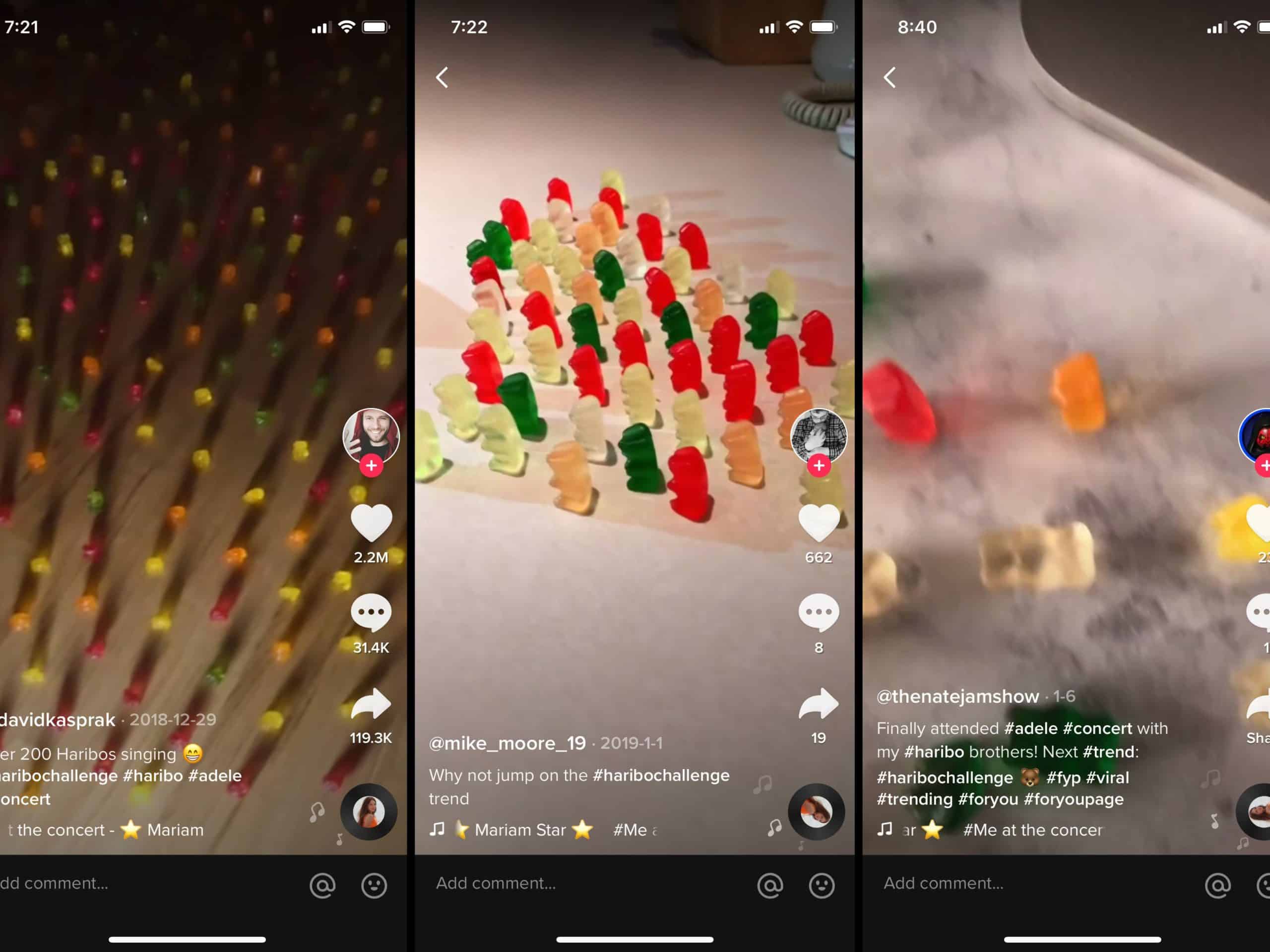 "Social networks: all crazy about Tiktok"; "The TikTok Boom"; "Driven by containment, TikTok exceeds two billion downloads"
These titles, we have all seen them. TikTok has been in the headlines for almost a year. The app is breaking all download records and yet, with some exceptions, no one over the age of 30 seems to understand it.
With its 4 million active users in France alone, the application announced in June 2020 that it wanted to attract advertisers with the launch of TikTok For Business.
Still young and controversial, the app may seem like space where advertising competition is still low and with great potential for brands. So why not you? Between opportunities and risks, should you integrate TikTok into your social media strategy, and how?
Integrate TikTok into your social media strategy to target the youngest
It was the under 13s who made the platform known. If the conditions of use theoretically prohibit them from accessing the platform.
As they are below the age limit, these users do not appear in the official statistics of TikTok but several studies have shown that they are present. In 2019, more than 45% of those under 13 said they used TikTok, and in 2020 it was their 3rd favorite application behind Snapchat and Instagram.
Not very interested in Facebook and traditional networks over-invested by their parents and grandparents, and with obsolete codes, (very) young people recognize themselves more in the spirit of TikTok and Snapchat, which advocate apparent spontaneity and snacking content in videos very short.
But those under 13 are no longer the only ones to invest in the social network. Already before the confinement, we saw the number of downloads increase among 13-17-year-olds and 18-24-year-olds, figures which have exploded since the confinement!
TikTok users, therefore, remain relatively young: cumulatively, more than 85% of users are under 34 years old.
If your target audience is young, TikTok may therefore seem to be the ideal network to reach them and be integrated into the overhaul or creation of your company's social media strategy, especially because these young internet users are spending less and less time on Facebook. (when they use it) and other traditional networks.
If your target is more female, it is all the more a relevant choice since TikTok has 57% female users against 43% male users.
So if you are targeting young people, you can integrate TikTok into your communication strategy, but be sure you understand how the TikTok platform and culture works.
Understand TikTok to know if you should integrate it into your social media strategy
Adopting TikTok for brand awareness requires knowing how and how to effectively use the social network. On the one hand, the algorithm is specific and promotes engaging content, and punishes those that are not much more severely than on other networks. Faced with this, specific strategies must be adopted.
How does the TikTok algorithm work?
While like most social media algorithms, TikTok analyzes the content you like and share, it is primarily the viewing time that is used to determine what you like and what you dislike. If you watch the entire video, if you watch it several times, then it will be a sign of strong interest for TikTok in this type of content.
On TikTok the user has two feeds: the classic "subscriptions" feed where he can see the content created or shared by the users to which he has subscribed, and the " For you " feed. It is this thread " For you " which is the key to success on the social network. The user discovers the content offered by the algorithm, which offers content based on his interests but not only …
The thread "for you" on TikTok
It is the thread "for you" which is the one on which we arrive at the start of the application and which gathers the content offered by TikTok for the user.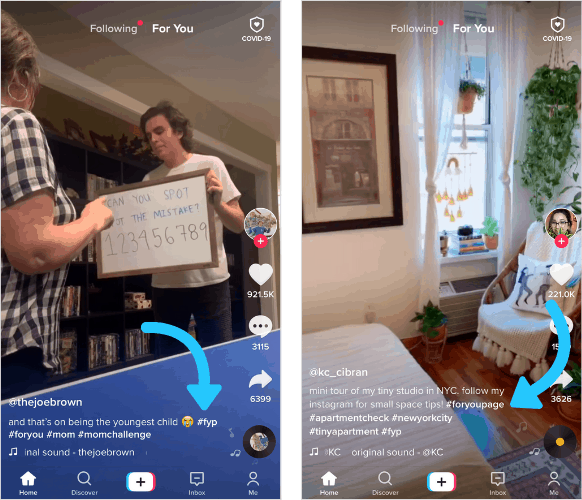 The algorithm quickly knows how to get a feel for your interests, and can therefore accurately predict what kind of content you're going to like, what kind of content you're going to hate. He offers in the " For You " feed, a calculated mix of videos that he knows you are going to like, and videos that he wants to know if you are going to like them, content that he tests on you. So TikTok differs from Facebook, for example, which only offers content that it already knows will appeal to the user.
If the algorithm feels that the user is too bored in front of this "test" content, it will quickly offer content that it knows the user appreciates.
Once the content is published, it will be tested on a hundred users randomly and the algorithm will evaluate the reactions of these users to determine whether the content is engaging or not. If the reactions are good, he will suggest it to new people and analyze their reactions again to continue the cycle of virality. On the contrary, if the content does not engage the first users, it will not offer it to others.
So the algorithm uses all of its users to determine if the content is worth sharing with other users or if it "deserves" to be forgotten because it is not engaging enough.
And unlike networks like Youtube, Facebook, or in particular Instagram, it is not the number of subscribers of the creator that will influence the reach of content the most, because, beyond the " Subscriptions " thread, a video of a highly followed account isn't necessarily going to appear on the "For You" feed more often than a video from a less followed creator.
Adopt a specific strategy for the TikTok social network
The algorithm, therefore, has its peculiarities and is relatively different from those of Facebook, Instagram, or Youtube. Consequently, different content strategies must be applied.
Take care of your first content, but not too much
If you create your TikTok account, be aware that the first video you post will be tested on many more people than the others. For your first content, the algorithm will give you a pole and immediately offer more people your content in their feed " for you ".
So pay special attention to your first video, and be sure that your bio and profile photo will be filled out, as you'll be more likely to go viral and have some reach on your first content than on subsequent ones.
Users will therefore probably see your profile, which is why it should be well filled in your first post.
However, and this advice applies to absolutely all content posted on the platform: you should never be too careful with your content. Background sets, content higher than that of a smartphone, and videos that seem too "expensive" to produce do not work well on the platform.
On the one hand, TikTok moderators will tend to value this type of content less because it does not correspond to what they want to do with the platform. On the other hand, users themselves do not like content perceived as too "commercial".
So for brands, the difficulty is to produce content that is necessarily neat but remaining spontaneous and creative above all. Because these are the two keywords of the platform.
If you take more than two hours to think about the content, produce it and publish it, you've gone too far.
Finally, before you post your first piece of content, find out what's going on, what's going viral right now, and find out what may be going viral soon.
Catch the viral wave before others and be strategically referenced on TikTok
To stand out and make content that will go viral, seek to be referenced on something that has so far been little exploited, but which will gain visibility. We explain.
On TikTok, content is referenced according to the effects used, #hashtags (especially challenges), and the music used.
So on classic TikTok content, the music and the effect appear at the bottom of the video, and when the user clicks on it, all the content that has been made with the same effect, the same hashtags, or the same music appears.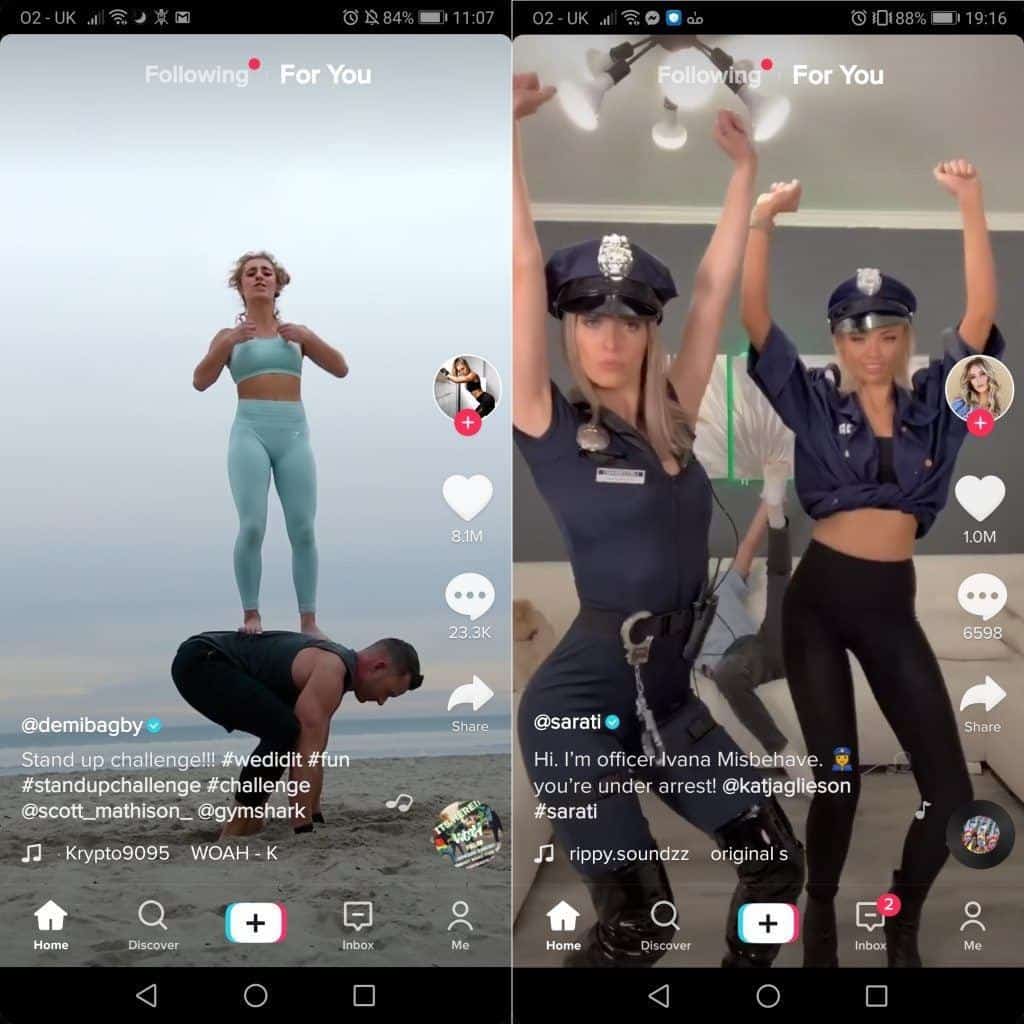 So if you are using a very recent filter, hashtag or music, but which will be used a lot by others in the following days or which has been viral recently, produce your content with it. So you will be "referenced" on it and when other users see someone else's content with the same music, for example, they will click on it and see your content with the others.
The advantage of positioning yourself quickly before others are that you will have had time to have good engagement rates, many likes, and shares, and therefore your content will have a better chance of being at the top of this page.
Faced with the complexity of TikTok codes, rely on experts
Despite all of this advice, it will be relatively difficult for a little-known brand to make content that stands out on TikTok. Whether it's to accompany a campaign on TikTok or produce branded content, it's best to look for someone who knows about it.
If you plan to launch a social media strategy of a certain magnitude, it is better to entrust the matter to a communication agency specializing in social media management. You can also partner with influencers who have a subscriber base but above all who know the app and the TikTok culture and can advise you or offer you content that has a better chance of working. To find influencers, TikTok has also launched the TikTok Creator Marketplace, where you can search for influencers.
Even if you choose to do a more traditional TikTok ad campaign, it will always be best to use content that is tailored and made for TikTok, with people who know the platform.
How some brands have succeeded in their social media strategy on TikTok
Pizza Hut and its personalized sticker: a creative and coherent strategy
Pizza Hut has created a personalized sticker featuring its logo (the little red hat) with sunglasses.
This sticker has been downloaded nearly a million times and featured in the TikToks of many users, boosting the visibility of the fast-food chain.
The sticker has all the elements of a good social media strategy. It's fun enough to use that tiktokers want to incorporate it into their content, but it features the Pizza Hut logo well and is totally in line with the brand.
So users want to have fun with it, but the objective of making people talk about the brand and offering TikTok users to appropriate this brand has been accomplished.
Haribo and its viral challenge
Haribo was talked about on TikTok without even having an official account. Its #MaoamChallenge challenge challenged users to dance after eating a Maoam. 17 videos were published by influencers paid by Haribo and have accumulated over a million views with high engagement rates.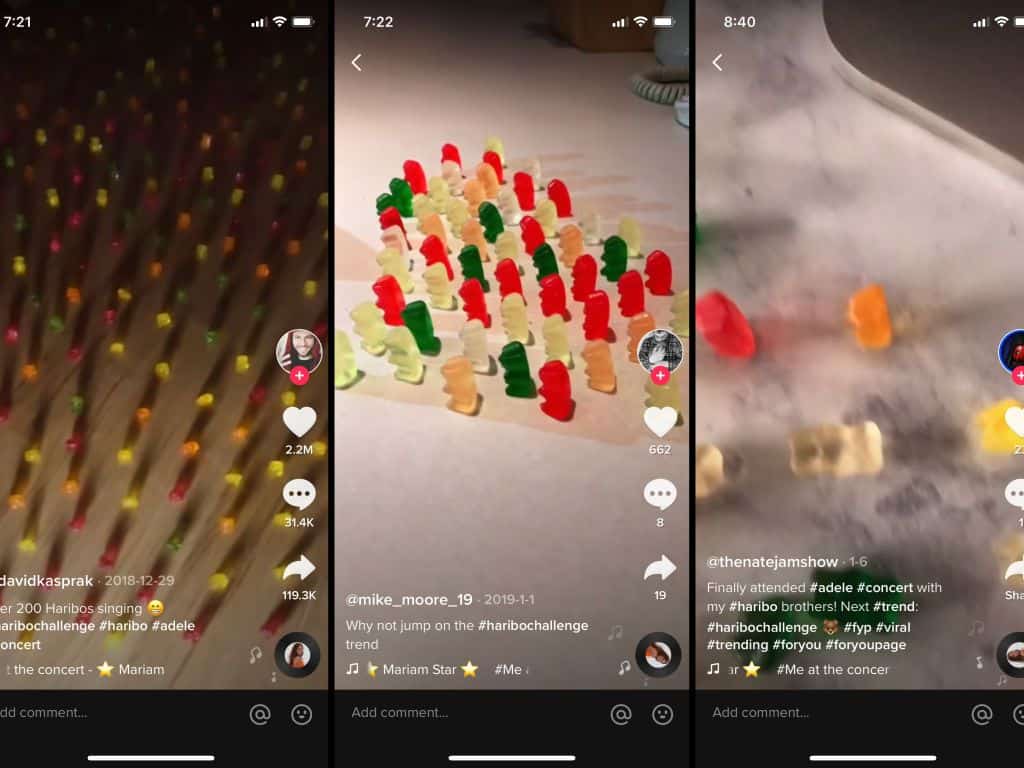 Haribo, therefore, succeeded in making TikTok users work for him. By creating an engaging, funny, and creative challenge, Haribo was able to benefit from enormous visibility for its Maoam range, but above all from an image of positive energy that will be permanently associated with this range.
An official account to promote your brand: Merci Handy
The brand already has more than 260,000 subscribers on its official account and publishes videos that translate the brand's universe into a sense of humor. Videos that can showcase their product like their employees, she responds to TikTok codes as to her own.
For Merci Handy it is not so much a punchy strategy, the objective of which is to achieve high visibility with content made viral. It's more of an integrated branding strategy among TikTok users.
Through this account, they can convey the image of a dynamic brand, which does not take itself seriously, and whose universe is magical and creative. This, therefore, fits more into a brand image reinforcement strategy but with a greater reach than on networks like Facebook or Instagram which have increasingly limited organic reach (that is to say without sponsorship), with aging users.
These three examples clearly show how a brand can succeed in its bet and gain visibility on TikTok. In all 3 cases, the brands are extremely consistent with their communication axes and their strategic objectives.
TikTok and social media strategy: what to do?
Integrate TikTok into your web marketing strategy is possible, and it can be very profitable. For some industries, it has even become essential as for the music industry.
According to your brand and your target, this may be a good option. If you are targeting hyper-connected young girls for example, then TikTok is a must to reach them, as they are on TikTok and rarely spend a lot of time on other social networks.
Especially since the launch of Reels on Instagram, you can use the content created both on TikTok and Instagram Reels.
Indeed with Reels, launched for the moment, Instagram announces to join TikTok on video entertainment in short format.
Videos of 15 seconds maximum can be linked-to reach a duration similar to TikTok, and above all can be exported from the gallery. You can therefore take advantage of this new feature (which is inspired by TikTok) to double your visibility by posting your content on both platforms, by highlighting your accounts on both networks.
Faced with a crisis in the organic reach of content on Facebook, Instagram, and other traditional networks, bet on TikTok to reach new people. Since the network is still quite young, and the ad system even more so, there is still time to find your place on TikTok.
Keep in mind, however, that this is a very distinct network that is not easy to understand, so you will probably need help. You can use influencers or communication agencies who can advise you with tailor-made solutions tailored to your goals.