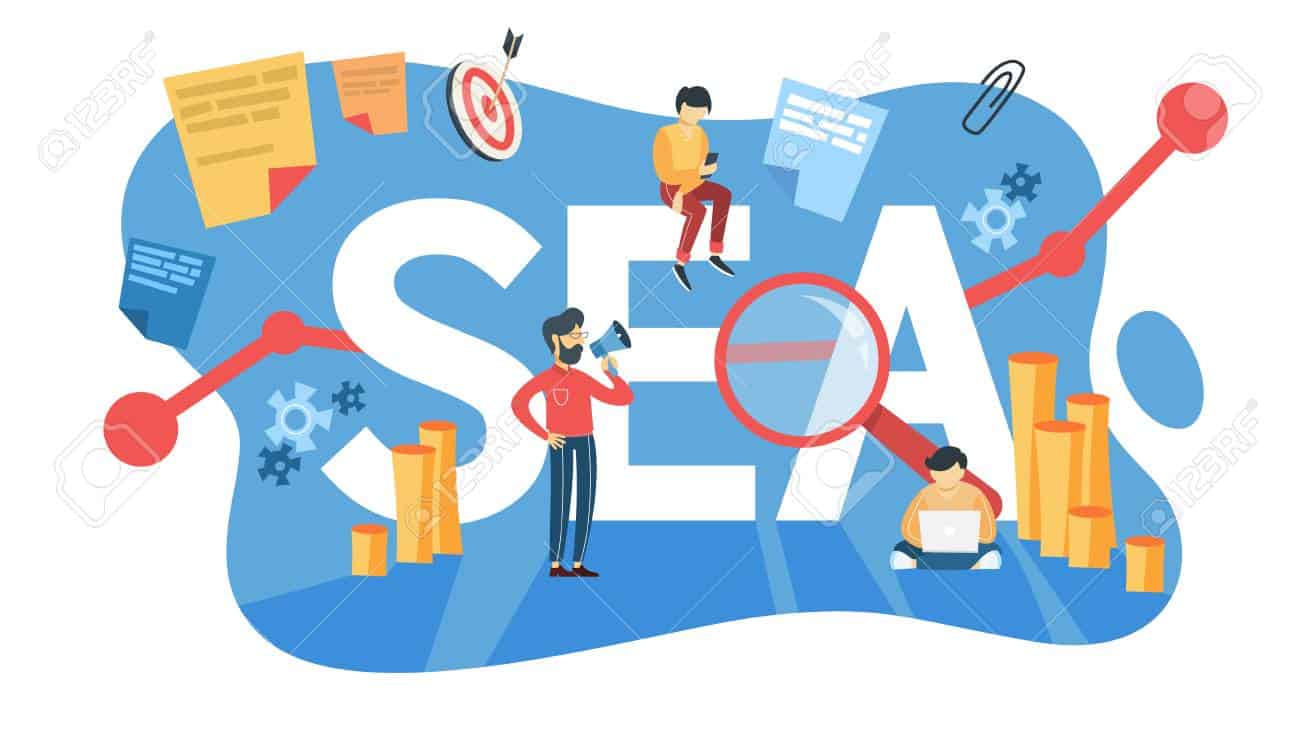 Being referenced on the first page of search engines is a crucial issue for converting via your website: 91% of Internet users click on a link positioned on the first page of results. You know what you have to do if you want to increase awareness and conversion of your business website.
Consumers are increasingly connected, whether on tablets, computers, or smartphones. They use them on their daily commutes, at home, at their workplace, etc. Before taking action, they do more and more research on subjects that interest them, on points of sale or even products. Positioning on search engines is therefore becoming a strategic business development issue for companies.
What is paid search ( SEA )?
Paid referencing will have no more secrets for you!
Google is in a virtual monopoly on the search engine market, having 92.5% of the market share, against 6% for Bing and 1.5% for Yahoo. It is therefore the leader in paid website referencing with its "Google Ads" tool. But Bing and Yahoo also own theirs.
Depending on the words typed in the search bar, Google intersperses advertisements among the organic results. They are symbolized by the wording "advertisement" whether at the top or the bottom of the page.
For example, when you type the keyword "hotel" into the search bar on Google, the first three results that appear are advertisements, shown below in a green box. The "hotels.com", "booking", and "trivago" websites all paid to be positioned at the top of the page on the keyword "hotel".
Thus, Google Ads has today become a major brand referencing tool, because the goal of this strategic position on the search page is to capture the attention of Internet users. As with organic results, the ad links to the website, using a link displayed.
Google has created a guide specifically designed for Ads campaigns. He answers many questions and gives tips for optimizing your paid SEO. On the page, users can interact with each other and ask questions if needed: quality support to help users take their first steps.
To help you set up your SEA campaign, you will find both explanatory and fun videos that Google broadcasts on YouTube to guide Google Ads users and those who would like to discover this tool.
As the name suggests, this advertising strategy, which attracts visitors to its website, is paying off. But unlike a space purchase, the advertiser retains full control of his campaign, even once launched:
He decides how much he wants to invest
He chooses the keywords on which he wishes to position himself
He can change the amount and interrupt the campaign when he wants
For the campaign to have beneficial results, you need to choose keywords that are likely to be searched by your prospects. If a user searches for the chosen keyword, an ad will be displayed based on an auction system. To be well referenced, you must have won the auction! Because other companies are also positioned on keywords. Google selects the best offer, so choose carefully how much you're willing to pay, over a given period.
The search engine also checks that the keyword is relevant to the content offered. to the ad, the company wants to post. This note on quality guarantees relevant content for Internet users.
Why opt for paid SEO on search engines?
The SEA, efficient conversion means for your business!
Using paid search as an ad on a search engine can be very useful in your lead generation strategy for several reasons. Some companies are reluctant to develop a SEA strategy due to the persistence of three prejudices :
The ROI of SEA remains very vague
The Google search engine simply seeks to consume the set budget at all costs
The SEA comes down to buying space on the result pages of the search engines
It is essential to develop a comprehensive paid search strategy. Upstream, you must:
Choose strategic keywords
Define the themes, the content to promote, and the targeted objectives
Write impactful ads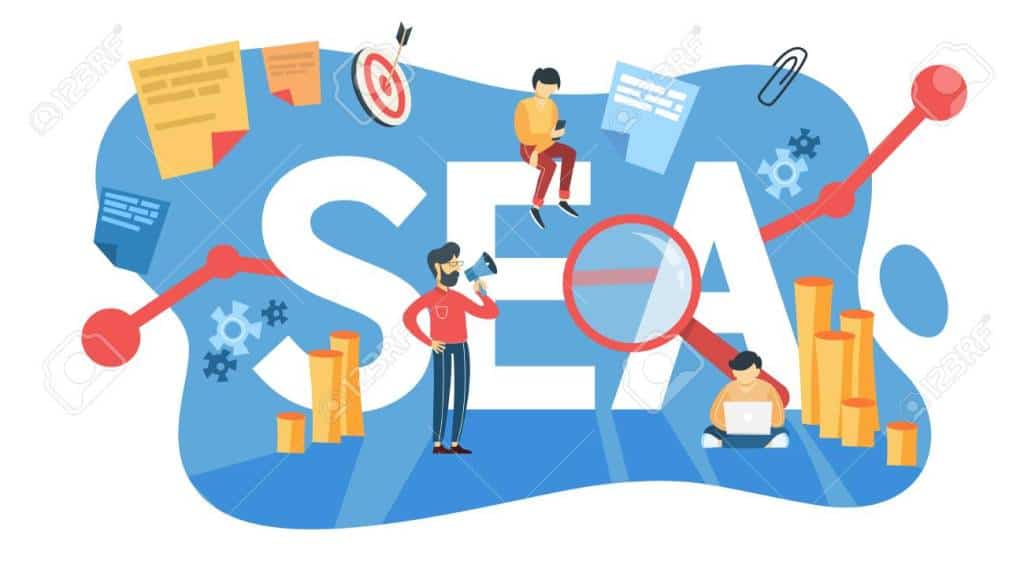 Acquire notoriety
Above all, when advertising for a brand or a company, it can be for a very specific purpose which is the following: to increase its notoriety. It is a way to publicize your company, the products and services offered, and also to stand out from the competition.
Paid referencing can be judicious since it highlights the website on search engines, making the web page more visible to users. Also, being at the top of the results is essential if you want to reach as many Internet users as possible on the keyword you have chosen.
Your website must be optimized: the Internet user must know what you are talking about in the blink of an eye, and it must interest him, otherwise, you will not be able to remember him.
Follow a trend
Google is developing more and more services to attract businesses. Lately, it has started to offer more and more advertisements on its pages. Previously, there were around 10 responses per non-paid page compared to around 8 responses today (not counting advertisements of around 3 at the top of the page and 3 at the bottom of the page). Google, therefore, seems to support paid search more and more.
As for natural referencing, which is done using the content created within your website, its impact is inexorably reduced. However, SEO and SEA can be combined to optimize your SEO strategy on search engines: both types of results appear on the same page
Search engines also offer users an increasingly sophisticated experience: when a user asks a question, the search engine can answer him directly without having to click on a link, we speak of position zero. But also when you type words in the search bar, other keywords appear, these are the keywords associated together with the most searched.
The main goal of a search engine is to answer the questions that users ask themselves and to obtain their satisfaction, which should encourage you to produce relevant content with high added value.
Maximize your ROI
When you embark on a paid SEO campaign on the internet, the financial part is obviously to be taken into account. However, there are advantages to using these tools from a financial point of view.
First of all, you have a stranglehold on the budget. You decide how much you are willing to put in, a maximum amount that cannot be exceeded. It helps to know that there is no minimum amount.
Then you choose the amount you want to spend per day and the amount you can put the per number of clicks.
Imagine this situation: you decide to put a maximum of 30 euros for the day. If the rate per click is 0.3 €, after 100 people have clicked, your ad will disappear, and you will not have to pay more. You, therefore, have control over your spending for two parameters: time and number of clicks. But for this process to come into play, you will have to offer a larger sum than other companies that want to be listed on the keyword in question.
There are still several possibilities to pay for your SEO campaign:
CPC (cost per click): the company only pays if the user clicks. With each click on the ad, the company pays a certain amount that has already been defined in advance
CPA (cost per acquisition) or conversion cost: an amount is spent based on the number of conversions made. This can be based on the number of purchases, the number of newsletter subscriptions, the number of leads generated …
CPM (cost per thousand): the advertiser pays a certain number of display on a search page. For example, you can pay 30 euros to be displayed 100 times on the search engine. But it is a very little used payment method by search engines. Because the benefits relate exclusively to notoriety.
Paid SEO on the internet is therefore a response to:
A decrease in the weight of SEO
A search for increased visibility
A significant ROI
A decrease in the conversion of emailing campaigns
How to launch your SEA campaign with confidence?
Definition of objectives, targeting, writing… What are the key stages in launching a SEA campaign?
The SEA is not sufficient in itself, it is rather seen as a complement to strategic marketing. To optimize your SEO campaign, you will need to use two SEO techniques, paid or natural. This mix is ​​called the SEM:
SEM = SEA + SEO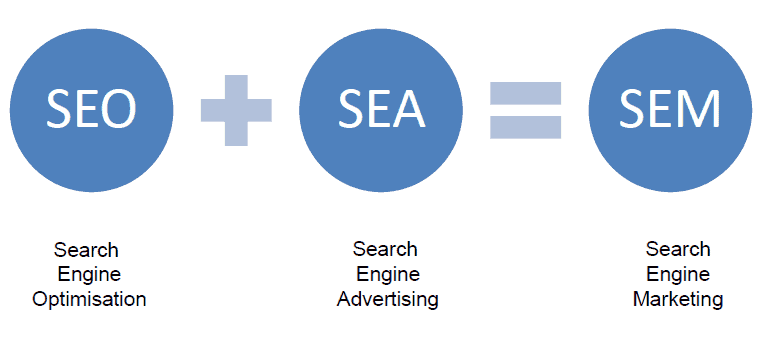 SEO and SEA are two different but complementary SEO techniques for optimizing website visibility in a search engine. The two SEO strategies are therefore very different, but they have the same objective: to improve the position of the website within the search results.
To optimize your positioning in SEA, it is essential to define a keyword strategy. In this regard, there are 4 main mistakes to avoid:
Neglecting keyword research
Use generalist keywords
Do not use keywords in the ad such as the title, or the content
Use keywords with a very low cost per click
To be able to successfully maximize the performance of your SEO there are several steps to take into account:
Target an audience
The SEA enables you to attract the audience you want to target. For targeting to be optimized, it is preferable to have defined buyer personas upstream. These are the typical clients of your business, with characteristics such as a typical profession, an interest in a particular activity, etc. They are assigned an artificial representation. This step is important to increase your prospects> customers conversion rate. This is the starting point for understanding your customers and finding the keywords that are likely to interest them.
When you start to fill in the data necessary to launch your advertising campaign, several choices will be available to you, you can target different profiles according to these parameters:
A geographic location: a country, a region, a city
A type of device: a PC or a mobile
A period: a day, a schedule
A language (you can choose English to reach England, America, and Australia for example)
An identity: an age, a gender, etc …
Choose the right keywords
As much as SEO, keywords are very important. To be well referenced, the strategy, therefore, remains the same: you will have to find the words that are most likely to match the queries typed by Internet users.
They must of course coincide with the offer that you offer within your company. The whole difficulty is to relate the different keywords.
To find keywords you can go and look:
On the websites of your competitors, this will give you ideas.
On Google Keywords planner: a tool that Google offers for free to help you find words. It indicates the searches and expressions most used by Internet users. Its operation is relatively simple: you search for terms related to your product or service. The google tool will find the most relevant keywords about your offer. It provides information on the search volumes for certain keywords or themes.
When you choose your keywords, you will probably have quite a few of them. Divide them into groups of keywords, it will be easier for you to make a choice later.
Depending on your budget, some words may not be preferred, as the prices of keywords vary depending on supply and demand. So these are the top queries that have the highest cost per click, and if you notice low-searched terms, it is not recommended that you choose them because these are words that prospects search very little. The ideal is therefore to find a compromise between the search volume and the number of websites positioned on the same keyword as you.
To have a better result, it is strongly recommended to make a list of negative keywords, which will prevent you from appearing on terms in your industry but which do not interest your target audience. The result will not be guaranteed to you from the first day, that's why we advise you to test keywords on the first days of the campaign.
Write your SEA announcements
Ad text is a restricted space with a limited number of characters. Your text must be as explicit as possible while remaining catchy and concise to attract Internet users in a few words.
You can insert numbers to make your ad attractive: the price of your offers, amount of reduction, seniority, customer satisfaction.
An ad on Google Ads consists of 3 elements:
A title: this is the first line of your internet ad and the element that Internet users will see best. The keywords will be very important because they allow the Internet user to verify in a few seconds that the ad corresponds to their search. It is strongly recommended to display the name of the service or product concerned. You don't need to add the site name because it is already in the URL. The title contains 2 parts of 30 characters maximum each.
A URL: this is the address of the page to which you want to redirect Internet users. It can be personalized (2 parts, 15 characters maximum each), to add keywords.
A description: a text of approximately 90 characters, which is used to highlight a service or a product. The keywords intervene to incite action and make the customer click on the URL.
Our tip: use action verbs to grab attention.
For example: when we typed in the Google search bar, "florist Chicago", the first response that appeared was an advertising "ad", for a florist, who had recourse to the SEA to appear at the top of the result on the page of research.
We find the title of the ad in blue, which is divided into two parts with the acronym "/". Then there is a URL address in green that links directly to the site when clicked. Keywords are easily recognized because the company has capitalized them such as "Orchids". Finally, the keywords that were typed in the search bar appear in bold in the ad. They, therefore, allow the user to verify that the ad corresponds to the search.
How to measure the ROI of your SEA strategy?
A SEA strategy is good, but a SEA strategy that works is better!
Optimize your keyword bids
Google Ads bids depend on two things:
The price the company is willing to pay to win the auction
The rating assigned by Google, called Quality Score (QS)
The calculation is as follows: Price * QS = Score
Each company has the possibility of performing an SEO for a search engine according to its budget and can decide to stop the campaign at any time. The company chooses a maximum amount it is willing to pay and gives a daily budget that should not be exceeded.
By measuring the quality of content, Google can deliver the most relevant information to the top of the search page. This way, users see offers based on their searches. The score is calculated between the text of the landing page and the choice of keywords chosen in the SEA strategy. The score can be decisive in knowing which company wins the auction. For example, if a company is ready to invest at € 2 in maximum cost per click, and obtains a grade of 5/10 in Quality Score, and another company is ready to put at € 1.5 in maximum cost per click and obtains a Quality Score rating of 8/10. The second company will win the auction because its overall rating is 1.2 while the first company has a rating of 1. Your rating is never final, because each time the auction or your content changes, the rating is recalculated. Don't panic, if you are not satisfied, you can always modify elements to have a better result.
A good grade leads to a good ranking, which offers various advantages:
A reduced cost per click
Better positioning
A king
Google Ads can also offer you automatic auctions. The platform will choose the auction that will be suitable for the target. It is an intelligent system, it seeks to promote the number of clicks.
Analyze your results
Generating a report is possible at any time during your campaign, which allows you to make decisions quickly and efficiently, such as:
broadening targeting by identifying new audiences,
revision of the keyword strategy,
re-evaluation of auctions,
Google Ads can, for example, give you statistics on the performance of your campaign according to the hours and days of the week. You can thus decide on the time slots or days on which to position your ads to get the best.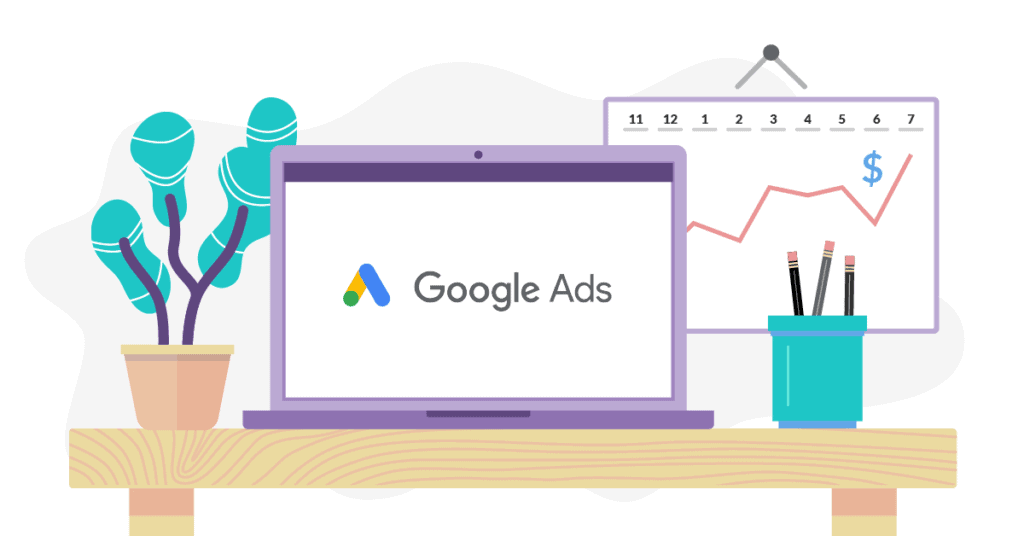 You can analyze your campaign using 4 parameters:
Click-through rate (CTR): percentage of the number of times Internet users saw the page and clicked on it; the higher the percentage, the more effective the campaign.
Conversion rate (CVR): percentage of the number of visitors who became customers thanks to the website.
Cost Per Click (CPC): Amount spent for a click on the SEA ad. The lower the indicator the better.
Cost Per Acquisition (CPA): Amount spent on each conversion from SEA.
To optimize the analysis of your results, you must combine Google Ads and Google Analytics. The combination of the two tools allows one to have a vision of certain KPIs.
Finally, here is a checklist of the benefits of paid SEO :
generation of new leads
improved visibility
increase in notoriety
the precision of targeting the typical audience for your website
agile management of your internet advertising budget
SEA / SEO: are they complementary?
SEA and SEO are different methods but they can be complementary. Indeed, SEA can have a positive impact on your SEO because if you increase your site traffic with SEA, the latter will boost your natural referencing.
Also, your SEA campaigns allow you to collect information that can help you optimize your SEO.
Your advertising campaigns offer you the right to look at potential keywords to determine a strategy for your natural referencing.
While SEO is free and takes time, you will get long term results. While the SEA is paid but allows you to save time but it will take a significant budget.
These two methods can therefore be implemented separately or together.
You just have to be vigilant about regular Google updates and always be aware of your competitors' positioning strategy.