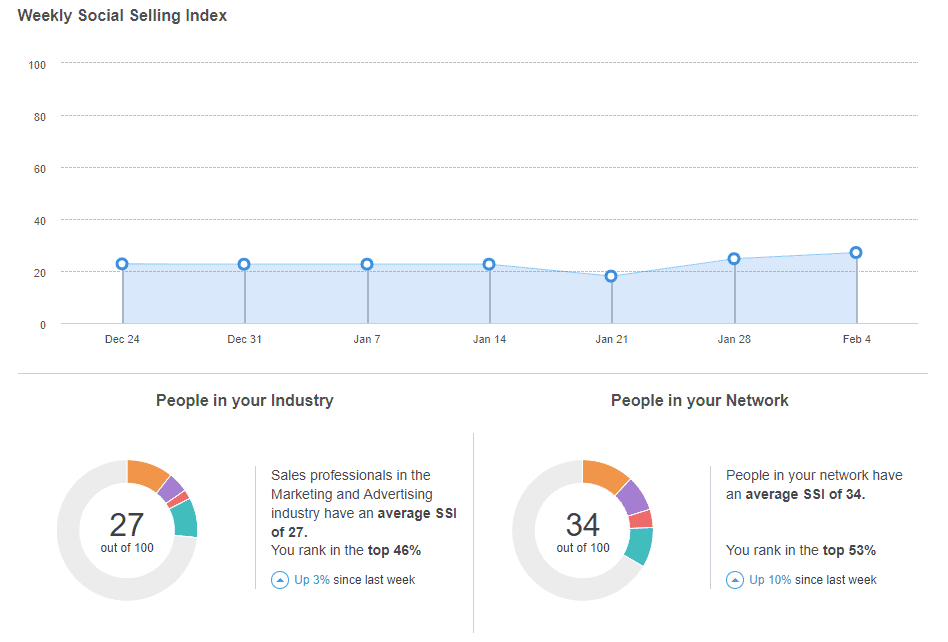 LinkedIn has over 30 million registered companies. You have a huge playing field to develop your B2B approach and establish new contacts thanks to this social network. But how do you use LinkedIn to turn your relationships into customers? Use the free tool to measure your SSI LinkedIn. It will provide you with the necessary leads to define a social selling strategy to improve your business objectives in parallel with your score.
What is the LinkedIn social selling index?
The LinkedIn Social Selling Index measures your activity and assesses your ability to:
impose your professional brand;
connect with the right people;
Share relevant information with your audience;
build relationships.
Like a school curriculum, you get a mark out of 25 for each of these pillars. Which gives you a total rating out of 100 which reflects the actions you take on LinkedIn.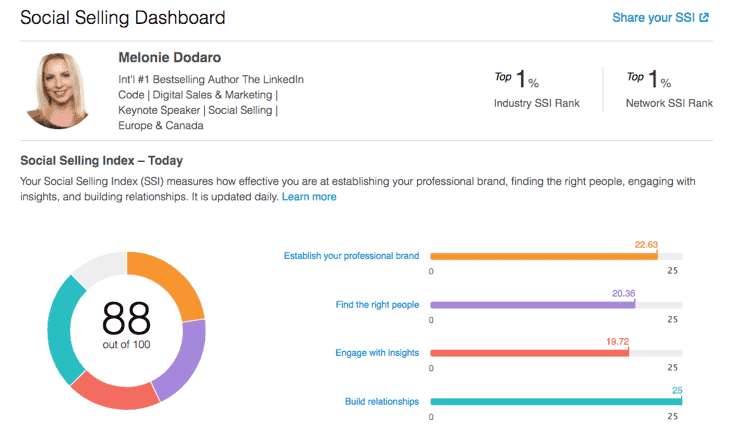 A passive account typically scores between 10 and 20 on LinkedIn, while a very active account hovers between 80 and 90.
Curious about your LinkedIn SSI score? Discover the SSI LinkedIn calculation tool.
Why measure your Linkedin score?
Use your LinkedIn Social Selling Index like any other Key Performance Indicator (KPI) to help your business grow. These data allow you to situate yourself about your competitors and to define objectives to be achieved.
Develop your business
The SSI LinkedIn guides you in improving your results on the social network, but also your business results. B2B companies are increasingly using social media for business purposes.
The implementation of an effective social selling strategy allows you to optimize:
lead generation;
the productivity of each member of your sales team;
canvassing by telephone;
the dynamics of your customer relationships;
etc.
80% of B2B leads acquired on social networks come from LinkedIn, against 13% from Twitter and 7% from Facebook. A good reason to pay attention to your LinkedIn SSI score?
To fix objectives
Your LinkedIn Social Selling Index dashboard contains an evolution curve of your weekly score for the past few weeks. It is a good way to judge your progress and the impact of the actions you have taken to improve your visibility.
Set long term goals, which you pair with business goals, so you always keep an eye on the finish line. Seeing constant progress in your results will encourage you to stay the course and continue with your actions. Nothing like a contract with yourself to motivate yourself!
Concentrate your efforts on one of the four axes and evaluate the evolution of your score. If it is progressing favorably, then continue until you reach the maximum mark, without neglecting the activity you had so far. Otherwise, you will see your score drop to a different pillar.
Your LinkedIn SSI, like all marketing efforts, is like a cycle race in stages. You cross the passes one after the other to reach the finish line with the yellow jersey on your shoulders!
To motivate your salespeople, set up a ranking based on the evolution of the LinkedIn SSI of each of them as well as on their overall score. Spice up this competition with rewards (pecuniary or not).
Assess the competition
Impossible to know the LinkedIn SSI of all the employees of your competitors. These data are not available. Nevertheless, LinkedIn provides you with an indicator of the average SSI in your professional sector.
You learn about your positioning compared to other companies and discover your progress since the previous week.
The other indicator at the bottom of your dashboard is the LinkedIn Social Selling Index of the people who make up your network.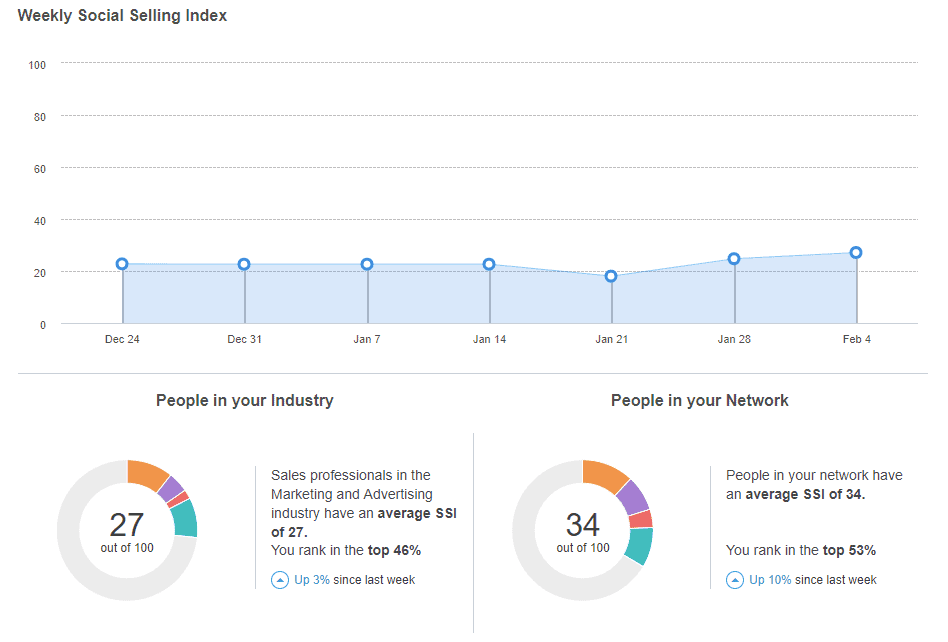 All of this data helps you assess the activity of your contacts and their actions.
Better to be the best of the best and rank in the top 50% of a network with an average LinkedIn SSI of 90, than in the top 2% of a network with an average LinkedIn score of 20.
How to improve your Linkedin SSI?
Your social selling strategy revolves around your relationships with your prospects. Your actions will not be isolated and may impact different aspects of your connection with them.
Build your professional brand
Position yourself as a thought leader in your network so that your contacts want to interact with you. This part focuses on the image you give of yourself. As with any human relationship, the first impression matters a lot.
Complete your profile in an optimized way
To set yourself apart from the competition and capture the attention of your prospects, fill out all areas of your profile with as much detail as possible. This is the easiest improvement to increase your LinkedIn SSI.
Today, buyers are using social media to find out about the companies they want to collaborate with, they no longer wait for salespeople to contact them.
Put yourself in the shoes of the person visiting your page. Would you like to get in touch with yourself (without witchcraft)? Here are some tips for optimizing your profile:
add a professional photograph;
use a clear statement about what you bring to your customers. Do not go back to your job title;
explain to your prospects what you can do for them in your summary;
provide as much information as possible of your skills;
demonstrate your expertise through recommendations from former collaborators or clients.
Publish quality content
Only 1% of LinkedIn users post content every week. They share visibility of 9 billion impressions. To benefit from this visibility, make sure you only produce content with high added value.
Many users make the mistake of just talking about their product or service. For an effective content marketing strategy, limit yourself to a maximum of 20% of your posts to promote your company.
But what about the remaining 80%? Let your audience benefit from the day before you practice in your field of activity, demonstrate your status as a thought leader. This part relies on curating content that you glean from right to left. Remember to always cite your sources, not only is this the least of things, but they will perhaps relay your message to their network.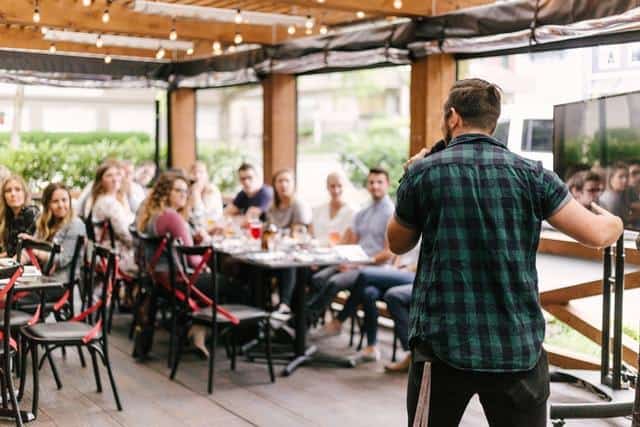 The other important point is to keep up your posting pace. Providing a routine for your network helps drive higher engagement, and increase your LinkedIn SSI. For example, you can post:
a customer interview in video form every Monday;
information about your sector of activity every Wednesday;
a weekly press review in a carousel format on Friday.
Pin your most important content in the "Our selection" section of your profile, so visitors can easily access it. This part allows us to highlight:
your posts published on LinkedIn;
your articles published on LinkedIn;
links to your web content, such as your site;
media, such as photos, documents, or presentations.
You can, for example, give visibility to a customer case study or a sales brochure of your company.
You have two options for adding items to this section:
Select "Show at top of profile" when you publish a post or an article
Click on the "+" icon located in the "Our selection" section on your profile page
If you want to keep specific information visible on your profile, consider bringing it up regularly to the top of the list. The latest added content is displayed first in this section, which results in a loss of visibility for older ones.
Connect to the right people
Define your targeting criteria as precisely as possible before starting your prospecting campaign on LinkedIn. If you're wrong with your relationship choices, your actions won't resonate and your LinkedIn Social Selling Index won't take off.
Be introduced
Would you recommend a craftsman who disappointed you? No, but the reverse is also true. When you connect with new contacts through members of your network you benefit from the trust established between these people.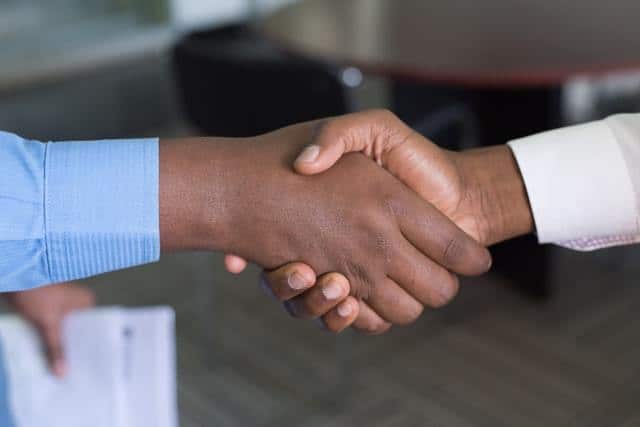 Before even starting conversations with them, these individuals give you credit because your network has done your advertising. Hence the importance of developing special relationships with each member. Even if a contact does not need your services, they can put you in touch with people looking for your skills and services.
Search for potential prospects
Your LinkedIn SSI takes into account your ability to relate to:
promising prospects;
influencers.
Although LinkedIn highlights Sales Navigator and guarantees you to boost your SSI by 20%, know that you can easily prospect on this social network without subscribing to the paid tool. On the other hand, if you think your network will grow on its own, you are wrong.
As a reminder, LinkedIn classifies its members as follows:
Relations 1st level. These people are part of your network;
Relations 2nd level. It is the members connected to your 1st level relationships that represent potential connectors;
Relations 3rd level. These are the users connected to your 2nd level relationships. You don't have any common connection with these people yet, but maybe some common interests or values. Add them if their profile appeals to you!
Use the search bar to find contacts that match your targets, and use Boolean queries to get more specific results.
You can also rely on the suggestions that LinkedIn presents to you in the "Network" tab. Based on the various elements of your profile and your previous research, it suggests people who:
attended the same schools as you;
have a job title similar to yours;
live in your geographic area;
work in your industry.
In addition to adding new contacts, LinkedIn presents company pages that may be of interest to you as well as groups to join.
Exchange relevant information
The relational aspect often takes a back seat on social media, when it is part of their very essence. Take an interest in your contacts if you want to capture their attention. They get solicitations from all sides, so you have to stand out.
Engage in discussion
Interacting with your network remains the best way to get noticed and to position yourself as an expert in your field. Try to bring added value to each of your interventions and always be in the exchange.
Each conversation allows you to collect useful information about your prospects (their needs, their areas of interest), use all this data to provide them with your assistance, or relay their publications.
Join groups that you will participate in to expand your audience and reach new potential customers. Be wherever you can engage in dialogue and help people solve their problems.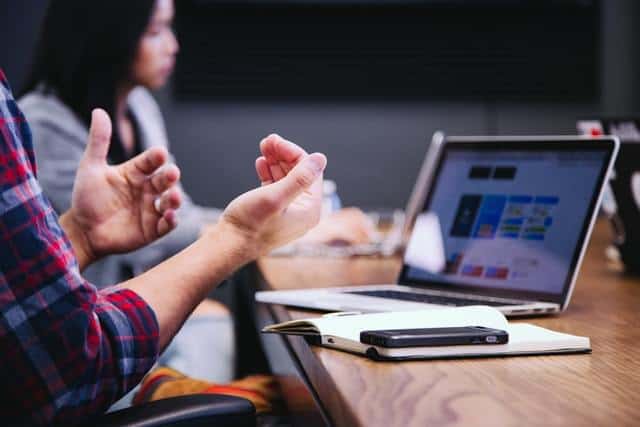 Simply clicking on the "Like" button will not generate any special relationship. If your contact asked a question through a Call-to-Action and you like their post without reacting to it, you're returning the image of someone who didn't bother to read the message.
Remember that while your LinkedIn SSI score is based on your actions, you should act like anyone else in everyday life. If your neighbor comes ringing the bell to ask you to lend him some salt, do you give your thumb a thumbs up before closing the door without answering?
Be relevant when connecting
Behave like if you were to go to a job interview, don't come with your hands in your pockets!
Take an interest in the person and what they've shared on their LinkedIn profile before asking them to join your network. If you customize your in-contact message, you'll get a better acceptance rate, which is great for your LinkedIn SSI.
Building relationships
Your ability to build and cultivate relationships will open up new opportunities for you. The majority of B2B buyers highly value recommendations made by a member of their network.
Expand your network
Each new relationship gives you access to its circle, which further widens your search field for potential prospects. These 3rd level relationships come closer to you by becoming 2nd level relationships. Your LinkedIn Social Selling Index takes into account how you use your network.
If you manage to bring enough value and attention to your contacts, they won't hesitate to recommend you.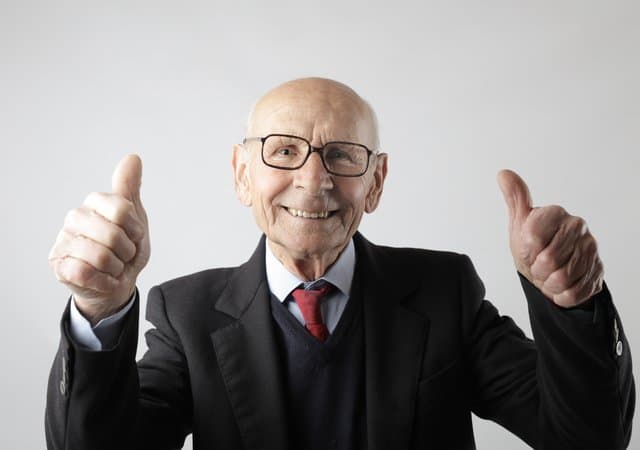 Remember to regularly check the list of people who visit your profile. Access to this complete list requires a LinkedIn Premium subscription. In the free version, you only get access to some of the latest visits.
If they've found you, they're probably looking to connect with professionals in your industry. Take the lead and send them an invite if they match your targeting criteria.
In your quest for new relationships, favor business leaders or executives. Remember the reason for your presence on LinkedIn: to get in touch to sell your product or service, so target the people who have the authority to make purchasing decisions or who are likely to influence them.
This doesn't mean that other people are of no use, but in a social selling strategy, you are primarily looking for business relationships.
Take care of your relationships
After integrating them into your network, bond with your new connections and get interested in what they post on LinkedIn. Feel free to :
share their posts to help them increase their visibility;
provide them with useful advice;
follow the success of their business;
regularly check in with them.
Keep in mind that you are talking to a real person, even if the communication is virtual, so treat it the way you would like to be treated.
Carefully cultivate each of your relationships and earn their trust. You will thus optimize your LinkedIn Social Selling Index and above all, they will naturally turn to you when a need arises.
Now that the LinkedIn SSI has no secrets for you, log into your account and start implementing each of our tips. You will quickly see the first results appear!