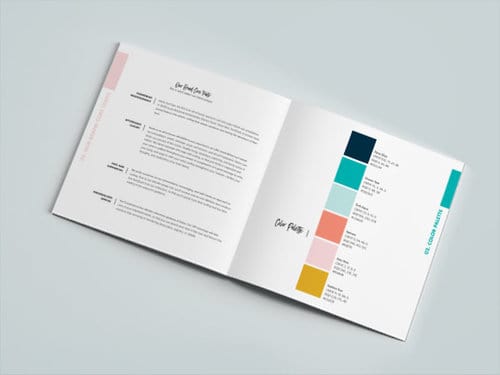 What is a brand book?
Definition
A brand book is a document that contains all the rules related to your brand and its visual identity. It helps to give consistency to the brand and your company, internally and externally (agencies, partners, customers, media).
A brand book is therefore essential to explain:
How is your visual identity structured?
What are the typographies and colors to use?
How to use your logo well?
What graphic universe does your brand fit into?
The brand book is also strategic since it covers all aspects of your brand:
Understand your brand positioning
Unify your message internally and externally
Add depth to graphics by adding context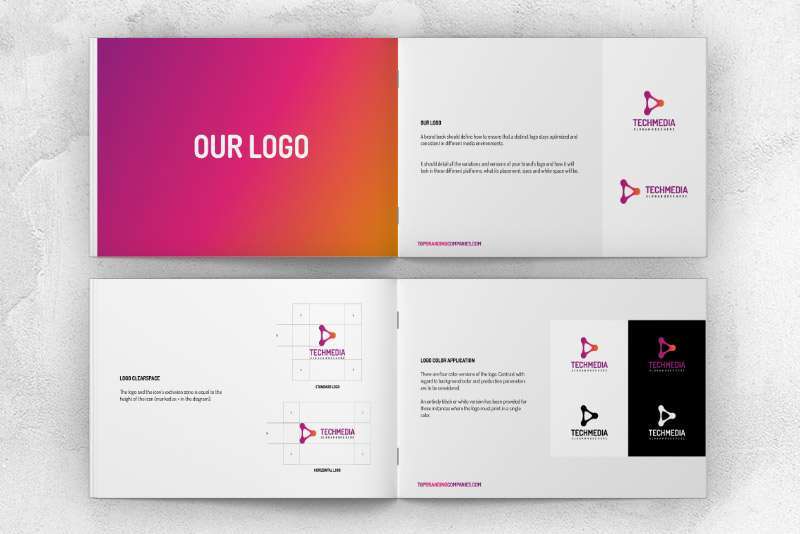 4 examples of brand books
Medium
Medium is a very popular content creation platform in the United States. Since its launch a few years ago, the brand has stood out with a strong visual identity that stands out from its competitors.
In its brand book, Medium reviews the Dos and Don'ts in terms of its colors, typography, and the use of its logo.
The guide also includes many details related to the positioning and vision of the company.
Spotify
Spotify's brand book may seem very simple: white, green, and black. But the brand is much more complex than its "simple" logo.
Its guide focuses on the use of the logo and its different variations depending on the media used. It also provides access to all official files: logos and graphics, in particular.
Access the Spotify brand book.
Skype
Skype has chosen a very visual brand book, with a relaxed tone.
The first part of their guide concerns their positioning, their mission, the preferred vocabulary when talking about Skype and its users.
The rest of the brand book remains more classic, incorporating the main visual elements (logo, color, typography, illustrations, and photographs, etc.).
Netflix
Netflix has chosen minimalism. In its brand book available to the general public, the company reviews the best practices for using its two logos and the colors to use.
Access the Netflix brand book.
Why create a brand book?
The brand book is not just there to please the designers and graphic designers of your company. No, the advantages are elsewhere …
Create cohesion between your brand and your positioning
It allows you to create real brand cohesion, across all of your communication media. Your message is consistent and your logo and its variations are controlled while maintaining consistency externally. This document is particularly important if you decide to get started in Content Marketing.
Define the identity of your company
Your branding defines the identity and personality of your business. The brand book is there to tell this story, including the main protagonists: your logo, your graphic charter, and all the associated visual elements. But not that, we will come back to it …
Mark your difference from your competitors
Your brand book allows you to centralize all the information concerning your brand and the associated universe in the same place. A strong brand supports your authority in your market by differentiating you from your competition.
Understanding the company's DNA and its personality
Your brand is not limited to its logo. The way you address your customers, the way to answer the phone, the vocabulary to use, the illustrations and other graphic elements to use, your principles, and the vision of the company are all essential to include in your brand book. They represent the personality of your brand.
What story do you want to tell your customers (and future customers)?
This is precisely the objective of your brand book.
How to create your brand book?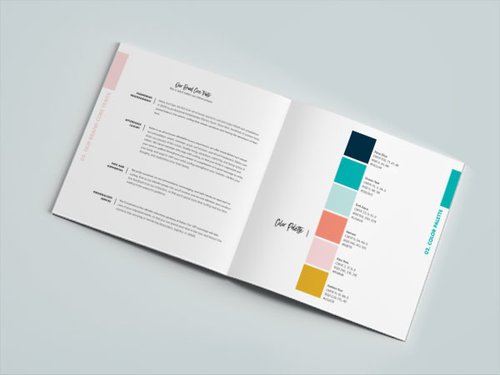 Brand presentation
Before going into the details and guidelines of your brand, it's important to remember who you are and why your brand exists today.
Mission
Here, it's not about including as many buzzwords as possible: disruption, digital transformation, artificial intelligence, new era, etc.
Don't be conceptual, but straightforward and simple. Your company's mission should be understood by all and easy to remember.
Take two examples: Airbnb and Nike.
Airbnb wants you to be at home, anywhere.
Nike wants to wake up the athlete in you.
This could be the first sentence to explain their mission.
The company's mission therefore describes:
his objective n ° 1
his reason for being
its difference
Vision
A strong vision serves as a guide for all of your decision-making. You could compare it to a compass for a hiker. It helps you stay the course, clarifying your goals year after year.
What do you want to aim for? What is your destination?
Values
We are talking more and more about principles. These values ​​are the direct application of your vision, daily.
The process to define them will not be the same depending on the size of your business. As far as possible, involve your employees in defining these principles. They are the first players in your business and embody your brand daily, don't forget that!
Products / Services
Take the time to ( re) present all of your products and/or services so that everyone can have an overview of your activities (journalists and media, the general public, customers, investors, employees, agencies, etc. …).
History
Telling the company's story helps to further personify your brand. It would therefore be a shame to do without it.
Target (s)
Your targets represent your customers. It is always good to mention them within days of a new marketing campaign or the release of a new product.
Who are they?
Why do they need your products (or services)?
What are their challenges?
What do they look like?
Your logo (and its variations)
The logo is the most important graphic element of your visual identity.
If you do not communicate any details on the different ways of using it depending on the context, everyone can make the logo their own as they see fit.
Most brands have different logos depending on the uses that will be made (print, social media, video, etc.). Without a clear brand book on this topic, you are confusing your brand and your business.
How to use your logo?
Are there variations depending on the media?
What are its dimensions? It's positioning?
The spacing between the elements?
Our advice: present the Do's and Don'ts in terms of presentation, with concrete examples to show.
1 picture is worth a thousand words, isn't it?
Your baselines (and how to use them)
Your different baselines generally follow the same rules as your logo.
Am I allowed to include the logo + the baseline together?
Where to position the baseline about the logo?
What size and spacing should be expected?
Which color is it?
Does the background have to be uniform?
Your colors
By clearly defining your colors, you will create consistency across all of your branding materials (internal or external ), whether online or not.
Most brands choose a maximum of four colors to keep their visual identity simple. Variations by color can however be considered.
It is important to communicate all the details about your colors:
names
values (CMYK for printing, RGB and HEX for web and PANTONE)
possible variations and variations of each of the colors (primary, secondary, alternative)
Typographies
Most brands have created their typographies (brand name, titles, texts, etc.). Your brand book is there so that you can show examples of how each font is presented, as well as how to use them correctly.
Illustrations and icons (and how to use them)
Your brand book must indicate whether the use of photos, illustrations, or other graphic elements is possible. And above all, in what context?
If you have a personal library, mention it, answering these questions:
How to edit your images?
What colors should I use?
How should the logo (or the baseline) be inserted?
How many graphic elements can be included in a presentation?
To be more concrete, you can, here too, provide Dos and Don'ts of illustrations that have already been approved (or not).
Tone, voice, and editorial style
Like the rest of your visuals, the tone and editorial style help to establish your positioning and your brand over time.
These should be aligned with your personas and typical customers. You can start by identifying which words you like and which ones you don't want to be associated with.
Structure of pages and documents
This part is generally intended for your employees and answers a central question, regardless of the department concerned:
How to create official documents for internal or external use, by our brand?
The easiest way is to provide document templates to better control the use of the various elements mentioned above (logo, baseline, color code, etc.) :
Powerpoint and Word
Blog post
Guide, ebook, or pdf document
Press release
Agenda
Our 8 tips for a successful brand book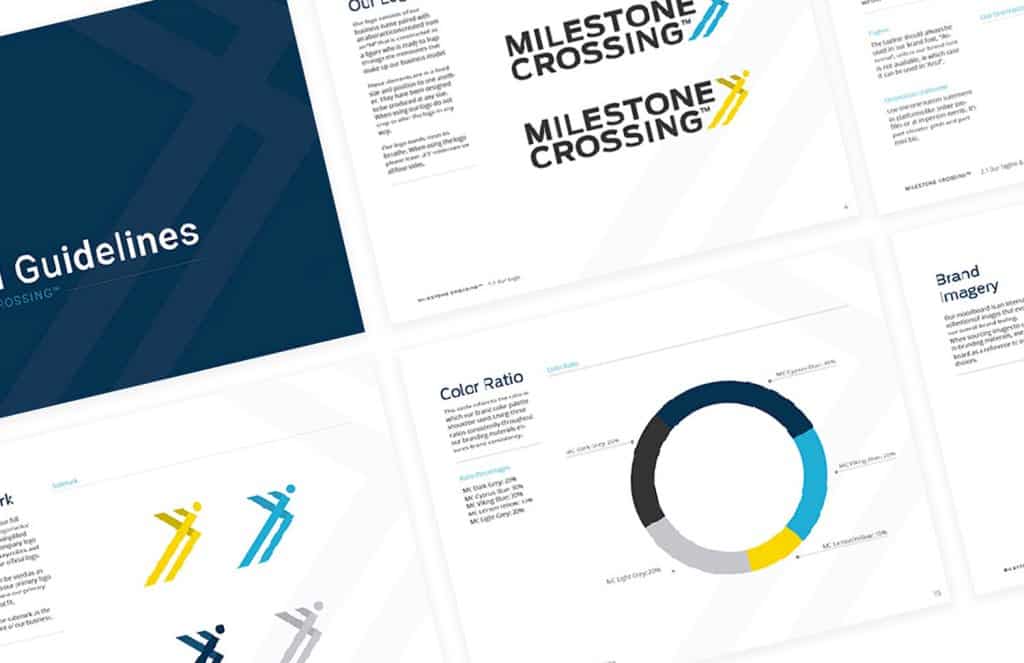 Creating a brand book that can be useful for your teams and your external contacts (agencies, media, clients, and partners) is a real challenge. Here are 8 tips from our experience to produce a quality brand book!
Ask yourself the question of the targets of your brand book
Before you start creating your brand book, take the time to identify all the people who will use this document. By doing this work, the content you will offer may not be the same depending on your targets.
Certain sections will probably not be essential for your external partners (document for internal use for example).
Keep it simple in its presentation and your explanations
If you want your brand book to be understood by everyone, be simple and straightforward. Everyone needs to understand your brand, who you are, and how to use your various graphics.
So don't use jargon or technical language specific to your business.
Be creative in building the brand book
The brand book is, by nature, the direct expression of your brand. Take the opportunity to let the creativity of your business speak for itself. You can play on the format or the medium (a dedicated website for example, like Uber ).
Designate your brand book as a communication medium
Your brand book represents your brand. So be consistent in its construction, according to your principles and the internal state of mind. Google's brand book is colorful and fun, like the image the company wants to convey.
Bring real added value with your brand book
With this brand book, it is not a question of producing yet another document for the simple fact of having created it. It must serve your targets, be practical, and provide the information necessary for the use of your visual identity.
Regularly update your brand book
Your brand book must be used. So watch how people take ownership of your visual identity.
In this way, you will realize some points that you did not mention in your brand book. A good opportunity therefore to update it.
Share this brand book to make it easily accessible
Make sure that people who need to use your brand can easily access your brand book.
Mention it on your website by creating a specific section for example with:
the brand book
all downloadable elements
Anticipate all possible questions
At the end of your brand book, set aside a section to include all the answers to common questions raised by your employees or external people.
Do not forget to mention a contact address and a point of contact, in case of questions. This could save you some (nasty) surprises about your brand.
Graphic, editorial, language, and brand book charters: what are the differences?
The difference, more than in the content, lies in the target audiences. Graphic, editorial, and language charters can sometimes be included in a brand book.
These different documents correspond to different situations and needs.
Situation n ° 1: "I am putting together a new page for a website, I would like to know the Do's and Don'ts in terms of design."
→ Graphic charter (+ brand book possibly).
Situation # 2: "I am writing a new newsletter format, I would like to know the tone and the preferred words. "
→ Brand book and/or language charter (when it is not included).
Situation # 3: "I am reviewing the complete structure of the blog and its categories. How to better understand the universe of the brand and its themes? "
→ Brand book and/or editorial charter (when it is not included).
There you go, you have all the cards in your hand. It's your turn! (Or contact us, we can't wait to work with you.