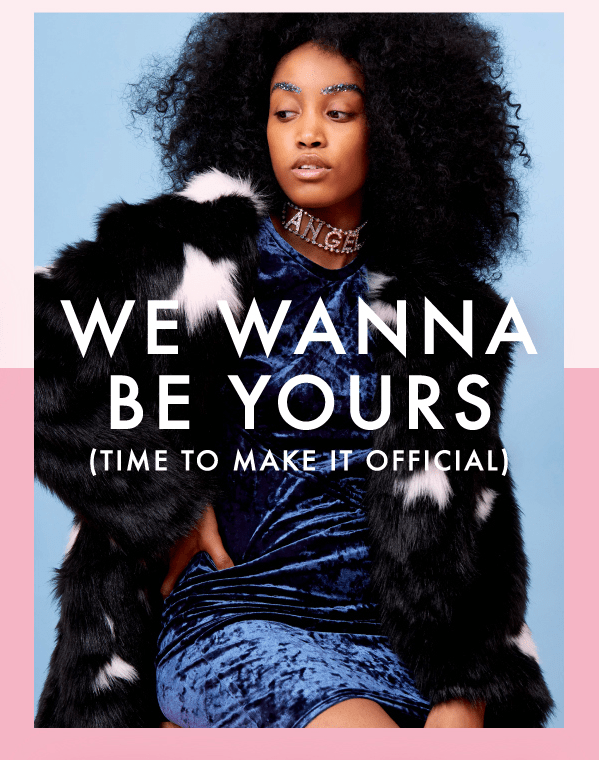 Lead nurturing is the often automated process of developing a relationship with your potential buyers to support them throughout their journey and lead them to convert to a specific objective, often the purchase.
Whether you are looking to build a solid relationship with your prospects and customers or to upsell (or both), you need to be on top of the content you offer throughout the buying cycle.
In other words, you should be doing lead nurturing.
Why does lead nurturing?
If you've never incorporated lead nurturing into your digital marketing strategy before, you may not yet be fully convinced of the benefits. Here's a quick rundown of the reasons to take action.
1.The majority of your leads aren't ready to buy yet
Have you ever bought a product or subscribed to a service from the very first contact you had with a brand? If the answer is no, that's normal: it rarely happens.
If you are the king of lead generation: congratulations, this is the first step.
But taking the example of a famous dating application whose name we will not mention, we would say that capturing a lead corresponds to the stage of the match. You realize there's still a way to go, don't you?
Indeed, according to a recent Marketing Sherpa study, 73% of leads are not yet ready to buy when they first give you their information.
You're going to have to build a relationship of trust, and lead nurturing is ideal for that.
2.It's a cost-effective way to generate sales
In 2019, 49% of marketers consider email the most effective way to generate leads.
If lead nurturing is used so much by the Sales and Marketing teams, it is because its power is well established. On average, companies that are successful with lead nurturing campaigns generate 50% more leads for three times the budget.
Also, research carried out by the firm Annuitas, has shown that a purchase made by a leader who has been nourished with content during their purchase process has a value 47% higher than a leader who does not. was not.
Figures that do not deceive.
3.Still few marketers use it
You're in luck, even if lead nurturing is developing at high speed in companies, especially in BtoB, few marketers are exploiting its full potential.
The same Marketing Sherpa study even shows that today, only 36% of marketers have established a nurturing strategy with their prospects.
There is therefore a great opportunity to seize if you want to stand out from your competitors.
One word of advice: don't wait too long, it might not last.
4.It's an unstoppable way to build a community
If the content remains the king of any marketing strategy in 2021, building an engaged community is a major challenge.
The benefits are multiple: multiplication of customer proofs, co-development of your product with your targets, acquisition at a lower cost, etc.
Overall, creating a close relationship with your prospects is a great way to leverage your marketing efforts. And lead nurturing is a great way to turn your goals into successes.
Here it is: now you will no longer be able to say that you did not know.
If you want to get into lead nurturing seriously, know that it requires an investment in time and the long term. Let's take a look at some of the prerequisites for launching your strategy.
What are the prerequisites for launching your lead nurturing strategy?
Well-defined Buyer Personas
Your buyer's personas, or target buyers, are at the heart of your lead nurturing strategy. To get them the right content at the right time, you need to have a very clear view of the people you are targeting.
To successfully transform your leads into customers through lead nurturing, first identify the following elements for each of your targets:
Their demographic profile: age, city, a position held, career path, family, etc.
Her pain points: the biggest problems she has to solve
Their needs (and their deep expectations of a brand)
His interests
The networks and platforms on which it is located
BtoB bonus: its objectives and constraints (in terms of budget and time), its professional development challenges, the profile of their N + 1, the obstacles to achieving its objectives, etc.
Advice at 1000 € – To (finally) identify the real pain points of your customers avoid making the mistake made by half of the companies when they get to this step: starting with your solution to identify the pain points of your targets.
It's tempting, but very risky because it can skew your entire strategy. So you waste a lot, a lot of time, and money.
Instead, meet them by inviting them to your premises or by arranging interviews; and discuss with your colleagues in direct contact with your customers (Sales, Customer Support, Project managers, etc.).
You will also retrieve valuable information by taking an interest in the responses from your chat tool, by creating a questionnaire on your site, or by reading what is being said around the subjects of your business on Quora, Reddit, Facebook, or any other place frequented by your audience.
Better to develop your offer now by discovering new customer issues, rather than putting all your energy into promoting an offer that will never meet its target, don't you think?
Knowing exactly who you are talking to allows you to create lead nurturing campaigns with content that is relevant and relevant:
Use a tone and examples to suit your clients
Enrich your content with references that arouse emotion in your target
Offer your prospects free solutions to some of their problems to gain their trust
A marked customer journey with content adapted to each step
Now that you know your target well, you need to understand which path they take from the moment they discover your brand, until their passage to the act of purchase.
"Global campaigns sent to all subscribers, regardless of their profile, interests and where they are in the buying journey, no longer have a place in e-mail marketing strategies. 'today. Campaigns need to be personalized. "
– Clara Landecy, Marketing Manager at HubSpot
To do this, we invite you to map your target's journey, adding at each stage the different content that you will offer them:
Top of the Funnel (TOFU)
Phases of awareness and discovery. At this point, you need to come up with informative content and engage your target with content that educates and addresses their issues.
The most used content at this stage: blog articles optimized for natural referencing (SEO), videos, infographics, podcasts, posts on social networks, etc.
Middle of the Funnel (MOFU)
Assessment and consideration phases. Your content should guide the prospect to your offer by giving them all the information they need.
The most used content at this stage: case studies, landing pages, white papers, webinars, etc.
Bottom of the funnel (BOFU)
Purchase phase. Your prospect is ready to make the purchase. Do not miss out on the content that will allow it to take action.
The most used content at this stage: sales pages, a trial period or free call, discount coupons, live demonstration, customer testimonials, etc.
Post-Sale Content
The purchase does not mark the end of the relationship with your customer. You must continue to create content that re-engages your customers after the act of purchase and ensure their loyalty.
The most used content at this stage: thank you emails, retargeting ads, buying guides, personalized promotions, etc.
This journey is essential, as is the content marketing strategy you will build to achieve your goals. So take the time to lay the foundations by putting yourself in your target's shoes: at each stage, they are at a different level of commitment, with different expectations and intentions.
A well-segmented contact database
The magic of marketing automation to nurture your leads is to be able to rely entirely on the segments and events that you have previously defined. Once started, your email sequences adapt to the prospect's behavior.
For this, having an email database is not enough. You must segment this base, that is to say, divide your subscribers into different small groups according to criteria that you have previously defined. This could be for example the age, the position occupied, or the entry channel of the lead in your list of subscribers.
This will allow you to send certain content to certain subscribers only, precisely because they will be more likely to be interested in the content in question. And therefore, improve your conversion rate.
The right Marketing Automation tool
To offer content adapted to your target at a key moment in their journey, it is almost impossible to do everything alone, by hand.
Problem → Solution: There are many marketing automation tools available to you. They allow you, in particular, to create workflows (automated email scenarios) upstream, and which are triggered after a predefined behavior (example: when the prospect downloads your ebook).
Here is our selection of the best marketing automation tools. In all fairness of course (we promise, no one paid us to be on this list!).
For each tool, you will know the price and its score obtained on the GetApp site
HubSpot
HubSpot's marketing automation software is aimed at small and large teams alike, who want a comprehensive and easy-to-use tool to optimize their marketing activities, generate more qualified leads, and increase productivity.
A pioneer in inbound methodology and a market leader, it is the reference tool for building and optimizing your lead nurturing campaigns. It allows you to centralize the creation of all your content, whether it is social media posts, emails, or landing pages that you will use to collect leads.
The advantage: its free version already allows you to have a good overview of the functions and its ergonomics.
Price: from 0 €
Rating: 4.5 / 5
Plezi
Plezi is a French SaaS startup that offers a marketing automation solution for BtoB companies. Specializing in the implementation of inbound marketing strategy, she has carved out a place for herself in the French market. His particularity? Plezi offers an "intelligent" lead nurturing campaign tool, which allows you to use your data to send relevant content to each of its prospects, without a pre-built workflow.
Price: from 299 € / month
Rating: 4.6 / 5
Marketo
Marketo is a platform specializing in engaging your prospects through email marketing, marketing automation, and consumer-centric marketing, in particular. It gives you access to a huge range of features, especially in Analytics, which allows precise and continuous optimization of your lead nurturing campaigns.
Price upon request
Rating: 4.2 / 5
Salesforce Pardot
Saleforce's Pardot tool is marketing automation software that combines lead nurturing, lead scoring, email marketing, and many other features. Very powerful but quite expensive and less flexible than the previous tools, it is particularly suitable for large BtoB companies.
Price: from € 1,100 / month
Rating: 4.1 / 5
Warning: use of marketing automation wisely and in moderation! Not all of your trading can be automated, and too much automation can hurt your strategy.
The 7 basic steps in lead nurturing
An effective lead nurturing strategy should be designed as a conversation between you and your prospects. Here are the 7 basic steps to a successful campaign.
1.Define your goal
For each campaign, set a specific and measurable goal. For each content as well. This allows you to measure the effectiveness of each of your actions and optimize by keeping only what works. A single watchword: test and learn!
Segmentation of your contact base will allow you to determine how many people have entered your funnel and how many have reached the desired goal.
2.Define your entry and exit criteria
To create your workflows, you will need to define several criteria. Here are a few examples:
How does contact enter a particular content loop?
Can he follow the same program twice?
What types of contacts are excluded and will not fit in the loop?
Under what conditions does a contact leave your loop? Is it when he goes to the end? What other cases will direct him to the exit? Is it excluded after 3 unopened emails?
In short, it's up to you to define your strategy, depending on your target and the objective of your campaign.
3.Define your key scenarios and messages
When you create a lead nurturing campaign, the field of possibilities opens up to you:
Will you have one scenario for all of your prospects? One per sector? By Persona?
How different should the content for each scenario be?
What will be the length and number of contact points (content, messages, emails, etc.) in your scenarios?
"Creating workflows comes down to making assumptions about what our prospects will want to do.
If a prospect downloads content X, chances are they are interested in content Y. If they open my email, chances are they like my product. I will therefore offer him a demo. It is possible to do better with a tool like Plezi which adapts in real-time to the prospect's purchasing journey, without workflows. "
– Benoît Collet, Growth Marketer at Plezi
Also feel free to experiment with different hooks, angles, email subjects, or formats.
4.Determine the frequency and times of sending
You will also need to define when you send a particular message: the frequency, the days, and the times.
Example:
Do you send your content in the morning or the evening? Depending on the habits of your targets, the optimal sending time will be different. Do not hesitate to test many timetables to find the "right spot"!
Do you wait 2 days or 1 week before relaunching a prospect following a visit to the presentation page of your offer?
Will your emails also leave on weekends? During the school holidays?
Here too, it is quite difficult to know precisely, a priori, what will work best. So do some tests!
5.List the content to be created
Creating and launching a lead nurturing campaign requires creating the content that will intervene at each stage of your workflows. The most classic formats you will need are:
The white paper
The landing page
Case study
The webinar
Without forgetting of course the creation of your email sequences.
Next, organize a content creation plan by asking yourself the following questions:
Do these supports already exist?
If not, who is responsible for their creation? What budget and time to plan to create the missing content?
How many emails should I create? Which model will I use?
To take action, here is a table showing the most used formats by step and will help you get organized: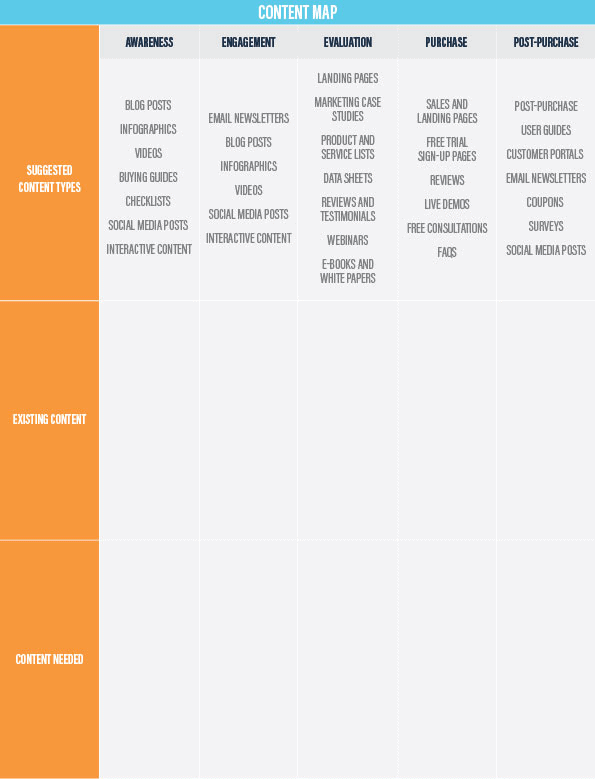 6.Define your KPIs
As with each of your marketing actions, you must define the performance indicators or KPIs. Ask yourself the right questions :
How to measure the success of your campaign?
What data should I track first? Secondly?
How often will you measure the performance of your stocks?
Some examples of KPIs in lead nurturing: churn rate, open rate, click rate, CTR, the achievement of the goal set at the end of the workflow (example: make an appointment).
7.Have a clear idea of ​​what's next
Once your lead has received all of the content they need to receive, you shouldn't leave them hanging. Imagine what followed!
For example :
Does it have to be taken care of by a salesperson?
Does it have to change the segment in your CRM?
Is his lead score changing?
8 best practices for successful lead nurturing campaigns
Now that we've seen the basics, let's get down to business. To ensure that your lead nurturing campaigns explode all your objectives, several techniques have been proven. Here we share with you which ones work best.
1.Align (really) your Marketing, Sales, and Customer support teams
Aligning your Sales and Marketing teams is essential in lead nurturing: you must set up common and shared processes between these two poles.
To do this, the first step is to define the criteria for qualifying a lead in the pipeline, to know when a particular team is responsible for a lead.
The defined criteria allow you to classify your leads into two categories:
MQLs (Marketing Qualified Lead): contacts generated by marketing in the nurturing phase by marketing teams
SQLs (Sales Qualified Lead): hot prospects, or sufficiently qualified to be followed by sales teams
To know: the misalignment of the Sales and Marketing teams costs companies more than $ 1 billion each year.
Also, the best insights often come from the Customer support and Sales teams, in direct contact with your prospects and customers. Their issues and needs may change. To update the knowledge of your personas regularly to adjust your campaigns according to their needs.
2.Enrich your contact base and score your leads
Gradually, you will enrich your database. The information you collect on each lead allows you to qualify them based on their level of maturity in the buying cycle. Also, tools like Clearbit or Dropcontact then allow you to supplement the information requested from your prospects with other data that interests you (sector, size of the company, etc.).
This is where lead scoring comes in, an essential tool for any lead nurturing strategy worthy of the name! The principle: your marketing automation software automatically assigns points to each of your leads according to rules that you have previously defined.
This score depends on 3 factors:
The level of information available on the prospect: do you only have his email address? Or his profession and the name of his company?
Prospect activity: did the lead click on a link in your newsletter, did he continue his research by consulting several pages of your site?
Prospect engagement: what are the concrete actions to engage your prospect (downloading premium content, registering for a webinar, an information meeting, etc.)?
Thus, the scoring allows you to classify the leads and to determine who are your "hot" prospects (implied, ready to be carefully attacked by your formidable sales teams!).
Finally, the ranking of leads allows your marketing automation software to schedule a contact at the right time: a call directly in the CRM for example, or the addition of the prospect to a lead nurturing campaign following a conversion objective.
"HubSpot allows you to build a personalized customer journey for each lead. With email marketing tools and workflows, trigger email series to give your leads all the information they need to convert to customers.
Take advantage of each interaction to automatically initiate a relevant follow-up or activate the next step. "
– Clara Landecy, Marketing Manager at HubSpot
3.Engage your prospects with creative social media campaigns
While email is at the heart of your lead nurturing strategy, it's not the only way to engage your prospects. Diversify your points of contact and your communications by creating social media campaigns that stand out.
Then, plan social media marketing campaigns to revive incoming prospects via a post on your social networks, without necessarily leaving their email.
4.Optimize your campaigns for mobile
Whatever the channel (website, emails, social networks, etc.), all your content must be optimized for mobile. Regarding the email channel, for example, we now know that on average, 67% of emails opened are on mobile.
Also, 35% of professionals consult their emails on mobile.
5.Use the right tone in your emails
To be very concrete, here are our best practices for writing your marketing emails:
Write to one person: Even if you send them to thousands of subscribers, imagine only one of your readers when you write your emails. The more personalized the message appears, the more impactful it will be.
Write as if you were talking to a colleague: use a conversational, friendly tone. Avoid boat and distant formulations.
Generate emotion: your reader sees hundreds of emails pass. To stand out, you have to touch a sensitive area. Humor works well, but you can also try frustration or surprise, for example.
6.Educate and provide added value
The principle: give before receiving.
Every piece of content you offer your reader should help them, bring them value. It is by giving him what he expects that you will succeed in gaining his confidence over time.
In each of your emails, blog posts, white papers, or webinars, go above and beyond your prospect's expectations.
Some marketing automation software helps you adapt your content:
"Let your prospects buy their way to close more sales. With HubSpot software, you can use the behavior of your leads to personalize the content of your pages, offers, or emails. "
– Clara Landecy, Marketing Manager at HubSpot
7.Clean up your subscriber base
Many companies want to get into lead nurturing. Unfortunately, few make the effort to clean up their contact base.
Bottom Line: The content these companies send goes straight to spam. So the chances of it being opened or read are… 0.
To avoid this :
Be sure that you have your subscriber's consent to send him emails. And preferably, use a double opt-in upon subscription.
Send your emails with a verified domain name, and from an IP address free of any spam-sending in the past
Avoid aggressive lexical fields specific to "buy" "promotion", "50%" spam, etc…
Include in each email a way to unsubscribe from your list in a few clicks
Regularly remove inactive subscribers: for example, plan to clean your mail database every month by removing subscribers who have never opened or read an email in the last 3 or 6 months.
8.Write email subjects that stand out
To boost your open and click-through rates, the subject of your emails is essential. Here are some best practices to ensure that your readers open your content every time:
Arouse curiosity, without being too complicated though: everyone should understand the message in less than a second
Add numbers and/or emoticons, to stand out from the many email subjects that surround yours
Use a friendly, conversational tone in the same style of language as your personas
6 examples of lead nurturing campaigns
2 examples of BtoB lead nurturing
Intercom
In an article, Intercom presents its different lead nurturing strategies. Here is an example of a welcome message after registering for their free trial, via their chatbot. As you notice, it's written in a friendly tone and engages the prospect with a conversation!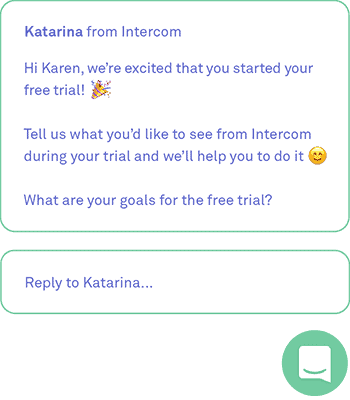 At the end of their trial period, Intercom does not forget to re-engage the prospect with a new reassurance message:
Zapier
Now let's take a look at an example email sent by one of Zapier's co-founders to new users. It offers the user different content to help them think about automation ideas and invites them to get in touch with the support teams or to discover new features.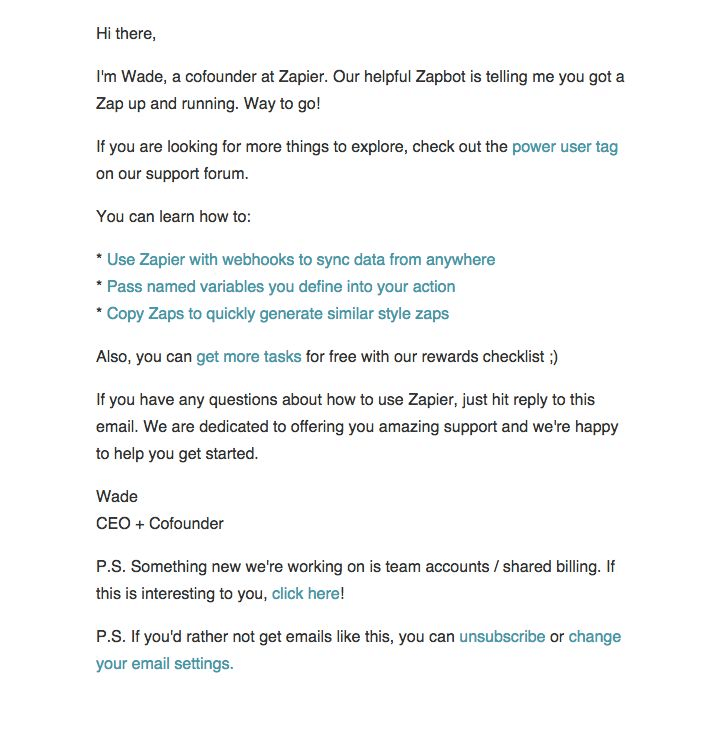 3 examples of B2C lead nurturing campaigns
Ryan air

One of the most emblematic campaigns of the airline company Ryan Air is that of their "mega-sale of seats". The emailing sequence is very well thought out here:
First notification of the sale, with a deadline
An update of the offer with an extension of the sale by removing certain limits
The last email on the day of the end of the offer proposing an additional promotion
Netflix
To collect subscribers who decide to leave the platform, Netflix has designed a well-crafted email campaign:
When unsubscribing, an email containing an essential CTA to re-subscribe
3 months later, an email presenting you the series and films you are missing, based on the data collected on your consumption habits
One last email to encourage you to finally come back to the platform and make up for a lost time!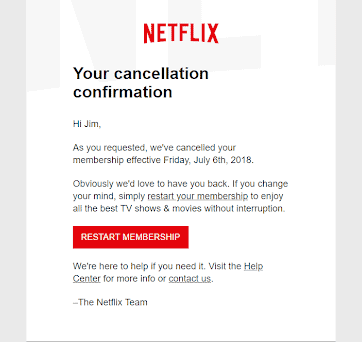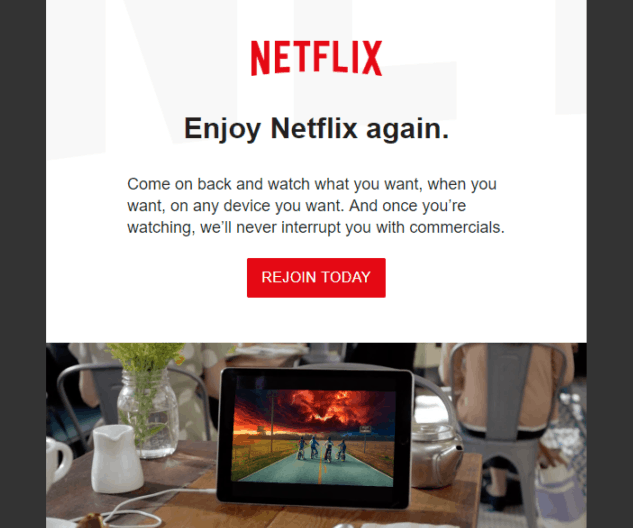 SkinnyDip
To re-engage visitors who left the website without purchasing one of their products, clothing brand SkinnyDip has created a campaign that shows its customers that it doesn't forget and care.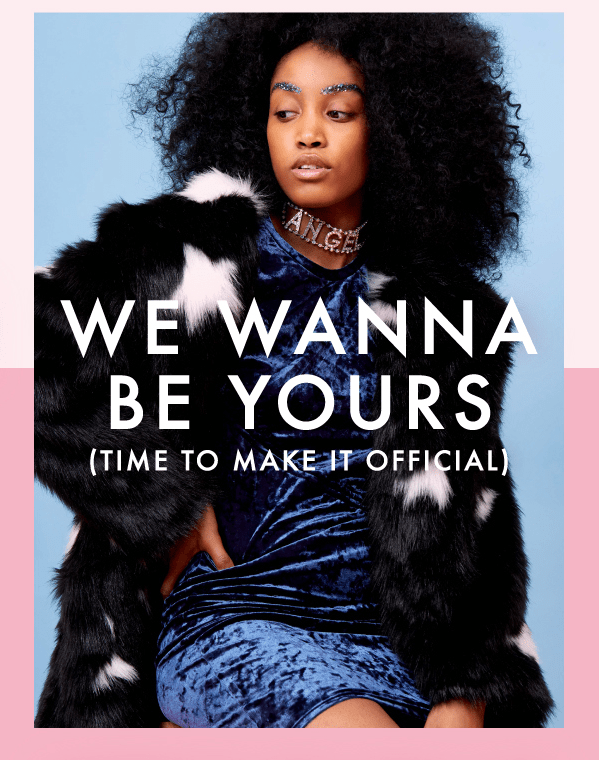 Ready to get started?
If you've read this entire article, congratulations, you're all set to launch some great lead nurturing campaigns .