What KPIs are there? Which ones are significant to advance your SEO and not get lost in wrong numbers? Which KPIs are relevant for which type of website?

Find the answers to these and many other questions here!
1.These are the essential SEO KPIs
The visibility index
You are likely to encounter the Visibility Index sooner rather than later, when you start doing SEO. The visibility index should not be missing in any reporting, especially when compared to the competition. In addition to this, or better than that, there is, however, the solution for project visibility, which we will discuss in the next section.
Pro tips:
A metric by which many SEOs measure themselves is the visibility of the website. Unfortunately, this is often misleading because the lower the visibility index, the more or less meaningful it is. Strong fluctuations can often be seen, especially when visibility is low, causing great uncertainty among laypeople. So you can z. B. Rank for keywords that have a high search volume but are not relevant to you! If something like this happens, your visibility index rises or falls sharply if you lose or gain the keyword's positions. Therefore, it is better to enjoy the general visibility index with caution and orientate yourself more towards your specific keyword set's visibility. Nevertheless, it would help if you did not neglect the visibility index in reporting.
A lot doesn't necessarily help a lot here. It shows courage to remove irrelevant pages (with thematically inappropriate keywords), as this can lead to a drop in visibility. However, in the long term, it helps to increase the relevance of your website in your subject area and thus increase its visibility (with relevant keywords). So, trust yourself and clean up your side of data garbage!
Observe both desktop visibility and mobile visibility, which can sometimes show a large difference, depending on how well your website is optimized for mobile use. According to Google, there is no longer any difference between desktop and mobile rankings. Therefore it is all the more important to have the mobile visibility of your website on the screen!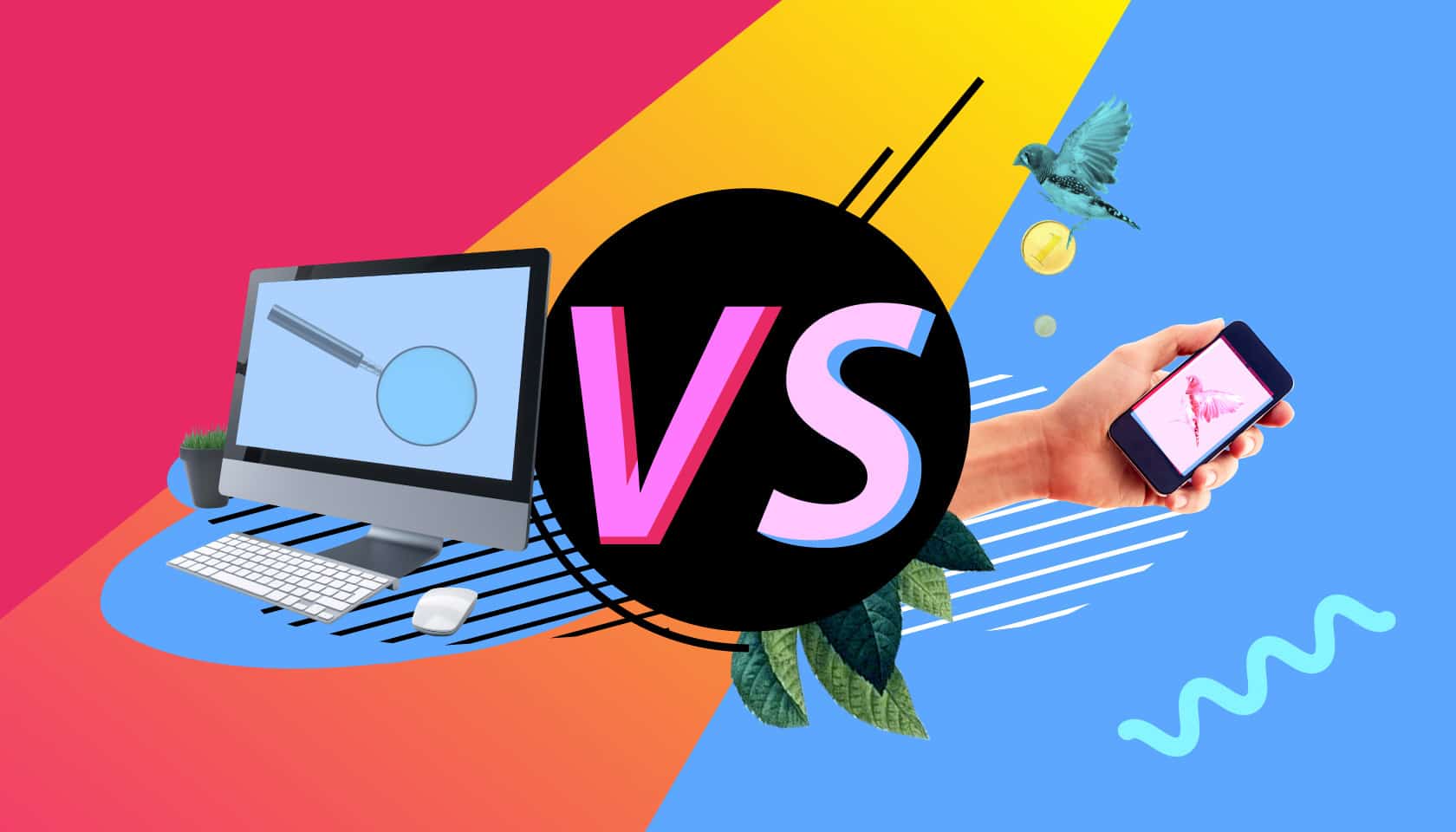 The project visibility index
Project visibility is calculated based on a set of keywords that you have previously determined. This means that only the keywords that are thematically relevant to you are included. Competitors can also be stored here. This gives you a quick overview of your keyword sets compared to the competition.
Pro tips:
The project visibility can be broken down into visibilities for specific keyword clusters. This enables detailed analyzes of certain areas of your website (e.g., directories), subject areas and keyword sets. Depending on how you structure your keywords with tags, the individual visibilities help you to identify fluctuations in what caused the change quickly.
Keyword Rankings
What would SEO be without keywords? This is precisely why they are so crucial in reporting! If there are more than a handful of keywords, the keywords should be neatly prepared and clustered according to the topic, either according to subject areas, website areas, or priorities. This allows clear conclusions drawn about ranking changes later directly in the tool or further processing in Excel. Keyword rankings can, e.g., B. be observed weekly, but at most every month.
Pro tips:
Know your most relevant keywords. These may not necessarily be the ones that bring you traffic, but above all, the ones that convert! Your primary focus should be on all analyzes and, above all, optimizations!
Don't forget the niche keywords/threshold keywords! Often you have more chances to improve your rankings quickly because the competition is not that high. Depending on how competitive your keywords are, this is where you even have a chance of ranking in the top 10.
Keep your keyword set up to date! Especially if you are active in content marketing, you should not forget to add keywords to new campaigns. Expand, optimize and update your specific keyword set on an ongoing basis.
Number of ranking keywords
The number of ranking keywords (in the top 100) and, above all, the course overtime should be observed. Here also focus on the top 3 and maximum of ten ranking keywords, but the threshold keywords (positions 10-20) can take your interest!
Pro tips:
Observe the relationship between the top 10 and the top 100 rankings. If you have many top 100 but hardly any top 10 rankings, you should first restrict your SEO strategy to the top keywords before tackling entire supplementary subject areas.
Do you want to cover your subject area through content marketing? Then the quantity of keywords is of particular interest to you. By increasing the number of ranking keywords, you can conclude content marketing success.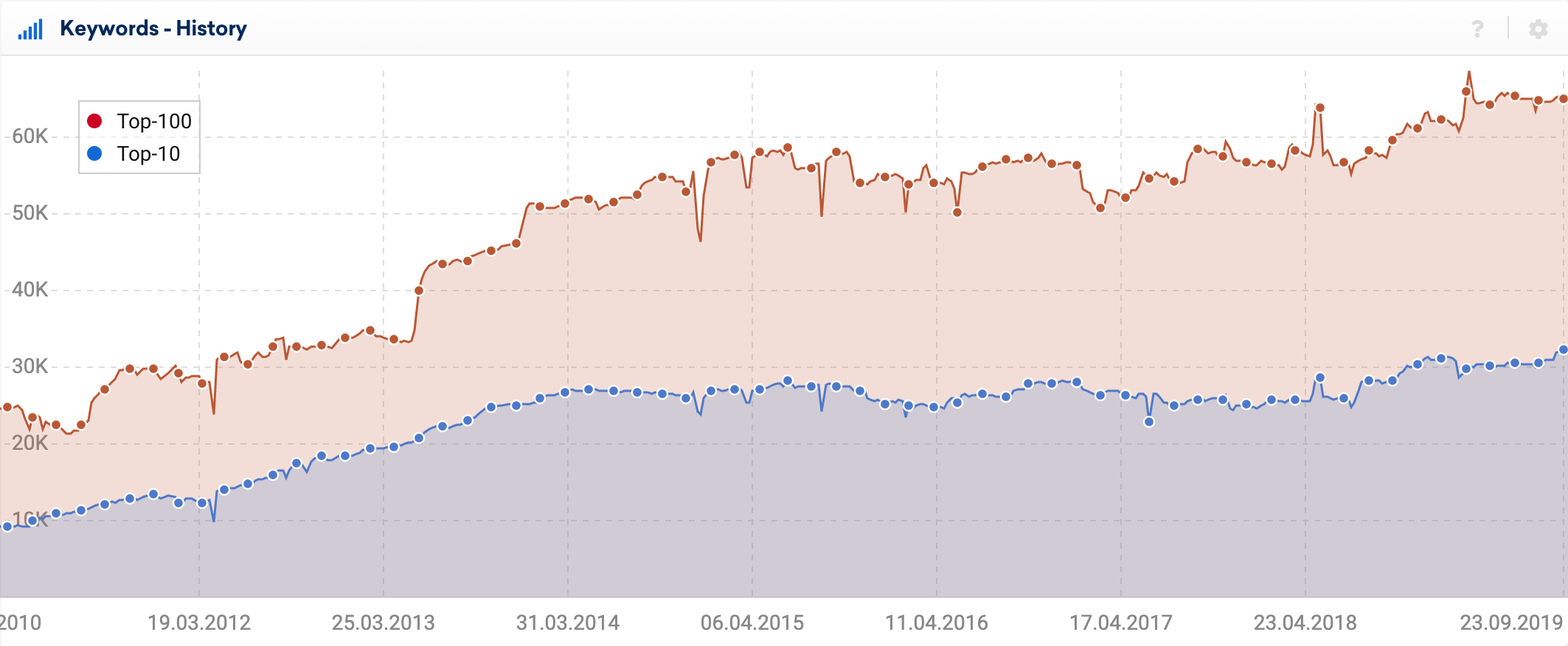 Organic traffic
The number of users (traffic) that come to your site is one of the most critical KPIs for your SEO success. It is advisable to create a clear dashboard (e.g., in Google Analytics) to get a quick overview of your traffic figures regularly.
What should you watch?
Number of users (the individual visitor to your website)
Number of sessions (total number of sessions; a user can create multiple sessions)
Number of page views (the total number of pages viewed, a user can generate multiple page views)
You can also observe the returning visitors, pages per visitor, bounce rate and length of stay. The landing page report should also be checked regularly.
Pro tips:
Caution: Be aware of what each metric in Google Analytics means. For example, the session duration is only calculated if a user has performed a second action on the page. However, if your ranking subpage is only there to provide certain information, you can look forward to a bounce rate of 100 percent and a dwell time of 0 seconds.
Leads, Transactions and Sales
THE most important key figure for most websites is sales or transactions. Here it is advisable for you to precisely track sales and transactions using a tool, e.g., Google Analytics, and prepare them in a dashboard for a quick overview.
Also, you can monitor the sales per order, the transactions per visitor and the conversion rate.
Pro tips:
For detailed reports and analyzes, it is advisable to set up event tracking with user-defined Google Analytics events. In this way, specific user actions at visitor, session and page-level can be precisely traced. The shopping cart behavior, wish lists, subscriptions, and much more can be tracked in this way. This helps you increase the overall goals (transactions/sales) and draw specific conclusions about the quality of the content.
Take a regular look at the most successful entry pages in detail and compare them with the pages that are performing the worst. What are the differences here? How can you optimize the weaker sides? Maybe you should delete and clean up the lowest points? How can you improve your conversion rate on pages with mediocre performance?
More SEO KPIs
CTR / click rate, clicks and impressions
You can determine the clicks and the CTR (Click Through Rate) via the Google Search Console, and they are an excellent indicator of the relevance of your snippet (your page) for the search queries. The CTR shows you, for example, the optimization potential of the meta titles and descriptions. The impressions show how often your website was established in the Google search results.
Pro tips:
Understand the relationship between the keywords. Keywords that rank better naturally have higher impression numbers.
When optimizing meta titles and descriptions, you can quickly make before/after comparisons of impressions, clicks and CTR. So you can see how your optimizations are treated by Google and by the users. Note 90 days in which you have retroactive access to the Search Console data.
Do you use structured data / rich snippets or even AMP? Then you can see the performance in terms of clicks, impressions, click rate and position in the Search Console.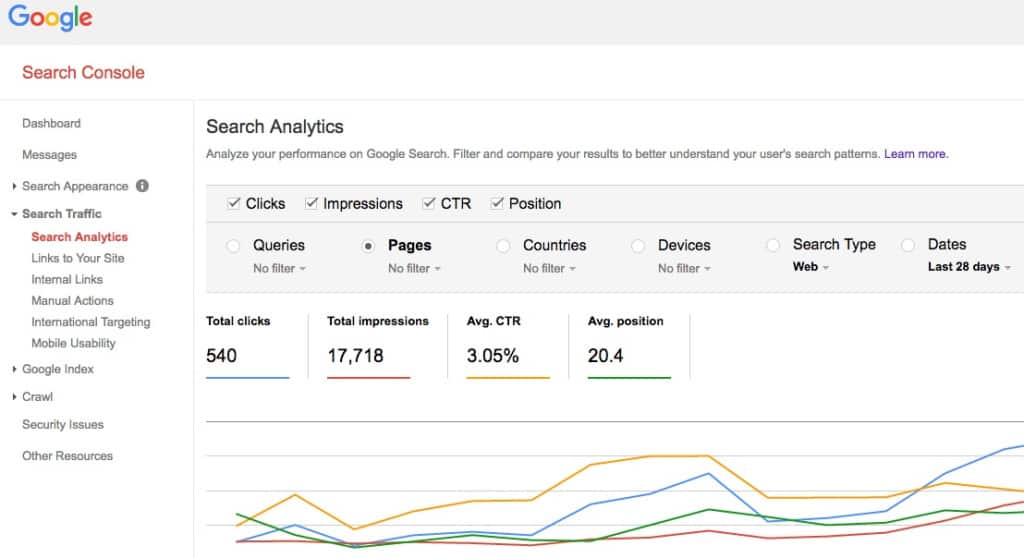 Technical KPIs
The number of indexed pages may not be the most important KPI, but it should be kept in mind to identify changes such as defective pages quickly.
The development of the 404 error pages should also be checked regularly.
The loading times can be checked regularly to uncover technical errors.
Pro tip:
At first glance, technical KPIs are not as relevant as, e.g., B. the traffic or sales. However, the observation of technical KPIs helps you monitor preventively and with foresight and be able to intervene quickly before unforeseen technical errors even impact rankings, traffic, and Co.
2.Which KPIs are suitable for which website types?
You have now seen some of the most critical KPIs. Ultimately, however, it is essential for you not to monitor all KPIs without meaning and understanding but to consider specifically which KPIs are the right ones for your website or your goal. Online shops, for example, have entirely different KPIs than news portals.
Get inspiration here as to which main KPIs could make sense for which type of website. You will find three of the most crucial website types as examples:
E-commerce / online shop
General visibility and project visibility
Top keywords and niche keyword sets
sales
Transactions / conversions
Conversion rate
Users
Bounce rate
Information page / blog / portals
Project visibility
Top keywords of the subject area and additional keywords of the articles
Sessions, page views and users to each other
Pages / session
Length of stay
Number of leads/conversions (depending on the goal of your blog)
Company website
Project visibility
Top keywords
Users
Number of leads (e.g., contact form, telephone tracking)
3.Which KPIs should you report to whom?
You have now defined your KPIs for your website type. Now it depends on which of the KPIs you should report to whom. Here I would use a pyramid as a symbol of the hierarchy. Those at the top of the pyramid (e.g., the CEO, Marketing CEO, etc.) only get the most important numbers, e.g., B. Sales development, traffic figures, transactions. A monthly or even quarterly or half-yearly reporting is often sufficient.
Those in the pyramid level below, e.g., B. the Head of Marketing, can be reported with further, detailed figures at regular and shorter intervals (e.g., once every two weeks or once a month).
The Head of Online Marketing / SEO Team Leader should then, in the best case, get all the figures every week if this is necessary for the level of detail.
Depending on how detailed the reports are, you can create a quality assurance file to monitor other vital figures (preferably every week). This way, you can be sure that there won't be a nasty surprise at some point.
The following applies to reporting: Every company is different and should implement its reporting process. Reporting too little can be dangerous, but reporting too much can also be an unnecessary waste of time. Determine exactly in advance who gets which numbers and at what time.
4.What reporting formats are there?
Unfortunately, no tool can do everything. So you have to collect your KPI data from the various preferred tools, which can be processed partly automatically and partly by hand.
Dashboards
Many SEO tools offer dashboard functions. So you can check traffic, rankings and Co. at a glance. However, when using several tools, you usually have the disadvantage that you always have to log in individually, and you don't have everything in one tool or dashboard. Only a few tools can cover all KPIs. As an example, here is the dashboard of Advanced Web Ranking. Here z. B. Combine Google Analytics and Search Console data with visibility and keyword rankings.
Receive reports as emails
Do you want to save time and don't mind receiving data processed differently from different tools? Then you can use the tools you choose for your essential KPIs to create reports. You can z. B. Set up your keyword sets in the Sistrix Optimizer and generate an information on what is sent to you via PDF. You can also create dashboards in Google Analytics and have them sent to you regularly by email.
Google Data Studio
Data from the Search Console, Google Analytics and partly from other tools that provide an API can, of course, be processed very quickly and, above all, clearly in the Google Data Studio. As you may know, Google Data Studio is a dashboard, which means that, e.g., B. Keyword rankings quickly make the Google Data Studio reports confusing. It is, therefore, advisable to monitor directly either in Excel or your favorite tool.
Excel or Google Sheets
Reports via Excel or Google Sheets are a classic for anyone who does not need significant graphic processing. The advantage here is that you have all the data together in a single table or file. Some of the data can be imported automatically here. However, manually entering the KPIs also has an advantage: When you compile the data, you directly and immediately notice outliers and problems. Another advantage is that the data can be wonderfully processed in tables. Analyzes and comparisons are best carried out here.Conclusion
Find out exactly which are the right and essential KPIs for your website and your company!
Define which KPIs you report or have to report to whom at what time interval.
Think about your reporting format.
Stay tuned! Use regular reporting to uncover potential and not just to copy dull figures.
Conclusion
Find out exactly which are the right and essential KPIs for your website and your company!
Define which KPIs you report or have to report to whom at what time interval.
Think about your reporting format.
Stay tuned! Use regular reporting to uncover potential and not just to copy dull figures.