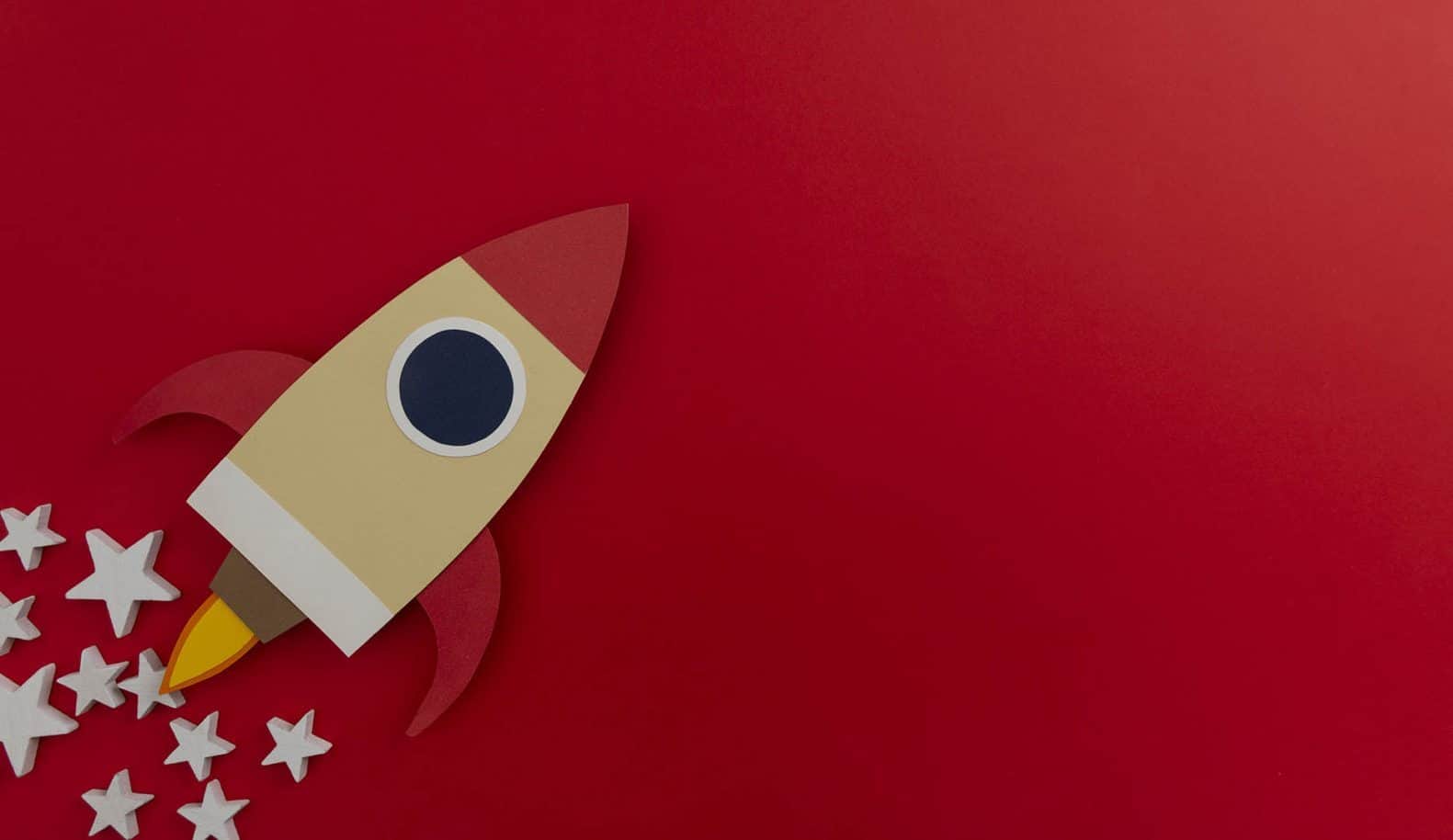 We all know that the use of digital media is constantly increasing. A 2018 report found that adults spend an average of around 5.9 hours a day using digital media – whether it's computers, smartphones, or other connected devices.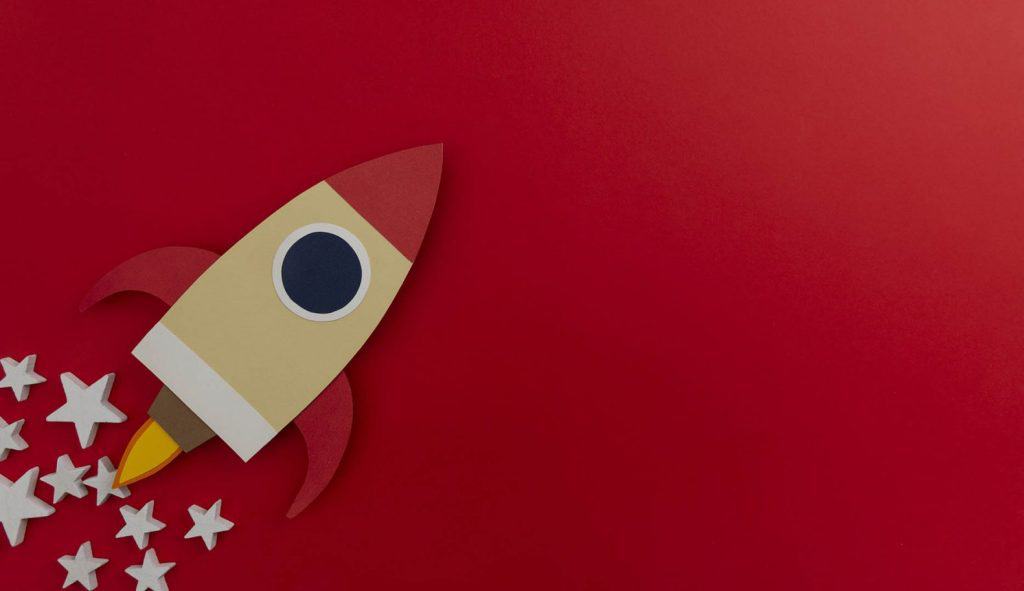 In some ways, our addiction is almost frightening. However, for companies, it also represents an opportunity to bring their brand closer to these constantly connected customers digitally.
This is where a digital marketing strategy comes into play. "Your digital marketing strategy is a series of actions that will help you achieve your company's goals through carefully selected online marketing channels ," said Elissa Hudson, senior marketing manager for Australia and New Zealand at HubSpot.
No question about it – designing your digital marketing strategy is a big job. That is why we break down for you what digital marketing is, what important role it plays and how examples of success can inspire you.
Why you need a digital marketing strategy
Here's the short answer: As with any other aspect of your business, you need an overarching strategy so that you can stay on course and work effectively. This way, you can always make the right decisions instead of wasting your energy on aimless ad hoc ideas.
This is particularly important in digital marketing with its diverse forms. What types of digital marketing are there? Here is a small selection:
Content marketing
Email Marketing
Search Engine Marketing (SEM)
Search engine optimization (SEO)
Pay per click advertising (PPC)
Social media marketing
Affiliate marketing
So what is the main goal of a digital marketing strategy? In short, it ties all of these elements together into one coherent plan that can save you effort, time, and money.
How to design your digital marketing strategy
Sounds good doesn't it? But when it comes to developing your digital marketing strategy, things suddenly don't look that easy anymore.
So let's start very small with five simple steps that can get your digital marketing on the right track: a basic framework for your long-term success.
1.Know your target audience
Before you can effectively market your product or service, you need to know who you are targeting. So your first step is to get to know your current audience better.
These are some of the most common and effective methods:
Analytics (evaluation of your existing website, email marketing platform and social media accounts)
Surveys and feedback forms
Discussions with your employees in sales and customer service
These measures will give you a lot of clarity about who your customers are, their intentions, what challenges they are facing and where your company can start.
Armed with this information, you can develop different buyer personas: fictional people whom you want to address with your marketing and to whom you should therefore tailor your advertising messages.
2.Define your goals
Your digital marketing strategy must be geared towards an overarching goal – more specific and motivating than the general intention of "promoting my company" or "attracting more customers."
One of the best ways to set marketing goals is through the SMART approach. SMART is the acronym for:
S pecific
M edible
A accepts
R ealistic
T erminated
Stepping through these elements will help you set reasonable goals and measure your progress. For example, a SMART plan in digital marketing could look like this:
Add 2,000 subscribers to our existing email list in the first quarter to attract an attentive audience to market our webinars.
If you'd like to try a different approach, you can also use Objectives and Key Results (OKRs) for your marketing to ensure maximum impact.
3.Assess your previous efforts
Developing a strategy is a big job. You may feel like you're starting with nothing – but that's rarely really the case. After all, you are already marketing (even if your marketing looks rather rudimentary so far), i. H. the ball is already rolling.
Review your previous activity to understand what worked and what didn't. This will give you more clarity about your future direction.
It's also a great opportunity to collect text and visuals (from social media graphics to valuable information) that can be reused, so you don't have to start over again. The concise conclusion from last month's blog article would also be an effective quote graphic for Instagram, for example.
4.Clarify the practical questions
Your creative ideas are bubbling, but don't forget the many practical questions that need to be answered. Strategy development is more than just dreaming – you need to be clear about what you can achieve within your real constraints.
This step is about reality. The Digital Marketing Institute calls this "Identifying Your Funds," which includes:
Your budget: how much can you spend on digital marketing?
Your employees: who is responsible? Are you going to outsource tasks or responsibilities?
Your channels: Which marketing channels will you use, and what is the goal associated with each track?
It is important to clarify these specific, practical questions in advance to design a strategy that will work within your means.
5.Plan your approach
Once you've defined the basic elements – your target audience, goals, and means – you are ready to create a template for your digital marketing strategy.
It's best to start with a simple calendar (whether in a spreadsheet or right in Wrike) that brings all of these different items together. For example, you can record a single email campaign on the calendar and then add other things.
One thing is for sure; your long-term plan will ultimately look very different from what you develop in this early stage – the important thing is to get started, learn, and get better. As with any learning process, there will be false starts and errors; that's part of it!
Five examples of digital marketing strategies that can inspire you
You now know what your first steps are. Are you still missing a few good ideas? Sometimes we all need a little inspiration.
We've rounded up some examples of well-known brands that got their marketing going into three categories: content marketing, social media marketing, and email marketing.
Which digital marketing concept is the best? These brands prove that there is no single answer. Execution is what counts.
A success story for content marketing: Buffer
We can hardly talk about content marketing without thinking about Buffer, the hugely popular tool for planning and publishing social media posts. Buffer is often cited as a prime example of great content marketing.
The recipe for success: In the beginning, Buffer relied on guest contributions. The company authored content that was then posted on many different sites to promote the name. According to the co-founder of Buffer, this is how you won the first 100,000 customers.
But the own site was not neglected either. With high-quality content for their blogs, Buffer has become a real authority in marketing.
You may have noticed the plural in the previous sentence: blogs, not blogs. The company maintains two blogs for two different stakeholders:
Buffer Blog: Posts about social media, marketing, functions and updates from Buffer. 
Open blog: Posts about remote work, team culture and development as a company.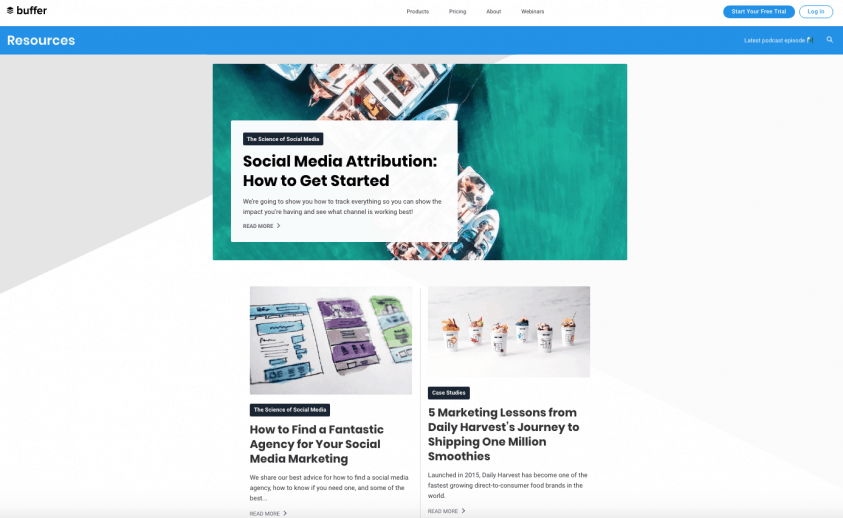 And although content marketing mostly brings to mind blog posts and e-books, Buffer clarifies that this marketing strategy can have a lot of impact beyond the written word. The company also launched a podcast called " The Science of Social Media, " which provides facts and social media ideas.
Content Marketing Success Story: Airbnb 
Airbnb also shows that content marketing can be much more than the usual blog posts.
Perhaps the best example is the recommendations on destinations that offer a lot of value for travelers.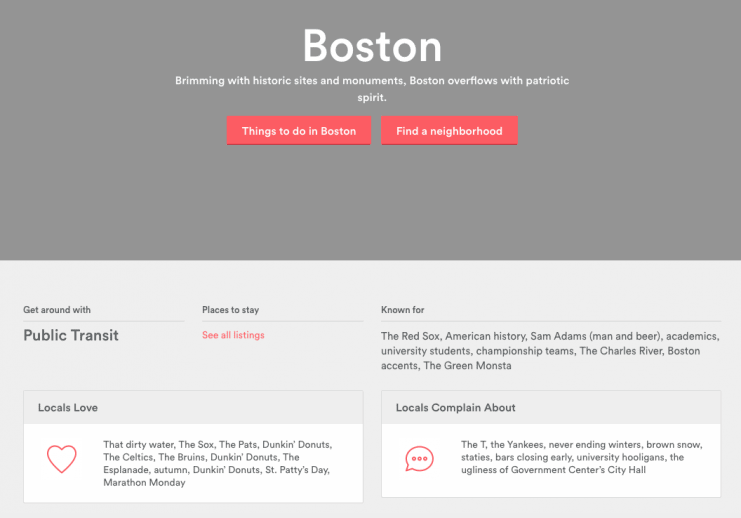 These recommendations help visitors discover sights, activities, restaurants, and other insider tips in their respective areas. Airbnb also makes extensive use of user-generated content, including reviews, recommendations and insider tips that give an accurate impression of the travel destination.
Of course, Airbnb wants visitors to book a trip and spend the night in one of the brokered properties. These recommendation lists also lead users to the best-rated Airbnb offers in the respective area. This is a perfect example of content that, on the one hand, serves as effective marketing and, on the other hand, is very helpful for users.
In addition to its content, Airbnb also provides its users with the information and resources they need to create high-quality content for their accommodation advertisements, which of course, make up the majority of the website.
"For example, when a host advertises their accommodation on Airbnb, we walk them every step of the way with useful tips on describing their home, price examples of similar offers in their area, ideas about what guests might expect and much more," explains Marissa Phillips, Head of Content Strategy at Airbnb.
A success story for social media marketing: Glossier
The undisputed success of the millennial beauty label Glossier is based on numerous factors, but social media is very far ahead. 
The brand made social media (especially Instagram) a priority from the start and was able to gain an impressive 13,000 Instagram followers even before the launch of the first product.
But how? What makes Glossier's social media presence so impressive is that the brand really understands its target group – and can, therefore, offer content that appeals to followers.
"Women have five minutes in front of the mirror in the morning before their hectic day begins. This is their reality. Nevertheless, they naturally want to look good without having to spend a lot of time on it," explains Glossier founder Emily Weiss in an interview with Entrepreneur.
This is the customer Glossier addresses in all of its posts. Pictures are never too perfectly styled or too artificial – they show real people in real situations (babies, dogs, airplane windows, and so on).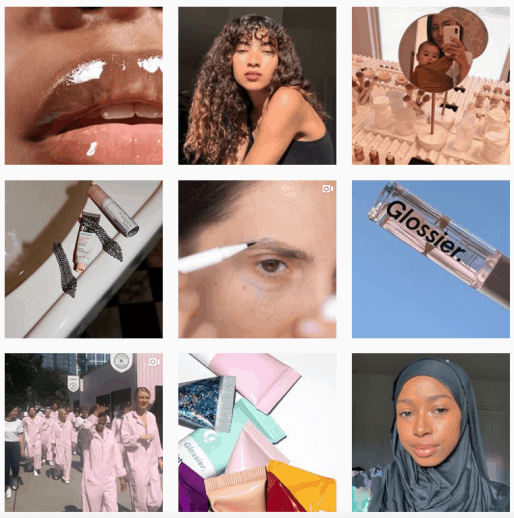 While other brands spend thousands of attracting influencers and promoting products, Glossier takes a different approach that focuses on maintaining close contact with loyal customers and fans.
For example, in the case of a successful product launch, the brand decided to give the product to 500 superfans (who had previously bought products or interacted intensively with the brand on social media) to post about it via their accounts. The result? A highly authentic (and successful) social media campaign.
Email Marketing Success Story: BuzzFeed
BuzzFeed does so many things right in digital marketing that, at times, you might think they've taken over the internet completely. However, one channel stands out: email marketing.
We're all fed up with being inundated with promotional emails – so it's not that easy to be successful here. How can you get recipients to open and interact with your message instead of deleting it unread (or even signing out of you entirely)?
As BuzzFeed proves, extreme personalization is the key to success. The company understands that users expect interesting content to open and read the email. However, tailored content is not that easy to deliver if you address the entire user group at once.
For this reason, BuzzFeed has segmented its email marketing and broken down into very specific interests. (You can even choose to get one cute dog photo per day.)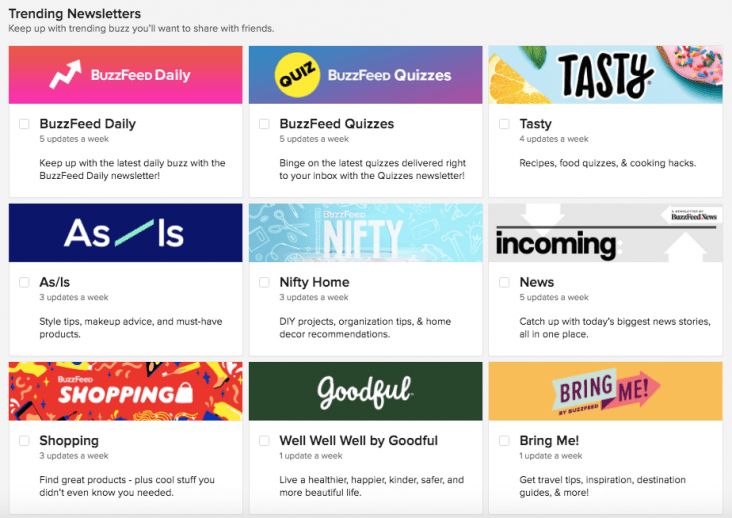 Users can subscribe to dozens of different newsletters. BuzzFeed also describes exactly what subscribers can expect from the content and how often they receive messages. With various quizzes, users can also take small steps to improve their lives.
The result? High-quality, target-group-specific content that is eagerly awaited by the recipients.
Email Marketing Success Story: Adobe
Segmentation is a powerful tool. But if you don't have quite as many recipients as BuzzFeed, having dozens of different newsletters isn't realistic. 
The good news is, there are other ways you can email personalized content or find out more about your subscribers. Adobe is an excellent example here. The company also has a large audience but takes a different approach to personalization.
Take a look at this example of an email newsletter in which Adobe places two calls-to-action side by side. This gives subscribers the freedom to choose their adventure, so to speak – while Adobe learns more about what that particular customer is interested in.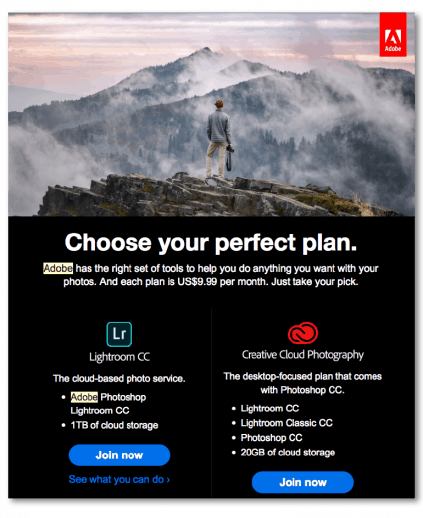 Adobe also sends out its Adobe & You newsletter, which offers subscribers even more personalized content, including digital marketing news, Adobe tips and information about local events and training.
Create a digital marketing strategy that your target audience will love
Nowadays, companies that want to increase their brand awareness and address their customers can no longer avoid digital marketing. At the same time, developing your strategy is not an easy task.
Fortunately, it can be broken down into five simple steps:
Know your target audience.
Define your goals.
Assess your efforts so far.
Clarify the practical questions.
Plan your approach.
With these steps – and the successful examples above – you will quickly get your digital marketing on the right track.