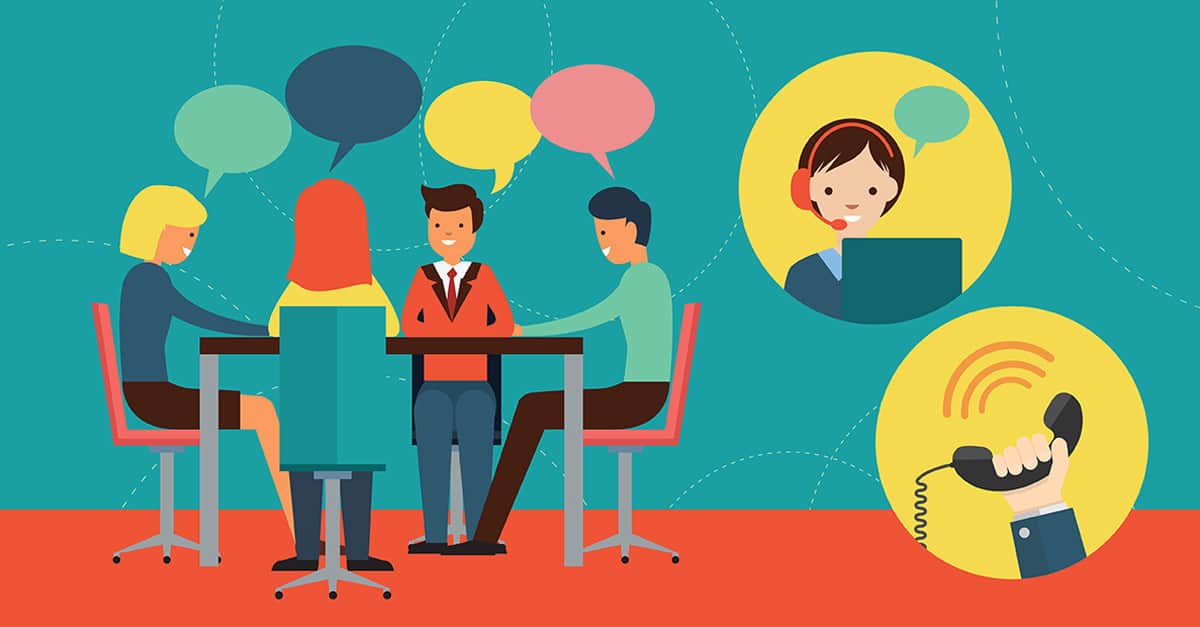 Are you in the marketing for industrial companies or in the business customer segment active? Are you looking for a practical orientation template to your B2B online marketing strategy to expand? Perfect, then you are right here!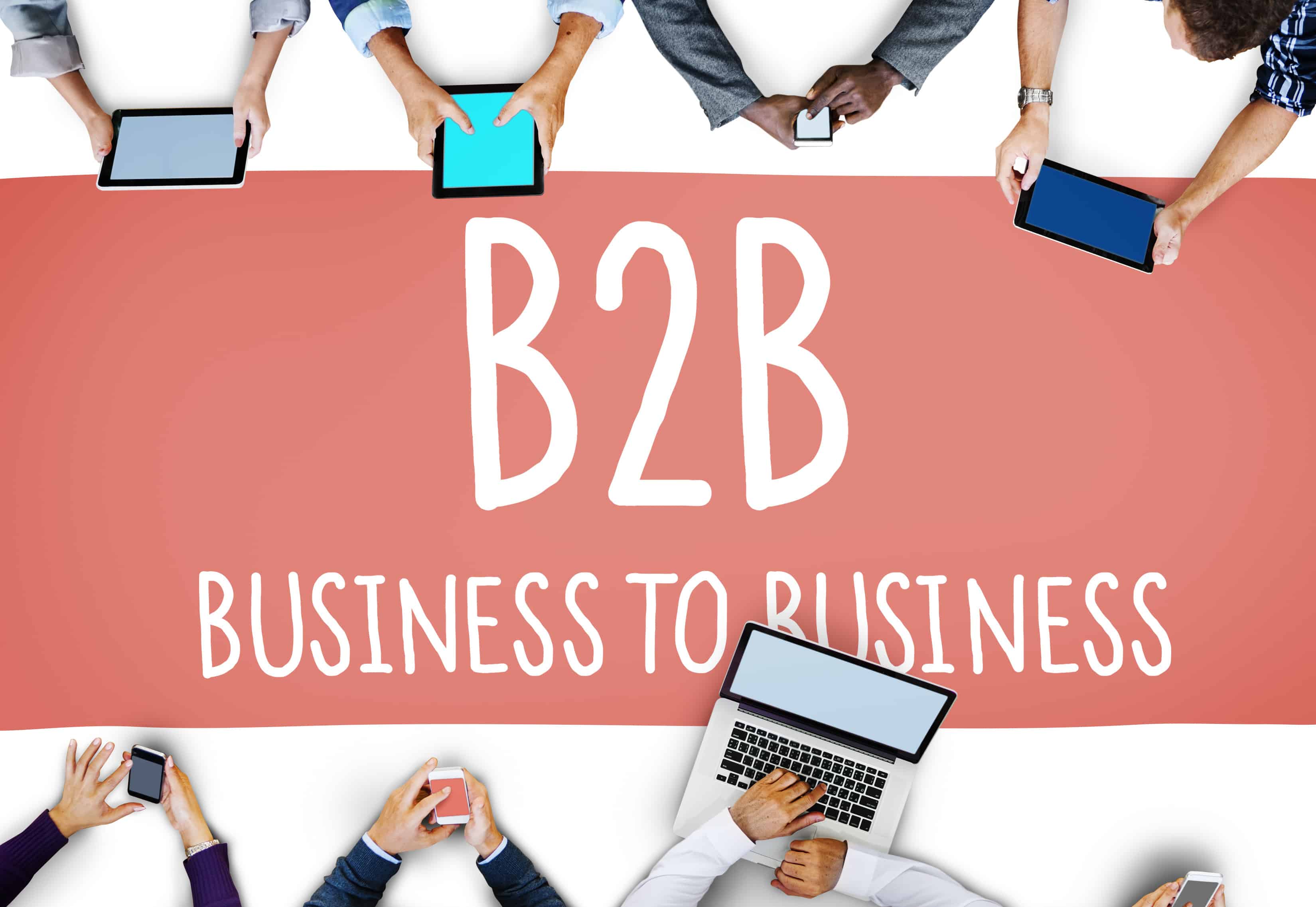 First, understand the changed buying behaviour in B2B marketing.
B2B marketing is experiencing a rapid transformation: In addition to the veteran sales channels such as trade fairs, personal networks and media relations, countless new digital contact channels are added.
Was the contact with new business customers for a long time from the direct conversation with salespeople dominated, collecting firms interested customers today increasingly information via digital channels? When entering the purchasing decision process, B2B buyers trust their online research rather than the statements of salespeople. To survive on the market, companies should make their offers for business customers digitally discoverable and tangible.
The following statistics show how B2B buying behaviour is shifting from offline to online.
The importance of digital marketing in B2B purchase decisions
Despite these facts, the following applies: still rely (too) many industrial companies and B2B companies on old marketing ways. So far, it has always worked well to win new clients through salespeople, trade fairs and PR. But digitization does not stop at B2B marketing.
Industrial companies are well-advised to matching digital contact points to integrate the marketing mix deliberately. A user-centred, measurable and well-planned digital marketing strategy is, therefore, the basis for successfully marketing B2B offers.
What many B2B marketing teams struggle with
Lack of knowledge about effective to build digital marketing strategies
Insufficient experience in using and optimizing the numerous new digital advertising channels and advertising technologies (Google Ads, Facebook Ads, email marketing automation and so on)
Still no understanding of the changing purchase decision behaviour of business customers – what used to work (offline) well, now attracts fewer and fewer new customers (because they are online more and more on the way)
No clearly measurable goals, a lack of digital success measurement methods and no use of fully automated digital web analytics and reporting
Unstructured "trial and error" with online campaigns tests: were no digital marketing campaign, but a well-structured process that should be developed continuously
Silo structures, internal rivalry and lack of processes for successful online marketing
Lack of capacities, resources and budgets, as many B2B management levels lack the understanding of the importance and the effort required to set up promising digital contact points.
Maybe you are struggling with some of these challenges too? Join in and answer the following five questions about the status quo of your digital B2B marketing. As a reward for taking part, you will see the benchmark for the results of previous participants in the B2B survey.
This is how you master the unique features of digital B2B marketing.
Whether industrial enterprises, suppliers or suppliers of products for corporate customers, often offer for business customers not sold directly via digital presences, so often missing a performance measurement possibility. In the further course, you will learn how you can also measure success in online B2B marketing with crystal clearness.
B2B products are every day highly individualized and only after appropriate consultations on the adjusted business customer needs, thereby reducing the direct sales via an online shop or a website often not shown.
In the further course of this guide, you will learn how your company asks users the right questions online to display highly individualized offers digitally.
If you follow the following common thread, you will make your B2B brand, and it offers discoverable and tangible. And as a result, increase your sales figures transparently and measurably!
Some steps to a functioning B2B marketing strategy: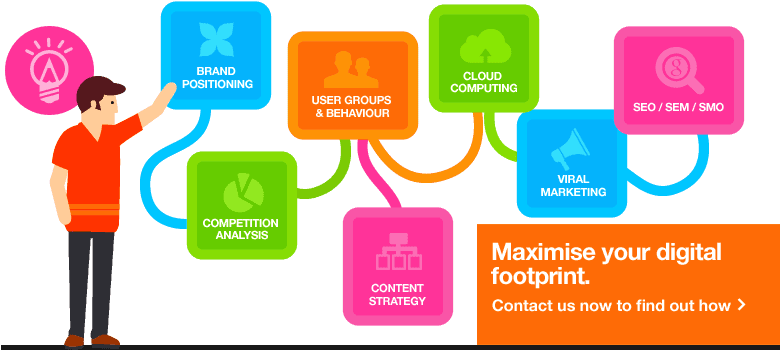 The B2B strategy precisely describes the digital marketing measures with which you pursue an overarching (marketing) goal. The following flowchart gives you a practically applicable framework to use the right digital channels with the right marketing content so that you can quickly achieve your marketing goals. As a result, you will win many enthusiastic new customers!
Define your B2B marketing goals first; you should define measurable goals for your strategy. What exactly do you want to achieve and which key figures can you use to monitor the success of your work in the future? Only when you have defined measurable key figures and goals can you later check which B2B marketing measures best achieve the goals of your strategy.
Overarching goals
Positioning the brand/brand building (strategic goal)
Customer acquisition & lead generation (tactical plan)
Customer loyalty (strategic plan)
Short term content goals
Generate reach by distributing content via social media and Word of Mouth
Generate social buzz (shares & retweets)
Generate backlinks on websites
Drive new visitors to the website via Google
Community building
Development of your communication system
Building a brand/authority
Create trust / optimize reputation
Development of owned media / own communication channels
Findability on Google & Co
Attract returning readers or visitors
Improvement in completion rates
Loyalty through influencers
Set KPIs to monitor the success of your strategy, depending on the content goal of your content, you can analyze different metrics to monitor how well your system is working in real life.
In any case, you should separate your digital content into different subject areas: namely into content that creates reach and visibility, content that attracts your users' interest and builds loyalty, and content that generates sales and inquiries.
Possible critical figures for the content target "reach."
First, your target group needs to know about your offer. To do this, you have to layout traces on the internet ( SEO, social media, Google Ads etc.) The following vital figures will help you to evaluate the success of this work step:
How many people have seen your tracks on the net?
Impressions and reach to monitor the advertising material
How many people clicked on your advertising material?
Measure click rates on your advertising media and links
Development of the total number of your visitors separated according to different online marketing channels.
Possible key figures for "building contact and bonding."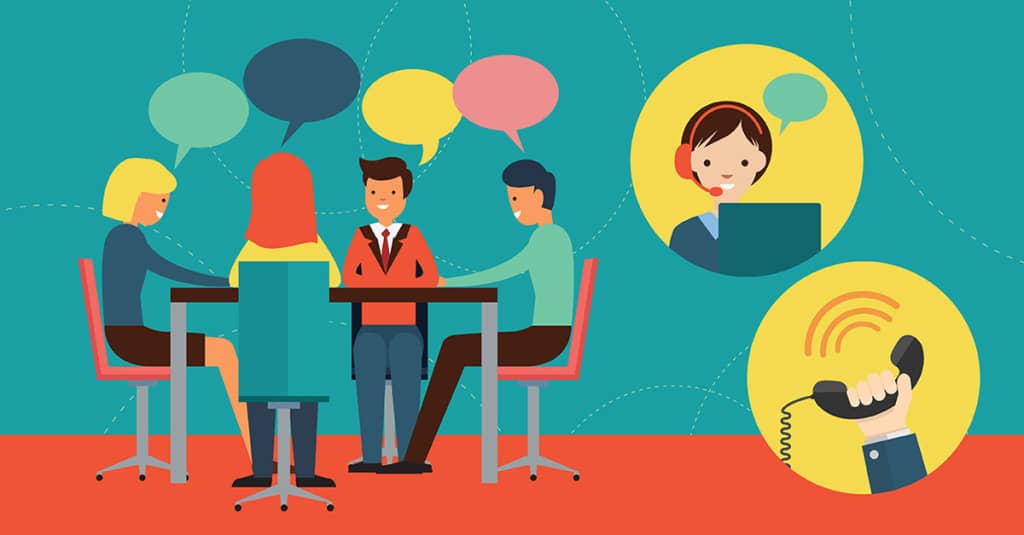 If you manage to attract a lot of interested parties to your B2B offers and website, it is essential to bind the visitors to your brand and your request. To monitor success, the following vital figures are suitable:
Several leads: How many website visitors give you their email address or other contact information to get more information from your company? You can actively increase this number with an intelligent conception of your digital content – for example, by offering valuable additional information for download and requesting the contact details of the digital visitors. Because in this way you can contact them again in a second step and prepare the way for winning a new customer.
Lead rate: What is the percentage of website visitors who give you their contact details or use a contact form? This percentage helps to monitor whether your lead generation is continuously being optimized.
Several returning visitors: Check whether users who have visited your website for the first time are returning. This can be an indicator of greater interest in your B2B offers.
Scroll tracking: The scrolling depth of the users also indicates how well your content is meeting the interests of your visitors. Example: If the majority of your visitors only look at the top 25 per cent of your digital content, it doesn't seem to arouse interest.
Website comments: Also allow new comments (unless you this feature on your side offering) indicates that users interact with your content and give you feedback – always a good sign.
Also, newly acquired to be able newsletter subscribers, the number of new friends also give Facebook or Twitter indication of how well does your digital B2B marketing.
Finally, the development of which can bounce rate and residence time to show your web presence on each page, whether changes to your digital content a positive impact. Increasing length of stay shows that users are dealing with your digital content longer and more intensively.
Possible metrics for content that should sell
If your marketing ensures that more users discover your offers in the future and more users deal intensively with your content (i.e. you build a bond), the last step is the digital sale of your requests. The following indicators reveal how well you can do it:
Number of orders or online inquiries that are generated via your website
Several achieved online marketing goals ( you can set them up in Google Analytics): These can be clicks on your telephone number or the "Write an email" button. It would help if you made all of this measurable in any case.
Of course, the number of orders/shopping cart size or the total online sales / per visitor, if your products are available online, also provide information on whether you can better achieve your marketing goal of "selling".
Correctly measure B2B marketing goals and KPIs with web analytics tools to be able to transparently measure in the future whether you are achieving your digital content goals, the essential basis is a correctly integrated web analysis tool, such as Google Analytics, E-Tracker, Econda or Matomo (formerly Piwik).
If you do not have access yet or if such a web analysis tool is not in use in your company, this is your first task: Select the right device and integrate it into your website in such a way that all user data is recorded correctly.
Are you already using all the essential web analysis tools?
If you are already familiar with your web analysis tool, you should investigate which content, channels and marketing measures have worked particularly well or particularly badly so far. Look through the data and try to gain some initial insight.
Collect everything available and compare the results so far. For example, I recommend using all the data from one year. I.e. advertising costs per channel, reach per channel, interactions per channel and of course, generated leads or sales per channel because data should form the foundation of your B2B strategy.
Result of the analysis phase:
You know which channel has worked best and worst in the past. You have the first guideline values for advertising costs per lead (the so-called CPL ), which you can expand and improve transparently and measurably through a good marketing strategy.
Get to know the wants, needs and problems of your target groups simple as it sounds: In many cases, marketing departments don't understand what makes their ideal customers "tick". Therefore define exactly which target group (s) you want to address! General, vague descriptions of who the work is done for do not help here.
Tip for you: work with the buyer persona model. Here is a detailed explanation of how to get your first buyer personas are creating.
Check out what your digital competition is doing any case; you should also check what precisely your competition is doing on the Internet. A competitor benchmark helps you learn from your competitors.
What the B2B competitor benchmark tells you: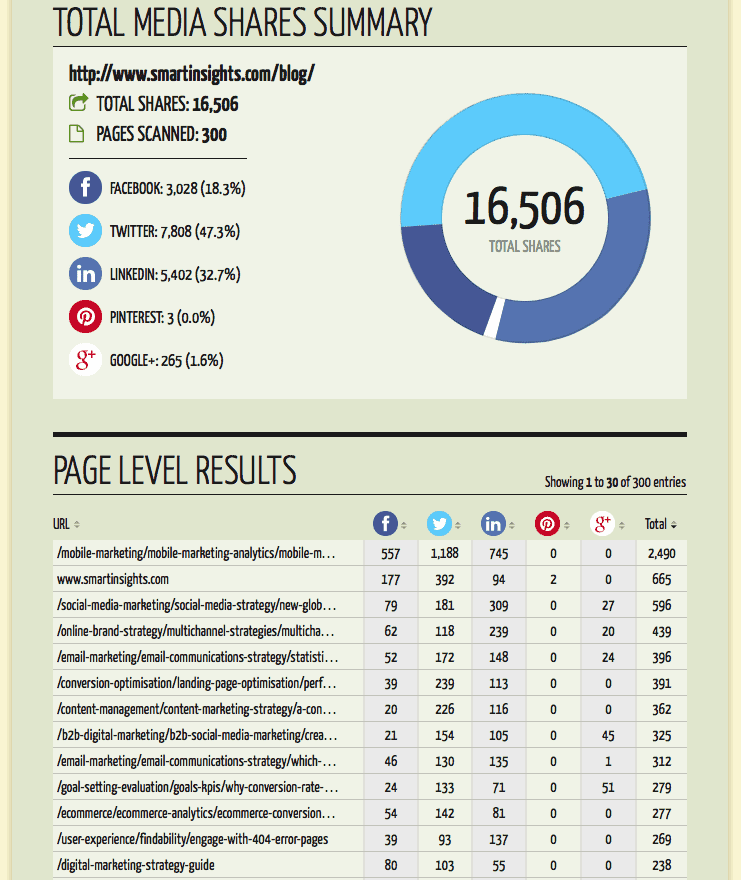 What is your competition doing well to attract new business customers online?
What is everyone else doing badly?
The insights from this competitive analysis will help you create a battle plan that will give your company a long-term advantage.
In this work step, several analysis tools have usually used that help to examine social media successes, competitor campaigns, findability on Google, the use of Google Ads and so on. Because you can only get more horsepower if you know what fuel your competitors are using bring to the road.
In the B2B competitor benchmark, the attractiveness of your competition's digital content is intensively examined. This is a good basis for you to later define where you need to become better than your competitors in your online marketing strategy.
The usability of your digital content is also compared with your competitors. This is how you determine how your website can become better than anything else currently on the net.
Define what makes you digitally unique: your own B2B marketing DNA
What makes your company unique for your personas compared to the competition and what makes your company extraordinary? Today, customers expect more from a service provider and a brand than just reading information about products.
Your digital customers want help, good experiences and that specific something. For example: What is your company's position on issues such as equality, climate change or sustainability? Answers to such questions will become increasingly important in 2020.
Find answers to the following questions:
How do you differentiate yourself?
Do you offer a unique website design, do you use a particular language?
Do you differentiate yourself through the type of your texts, imagery, prices or service? You would do well to give some thought to this.
What content do you use to create real added value for your B2B personas?
If you have done all the previous work steps, you now have the following:
You know your marketing goals and know which KPIs, tools and reports you can use to monitor the success of your B2B strategy in the future.
You know how your dream customers think and feel: Your buyer personas form the basis for this.
You are aware of what your digital competition is doing and you know where it is well or not well positioned.
You have thought about your digital DNA and know how to make your content on the Internet something very special.
Now bring all the pieces of the puzzle into one big whole: You decide what kind of content you can really inspire your personas with. This is the basis for your B2B content marketing strategy.
After you have collected the first ideas, you should prioritize them and deduce which content you are currently missing in your B2B content strategy.
Suitable digital channels for your B2B marketing
Whether industrial companies, suppliers or providers of products for corporate customers – the Internet offers you a vast number of possible channels to draw attention to your company and your content.
You can easily derive from the person which specific measures and marketing channels best suit your target group, industry and company. Always ask yourself: In which online marketing channel are you most likely to draw the attention of your desired B2B customers to you? Is it a youtube search? Social media platforms such as LinkedIn or Xing? Or instead advertising banners and videos in an editorial environment?
B2B marketing measures, tools and examples
Below are a few cases and examples of how you can implement specific measures to win new business customers digitally.
Use YouTube & videos in B2B marketing.
YouTube is the second-largest search engine in the world and is also often used by B2B customers for research. In the last 15 years, we have been able to implement several video and YouTube marketing measures for business customers.
You can use YouTube videos to show prospects how your product is being used. For example, if you offer complex software, you can use YouTube videos to show how the software is used.
For example, suppose you offer components that your business customers will assemble themselves later. In that case, videos are also a helpful tool so that your customers have positive experiences with your brand even after the purchase. YouTube explanatory videos offer a great chance to inspire your customers.
YouTube Ads: Business customers also cavort on YouTube – thanks to sophisticated targeting options, you can also reach interested parties via a broad set of YouTube advertising formats.
Live streaming and live videos are also exciting formats for your B2B marketing, depending on the task.
Use email newsletters and marketing automation for B2B.
Newsletters are still particularly suitable as a marketing tool, especially for corporate customers. Offer your digital customers to keep them informed about important industry news with your newsletter. In this way, you can collect email addresses and subsequently have the chance to educate your customers regularly about your story and new offers.
Another form of B2B email marketing is to use marketing automation. Instead of a standard newsletter, communication that is at most personalized to interests is sent fully automatically by email. Customers who are interested in your product A will receive information exclusively on this product by email. This automation is carried out by CRM systems, which both store the data of your prospects and document the digital contact point at which an interaction took place. Software providers such as Marketo or Hubspot provide the right technology.
This is called an email marketing funnel, which is designed as personalized as possible for the respective interested party based on the initial expression of interest (the downloaded PDF in exchange for the email address). But don't forget that the decision-making processes in B2B take a lot longer than in B2C. Your communication should be structured in such a way that you can serve with suitable content for months and thus always stay in dialogue with the customer.
Win new B2B customers with webinars
Webinars and live videos are another exciting formats in B2B marketing. Thanks to webinars, interested parties can be given detailed knowledge about their offers, products and solutions.
The participants have the opportunity to ask questions. This creates an initial connection between interested parties and the company. Also, webinars generate participant data such as name, company and email address, which can then be used for sales.
Lead generation in B2B marketing
Leads, i.e. the contact details of prospective customers, are an essential contact point for digital marketing. You can quickly generate leads online with additional individualized offers for your website visitors, such as checklists, instructions, and white papers. You then have the chance to enter into a dialogue with your prospect. This is a great way to keep delivering helpful content to potential customers until they're ready to do business with you.
My practical tip: try it out for your company. What do you need for that? Precious content that you offer users on your website in return for their email emails. The email emails collected in this way should be contacted further with specifically prepared emails vital that you do not send information that is too sales-oriented. Otherwise, the recipients will no longer want your emails examples from this article to develop good ideas and formats for your lead generation.
Build trust with case studies, customer reviews and references
Recommendations and ratings are also an important aid for users in making a purchase decision in B2B marketing. Studies show that 65 percent of all users let customer reviews influence their choice of provider.
What does this mean for your B2B marketing strategy?
Make sure that you create a good listing for your company via Google My Business and that you also ask your customers to leave feedback on your offers there.
Use an online rating service. From the B2C area, you are probably familiar with shop reviews from Trusted Shops, Ecomi and other providers. Many do not know that such evaluation services also exist for B2B companies. I'm personally a fan of a proven expert. You can use this platform to collect and bundle reviews and also integrate them into your website as graphics. In this way, interested parties can quickly and easily see how your offers are rated by customers.
Integrate seals, awards, certifications and customer review graphics and quotes from your customers into your website. These elements ensure trust and create interest or provide security for prospective customers that you are a right provider who makes customers happy.