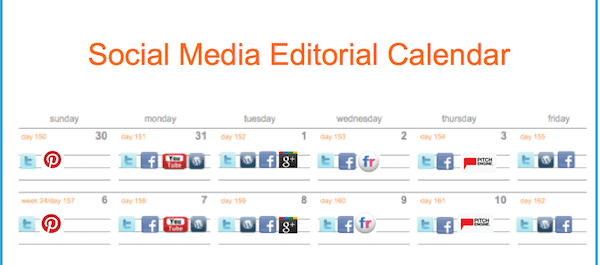 Especially in social media marketing around YouTube, Facebook, Instagram & Co. is an editorial plan an essential tool for content planning and creation. But what exactly is a social media editorial plan? Why is it so important? And how do you best use it? I have worked intensely into the matter, and in this article, I will give you some tips and tricks and a template for an editorial plan.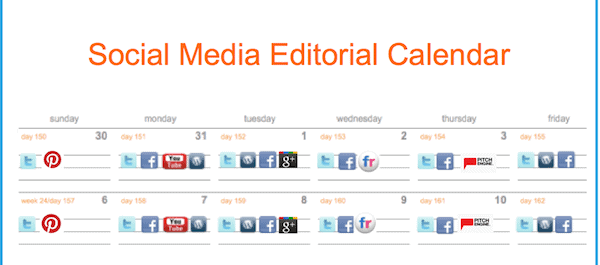 Content is not just content.
What exactly does it mean to create "Facebook content"? I look at my Facebook page and think to myself: oh, the sun is shining, let me post a good mood photo! It would be nice.
The content should be a little better thought out, mostly so that it is tailored to the target group, has a strategic background and achieves its goals. Because social media is (hopefully) not just operated, but should also achieve something: increase brand awareness, advertise products, create customer loyalty, etc.
Two things are essential for this: concept and strategy. And from an efficiency perspective, an editorial plan is fine from an organizational point of view because it simplifies life immensely, especially for us social media managers.
What is a social media editorial plan?
The editorial plan sounds a lot like newspapers and magazines. But as a planning tool, it comes in every well-organized marketing department for years used because an editorial plan is part of the overarching annual marketing plan, to precisely plan and organize your external communication. The document used to summarize the timing for press releases, catalog or letter dispatch for sales has been expanded in recent years to include mailings, newsletters, blogs and social media posts. It thus consists of the old and the new media of communication.
But why is planning so important?
Through good planning primarily have time and budget for the preparation of posts very realistic about. Likewise, the editorial calendar helps delegation of steps so that everyone in the team knows what to do and when. It is only through good planning that it can be recognized at an early stage whether the goals can be achieved or whether it is necessary to reschedule something again, monitoring the end only with previous planning possible.
All well and good, but what exactly does an editorial plan bring me and what should be included?
Advance is said that every editorial calendar just as individual as well as its owner. In my article, I only describe a possible editorial plan, which can be individually adapted depending on the topic, medium or personal wishes. I hope that, with my help and preparatory work, you too will find the "perfect" planning style for you.
Four good reasons for an editorial plan
Guarantee of regular post regularity is the A & O. Just as you make you three times to go the week ending sport, however, realize that it is difficult to comply with the training without a certain plan., It is also in the editorial calendar because a good plan is half the battle! As soon as you note something, you are more likely to stick to it because you can keep your to-dos in mind. In the same way, you should always adhere to the regularity of posting. Only in this way will it become routine, and your users will be happy about the frequency of the posts.
Giving power to your deadlines and meeting deadlines is sometimes not that easy, especially when you don't have an overview of them. This is precisely where the editorial plan comes into play and helps you meet your posting deadlines. For this, you should have a To-Do any deadline to give and best visualize even in color, so that, for example, indicates a red pigment that it will slow times at the time finished- your contribution or to put online.
1.Visualize successes
How comforting is it to check the box next to a to-do that has been on the list for a long time or has even been postponed? I think everyone knows this liberating feeling. This also applies to the editorial plan. After the lengthy procedure from research to creation, approval and publication of the content, ticking the box or putting it "online" in the editorial plan gives you an excellent feeling.
2.Creating order in creative chaos – creativity
What should you do with great ideas that suddenly come to mind while you're working? Why not write them down directly in the editorial plan and determine possible topics in advance. This creates space for new ideas and helps to reduce the creative chaos. You can also use it to make an excellent back-up of ideas and topics for moments when you lack inspiration.
The contents of an editorial plan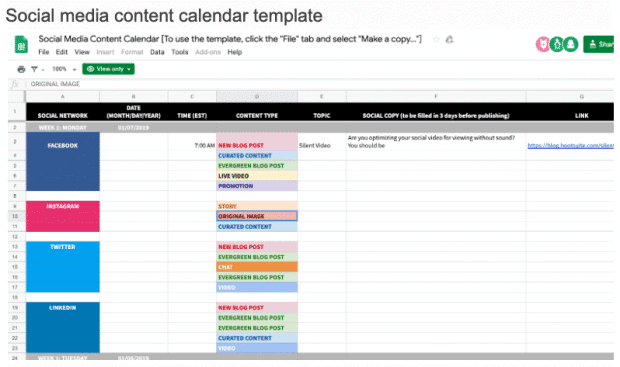 There is no perfect template because, as already mentioned above, every editorial plan should be tailored to the respective topic, product or service area, and the channel itself.
An editorial plan for a blog would be structured differently than the editorial plan for Facebook and Instagram content, just as an editorial plan for a bag brand would look different than for an online marketing agency. However, specific categories are part of every editorial plan.
Every editorial plan should provide the exact answer to the five W questions:
Which content? → subject
How is the content packaged? → Format
When will it be published? → date
Where should the content be visible? → channels
Who cares what? → Responsibilities
This results in the following (mandatory) content for an editorial plan:
the exact date: when should the article go online? (In the best case, with the particular day of the week.)
the time of publication ( Tip: In the advertising manager at Facebook and on YouTube you can see when the audience most of the page and online)
in which a column, the contribution subject is defined 
as well as a column for campaign and topic allocation
the text of the post
the  medium ( image, graphic or video) for the contribution
a field for the deadline so that you know exactly when the post has to go online, and you don't have to ask
Another useful field: Approval from customers here. It is marked in color whether and when the customer approved the contribution
From planning to implementation
After you've been inspired enough comes the part where you turn your ideas into action. Again, you should ask yourself:
Are the topics I researched relevant to my target group?
What content has been well received by my target group so far, and why? Does my new topic fall into this category?
What is the scope of my contribution? Should it only consist of text? With or without graphics? How do I best convey the information in the post?
What other media can I use as visual support?
What time is my target group online?
As you can already see, it is not that easy to get from an idea to the final contribution. Of course, a strategy always helps because it gives the general direction and ensures that posts and goals are in line. Also, of course, the editorial plan helps with active implementation and to achieve your content success.
Useful tools
There are many ways to set up an editorial plan for a team. On the one hand, an editorial plan can be managed very only using a standard table, for example, in Google Drive (as in our template).
All approved users – in our agency, for example, a total of four employees who all take care of our editorial plan content – can work together on the editorial plan and view all information at any time. However, some (mostly paid) tools such as Scompler provide additional extras for an editorial plan, such as reminder messages by email when the next article should be edited, the status quo of each article, and so on.
There are often other views such as the calendar mode, which simplifies planning, or a preview of the planned post in the design of the relevant channel and much more. In some editorial plan tools, you can even plan the content to automatically go online at the right time on the right platform. Then you no longer need to copy them into the corresponding social media platform.
You can also use a project planning tool like Trello for editorial planning. There you can create a card for each task and add it to the responsible colleague. You can set deadlines and receive email notifications for upcoming to-dos. Furthermore, there are also several plugins for WordPress in the form of an editorial plan. 
It's best to try out the various options. In the end, you have to find out for yourself which functions an editorial plan should have to support you and your team as best as possible in their work.
I get along very well with my editorial plan in a Google spreadsheet, which can also be worked on with colleagues and customers, but I also know colleagues who prefer to do this using a tool like Scompler. The important thing is that you have a uniform structure can find for a project that can work well with all parties so that all the posts are well planned and published.
PS: inspiration for content development
Who does not know it, a new post is pending again; in the editorial plan, the topic is noted in a threatening red and indicates that the time has come: the next post is pending, but you have no ideas.
But don't panic on the Content Titanic. Everyone in content creation knows this scenario. Here I have some helpful tips for you on what you can do if you times the Content inspiration fails:
Communication is the key.
If I don't know what to write about in the next article, I turn to a colleague or even ask the whole team whether someone can think of an exciting topic for the next blog article. This often leads to a significant conversation with lots of ideas and suggestions. This usually gave me a lot of inspiration, and even had to choose between all the great topics. So don't be afraid to ask colleagues what content might be relevant. A new or second opinion always helps – and not just in terms of content creation.
"Hey Google, what should I write next?"
Unfortunately, it's not that simple, but sites like Google Trends, Google News and the Keyword Planner can be a good source of inspiration and show which topics are currently trending or occupying people. Google Suggest can also provide ideas if the basic framework is already in place, but you are missing further information, or you want to find a new perspective. Just give it a try.
Get inspiration, but don't copy: the competitive analysis.
Google offers you the opportunity to do extensive research for other content on a particular topic. So you can get inspiration from other articles or go into a sub-topic in more detail. However, it is important not to steal any idea one-to-one, you can adopt good ideas, but you should always rewrite them: Nobody likes copy cats.
The advantages of an editorial plan
It is probably the most significant advantage of an editorial plan that you can order a very descriptive overview gets all postings and the steps. At a glance, you can quickly see which postings are already finished, which, for example, still need to be corrected or approved, or which post is always at the beginning of the process. You also keep track of things, mostly when posting across multiple platforms. You will never have to ask yourself again, have I already posted the post on Facebook or Google My Business? Due to the deadlines entered, all postings are finished on time, and no to-do is forgotten.
By planning, you bring a system into your communication. So you can place specific, recurring topic categories every month. For example, every Monday a post suitable for the Monday blues/start of the week, on Wednesdays Help Content and on Fridays a post ideal for the weekend, for example, tips for the respective city and what should not be missed. Of course, this also ensures that you reach the right target group and that the content fits the brand.
If like us – you regularly post your content such as blog articles and distribute it via your social media channels, it makes sense to have a kind of seeding plan worked out in advance. Because the channels differ in their purpose, use and goals, they also have to be "fed" differently in terms of content. For example, Twitter is a very fast-moving channel; the same content can be posted repeatedly with new text. LinkedIn and Xing, on the other hand, work differently, and here the followers may also take a look at the company profile. What was posted here three months ago is still current and will be seen.
The seeding plan should also be part of the editorial plan so that the systematics listed above also apply here.
In an editorial plan, you can also note trends and ideas at any time and thus make your creative work more comfortable. Of course, the customer also provides input on the content, but inspiration never hurts. At least once a month, you should sit down with the customer anyway and discuss the editorial plan for the coming month. So both sides are "on the same page," and you don't have to get approval before each posting. Depending on the content format, you also need a longer lead time: Compare the "production time" for a graphic with that of a video …
You have the opportunity to pursue the process and your content to plan step by step, prepare and lose not essential things out of sight. After a while, when you've gathered enough data and can see which content is successful, you should incorporate it into the planning. Of course, many factors play a role in a posting's success, such as a format, the time of the posting, the day of the posting, and the weather. Who of us users is already online on Friday afternoons with 35 degrees and sunshine or takes the time to comment on a post when you have an appointment with friends for a beer in the park? I don't
Especially when several people are working on a project, an editorial plan can order and structure provide. Regardless of whether you are working with other colleagues or customers, thanks to an editorial plan, everyone knows at all times, at which point the other is doing without being in the way. Everyone enters their results there and can also see those of the others. This also saves you many adjustment appointments and allows you to use your working hours more effectively. And ultimately, you make a lot of work more comfortable for your colleagues, especially when you are on vacation or sick leave. Because with a structured editorial plan, they look like the guy on the right in the picture.