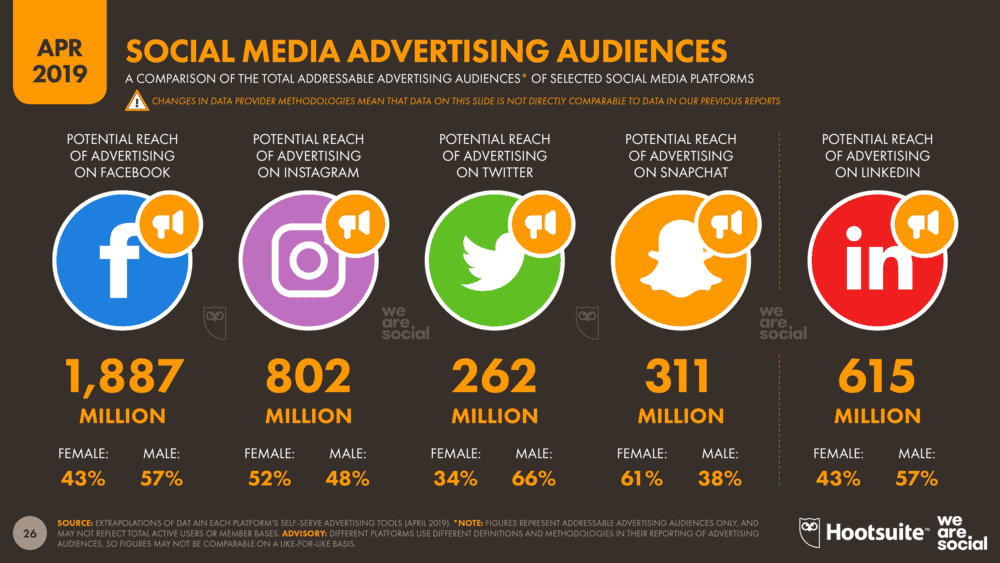 For private individuals and businesses, it is quite possible to earn good money with affiliate marketing. Whether you want to make a second income or start a new business right away, both are feasible. There is still a lot of potentials, especially in niche products.

In this, you will now find out which affiliate networks and programs are best suited for earning money with affiliate marketing and where the opportunities for operators of niche websites lie.
1.Make money with affiliate marketing through affiliate programs
1.1 Google Adsense
Google AdSense is one of the most popular forms of affiliate marketing for websites from bloggers to some of the web's biggest publishers. Google AdWords customers pay for their advertisements per click (PPC). In return, Google shares a percentage of that revenue with the AdSense publishers.
Google AdSense is a program used to display Google advertisements from advertisers on third party websites. Google generates a large part of its advertising revenue with AdSense. The advertisements can be shown in different formats. The design options are diverse, from text and display to rich media ads.
AdSense delivers targeted advertising for the participants' websites. Google uses language filters and professional linguists to screen ads to prevent inappropriate text or content from being displayed and ensure that all material meets professional editorial and ethical standards. The website operator can block competitive advertising.
Google AdSense is an inconspicuous affiliate program with good earning potential for affiliates. The implementation of the advertisements on a website is easy, and the maintenance effort is low since Google takes care of the delivery of the appropriate advertisements. The Google Partner program is considered to be the top-selling program worldwide.
1.2 eBay Partner Network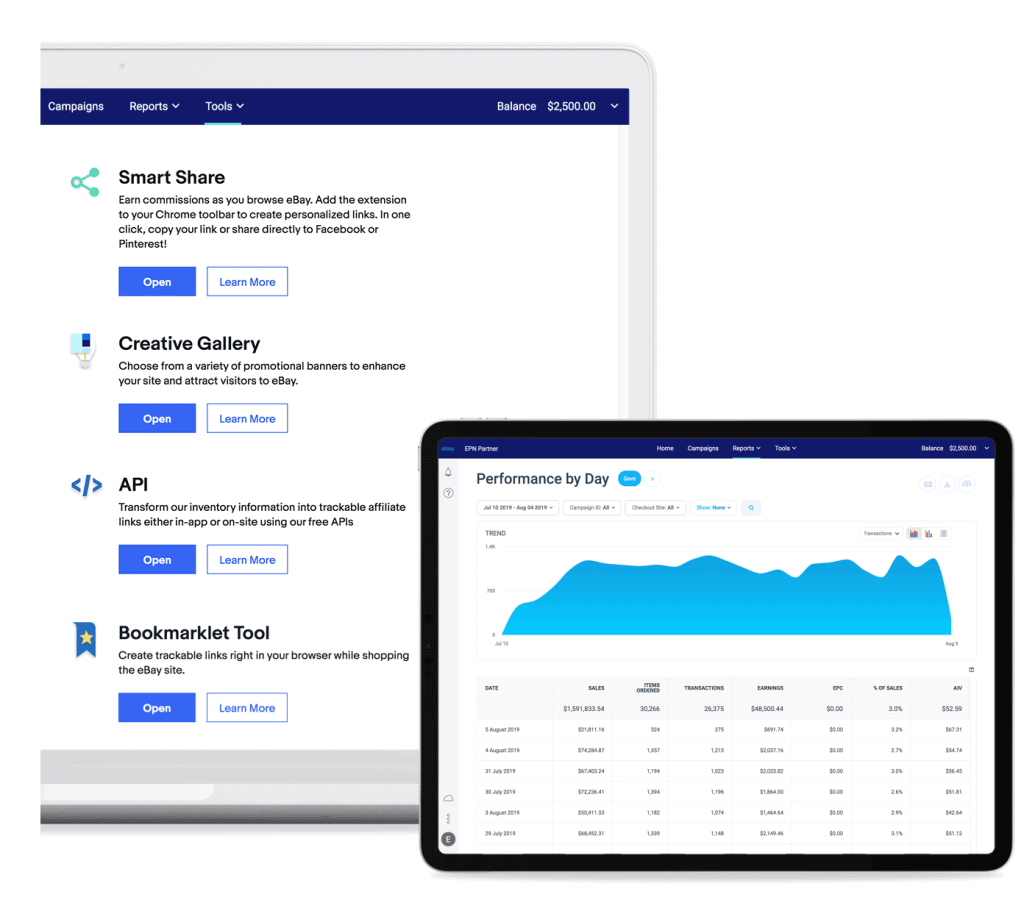 The eBay Partner Network (EPN) also offers you many opportunities to earn money with affiliate marketing. eBay is one of the most popular websites on the WWW and the world's largest shopping and auction house, on which individuals and dealers sell millions of products. The eBay Partner Network is an affiliate marketing network through which you can find the right products for you and integrate them on your website. Affiliates receive a commission when a user clicks on your eBay link, starts bidding on and buys products on eBay, or registers on eBay.
With the eBay partner program, you get a simple and transparent earnings model. When your traffic to eBay is converted into a purchase, you will receive a percentage of eBay sales. Your earnings depend on the number of sales you generate for eBay. This means that your commission as an affiliate depends on the amount of commission that eBay receives for purchase and not on the amount of a product's sales price.
The commissions charged on eBay vary greatly depending on the product category. To optimize your eBay affiliate program earnings, focus on high-quality types. If you manage to attract first-time eBay buyers, you can receive up to a 200% commission bonus. The minimum threshold for commission payments from the eBay partner program is low at 10 euros. Payments are usually made on the 22nd of each month and include income from the previous month's activities.
eBay regularly offers numerous seasonal and category-based offers and promotions, which give you a financial incentive to generate more traffic for purchase on eBay. Last but not least, eBay is one of the most trusted names in the online world. In 2015 the company celebrated its 20th anniversary and had been running its affiliate program successfully since 2001. Affiliates can expand globally by generating traffic to eBay websites in 13 countries and a variety of languages.
1.3 idealo partner program
The idealo partner program was only introduced in July 2016 by idealo internet GmbH, founded in 2000, and has been operated via the Affilinet network ever since. According to its information, with over 8 million users per month, idealo is one of the largest price comparison portals in German-speaking countries.
As part of the idealo partner program, publishers receive attractive remuneration either as:
Click out – this is a CPC fee of 0.14 euros or more than a publisher receives when a visitor is redirected from his website to idealo clicks on "To Shop" on the idealo webpage, and is turned from idealo.de to the partner shop. The click out is shown as a lead at Affilinet. The second possible compensation is that
Sale – this is a CPO fee of 1.5% of the value of the goods. Publishers receive this remuneration when visitors who are redirected to idealo order a product directly from idealo using the "For Sale" option. However, the "for sale" option is not available for all products at idealo.
Idealo provides four different advertising media for its affiliates:
Link generator
Text links with anchor text
TopDeal and search widgets
banner
With the link generator from idealo, publishers can quickly and easily create tracking links for selected product pages and insert them into their website. Also, idealo provides simple text links, including freely changeable link text for different categories. The idealo partner program also offers affiliates a multitude of different banners for almost all types and provides various TopDeal and search widgets.
The duration of the idealo cookies is 60 days. Pages with a mandatory click, PaidMail providers, SEM affiliates or Postview partners are not permitted for the idealo partner program. The billing and payment of the remuneration take place from an amount of 25 euros per month by transfer through Affilinet.
1.4 Amazon PartnerNet Program
The Amazon PartnerNet program is one of the world's largest affiliate marketing partner programs. The retail giant is silent about the exact number of affiliates. However, it is estimated that several hundred thousand publishers belong to it. Amazon provides its affiliates with numerous sophisticated and well-converting advertising media such as text links and banners free of charge. Depending on the product category, Amazon pays its affiliates a commission of between 1 and 10 percent of the goods' value.
For product advertising on your website, Amazon offers you among other things
Text links
Banner links
Site stripes
Search and bargain widgets
The integration of the Amazon advertising material is easy to implement even for affiliates without a technical background or special knowledge.
From an affiliate's point of view, the most lucrative categories on Amazon include furniture, clothing, downloads of games and software, as well as shoes and jewelry. Here Amazon pays a commission of 10 percent on the entire shopping cart. This means that if a customer buys other products, you, as an affiliate, will also receive a commission for them, even if you have not advertised them on your website.
Due to the large selection of products, the Amazon partner program is suitable for different affiliate marketing forms. It is important to have a reputable website with good content and high traffic. Quite a few affiliates, including many operators of so-called niche sites, earn monthly commissions in the high three-digit to four-digit euro range with the Amazon partner program.
1.5 In-house affiliate programs
Not every merchant makes his affiliate program available through one of the small or large affiliate networks. The Amazon partner program and the eBay partner network are the two largest of the so-called in-house partner programs. But some other companies also offer affiliate programs that can only be used directly through the company.
Often these are companies that specialize in certain products or services. For example, Auxmoney or Vexcash only offer consumer credit. Affiliates can apply to participate in the affiliate program directly on the Auxmoney or Vexcash websites. Private individuals aged 18 and over without a business can also use it. The commissions for affiliates with these providers are very high.
For example, Vexcash offers a 2-stage remuneration model with pay-per-lead (PPL) and pay-per-sale (PPS) and remuneration between 1 and 25 euros. According to Vexcash, affiliates earn an average of 285 euros per month. The conversion rate at Vexcash is 3.8%, and the actual loan financing rate is 70 percent. Affiliates who advertise a new private investor for aux money who pays 100 euros receive a commission of 40 euros.
Earning money with affiliate marketing is also possible with check24's in-house partner program. The comparison portal offers different categories that can be advertised by affiliates. Check24 pays high commissions, paid out without cancellation in gas and electricity tariff comparisons and amount to 20 euros per lead. Cancellation-free means that if a customer receives the contract for a change of provider, you as an affiliate receive the commission regardless of whether the change comes about.
1.Make money with affiliate marketing through social networks.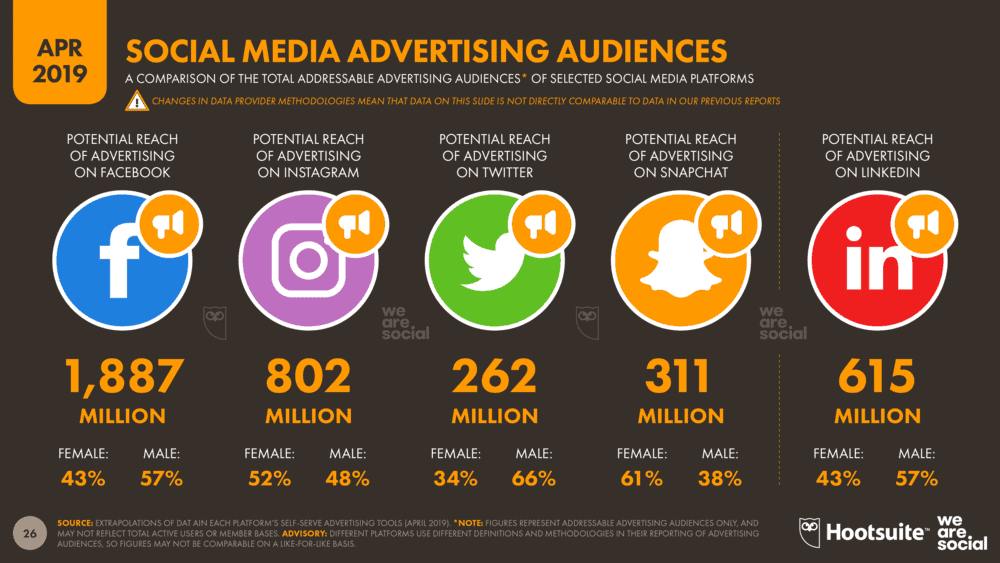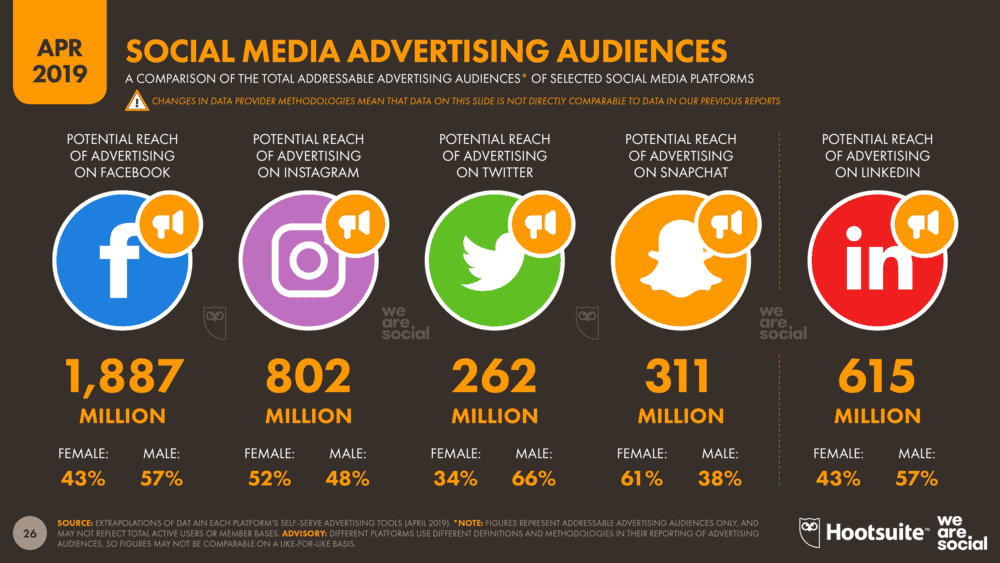 Earning money with affiliate marketing is also possible without your blog or website. Social media platforms such as Facebook, Instagram, Pinterest, Twitter, or Google+ also offer various affiliates options. For example, auxmoney and Tarifcheck24 provide advertising material for affiliate marketing in social networks or leave it to the affiliates to decide whether they want to advertise the products and services on their website, social networks, or email marketing.
2.1 Instagram example
Although it is not possible to post direct links under images on Instagram, via service providers such as liketoknow.it, have2have.it, stylelike or like2buy. It, there are at least indirect ways to set affiliate links. This usually works with reference to clickable links in the biography of an account, the only place on Instagram where this is possible. Interested followers can be forwarded to shop pages. The commission is then split between the affiliate and the said platforms.
On Instagram, you can also use the Instagram story for affiliate marketing because you can set a link there; the user only has to swipe up the information.
3.Make money with affiliate marketing on niche sites
A niche site is a website whose content is focused on a narrowly defined and only interesting topic for a small audience outside the mainstream. Blogs in which the operator writes exclusively about a certain topic can be seen as a niche site. Such topic-specific niche sites offer an interesting opportunity to earn money via affiliate links.
Because a niche site is a counterpart to a market niche that companies can use to do lucrative business with very special products with little competition. Transferred to affiliate marketing, these are websites, such as advice platforms for products or services only required by a few consumers. An example would be a website or a blog about home dehydrators. Dehydrators are not in mass demand, but rather a high-priced niche product for health-conscious consumers with a correspondingly narrow market.
The advantage of a niche site for affiliates, as with a market niche for companies, lies in low competition. In particular, the competition for the top positions in Google search results is far less than for websites that advertise popular products. The conversion rate and the earned commissions can be correspondingly high.
As with other websites in affiliate marketing, the same applies to niche sites that the content and the information offered to visitors are crucial for the site's success.
4.Risks Associated with Affiliate Marketing
Besides all the tempting opportunities to make money with affiliate marketing, you should also be aware of the financial and legal risks so as not to be unpleasantly surprised at some point.
4.1 Irregular income
No affiliate is guaranteed that their activities will result in regular income. Even well-converting sites can eventually run out of money. This risk exists especially with niche sites with products that are in demand seasonally. You can counteract this with several pages for different products.
4.2 Lack of transparency in commission payments
As an affiliate, you have no control over whether your commissions are correctly billed and paid out. Of course, this does not mean that merchants or affiliate networks have unfair intentions. As a rule, you can, in all likelihood, assume that everything will turn outright.
4.3 Affiliate Marketing and Copyright
Making money with affiliate marketing also comes with legal risks. One of them is possible copyright infringement, especially if images or brand names are used without the merchant's consent or the manufacturer. If in doubt, it is better to ask the merchant before using a picture from their website for your affiliate page.
4.4 Affiliate Marketing and Competition Law
Violations of competition law usually result in an expensive warning from competitors. Affiliate pages that pretend to be a test page for certain products, even though no product tests are carried out themselves, are an example of this. Your competitors are particularly wary of this, as consumers like to search for test sites.
If you take the points above into account and don't be put off by them, nothing stands in the way of making money with affiliate marketing.
5.Conclusion
With the evolution of social media platforms into sales portals, you no longer need your website. Successful affiliate marketing, like every discipline in online marketing, starts with a well-thought-out strategy and requires consistently high-quality and well-presented content that offers users added value and, as a result, brings high traffic to your affiliate website.
You should, therefore, carefully weigh up which partners and networks are best suited to your topic. The implementation of the advertising material made available by the merchants on your website is usually straightforward. The higher the number of visitors, the higher your potential commission income. International affiliate marketing offers a way to expand your reach and your potential.