With inbound marketing, companies rely on a strategy that takes advantage of potential customers' existing basic interests. Because with inbound marketing, interested parties approach the company's offer all by themselves. The main goal of this marketing strategy is to turn prospects into happy customers. This is achieved without any aggressive outbound advertising, such as cold calling. Inbound marketing unfolds its full effect when it is carried out automatically – marketing automation systems are made for this. Here we show exactly what is possible with inbound marketing and why its management with marketing automation is an integral part of this strategy.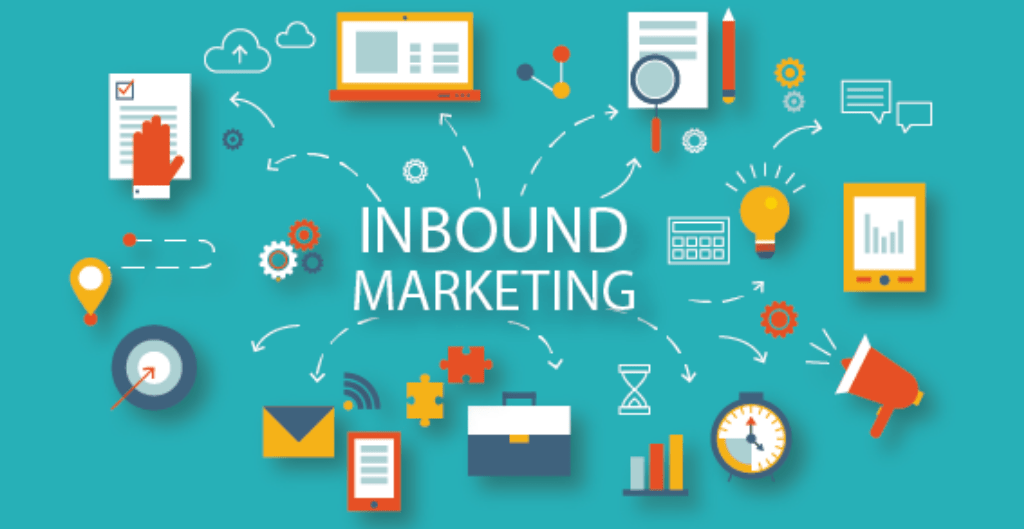 What is inbound marketing?
Inbound marketing is a marketing strategy that focuses exclusively on the customer and their needs. It is seen as a contrast to outbound marketing, where potential customers are also addressed in cold calls that have no recognizable interest in the product. The basis of inbound marketing is good content, which, due to its relevance for the target customers, leads them to deal more closely with the company or the corresponding offers and become customers. The following definition aptly sums up inbound marketing:
"Inbound Marketing is a well-defined sales-driven strategy that focuses mostly on creating content that users look for when they have a problem or question. This content provides answers and guides them through the sales funnel until a sale occurs. "(Source: Mael Roth )
Of course, inbound marketing also has the conclusion firmly in view, but the focus is initially on the customer's benefit. Even within the buying process, the potential customer should receive an actual advantage, advancing the interested party in the sales process.
Good content – the core of inbound marketing
But how do potential customers get utility value from a product that they have not yet purchased before the deal? Content tailored precisely to interested parties' interests and needs is valuable and creates a bond even before the actual purchase. Interesting texts that deal with related topics, detailed photo series of products, videos that explain the use and much more help potential customers to decide on a product. Due to the thematically clear focus, inbound marketing has the so-called "pull" effect. This attracts interested visitors almost by itself and makes them curious about the product and service. Does an inbound marketing strategy work exactly as planned,
The content decides the phase in the buying process.
Today, hardly any customer simply accesses the product without having at least superficially researched the desired effect. The more expensive and complex the product, the more closely potential customers, look, compare providers, specifications, and ask for self-testing options. Decision-making does not have to be linear or take place immediately. To depict this fact, one speaks of different phases, which subdivide the purchase process. Usually, these are the following four phases:
Attract
Convert
Close
Delight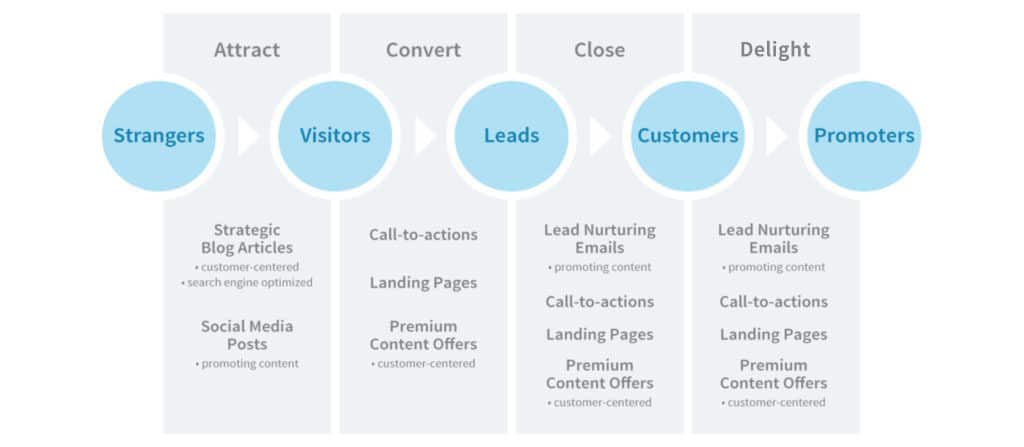 Each of these phases has different goals. But it also becomes clear that the individual potential customer has very different needs and goals in each of these phases. While he may initially research various solutions in the "Attract" phase, he is already comparing specific offers and price models in the "Close" step. The great challenge of inbound marketing is precisely responding to the leads' individual needs in each of these phases of the buying process.
All relevant channels
Every inbound marketing strategy stands or falls with relevant content. A wide variety of channels play a major role in bringing the content to interested visitors. Which channel in this process is ideally suited for which interested party can be seen, for example, from behavioural data that is known about the individual visitor. But there are also considerations relating to the coordination between the content and the respective channel. After all, content for social media platforms must be designed differently than, for example, for individualized landing pages. The following media play a central role in the respective phases of the buying process:
Attract: e.g. blog, social platforms, content strategy, e.g. in the form of SEO keywords
Convert: e.g. form entries, registrations, landing pages, CTA, personal appointments.
Close: e.g. e-mail, lead nurturing, lead scoring
Delight: e.g. e-mail after-sales, e.g. event invitations
Every point of contact that a potential customer has with the product or the brand can be deliberately designed in this way across channels and platforms. Today nothing works in inbound marketing without a social media presence. This must be well looked after because it can be the "figurehead" with which many interested parties will contact the company for the first time. The choice of a Marketing Automation system is a particular challenge given the numerous tasks that such a system has to perform.
Is inbound marketing the same as SEO?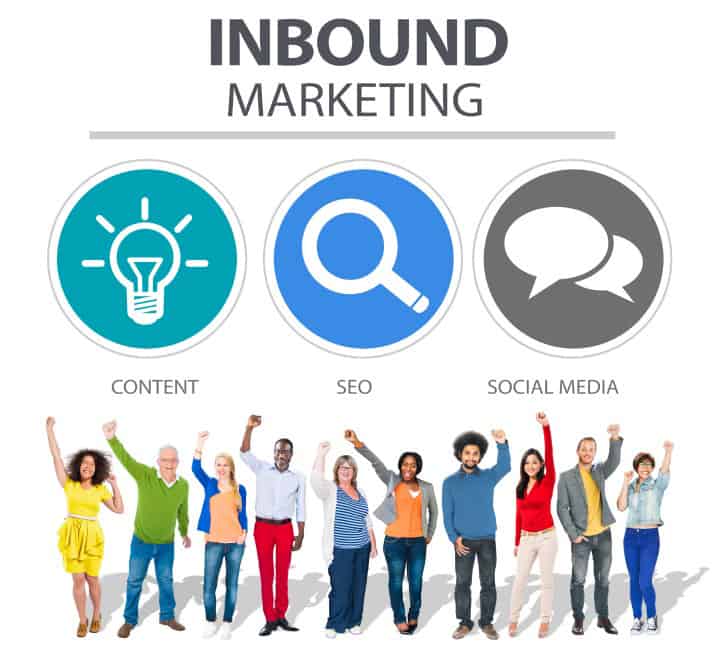 Inbound marketing and SEO are similar in some ways. For example, landing pages for different products or services must be optimized for a corresponding keyword. All other lead magnets must also be optimized for the right keyword to attract leads with the desired pull effect. Both SEO and inbound marketing aim to attract the most suitable visitors to the website. Nevertheless, there are differences because SEO not only has the sales aspect in mind but goes much further than just optimizing for Google.
Inbound marketing includes on-page and off-page factors but should rather be seen as a separate, complex sales strategy in which SEO is just one of several factors. In a balanced inbound approach, SEO can be the factor that drives potential customers to the website. How the visitor is treated afterwards is a question of inbound marketing. This leads the user, for example, into complex, tailor-made campaigns, sends him additional material by email or otherwise stays in contact through lead nurturing.
Inbound Marketing – the benefits outweigh the benefits
Even if implementing inbound marketing takes time and money, it is likely to be cheaper in the long term, especially if it allows you to switch off paid advertising. With inbound, the focus is on customer dialogue, which means that the company is constantly learning more about its customers and their wishes. Good content for inbound marketing takes time, but then it is a sure-fire success. Because users often distribute content themselves without the company having to invest. Such content then appears to be particularly relevant and trustworthy to interested parties. Once the content has been created, it can also be used again in modified form on different platforms. Advanced analytics also identify those topics that are particularly relevant to interested parties. This then enables the finer coordination of the inbound and content strategy. Without question, time is a critical factor in inbound measures because both create and distribute the content takes a lot of time, especially at the beginning.
Marketing Automation, the inbound marketing center
Inbound marketing that wants to cater to every interested party's individual needs and goals needs software support. With Marketing Automation, companies of all sizes receive an ideal instrument to automatically design even the most complex sales processes for each phase with inbound marketing. Marketing automation offers the following options:
Real-time campaign management
Trigger-based email dispatch ( smart email software )
Built-in automatic lead scoring to measure sales readiness
Run different campaigns in parallel on other channels
Create sales funnels and dynamically distribute leads automatically
Features that go far beyond inbound marketing
Of course, Marketing Automation has many other features to offer that are ideal for inbound strategies. The valuable tracking options that result from marketing automation should be emphasized. Here, the individual sales process of each potential customer can be traced using data. This enables conclusions to be drawn about the purchasing process's current position – the basic requirement for delivering customized content. Comprehensive marketing automation systems such as Hubspot can manage this multitude of complex tasks automatically. If you have well-designed content and a solid database, Marketing Automation can fully automatically carry out inbound marketing. We would be happy to advise you on these topics to achieve faster success.