I have to admit:
Keyword research doesn't sound "sexy"…
But it's not as complicated or technical as you might think!
Also:
Keyword research is essential in search engine optimization (SEO). If you want to achieve excellent rankings on Google and Co., you can't avoid it!
In my instructions, I explain to you and understandably…
Why keyword research is so essential (including a small case study)
What keywords are all about (and what makes a profitable keyword)
Which tools to use for keyword research
How to find suitable keywords step by step
Does that sound good?
Very well!
Let's start with the basics:
1.What is a keyword?
A keyword (also called a keyword, search term, keyword or search term ) is the term used to describe the entirety of all words that you enter in the search field in a search engine: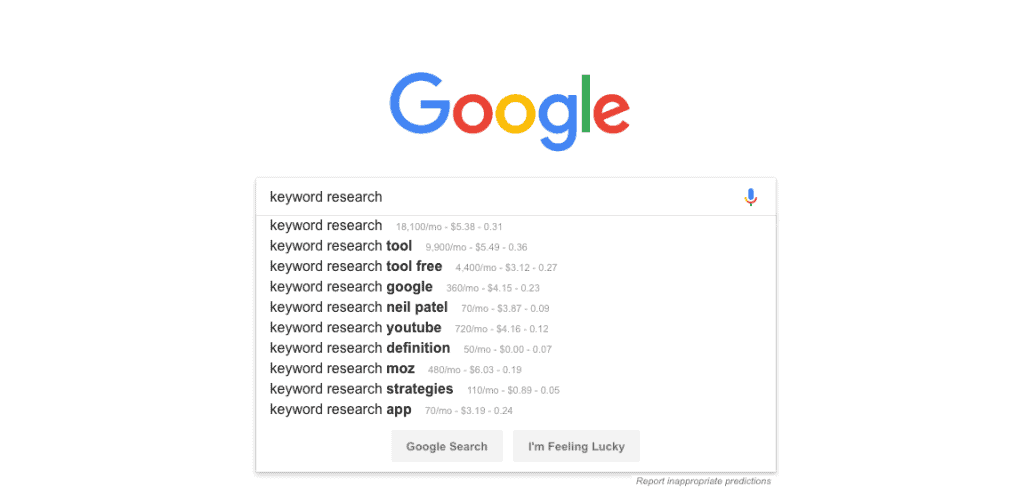 In this case, our keyword would be keyword research.
Simple, isn't it?
Some keywords are searched more often on Google and some less often:
Some only 100,000 times a month, some 1,000 times and some only ten times. According to Google's information, 15% of all search queries even consist of keywords that no one has searched for before.
A quick note before we go any further:
This article is about keyword research on Google, as it has the highest market share worldwide at 90%.
But keyword research for other search engines works similarly. This article is partially transferable to Pinterest, Bing, DuckDuckGo, Amazon, YouTube, Yandex, Baidu, Quant or Ecosia.
2.What is Keyword Research?
As an expert, blogger or entrepreneur, you are a problem solver.
People buy your products, book your services, or read your blog articles to find a solution to a specific problem.
And that's where keyword research (also called keyword analysis) comes into play:
Keyword research is the process of finding out what keywords potential customers are entering on Google.
In detail, it serves to:
Find out if your target audience is searching Google for solutions to their problems.
If so, which keywords your target group is using
To analyze whether it is worthwhile to create content optimized for these keywords (Are these keywords searched often enough? How high is the competition? Does the search query imply an interest in buying? And so on …)
3.Why is it important?
You may be wondering:
"Amer, that's all well and good. But what do I care? What do I get from that?"
Let me explain it this way:
Other SEO measures, such as B. Link building or loading time optimization, ensure that you appear in the search results.
With keyword research and subsequent keyword optimization, you determine what for.
And you should make use of this power!
You can get many visitors through Google if you don't include keywords in your texts and don't do keyword analysis.
But nowhere near as many as you could get.
Believe me.
I keep seeing blogs or websites that could double, triple, or even tenfold their Google traffic if you could sit down for a few days and optimize your top 10 articles for the right keywords!
But that's not all …
There are other good reasons why you shouldn't miss out on keyword research:
You can use them to find topics for your editorial plan, structure the content of blog articles, and general for market research.
Analyzing and researching keywords helps better to understand your customers' wishes, fears and problems.
You find out which language your customers speak.
A keyword analysis is a better way of assessing whether a blog article or offer will be well received or not. Because if a problem is googled often, you will more likely get visitors for your blog article or find customers for your offer.
Sounds logical, right?
3.1 Case Study
Still not convinced that keyword analysis and optimization (or maybe even SEO in general) do anything?
Then I have a little case study for you:
I optimized one of our articles again a few months ago after a long time. That means selecting new search terms, bringing my keyword cluster for the respective article up to date (see point 5.6) and integrating the original search terms into the paper.
It took me about 30 minutes for everything together. So not a lot of time.
However, with significant effect:
Because after optimization, the article no longer receives just under 50 clicks a day, but an average of 75.
4.Which tools do you use?

You need these tools if you want to find profitable keywords:
The Google search (Google itself provides many keyword suggestions in the search)
One or more classic keyword tools (also to find keyword ideas, but also for keyword analysis, e.g. to find out properties such as search volume, the strength of the competition and CPC).

Suggest tools, such as B. Answer The Public to find subtopic keywords and shed light on search intent.

I've been using the KWFinder (short for Keyword Finder) as a classic keyword tool for a long time :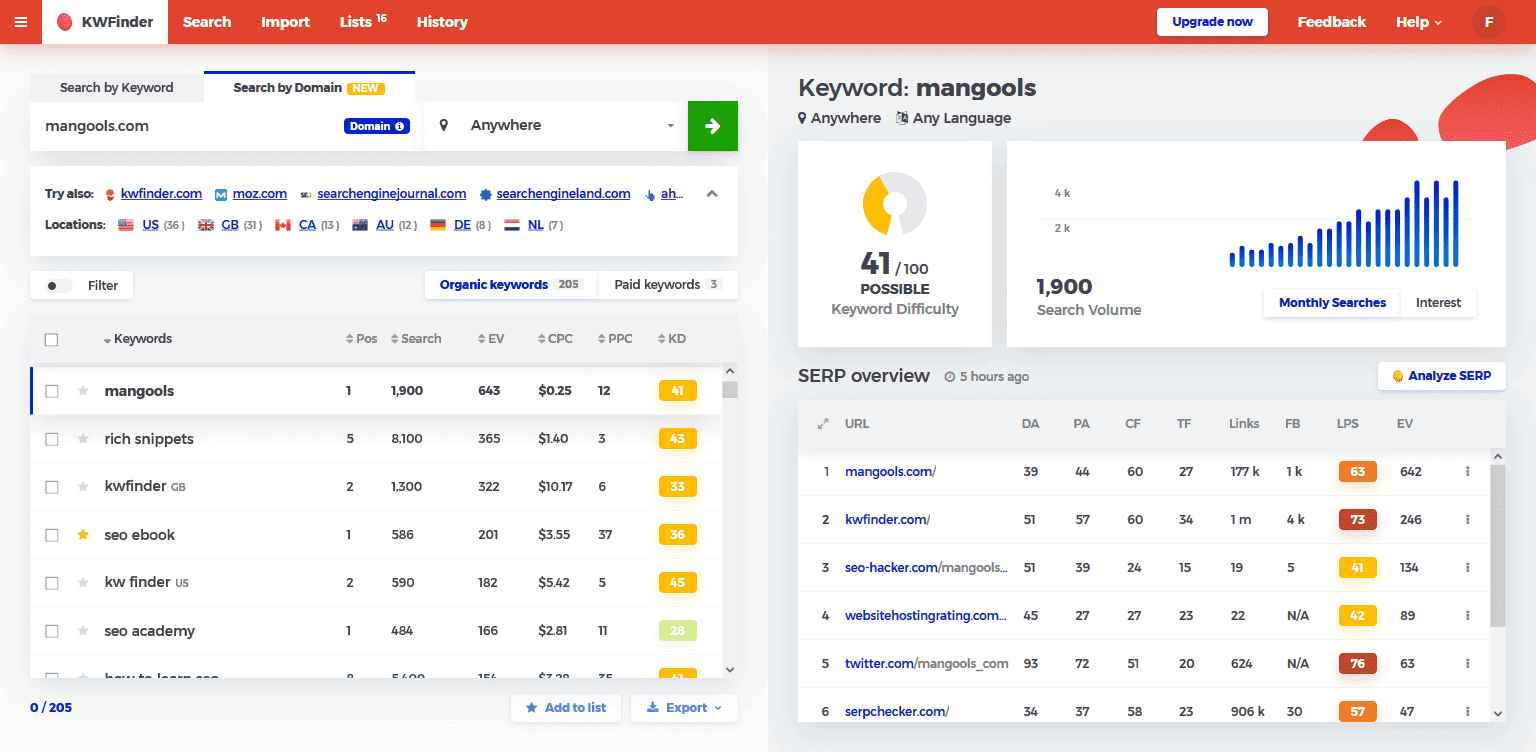 The basic version, which costs around € 300 for an annual subscription, is completely sufficient for beginners.
Of course, you can use the Google Ads Keyword Planner (formerly Google AdWords Keyword Tool) to find suitable search terms.
But then you have to laboriously pick up important data or get exact search volumes (only approximate orders of magnitude are displayed) and other properties afterwards from other tools: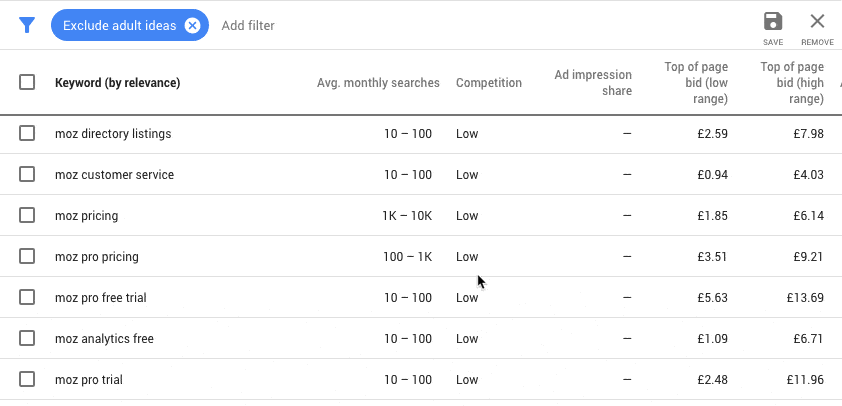 As an alternative to KWFinder comes Ubersuggest into consideration. The tool is also well suited for finding new keywords and analyzing them.
In addition to search volume, CPC and the strength of the competition, the search results for a search term are also displayed on the right-hand side, similar to the KWFinder: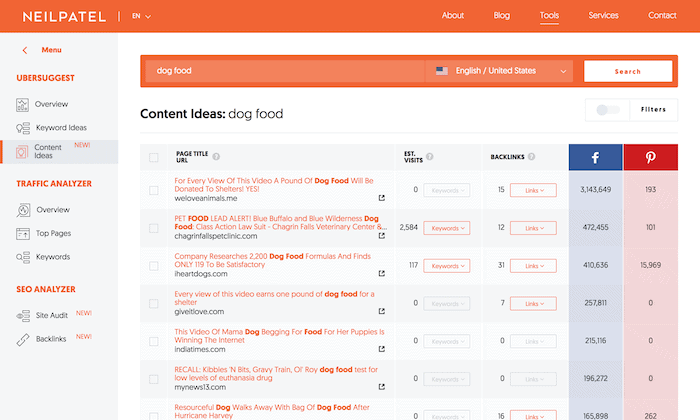 5.The most crucial keyword properties
One keyword is not the same as another!
Before you use wild and aimless keywords in your texts, you should take your time and analyze them in detail.
Otherwise, you may be optimizing for search terms that are not bringing you any visitors. Or keywords that bring you visitors, but no longer customers or revenue.
In the following, I will explain to you which data and properties you should pay attention to and what they mean in detail:
5.1 Word count (accuracy)
How many words a search term consists of is an essential factor in determining how profitable it is.
Because the number of words provides information about how specific this is.
If a search term consists of only one word, it is often a central topic.
Such a central topic is usually searched for more often. On the other hand, the competition is higher, and the conversion rate (how many visitors become customers in percent) is lower.
However, the longer and more specific a keyword, the lower the competition. The conversion rate also increases because searchers are more explicit about their search goal.
In "SEO speech" a distinction is made between short-head (also short-tail ), mid-tail and long-tail keywords :
Surname
length
example
competitor
Conversion
Short head
1 word
vacuum cleaner
high
low
Mid-tail
2-4 words
vacuum cleaner test
medium
medium
Long tail
≥ 4 words
bagless
battery vacuum cleaner test
low
high
As your main keyword, you should ideally choose a mid-tail or short-head keyword, i.e. it tends to be an overarching topic.
The main keyword (also known as the focus keyword) is the search term on which your article is thematically oriented and around which your article is built. Accordingly, it should be present in the most critical places in the article, such as B. in the H1 heading, in the meta title and the meta description.
5.2 Search Volume
The search volume (also abbreviated to SV) is one of the main criteria for the right keyword.
It indicates how often a search query is entered (usually per month) on Google and thus the visitor potential:
The higher the search volume, the more visitors can land on your website if placed accordingly.
For keyword analysis, it is therefore essential that you use at least one tool that shows the search volume, such as B. the KWFinder: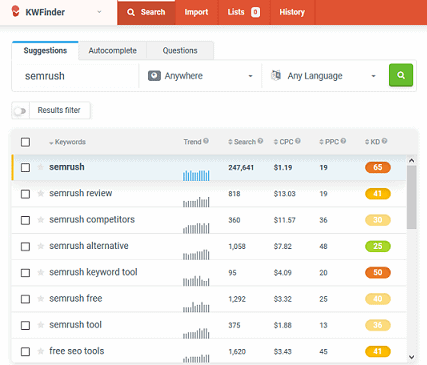 Note: The monthly search volume shown is an average. In some months, the number of searches can be significantly higher or lower.
5.3 Competition
After months of optimization, you are finally in the first place, playing angel trumpets and unicorns farting rainbows?
Think!
Even if you landed in the first place for a search term, it could be that only 20% of all visitors come to your website (in some cases even less).
Most of the traffic is distributed to the first four places. In places 5 – 10, you have to expect significantly less traffic.
If you are on the second page (positions 11 – 20), it is even as if you did not show up for it:
| Position | Click rate | Example (SV = 1,000 / month) |
| --- | --- | --- |
| 1 | 20 – 50% | 200 – 500 visitors |
| 2 | 15-30% | 150-300 visitors |
| 3 | 5 – 15% | 50 – 100 visitors |
| 4th | 2.5 – 7.5% | 25 – 75 visitors |
| 5 – 10 | 0.5 – 5% | 5 – 50 visitors |
| 11-20 | <0.5% | <5 visitors |
Note: As you may have seen, the click-through rate varies significantly for each position. This can be due to many factors, such as B. how well optimized your snippet is and how well known your brand is. The click rate is also influenced by SERP features, such as B. Results from Google Shopping or Ads. You can find out more about this in Section 5.4.
It's not for nothing that this joke is so prevalent in the SEO scene:
What's the best place to hide a corpse? On the second page on Google!
Therefore:
Failing to optimize your competition for a keyword is one of the biggest mistakes you can make in keyword research.
Because a search term with a high search volume is of no use if you piss off on the second or even third page.
The KWFinder conveniently offers an integrated competition analysis!
The LPS (short for Landing Page Strength ) is calculated from various backlink metrics, which indicates how strong the link profile is for the respective website.
5.4 SERP features
Depending on the search term and user, Google displays additional elements above, below or in the regular search results (also called organic search results ), such as B .:
Ads above or below Google search
Google Maps
Results from Google Shopping
Google News
pictures
YouTube videos
Direct Answers / Google Knowledge Graph (the search query is answered directly by Google in a box above the search results)
Featured Snippets (shows text excerpts from a website that now answers a search query)
These so-called SERP features (SERP stands for search engine result page ) are usually destructive for you. Because they reduce the click rate on the organic search results, which means you get fewer visitors via a keyword than would be possible.
5.5 CPC
The CPC stands for cost-per-click, i.e. costs per click.
This is the average price you would pay for a click if you ran an ad on Google for a search term.
And that is not only interesting for advertisers but also search engine optimization:
Because the higher the CPC for a keyword, the more advertisers place ads for that search query. And that means that visitors using this search term are worth real money. Possibly for you too, e.g. B. by selling your services, your products or through affiliate marketing.
Some search queries are incredibly competitive. For the best auto insurance keywords, advertisers are, e.g. B. willing to pay between € 25 and € 45.
And just for a single click!
5.6 Search intention
A search intention (also known as user intention or search intent ) is the goal or purpose of someone who enters a keyword on Google.
And analyzing these is extremely important in keyword searches.
At least as important as an analysis of the search volume or the competition, if not more important!
You should find out in detail:
what goals or problems seekers have
how they feel about the search
what kind of search results to expect
which aspects of a topic interest you
This is the only way to ensure that your website also attracts the readers or customers you want.
You also need to know the search intention to better tailor your content to search engine users. This is the only way to keep your back-to-SERP rate as low as possible and get into the top 5 and stay there.
The back-to-SERP rate is the percentage of visitors who look at your website but jump back to the search results page (SERP) (mostly because they did not find what they were looking for).
But what search intentions are there? And what should your keywords be?
The eight search intentions
As part of the Search Quality Evaluator Guidelines, Google itself has divided keywords into these five search intentions:
Do (also called transactional )
Know (also called informational )
Know simple
Website (formerly Go, also named Navigational or Brand )
Visit-in-person (also called local )
To make the model a bit more understandable, I have created a table of all search intentions for you:
| | | | |
| --- | --- | --- | --- |
| Search intention | Seekers want … | Sample keywords | Matching pages |
| do | do something | calculate bmi | Online tool, app, download page, video |
| Thu Commercial | to buy something | buy tv | Landing page, product or product category of an online shop |
| Know | to know something | cycling safety | Advice, instructions, encyclopedia entry, list post |
| Know Commercial | inform yourself before buying | cell phone comparison | Test or experience report, product comparison |
| Know news | know something about a current event | choose trump | News articles |
| Know simple | find a single piece of information | how big is merkel | Advice, instructions, encyclopedia entry, list post |
| Visit-in-person | visit a local place | restaurant hamburg | Home page, landing page |
| Website | to a specific website. | twitter login | – |
5.7 Phase of the customer journey
Closely related to the search intention is the question:
In which phase of the customer journey is the searcher?
And it's essential to answer this question because it directly impacts the conversion rate (that is, how many Google visitors who come to your website also become customers).
According to Wikipedia, the customer journey can be divided into the following 5 phases (there are other advanced models, but these should not be the subject of this article):
Awareness: Awareness of the product is raised
Favorability: The interest in the product is increased
Consideration: The customer is considering purchasing the product
Intent to Purchase: The purchase intention becomes concrete
Conversion: The product is bought
An example of this using Netflix customers:
video on demand, watching series online, streaming service, etc.
Netflix vs max cathedrals, Netflix experiences
Netflix prices, Netflix tariffs
Register Netflix, Netflix trial month
The actual order of the subscription
5.8 trend
In addition to the average search volume of the primary keyword (as well as that of the long-tail keywords and synonyms), it can make sense to look at the search volume trend.
5.9 Seasonality
Knowing if a search term has seasonal variations is essential in determining when to post or update an article.
This is obvious with some search terms, such as B .:
Easter
summer
Christmas
April Fool's Day
But there are also some keywords whose seasonality can only be determined by a more detailed analysis of the search volume and by going deeper into the topic.
6.How does keyword research work?
It would help if you always did a keyword analysis before you start to write your text.
This will help you structure your article, design the content, and serve the search intent of the keyword as well as possible.
I plan about two to three hours per blog article for this. Please don't make the mistake of rushing research and take enough time to do it!
6.1 Brainstorming
You start your research with brainstorming.
Because keyword research is not all about keywords, but above all one thing:
Empathy.
That means better understanding the person behind the search input.
Or rather:
Your potential clients or your desired customer to understand better. And to define and get to know this or these as clearly as possible.
For example, let's say B. You are a meditation coach and want to offer your readers (and potential customers) knowledge and tips about meditation on your blog.
Then you could ask the following questions:
What problems and goals do your desired customers have with meditation? (Can't sit still for 15 minutes, doesn't seem to work)
Why are you looking for it on Google? What is a possible trigger for this? (Stress at work, too much brooding, partner left me, etc.)
What solutions could you be looking for? (Step-by-step guide to meditating)
What meditation offers could you be looking for? (Online course, workshop, 1-to-1 coaching, a meditation app, etc.)
What questions do your desired customers have about meditation? (How often should I meditate? How long should I meditate? What is the best sitting position?)
This is to end up with a long list of potential topics from which we can derive keyword ideas.
Expert tip: It makes sense to create a buyer persona (also known as a customer avatar ). This ensures that when you brainstorm your desired customers' problems, goals, or questions, you have a specific person in mind and can better empathize with them.
6.2 Find keyword ideas
In the second step of our keyword search, we collect potential keyword ideas based on our brainstorming.
These ideas are then gradually sorted out and grouped in steps 3, 4 and 5 so that factual content can be created from them.
We can generally find ideas in three ways:
# 1 About suggest functions
Suggest functions are used to give us an initial overview of which keywords are being searched for on a topic.
We can then enter the resulting suggestions into keyword tools so that we can analyze them more deeply.
This section could, therefore, also be called "Brainstorming: Part 2".
# 2 find keywords among the competition
To get even more keyword ideas, we can also look at the competition.
That goes z. B. with SEO tools like SEMRush or ahrefs.
The Ubersuggest tool has also been offering domain-based analysis since the beginning of 2019. Unfortunately, it is no longer free, but it is significantly cheaper at € 30 per month than many professional tools.
To include a competitor's keywords, enter a domain instead of a keyword in the search box.
You will then be shown an overview of the domain. If you scroll down to the very bottom of the resume, you will find a section called SEO Keywords, which lists all the search terms for which a domain is ranking (sorted by the estimated traffic that comes from the respective search term).
6.3 Filter and sort results
You should now have a massive pile of keyword ideas!
This pile must now be cleared out (duplicates, thematically irrelevant search queries, etc.) and analyzed in more detail.
To do this, you export all data from all tools (many tools like KWFinder and Ubersuggest have export functions) and put them together in a table.
Then you filter, sort and group your table.
6.4 Find suitable main keywords
Once you have analyzed your keyword ideas more closely and separated the wheat from the chaff, the next step is to find a suitable main keyword for each keyword group.
An example:
Since I don't introduce beginners for my (fictional) meditation blog, I would like to start thematically there.
So I look at all of the keywords that I use in the What is this topic ? have classified.
The keyword meditation for beginners catches my eye, which is very well suited as the main keyword due to its high search volume and the still moderate competition.
6.5 Form a keyword cluster
Now it's time to create a keyword cluster for our main keyword that we just found.
A keyword cluster consists of secondary keywords that are thematically closely linked to your primary keyword. These include B. Synonyms of your principal and sub-topic keywords.
This is very important and increases the effectiveness of your keyword search by 200 quadrillion percent (at least!), Because …
You are also more likely to rank for these minor keywords
You also rank better for the main keyword because you cover different language styles and search intentions
Google can better classify your article by topic
You can replace the main keyword with another keyword more often, so you don't scare your readers with "keyword stuffing."
You can use synonyms and subtopic keywords, e.g. B. with the KWFinder, Ubersuggest or the free tool Answer The Public.
6.6 Post-Publication Keyword Analysis
A few weeks after the publication, look for which keywords your content is now ranking and adjust them accordingly.
Keyword analysis for a specific page or blog article is best done with the Google Search Console search analysis function.
There you can see exactly how many visitors come to your website with which search queries and at which position and click rate.
7.FAQ
Here are answers to common questions about searching and finding keywords:
7.1 What does keyword research cost?
It is entirely possible to find keywords for free. There are many useful free tools available, such as B. AnswerThePublic or Ubersuggest.
But some things take longer with free tools. A competition analysis with SEO tools like ahrefs or SEMRush, both around $ 100 per month, is much faster.
7.2 How long does a complete keyword analysis take?
Finding, sorting out, and grouping keyword ideas (steps 5.1 – 5.3) can take a lot of time.
The complete mapping of the keyword groups in a niche can take several days, depending on your place's size and target group.
To find a suitable main keyword and to create a keyword cluster (steps 5.4 and 5.5), you have to reckon with about 1 – 3 hours per blog article.
7.3 Which program is best for creating keyword lists?
I use either Microsoft Excel or Google Sheets, the latter being my favourite.
Excel offers more functions for professionals, but Google Sheets is more straightforward, clearer and the workflow combined with keyword tools is better because it is also browser-based.
Another free variant is Calc, the spreadsheet program from LibreOffice.
7.4 How do I find out the search volume for several keywords at once?
Mass querying of keyword data is possible with tools such as KWFinder, SEMRush or ahrefs.
Searchvolume.io is a free variant, with which you can query the search volume of up to 800 keywords at once.
7.5 Which keywords have the highest search volume?
Branded keywords, i.e. keywords with brand or website names, traditionally have the highest search volume.
Why?
Many people prefer to type the name of service on Google rather than the full URL in the address bar.
These are , according to ranking of ahrefs the Top 5 in the United States (July 2019):
facebook (233.100.000)
youtube (195,600,000)
amazon (104,800,000)
gmail (92,530,000)
google (84,920,000)
7.6 How do I best find out the search intention?
By analyzing the top 10 on Google and creating a keyword cluster.
7.7 Is there a recommended WordPress plugin for keyword analysis of a text?
I cannot recommend a specific plugin.
In my opinion, all plugins with integrated keyword analysis for blog articles, be it Yoast SEO, Rank Math or SEO Squirrly, place too much emphasis on a single keyword (the focus keyword).
This means that they are only of limited use for text optimization.