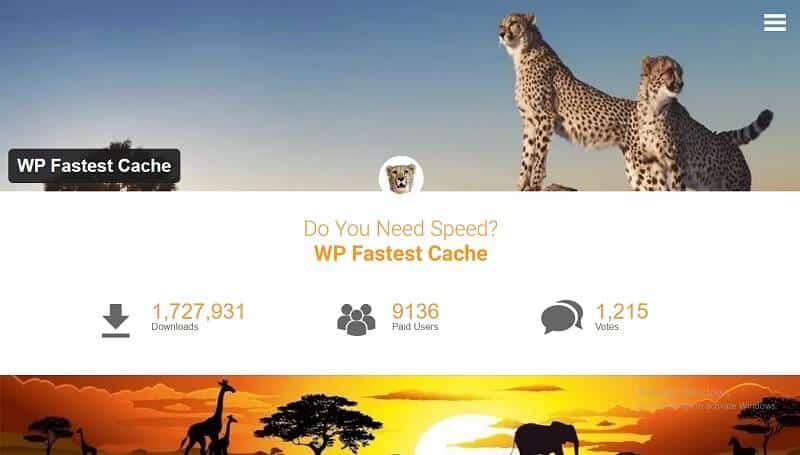 Being well positioned on Google with your website and being findable for the most relevant search queries is an essential part of any online presence.
With the pure expenditure of time and without the direct investment of money, it is possible to make your website prominent on search engines with a good reputation and high-quality content. Search engine optimization or SEO should play a role for every website operator, regardless of whether for information, services or products.
Over 60% of all websites set up with a CMS are based on the WordPress system ( source ).

WordPress is an open-source content management system (CMS), i.e. an open system that can be used free of charge and with which websites can be built without programming knowledge. Due to the high market share and the large communities, SEO has become a broad topic of its own for WordPress site operators. In this article, we will show you how your WordPress site will be better found.
What is SEO
When looking for something on the Internet, be it information, products, or services, it usually starts with a Google search query.
With technical and content-related optimizations on and off your WordPress website, you can position your page specifically on Google and Co. and thus bring relevant visitors to your website.
There are many benefits to optimizing your website for search engines, including the following:
Adequate, relevant rankings mean high chances of high-quality traffic
High visibility in search engines represents quality, seriousness and credibility.
If you're new to SEO, don't worry. With creating a WordPress website, you have already taken a step in the right direction as the platform is well optimized for search engines.
But that doesn't mean that a WordPress website alone gives you an advantage on Google or that good ranking is guaranteed. But there are many beginner-friendly and straightforward ways to give your WordPress site a boost for better visibility. We'll show you.
The SEO basics
For SEO beginners, we would like to start at the very beginning. As already mentioned, SEO, i.e. search engine optimization (from English 'Search Engine Optimization'), is about being easy to find on Google and other search engines. When potential users or customers search for terms that have to do with your company or a product or service, your website is then displayed in the first search results.
Incidentally, SEO is one of the few online marketing channels where relevant visitors can be brought to your website with a pure expenditure of time without direct monetary investment.
Therefore, it makes sense to do SEO in the long term for every company in every industry. Almost every internet user who needs a service, information or product first searches online on Google or another search engine (such as Bing, Ecosia, Duckduckgo and Co.).
With search engine optimization, a directly existing demand can be picked up, and many visitors, users and customers can be won with good visibility and relevant content.
Search engine optimization itself is a continuous process – and not a one-off thing. As a website operator, you should always keep an eye on SEO and your website's visibility on Google and Co. and continuously optimize your website and content.
SEO is often divided into OnPage Optimization and OffPage Optimization (also called OnSite and OffSite).
OnPage optimization is about technical and content-related measures that are implemented on the website itself. A clean website technology helps search engines to recognize, rate and index relevant content better and faster. The source code of a website can also be involved here, so you should always work carefully or directly with professional support. Typical errors in technology are, for example, incorrect or forgotten redirects, irrelevant or empty content that is visible to Google – or long loading times, for example, caused by images that are too large.
Content optimization provides potential users of search engines and their target groups with the most relevant, informative and meaningful content possible. You should put yourself in the seeker's perspective and consider what information he is looking for and accordingly create this content with the help of texts, images, diagrams, infographics, and videos – depending on what makes sense and offers the seeker added value.
Off-page optimization is – surprisingly – about measures outside of your website. The aim here is to use content that links to your website to build and expand trust and reputation with search engines. Mainly these are so-called backlinks, i.e. links within information pages or blog posts on external or third-party pages that refer to your website. Off-page measures can also include links from directories or Google My Business.

Directory entries are an essential part of SEO optimization, especially for local companies.
Essential steps to starting with
Choose the right hoster/website provider.
The hosting provider, i.e. where your website (sometimes domain/web address) is administered on the server-side, can already play a role in successful search engine optimization. The speed, i.e. the loading time of your website, depends, among other things, on the hosting.
A good host server can help ensure that your website has a better loading time and a correspondingly better user experience than a hoster with slow, busy servers due to fast servers and good server infrastructure (modern, location, etc.).
A host that can quickly be booked with an SSL certificate is also a small SEO bonus. SSL encryption (which, in simple terms, ensures the 'https' at the beginning of a domain) is mandatory according to the GDPR depending on the website content and is rated positively by Google. Websites without Https / SSL are even often marked as 'unsafe' in the Google Chrome browser.
If you haven't created your website yet and don't have a hosting provider, you should choose a reliable hosting provider and have a reputation for an excellent performance. You can also consider changing hosts for your existing website if your current provider does not offer the best performance.
Depending on the size and requirements of your website, we can recommend the following providers from our own experience:
– Timme Hosting
– Hetzner
– HostEurope
– All Incl
Choose an SEO-friendly theme.
With WordPress websites, themes are an uncomplicated way of giving your website design to suit your taste. Some pieces offer a vast number of options for many different areas of application at the same time. With some themes, a shop, a forum, a portfolio website, a listing website, a blog or even a company website, all are prepared in one piece. Exactly these 'multi-purpose themes' can be a powerful brake on performance, as there are many possibilities and a lot of content in the background – but you will only use a small part of them. Often there is also a 'page builder,' a kind of modular system for WordPress websites. These should also be used with caution, as they can often do more harm than good to a website's performance.
When you install WordPress as the system for your website, a WordPress standard theme is always active.
There are, therefore, basically three options for you with a WordPress installation:
You work with the standard WordPress theme and leave your website in the classic style.
You can program a WordPress theme that is individually tailored to your wishes and functional requirements.
You acquire a ready-made, modern piece with which you can create a decent website in a relatively short time.
When choosing the theme, as already mentioned, you should always choose a piece about SEO that scores as well as possible in terms of performance. On theme marketplaces such as 'Themeforest,' for example, various themes are marked as fast or SEO-friendly. Make sure that the article is not packed with functions that you don't need at all. With the establishment of a short, modern WordPress theme, a good foundation has already been laid.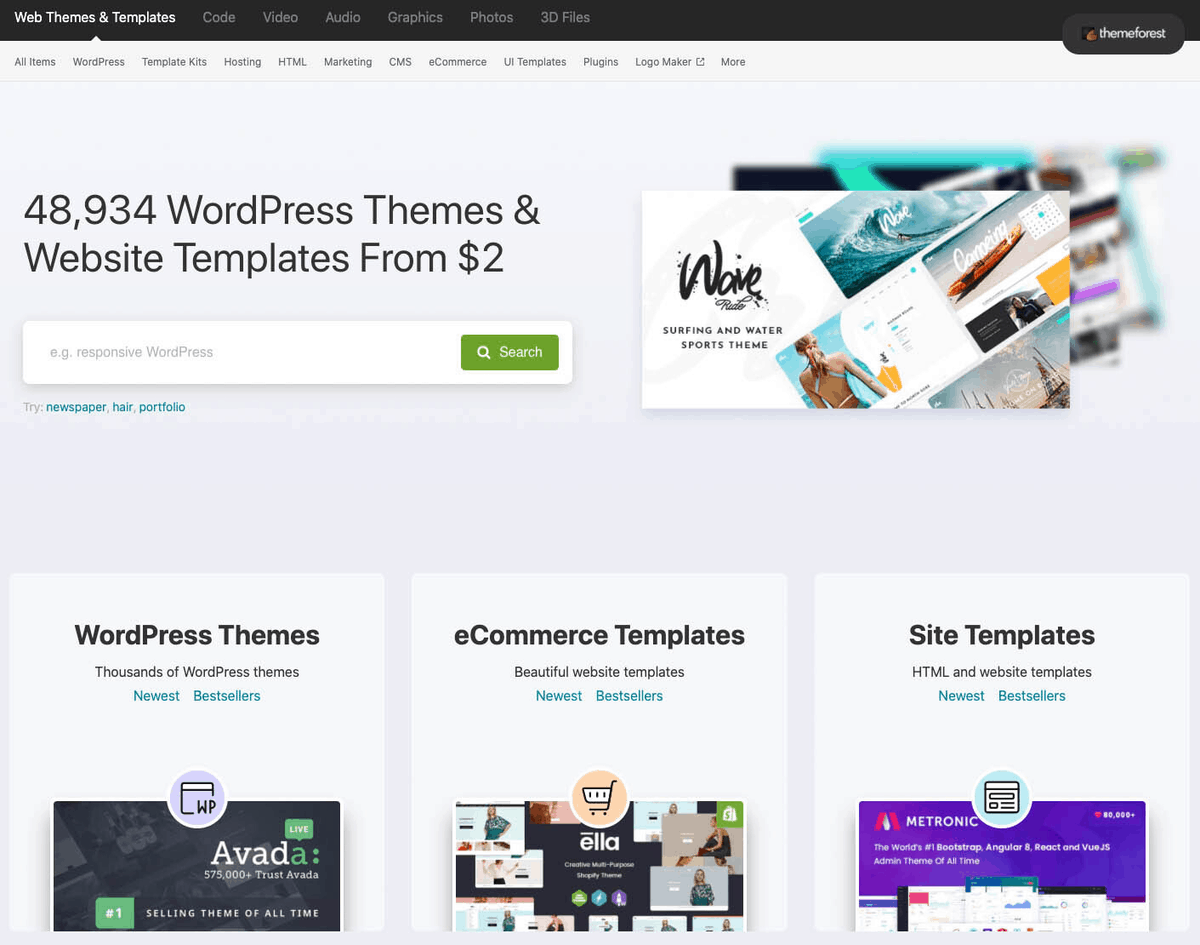 With so-called "child themes," which are often automatically included in purchased themes, you can quickly and safely make technical changes to the theme or source code. When using a child theme, for example, with theme or WordPress updates, no changes or functions such as Google Analytics or Facebook snippets are overwritten.
Technical basics
Before you publish your website and have it indexed by search engines, you should consider various steps that should be taken from the beginning so that your website works as well as possible for users on search engines. Starting with the technical basics via plugins or WordPress extensions to the right content, there is a lot to consider with WordPress in search engine optimization as with any other website.
WordPress address (www or non-www)
Within your WordPress website, you can determine whether your website starts with 'www.' or without 'www.' in front of your domain. The best case for SEO is always only a fixed variant, which is then forwarded to if a user calls up the other variant.
By the way, there is no ranking advantage with 'www.' or without 'www.'. However, depending on the forwarding and subdomain structure, the "www." waived, and thus a forwarding can be saved.
If search engines already index your website, you should not merely make any changes here to avoid a loss of visibility. Changes to the subdomain can have your website completely re-rendered and indexed by search engines so that in between forwarding errors, ranking losses can occur.
If you want to make changes, you should inquire about redirects and indexing complications in forums, which is the best way in your case, or you should contact a professional directly for assistance.
If you are just getting started with your website and it has not yet been published, you must or should determine whether you want to use 'www.' (http://www.example.com) or no 'www.' (http://example.com) in your website URL.
You can make this setting by going to the left main menu in your WordPress backend and calling up the heading 'Settings' and then 'General.'
Add your preferred URL in both the WordPress Address and Website Address fields.
Indexing on Google and Co.
WordPress has a built-in option to block your website from search engines. A single checkmark will set your entire website to 'noindex,' i.e. excluded from indexing on Google and Co. With this option, you can, for example, create a new website, prevent your unfinished website from being unintentionally found by search engines for everyone.
However, this option can sometimes be turned on by mistake and make your website unavailable to search engines.
If you have rebuilt a WordPress site or you notice that you cannot find yourself on Google, the best thing to do is to check this function in the WordPress settings:
Go to 'Settings' in the WordPress backend on the left. -> 'Read'. There you will find the option 'Visibility for Search Engines' in the lower area.
The checkmark next to 'Prevent search engines from indexing this website.' should not be set if you want to make your website discoverable on Google.
WordPress plugins
The CMS WordPress, in its essential functions, covers many possibilities to operate a well-functioning website. With plugins, mostly available for free, these functions can be expanded almost infinitely.
But it would help if you always were careful with this. Independent third parties program plugins are not still compatible with every WordPress installation and can negatively affect your site's security and performance.
The fewer plugins you use, the better.

For various application areas, including successful search engine optimization, you can not do without WordPress plugins with a lack of programming knowledge.
In the following, we will go into a few extensions that can help you relatively quickly, especially about SEO.
Yoast SEO
WordPress is the right solution when it comes to SEO-friendly websites. However, we always recommend installing an SEO plugin, as well. This gives you more control over the optimization in terms of various SEO factors.
In terms of popularity, the free Yoast SEO plugin is a clear winner. There are also alternatives like All In One SEO, which in our personal opinion, are not that easy to use and do not necessarily always offer the best solutions. This is the reason why we decided to mention Yoast SEO in this post. Yoast SEO offers the following functions, among others:
Easy setup of noindex and canonical tags
Page and keyword analysis (which should not be taken too exactly)
Completion of meta descriptions
Automatic XML sitemaps
Breadcrumbs
Social and schema markup function
Yoast SEO can be added classically via the plugin marketplace in the WordPress backend or via a manual installation on its WordPress page. Here, too, you should take a quick look at whether Yoast SEO is compatible with your WordPress version, the site's theme and any other plugins.
When setting up Yoast SEO, the following things should always be observed to avoid mistakes:
Knowledge Graph & schema.org:
You will find the part Knowledge Graph & schema.org under "Representation in the search" under "General" in the Yoast plugin. Here the data should always be filled in and accordingly contain, for example, the company name and the company logo. These data are then transmitted to Google and Co. via the schema.org code snippets and set another signal that the website is the page of the company "XY."
Media & Attachment URLs:
Yoast always advises you to set this function to "Yes." According to our recommendation, this should also be the case.
The function can also be found under "Display in the search" and then under "Media."
Explanation: If you set this function to 'No', images can be called upon two URLs and can be found by Google. The photos could be accessed via the direct URL of the file, for example, and via an additional URL in the website's style and would thus generate duplicate content for Google. They are not punishable, but represent low-quality content and should be avoided.
Relevant XML sitemaps:
If in "General" under "Functions" in the Yoast plugin menu, the XML sitemaps function is set to 'Yes,' an automatic XML sitemap is created. You should always check these, as errors can creep in quickly, depending on the theme and installation.
Use the link in "Functions" to look at the individual XML sitemaps and rate them according to relevance. If irrelevant sitemaps appear here, you can deactivate them under "Display in the search" and then under the respective tabs, i.e. "Content types," "Taxonomies," "Archives," etc. using the "Show XX in the search results" function, by setting to "No" here.
If individual pages are not indexed, they should be de-indexed using the page's function. To do this, go to the respective page in the backend and scroll down to the Yoast editor. Here, under "Advanced," the setting "Allow search engines to display this page in search results?" can be set to "No" and the page receives the meta tag "noindex."
With irrelevant content, you should always ask yourself whether it should be public or active at all. For example, imported sample content from themes should be completely deleted, and test pages or similar should be set to "Draft" or "Private" in the page options.
Of course, there are many other functions at Yoast that are particularly important depending on SEO experience or use case. With the steps, we have described. However, an excellent technical basis has already been created.
Plugins for a better loading time
The loading time of a website is an increasingly important factor for search engine optimization. From the user's perspective alone, a page shouldn't take too long to display relevant content to the viewer. Long loading times can quickly lead to a user bouncing – therefore, you should always keep your website's loading time in focus.
The Page Speed ​​Test from Google always gives you a good overview and a neutral assessment of the loading time of your website:
An essential factor in having a good loading time is the choice of the host and the theme. When making a selection, you should always look for relevant information from the providers that promise a good loading time. But that's not all.
A lot can be done right with properly compressed and formatted images. So you should make sure to keep the file size of the pictures as small as possible without accepting a loss of quality.
Also, the WordPress installation code can be compressed using appropriate plugins, affecting the loading time. Most WordPress themes do not offer an excellent basis for fast loading time, even through page builders. However, with the help of appropriate compression plugins, you can reduce the code and thus make the page faster.
We recommend (currently, there are always new useful plugins in this application area) WP Fastest Cache. On the one hand, the plugin fulfills a caching system's functionality so that users load a pre-saved version of the website for repeated visitors, which is slightly faster.
Also, WP Fastest Cache can compress various data, such as Java scripts, CSS and PHP files in the header and footer area, making a page significantly faster.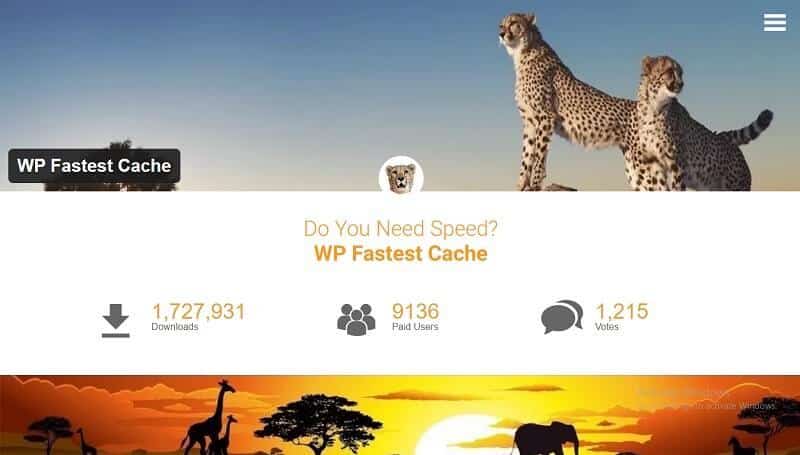 With the loading time settings, always make sure that your WordPress site is still fully functional! The functions of plugins such as WP Fastest Cache sometimes compete with functions of other third-party plugins and themes and can negatively affect the appearance or even the accessibility of websites.
Content
There are hundreds of factors on and off a website that can influence your visibility in search engines. Various of these are technically already covered on a classic WordPress installation. In the following, we will go into a few of the most essential content-related things that you should consider for good rankings.
Meta title
The meta title or page title is one of the most important ranking factors in terms of content. Via the title, which is displayed both in the search result and in the browser, Google can quickly identify and evaluate what content is on a page and search terms it is relevant, similar to a "first look."
So the meta title of the search engine, but of course, the user should give an initial indication of which topic a page is concerned with.
Since the space in the search result title or the browser is limited, a brief description should be used here – 60 to 70 characters are usually sufficient.
If you do not use an explicit SEO plugin with WordPress (which we do not recommend), the page name is automatically displayed as the page title.
When using Yoast SEO, the title can be easily adjusted via the editor in the lower area of ​​the respective page without the page name changing in the WordPress backend. Here Yoast usually gives direct tips for the content and length of the title.
Meta Description
The meta description, also called meta description, is displayed as a description in the search results. Although it has no direct impact on the ranking of a page on Google and Co., it can be decisive for the click rate of your page in the organic search results.
You can use the meta description to draw additional attention to your page in the search results, depending on the content. If, for example, the focus keyword or the matching search query is included in the description, it will be marked in bold in the search results.
Depending on the topic of content, questions can also be included here. Website operators like to use special characters, symbols or emojis for more conspicuousness. It can also pay off for local companies to provide an address, email address, or telephone number to get in touch with a potential customer more quickly.

Similar to the title, the description is limited in its number of characters. Depending on the device and content, the meta description should have between 120 and a maximum of 160 characters.

With WordPress, there is no easy way to add a meta description without additional plugins. You could add the functionality via the theme file – but if you want to do SEO, you can't avoid an SEO plugin like Yoast, which also maps this functionality.

With Yoast, you can add the description, just like the title, via the editor. Here, too, Yoast gives direct tips about content and length.
Headlines
Headings, like the page title, play an essential role and should always be used sensibly about the focus keyword or topic and the user. For SEO relevance, the headings should be formatted according to priority, e.g. in a Word document. As with the meta title, Google can use the headers, especially the first headline, to identify better and evaluate the content or topics a page deals with.
H1 headings should only appear once for a topic/subpage (but do not have to) and describe as briefly as possible, which content is roughly on the page. In terms of SEO, the focus keyword should always be included here.
For intermediate sections etc. there are consequently H2, H3, H4 and also H5 and H6 headings. An H1, therefore, has a higher priority than an H2 and H3 header.
With WordPress, you can either highlight the text and then select the heading directly using the formatting option. You can specify the heading using the HTML editor and the corresponding designation – e.g. <h1> 1. Set heading </h1> for an H1 heading.
The H1 heading should be kept relatively short and ideally not be a whole sentence or have several 100 characters. An H2 or an H3 (also H4, etc.), on the other hand, can be filled a little longer – you are welcome to include questions here to respond to the needs of the user or searcher.
Quality content
On this subject, we can write a whole novel about what high-quality content is and what the best practices are. But we keep the topic a little shorter.
The focus should always be on the user – with the search engine and the focus keyword in mind.
For every topic on a page, you should think about what content the searcher, user or potential customer is looking for and what content also offers him a better user experience with the page.
Should there only be text on the page? Which images, graphics or videos can help answer any further questions the user may have when looking for information, a product or service?
Is the text enough? Does a list of details or advantages make sense? Can relevant references or examples be given to aid the user's understanding?
Questions like these are essential when creating the content to provide the user and Google with the best possible content.
Sometimes it also makes sense to look for inspiration from competitors who rank well on Google for the focus keyword.
Conclusion
You can write a whole novel on the topic of SEO, especially in connection with the CMS WordPress, what you should pay attention to and which best practices should be applied. Depending on the WordPress theme, depending on the plugin usage and depending on the respective website's content and goals, the whole topic can be expanded even more. About SEO, in particular, we have hundreds of factors that can and should be considered for success. This article has tried to cover the most critical technical and content-related things that we recommend. Please look at the paper again, as we will definitely update and expand it again and again. The topic of SEO and the CMS WordPress is continually developing – there are always updates and new tools, plugins and strategies,