Pinterest is one of the most exciting and fastest-growing platforms in the social media sector – often underestimated, but perfect for finding ideas and inspiration. But it can be particularly promising as an additional source of traffic for the websites and online shops of SMEs – provided that the users of the platform can see the corresponding pins. Therefore, search engine optimization is also essential for Pinterest.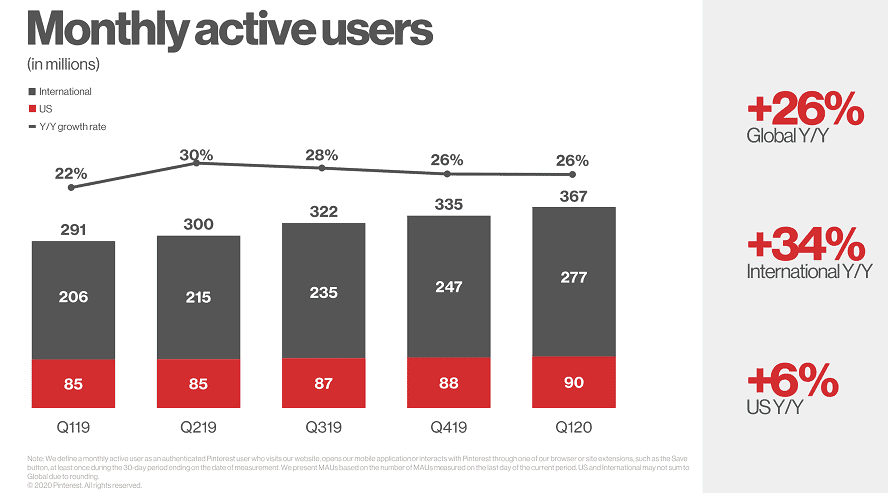 Why You Shouldn't Ignore Pinterest
Pinterest is not to be understood as a conventional social network. As with Instagram, it is primarily about images, but there is much more to it than that. Because behind every picture, behind every pin, there can be an individual link that leads the user to your website, your blog, or an article in your online shop. Basically, on Pinterest, we're dealing with an image search engine. As with other standard search engines, the algorithm (so-called "Smart Feed") can be influenced on Pinterest with a search engine optimization to improve the "ranking" – Pinterest SEO (Search Engine Optimization – Search engine optimization on Pinterest).
In the meantime, of course, there is also the possibility of achieving Pins' visibility with Pinterest Ads. But your reach can also be increased organically. The most important criteria are the website's quality, the pins, the quality of your pin behavior, and relevance for the user. If these are regularly improved and optimized, the chances are not deficient in increasing the traffic to your website, blog, or online shop via Pinterest.
But the criteria already make it clear that optimization for Pinterest should always go hand in hand with optimization of your website, blog, or online shop. The basics of SEO will also help you with Pinterest. But if you look at Pinterest in isolation and disregard what happens on your page after clicking on Pinterest, this can also have consequences for the ranking on the platform. High bounce rates, i.e., a direct jump within a short time, also shows the platform that the content does not meet user expectations after clicking on the pin, and your reach on Pinterest decreases.
So, like Google & Co., Pinterest is about high-quality, user-oriented content – quality over quantity. So you can score points with popular keywords with a new website and reach several interested parties. Nevertheless, a certain regularity of fresh content pays off. If you regularly upload original and high-quality content to Pinterest, this will have a long-term effect on your reach and traffic.
Step 1: Get your Pinterest account ready for SEO
But let's first lay the foundations for your success. You will get the best and, above all, understandable results with a Pinterest company account. You can convert a personal statement into a company account or create a new account. This gives you access to various company functions that also help with branding and tools such as analytics to understand the success of your SEO measures. Legal provisions have also been made, and an imprint link can be stored in the company account.
Once your company account is created, you should verify your website. You will also receive a meta tag (alternatively: HTML code), a code snippet that you save in your website's header. But other profiles and pages such as Instagram, YouTube, Etsy, or Shopify can also be verified and contribute to branding. Pinterest ensures that your logo or profile picture and your name appear on every pin – regardless of whether you created it or another user pinned it to their pinboards from the corresponding profile or page.
Another preparatory step for your success on Pinterest is the use of so-called rich pins. This additional meta tag, which can be built into the website, enables more information on your pin directly from your website. These data are automatically updated if you make changes on the corresponding website to which the pin leads.
Pinterest currently provides three different rich pins: for products, articles/blog posts, and recipes. For an online shop, the rich pin for products is the most interesting because the price, availability, and other product information appear directly on the pin. Rich Pins have to be applied for once and will be activated after about 24 hours.
It becomes clear again how good preparatory work on your website can also contribute to Pinterest's success and reach higher reach and traffic.
Step 2: Keyword Research on Pinterest
Of course, the excellent preparatory work is when you already have an extensive keyword list for your website. This list, which already helps you with your SEO measures, also brings you to the front on Pinterest because keywords are essential here too. Even if the user experience is enormously important, and you should think of the reader first when writing texts and designing photos and pins, keywords are like the secret sauce in SEO that helps others found you. The right words in the right place allow you to find the correct pin in the right place.
Even if a keyword list exists, research on Pinterest can give you another boost. Use the internal search and enter your word or phrase. If you have not yet pressed "Enter," an auto-completion appears similar to other search engines with initial search suggestions for long-tail keywords. This gives you initial indications of what is still being searched for, which search terms have been used with your keyword so far, or which search queries have generally been made.
When you submit your search query with "Enter," colored boxes appear below the navigation and the search field in the best case. The words and phrases listed in the boxes are the most popular search terms combined with your search term, whereby the one with the highest search volume is on the left, which decreases to the right. Get new inspiration, especially for Pinterest here, and record the search suggestions and combinations in a separate keyword list, which you can expand regularly. But also check whether the pins for the keywords also match and whether you want to be found with your content under this search term.


Synonyms and variations of keywords are recommended, but do not use keyword stuffing! What has long been frowned upon by Google and Co. in the SEO area will not be successful on Pinterest either.
Step 3: improve your Pinterest profile.
To push your profile further, use the keywords for your company, your website, or your shop in your Pinterest profile. Not only in the profile description, but also in the account name.
Focus on a descriptive text with the best keywords that you want to be found for, describing your business and you. It is best to regularly check the description because, hopefully, your business will continue to develop, and you should also take this into account on Pinterest. Because the first impression counts. In the 160 characters of the profile description, you can show briefly who you are, what you do, where your focus is, and how you can offer potential followers added value with your pinboards and pins to click the red "Follow" button click. Get your possible target audience interested, but don't overdo it.
Unfortunately, the links in the profile description are not clickable. In my example, this was not taken into account either. If it has to be a link, use a speaking link that a user can easily remember.
Step 4: Create pinboards on Pinterest using your SEO knowledge
Other points where you can optimize and use keywords are the titles and descriptions of the pinboards. Exact names and keywords and a meaningful story offer another way to push your Pinterest ranking profile. Keep the pinboards specific. In any case, use the 500 characters of the description to convince the users, who can only follow one of your pinboards, of your pinboard. Why should they follow this wall? Which pins can the user expect? Keyword stuffing is not promising here either.
Step 5: Design the ideal SEO-optimized pin
The perfect pin draws information about the rich pin functions, mostly from the linked article's meta description. Therefore, the optimization for the pin starts with the item. Enter the appropriate keyword for the post in its SEO title and in the meta description (for WordPress, for example, using an SEO plugin such as Yoast or Rank Math).
Then design your pin in your pin design. A simple picture can work, but Pinterest recommends a "prepared" cork, i.e., an image, a collage, or a system with a text overlay – preferably with recognition value, logo or URL, high-quality photos, and portrait in 2: 3 format ( at least 600 × 900 px, better 1,000 × 1,500 px).
When uploading your pin, where you also enter the URL of the post, you can also add a meaningful pin description. Get to the point in a few words, use strong words and formulate actively, but give the pin enough information with appropriate keywords. The user decides in a few moments for or against a pin in his home feed, in which relevant content is made available for him/her. If the design and description are convincing, then the pin is pinned and clicked, thus gaining reach and generating traffic for you.
Step 6: Use hashtags in the pin description
Hashtags have also been possible on Pinterest since 2017 and, in addition to the keywords, help make your content more visible. Since then, up to 20 hashtags have been possible in the pin description. Only there are they really useful and also clickable. Do you already use a specific hashtag for your company or action on other platforms? Then use it on Pinterest too. Advantage: if the hashtag is already known to your customers or followers, they may also search for your specific hashtag on Pinterest. In the hashtag search, the latest content is then displayed first in the Pinterest search. In contrast to the standard search, which shows relevant and, therefore, older pins. This way, new content can also be strategically pinned and quickly found.
The general rules for the use of hashtags also apply to Pinterest. They should not be generic and not staffed by outsiders.
Questions that you should also ask yourself: Are many pins showing up? Which combinations might be promising? Does the content match my planned pins? Which hashtags does the competition use? Which thematically relevant hashtags appear frequently? Ultimately, the hashtags used should be relevant and descriptive. Here too, less is more. The maximum number of 20 should perhaps not always be maxed out, because Pinterest does not consider it useful to string them together like on Instagram. So describe your pin meaningfully with relevant keywords and add 5-10 hashtags at the end. Use the most important hashtags first. Hashtags within the text disrupt the reading flow and are of little use because a hashtag does not replace a keyword. Both should complement each other because keywords are still required for regular search queries. In combining keywords and hashtags, you enable your pins to have a greater reach and a more suitable display through the algorithm.
Step 7: Strategically pinning – using pinboards sensibly
The better your pin and its keyword fit a pinboard, the better. So it's best to always pin your pin on the most relevant and specific pinboards first. Ideally, the pinboards should also have the matching keyword for the pin in their name and description. So pin from specific to generic. With the first pinboard on which the pin lands, you give Pinterest and the "Smart Feed" (algorithm) an indication of your new pin's context and help display it to the appropriate users.
Step 8: Prepare your website for other pinners.
Do you have active readers who are also active on Pinterest? Then help with a few tricks to provide your content in a Pinterest-optimized way on your website. This way, you can ensure that the images and texts with your keywords and hashtags are shared as you wish.
Since Pinterest is a visual search engine, it makes sense to name the alt text's images. But that's where the dog is buried! The alt text is intended to provide additional information about the image, a description so that search engines can interpret the image, and a story can be read out to people with impaired vision. Pinterest, on the other hand, is about the description of the content behind the pin. Therefore, a good alt text with meaningful keywords helps to be found more easily in Google's image search. But then it is not very useful for Pinterest.
A solution can be special Pinterest plugins (for WordPress ). A unique Pinterest description can be assigned to each image in a post, or even photos can be excluded from pinning. Usually, a prepared pin graphic with a text overlay can also be stored as a hidden image that only appears in the "To be pinned" overview. Another possibility is to use the data pin description, which is added to the HTML view.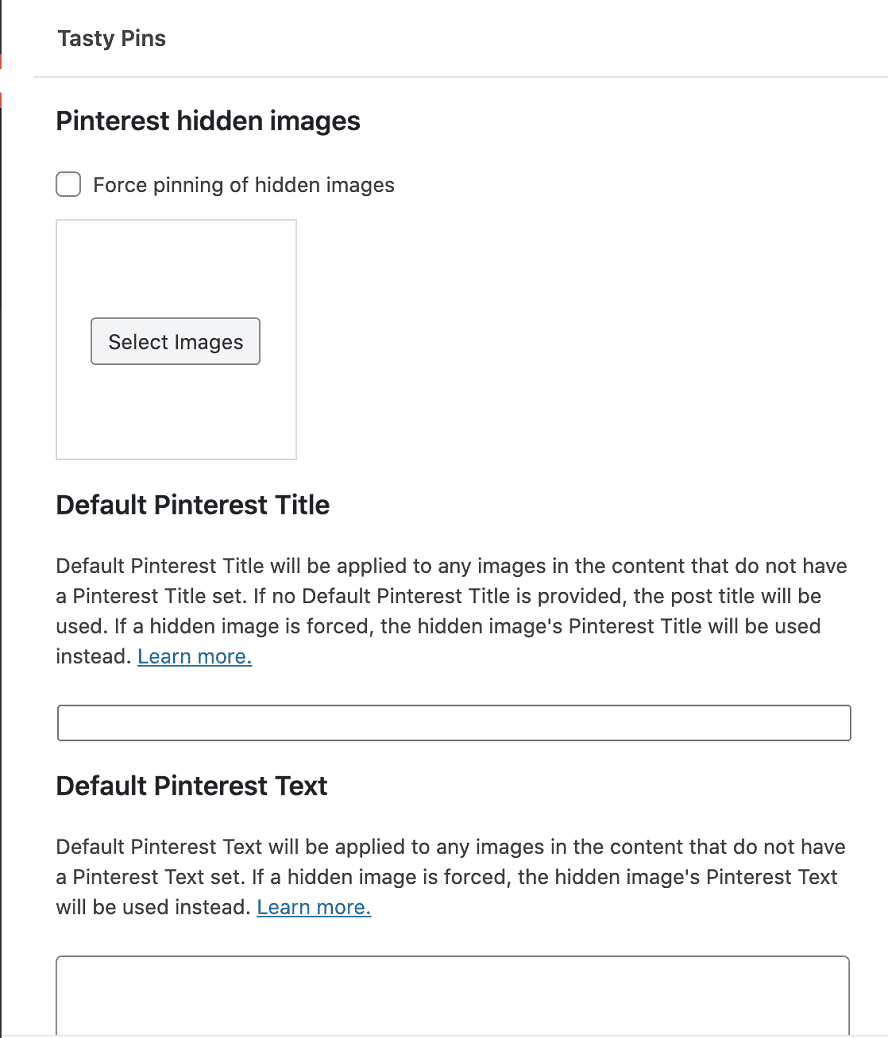 But even with the standard on-page SEO measures, you can prepare your website well on Pinterest. An article that ranks well and is optimized for other search engines also has a good chance of being found and clicked on Pinterest. The SEO title and meta description, as described above on the pin, are a good start. Also, there is a suitable URL with the corresponding keyword, which is easy to remember. Meaningful file names and alt texts of images also help Pinterest classify your content better and assess its quality and relevance.
The final key to happiness
If you have taken all the tips to heart and uploaded an appealing, high-click pin design with recognition value on your website and Pinterest, nothing stands in the way of your success on Pinterest! Now it's time to stay on the ball and check and optimize regularly. There is always something to do!