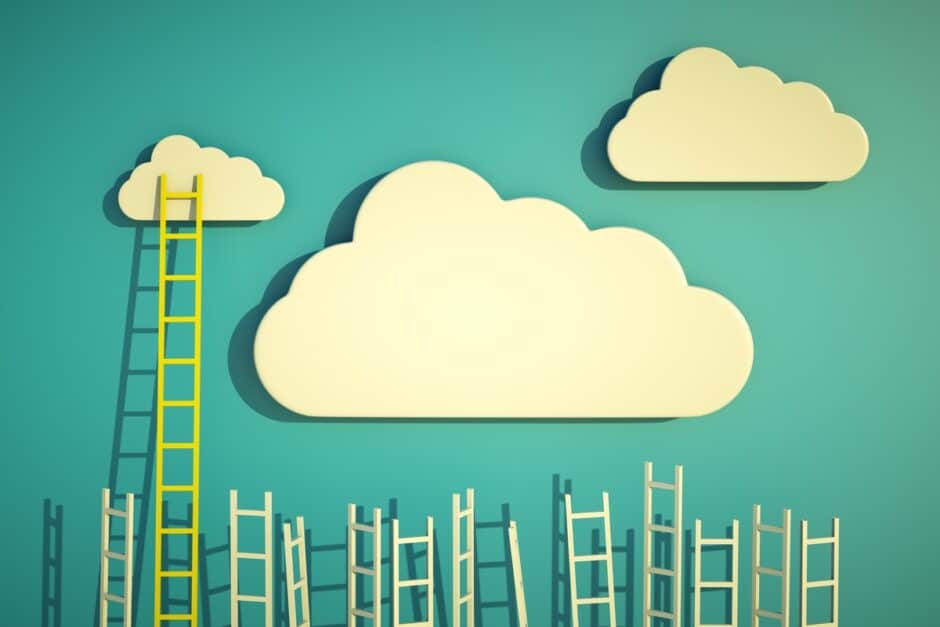 How do I win new customers for my company cost-effectively, quickly and sustainably? This is the question every marketer or manager asks himself. The answer to this is often "growth hacking."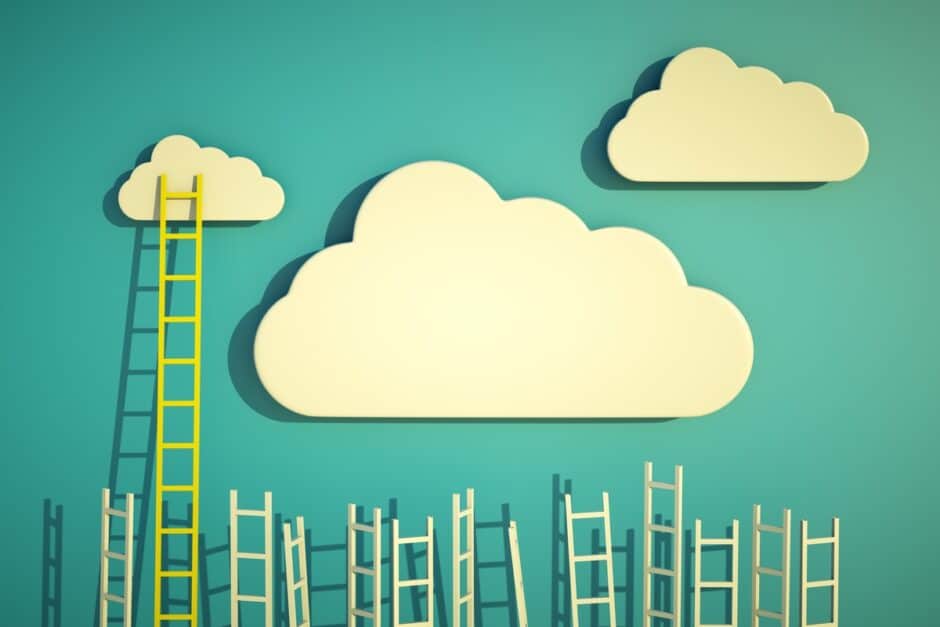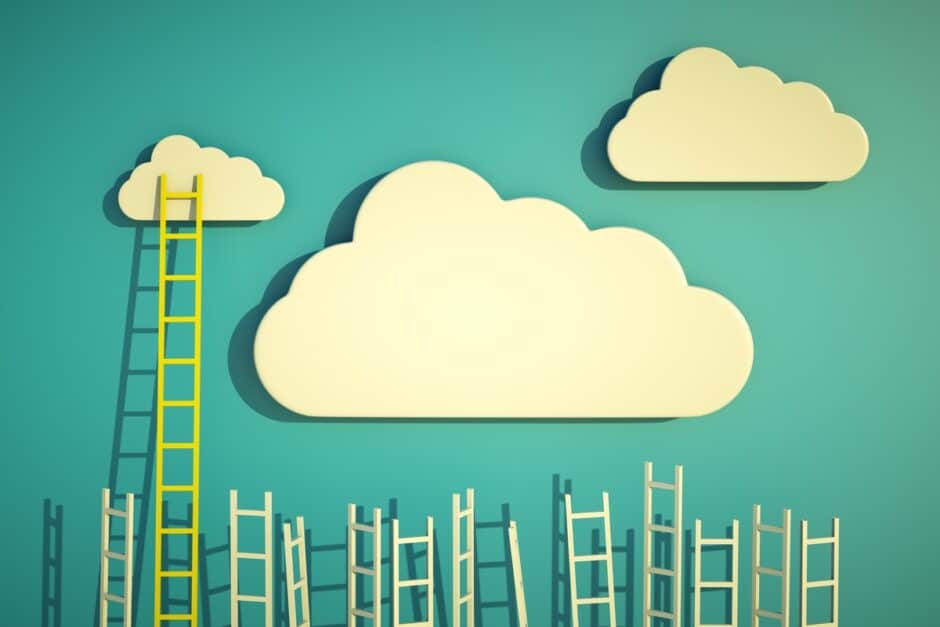 What is growth hacking?
Growth hacking, also known as growth marketing in German, is an interdisciplinary mix of marketing, data analysis, and development that is designed to help a company grow. To achieve this, specific tactics, so-called "hacks", are used within growth hacking.
The goals of growth hacking include, in particular, effectively winning customers and retaining them over the long term. The aim is to increase the company's conversions and sales and to qualify the customers acquired in this way to become repeat buyers.
The focus of a growth hacker's work is to minimize costs. As I will show below, a particularly analytical and data-driven way of working is crucial with this marketing technique.
Due to the growth-oriented and at the same time cost-efficient approach, growth hacking is also suitable for startups and other small organizations that are looking for a budget-efficient and scalable approach.
Origins of Growth Hacking: Hotmail and Sean Ellis
The history of growth hacking began in 1996 when the Hotmail email service was launched. Back then, it was one of the few providers who made its service available free of charge. The first known growth hack in history is its tactic to win new users.
At the end of every email sent with Hotmail, a small snippet of text said:
"PS: I love you. Get your free email at Hotmail. "
Thanks to this snippet, Hotmail had 1 million users after just six months and 2 million only five weeks later. This enormous growth at the time can, of course, be explained by the free service. On the other hand, because of the growth hack used, every Hotmail user automatically turned into a free brand ambassador – directly when sending their emails.
Sean Ellis is considered to be the founder of the term growth hacking. As Marketing Manager, Ellis supported several startups in Silicon Valley. He recognized the high investment costs and the top speed, for example, with the product launch, as a problem.
For this reason, Sean Ellis was looking for a way to increase the growth of his supervised startups within the shortest possible time and, at the same time, use the lowest possible marketing budget. The solution developed by Ellis was a combination of creative marketing measures, intensive web analysis, and the automation of processes.
His method's unique thing was the smaller steps within the product launch, which were repeated and optimized until the first successes were achieved.
The skills required for this approach go beyond those of an online marketer at the time. In search of suitable employees, Ellis, therefore, invented the job title "Growth Hacker."
Difference Between Growth Hacking and Traditional Marketing
Both growth hacking and traditional marketing try to convince more people of a company's products and services.
In traditional marketing, however, many measures focus exclusively on the sale of products and services.
On the other hand, growth hacking takes a holistic approach: The focus is not just on sales, but on the entire company growth. In growth hacking, all contact points between potential customers and the company are considered as possible communication channels.
Growth hacking takes a holistic approach: The focus is not only on sales but on the entire company growth.
That is why growth hackers are often involved in product development or user tests and their work in marketing. In this way, they not only market finished products, but also support the company in developing the products with a view to customer requirements.
Data is essential for growth hackers to validate and optimize the techniques used within the shortest possible time. In this way, the most effective measures are always determined to achieve growth targets.
This is where the most significant difference to traditional marketing lies: the budget. In growth hacking, the focus is always on the lowest possible use of resources and budget.
Advantages of growth hacking at a glance:
holistic approach
verifiable return on investment
low cost
low resources
The growth funnel
The best-known framework for growth hacking is the AARRR framework, also known as "Pirate Metrics". AARRR stands for the five steps of the customer lifecycle:
Acquisition (attract new prospects)
Activation (gain specific leads from interested parties)
Revenue (generate sales from leads)
Retention (turning existing customers into regular customers)
Referral (encourage regular customers to win new customers)
In the following, I will introduce you to this "growth funnel" in more detail and give you practical tips on suitable channels within the funnel levels.
1.Acquisition
As part of user acquisition, you want to generate more traffic for your company's website or app with the lowest possible budget. The goal here is to create only relevant traffic consisting of potential customers.
Both "pull measures" such as search engine optimization and organic social media marketing and "push measures" such as search engine advertising and social media advertising are suitable for the acquisition of website visitors.
Let's take a closer look at this:
Search engine optimization (SEO)
Search engine optimization refers to all measures that serve to place a website and its content as high as possible within the corresponding organic search results.
SEO is a long-term process, which is particularly suitable as a growth hacking measure due to its comparatively low costs: the traffic generated by search engine optimization is significantly cheaper than the traffic from Facebook and Google ads.
Search engine optimization includes on-page and off-page optimization (technical SEO) as well as content marketing.
A growth hack to generate more backlinks (off-page SEO) for your site is to participate in discussions in blogs and forums. Subject-relevant content can be linked within the comment function of this website. In this way, the corresponding page receives more backlinks and consequently ranks better within the search results. Also, the site gets more traffic because users of the forums and blogs become aware of their own company.
A well-known growth hacking tactic in ​​content marketing is distributing your content, such as blog articles, within social media. In addition to organic distribution via your own social media profile, publication in Facebook and LinkedIn groups is also suitable.
Social media marketing
Organic social media marketing tries to get more users interested in one'stheir own social media channels or websites without using paid advertisements.
For example, a hack for building a community on Facebook and Instagram is a competition. The prospect of a win, such as a free product, encourages potential customers to interact with the company. If companies promote sharing content or posting their pictures and videos, they can increase their awareness and attract more potential customers to themselves.
In this context, cooperation with influencers within one's segment who address the same target group as the company can be desirable. Collaboration with micro-influencers is particularly promising, as the expenses for this cooperation are often lower, and the respective community is more active.
Social media advertising
Social media advertising is often used within growth hacking to acquire interested parties. There are numerous suitable social media channels for companies. In addition to the popular networks such as Facebook and Instagram, platforms such as Pinterest, LinkedIn, or TikTok can also be offered for many companies – depending on which target group they aim for.
The significant advantage of advertising within social media is precise targeting. This enables you to address potential customers efficiently in the shortest possible time. On Facebook, for example, you can create "Lookalike Audiences" as a target group: For this purpose, potential customers are addressed who have the same characteristics as, for example, their website visitors or buyers. (However, the complex problems of data protection in such activities cannot be discussed in this article.)
Search engine advertising
Another way to generate more traffic for your website is search engine advertising (SEA). Advertising within the Google network includes, for example, search ads and display ads.
Display ads are placed on relevant websites by advertising partners whose visitors match the company's target group. Advertisers only pay when a user interacts with the ad.
Search ads are also ideal for use within growth hacking. The reason is relevance: Search ads are only shown to users who are already actively looking for the right products or services. For this purpose, relevant keywords are offered.
2.Activation
During the growth funnel's activation phase, the goal is to convert the website traffic gained through the acquisition into leads. Leads are prospects who leave their contact information, such as their email address.
There are various ways of activating interested parties within growth hacking. A user-friendly and mobile-optimized landing page or website is crucial here. The respective side must meet the expectations that the user has built up during the acquisition.
To create the ideal landing page, A / B testing is particularly frequent in growth hacking. This enables you to determine which images, texts, and call-to-action buttons appeal to the respective target group. 
Another hack is the use of "lead magnets": These are offered to interested parties in exchange for their contact information. Examples of lead magnets are free e-books, webinars or infographics. (You can also find out here in what form this is permitted with a view to data protection.)
With the help of the information collected, such as an email address, you can then address these leads again and get them excited about your products or services.
3.Revenue
After activating the users for leads, the revenue phase follows. In this growth funnel step, the activated traffic is monetized, i.e., encouraged to buy the product or service.
Well-known hacks for the revenue phase are tiered prices, time limits, and shortages. But guarantees and discounts also help convince users to buy.
The visualization of a timer or the display "10 other people are also looking at this product at the moment" are well-known growth hacks that encourage users to quickly decide on a product before it is possibly no longer available. See the example of Booking.com below.
Another tactic to get more sales is through discounts. If the user is about to leave the website, you can include pop-ups ("Exit Intents") that give the user, for example, a 20% discount on their purchase if the person makes it within the next 10 minutes.
In the revenue phase, the user-friendliness of the payment process is particularly crucial. This includes offering different payment and shipping options so that potential customers complete the buying process.
4.Retention
After purchasing a product or service, a customer is in the retention phase. The goal within this step is efficient and long-term customer loyalty to develop buyers into regular customers.
Email marketing is particularly suitable for sustainable customer loyalty within growth hacking. You can approach existing customers again at low cost and often even entirely automatically and encourage them to make further purchases.
Retargeting via the Google Display Network or social media are also suitable for establishing regular customers. Addressing buyers again is particularly budget-efficient because they already know the brand.
Growth hackers often use psychological tricks in connection with terminations, such as a premium account or a subscription. These include, for example, showing the disadvantages of separation or offering further options. In this way, the customer's termination is to be prevented since the acquisition of new customers is significantly more expensive than looking after existing customers. See again the example of Audible below.
5.Referral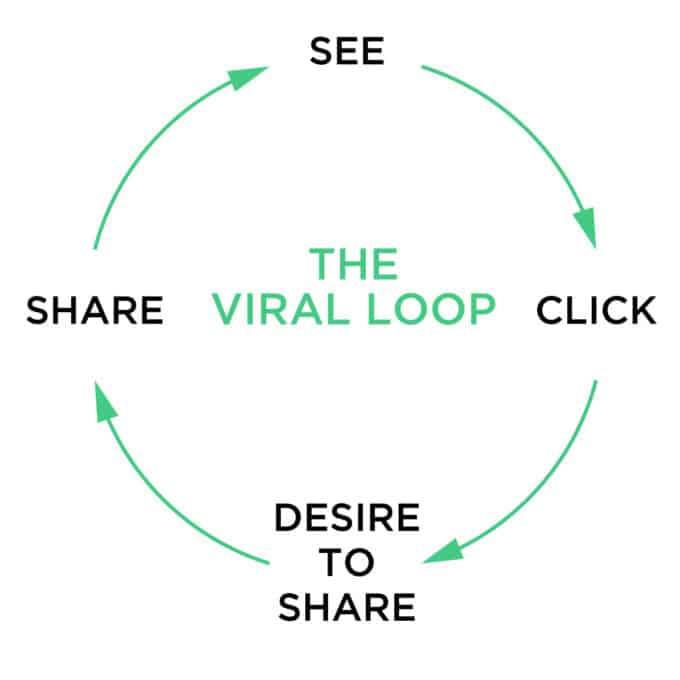 For companies, it is particularly cost-effective to acquire customers by recommending other customers. Here buyers can advertise a product, a service, or the company in general, both consciously and unconsciously.
To achieve this, social sharing buttons on the website or to actively encourage sharing your content are particularly suitable.
So that customers can acquire their friends and acquaintances as new buyers, many companies lure them with an advantage, such as a discount or a free product.
The aim is always to get the "viral loop" shown above in motion.
Note
The sample hacks listed here should only be taken as suggestions. Which ones are suitable for you depends on many factors such as the target group or your industry. Also, the world is continually evolving: What worked yesterday may already be out of date today. You must develop your ideas, try them out, and learn from the results.
The growth hacking process
The unique feature of growth hacking is how you implement measures and evaluate them using valid data. In this way, you can quickly identify successful tactics and optimize them continuously.
The growth hacking process begins with analyzing the current situation and the generation of ideas associated with it. Here you create hypotheses that you would like to test during the test phase.
Since growth marketing is particularly analytical and data-driven, suitable key performance indicators (KPIs) are essential and detailed tracking to evaluate the measures.
This is followed by further detailed analysis and evaluation of the data obtained. Based on this, a new generation of ideas for further tests so that the process starts from the beginning – until the ideal measures are found.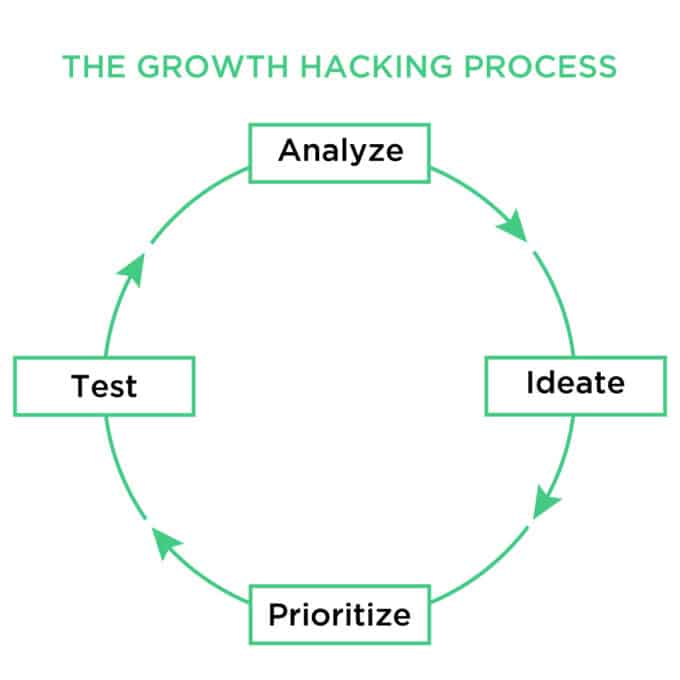 The five growth hacking principles
Five principles within growth hacking have a decisive impact on how this marketing technique works.
1.Experimental
Growth marketing is characterized by tests to collect valid data. Growth hackers use various experiments to determine which measures have the most significant effects on the company's growth.
A / B tests that provide information about user behavior, such as product, website, or ad changes, are particularly important.
2.Iterative
Iterative tests, i.e., repetitive tests, are typical within growth hacking. To do this, you evaluate experiments, eliminate possible weaknesses, and determine the measures' strengths. With the help of these findings, further tests are carried out until the rules are optimized about the goals.
3.speed
Another principle of this marketing technique is speed. The more experiments a growth hacker carries out; the more data is available for analysis. In this way, more qualitative evaluations can be made, and targeted measures can be taken.
4.North Star Metric
Within growth hacking, a North Star Metric ("North Star Metric") is selected as a critical metric for sustainable growth. For example, Facebook's North Star Metric is the number of daily active users. Concentrating on one metric and optimizing all measures on it helps to achieve your own growth goals.
5.Aha moment
The aha moment describes a point in which a user recognizes the value of the respective product or service and decides to buy or use the product. Facebook's For example, aha moment is when a user has added seven friends to their list within ten days. Afterward, there is a high probability that this person will continue to use Facebook. The aha moment is again determined through tests.
Examples: 3 Successful Growth Hacks
Numerous companies have already achieved their goals thanks to successful growth hacks. Finally, I would like to introduce three of the most famous hacks for you briefly.
The referral bonus from PayPal and Dropbox
Paypal used a clever hack right from the start to win new users. Cheaply: The startup animated users already won to inspire new users for Paypal. For referring a new user, both the advertiser and the new user received 10 US dollars each. On the one hand, the number of Paypal users increased immensely, and, on the other hand, the customer loyalty of existing users increased.
Dropbox is still using such a growth hack today: the referring user receives more free storage space as a thank you for their recommendation.
Scarcity hack from Booking.com
To persuade users to buy something in the revenue phase, sites like the hotel platform Booking.com use one of the most tried and tested growth hacks of all: With the help of small psychological tricks, the fear of missing something is to be stimulated. For this purpose, texts are inserted within the online shop, such as: "Currently another 10 people are viewing this offer", "Almost out of stock," or "Only 3 items in stock". These are intended to encourage users to decide on the product as quickly as possible.
Audibles alternative suggestions for terminations
The audiobook provider Audible uses a particularly useful hack within the retention phase of the growth funnel. The goal of this trick is to get customers to stay who want to cancel their membership. To achieve this, Audible is offering users a discount on their existing membership or pausing their subscription as an alternative. In this way, an attempt is made to retain existing customers to avoid the mostly higher costs of new customer acquisition and to increase customer lifetime value.
Closing word
As described at the beginning, "growth hacking" is the attempt to achieve one's own goals with as little financial means as possible and continuously measure one's success and learn from it. It's not just about sales: Growth hacking ideally starts when you are developing your products and offers. This approach is particularly suitable for startups, but as Dropbox shows, it can also be interesting for established companies.