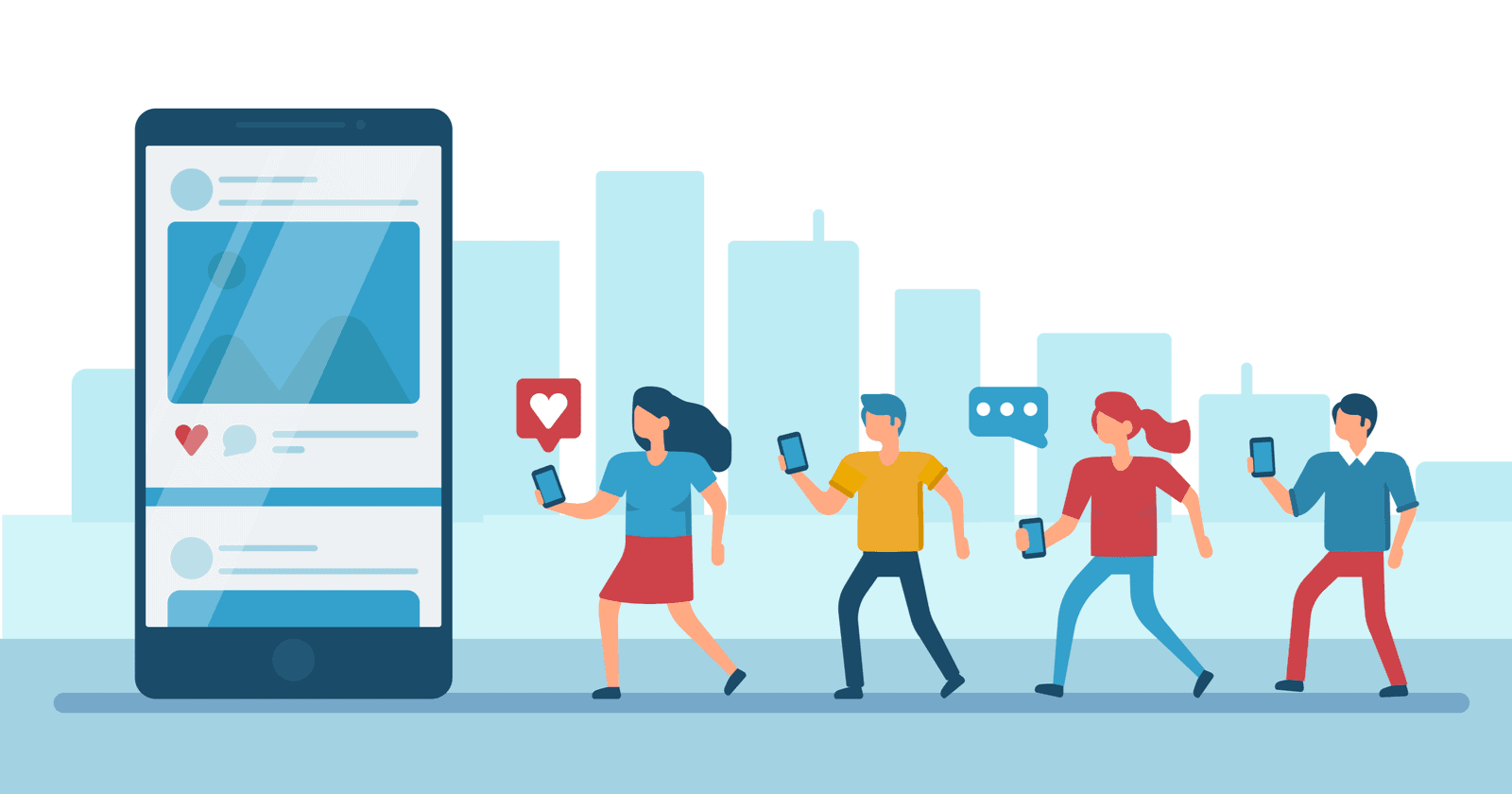 What is social media content anyway?
Social media content is all the content that a company or a private person shares on one of the numerous social networks. The content can be a wide variety of content types – no matter whether photo, text, or video, almost anything can be shared. In the meantime, social media have even developed into a real source of information. The purpose of social media is changing: In the past, Facebook and Co. were mainly used for communication and to tell friends and acquaintances what is happening in their own lives. Today news and news from around the world sourced via social media instead of newspapers or television. Social media content is, therefore, a substitute source that provides information. This is interesting for companies, so social networks should be part of the marketing strategy. However, content for the sake of content does not bring you anything. As with any content type, you mustn't publish content indiscriminately. They have to be tailored to the target group and deliver added value to your followers.
What makes social media content so unique?
The exciting thing about social media is the interactions on which your profile lives. Likes and comments allow users to communicate how well they find their content accurately. So you get immediate feedback from your followers. Also, the material can be shared very easily. This increases the reach and, at best, leads to a real viral trend. Sharing can be compared to word of mouth. A user thereby recommends content to all people with whom he is networked since the content he shares is played out in their feed. You can then like or share them again and continue to spread on their network. With social media content, you give yourself and your company the opportunity to interact face to face, if only virtually, with your followers. Social platforms are, therefore, a communication channel that should not be underestimated.
What social media platforms are there?
There are a variety of social media services. Depending on the platform, however, they pursue different goals or address different target groups. The social media prism gives you an insight into the broad mass of possible channels. You can also see a rough outline of all the services here. You will find platforms that you might not have classified as social media at first – Evernote or FAZ.net. Then there are the classics that everyone is familiar with, such as Facebook, Instagram, Twitter, or LinkedIn.
As you can see, pretty much every area of ​​your life has the opportunity to become part of a social media platform. Be it sport, food, travel, music or work and work – there are no limits. But of course, not all services are perfect for using them for your company. In the following, you will be introduced to some of the best-known and best-functioning social media channels that have now become established in marketing strategies.
Facebook
Facebook is probably known to everyone. The social platform has existed in the form as we know it today since 2004. However, a lot has happened in recent years. In terms of design, the platform has evolved, and there is more: Facebook bought not only the Instagram platform (in 2012) and the WhatsApp messenger service (in 2014). With all three apps, Facebook Inc. has a total of almost 3 billion users and is present worldwide. 1.7 billion users are active on Facebook alone every day. The community is mixed. While in the past, it was mostly young people on the platform, people with over 60 are now becoming more active members.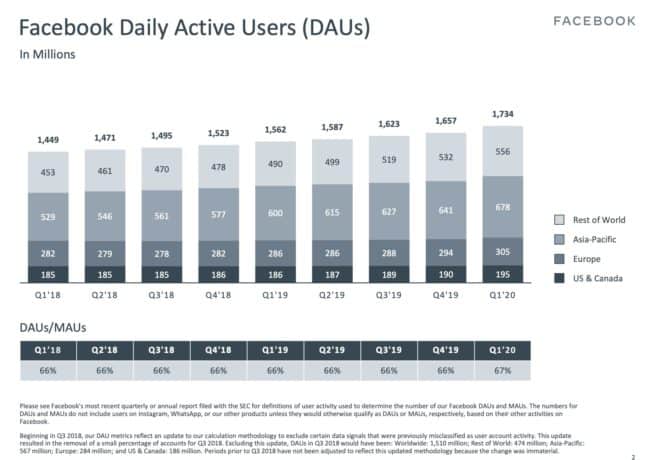 Facebook also acquired the Giphy service in 2020, expanding its range again. Giphy is an online database that contains GIFs and animated stickers. The service should mainly be integrated on Instagram since users there like to use GIFs in their stories.
Facebook is primarily a platform for private contacts but is also increasingly developing into a platform for companies. Recently there have been Facebook shops, for example, that enable companies to sell via Facebook. The social media channel also serves as a digital company presence. Companies can keep followers up to date and provide background information. You can present yourself more personally and give your company a face. In this way, they increase their transparency and trustworthiness and also contribute to the brand image. In particular, campaigns that should quickly reach many users, such as sales or the like, can be rapidly spread by the broad community on Facebook.
Instagram
Instagram was founded in 2010 and is a mixture of microblog an audio-visual platform. In 2012, the social media service was taken over by Facebook. The network now has 1 billion users worldwide. The basic idea of ​​Instagram is the distribution of visual content, i.e., images and videos loaded into the news feed of the users. The news feed shows you the activities and postings of all pages that you follow on Instagram. With alike of the page, you also activate its status updates. The "Stories" function has also been available since 2016. Images and videos are often combined with text and displayed in a slideshow. Story posts are not played in the regular Instagram feed and, unlike usual posts, automatically disappear after 24 hours.
Since 2016 there has also been the possibility of using the social network commercially. You can convert your profile into a business profile (the so-called "business account"). The advantage of this type of account is that you can gain more in-depth insight into your followers' behavior. Instagram offers you particular statistics for this, and you can also use your profile for advertising to reach users who are not yet following you. Additional functions, such as the optical shop window, have been available since 2018. You can mark products on your pictures and direct your users directly to your online shop. Since 2020, the newly launched Facebook shops have also been available on Instagram.
The primary audience of Instagram is female, and between 14 and 29 years old. Instagram is often used as a type of business card to provide interested users with more information about the company and behind-the-scenes insights.
Twitter
Twitter is a microblogging service that has been around since 2006. The platform quickly became very popular all over the world, because it provides information that is spot on. So it's more about efficient information transfer than beautiful pictures and videos. For this purpose, people and companies publish so-called tweets, i.e., short messages that are shared with their followers. Hashtags, links, images, locations, and references to other profiles can be inserted within a tweet. However, everything is limited to a maximum length of 280 Unicode characters. The published messages can then be "retweeted," i.e., shared.
Twitter has 166 million daily active users worldwide. Donald Trump is one of the largest and best-known users of tweets. He uses the service extensively to spread the news. Similar to the other social networks, the platform offers the opportunity to place Twitter ads. Men around the age of 25-44 more dominate the Twitter community.
YouTube
The video portal YouTube was founded in 2005. The platform is now the second-largest social media service in the world. 2 billion monthly active users watch more than a billion hours of videos worldwide every day. The video portal has been a subsidiary of Google since 2006 and therefore benefits from its expertise. You can use your Google Ads account, for example, to create YouTube Ads, which are then also played on the Google partner network. The increase in young YouTube users is striking. Most community users are between 16 and 29 years old. Nevertheless, YouTube is a platform for all ages.
Pinterest
Pinterest was founded in 2010 and currently has 367 million active users. This platform is also heavily based on visual content and is a kind of visual search engine for ideas. The uploaded images and videos can be saved on your pinboard using a "pin". You could also see the network as a kind of virtual mood board for a wide variety of topics. The main thing is to discover new things and get inspiration. By linking the images, users can also be directed to external websites with one click.
Snapchat
Snapchat is a photo, video, and text messenger founded in 2011. Unlike what you might know from WhatsApp or Facebook Messenger, users here talk almost exclusively about pictures. Another significant difference is that images can be viewed a maximum of two times before they finally disappear. In addition to sending photos and messages in the chat, you can upload stories, similar to Instagram. These are displayed to all followers by you and are automatically deleted after 24 hours. The network now has 229 million users (April 2020), which has grown by 39 million users since 2019. The service mainly appeals to younger people. Over half of all users are aged between 16 and 26 years. This service is therefore very suitable, for example, for the search for trainees.
You can use the platform to distribute sponsored content and place ads. As an extraordinary form of content, you can create sponsored geo-filters and sponsored lenses. These are filters that you can lay over the picture taken and thus humorously incorporate your products.
TikTok
The latest hype is called TikTok. The app has only been around since 2016 and is, therefore, one of the youngest social media platforms. She has been the successor of musical.ly since 2018 and comes from Asia. Similar to Snapchat, the platform addresses the young audience. It lives from short clips recorded for a specific song or audio and then pimped up with special effects or filters. While the music is playing in the background, the users record a suitable video that can be a maximum of 60 seconds long. With the help of challenges such as the "Wipe Challenge," you can go viral.
Since TikTok is still very young, it is not yet possible to advertise in all countries.
LinkedIn
LinkedIn is a professional network and was founded in 2003. It has been part of Microsoft since 2016. The purpose of the platform is to establish and maintain business contacts. With the help of a profile, you can network with colleagues and business partners you already know, as well as with people from the industry who are still unknown to you, or with users from outside the industry. For this reason, the community is slightly older. Almost 90% of LinkedIn users are divided into the age groups 35-49 and over 50.
The function with which you can publish technical articles is particularly impressive. You can add this to your profile and thus highlight your expertise on specific topics. In this way, you also upgrade your profile and increase the interaction of your followers with your content.
You can also create a profile for your company. This enables interested users to connect with you and also follow your company news.
Xing
Like LinkedIn, Xing focuses on career and career. As a result, the users of the platform are mainly aged between 30 and 69. More than half of them have a high school diploma or a university degree. Another third holds a management position. Unlike its direct competitor, the service specializes in German-speaking countries and is therefore hardly international. The functionality of this platform is similar to that of LinkedIn. However, the feature to publish specialist articles is missing here.
Whatsapp
The messenger service WhatsApp may not be classified in the social networks at first. Nevertheless, it is officially included. The focus is clearly on private communication, but WhatsApp is also enjoying growing popularity among companies. They often use chat service for customer service. For this, there is a separate version, "WhatsApp Business," which is specifically geared to companies' needs. Selling via WhatsApp is, however, currently still critical from a legal point of view, and advertising should not be placed for the time being.
B2B in the social media sector – which platforms are best suited?
If you want to address your customers as a B2C company, you can access any social media platform. They are all very suitable for this since they are all aimed at private individuals. However, the individual platforms differ depending on the target group, so you should carefully consider which of the social media channels you rely on.
However, not all are suitable for companies with a B2B focus. The best networks that you can use to address your target group are:
Facebook
Instagram
LinkedIn
Xing
YouTube
Twitter
But not only these platforms can be valuable for your company. It would help if you always considered the best way to reach your target group is. Depending on the industry and target group, individual platforms can be found. If you are active in the gaming sector, for example, you should also have a look at Twitch. If you want to target busy, sporty people as a sports brand, Runtastic is again a service that you should consider. So, take the chance of this vast selection and use a tailored platform to your users. At best, expand your marketing measures by more than just the classic social media services.
How To: Develop a Social Media Content Strategy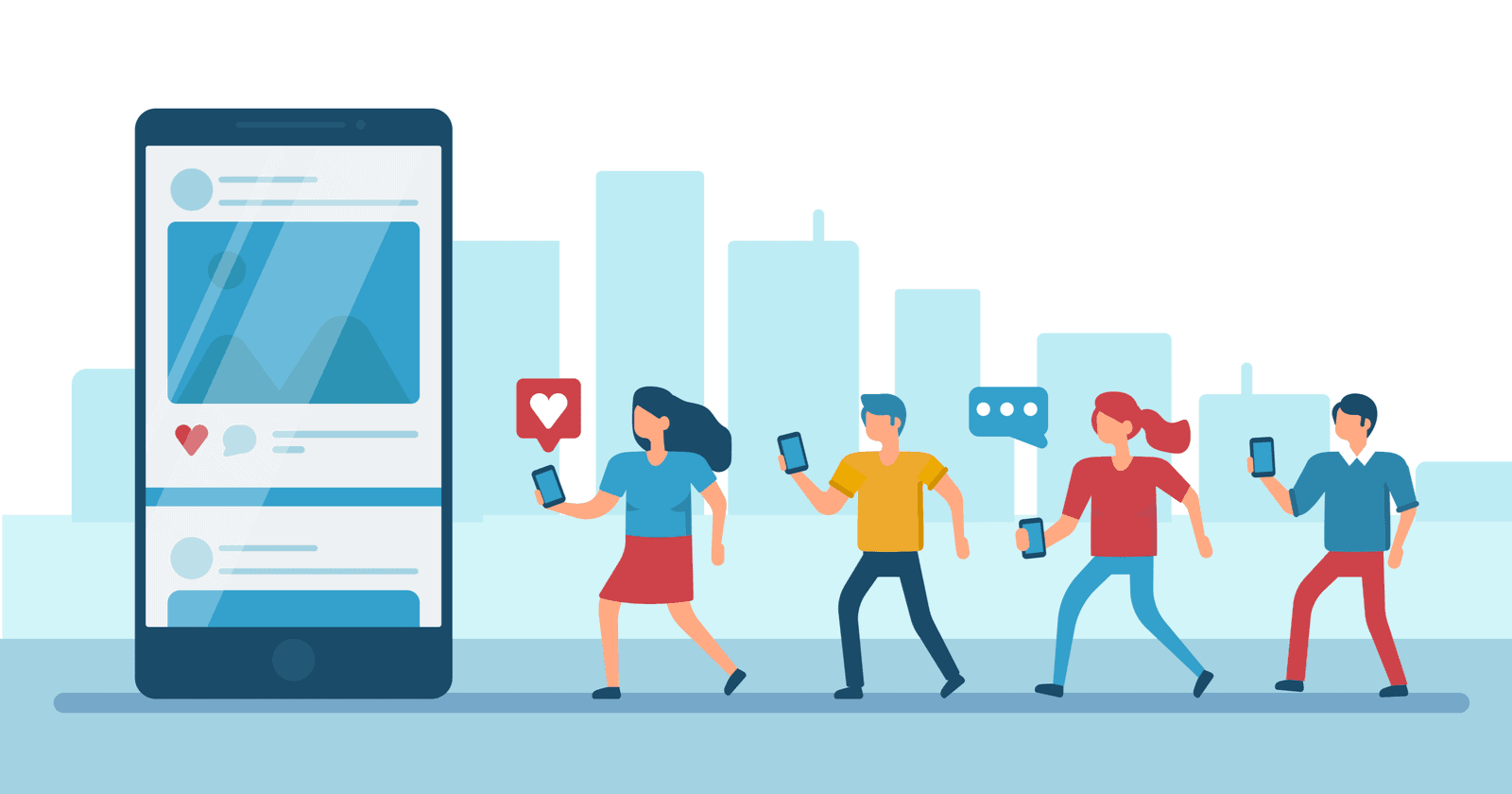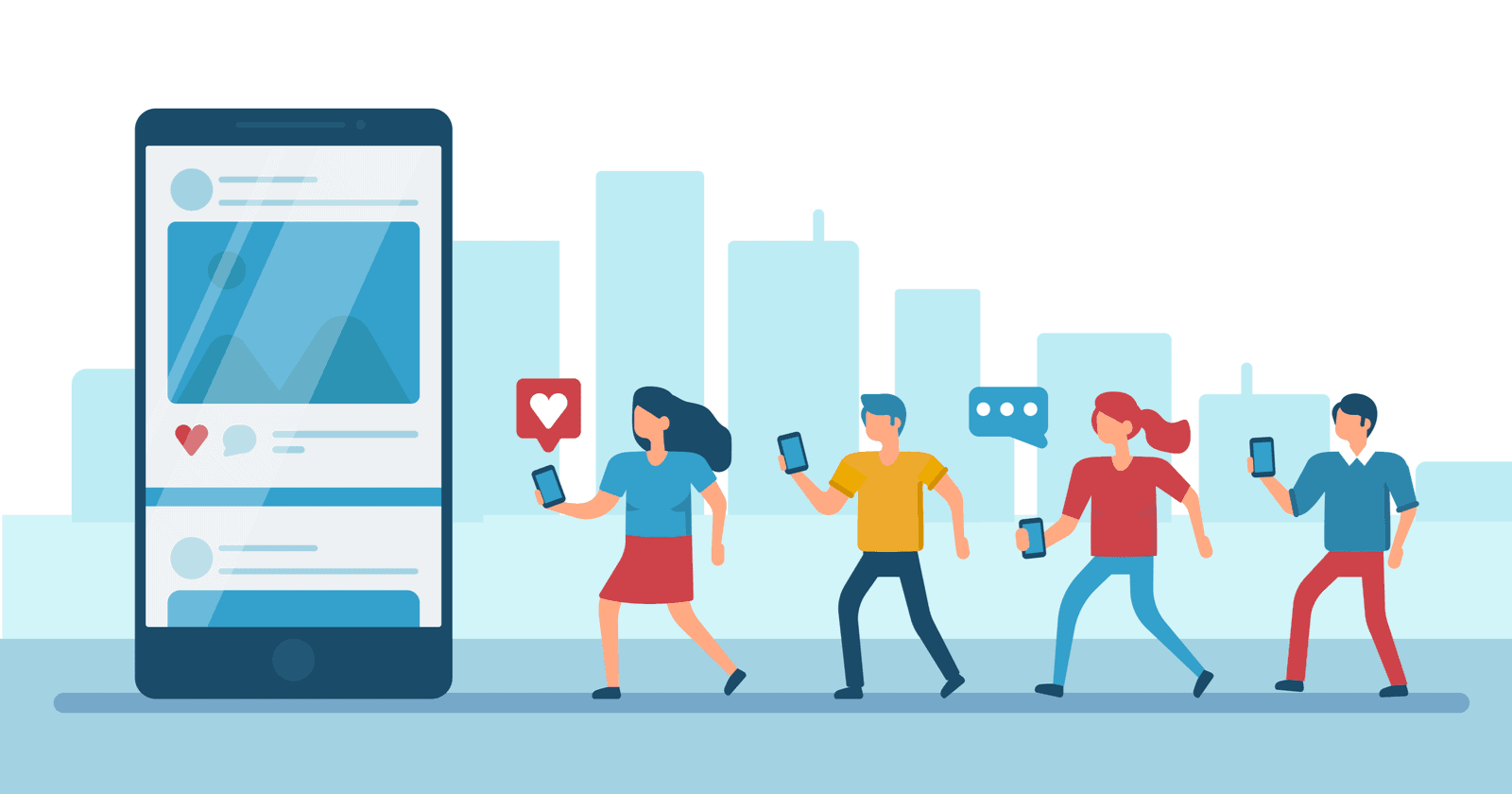 To convince your followers with the right content, you should think of a strategy. A strategy not only means that you should think about how you create content but also which ones. It is also essential that you manage to make your content stand out among the competition and thus remain in the user's memory.
There are some basics you should think about in advance:
What do you want to post?
When do you want to post that?
Can you develop content categories, differentiated content campaigns, or different content types?
In which order do you want to run these campaigns?
At what intervals are the various categories or content types displayed?
To answer these questions as best as possible, an editorial plan or a detailed content calendar will help you. In this, you can plan exactly what will be published where and how. You can also use this to facilitate coordination in larger teams and also track responsibilities. Essential points that an editorial plan should include are:
(Internal) delivery date
(Scheduled) release date
Subject or (working) title of the content
Assignment to the campaign
Medium on which the material is to be published
responsible person
Status (e.g., in planning, in progress, done)
Also, you can, for example, set a hashtag set with which you want to work. These hashtags then become characteristic of your posts and thus show the followers which campaign the content they are viewing belongs to. You can also achieve greater reach via hashtags; for example, on Instagram, users can follow hashtags and a standard profile. If you have thought about all points of the editorial plan and your hashtag set, you already have a pretty clear path in mind that you want to go with your content. You have found topics that you want to play through your channels. But that's not quite enough. There are various taboos that you should pay attention to:
Taboo: Post what comes to mind
This does not mean that you should stop posting spontaneously because this is where social media lives. It's more about not just posting anything. Even with spontaneous postings, you should have your target group and your campaigns in mind. Ask yourself the following questions:
Is what I want to post attractive?
Do I bombard my target group with irrelevant content?
Does the content fit into my campaigns, or does it stand out as a "colorful dog"?
Taboo: mass instead of class
Never, never really, should you put quantity before quality! Of course, this does not only affect social media but all areas in which you publish content. Content is King is the general rule that has been the highest standard for ages. Your content, therefore, needs relevance to address your target group. If one of your followers notices that your postings are no longer of interest to you, you will lose them.
Taboo: Record as many channels as possible
Sure, it is tempting to use as many channels as possible with the multitude of social media platforms, but that is not expedient. Every single channel needs a lot of attention and care. With too many, it quickly happens that you lose focus. Also, individual networks are often designed differently. Not every social media service, therefore, necessarily fits your target group. Take a close look at the channels and choose the ones that suit you best.
Content that suits you – develop ideas and be inspired.
There is a wide variety of content that you can use to engage and captivate your followers. For example, fresh ideas are behind the scenes posts, with which you increase the transparency of your company. You can also work with Call to Actions to encourage your community to interact. Challenges or competitions are also prevalent and provide user-generated content.
Isn't that enough inspiration for you? Here are even more ideas that may help you find the right content for your company:
Bet on individual campaigns and holidays. Promote fun, exciting or specific holidays for your industry. For example, October 29 is Internet Day.
Go Live, also planned and announced.
Use trend hashtags like #throwbackthursday.
Become an inspiration for others yourself. Post ideas, DIYs, and the like that inspire your followers and encourage them to share.
Share helpful tips or checklists.
Show your products/services in action.
→ In particular, highlight the USPs of your products.
Take surveys. Find out more about your followers and their interests. You can plan your content accordingly.
Create exciting infographics.
Use humor and situational memes.
Have you ever thought about fire GIFs? These attract the attention of your followers.
Make your company human – introduce employees and give insights into their work tasks.
Take your followers into your everyday office life or that of a colleague. Do you have office animals? These also have an "everyday office life" that can be presented.
Present your newsletter. Show your social media followers the benefits of subscribing to it.
Highlight exciting content on your website.
Share positive feedback or reviews if you have received any of these.
Answer frequently asked questions or ask your followers what they always wanted to know and answer these questions.
Teaser new products.
Apply job advertisements from time to time via social networks.
Create mini-tutorials to help your followers.
Rely on alternative content ideas (podcasts, interviews, etc.).
Show your followers how sustainable you are and how durable your products are.
Inspire and motivate your followers, for example, with the help of campaigns like #mondaymotivation.
Use social media to say thank you.
How can you measure the success of your social media marketing?
To measure the success of your campaigns, there are various metrics that you can look at. What exactly "success" means for you depends on the goals you have set for yourself. So you should always choose the KPIs that are necessary to meet your goals. The key figures can be roughly divided into four different areas.
Perception metrics
These key figures give you information about existing and potential audiences. You should, therefore, analyze the following values ​​in more detail:
Brand awareness
You can analyze these by analyzing different metrics such as mentions, likes, shares, and impressions over a specified period. If you use the same parameters and the same period for all analyzes, you can determine the growth of your brand awareness.
Audience or target group growth
Here you measure how quickly the number of followers on your company page grows. You must look at these numbers on every platform. Find a start date for this by looking at the number of followers for each channel. Then you calculate the total of all followers across platforms, i.e., your total audience. With the help of the following formula, you finally get a percentage with which you can better compare your channels with each other, but also your channels with those of the competition. This way, you can see how effective which platform is for you.
Post or post range
This key figure shows you how many of your fans have watched the post since it was published.
Potential reach
The potential reach shows you how many users could have seen your contribution in theory. Potential shares also flow into this. For each shared post, about 2-5% of the sharing party's network would see the post. With this number, you can see where there is further potential, what progress you are making, and how you can increase your audience.
Social Share of Voice (SSOV)
You can use the Social Share of Voice to compare yourself with your direct competitors. For this, direct ("@swacash") and indirect ("swacash") mentions are taken into account. This way, you can see how visible you are with your channel and your company.
Engagement metrics
Engagement metrics show you how your followers interact with your content. These are the most relevant:
Applause rate
This measures how many of your followers like or favor your post. So you can analyze your content and determine which one is most appealing to users.
Average engagement rate
This puts likes, shares, and comments about the total number of your followers. This is how you see how your content is received.
Amplification or amplification rate
This key figure measures the individual shares of your posts about the total number of your followers.
Conversion metrics
You can use these key figures to check the effectiveness of your campaigns.
Conversion Rate
If you use links in your posts that lead the follower to your website, a conversion will be counted if he acts there. This can be a newsletter subscription, a download, a webinar registration, or other. A call to action is the easiest way to get the user to your site and act there. You can also track the lead via cookies. Based on a high conversion rate, you can see that your followers think your content is relevant and of high quality.
Click-through rate (CTR)
The click-through rate tells you how often people click on the call to action link in your post. The CTR is always linked to a specific link that directs your followers to a particular landing page of your online presence.
Bounce Rate (Bounce rate)
With the bounce rate, you see how many followers your link clicked, landed on the page, then your site has left again without any further action. The bounce rate shows you whether your content may have directed users to a page that did not help answer their questions. However, a high bounce rate doesn't have to mean that your content is terrible. If you lead the user to a page that directly answers the user's question, they will often not click any further. This is often the case with wikis, for example.
Social Media Conversion Rate
With the Social Media Conversion Rate, you can calculate how many conversions have occurred due to social media. To obtain this key figure, you need cookies again, which are placed on the user's device via a link. Then you look at the sum of social media conversions and the total number of conversions.
Cost per click (CPC)
This metric only becomes essential when you advertise your contributions. If this is the case, you should measure how much each click costs you. Check this regularly, otherwise, you run the risk of using your budget inefficiently.
Cost per mille (CPM) You also only need
the cost per mille principle for advertised articles. Here you measure how much it costs you to display your contribution to a thousand people.
Customer key figures
These key figures reflect how active users feel about your company.
Customer testimonials
With the customer testimonials, you look at the complete feedback that customers give for your company and your brand. These can be reviews, ratings, reviews, comments, interviews, reviews, or other. The happier your followers are, the better, of course.
Customer satisfaction with the Customer Satisfaction Score (CStat)
Customer satisfaction is the top priority. That's why it's essential to measure them. The easiest way to find out is through a survey. However, this should not be too expensive, because otherwise, you will receive relatively little feedback. Therefore measure your satisfaction, for example, with the help of a scale from 1-10 or by evaluations from "bad" to "excellent" and ask your followers correctly how satisfied they are with your company and your products/services.
Net Promoter Score (NPS)
With the help of the Net Promoter Score, you get insights into customer loyalty. The difference to the CStat is that you can forecast future engagement. This is also done through a survey. Instead of satisfaction, it is asked how likely it is that your followers will recommend your company.
Critics give you the reviews you need to work on. You are dissatisfied with something or have a problem that you should take a closer look at and fix. Passive or passively satisfied users are happy with the product or service, but their loyalty is not as firm as that of promoters. This means that your inactive users often skip to competitors. Developers, however, are convinced of your company and your products/services. They are entirely behind you and will recommend these products to friends and acquaintances.
Conclusion
Good content is essential. You can reach your target group, mainly via social media, as there is a high chance that your content will be shared and reach so many people. Of course, the prerequisite for this is that the content captivates the followers in such a way that it encourages sharing. It would help if you used the various KPIs to monitor the success of your content to optimize it continually.