How does digital visibility work in strategic online marketing so that the content of potential customers can be found on the Internet in a visible manner via Google search and at the same time is interesting to read for your persona? Both are important for a successful online marketing strategy.
With digital visibility, company goals such as expert positioning, customer acquisition, and retention are more comfortable to achieve. I present the mechanisms of action, practical strategies, and tools in the article. It allows you to get warm leads from customers and hot leads from search engines.
What is digital visibility?
With this term "digital visibility," many people first think of SEO measures. This is true because Google plays a vital role in this. But digital visibility doesn't just affect Google. It is the interaction of complex mechanisms of action with different factors, such as user behavior, the speed of the Internet connection, and the webserver performance.
What is the visibility index?
The Visibility Index is a measure of the visibility of a domain on the Google search results pages. The higher the value, the more visitors the area gains through Google. The visibility index is suitable for evaluating the success of search engine measures for competitor analysis in the relevant set and for analyzing changes in the Google algorithm.
Many SEO experts use the Sistrix Visibility Index to do this, e.g. B. to measure the SEO performance of a website. The Sistrix Visibility Index can be used to identify and measure a time course (success) and any problems  . Sistrix defines the visibility index as follows:
This index value shows the visibility of the domain in the organic search results from Google as a central key figure. It is based on the rankings found in the domain in the top 100 search results for a representative keyword set.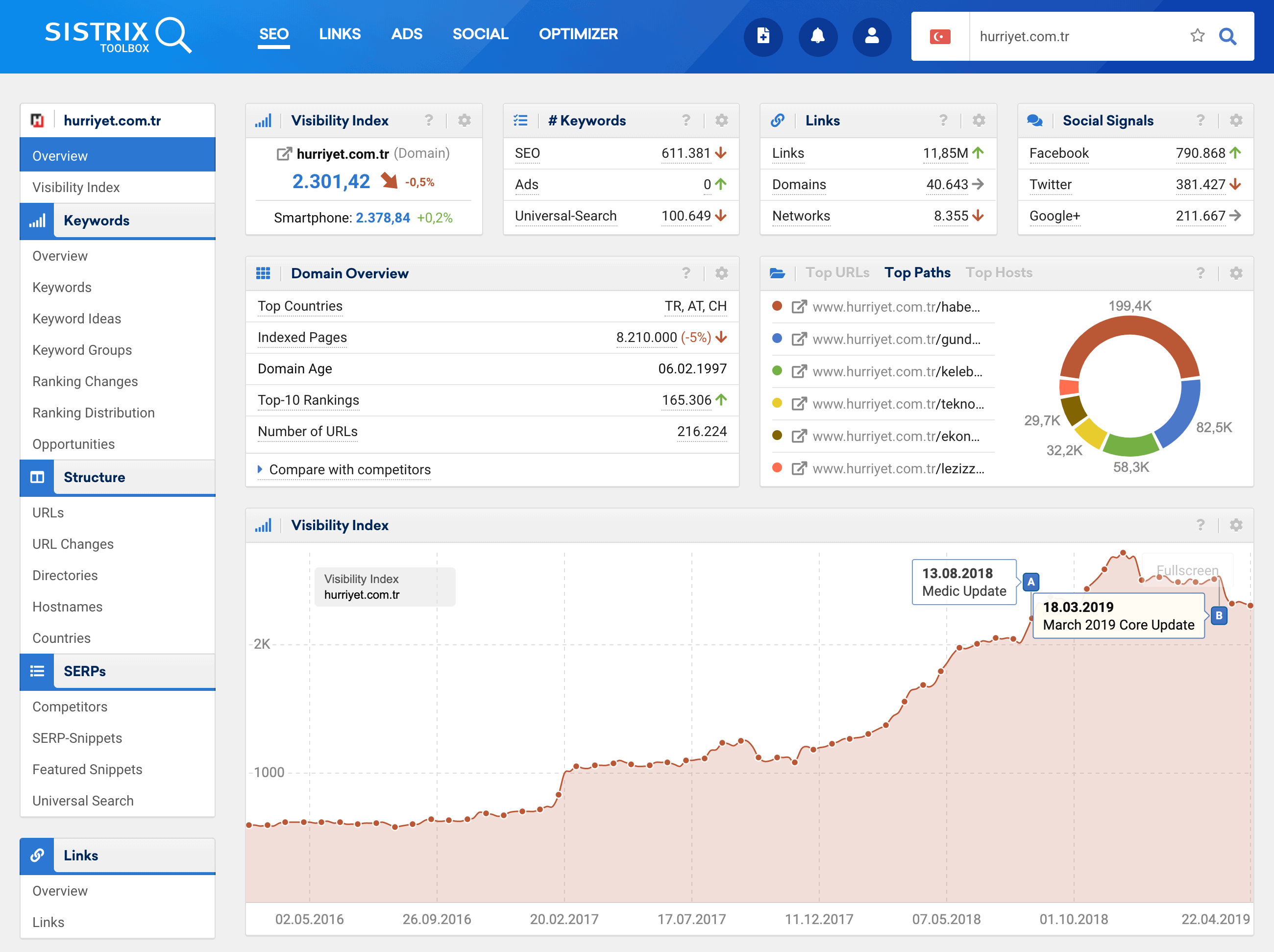 The visibility index has established itself as a critical figure in the industry. It serves as an indicator of domain visibility. To generate this index, the tool provider Sistrix crawls about half a million keywords and evaluates the search results pages. This estimates how many keywords can be found on your page and at which positions in the search results (SERPs) can be found.
How do you measure digital visibility?
With Sistrix Analysis, you can analyze the digital visibility of websites and carry out meaningful competition analyzes. For example, the most successful sites can be identified in a segment, which can then be used as best practice examples to increase your success. In this way, successful SEO strategies can be recognized and adapted; for example, the visibility index in the benchmarking of digital health providers, as the following analysis by Sistrix shows.
A comparison is only possible within the industry because the keyword sets are different. The most significant insights can be drawn from the observation of the course of time. By showing your development, you can easily see when there are reasons for review or when the page is thriving.
How do you measure people's digital visibility? Is it the number of contacts on Xing, Facebook, or Twitter? No, it goes beyond that. It's not just about quantitative key performance indicators, but also about quality and commitment. In the digital age, others are evaluating the importance, significance, and reputation of the brand. That is why it is a strategy for digital marketing
Digital visibility solutions
Is it just about being online and e.g., B. Share blog posts on social media? No, it's much more than that! The relevance of the content is the number 1 criterion for digital visibility! Content marketing can increase digital visibility through relevant content for the dialogue partners. That is why a strategy for digital brand positioning is required in the plan for a digital profile. It answers questions like:
Who am I? What products and services do I offer?
What are the benefits of my unique selling proposition?
What services do my customers appreciate?
Digital marketing for digital visibility
A strategic concept for digital marketing for digital visibility is helpful to avoid bouncing and wasting resources. At SwaCash, we combine a mix of content and inbound marketing with marketing automation and acrossmedia campaigns for the action plan.
 Expert positioning sis built up with content marketing.
The content is distributed using social media marketing.
Leads (potential new customers) are won with inbound marketing
, Which are transformed into new customers by marketing automation. 

1.Strategic digital marketing with an action plan
It is not enough to create social media profiles; you also have to maintain them regularly. Profiles in online business networks such as Xing or LinkedIn should be filled in entirely and routinely updated. After that, status reports and activities should be carried out regularly.
This is done by creating your posts, for example, on "LinkedIn Pulse." Comments on discussions are also relevant, as are helpful comments on other contributions. Feedback on your contributions should also be answered promptly.
Community building is also essential. Network with colleagues and potential customers, employees, and partners. Work on quality, not quantity. It is not about collecting 10,000 contacts in a short time, but about relevant connections.
2.Expert positioning
If you found the successful digital visibility of potential customers, that's good, but still not enough for new business. As an expert, you must also be digitally visible with your personality (personal branding) with your know-how and references.
Posts on brand-appropriate and customer-relevant keywords are published regularly in the corporate blog and the topic blogs and shared with newsletters, mailings, and social media marketing. 
3.Marketing automation
Using marketing automation tools, marketers control their digital marketing measures and control processes that were previously controlled manually. They are coordinated in the planning in the workflow with triggers of digital triggers. Marketing automation makes the results more efficient and productive.
This minimizes the input and increases the output. Specifically: less investment is required, and more sales are generated. Marketing automation tools such as Hubspot cover many aspects in digital marketing, e.g., campaign management, content marketing, and social media marketing.
4.Build trust
Ultimately, digital visibility alone is not enough. In addition to the profile of expert positioning, evidence from references is needed. For example, Hilker Consulting uses customer surveys on ProvenExpert for credible references, where we evaluate our customers transparently and openly. This helps new customers build trust through customer feedback on the projects and ways of working. 
Evaluation portals are a new marketing measure for digital visibility. You can let others evaluate you, e.g., B. My customers rate me as a consultant at ProvenExpert. This promotes reputation, credibility, and transparency in the entire process: from research to booking and customer loyalty. Referral marketing in social media is beneficial for acquiring new customers.
5.Show personality
Personal branding allows you to present personality as well as specialist knowledge. It is essential to create a digital brand identity in advance. The personality traits should be analyzed and strategically communicated digitally through content marketing with texts, photos, and videos with digital visibility.
6.Positive brand experiences for customers
But in addition to digital visibility, you must inspire potential customers in the customer journey at the relevant touchpoints through experiences (customer experience management). The website visitor becomes a customer and a brand fan and a regular customer who shares his enthusiasm through recommendations online. That is why customer experience management is critical in digital marketing. Read tips about this in this post. Create experiences with customer experience management.