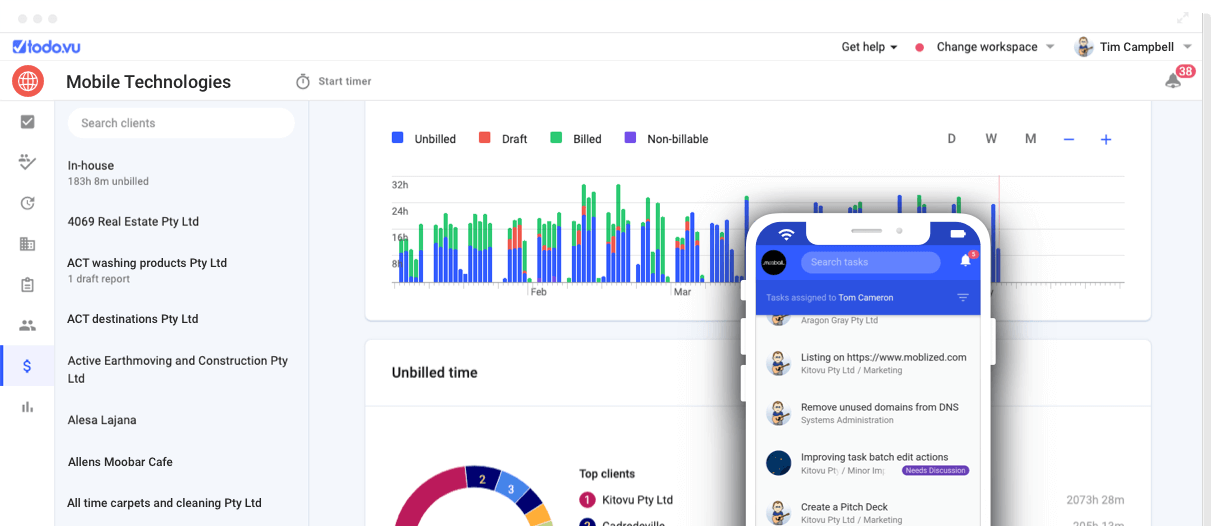 Whether you are pursuing agile methods, managing projects more traditionally, or opting for hybrid project management – there are countless approaches to planning and controlling projects. However, each of these projects has one variable in common: the people who work together for one goal. But what is the best way to use their skills productively, creatively, and efficiently?
In this article, we will show you the most well-known project management methods, tell you which software will help you and what else you should know.
What is project management?
Project management refers to the administration, coordination, and control of all elements contributing to the achievement of a project goal. Project management is often divided into the following five phases: initiating, planning, controlling, controlling, and completing.
Many terms and methods are established, but new approaches are continually being developed to do justice to a changing world of work.
What is agile project management?
The methods of agile project management follow different agile principles: For example, individuals, interactions, and the short-term response to changes are more critical than higher-level processes, the tools themselves, or following a plan.
Typical of agile project management is an iterative (subdivision into temporal stages) and incremental (building on each other) approach.
Why is project management critical?
You probably know it from your own experience: To achieve the best results on a project, experts from very different areas must come together.
Be it the marketer who works for a successful Facebook ad, copywriter, designer, or the sales employee who includes controlling and the field staff to plan the next steps.
The best-case occurs when everyone pulls together, and synergy effects arise in the team. And this is where project management comes into play: It is responsible for effectively connecting all elements and leading them to the shared project goal.
Project management certainly requires proper planning. However, the effort for the company that arises at the start of the project pays off.
The advantages are apparent:
Lower costs,
early detection of deviations from the plan,
better coordination between those involved and
ultimately the achievement of the set goals.
The development of project management: from classic to agile?
Companies are in a time of change. If they cannot keep up with digitization, technical progress, and other innovative impulses, success will fail. To keep up with the changing world of work, various methods of project management have developed in recent years.
There is a trend of classic project management divided into five phases towards more agile methods. Although they deliberately lack the structure on which other types of control are based, we will also introduce below – if implemented correctly, the degree of flexibility increases. Because agile project management relies on personal responsibility and flat hierarchies, it often takes longer, especially in larger companies, to establish flexible structures.
Ultimately, it also depends on the industry and the environment in which the project management style works best. So that you get an overview, we will now introduce you to the most critical methods.
The five project management phases
Project management is often divided into five phases: preparing, initiating, planning, controlling, and completing.
1) Prepare
The first phase involves weighing up or deciding for or against a project.
Should it be done at all?
What overall goals would you pursue?
And what results do you, your customers, or superiors expect from the project?
Depending on the company, a project application could be submitted in this step. If it is a customer project, for example, in marketing, this phase begins with the specific coordination with the customer, whereby a cost estimate may already be drawn up.
2) Initiate
The second phase begins with the project order. This is about creating the basis and clarifying framework conditions. It is essential to set and record the specific project goals. Success factors and risks are also identified in this process.
Now the project manager assembles his team, coordinates content, plans the communication and organization between the participants, and determines quality criteria.
The economy should always be kept in mind. What exactly belongs to the "Initiate" item can vary depending on the company, type, or size of the project.
3) Plan
The fact that planning is the third phase of project management can be a little misleading at first. Because planning competence is not concentrated at a specific point in time but is necessary throughout the entire project.
However, a project plan should now be drawn up and coordinated at the latest. This includes specific tasks, deadlines, costs, capacities, results, and milestones.
Depending on the project, further questions may arise:
May contracts have to be concluded?
Is reporting desired or sensible, which is continually being adjusted and the framework of which should therefore already be set up?
4) taxes
During the project, the project manager continuously checks the implementation and the results – above all, based on the three factors of quality, time, and costs. Excellent communication is essential not only here, but especially at this point.
The fact that the implementation deviates from the planned at one point or another is the rule rather than the exception here. The main responsible then has the task of reacting to this.
The project plan must then be adjusted (new) tasks distributed or priorities set differently.
5) Complete
Because the goals were clearly defined initially, the team had an easy game at the end. Now the profitability is checked and, if necessary, a report is created in which the results and the project are documented.
The feedback is obtained from customers, employees, or other participants. The experience gained flows into later projects.
The most popular project management methods
The five phases of project management can be seen as a kind of cornerstone on which most of the project management methods are based. On this basis, various ways have gradually developed, all of which lead to the goal, but can be used differently depending on the requirements.
Each of these methods depends on goals and their precise definition. There is the so-called SMART model, an acronym consisting of the words Specific, Measurable, Achievable, Reasonable, Time-Bound.
The goals should be set according to these criteria – a formulation of purposes such as "increasing customer satisfaction" is not concrete enough.
If you have formulated your goals using the SMART method, there are various ways to achieve them.
1) Critical path
The critical path procedure is particularly suitable for more complex projects with many variables. It describes a process that takes account of the dependencies on tasks.
The tasks and three components are shown in a graphic representation:
The duration of the tasks,
the earliest possible and the latest possible location of subtasks 
and their relationship to each other.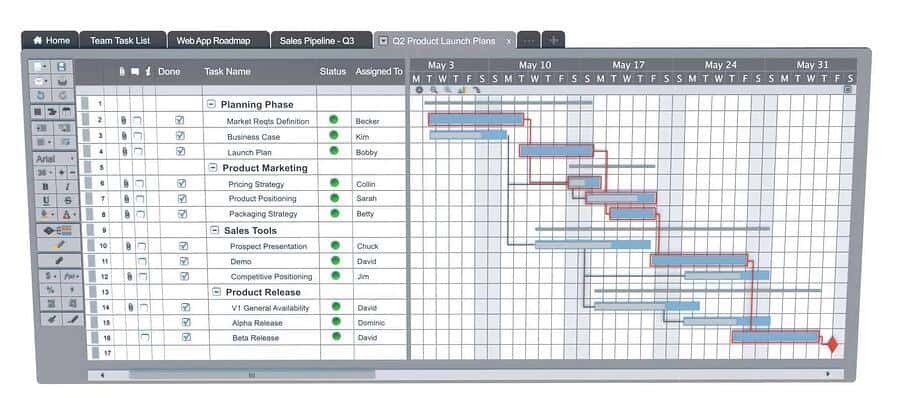 What sounds complicated is based on a simple principle: The goal here is to depict dependencies and thus to be able to decide which task has higher priority than another. For example, because the first task can only be started with the second, then only with the third and so on.
Tasks on the critical path usually have no time buffers and, therefore, little leeway. They must be closely monitored in their execution by the project manager so that bottlenecks can be anticipated.
2) Waterfall model
The waterfall model divides a project into different sequences. It is characteristic that the second phase only begins when the first has been completed.
This step-by-step method creates a clear structure and an easy way of project control.
The method is suitable for projects that have constant requirements and do not require short-term correction loops. When a phase is complete, it is difficult to adjust.
The method is, therefore, unsuitable for projects that require a high degree of flexibility or in which unpredictable factors could tend to play a more significant role.
3) Milestone trend analysis
As the name suggests, this method is based on defining milestones and, on reaching them, continuously measuring, planning, and adapting the project. In the course of the project, character stand and test dates are held again and again, on which individual results are evaluated. These dates will be used to decide on the further course and the next steps of the project.
A sinking or rising curve shows how early, or late the milestones are reached. Horizontal trends mean that the sign is expected to be achieved as planned. In this way, the project status can be grasped at a glance and quickly read where the focus has to be.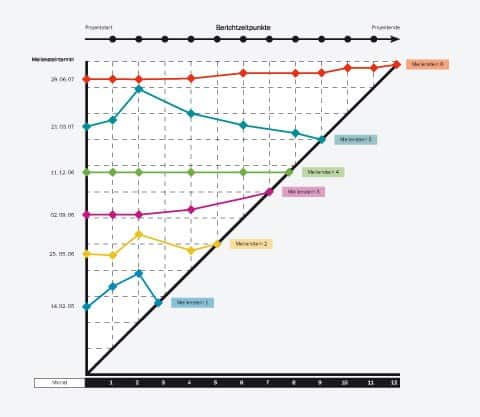 To a certain extent, the milestone trend analysis, like the waterfall method, is a step-by-step method. However, this is much more flexible, and the project status can be seen at a glance.
4) Kanban method
The Kanban method uses the so-called Kanban board, divided into three columns, in which the different project tasks are classified according to their status:
Either as a todo, in progress or done.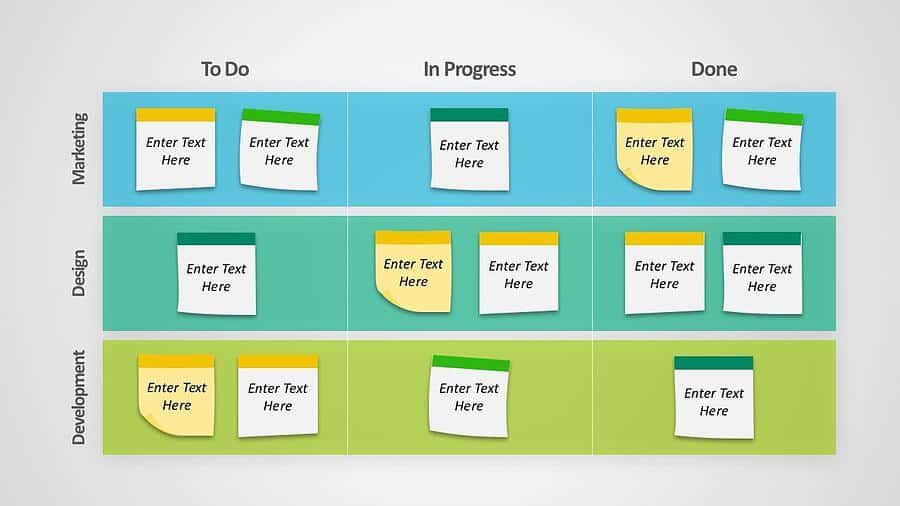 Image: Slidemodel – Kanban board
The columns can be expanded or renamed as required. For example, Kanban is well suited as an approach for projects with special requirements, or that can still change significantly.
This method is even more flexible than the milestone trend analysis and is often used in agile project management.
5) Methodological instruments: the magic triangle and the utility analysis
The so-called magic triangle of project management is more a systematic instrument than an own project management method.
This consists of three target values ​​of time, cost, and quality. As soon as one of the three parameters changes, it immediately affects the other two components.
To achieve the project goal, changes to a component must be compensated for by adapting the other two parameters.
The utility analysis helps to make difficult decisions at one point in the project, especially when there are several different options for solving the problem.
In this case, the various options are written down, and their advantages are assessed with points. In short, it tries to quantify qualitative decision criteria.
New wind: agile project management
Agile project management has its origins in software development but is used today in very different areas. The methods follow agile values ​​and principles, which were written down in the Agile Manifesto in 2001.
The values ​​of these project management methods are characterized by flexibility in terms of time and content, close cooperation, individual responsibility, simplicity, and self-organization.
To consistently carry out agile project management, companies often have to exit from established hierarchical patterns. This may be challenging, but it also offers a variety of new opportunities.
For a good overview, we have compiled the essential key points that make up agile project management :
1) Agile project management: advantages and disadvantages
Agile project management thrives on regular, frequent deliveries of (interim) results. This can be an advantage for customers and superiors. The proper coordination also makes target and plan adjustments much more comfortable to implement – for example, if the requirements of the market change.
However, the advantages are only one side of the coin. With a high degree of flexibility, there is always a high need for coordination and thus costs. Also, concrete project results are more difficult to predict, and projects are more challenging to document.
2) The iterative approach through timeboxing
Agile project management proceeds iteratively – which means nothing other than: "divided into time stages. " In contrast to classic methods, in which a project is split into work packages, the work to be performed in agile project management is tied to time sections.
The timeboxes, therefore, specify the duration of the work, and then – to put it simply – to determine at what point the project, the team is.
3) SCRUM method
The SCRUM method is often used to implement agile projects. This defines different roles in the team, but only a few cornerstones or rules of procedure.
The SCRUM method is characterized above all because it works in different sprints in which continuous progress is to be achieved piece by piece.
Teamwork and personal responsibility are also in the foreground at SCRUM – the significant advantage:
This method leads to success when a motivated team is working on the project – and if it is not yet, there is a high probability that the employees will be motivated by the personal appreciation and responsibility assigned!
4) Hybrid project management
The methods of project management are varied. Thus, no straightforward way of thinking in black or white is possible when classifying project management. Successful are those who decide on a method, adapt it selectively, and try out ideas from other project management styles – and in the best case, change it.
The term hybrid – " mixed " – project management probably fits well with what most companies do anyway: They mix different types, for example, classic and agile project management, into a proper method that provides the individual approach and the company's environment.
This explains, for example, how the " Scrumban " method came about.
Decisive help: project management software and tools
Project management tools and software make a decisive contribution to the successful implementation of your projects. But since the selection of providers is so large, we will briefly present some of the most popular ones below – however, the list does not end there. The tools offer different advantages for different methods.
1) Asana
The cloud-based software Asana is easy to use and includes all the basics of project management. You only have to pay for the maintenance of the software, for updates and backups of data. Personal customer service is also subject to a fee.
Asana is useful for getting started – however if many features are desired, the software will eventually reach its limits.
2) Trello
Trello has only one project view – this is based on the  Kanban method, so Trello is suitable for organizing projects using boards.
If you want to visualize projects in time and the long term, you won't find an appropriate option at Trello. This makes Trello a clear and easy-to-use tool, but it is only suitable for uncomplicated projects.
3) Wrike
Wrike is a bit more sophisticated and complex. Accordingly, a specific training period in the software is necessary. But then the tool impresses with extensive features:
With a marketing module in which workflows (including briefings, review, and approval functions) can be integrated, comprehensive and complicated projects can be bundled.
4) factro
The factro tool is user-friendly and enables a quick start. From Kanban via a structure tree to a tabular view, users can view a project in a wide variety of views.
factro also impresses with fast and personal customer service, should any questions arise.
5) Team leader
In addition to functions for project planning, Teamleader has helpful features for invoice creation and monetary recording of projects. The tool is intuitive to use and is therefore also suitable for beginners.
With its features, the software goes more broadly than deep: it has extensive functions but is not highly sophisticated. If you are looking for exceptional services, you can run into limits with Teamleader.
6) todo .vu
The functions of todo .vu offer a mixture of customer relationship management, task management, time recording, and billing.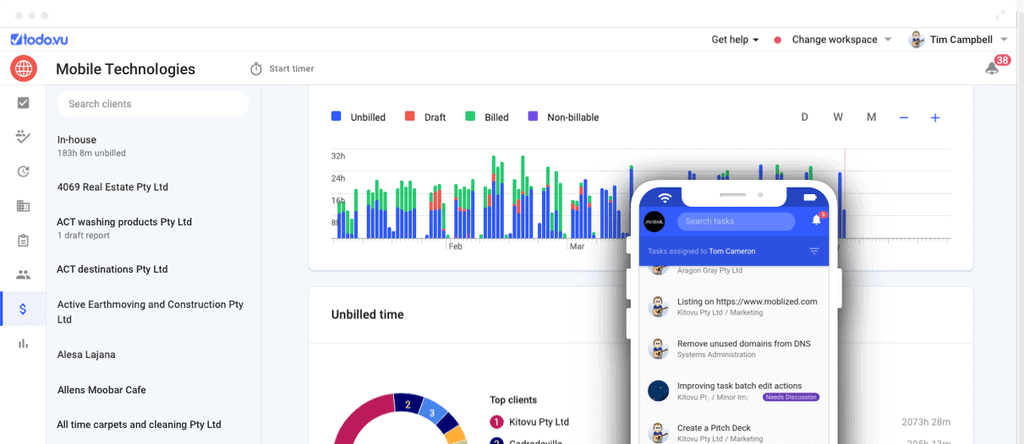 The tool is free for freelancers – however, the device costs as soon as several users access it. From eleven users, however, the price is capped. The software is particularly suitable for agile projects.
7) Smartsheet
Smartsheet is a hybrid between project management software and a spreadsheet program such as Excel. It, therefore, offers various options.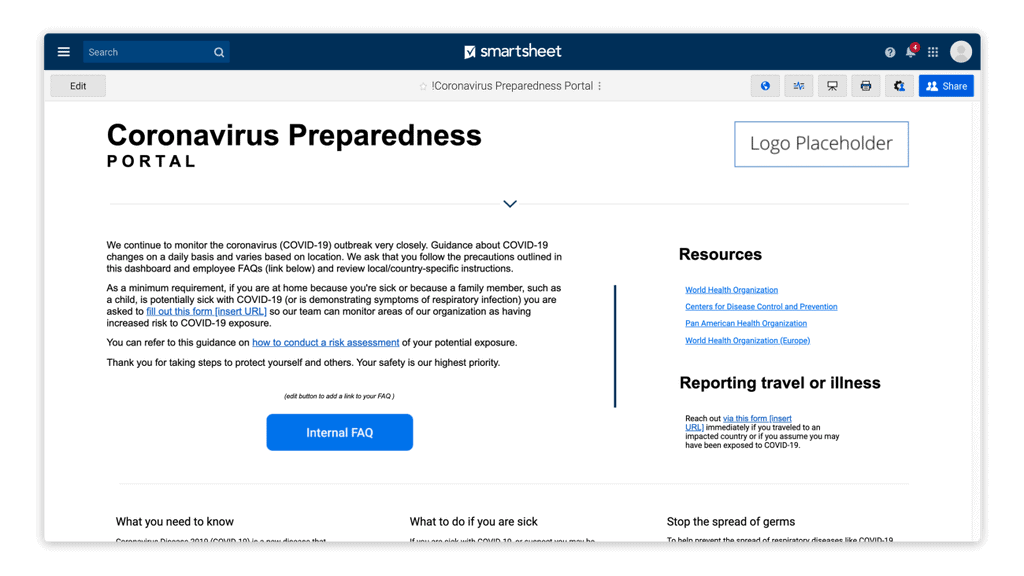 The disadvantage: you have to learn to deal with it first. Helpful documentation and many templates make it easier for you to get started and show you what is possible with it. Then the software is particularly suitable for project planning.
You can obtain these project management certificates.
A certificate can be helpful to demonstrate project management skills to customers and superiors or simply to learn something new. Various national and international providers enable you to obtain one. The most important at a glance:
1) Project Management Professional (PMP)
The US-based and internationally oriented PMP certification does require 36 months of project management experience for a bachelor's degree or 60 months of project management experience for a degree comparable to a university entrance qualification. However, if you have this and pass the computer test, you have an internationally recognized award.
2) Certified Associate in Project Management (CAPM)
The Certified Associate in Project Management (CAPM) exam is suitable for beginners, requiring significantly fewer participation requirements.
Exam preparation is currently the same as for PMP certification. The advantage: If you want to do this at a later point in time, some requirements have already been met. The costs here are around 1,800 euros.
Certifications for special areas
If you are looking for certificates and further training in niches, you are guaranteed to find them – especially for agile methods like SCRUM; there are more offers. The Scrum Alliance and Scrum.org, for example, are two providers that already have a mature offering.
We note that there is no shortage of alternatives when it comes to project management . Rather, it is about choosing exactly what suits you from many options. It depends on the requirements of your company and the type of project. The method must also suit the employees and not least you. So it is worth trying a few practices and researching which ones will give you the best experience.
The same applies to project management tools . It may take some training here until the systems are a natural part of everyday work – but then processes and communication processes can be successively optimized.
In the end you always save time. Because everyday and technical processes run smoothly, you have the space to make your projects a little bit better with creative impulses.