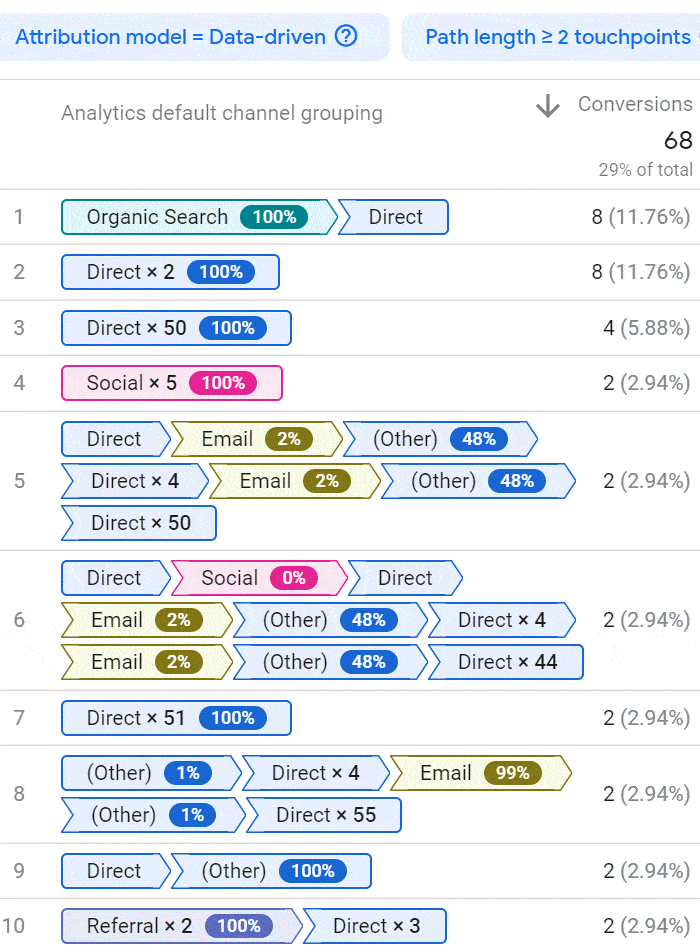 A carefully designed business strategy is crucial for the long-term success of a company. This leads to the most critical questions regarding the online marketing strategy.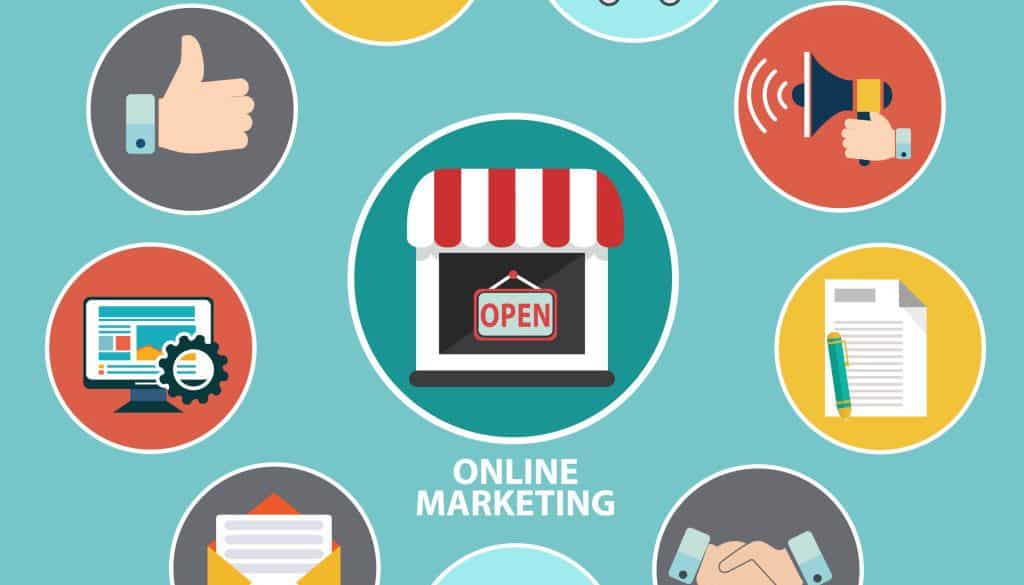 What is an online marketing strategy?
The online marketing strategy defines which goal is to be achieved with which means: Which product or service is positioned in which submarket and how is it marketed? The plan includes components such as
User personas or even better micro-moments from the customer journey
Content and tonality of the message
Communication channels such as website, blog, social networks, newsletter, PR, affiliates, influencers, native advertising, etc.
Value map of the products or services
Analysis of the potential of different target markets
and much more
What is the added value of a strategy?
We live in a world full of VUCA today. The acronym stands for
V volatility
U uncertainty
C complexity
An ambiguity.
So we have to orient ourselves daily in a world full of impermanence, uncertainty, complexity, and ambiguity. The strategy gives us support and determines what needs to be done, who benefits, how the market is worked on, and how success is measured.
The marketing strategy specifies the plan and the KPIs for the implementation of marketing measures over the next two years.
Even if a business is already booming, or precisely because it is running, there is at least a subconscious strategy behind the success.
In today's environment, with the ever-accelerating digitalization, a good strategy in the medium to long term should be decisive for the successful preservation of marketability.
What online marketing strategies are there?
We differentiate between push and pull strategies: Under "push," we summarize advertising that interrupts users in their work.
Examples of this are social ads in the news or video feed, display ads, or native ads: users are not actively looking for this interrupt advertisement. It is shown to you based on the content you are currently consuming or based on your user profile.
We understand "pull" as content that is actively sought and requested by users. Examples of this are websites (SEO), blogs (SEO), but also search ads (SEA) on Google or Bing.
I see more and more Pinterest pins in this category: As the only social network, it also brings visitors to websites in the medium and long term! Because of this property, its founders claim that it is not a social network at all …
Why is the difference so significant? If a company offers services or products that are new and, therefore, unknown, the pull channel SEO is of little use: users do not look for this solution because they are unconscious of it.
In such a case, they are helping push strategies that awareness to increase and thereby increase (in a second step) the sales or conversions. This means that translations via push channels tend to be more expensive to buy because users have to be convinced first.
Often, several contact points are required via retargeting or newsletter marketing. Users actively search in the pull channels so that purchases or orders are more comfortable to achieve.
The advantage of the push channel is that it brings measurable success promptly. The disadvantage: Each measure costs conceptual and media budgets for the respective channel. Also, you interrupt the user in his work and can thus appear intrusive.
The advantage of the organic pull channel is that the relevant content is so attractive that users actively search for it and, in the best case, even share it with their friends and acquaintances.
The disadvantage: creating such attractive content is complex to design and produce. Also, any success does not appear until 3 to 12 months after publication.
If you are dependent on short-term success, the paid push channel is recommended. If you are looking for long-term success, the organic pull channel via content marketing is more interesting if the significant investment in the small Swiss market can be recovered!
Of course, the organic channel can be combined with the payment channel by initially advertising new editorial content with a media campaign.
What are examples of effective strategies?
Example 1: Content marketing strategy at Digitec
Online shops can be technically optimized for search engines. However, if several providers use the same product descriptions, for example, for PCs or cameras, it will be difficult for Google to identify the best shop for their hit list.
Digital, therefore, urges its numerous technical specialists to publish editorial texts on their areas of expertise. Well-researched, relevant articles with comments are created, which are integrated directly into the online shop. This gives Google a strong indication that this shop is probably one of the best.
Here is the development of the organic visibility of digitec.ch at google.ch since January 1st, 2017: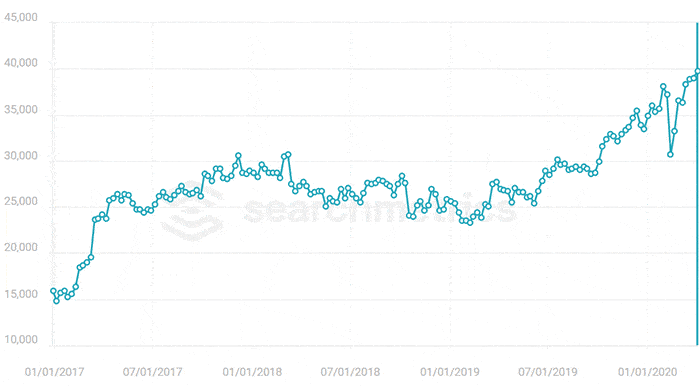 Organic visibility of digitec.ch at Google Switzerland since 1.1.2017
Example 2: Influencer & content marketing strategy at UPC's eSports.ch
The cable network operator UPC offers services related to mobile subscriptions and fast internet. Reaching the target group that decides on the Internet provider in households is more challenging today than ever: IT-savvy users install ad blockers, watch a little TV, and read no newspapers.
Thanks to its pioneering work in the booming eSports environment, UPC was able to position itself attractively with the target group with its platform eSports.ch: They speak the language of gamers and offer products that make their lives easier.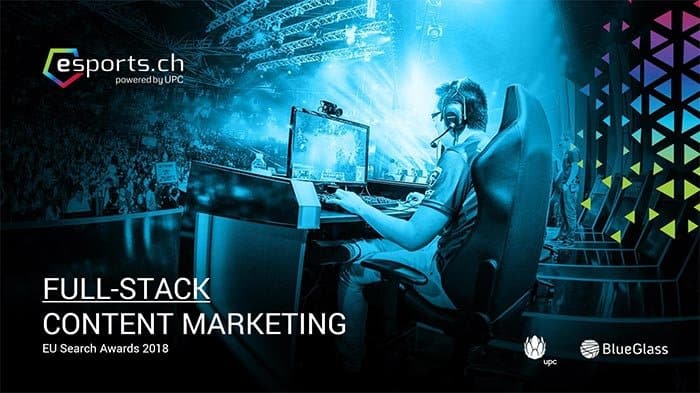 Case study on UPC / eSports influencer content marketing
I have a strategy. How do I check it?
Strategies often have far-reaching consequences that will only have an impact in the future. Given the high degree of uncertainty about future developments, reviewing the policy is correspondingly demanding.
For strategy audits, we analyze data-driven potential future effects based on historical data.
For example, if customers give us their targeted target markets, our analyzes of the seasonality of the search volume on Google or the organic strength of competitors provide essential clues about the expected competitive pressure.
If, for example, an attribution analysis from Google Analytics shows that conversions come primarily from organic visitors (SEO) or from users who enter the URL directly (high awareness thanks to branding), then it must be clarified how vital social media channels are. Are they still needed or only with reduced effort?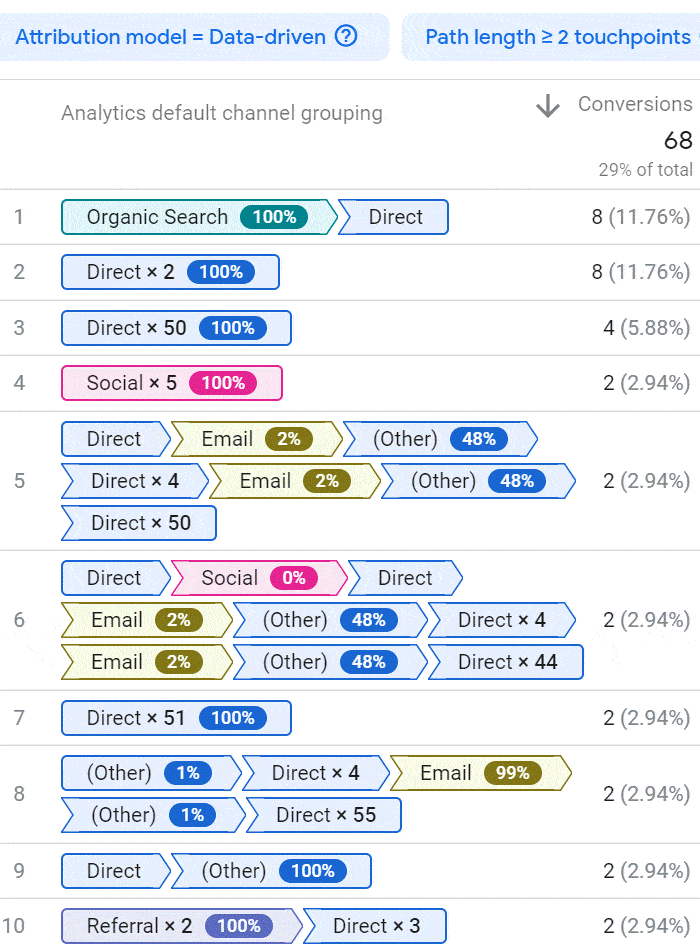 Attribution models are used to define which marketing measures have how many shares in which conversion paths. The rules are then optimized accordingly.
How do you develop an online marketing strategy? Is there a process?
At SwaCash, we work according to a structured strategy process. Based on the market analysis and a good understanding of the product or service of our customers, we develop the necessary information for the documentation of the online marketing strategy.
The summary of the strategy in a "strategy poster" is particularly popular with our customers: All strategic components that are crucial for customer communication are shown on a single page:
Definition of goals and measurement of their achievement
defined target groups (personas or micro-moments )
Positioning and content of the messages
Channels and tonality of communication
Priorities and stages of the measures
and much more
Employees from different departments base their operational implementation on the strategy poster and all work in the same direction.
In large corporations, in particular, aligning employees to a specific goal is a significant challenge.
Do I know: Do I offer Candy, Vitamin, or Painkiller? From a strategic point of view, it is essential to understand whether a product/service is nice-to-have (candy), whether it makes the end customer/user more robust (vitamin) or whether it is merely essential (painkiller).
Omer Khan documented this fact very clearly in his article Candy, Vitamin, or Painkiller. Investor Kevin Fong is said to judge business ideas according to the following principle:
We divide business plans into three categories: candy, vitamins, and painkillers. We throw away the candy. We look at vitamins. We like painkillers. We especially like addictive painkillers!
Kevin Fong, investor
All three categories produce well-known business models: gaming and esports, for example, may fall into the candy category, but still, generate billions in sales.
Depending on the category in which you invest, this changes the type of market entry and the appropriate communication strategy.
How do I add online marketing guidelines to my strategy?
The online marketing strategy is derived from the business strategy. It expands the overall plan with online components such as channels (e.g., push vs. pull) and specifications for the corresponding content.
In the age of digitization, a functioning website is central to many companies: In contrast to social networks, you have full control over formats and content.
For this, one is dependent on high-performance content to attract users organically via Google. In this sense, you are also reliant on an external algorithm with your website.
Search engine optimization (SEO) of your content is correspondingly important: the services should be found on Google and trigger conversions on the website, such as orders or inquiries.
The previous measures do not work. What can I do?
Many companies underestimate how competitive the online environment has become today. It is no longer enough to publish a "beautiful" website.
The content must satisfy the search needs of potential customers. Google sees no reason to direct searchers to pages with thin content.
In our SEO audits, for example, we check how well search engines can technically read the content of websites. Also, we show the organic visibility on Google Switzerland or in other countries.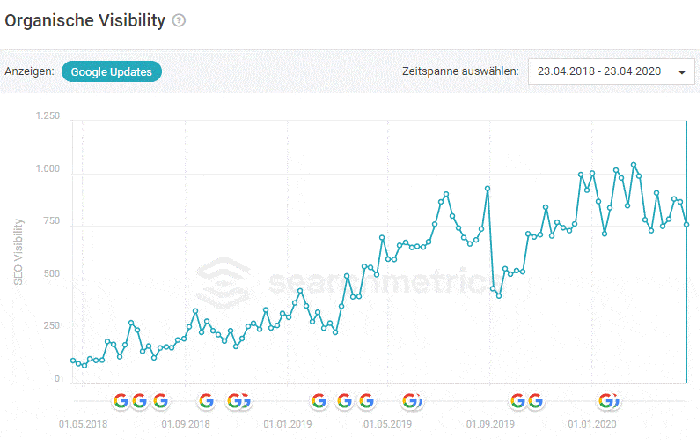 Organic visibility of the SwaCash website at Google.ch, according to Searchmetrics between 2018 and 2020. The rising index indicates that the probability of being found on Google increases.
The audit shows whether your content can stand up to competitors or whether there are gaps between the requirements of the market and your offer (content gap analysis).
A strategy is theoretical. My practice looks different.
The strategy should always be based on reality. We are not interested in developing beautiful concepts for the drawer. Since we are data-based, based on effectively entered search queries and search volumes, our strategies are easy to implement in practice.
The implemented measures can be checked using various KPIs.
Simon Sinek's Golden Circle: Why, What, How?
The purpose of commercial ventures is to generate sales and, above all, profit. This is the only way to pay wages and promote innovation.
But if you target sales and profits, you will not be successful. Simon Sinek impressively demonstrates this with his Why-What-How thinking scheme :
In the first step, it is useful to clarify the internal motivation with which you are offering a service (Why?)
What do you offer (What?)
And with what means do you offer something (How?)
Only when the "Why" is correct will customers understand the messages surrounding the service and want to buy the services or products.
Simon Sinek explains Why-What-How thinking: Why do you do what you do?
What does an online marketing strategy cost?
Strategies can be developed more or less extensively. The more data you want to store, the higher the effort.
The larger a company is, the more departments have to be picked up, and the higher the time required for workshops with different stakeholders.
Online marketing strategies for smaller online shops with simple products can be designed for CHF 9,000 to CHF 18,000.
For larger companies with more complex services, we expect investments in conception, workshops, presentations, and documentation from CHF 24,000 to CHF 29,000, depending on how many workshop levels are necessary.
What is the minimum implementation budget to achieve success with the strategy?
We recommend small companies to use an operational online marketing budget of at least Euros 1,000 per month as a media budget for Google or Facebook, etc.
Below that, it is challenging to achieve measurable success. Depending on the competitive pressure, 1,000.00 per month corresponds to a minimal amount.
If specialist support is also required from an agency, its agency fee comes to more than 2,000 per month, depending on how many channels are to be used in how many languages.
Our customers invest between 4,000 and several 10,000 per month in the implementation of their online marketing campaigns.
What know-how does the company need to develop the strategy?
If you want to develop the strategy entirely in-house, you need experienced, strategically thinking project managers with enough free resources. Your task is to control the process and to collect all relevant stakeholders.
Here it can make sense to consult external consultants: They bring not only the necessary time resources but also experience and templates for products such as value maps, which steps have to be followed to achieve a useful result as quickly as possible.
They also support the final document so that everyone involved is clear about the next steps for implementation.
At SwaCash we have developed a framework of workshops: It includes all the necessary clarifications with various departments of a company to come up with an effective strategy,.
How many resources do I have to plan internally and externally?
For small SMEs, it may be enough for us to identify the workshops necessary for his company with the CEO. The clarifications can then be completed in two half-day workshops.
Larger companies often need three to four workshop days to cover all components of the business model. A stakeholder should then provide sufficient time for each department or business area to clarify in-depth questions.
An overall coordinator of the strategy process on the customer side is an advantage.
The lead time for an online strategy project is optimally between 2-3 weeks and 1-2 months.
Who can help me design a strategy?
A service provider can advise you if you do not write the strategy internally. When evaluating, I recommend the following criteria:
The agency should not only be familiar with an online discipline, e.g., only strategy or only SEO or only social media, because their recommendations are either not feasible or favor a specific channel.
The advisors should provide relevant reference examples.
The process of strategy development should be understandable.
Agencies with implementation experience may create more practical strategies than pure strategy consultants.
Support in measuring key performance indicators KPIs in the implementation phase should also be offered (it is not trivial)
The strategy is decisive for the success of the business. When evaluating, I would only look at the price last.