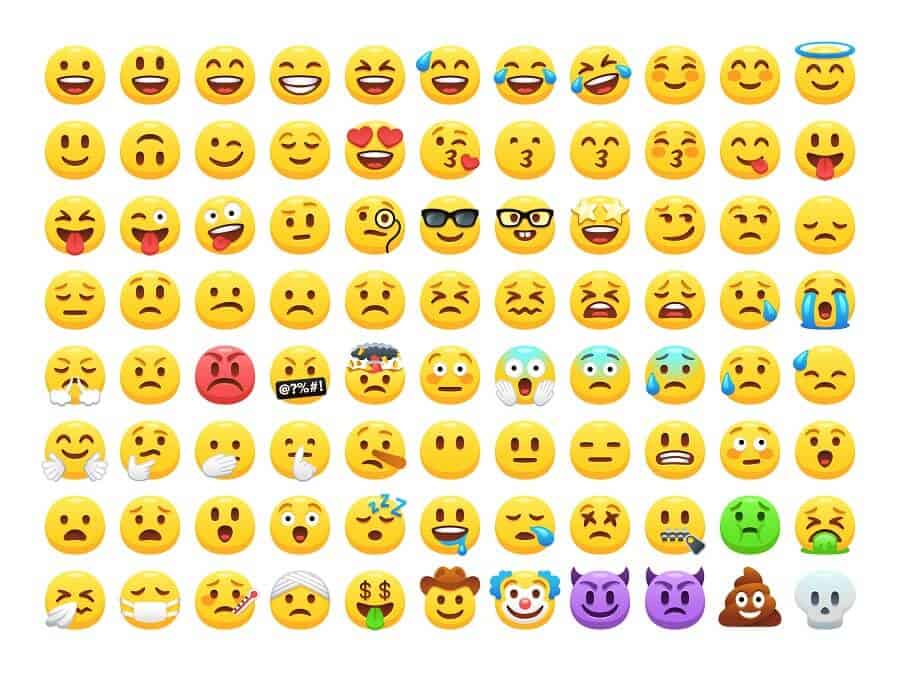 You are familiar with the little yellow faces and symbols, but have you never heard of Emoji Marketing? Today I will show you numerous best practice examples and tips on how to spice up your social media marketing with emojis and tell stories across languages.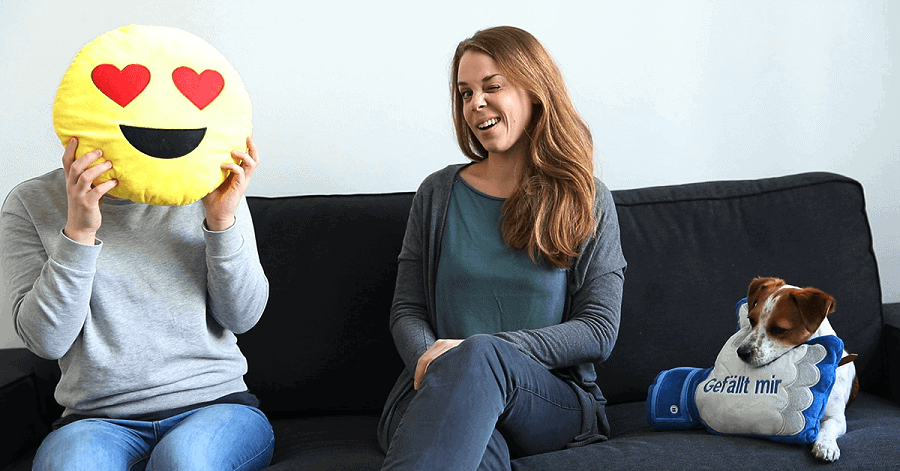 Emoji Marketing: Why? Why? Why?
Honestly, in our fast-paced world, we can't imagine communication without emojis, can we? Why tap your fingers sore when a simple spaghetti plate or a pizza slice is enough to determine the dish of the evening? Why make long speeches when we can convey our emotions in almost all variations via messenger or social media with a small yellow face?
According to Duden, an emoji is a "pictogram originating in Japan, similar to an emoticon, which is based on emotional states, objects, places, animals, food, or the like. Refers (in electronic messages) ".
Oh yes, by the way, here is an unbeatable argument:
95% of internet users have used an emoji before. Over 10 billion emojis are sent every day.
These figures, published in 2018 – based on a study by Brandwatch – prove that emojis are the "most popular language on the Internet." But what does that mean for our communication and marketing activities?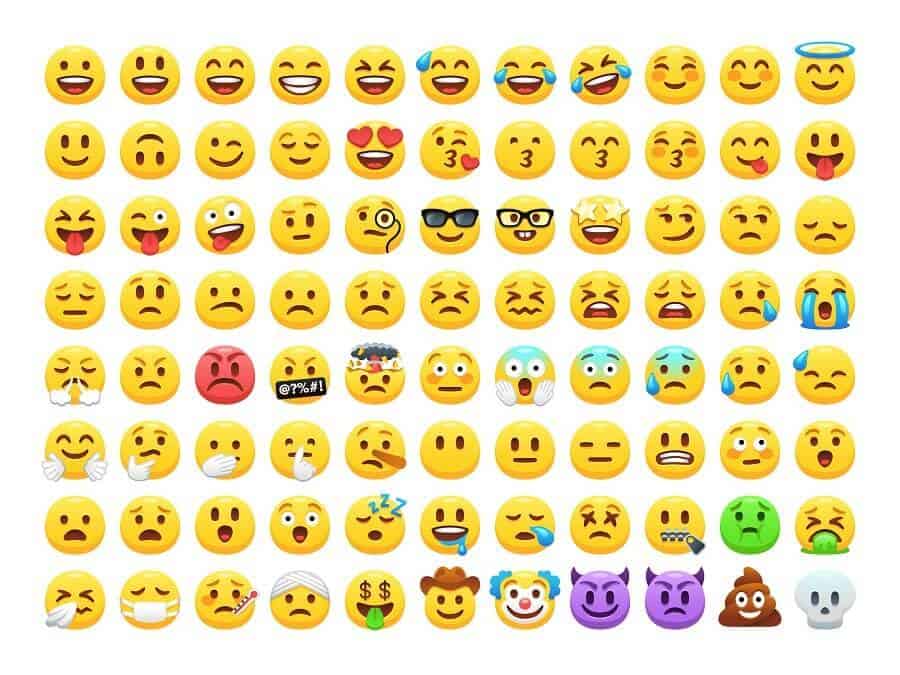 My contribution to visual storytelling was primarily about the power of stories and the fact that – in contrast to the written word – we can remember up to 80 percent of what we see. Transferred to the use of emoji, this means that we can save many words and emotionalize our corporate messages with suitable smileys. This statement, however, has to be considered theoretically and broken down quite a bit, because marketing with emojis is not that easy, as my examples will show in the practical part.
According to a study by quietly from 2017, the use of at least one emoji per post on Instagram leads to an average of 47.7 percent more interactions. Larry Kim also confirms this trend about Twitter: Tweets with emojis on average, ensure a 25.4 percent higher engagement, and, at the same time, lower costs (paid media). From my point of view, we can also transfer the same thing to Facebook.
Tip: Jenna Schilstra speaks in her TED Talk "In defense of emojis" about the historical development from the hieroglyphs of the ancient Egyptians via Japanese characters to the positive effects of smiling faces that can be determined today:
Storytelling with emojis: 4 best practice examples
With emojis, you can quickly and succinctly package your corporate message as a story that accommodates the current consumption behavior of users for snackable content. Another plus point, which in my view should not be underestimated: emoji marketing campaigns are in principle cross-language and can be deciphered (almost) anywhere.
MC Donalds
In 2015, the most famous fast-food chain in the world took up everyday situations in its storytelling campaign and cleverly "tells" the plot with suitable emojis:
A couple goes shopping. She buys outrageously, expensive shoes. And of course, you pay with the standard credit card. He is more than shocked by the high price. A few repetitions of the same scenario reinforce his state of mind. Remedial action comes quickly: The well-known burger restaurant is the rescue in need and ensures that men and women can enjoy their "good times" at McDonald's at the end of the shopping tour.
Conclusion: Typed the story sounds banal and boring, right? Even if one or the other user can undoubtedly put himself in the protagonist's position here. Illustrated with emojis, the scenario (especially the multiple repetitions) looks amusing and harbors a small but subtle puzzling character: a hidden trick.
IKEA emoticons
IKEA thinks even more significant when it comes to emoji marketing: In the store, the furniture company has launched specially created emojis for iOS and Android. Among them are numerous brand-typical furnishings as symbols. And of course, the infamous meatballs Köttbullar should not be missing here.
Conclusion: From my point of view, a smart marketing trick, which aims to integrate unique selling points into the everyday communication of users and to create an unmistakable recognition value.
Domino's pizza
In May 2015, the delivery service Domino's ensured engagement, brand awareness, and publicity with its extraordinary Twitter campaign. American users could easily order via pizza emoji using the "tweet-to-order" system.
A unique feature: With the help of Emoji Art (a large overall picture is created from many individual emojis – here a giant pizza slice), the post is scattered on Twitter and subliminally promoted for the delivery service.
By sending a pizza emoji, orders could be placed directly with Dominos's as part of the 2015 Twitter campaign.
Conclusion: From my point of view, the main aim of this campaign was Dominos's to attract attention and to address a busy, younger audience. There was virality for free!
ALDI North & ALDI SOUTH
A joint campaign by ALDI Nord and ALDI SÜD did not cause a sensational advertising stunt until 2018: meals in the form of an emoji.
The cake from the ALDI emoji marketing campaign looks shockingly good.
Dishes such as tortellini, cake, or a classic omelet are staged with the right ingredients and easily converted into the most common emojis. The cross-media campaign was not only shown with specially created slogans (for example, "Shockingly good prices!") On billboards, digital advertising space, and as an advertisement in various daily newspapers, but also played out on social media.
Conclusion: As part of the emoji campaign, the two ALDI giants were primarily concerned with reaching a younger target group and increasing the coolness factor. To be able to play at the front and continue to win customers, eventually, in the dusty discounter business, sooner or later, new paths must be taken. And what is more suitable than the most popular language on the Internet?
Use emojis correctly: 7 tips.
Match your emojis to your products: Here, you should think about which emojis can illustrate your products or check whether there are suitable ones for your products. For example, if you sell office supplies, you can use food of emojis on social media (????, ????, ????, ????, ????, ????, ????). To find out what options you have, just browse Emojipedia.
Get an idea of ​​your target group: Develop a feeling for your target group and answer questions like "Who are my users?" And "How do they communicate?". The topic of gender also plays an important role here, as men and women express their feelings online in very different ways, as Brandwatch has determined. At least on Twitter, the traditional code applies: Boys don't cry!
Emotionalize your company messages: With emojis, you can do storytelling and to tell (short) stories. In the McDonalds example, of course, there is a large-scale advertising campaign behind it. But that doesn't mean that you need a lot of budget for your stories. You can also simply decorate your posts on Facebook, Instagram, and Twitter with suitable emojis or leave a post without text and only with emojis.
Communicate with your target group on a more personal level: this is about emotions and sympathy. On Facebook, for example, you can use the "Feel / Activity" button to express how you are feeling. If you want to use this function, it always depends on the topic. For example, if you have received an award and want to shout your joy out into the world, it is legitimate to feel "thankful" or "fantastic."
Avoid emojis that could lead to misinterpretation: In this case, caution is essential! There are some emojis that are misleading or have other uses in common usage. Because honestly, we all know what the eggplant means, right? ????
Check the display of your emojis on different devices: Apple, Samsung, Microsoft, and Co. – the various methods represent a hurdle when using emojis because the symbols are often displayed differently. Here I advise you to compare the desktop view with that of your smartphone. Then you have at least two possible forms of presentation in your sights.
Don't use emojis in your social media marketing in an inflationary way: that's all well and good, but you should still use emojis in your social media marketing in a targeted manner and not overdo it. Note: The emojis used should always match the topic and your brand.
Excursus: And what does the Duden say?
Have you often asked yourself where in the sentence the emoji has its place correctly? Before or after the punctuation mark? Don't worry; we can breathe a sigh of relief because in April 2018, the Duden, the highest grammatical authority in the German language, took on this case.
Well, if anyone knows, then probably the Duden.
One thing is now – thank God! ???? – so clearly: emojis should be placed after the punctuation mark in complete sentences. But what about emojis that replace whole words? In my opinion, that should be okay from a grammatical point of view, because there shouldn't be any rivalry between emoji and punctuation marks here.
Incidentally, it is no longer uncommon for dictionaries to deal with contemporary forms of communication such as emojis. In 2015, the emoji with tears of joy was voted "Word of the Year" by the British Oxford Dictionaries.
The Word of the Year 2015 in the UK: Face with Tears of Joy.
Digression: Emojis in the Google SERPs
Perhaps you have already come across them when you put a search query: emojis in the Google SERPs. Three years ago (2017), Google released the function to work with emojis in both title and description.
When searching for "barfen tips," the third snippet, peppered with emojis relevant to the topic, appears in the Google SERPs.
Although the snippet for the search query "barfen tips" is only in the third position in Google SERPs, the title and description are so striking that the search result from barfen.info at least visually outperforms the competition. Emojis are used here to attract attention and attract attention.
Now honestly: Which search result from the top 5 catches your eye here?
Emojis are increasingly found in the description and are also displayed more frequently on the desktop than in the mobile view, as SISTRIX has found out. In principle, the result is not surprising since symbols such as hooks, arrows, or the telephone are often used in the description.
But in this case, too, the principle applies: The emojis used should always fit the topic and your brand.