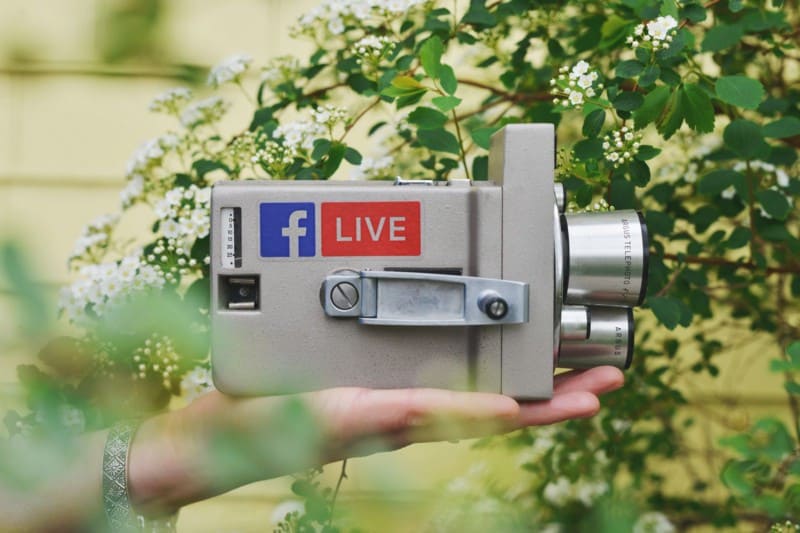 93% of B2B companies use content marketing.
However, only 5% believe that their measures are also particularly useful.
And an estimated 50% of all content is not used at all.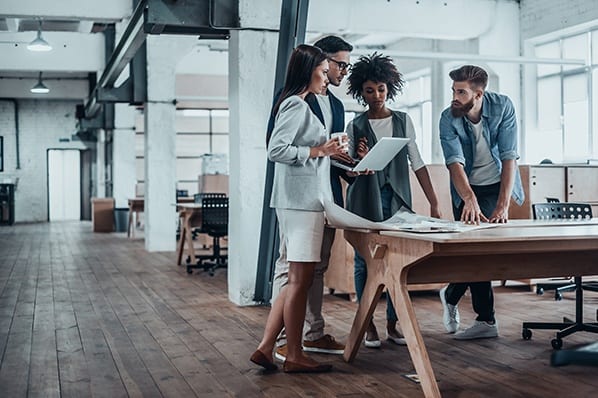 What went wrong here?
Just a few years ago, you could put 1, 2, 3, or 300 blog articles on your website, direct a lot of traffic to this content via all social media platforms and generate masses of inbound links for this content. Also, you could simply choose a few keywords and quickly achieve a good ranking on Google.
Reaching your target audience and winning new customers was (almost) a piece of cake.
Unfortunately, those days are over.
But these unclouded years are unfortunately over: As Gartner correctly predicted in his hype cycle, we are now at the low point of the disillusionment phase.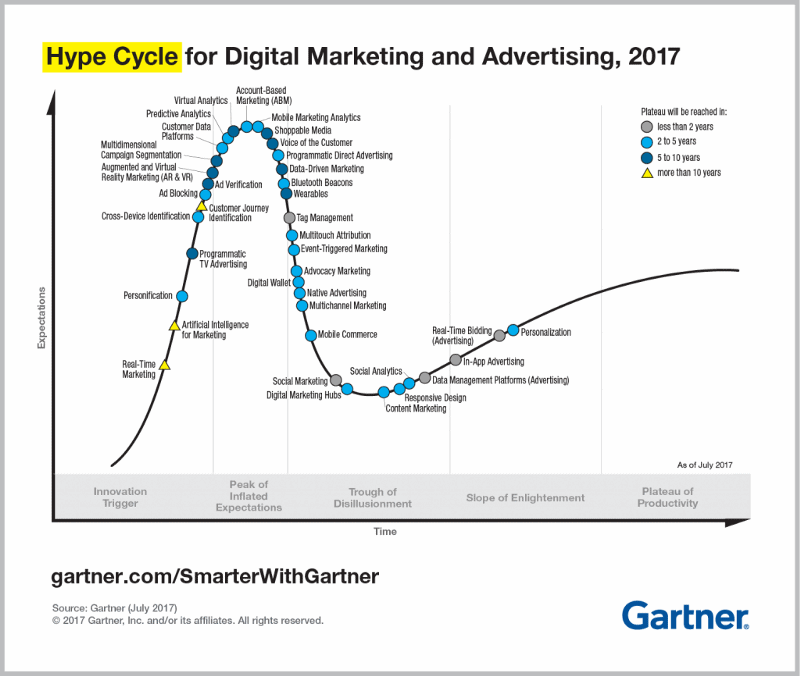 Like all the other waves of enthusiasm for specific marketing channels (billboards, TV spots, e-mail, etc.), content marketing first reached its peak, only to then quickly slide towards a new low point.
After massive success for a few early adopters, content marketing was used by more and more companies, and the "new" quickly lost its appeal.
The resistance has increased, but the expectations – at least in marketing – have not entirely evaporated. But the more the marketers cling to it, the more ineffective content marketing becomes.
So how should it go on?
In any case, giving up is not an option. One cannot simply dispose of content marketing in the trash of marketing history thanks to its blurred boundaries, as some other more clearly defined strategies.
If you define content marketing as the strategic distribution of valuable content, it is an integral part of almost all marketing strategies in today's world.
Content marketing can again become as powerful a tool as it was a few years ago.
But first, we need to understand what has changed since the hype peaked, what obstacles are in our way, and how we can overcome them.
We don't have to throw away the guide – we just have to revise it thoroughly.
Very easily:
Less is more
One thing is clear: we are drowning in too much content.
Businesses generate more content than ever before; according to a Beckon study, annual growth is 300%.
The problem with that? The need for content among our target group remains the same.
We cannot read, process, and share more and more.
We still appreciate excellent content, but as our needs become more saturated, fewer and fewer content elements still achieve outstanding results.
But that's not all.
As the study mentioned above shows, only 5% of corporate marketing content generates 90% of customer interactions.
If you do a bit of research on content marketing yourself, you will find many results that point in the same direction, e.g., For example, an average of 19 out of 20 content items get little or no attention, or a team that produces 90% less content would continue to get the same results.
The solution is simple: publish less. Publish correctly. Only publish useful content.
Then you can use the time gained to optimize your evergreen content.
Evergreen content
Evergreen content is characterized by the fact that it does not lose its usefulness over time.
Temporary content, on the other hand, is only relevant in the short term.
Of course, both types of content have their justification. Brief content provides a breath of fresh air and allows you to react to short-term trends. But it is your evergreen content that helps you achieve the long-term accumulated results that originally made content marketing so valuable.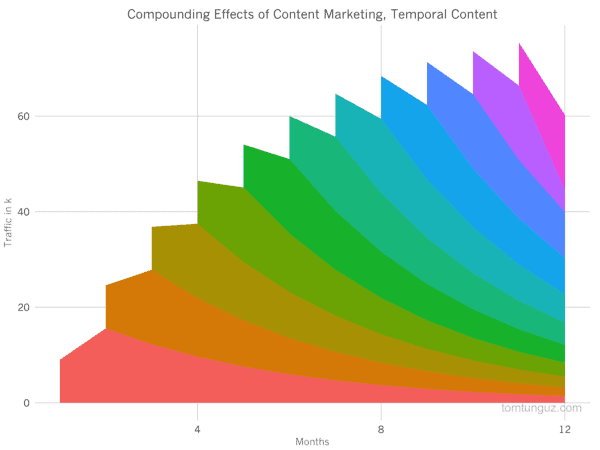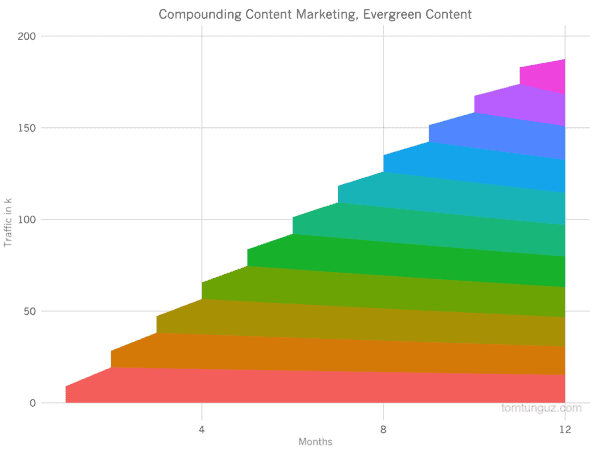 Of course, it is tempting to continue with our fast-paced online life and continue to produce a flood of temporary content. But relying on these short-term outbreaks of interest is a) expensive, b) time-consuming, and c) unsustainable – because the results will continue to deteriorate.
Even if a post gets a lot of attention initially, studies show that many shares do not necessarily lead to many links.
Evergreen content, on the other hand, is characterized by the fact that it has been proven to generate the greatest possible amount of organic traffic over time with the least possible effort.
It's not about focusing 100% on one type of content, but when in doubt, you should invest more in your evergreen content and less in the temporary content.
However, evergreen content must of course also be regularly updated so that it remains current and relevant.
Historical optimization
The process of updating and revising older content to generate more leads and traffic is called "historical optimization ".
This is particularly worthwhile for:
Content with a high conversion rate but little traffic
Content with a lot of traffic but a low conversion rate
Content with poor performance that was generated with a lot of effort
With historical optimization you get the best out of already tried articles.
As you revise content, you should improve: accuracy , timeliness, and scope .
These areas are particularly suitable for revision: headings , text quality , internal and external links , images , meta descriptions and calls-to-action .
On GrowthBot you can find out which keywords you are already ranking for and compare them with the keywords of similar companies.
Your revised content should then be published as brand new (with a new publication date , because Google favors new content).
Dissemination and reprocessing
How you distribute your content is almost as important as the actual content.
If you focus on redistributing existing content, you can achieve the same (or even greater) reach with little effort. At the same time, you can reduce the pressure on your team to create more and more new content.
With this strategy, online magazines such as The Atlantic , whose traffic comes from 50% of content that was not produced this month, have significantly increased their readership .
When it comes to content reprocessing, there are various options: popular evergreen content , newly edited articles , older content that suddenly becomes relevant again, or simply information or studies that continue to be useful.
Everything comes down to the much-quoted definition of content marketing: to support the right target group with the right content at the right time.
If you keep an eye on the current trends, you can judge whether it is worth repeating (or rewriting) a post and how best to disseminate it.
But you shouldn't just rely on reasonable assumptions. Automated research, for example with GrowthBot, can help you find out what is interesting for your target group. On GrowthBot you can find out, among other things, which articles are currently trending on a certain topic or which posts are viewed the most on a relevant page.
Another useful tool to identify popular content is Ahrefs' Content Explorer .
Smarter search engine optimization
Nowadays, the main channels for distribution are in the hands of a few large companies, especially Alphabet and Facebook (and their subsidiaries, such as Google or YouTube).
Therefore, we are at the mercy of their algorithms, which are also constantly changing.
For example, the Google algorithm has been changed so that "real experts" are rated better for a certain topic than content machines or students who publish a few articles to pay their rent.
Search engines (and new technologies such as Amazon's Alexa) are generally becoming more sophisticated and complex – in the meantime, they can even identify semantically related concepts .
Due to personalized search algorithms , it is becoming increasingly difficult to calculate or predict keyword rankings.
Google displays highlighted snippets on its search engine results page.
Facebook has updated the algorithm for weighting the organic content in the news feed for the same reason, namely to avoid that users go to other websites.
These changes represent a paradigm shift in search engine optimization.
The first step is of course that your content is interesting and relevant, not only to appear as high as possible in the search results, but also to motivate your readers to go from the search engine results page to your page .
But that alone is no longer enough these days.
Use topic clusters
To position yourself as a "real expert," you have to focus consistently on a certain topic and not just produce one-time articles that are aimed at certain keywords.
Topic clusters have already been hailed as the future of search engine optimization and content strategy, but the data situation is still fairly uncertain. (So ​​now is the right time to get started!) Topic clusters are groups of related website content that cover a core area. Each cluster has a Pillar page that broadly outlines the topic and more specific supporting content that points back to the Pillar page.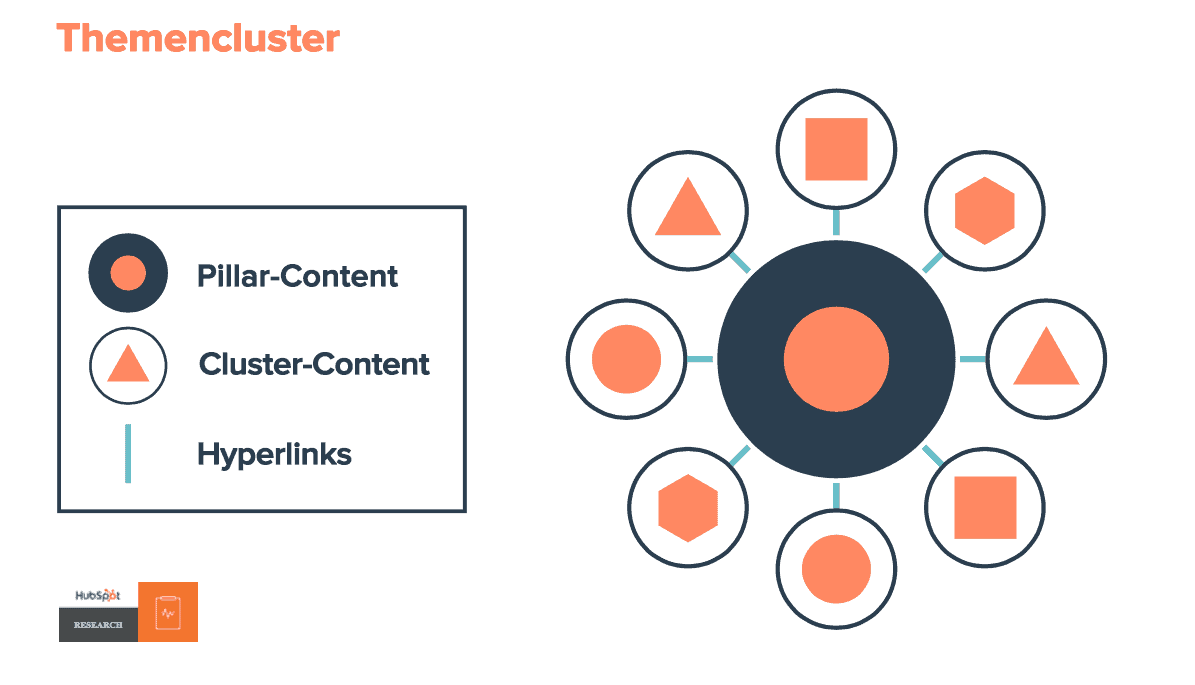 The core content links to the subordinate content and this in turn links back to the core content, whereby the same keyword is always used as anchor text .
If one of the pages performs well, this has a positive effect on the ranking of the entire topic, which in turn leads to more visitors, a positive feedback loop and even more traffic and conversions.
This in turn has a positive effect on the ranking of similar content on your website, which can even lead to your company occupying several positions on the search engine results page for a certain keyword.
The organization and architecture of a website is made clear through the introduction of topic clusters. It also encourages a more conscious approach to posting content.
In the past, content was usually posted because it was interesting or current. With the introduction of topic clusters, however, organic gaps in the cluster can now be used as a strategic starting point.
Highlighted snippets
A highlighted snippet is the search result with the best ranking, which is displayed in a field below the advertisements on Google. It is intended to answer a user's question immediately.
It is of course no surprise that highlighted snippets get a lot of attention: Ben Goodsell from RKG Merkle , for example, saw a 677% increase in sales among organic visitors and a 400% higher click rate .
Ahrefs reports in a study that 99.58% of the highlighted snippets are already in the top 10 on Google. So if you already have a good ranking, your chances are good.
As detailed in this excellent Moz guide , there are tons of ways you can optimize your content and increase your chances of appearing as a highlighted snippet on Google, for example: keyword research , on-page SEO , Twitter observation , structure , format and images .
It is also important that you answer as many similar questions as possible .
You can also search for relevant snippets from other companies and try to be mentioned in them.
Also very useful is the "Asked also" function, which you can use to find out what Google links. This enables you to discover untapped content potential and develop strategies for the future.
Facebook
Facebook has completely changed the value chain in digital advertising by combining pay-per-click with recommendation algorithms.
According to a study by Buffer , the new Facebook algorithm is based on three active interactions: commenting , sharing and reacting .
Adam Mosseri, Head of News Feed, explains : "Posts that lead to conversations between people move up in the news feed."
On the other hand, companies should avoid posting content in which they lure their customers so that you can comment on, share or otherwise react to the post, as this will cause their content to slide further down the news feed.
The interactions must arise out of genuine interest and not just in response to a tempting offer.
Incidentally, the algorithm makes no distinction between privately and publicly shared content.
For most companies, reach and referral traffic will continue to decline. So maybe it's time to think about the budget and resources you're investing in Facebook.
There is no secret recipe – to be successful, your content simply has to be authentic, relevant (and usually appealing).
Brian Peters from Buffer sums it up : "Instead of developing content for a company with which people should then interact, we have to generate content for people who trigger enough emotion in them to comment on or share the post."
We have to break out of our rut
The final hurdle is our dependence on the same worn methods. This strategy may have worked in the past, but it no longer does today.
It is therefore extremely important to continuously test different channels and strategies for customer acquisition.
In doing so, you build up a wealth of experience that you can always fall back on when your current strategy needs to be revised or exchanged.
This experience also benefits you if you want to open up new target groups or find out more about the interests of your target group.
Here are some suggestions you can try.
Conversational marketing
Conversational marketing means that you have a personal conversation with a customer or prospect.
According to a recent study by Twilio , 90% of customers would like to communicate with companies via messenger apps. Platforms such as drift or intercom enable this communication to be scaled.
This also clearly shows how the distribution of content has changed. The idea that the customer receives the right content at the right time, d. H. when he just asked about it , it has become a reality.
Alex De Simone, CEO of Avochato, said: "We are seeing increasing machine learning technologies that help marketers deliver customized content for each customer. This paradigm shift from traditional content marketing to AI-supported conversational marketing will radically change the work in marketing and enable marketers to provide better content in a scalable manner.
Video marketing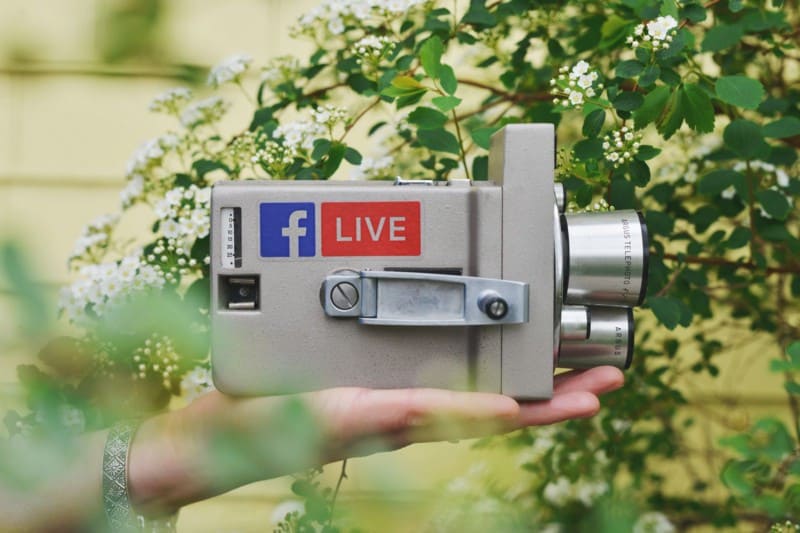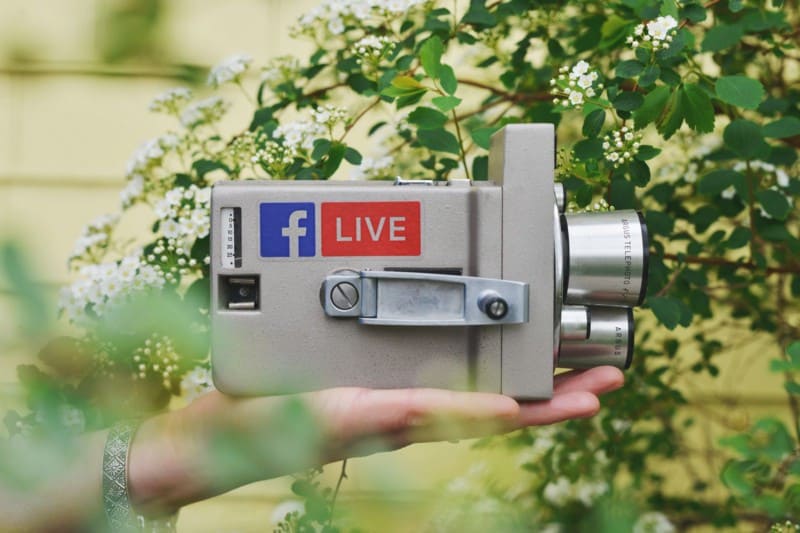 Video is already the fastest growing and most sought after channel today. Many experts are convinced that video will be the most important content marketing platform of the future.
In a world where everything is becoming more and more automated, the video also appears to be one of the last communication channels in which nothing can be faked.
Not convinced yet? The numbers speak for themselves:
In 2019, the video will account for more than 80% of web traffic.
96% of consumers say that videos are helpful when making a purchase decision.
Digital marketing expert James McQuivey estimates that a single minute of video content is worth 1.8 million words.
Websites such as Simpleshow and GoAnimate are a good place to start.
Video marketing is so effective because it appeals to two senses – seeing and hearing – at the same time, so users can remember it better than plain text. And when customers remember your video, they remember your brand.
Emerging technologies
Emerging technologies will be mainstream over the next two years, opening up entirely new opportunities for content optimization.
By 2021, early adopters who redesign their websites to support both visual and voice searches will increase their digital commerce sales by 30%.
Also, experts say augmented/virtual reality will generate $ 150 million by 2020, which is just further evidence that visual content will evolve from an optional to an indispensable element in marketing.
Although virtual reality is still completely unknown territory for most, its unstoppable advance should serve as a warning to us to continuously experiment with visual content, such as interactive graphics, images, videos, and apps.
As Ginny Mineo puts it nicely, you should: "Adjust the weighting in your strategy between organic, regular, and experimental content channels."
If you want to be successful as a content marketer in the future, you have to be able to learn from the past and quickly adapt to the present.
Content marketing will go through a fundamental transformation process and will use AI and new technologies to provide selective content of even higher quality.