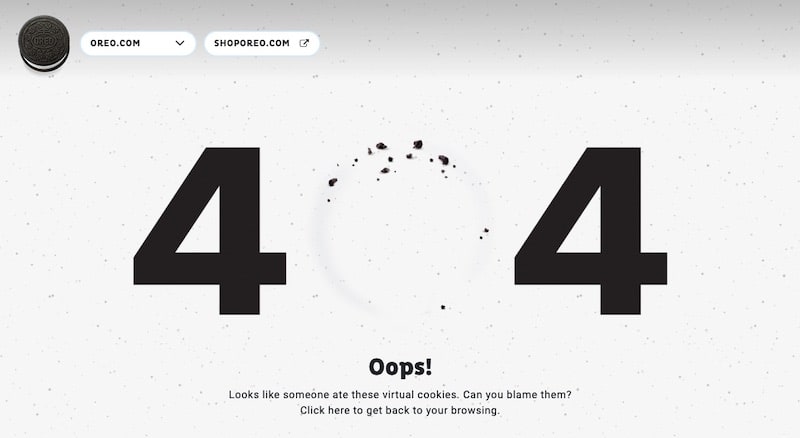 Perhaps you have also visited a website on which the error message "Malware on subsequent website" suddenly appeared. In this case, it is a so-called "blacklisted domain" or malware page, where the desired website cannot be accessed for security reasons. Your browser indicates this by the error above the message.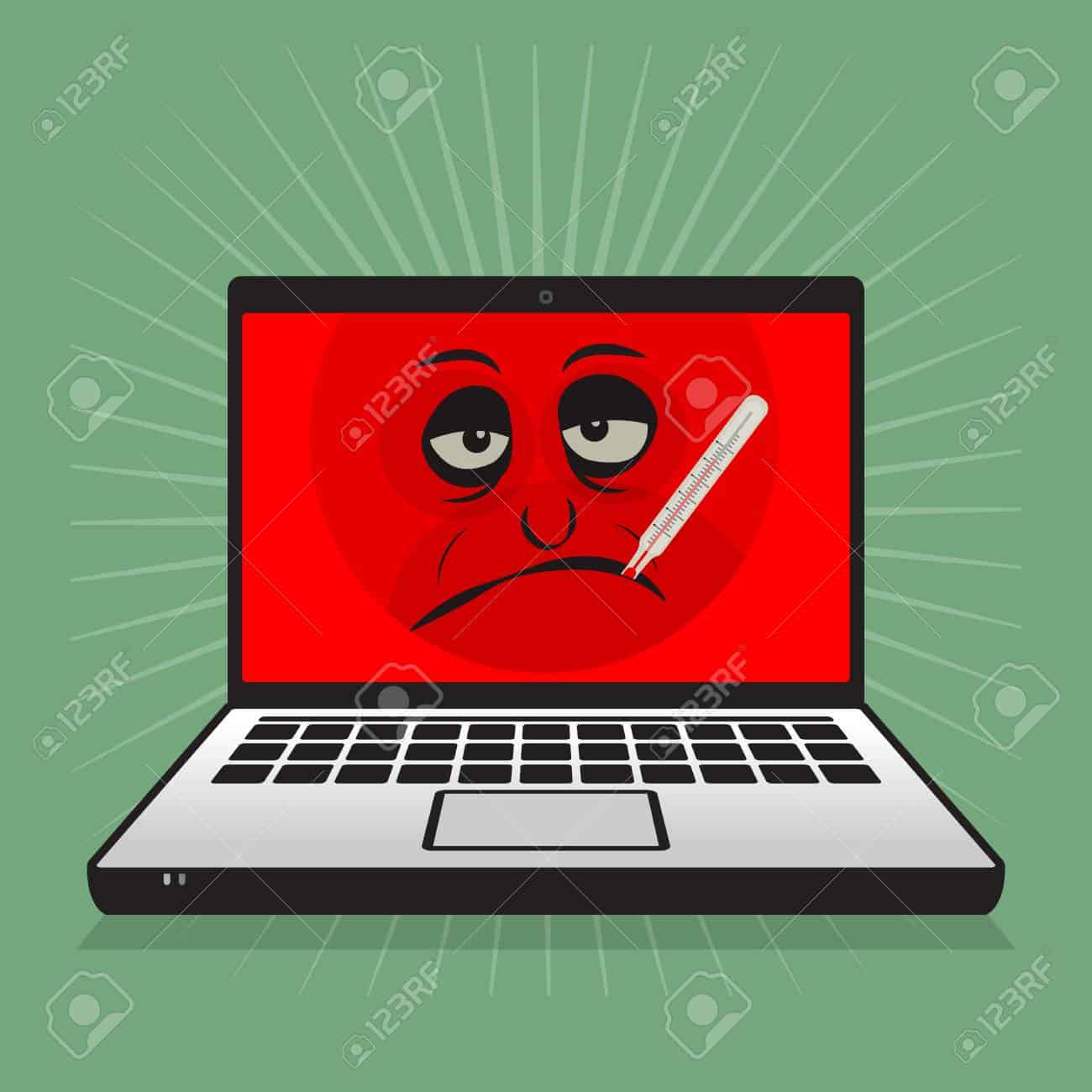 Broken links or even those that lead the visitor to your site to an offer contaminated with malware are not only bad for the user experience and your reputation as a website operator but also Holy Google a thorn in the side. Fact: Such mistakes are natural for any visitor your team annoying because then the information can certainly not retrieve.
In addition to limited user-friendliness, the search engine ranking also deteriorates, as these subsequently assume that a page that contains broken or even malware links is no longer up-to-date, and the page's usefulness is reduced.
I would like to go into this problem in more detail below.
What are the broken links?
Broken ("broken") links are usually links that lead to a page that (apparently) no longer exists. The requested page was simply not found. This is the so-called 404 error, which is one of the most common critical HTTP error messages and thus one of the client-side errors.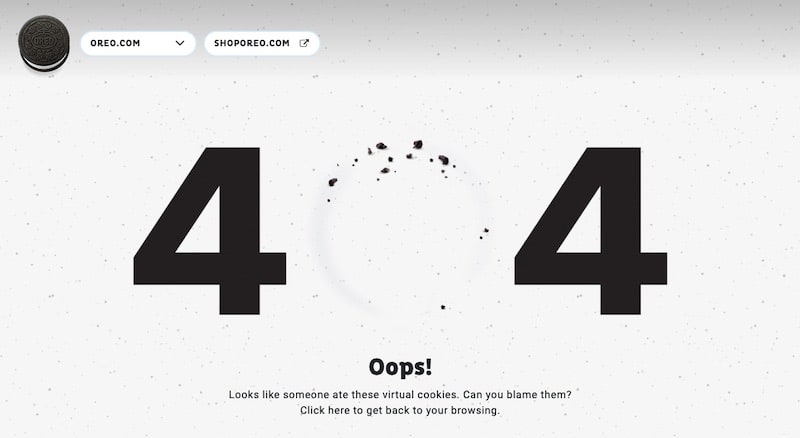 These can also be linked images that no longer exist. If you click on it, the picture does not appear in full size or does not point to another page, but only shows the 404 error. Or the embedded image is not displayed at all, which in turn reduces the value of a page.
Broken internal and external links also belong to the broken link category. Also includes:
A URL points to a file that has been deleted, renamed, or moved,
Links that don't work because the target domain is still empty or has been newly registered.
The requested page cannot be reached due to network problems.
The server itself throws an error 500 (and nobody cares)
The destination URL itself was misspelled, so the reference cannot be executed correctly.
The target domain has been deleted and can no longer be reached.
A domain has been parked, and the old, formerly valuable content has disappeared
Malware links and malware domains – what are they?
Malware domains differ from broken links again in that not only a single article or a single picture no longer exists, but it is entire pages that were adopted with malicious intentions and that now play malware, viruses, and advertising scam.
Google usually classifies such a domain as a "blacklisted domain" within a few days.
On formerly valuable sites, malware can be played from one day to the next.
Problem: Parked and even blacklisted domains are displayed as error-free by link checkers
A parked domain is an Internet address that is temporarily (no longer) provided with the content. In many cases, however, these domains show advertisements and advertising links to generate additional income. The aim is to use this income to bring the registration costs of the area until it can ultimately be sold or rented to someone else.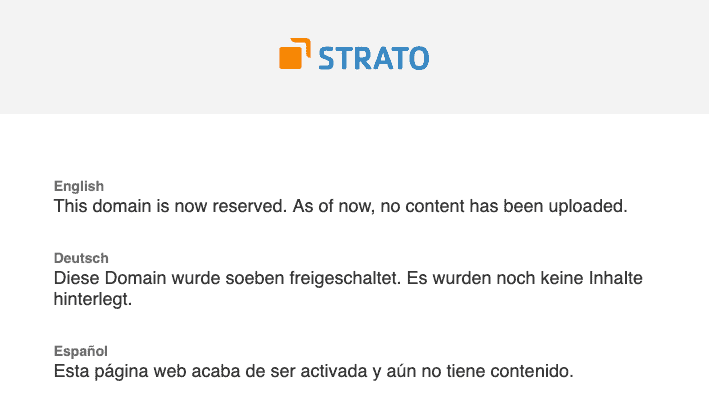 Unfortunately, you often come across parked domains. Here you can see one of the less annoying variants.
The problem? First, parked domains are devoid of any use for their visitors. Second, these sites usually respond with a "200 OK The request has succeeded "code.
While links with a 500 or 404 error can be found very easily using the Brokenlinkcheker plugin for WordPress or the "Check My Links" Chrome extension, this is not the case with parked and blacklisted domains .
Dead links, blacklisted domains and SEO
Anyone who is concerned with search engine optimization knows that Google's goal is to provide users with a precise and best possible search result and to filter out undesirable results.
The focus here is on the quality of the search engine results. Pages that are of no use to the user are affected by this update.
Blacklisted domains are entered on publicly accessible lists in which spam and hacked pages are reported. One of the more public records is, for example, the Google Safe Browsing list. With a blacklist check you can check which pages are listed here.
Malware solution: How to track down blacklisted and parked domains
If you want to reliably find pages with broken links, blacklisted or parked domains on the internet presence of your customers, you cannot avoid a reliable link or blacklist checker.
The professional link checker includes the "Dr. Link Check," which comes from the German software company Wulfsoft in Münster.

What is Dr. Link's check?
At Dr. Link Check is a browser-based app. So you don't have to download and install a program.
Do you let Dr. When running Link Check on your customers' website, the following three main categories are checked:
Broken link check: Has the URL been formatted correctly, or is the server responding in a reasonable amount of time? Is it the right SSL certificate? Is there a return code for an error, such as the 404 error?
Blacklist check: Can the link be found on the blacklist where websites with malicious content can be found?
Parked Domain Check: Is the link a placeholder? Does the website or the link have any valuable content and maybe only have advertisements?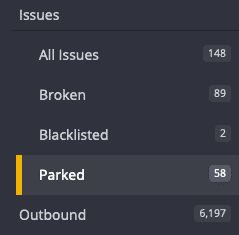 Dr. Link Check differentiates between broken links, blacklisted, and parked domains.
With the help of Dr., You don't need to check Link Check all subpages of a website manually. With a click of the mouse, the link checker browses through all subpages and analyzes them in detail.
You will then receive a detailed report and can see where you need to intervene.
Start with your homepage URL
To start a review, you should contact Dr. Start link check with the homepage. From there, the link checker searches through all HTML and CSS of your website. He checks all internal and external links; Even broken links from the stylesheet are recorded.
Several tests lead to success
Dr. Link Check checks all links in several runs. The tool thus ensures that, for example, pages that only have a short timeout are not listed as false positives.
Dr. Link Check checks for the following error messages:
Parked,
404 Not found,
SSL Error (if the SSL certificate is invalid or has expired),
Host not found (the domain no longer exists, or the DNS does not resolve correctly),
403 Forbidden,
5xx server error,
Invalid URL,
Timeout (if, for example, the server is down),
Other,
Blacklisted,
401 unauthorized,
Connect error
Pricing & pricing options
Dr. Link Check is available in four different versions:
Lite version,
Standard version,
Professional version and
Premium version,
The lite version is free and only checks up to two websites with a maximum of 1,500 links per page. Only one type of broken link check takes place here.
The standard version costs $ 10 a month. This includes five websites with a total of up to 10,000 links. You can increase the number of connections, whereby the price also increases. In addition to a broken link check, it also includes a blacklist check, an SSL certificate check, and a scheduled check.
The professional version costs $ 21 a month. There are ten websites with 20,000 links per site, whereby you can individually increase the number of connections. This version offers the full analysis program and also provides a parked domain check.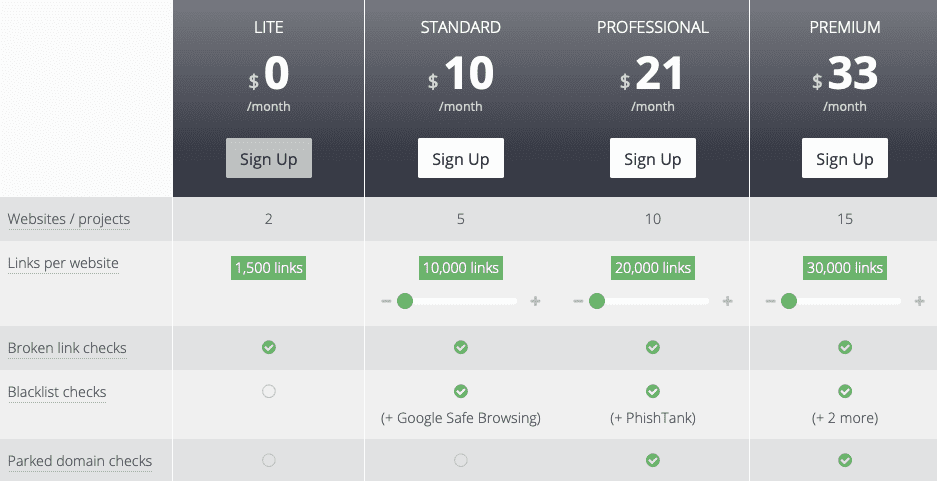 The full program also offers the premium version for $ 33 a month. This includes 30,000 links per website. This number can also be increased depending on the price.
Conclusion
If you want to check your site for broken links, parked domains, or even blacklisted sites, then Dr. Link Check provides all the necessary tools in a clear user interface.
With this browser-based application, you always have all vital information in view and can carry out efficient on-page SEO when improvements and corrections are pending.
In addition to the free version, the paid versions are ideal for extensive analyzes to keep your website and that of the customers in good shape.