SEO (organic) or SEA (paid) search?

Which search channel may be the better one is a frequently asked question by customers in online marketing. Unfortunately, there is no easy answer to this, even if some marketing experts like to believe it. A long time ago, I found one of the most misleading threads in digital marketing that I've come across on Twitter for a long time. An SEO stated unequivocally that organic search traffic was far superior to the paid one in every respect:
This tweet seemed to me to be somewhat provocative and unreflective. But to my surprise, many other SEOs hooked up to the thread and agreed to the thesis without exception. Honestly: I do not know any data that could seriously support this statement even in the beginning. Especially not when it is generally said that the performance of organic search should outperform paid search in every respect. Trying to play SEO against SEA is too one-dimensional.
The goal with SEO and SEA is identical
Both disciplines aim to generate traffic for your website. In principle, from the user's perspective, it makes no difference whether a paid (SEA) or organic (SEO) search result is clicked:
The user searches for content that satisfies his search intent
Search results are suggested to him
The user decides on an outcome.
Both approaches are keyword-based and lead to success from keyword optimization. There are synergies between the two disciplines, but there are also deviations at crucial points. The SEA / Google Ads errors are more comfortable to fix by experts.
Ads, Ads, Ads?
Some users click on advertisements. And some organic click links. Marketers should try to address both (in the best situation) and not prefer one to the other. But let's dig deeper and think about ways to compare the performance of paid and organic search – without any bias.
The paid search has overtaken the organic search for ROxS
It is an open secret within the industry that Google has been offering innovations that hurt organic traffic since the beginning of 2016 at the latest. This includes, among other things, the inclusion of a fourth advertisement above the natural links in the browser window of the desktop, the addition of a third (and later a fourth) advertisement above the natural links, the doubling of product advertisements on smartphones and the fact that the Local Pack / Google my business (GMB) has been listed at the very beginning of the search results for some time. The Return on Advertising Spend (ROAS) versus Return on SEO-Efforts Spend (ROSS).
All of these developments ultimately led to the result that the organic search had suffered rapid losses in growth compared to the previous year for several quarters, as the diagram of the Merkle Digital Marketing Report shows (registration required):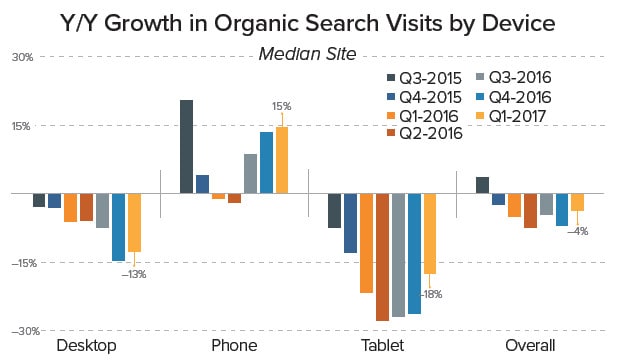 Convince yourself – take a look at Google's Q1 2017 financial result, which shows a 53% increase in paid clicks in Google results. And please do not think that this result does not affect the organic search. However, you should know that only around 6.8 percent of the total clicks go to paid ads and about 93.2 percent to organic results.
SEO vs. SEA – whether it suits you or not
I don't write these things because I like them or because SwaCash would make more money with SEA (no, our margin is slightly better with SEO than with AdWords ). Our agency runs both SEO and SEA with passion and makes no difference here when it comes to the individual goals of the customer. I still emphasize the importance of organic results in our online marketing workshops today, but that does not prevent me from recommending marketing decision-makers in individual cases what gives them the best results in the short, medium and long term promises and usually does not focus all of its resources on organic search.
Since Google is continually making changes that affect organic search and often not correctly in a positive sense, I think that all of these changes have to be dealt with in a much more differentiated manner. In any case, the paid search is growing and growing: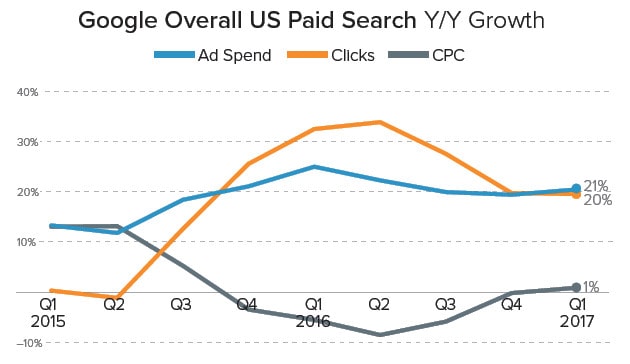 Note: These are USA values. The situation is different in the UK. I have not found any relevant comparative figures for D / A / CH.
I can say little of it straight away to the benefit of paid search. Even though this may vary from brand to brand, for most marketers, it does precisely that.
But what about all the other numbers that show that organic search is soaring while doing poorly with paid search? Anyone who knows how to carry out such comparisons correctly would be cautious here and would pay close attention to the nuances when analyzing these key figures. Clarifying such details once and for all should, therefore, probably not be done via Twitter.
Here are just two tips for everyone who wants to make a meaningful comparison between paid search (SEA) and SEO.
1. Query types and devices should be segmented
If a lot of your SEO traffic stems from searches for the brand name and only a small proportion of the paid search comes from other search queries, the performance varies considerably. This is shocking, I know. For this reason, traffic and conversion performance by brand vs. Non-brand segmentation. Also, further levels with subcategories should be created within these critical points.
The appearance of confusing organic search complicates this segmentation process queries in analysis packages (keyword: not provided or (not set) ). However, it is still possible, for example, with the help of the Google Search Console.
Similarly, organic and paid searches drive different types of traffic from different devices for each brand. Device types perform differently, which is also reflected in the key figures, from CTR to conversion rate to bounce rate. This would imply that all overarching performance evaluations could be "thrown" and that the different device types twist the principal characters.
An analysis, the result of which produces a winner whose victory was not brought about based on segmented data and critical figures, did not place any value on such segmentation. Presenting such a universal result, which should also apply to every conceivable brand, is utterly absurd.
2. Benefit from both paid and organic searches and measure growth
It's not just about measuring how paid, and organic search performs on a given day. It is essential to understand how they work together. Every marketing expert wants to rank organically for every keyword that they are considering, to offer in the paid search – preferably for the top position, of course. However, it is merely impossible for every website to appear on the first page of the organic search ranking for every single query that can be valuable to them.
Similarly, each brand would like an ad at the top of the page for every search query relevant to them. But the economy of paid search also limits this considerably. It is not profitable to bid on the top position of any search term, and in many cases, it is not even advisable to offer on the first page at all if the resulting profit is not significant in the end.
This results in a situation in which brands would like to have both organic and paid listing in the ranking (especially since users click both). Still, it is impossible to create absolute visibility for both. The key is to understand how these two types of visibility work together.
In the case of branded keywords, a page may intercept the total paid search traffic that it generates through advertising and the listing in organic search. Of course, this also depends on other factors, such as how many competitors bid on the same keywords and how the brand itself already occupies many natural links in the ranking on the first page.
Nevertheless, it turns out time and again that in a vast majority of cross-validation processes among brands, organic links do not generate the same traffic that the paid advertising receives. This suggests the increasing use of branded ads. So when it comes to this expanding traffic, there is no reason to say that SEO could outperform paid search – either the traffic comes through ads or you don't get it at all. Point.
In the case of a non-brand-specific search query in which a website does not rank on the first page, all traffic that comes from a paid search increases. So should one try to rank organically for this search query? Absolutely, but it does not mean that you should forego paid search entirely just because you have heard that organic search does better on all metrics.
Conclusion: stay impartial!
I think that marketing experts should use as many different search types as possible, regardless of whether it's paid links, the local pack, the knowledge graph, or even SEO. Choosing one channel over the other just because some voices claim that this is the only right way to go is silly and dispenses with the critical nuances of such a debate.
For the discussion of how the two channels work together, it is harmful to play one against the other. Because of the complicated relationship between paid and organic search, such partiality is only conducive to those who are committed to either and are trying to adapt the market to their needs.
In this regard, I am happy to work in an agency that deals with both SEO as familiar with paid search, so we are completely free is the best of both highlights and talk to the same extent about their challenges. It is important for us to work multidimensionally and to include every channel so that we can get the best out of every search query – regardless of whether it is SEO or paid search.
In a nutshell: stay open-minded, think critically, and try to understand that a comparison of paid and organic search can only take place based on a multifaceted analysis. And meanwhile, it CAN go so far that it can be worthwhile in individual cases to advertise SEO content in content marketing! With SEO versus SEA consideration, however, it becomes even more complicated!