Digital marketing is subject to constant change. While one encounters many imponderables in SEO, one can (almost) rely on Google Ads that the next update of the Google SERPs now "prefers" Google Ads (SEA) – a trend that will continue beyond 2020


Digital marketing – the first trends in 2020

After the latest update in 2020, the difference between SEO and SEA results is only minimal. Could this have been a very short interlude?
Couple weeks ago, Google began introducing a new desktop search design that blurs the line between organic search results and the ads above them. In a deliberately dark pattern, the only difference between ads and search results is the small black and white "ad" symbol next to the announcement. It has been formatted to resemble the new favicons that now appear next to the search results. Initial data collected by Digiday suggests that the changes may already be causing people to click more ads.

Guardian's Alex Hern is one of many to point out the problem and believe that there is now virtually no visual difference between ads and search results. "Technically speaking, the label is still there, but it's hard to distinguish it from normal search results," he tweeted.

I would argue there is now no visual distinction between ads and results. There is still, technically, * labelling *, but it's hard to escape the conclusion that it is supposed to be challenging to spot at a glance where the adverts end.
hern (@alexhern) January 23, 2020
This is particularly noticeable when you consider how different Google has designed its ads in the past. Until 2013, the search engine gave its ads an utterly different background colour to differentiate them from organic search results. But even after that, Google used colours so that users can quickly see where their ads ended and organic results begin.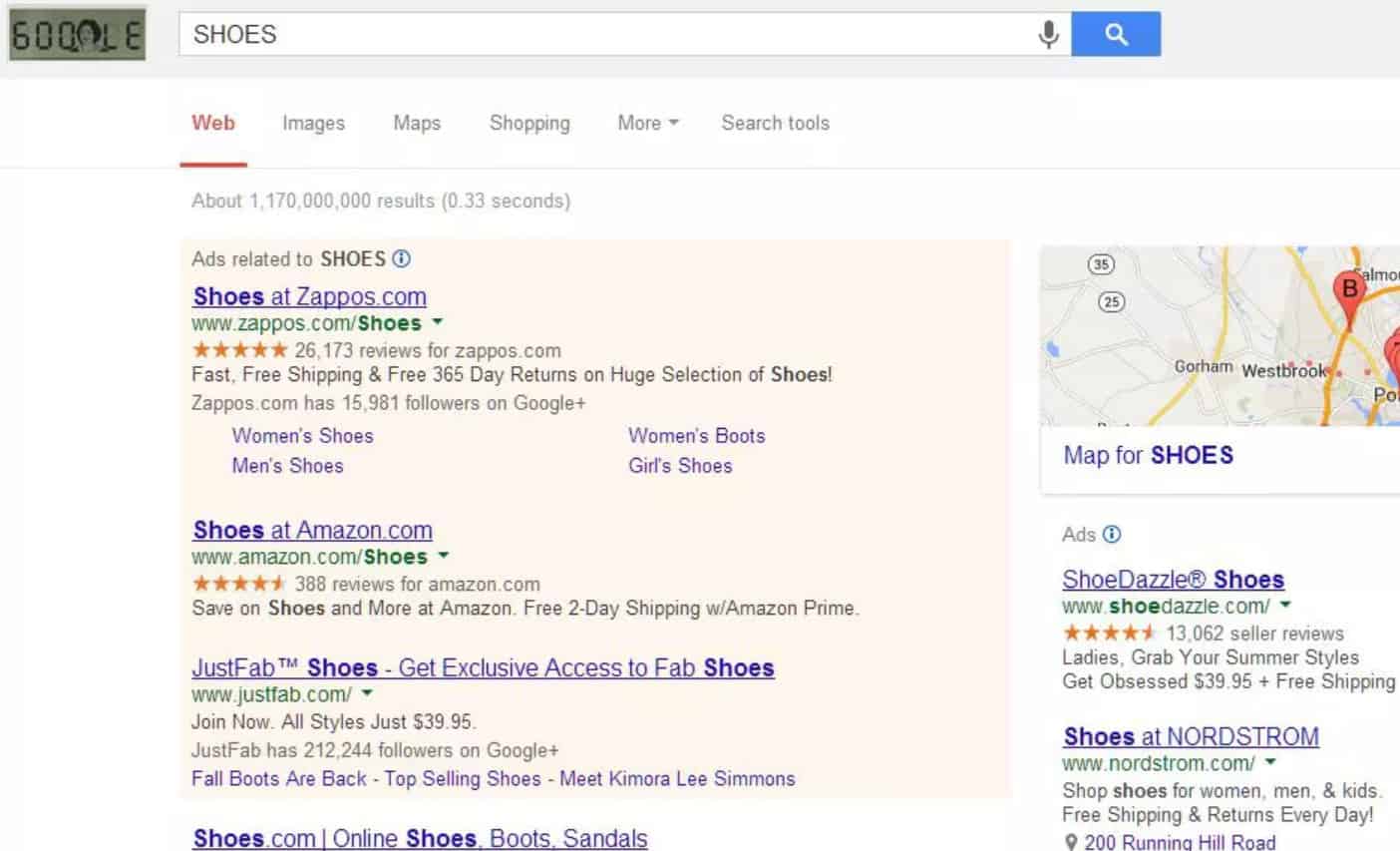 In a blog post, in which the new design last year for mobile devices came to the change partly explained Google so that adding favicons to the organic search results serves that "his branding a site in the centre should" which means "it's easier to scan the results." However, Google spent much less time reporting changes to their ads, which now feel much more critical, especially when you look at the results on a laptop or monitor.

In the past, Google's Sundeep Jain justified simplifying ads by saying that a more straightforward design "makes it easier for users to digest information," says Search Engine Land, He added that the company is trying to reduce the number of different colours on a page to bring a little more "harmony" to the layout.

It is hard not to get the feeling that this "harmony" is less about offering a better user experience than it is about increasing Google's advertising revenue. As Digiday reports, there is data to suggest that this is indeed the case. According to an agency for digital marketing, the click through rates for some search ads on the desktop have already increased significantly, and the click through rates for some of its customers on the mobile phone rose last year from 17 to 18 per cent after similar changes were made to the Google layout of the mobile search,

Google is an information and advertising company in one

Google is also an advertising company. In the third quarter of 2019, the parent company Alphabet earned nearly $ 34 billion from Google advertising, with total revenue of $ 40 billion for Alphabet in total. With such a scale, small changes in ad clickthrough rates could have a significant impact on the Alphabet's profitability, even if it means that advertisers are more likely to get more clicks.
You need to know that in 2020 in Google Ads and pay better attention to it

Honestly: It's hard to get organic traffic to a website. There's tons of competition for keywords, social media is now pay-to-play, and voice search is a downer in everything SEO-related.

If you want to get more leads and sales, you have to do de facto pay-per-click advertising (PPC). And with a whopping 63,000 searches a second, Google is the place to do it:
Google has 90.46% of the global search engine market share.
15% of all searches have never been done on Google.
Google has a market value of $ 739 billion.
An average person conducts 3-4 searches a day.
Google is continually expanding and updating its extensive product range, which makes it difficult for the typical marketer to stay up-to-date. That's why we've compiled the six most significant Google Ads trends for 2020 to help you plan the right marketing campaigns for your business this year.
Trend No. 1: Smart bidding for Google Ads

Google has invested heavily in artificial intelligence (AI) in recent years, and smart bidding is one of the many results of this investment. The definition of Google is:
Smart bidding is a subset of automated bidding strategies that use machine learning to optimize conversions or the conversion value in each auction – a feature known as auction time bidding.
Simply put, it takes the guesswork out of bidding on Google ads. Google's AI system uses machine learning to optimize for conversion in every auction automatically. You tell Google your advertising goal and Smart Bidding will find out how you can achieve it within your budget. IMPORTANT NOTE: The more data and budget you invest, the better it works. For smaller budgets, we, therefore, work with scripts and balancing the channels Native Ads and Social via the Google Tag Manager.

Smart bidding works for several PPC goals, including
Goal CPA: Generate new leads and customers at the cost you want per acquisition.
Goal ROAS: Get the best return on investment (ROI) for your expenses.
Maximize conversions: Increase your conversion rate.

With Smart Bidding, you can use many different signals to optimize your offer, some of which are system-dependent and not available when you submit a bid manually. Here are just a few of the signs you can choose from:
Location intent: where a user intends to go compared to their physical location. For example, when someone is looking for travel.
Day of the week and time of day: Local companies can address customers with relevant information or offers at certain times.
Remarketing list: Ads can be optimized based on users' recent interactions with products and the nature of those interactions.
Features of the ad: If you have multiple versions of an ad, Google can bid on those that are most likely to convert.
User interface language: The bids can be adjusted for the word in which a user searches.
Machine learning enables smart bidding to manage multiple signals simultaneously to tailor bids to the context of each user. So if a user is more likely to click on your ad while on the way home from work on the bus, Google can raise your mobile ad bids on weekdays between 5 p.m. and 6 p.m.
Smart bidding is an excellent option for companies just getting started with Google Ads or for those who don't have much time to manage a campaign. The main disadvantage of using it is that you have no control over which third-party websites your display ads appear on – you have to choose all or none of them.
Trend # 2: Google Discovery Ads

Google launched Discover, its personalized mobile news feed, in late 2018. The feed aims to present relevant content to the user even when they are not looking for it:

The content of Discover is arranged as maps under topics that need to be researched. It includes different types of depending on the interests of the user Videos, recipes, news articles and blog entries. Since the focus of the content is on relevance, you do not always get the latest content – as a rule, the current content of high quality is still offered.

Google Discover is available via the mobile Google app and visiting Google.com via a mobile browser. Users can control what is shown in the feed, which leads to a more personal experience.

Earlier this year, Google launched Discovery Ads, which are native ads that appear in different Google feed environments.

Similar to display ads or YouTube ads, discovery ads need to be visually appealing and mobile-friendly to look native to the feeds they're being played on. Google uses machine learning to optimize ad serving based on user search history, feed engagement, and other factors to serve the most interesting prospects:

With Discovery Ads, you can present more than one image, similar to the carousel ads from Facebook.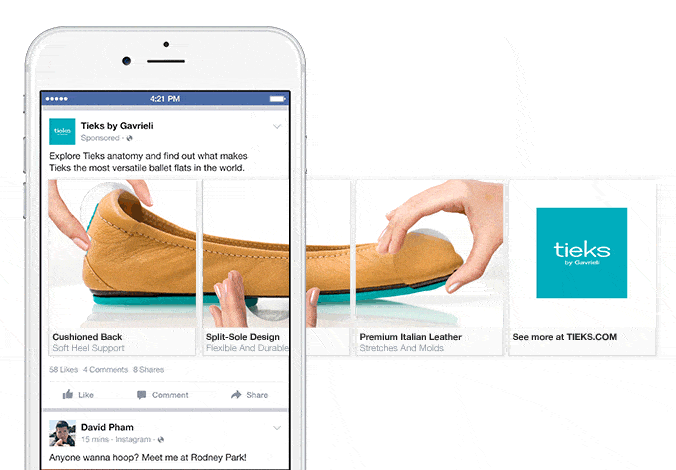 With Google's Discovery ads, marketers can reach potential customers not only through the Discover feed but also through the YouTube home feed and Gmail.

Trend # 3: Google gallery ads

In summer 2019, Google launched the beta version of Gallery Ads. Similar to Facebook's carousel ads, they contain images that mobile users can scroll through to get more visual information about a brand, product, or service.

According to Google, gallery ads seem to work: initial reports show that ad groups that contain one or more gallery ads have up to 25% more interactions.

Gallery ads appear at the top of the mobile search results and contain 4-8 images. Each image has its text, along with a static heading and URL, and advertisers pay when a user clicks or swipes an image.
Google gallery ads may not have as many uses for B2B or service-oriented offerings. Still, companies with offers that are well suited for rich image material should use this if they are published on a large scale.

With Google increasingly moving away from text-only ads, advertisers have more opportunities to present their products and services in a way that makes the most sense to their business – and their customers.

Trend # 4: Google ads and voice search

As more and more people buy smart/smart speakers, the text-based search is decreasing. And that will be very difficult for advertisers. Consider these statistics:
55% of all American households will have an intelligent speaker by 2022.
72% of people who have voice-activated speakers say that their devices are used as part of their daily routine.
Voice shopping is expected to increase from $ 2 billion today to $ 40 billion in 2022.
2 out of 5 adults use voice search once a day.

From now on, voice searches on screens – such as Google voice searches on the desktop or the phone – will show ads …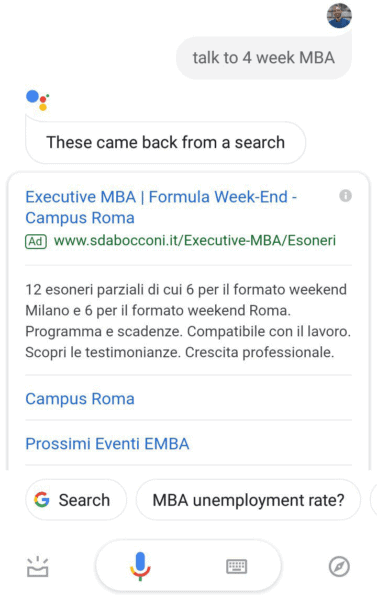 … but smart speakers like Google Home and Amazon Alexa devices will not show them. This is bad news.

The good news? That will change. Google is already testing ads on Google Home. Since users are moving away from text-based searches, the technology giant will surely find ways to monetize voice searches.
Trend No. 5: Extended audience segments

We talked a little bit about audience signals above, and expanding them is something that Google devotes a lot of time and resources to. Giving companies more options to reach the right customer is a win-win offer for Google because it benefits both the company and the user (not to mention Google's sales result).

In October 2019, Google announced two expanded target group segments :
Affinity audience: These target groups are built around interests and are identified based on surfing behaviour. Some examples of Affinity Audiences are beauty connoisseurs, convenience store shoppers and power users of cloud services. According to Google, Volkswagon used the affinity audience to create one achieve a 250% increase in conversion rates.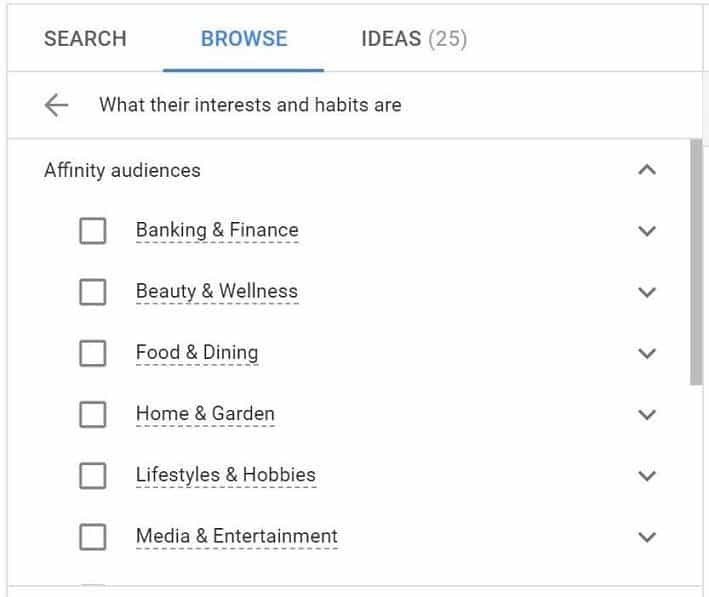 In-market audience: This audience actively researches or compares products and services. Google recently launched new seasonal event segments for these audiences so that advertisers can reach consumers through Search and YouTube with timely offers.

According to Google, Toyota saw a 67% increase in conversion rate and a 34% reduction in cost per conversion when they used the Black Friday and Christmas segments to focus on buyers who are actively looking for a car. With more than 700 identified target groups in the market, many companies will have the opportunity to interact with customers who are ready to make a purchase.
Find these new audiences in the ad UI:
Google has expanded its audience

None of these signals is new, but they have been developed to allow companies to reach their ideal customers at the right time. You can overlay these target groups over other parameters when you set up a new campaign.
Conclusion

The only constant at Google is that the company is continually evolving to serve customers' needs better.

These will be the significant trends to look out for in 2020, but we're sure that a few others will emerge later in the year. In the meantime, you can get creative with all of these new display types!