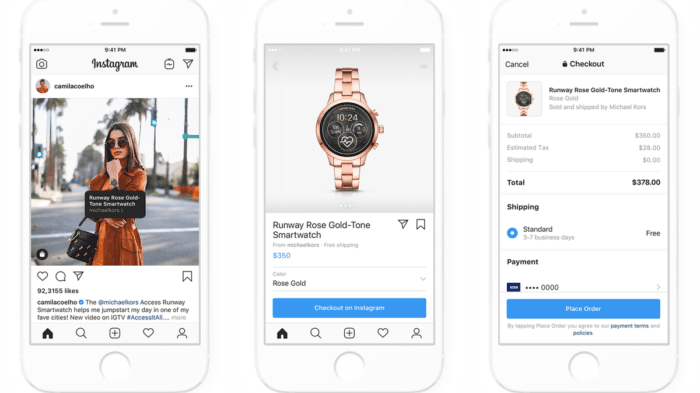 2019 is coming to an end – and therefore, an exciting year for social media. But what can we expect in the next one?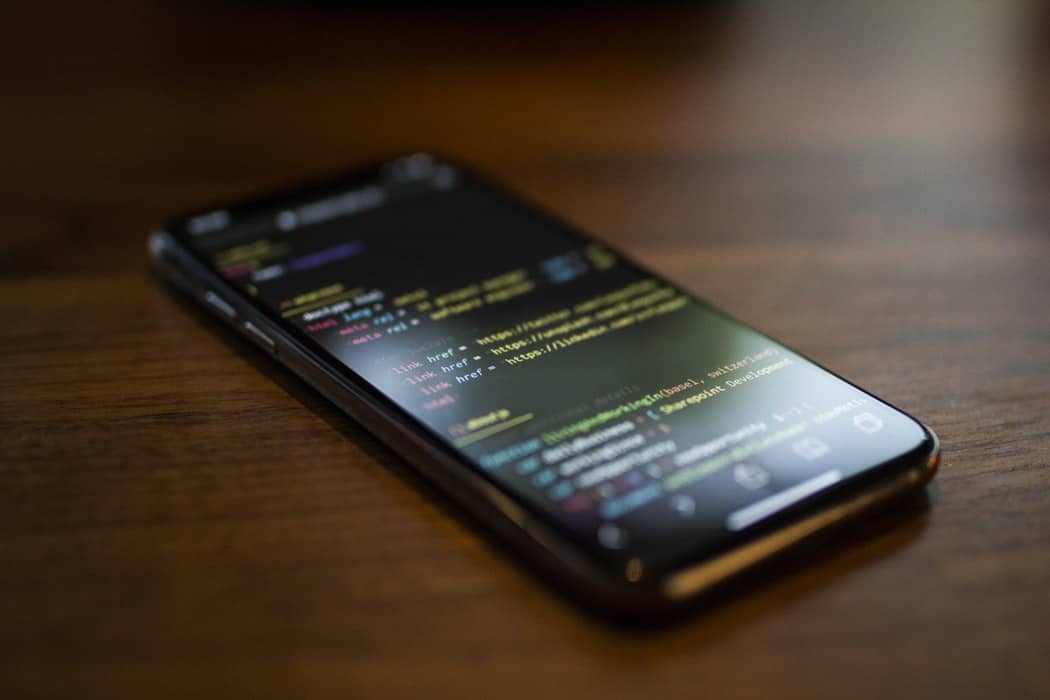 2019 was exciting, if often controversial, year for social media. TikTok has wholly exploded in its hype and has changed the social media landscape significantly, influencer marketing is also expanding in popularity, and with the rise of other apps, Facebook seems, if still stable, shakier than ever, which was hardly a few years ago was conceivable. The question now is, of course, how it could go on next year. The rise of social commerce? Even stronger influencer marketing or are we facing it? Will VR make its breakthrough in social media? In cooperation with Socialbakers, we show you the top 5 forecasts for the further development of social media in 2020, based on the data set of the marketing platform.
1. TikTok will continue to grow rapidly
One might think that this is hardly a forecast, but rather a logical determination based on this year. It's not that easy, however. If you take a look at the last quarter of TikToks, you will find that the platform had to register a growth brake for the first time. Furthermore, various controversies were circulating about the app, which called for scepticism and continues to do so: data theft, advertising using TikToks without the content Creators have been informed of this, political censorship and not forgetting the ban on LGBTQ + content. Many platforms and companies liquidate with far less controversy. So saying that TikTok will expand in the next year is by no means a matter of course.
But TikTok continues to shine as an advertiser on Snapchat and Facebook, where the app ranks 1st and 2nd respectively. Also, TikTok cooperates with celebrities like Jimmy Fallon and the videos created on TikTok also go viral on other platforms, where they make today's counterpart to the then successful app Vine. The company is also expanding steadily by setting up offices in London and Mountain View, for example, which in turn attract talent from competitors such as Facebook, Snapchat, Apple and Amazon. Attempts to compete like Lasso from Facebook failed miserably – the app currently seems irrefutable. Despite the controversy and the first slowdown in growth, it does not seem as if we will soon have to say goodbye to TikTok.
2. Influencer marketing will continue to grow
A forecast that could be disputable. After all, there seems to be a consensus among some that influencer marketing will soon come to an abrupt end – but we want to say no at this point. Yuval Ben-Itzhak of Socialbakers said:
Consumers are increasingly looking for reviews or ratings and credible voices when making purchasing decisions. This creates excellent opportunities for influencers and brands to reach the audience together and authentically.
If influencers are authentic and do not give the same impression as, for example, Dieter Bohlen within the Bruzzler Bratwurst advertising, they remain relevant. In the beauty, fashion, e-commerce and automotive areas, in particular, influencers seem to be on the move again recently – and it is not foreseeable that this will change in 2020, however fast-paced the internet maybe. Socialbakers is predicting so much investment that influencer marketing could develop into a $ 10 billion industry within the next year.
3. The breakthrough of VR / AR
For many, VR (Virtual Reality) and AR ( Augmented Reality ) seem to be just a kind of technical bells and whistles, which has found its place in Hollywood and video games, but also there as a little fun. However, there is an excellent potential in this, which the first companies are already using. Ben-Itzhak says:
At Socialbakers, we know that VR is a unique opportunity for marketers. Interactive technology can delight audiences, increase brand awareness, and drive discovery and sale of products. Imagine that your customers have the chance to discover products by browsing through virtual clothes racks and showrooms – a lifelike experience for your customers, which then leads to a purchase. While it may take 5 to 10 years for this technology to become widespread, VR promises to become a powerful tool in the dealers' arsenal.
The gap is already testing the applicability of the technology in its so-called DressingRoom app. In this, potential buyers can try on the selected products within the app. Thus, users can already look for suitable clothing sizes from home and, especially in the area of ​​online shopping; this should have reduced customer dissatisfaction when completing a transaction. Further tests will undoubtedly follow in 2020 and who knows? VR Shopping may already look like this in a few years:
Whether you are interested in it is, of course, an entirely different matter, since it could certainly have serious consequences, but it would still be technologically impressive.
AR also seems to find itself increasingly in shopping at the moment, with Instagram being a pioneer in this regard. The big player is currently testing so-called AR shopping, where users can try on AR clothes. In essence, this is very similar. It remains to be seen how far this will progress in the next year – but one should look out for this and not underestimate the intrinsic potential of VR and AR technology. So Ben-Itzhak :
While tech-savvy marketers have experimented with VR in the past, most make the mistake of underestimating the potential of this technology and just seeing it as a striking gimmick.
4. Social commerce will continue to grow
Anyone who likes to use the Explore function on Instagram will also be familiar with the shop sector there. Personally, the app tries to turn on mostly skinny jeans and women's tops, which could indicate that there is still room for improvement, but you should not underestimate how superb social commerce can always be – and maybe next year.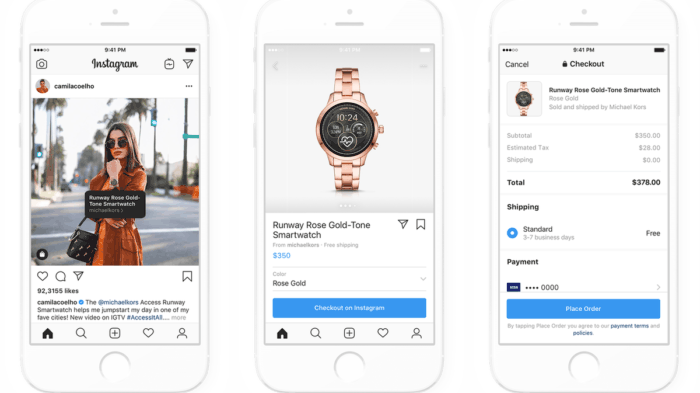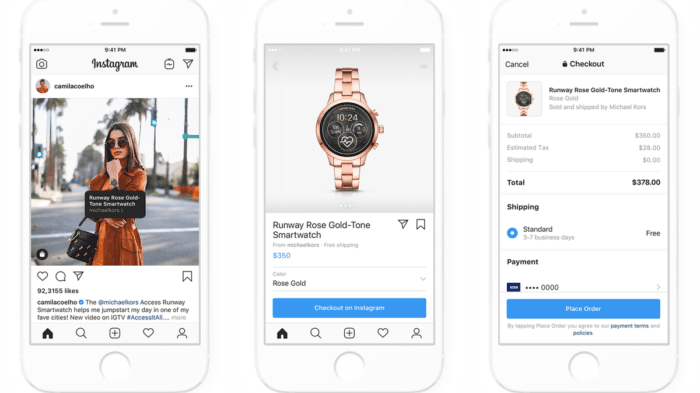 Shopping seems to continue to spread through social media, especially on Instagram. © Instagram
According to social bakers, shopping experiences via social media seem to be increasing rapidly, especially in the VR area mentioned above. Accordingly, it seems evident that we can see even more social commerce next year. On Instagram, for example, The Female Company met with great success by advertising its period products on the platform. Maybe TikTok will start selling metal chains, black jeans and striped long-sleeve tops based on the Eboy and Egirl fashion, which is strongly represented there – entirely possible, maybe even quite amusing, but very doubtful. However, ads are now also available on TikTok – and Hollister reports first successes in this regard. Ben-Itzhak explains the following:
2020 could be the year in which social commerce is launched, and customers buy products within a social media platform instead of opening the app on a shopping site or being directed to the online store
5. Fight for advertising spending between Instagram and Facebook
The winner here is, of course, Facebook, just not as a social network, but as a company, which includes both platforms.
As rudimentary as it may seem, we believe that all brands need to consider three critical basics when deciding where to use their budget – reach, engagement, and demography. From then on, a brand can become more precise as to which platform makes the most sense for a specific campaign or a continuous presence.
Although advertising spending on Instagram is now increasing, Facebook is still the frontrunner. TikTok is also investing heavily in Facebook advertising, which is partly responsible for the app being able to reach so many users. But Instagram, as the platform with the highest engagement rate, again has a particularly pronounced potential that too many brands have underestimated so far. It seems evident that this will change in 2020 and that more advertising expenditure will be made on Instagram.
A conclusion
Due to the new conditions for social media this year, such forecasts can only be made. It remains to be seen whether these will come true, but it seems entirely plausible. To say that with the still untapped potential of Instagrams, the rise of TikToks, the establishment of VRs and much more, an exciting year is waiting for us is no exaggeration – and we will continue to keep an eye on the social media landscape, just like Socialbakers.