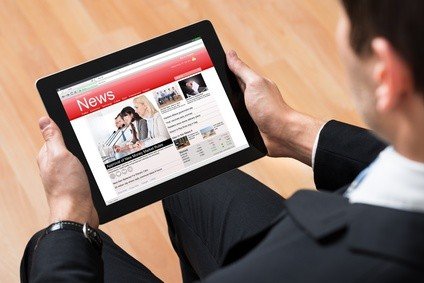 Website operators, web designers and sometimes even SEO professionals waste a lot of money with expensive link building and search engine advertising. You invest a lot in the freestyle, but forget about duty.
Good positions in search results can already be achieved with proper on-site work – especially in niches. And if it is not enough, you have to spend at least less money for appropriate link building thanks to careful on-page preparation.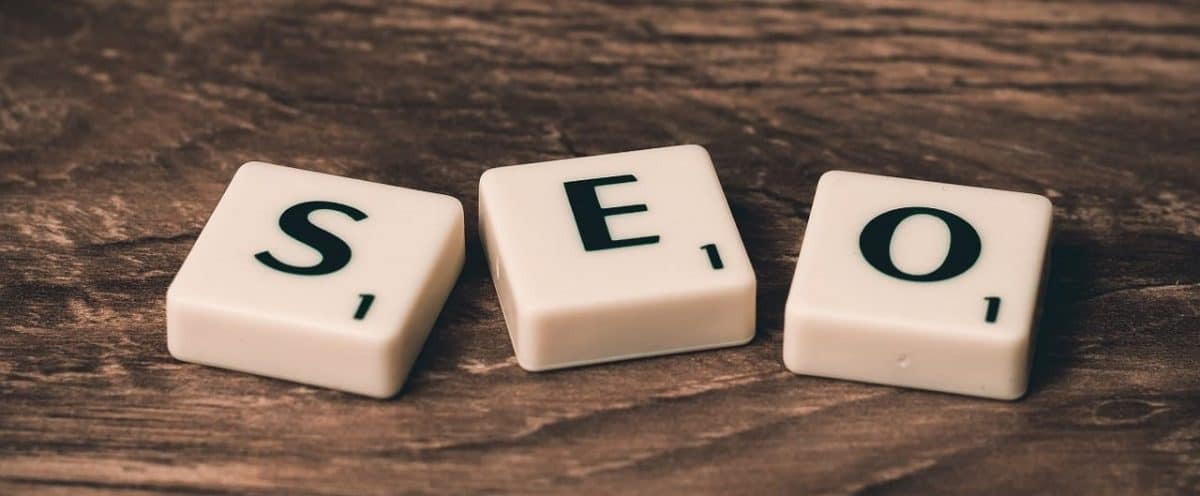 This is on-page SEO
This article covers all optimizations that an item should have prepared for a good ranking. Such content tells Google what the text is about and for which keywords it should appear in the search results. I'll show you the things you can do on an excellent ranking before you hit the "publish" button.
A good text will:
rank better
reduce your bounce rate
ensure that you read other posts as it contains some suitable links to other posts by you.
The preparation for good ranking
Before you can start tweaking your articles, there are a few prerequisites so you can keep track of how your posts are developing. Therefore, make sure that you have already addressed the following requirements.
Install Google Analytics
A Google Analytics account is an essential prerequisite for proper optimization. Because you can quickly determine how your posts are developing. You can get a lot of useful information through the analysis software. For example, which articles could still have potential, but should be revised. How to set up Google Analytics correctly and in compliance with data protection.
So that you can check all essential data in your WordPress, we recommend installing a corresponding plugin. I have had good experiences with the  Google Analytics WD plugin.
Use the Google Search Console
The former Google Webmaster Tools tell you a lot about the quality of your website in the search results. You also get tips and clues on how to optimize your texts and the average position in the search results. A lot of other useful information is just waiting to be used by you.
Install a useful SEO plugin
Here the plugin Yoast SEO is recommended if you use WordPress. You can set many essential things and also a sitemap.XML create one that you link in the Google Search Console. In my experience, this then makes indexing your posts faster.
The great on-page SEO checklist
Now that you have created the necessary prerequisites to be able to control your results, we go into the real business and optimize your texts as much as possible for a perfect ranking.
Use the Google Keyword Planner
The Google Keyword Planner is an excellent tool for optimizing your posts because it helps you find the keywords your potential readers are looking for.
You can see how many searches a month are doing for a keyword and how competitive that particular keyword is. This will help you choose the keywords for which there is less competition, but which still promise a lot of effects. Sometimes it makes more sense to use less popular keywords or phrases and thereby rank more »rather than just in general.
Example: Instead of trying to get up on hell for T-shirts, it makes more sense to be at the top for "T-shirts in pink" if you sell shirts in chic pink.
Use short URLs
Google now loves short URLs, whether they are speaking or not. Some time ago, the keywords should still be in the URL. However, in the course of converting the URLs to short IDs, the search engine no longer weights the speaking variants of the permalinks as highly.
Google is going to want concise URLs. Therefore, make sure that the permalinks are very short, no matter which scheme you use.
Paste the keyword into your blog post title (H1)
Keywords should always be in the name of your article. Also, it should be ensured that the title of your contribution is integrated into an H1 tag <h1>Dein Titel</h1>. This signals the top priority to the search engine and also which topic your contribution deals with. If the title of your text is only in one <h2> day, change this or have it replaced.
Use the keyword in the first paragraph
Your keyword should also be in the first paragraph because it is of great importance for the search engine and thus for your ranking. Insert your keyword as close as possible to the beginning of the first paragraph.
Put the keyword in subheadings
Subheadings are equally crucial for people and machines. Again, your ranking word must be in at least one <h2> or <h3> subheading if you are looking for suitable positions in the search results. By the way, you can convert scanners to readers with proper subtitles.
Use your keyword in the body text
Use the keyword a few times in the standard body text. Don't overdo it; you shouldn't do it more than four to five times. Otherwise, Google could consider your posts as keyword stuffing. This would have considerable disadvantages for the ranking of your articles.
Also, do not always use the correct keyword, but try to vary. Rewrite your keyword and use apparent combinations.
Include internal links in your posts
Internal links ensure a better click-through rate of your articles. They also help the search engine to better index your website. Both are very beneficial. Because on the one hand, the average bounce rate of your blog will decrease, on the other hand, Google will get to know your blog better and weight it higher with a low bounce rate.
By the way, the bounce rate is defined as follows:
The bounce rate is the percentage of visits to a single page (that is, sessions in which the user left your website on the entry page without interacting with the page).
The internal links should be split in two. The most important are integrated into the text as early as possible. At the end of your contribution, you can then set two or three thematically appropriate links. Do not exaggerate and only set links that give the reader added value, i.e. a benefit.
Link relevant external resources
This is also about the benefit of your reader. Don't be afraid to give him useful information that can complement your articles. This provides your texts more credibility.
Relevant content from websites with high authority should be given preference.
Pay attention to spelling mistakes and grammar
Spelling mistakes and poor grammar are the enemies of a good ranking. Both make your posts difficult to read. Not only will your readers notice this, but above all, the search engine.
Rumour has it that Google is already devaluing posts with many errors and poor grammar, which would be logical. Because Google attaches great importance to useful content that offers added value for visitors, you will not be able to eradicate every mistake. Still, with good will and a little effort, your texts can become almost error-free.
Produce long content
In general, great content ranks much better than short content. The deeper you go into your topics, the longer your articles become, the better they will rank. Because then they offer your visitors a comprehensive insight into the subject areas that interest them.
Comprehensive, high content is, therefore considered more valuable by Google than short articles that only touch on the topic. Long posts also increase the time spent on your website. How long visitors stay on your blog on average is another sign of quality for the search engine. This means that Google will rate sites higher if they can have an extended dwell time.
Only produce high-quality content
Under no circumstances make the mistake of just writing your articles down because you may not feel like it at the moment. You won't do yourself a favour with it. Instead, publish fewer posts and write long, high-quality articles. Quality is an essential ranking factor in addition to the level of detail.
It also has a significant side effect that you will be perceived as an expert over time. This is good for your ego and your website.
Use multimedia elements
Another factor that search engines use to determine the ranking position of your articles is how many visitors interact with your content. Therefore, it is a good idea to use multimedia elements in the posts.
There are many options here; it does not always have to be a video from YouTube. For example, you could also create and embed a Slideshare presentation. Moreover, surveys or quizzes could be considered because both stimulate your visitors to interact.
Always respond to comments
The comment section of a blog is the most neglected tool for visitor retention. Respond to the feedback you get on your content. In this way, you can trigger a valuable discussion, because Google does not miss the fact that an article with many comments must be more expensive than one without any feedback.
Critical comments should also be posted as long as they are not offensive. Swallow the criticism and try to learn from it and improve your articles.
Optimize your pictures for the web
On many websites, you can find image material that has been uploaded in unnecessarily high resolution. This slows down the page structure of a website immensely. Visitors and search engines do not like slow websites at the same time. Always cut your images to the most significant variant of your contribution images and optimize the file size.
You can use Photoshop to do this by selecting "Save for devices and web" there. It is also an excellent idea to use useful WordPress plugins for optimization.
Optimize your images for Google image search
There is also a lot of potential in this area that you shouldn't neglect. Here you have two options.
Name the image files with your keywords. Your keywords belong in the names of the pictures. If you write about on-page SEO, then name your movie that way. It should then be on-page-seo.jpg called. Google Image Search then knows how to assign your images based on the keywords.
Another good idea is to always use the alt tag of the picture (absolutely!) And then fill it with relevant keywords.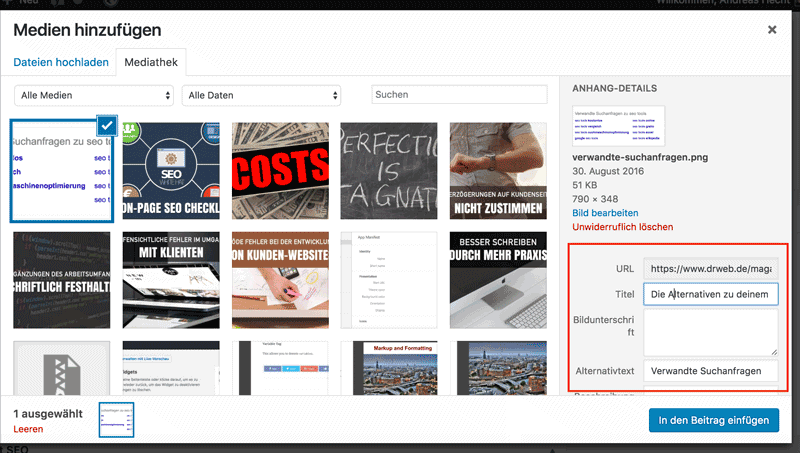 It's so easy to add a title and the alt text to your pictures.
Write appropriate meta descriptions
The title variations
WordPress gives you two ways to find a name for your articles. One variant is only displayed on your website, the other only in the search results if you set it up this way. You are entirely free to name your contributions to the website view; it can also be a long title.
However, you only have around 65 characters available for the optimal display of your titles in the search results. Longer titles are cut off. Both variants have in common that your keywords should ideally always be at the beginning of a claim.
The meta description
The meta description appears below your title in the search results and briefly informs the potential visitors whether it is worth visiting your website. Write as quickly and concisely as possible what your article is about.
In both areas, the bars below the input field show you how much space is still available. At the same time, a preview of the search result results from your entries.
Write perfect headlines
Headings are the be-all and end-all of every article. The better your titles are, the more people will read your posts. The lines of your posts must make you curious about what you wrote. You have to be tempted to click on your search result.
Headings alone do not generate a top-ranking but are an essential part of evaluating a page. Using lines correctly is a crucial permanent task. So today I'm going to show you how to use headings on pages in a targeted manner and to display them optimally.
The heading tag is used to define headings. The various headings of a content page are determined in order using HTML. To determine the order and in certain cases the formatting, these are determined with <hn>. The "n" is exchanged for a number. For example:
<H1> Main Heading </ h1>
<h2> Second-order heading </h2>
<h3> Third-order heading </h3>
<h4> Fourth-order heading </h4>
etc
The longer the text gets, the more headings and subheadings can and should be used. Of course, this not only helps the search engine itself – even the inclined reader can read a well-structured text more easily and find the information he is looking for more quickly on the page. This gives the reader the desired added value from your page.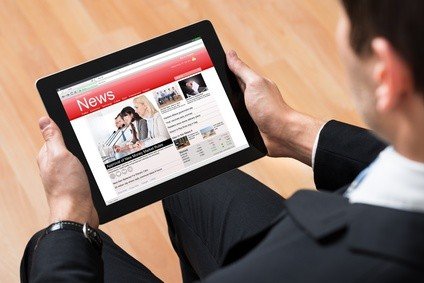 The use of headings
The main heading <h1> should only be used once per page. The subheadings can be used several times but should be in a healthy relationship to the text. There is no fixed number of how often these should be applied. Above all, it is essential that the reader should not feel disturbed by this. It is necessary to show tact here.
This information can, of course, be found in many places on the Internet and of course, most webmasters are familiar with it. It wouldn't be a problem to apply them. Unfortunately, this often sounds easier than it is.
Headings in website themes and shop systems
Since very few people still program old fashioned websites in HTML, CMS systems with finished website themes are often used. These building block systems are practical and useful, but they are quite rigid in some respects. The devil is in the details.
Headings are not always apparent at first glance. In themes, lines in the form of <hn> tags are often used to emphasize a section of the text, to make it bold or to display it more significant. This is easier for programming but is a problem for the search engines because it unnecessarily highlights unimportant sections of text on the page.

In the above example of the well-known Avada theme, headers are often used in the footer. You should pay attention to this when setting up the new page with this theme.
Headlines for tax rates or shipping options are also sometimes selected in shop systems. In such cases, it is difficult to change them. Often, as a regular user of such CMS and shop systems, you reach your limits there and in the end have to employ a programmer again, which is often expensive. Therefore, it is essential to make sure from the start that the theme or the shop system deals with these points correctly.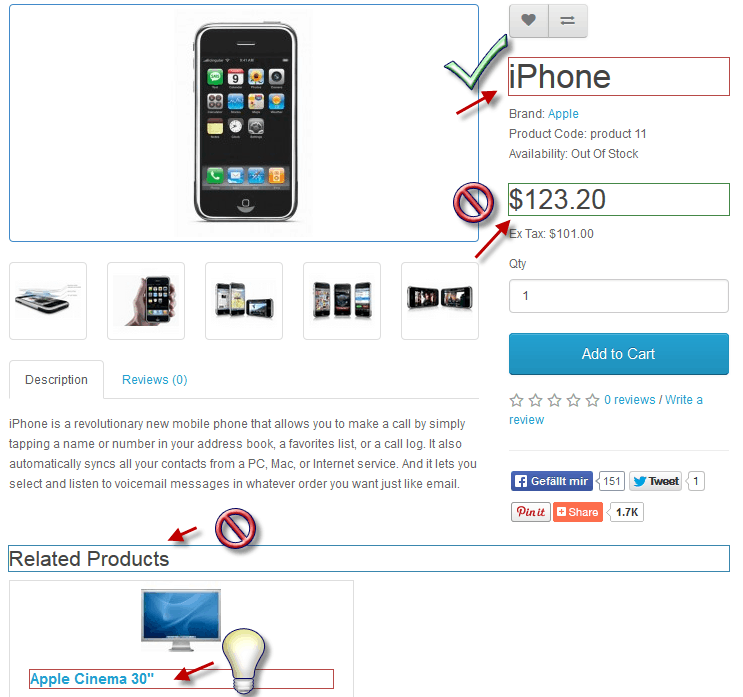 In the above case, the product name is correct, but the price is not so relevant and should not be a headline. "Related Products" is also not necessarily an essential piece of information. If the number of other products that are under an existing article, for example, is within the range, it is no problem to present them as headings.
Further, meaningful optimizations
Your posts should now be optimally optimized and have the potential for a good ranking within the search results. But there are a few more things you can do to increase your on-page SEO. Here are some ideas for you:
1 – Use visible share buttons
Google takes the social aspect of the written content very seriously. If a post is shared frequently, it is a signal to the search engine that this content must be valuable. Therefore, shared contributions are often ranked higher than variants, with only a few shares.
So make sure that you use the right social sharing buttons and place them prominently. There are many useful plugins for this job, for example, the privacy-compliant Shariff of the magazine cut.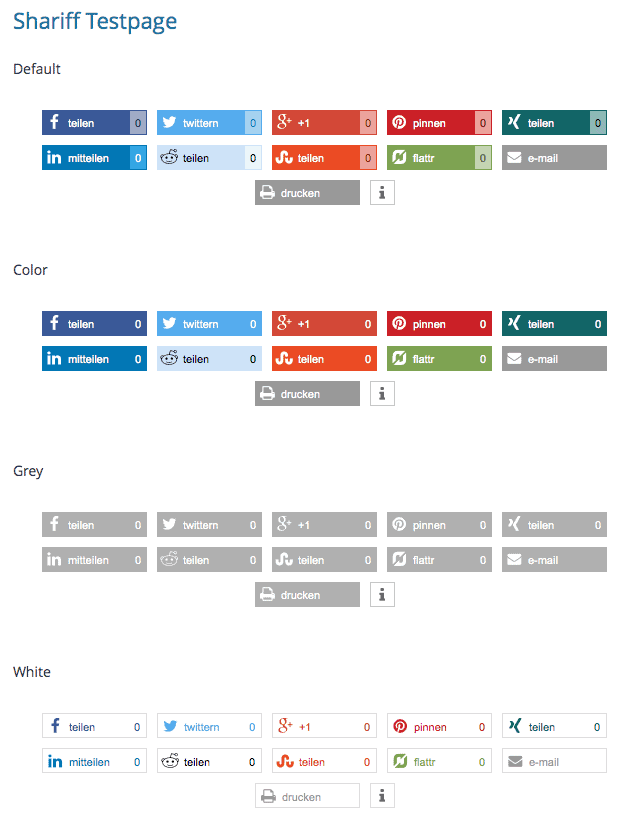 Shariff sharing buttons. Privacy is compliant and pretty.
2 – Make your website fast
Google and your visitors will love a speedy site. Google will rank your blog better if it is fast. Your visitors will also prefer your site if they don't have to wait so long for the page to load. Use the Pingdom Tools with the setting »Stockholm, Sweden« to measure the speed.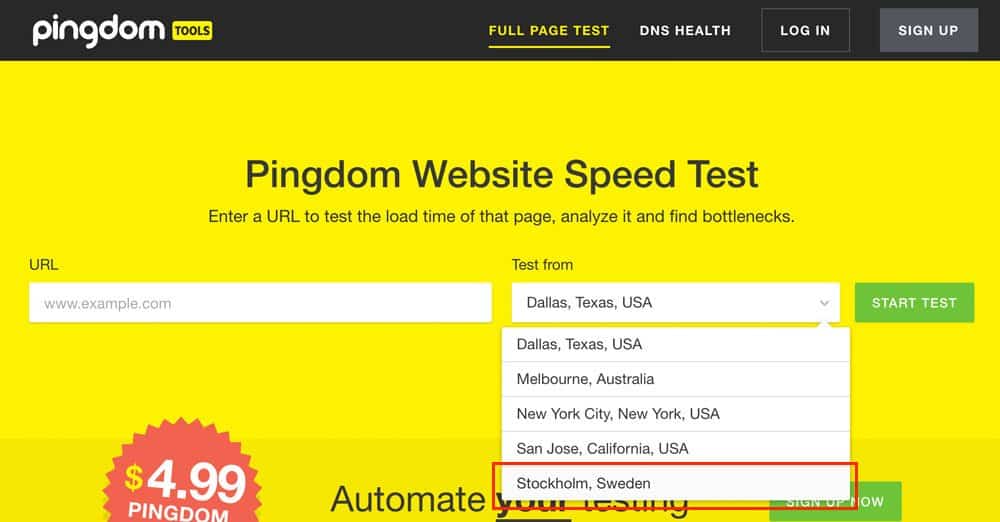 This gives you a good idea of ​​what needs to be optimized to make your website fast.
Half a second of the loading time is also possible on an average website.
3 – Is your theme optimized for mobile devices?
Check what your theme looks like on your smartphone or tablet. Google is increasingly weighting responsive websites, as more and more people are no longer conventionally surfing the web, but are using their smartphone or tablet to do so.
The Google tool "Test for optimization for mobile devices "gives you a first impression.
Case Study: 11 Typical of On-Site SEO Problems
SEMrush undertook a study in which real data was to be collected. For this purpose, anonymous data from around 100,000 websites were collected and evaluated. This resulted in the eleven most common SEO problems on the technical side, which can have a direct impact on the ranking.
Problem 1: Duplicate content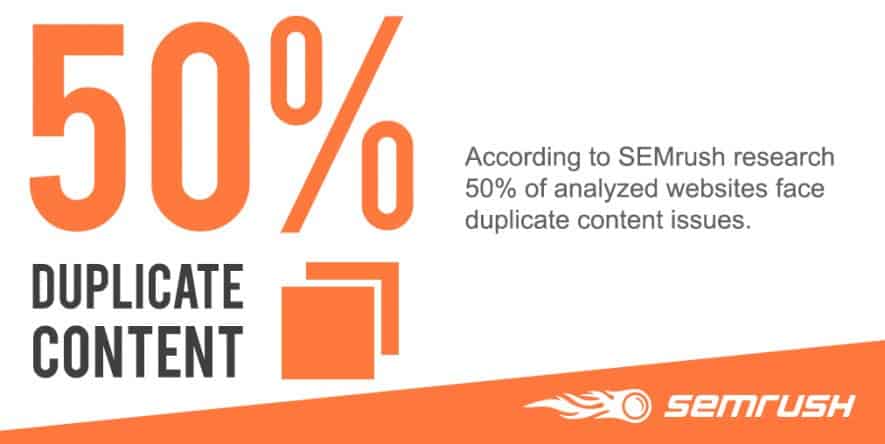 Google defines duplicate content as follows:
"Duplicate content" is generally a large block of material that corresponds to or strikingly similar to other content on the same or a different domain. In general, there is no intention to deceive.
Duplicate content is said to have been found on at least 50 per cent of the websites examined. Google itself mostly assumes that duplicate content is not produced deliberately. Accordingly, there will be no official penalties for duplicate content. But that doesn't mean that one eye is turned, because in general websites with double content still rank worse than without.
This results from the fact that the search engine usually cannot recognize which version of the content should preferably be included in the index. Also, the search engines were developed to make the web a better place for users to find information. Valuable content is, therefore, only one that is unique.
Additional information:
Problem 2: Missing alt tags and broken image links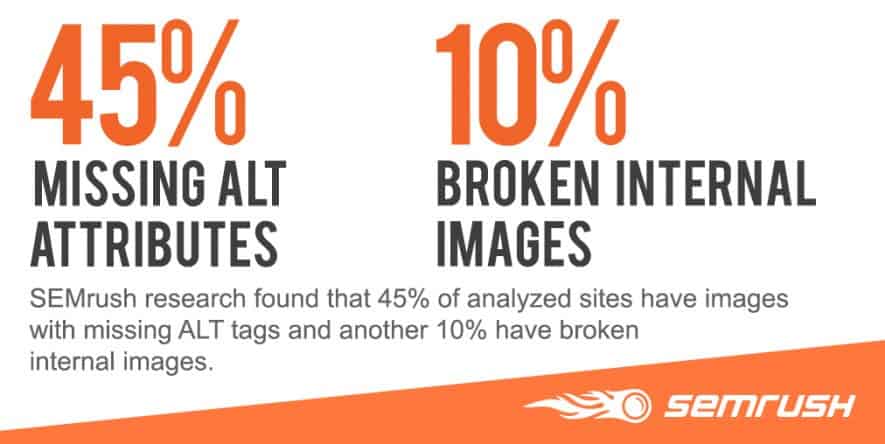 Images and graphics are an essential part of content marketing these days. But they can also cause a lot of SEO problems. Too few webmasters still use the critical alt tags for the images and also do not pay attention that the images used can always be displayed. However, both are important for search engine optimization.
For example, the alt tags have two functions. On the one hand, they appear when an image cannot be displayed; on the other hand, they are essential for Google's image search. Search engines are still not smart enough to interpret an image without using an alt tag. Therefore, these tags are blatantly relevant because they help Google to correctly sort the image into specific categories based on the description within the alt tag.
Also, the day offers the opportunity to write your SEO keywords in, because this will make it even easier for Google to sort the graphics. By the way, visually impaired people can also benefit from an optimal old day, because a good description gives them an idea of ​​what can be seen in the picture.
Images that are no longer displayed for any reason cause the same problems like broken links. They lead to a dead end. Both goals can cause the search engine to downgrade your website because it offers a poor user experience.
Problem 3: Title tag problems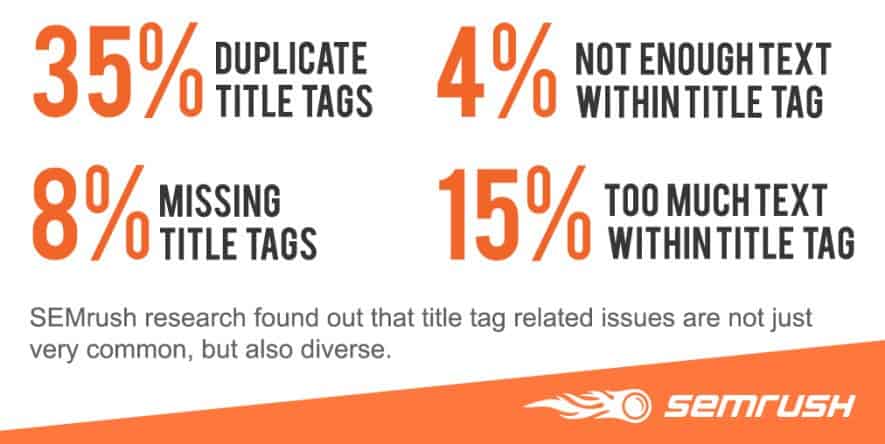 Search engines use the title tags to determine what the text of the page is about. The titles appear in the search results along with a brief description. But based on the title, a user will decide whether to visit your website or another. Therefore, the correct title tag is one of the essential elements of your website. An aspect that can have a positive impact on ranking.
The apparent mistakes in using these tags are the following:
Duplicate title tags – prevalent
Title tags too long – Relatively often present
Missing title tags are problematic, but not very common
Title tags too short – hardly available
The length of the title tag is significant because it depends on how much of your title will be shown in the search results. A rule of thumb is that Google can display about 70 characters. So the title shouldn't be any longer.
Some SEO tools – like Yoast SEO for WordPress – help you optimize title tags.
Problem 4: the meta description
The meta description is displayed in the search results just below the title and is intended to give users a good impression of what the article is about. The meta description should not have a direct influence on the ranking, but personally, I have found that a good story can influence the ranking – even if only slightly.
However, a good meta description also ensures better page CTR, which is especially essential for webmasters who integrate Google Adsense.
Many websites have duplicate meta descriptions, while others have no explicit stories in use. An SEO tool or a plugin for WordPress can also help here.
Problem 5: Broken internal and external links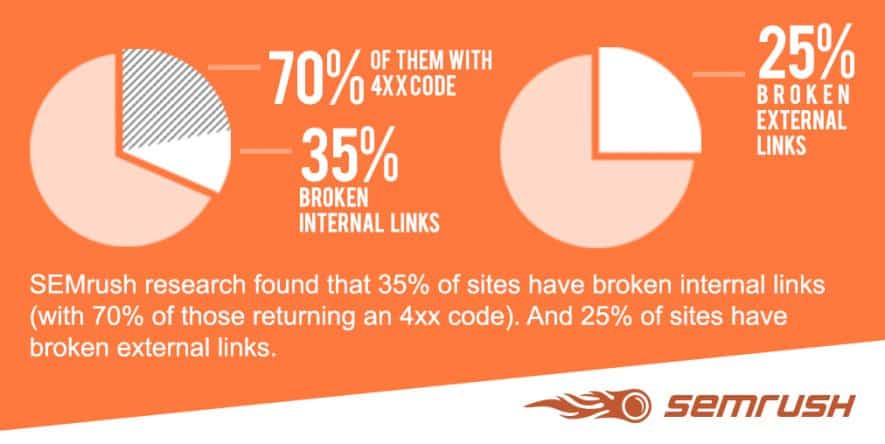 Broken links can be a considerable SEO problem. One or two broken links will not be a problem. But if your website grows, it can lead to big problems. Of course, the 404 error page can be set up accordingly, but then the visitor sees this error page instead of the useful information that he hoped for.
If this happens more often, a user will also perceive your website to be of poor quality. There is also a real problem. Because if there are a lot of broken links on your website, you will have problems with the search engine bots. These always crawl some of your pages and with a buildup of broken links it could well be that these pages are no longer included in the index. This damages the authority of your website enormously.
SEMrush found that 25 per cent of the examined websites had broken external links.
So use an SEO tool or plugin for WordPress to find these broken links and fix the problem.
Problem 6: Bad text to HTML ratio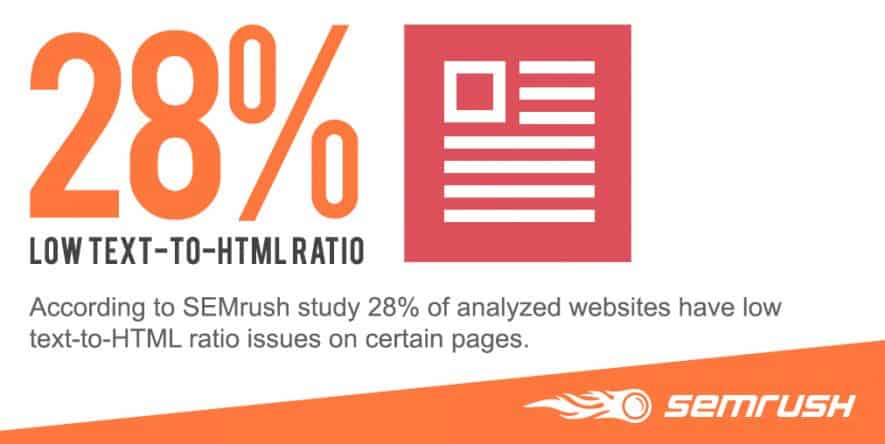 A well-known SEO problem. Some websites have a poor text-to-HTML ratio. This means that the website in question outputs proportionally more HTML than human-readable text. There can be many reasons for this, for example, books that are too short, which usually do not exceed the 300 words required by Google.
However, a poorly coded or well-maintained website can also be to blame. It could have a lot of invalid code or overuse of JavaScript, inline styles, or Flash.
Of course, a technique that spammers like to use can also be to blame by working with a lot of hidden text.
The problem can be solved quite easily:
Remove the unnecessary code. This reduces the page size and serves speed.
Check your plugins if you use WordPress. You don't have to offer every gimmick.
Let JavaScript load only where it is needed.
Complete your texts to a usable average length (at least 500 words, better more).
Problem 7: Problems with the <h1> tag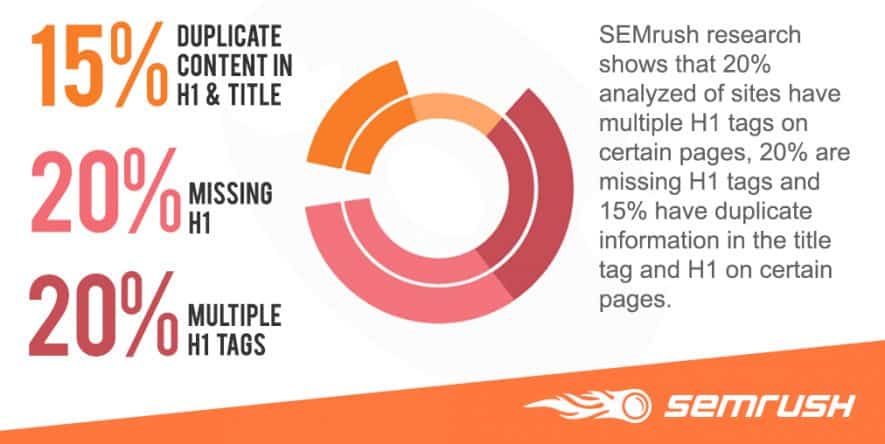 I encountered this problem very often in my practice. Header tags – or headings – are essential for search engine optimization. For example, there should only be one <h1> heading on each page of a website. Even though this dogma no longer seems to be so crucial due to the use of HTML5, the individual tags of the headings nevertheless offer a useful hierarchy for search engines and users.
Many developers still create websites or offer themes for WordPress that incorrectly use the header tags and thus the specified headings.
It also seems essential to know the difference between the title tags and the header tags. The title tag is what the search engine sees; the header tags are the ones that your visitors see. There is only one title tag per page; the header tags can appear multiple times – as heading 1, heading two and so on.
If the correct HTML5 markup is used, the <h1> can be used several times on a page if sections of the same importance have to be marked.
Problem 8: Word count too low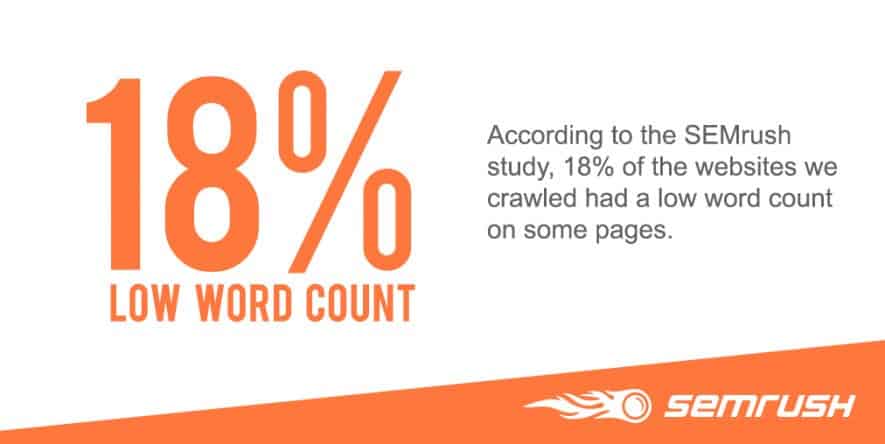 SEMrush found that the number of words in the articles was too low on eighteen per cent of the websites tested. Google does not issue an official minimum number of words, but it is known that Google would like to have at least 300 words used for each article.
But let's not kid ourselves, even 300 words are far too little for an average article. Google is known for giving content with a lot more depth an absolute priority in the search results. Also, an item that delves very deeply into a subject gets more backlinks. And thus even a better position in the ranking.
Contributions can easily be written more comprehensively if you try hard. An article with a linked infographic (like this one) can also be described in words. Your readers will appreciate it.
Problem 9: Too many internal links set
This problem is a tough nut to crack. On the one hand, it is essential for search engine optimization to linking his articles to one another. On the other hand, too many page links were quickly integrated. Google used to provide a guideline for the maximum number of internal links that should be set. But this requirement has since been dropped.
Good SEO today means creating a natural internal link that is of high quality. The links must be relevant and useful; then Google will appreciate the value and rank the page accordingly. Therefore, make sure that all internal links on your website have added value for users. Always keep in mind that what is suitable for the user is also optimal for the search engine.
Problem 10: The wrong or missing language declaration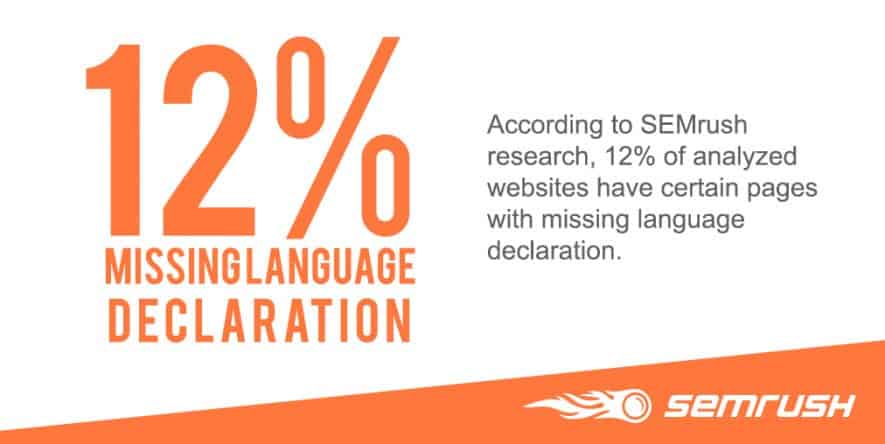 Our web audience is global. However, since many other peoples can do relatively little with German content, it is essential to declare the standard language. The language declaration is necessary for many things, for example:
It informs the browser about the language of the content – necessary for translations and the correct display of the pages
It ensures that the contents of screen readers and text-to-speech converters are displayed in the right language
It helps with GEO localization and international SEO
It helps to improve the critical relevance score.
Use this list of language codes to get the correct language declaration.
Problem 11: Temporary redirects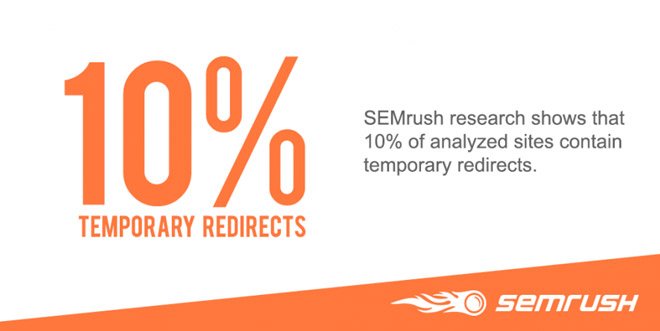 Redirects are an excellent way to let search engines know that a page has "moved" and is no longer available at the old URL. These redirects can either be permanent, then you output the status code 301, or only for a limited time when you use the system 302. A permanent redirection with status code 301 will not result in a loss of authority.
With a temporary redirect, it looks different; among other things, it can lead to an outdated page being included in the index. Google could ignore the new page. It can be a real problem. Therefore, if the change is permanent, a 301 redirect should always be output. According to Moz, this is the best approach.
Otherwise, Google could assume that a 302 redirect should actually be a permanent redirect and then interpret it as 301. This could cause a loss of traffic, so you should always take control of which redirect is output where.
The full infographic

The low hanging fruits of onsite optimization
Admittedly, how onsite optimization works is no longer a well-kept secret. On the contrary: The search engine giant Google itself explains it in detail in the webmaster tools.
Onsite optimization can be hugely successful, especially in niches and for local search queries. The competition for local search queries according to the "service/product location" scheme is usually thin. If you rely on the right content (it depends on the correct wording) with the right meta information and technical data, the first SERP page is often not a problem under such niche requirements. External links are then only necessary a few.
An overview of the onsite basics
As already mentioned, the measures of onsite optimization are no longer a secret. Google itself tries to bring them closer to the website operators. At this point, I will summarize them and add a few tips:
1. The most important parameters: Title, Description and Url
The title of the page, the meta description and the URL should contain the keywords under which you want to be found. Of course, these should also appear again in the text. After all, it is about topic relevance between keywords in the content and the highlighting through title, description and URL.
Also, the higher the keywords appear in the title and description, the more important they are viewed. For example, the page title should not be "Company XY – Product" if you want to rank below the product. Instead, it should read "Product – Company XY".
2. Clean structure and code
The source code of the website should be checked (validator.w3.org). If it is error-free and complies with the W3C standards, this does not have a direct impact on the ranking, but it ensures that the pages can be indexed correctly.
3. Code to content ratio
Since Google crawlers cannot measure the quality of the content, but quantity, the ratio of code to content is used as a criterion. The reasoning behind this is simple: the more content is made available, the more information should be contained in it. Of course, this does not say how high the information density is. (For this it needs the recommendation system of the links).
4. Highlight the relevant search terms with headlines, underline, bold
The search engine crawlers search the code for highlighted formatting. These are headings (<h1>, <h2>, <h3>, …), underlined or bold passages. Since these elements are also used in the design to mark the important parts of a text for people, the search engine also assumes that these parts are important. The targeted search terms should, therefore, also appear here.
5. Important and unimportant meta information
As already mentioned in point 1, page title, URL and meta description are the most important meta information for Google. According to Matt Cutts, the former head of Google's webspam team, the meta keywords are not taken into account in Google search results. However, this does not mean that it is not worthwhile to maintain them carefully. Other search engines still use them.
On the other hand, important for the Google placements are metadata for images (meaningful file names, image titles and alt attributes), as well as for videos (video sitemap as an extension of the sitemap, markups).
6. XML sitemap
An XML sitemap should not be missing on websites. It helps crawlers to understand the structure of the page more easily.
Content is king – but only in the balance between man and machine
Step by step, Google manages to assess the quality of the content better and better from update to update. This inevitably makes the search engine giant less susceptible to black hat methods. This is the real opportunity for all severe website operators: They can shine with their knowledge and attract visitors with good content. According to Google webmaster support, the material on websites should be trustworthy, helpful, informative and competent. Also, they should be as free from spelling mistakes as possible, not from mass production and not be peppered with a disproportionate number of advertisements.
When it comes to content creation, however, there is another art to master: you have to find the balance between a search engine and human being as a reader. What does that mean? A human reader could get bored quickly if you go into too much detail. For a search engine, on the other hand, this is essential, since more information is a guarantee for an exhaustive treatment of a topic.
An example: You are an entrepreneur and have problems with an employee. Because he is always late and does not do his job, you want to fire him. You now need a lawyer to do this and are looking for a "Labor Law Expert Location".
The labour law expert who now wants to be found by you has to integrate not only the keyword labour law expert on his side but also the location. If a law firm does not look at its website against the background of a search engine, it may be tempted to add a phrase like "Our team consists of top lawyers in all legal areas" to the page and leave it at that. Ultimately, visitors will also find the location in the imprint.
The firm was operating as it had been used for decades from newspaper advertisements, telephone book advertisements, etc. However, the search engine, in turn, has no chance to derive the employment law expert from this sentence and to locate him at the location he is looking for. As a result, this law firm will never appear under the search phrase mentioned.
However, a paragraph in which all legal areas covered by a large law firm are simply listed will also not be desirable. In this case, the law firm's website may be ejected in the SERPs, but the user may not recognize that he has landed at the right law firm. After all, the word "labour law" is hidden somewhere in the long paragraph. In contrast, the sentence with the top lawyers in all areas of law might have convinced the entrepreneur quickly and easily.
An SEO text is, therefore, not coughed up quickly, and it is not at all disreputable. On the one hand, the book must provide all the necessary information for the search engine; on the other hand, it must be clear and easy to read.
Conclusion
OnsiteOnsite optimization is and remains a "low hanging fruit" because you, as the website operator, have sole design power over it. In niches or local searches, onsite optimization can achieve notable success as the only measure.
However, it requires a lot of work – especially if you have to rework an existing, more extensive page retroactively. However, this is a time investment that can be the cornerstone of a successful web campaign. It can be worthwhile by 1. leading directly to better rankings or 2. keeping link building expenses down.
With all the optimization for the search engine, don't forget that your readers count first. Therefore, always do reader SEO instead of pure content SEO.
Optimize your articles for people first, then for search engines. Google itself also wants the content to be optimized in this way. Always keep in mind that Google doesn't share your articles, doesn't write comments, and doesn't follow you on social networks. Only your readers do that.