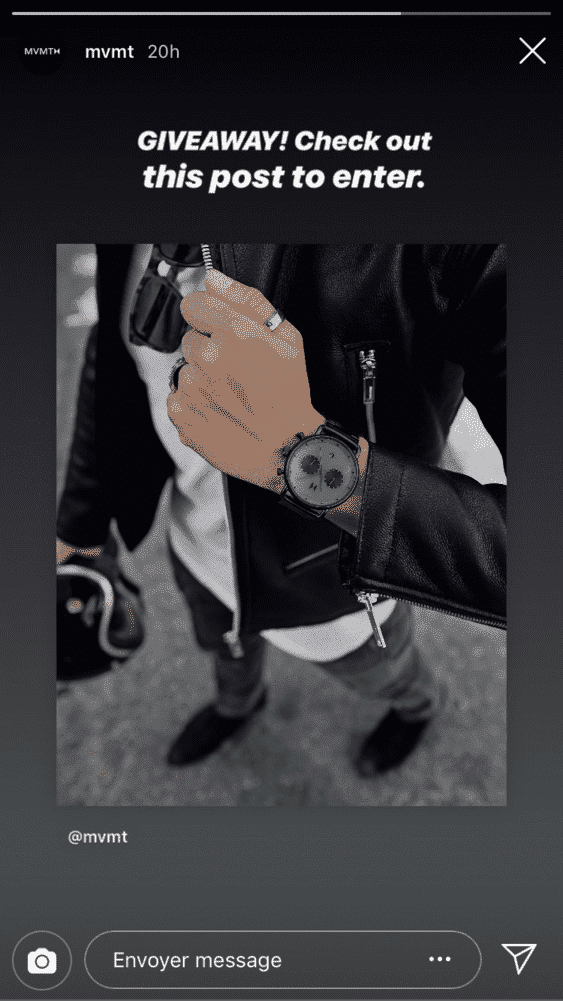 The Instagram Stories have grown incredibly amazing.
In less than two years, they have reached more than 500 million active users per day!
And it's not about to stop.
Facebook has made it clear during the F8 conference that it is the communication channel of tomorrow.
Chris Cox, the person in charge of the produce department at Facebook, explained that " the format of the story is about to go beyond the newsfeed and become the first way people share things with their friends. Here next year. "
This is not so surprising when you consider that the format has grown 15 times more than traditional threads between the second quarter of 2016 and the third quarter of 2017.
One of the particularities that contributed to this success is undoubtedly the fact that Instagram Stories disappear after 24 hours. Do you know a post on social media that goes after 24 hours?
Not me.
This rarity effect makes us want to see the Story before it disappears.
They are also quite simple to use.
I rarely do Stories on my Instagram and yet after a few minutes; I already figured out how to use most of the basic features to create fun Stories.
Exactly, it is this fun and the authentic side that pleases so much.
You no longer need to retouch your photos, work description and correct spelling errors.
Now, you publish several moments separately, and you add text and some hashtags to give context to your Story.
And that's all!
Do not think that users only look at the stories of their peers. They also like to delve into the Stories made by brands.
According to Instagram, one-third of the most popular Stories were produced by brands.
That is to say!
Users use it to share their daily lives, you understand it. And brands, why are they using them?
According to Later, brands use them as well to promote themselves to engage their community.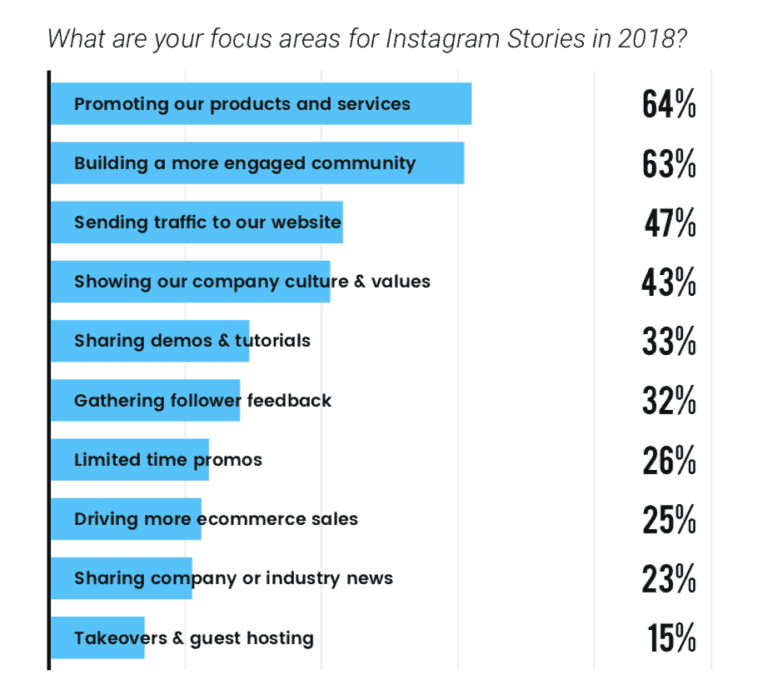 64% of respondents said they want to use Stories in 2018 to promote their products/services.
We also note that 63% of respondents use them to engage their existing community.
If this is one of your goals, this article should interest you since it includes ten examples of Instagram Stories that brands use to promote themselves and their community.
1) Educate your audience as Hubspot
On social networks, there are several ways to engage your audience:
Educate
Inspire
To entertain
Most often, companies try to entertain or inspire their audience.
Hubspot, which operates in B2B, must instead educate its audience.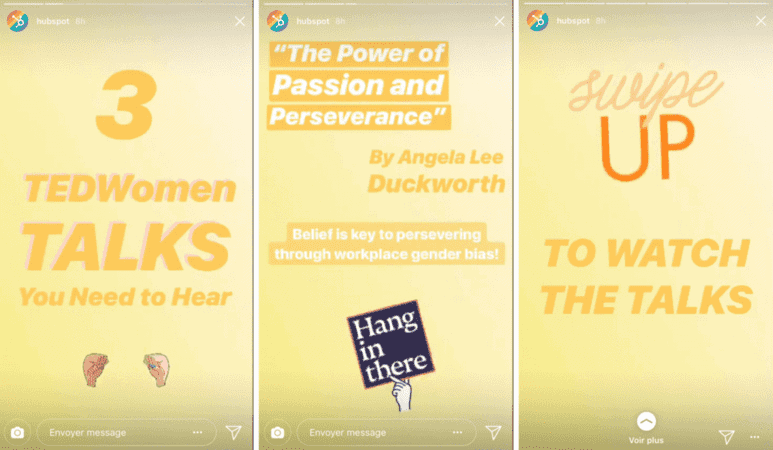 That's what they did in this story by presenting 3 TED talks for women.
The last Story shares the link of their blog post that includes these 3 TED talks. Hubspot has both educated its audience and sent traffic to its website.
Note that the "see more" feature to add a link (for example linking to your website, blog or article on your online store) in the Story is only available if you have 10,000 followers.
If you have not reached the limit of 10,000 followers, instead, redirect the user to the link in your Instagram bio.
2) Engage your audience with polls and questions
Polls in the Stories first appeared in October 2017. They allow you to involve the user in your Story by creating small surveys with two answers.
The success was immediate.
Companies are very good at using them as well to engage their audience.
For example, Buffer, a tool for scheduling social media posts, regularly uses polls in their Stories to ask social media questions to their audience.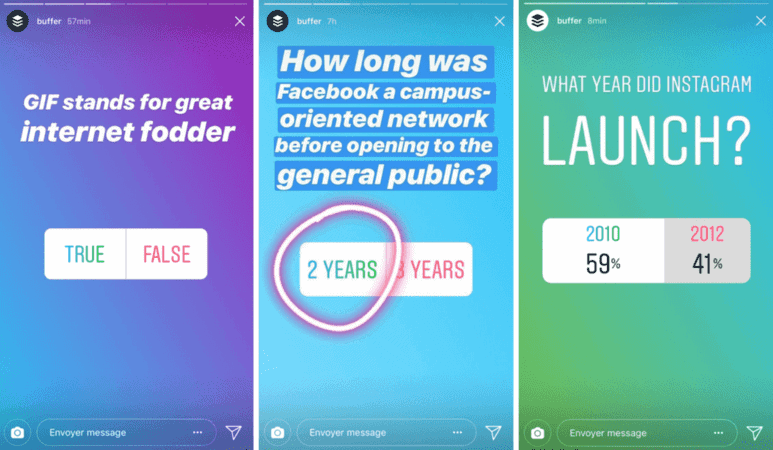 Instagram also allows you to share the right answer.
Again, the brands rushed to use them cleverly.
This question indeed aims to collect feedback on their products.
If you start the Stories, the features of polls and stickers questions are probably the opportunity to grasp to familiarize yourself with this format.
3) Show what your followers can not see
I told you that the Stories had won the hearts of users and brands because of their authentic appearance.
Now, brands can finally tell part of their story and show things they can not necessarily show on their website.
Also, they can do it through a full-screen experience, in pictures or video.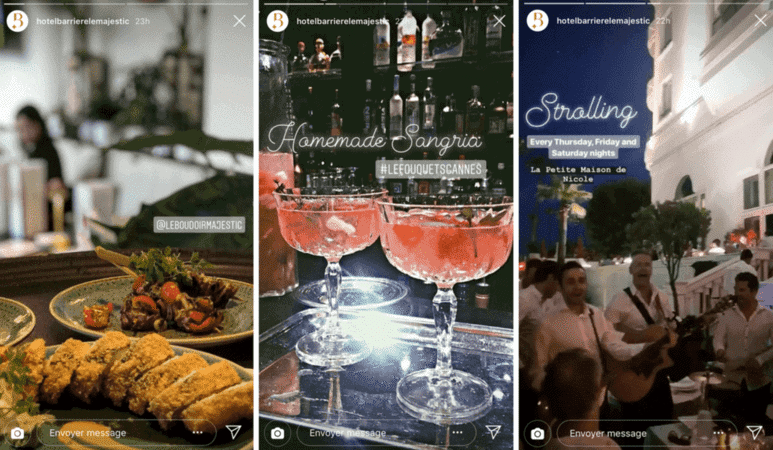 In this story, we see that the hotel Barrière Le Majestic shows us some of its dishes, a taste of their evenings Thursday, Friday and Saturday.
On the one hand, this story humanizes the hotel a little more and also highlights the experience of staying in this hotel for people who wish to stay there.
It also allows existing customers who follow the hotel on Instagram to "relive" that experience and why not come back.
Sarenza, too, seems to be taking advantage of the authentic side of Stories to show the reverse of a shoot.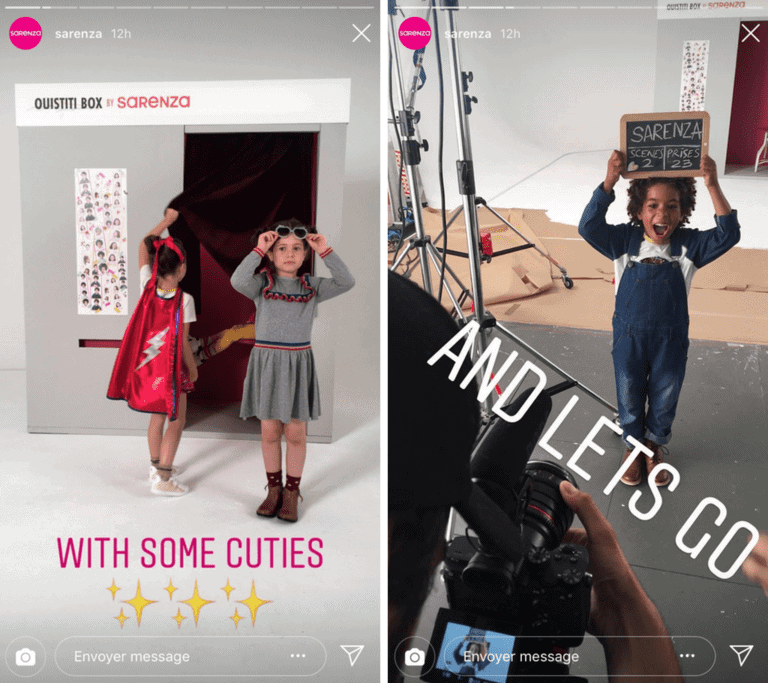 Showing behind the scenes of a shoot would not necessarily go into Sarenza's feed. On the other hand, they have their place entirely in their Story.
4) Collect user-generated content 
I was telling you that user-generated content (UGC) is one of the most engaging content brands can publish on their Instagram account.
As its name indicates, the UGC is content published by fans or customers of the brand, and you republish on your social accounts (Facebook, Instagram, etc.) by mentioning the person who produced this content.
Here are some examples :
A customer is photographing on the terrace of a hotel and using the hotel's branded hashtag
A student takes a picture of himself in the destination of his language stay and tags the organizer
A customer takes a picture of the new dress she bought at Zara …
User-generated content is one of the most credible forms of content for businesses.
9 out of 10 online consumers have more confidence in UGC than traditional advertising.
Millennials have even more confidence in this type of content. 50% of them trust this type of content more than other media.
But how to collect the CGU?
Companies often use contests and emailing to encourage their fans/customers to take pictures of themselves.
As the attention is now in the thread of Stories, brands like Starbucks do not hesitate to share the CGU in their Story.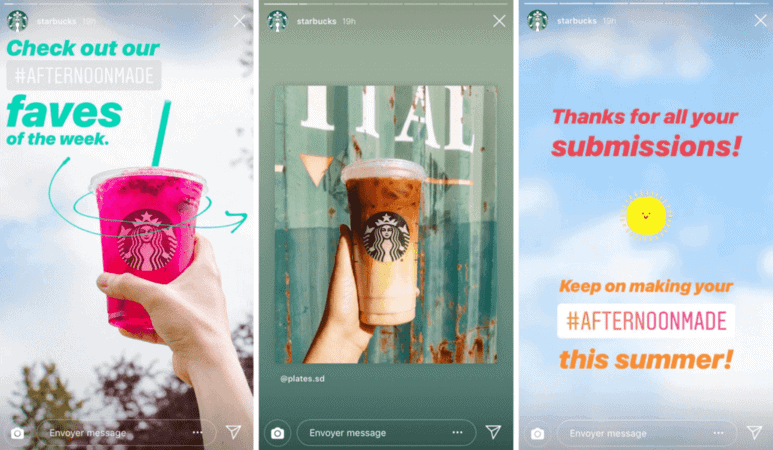 At the end of the Story, Starbucks is still encouraging users to use the #afternoonmade hashtag to help fans watching the Story to do the same.
In this Story, we see that Starbucks has re-shared the posts of its fans with the sharing feature now integrated on each Instagram post.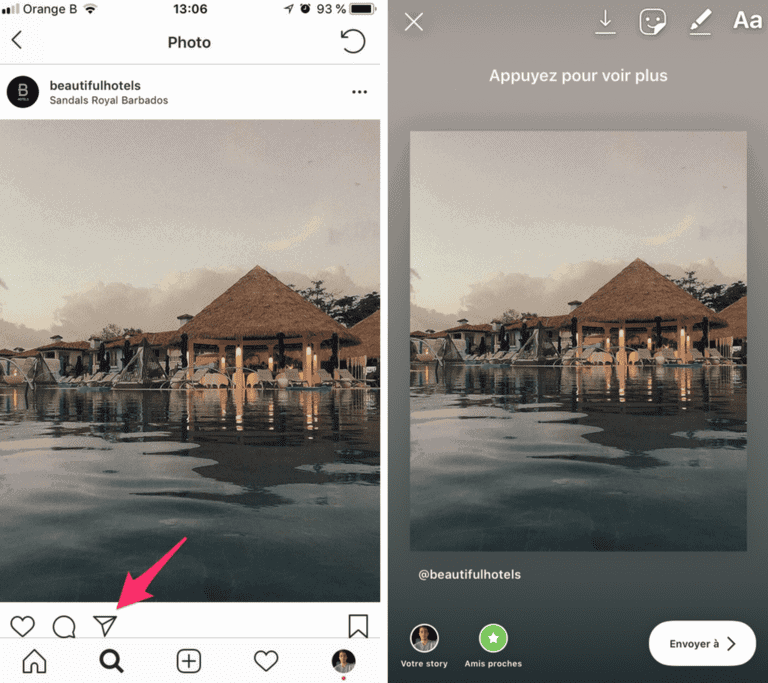 Audi is doing the same to celebrate the 20th anniversary of the Audi TT RS.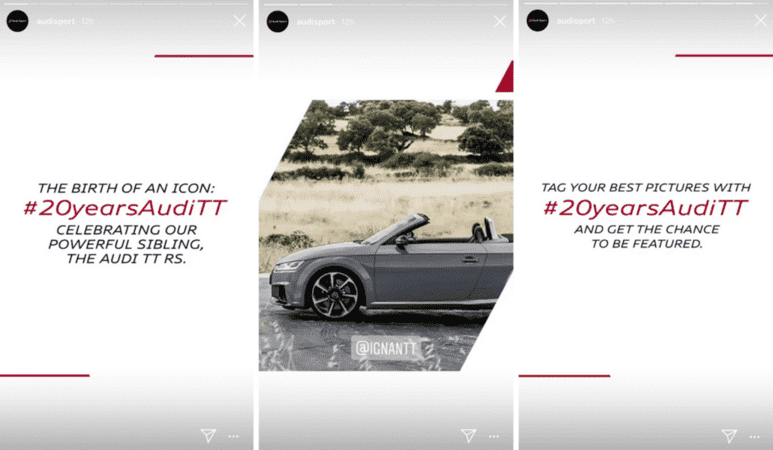 This time, we notice that the brand has made a photo montage worked with the photos of its users and tagged the user.
You do not have to do that.
Using the Publication Sharing feature in Stories is more than enough.
5) Promote a job offer as Feed
We've already talked a lot about engagement strategies for brands using Instagram Stories.
As you know, companies also use Stories to promote themselves.
Usually, companies post their job listings on LinkedIn or job search sites.
When you have tens of thousands of fans on Instagram and most of them are millennials, it can also be interesting to post a job offer in your Story.
Look how the job offer is natively integrated with the platform.
No blah blah, just a few lines of text, emojis and GIFs.
There is no doubt; Feed Smart Food knows how to do it with young people. I almost wanted to apply and become an intern again.
6) Create tutorials like Nocibe
Cosmetic and makeup brands know that their fans love beauty tutos.
People do not have the time; they are looking for immediate gratification.
What's the point of buying make-up if you do not know how to use it?
Nocibé ensures that women who buy her products know how to use them properly.
The story was very well imagined.
First, because Nocibé has teamed up with a blogger, who is a real idol for some.
Throughout the Story, she educates you, makes you interact with polls, tells you stories and intelligently promotes the products used in the Story.
Pro Tip: Think about associating with influencers and letting the influencer animate your Story for a day. In jargon, this is called a "take over".
7) Promote a contest like Mvmt
Instagram contests can help you increase your followers in a short period, and with little effort.
They are instrumental in developing brand awareness, associating with influencers, for example, but also engaging your existing community.
According to Tail Wind, a contest on Instagram provides 64 times more comments and 3.5 times more likes than a regular publication.
It's quite logical; it's natural to want to participate and win something.
With the Publication Sharing feature in the Stories, you can also take the opportunity to share the publication of your contest with those who have not yet seen it, as the Mvmt watch brand did.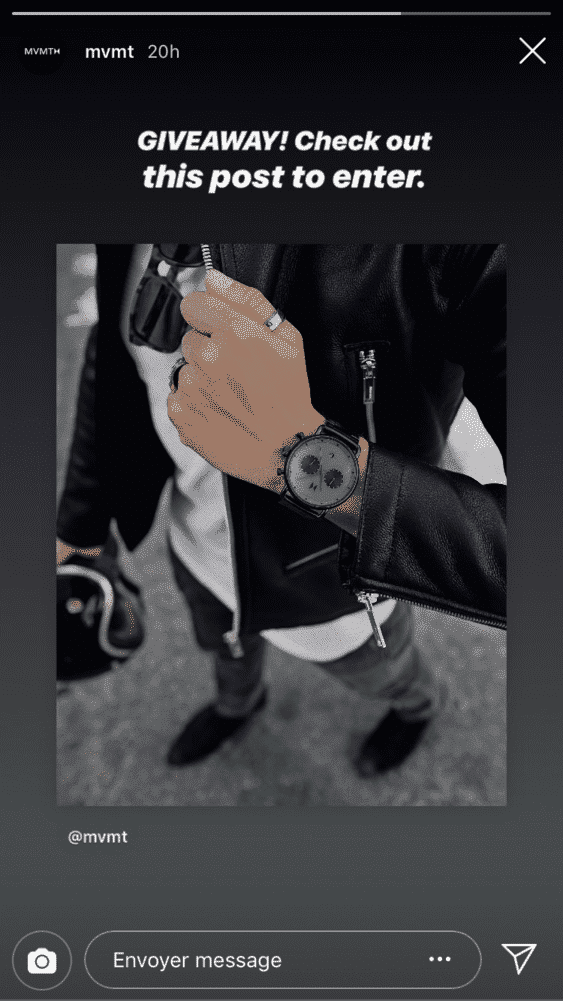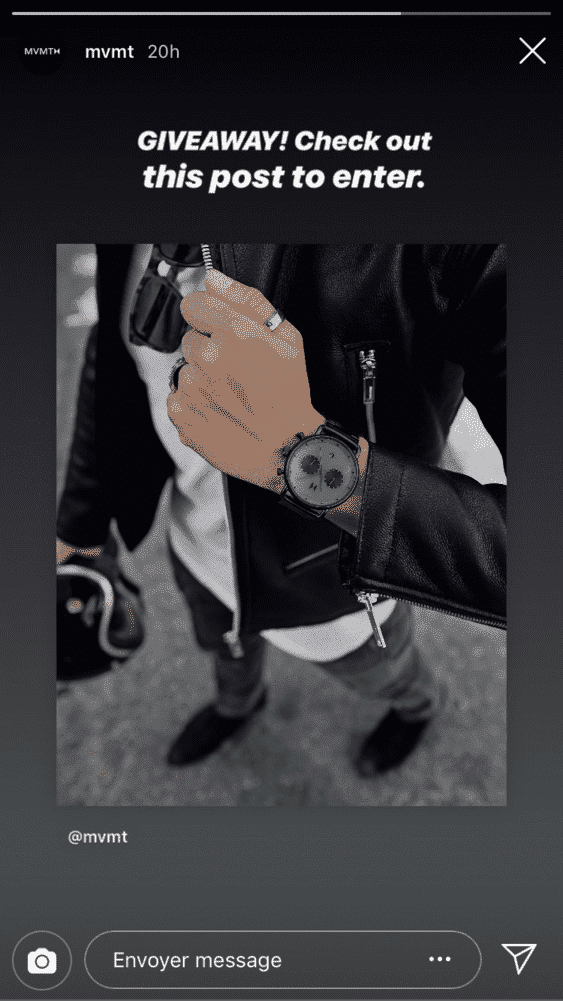 If you are doing the contest with an influencer, he too can promote the game several times in his Instagram Story.
8) Switch to Live as Jasmine Star
It's not just on Facebook that you can go live.
As you probably know, Instagram also offers the possibility of Lives through Stories.
The advantage of Live in the Stories is that some of your subscribers will receive a notification when the Live starts. You will also benefit from a privileged placement in the thread of Stories.
For Instagram influencers, this is an opportunity to communicate with their fans and organize Lives Q & A (questions and answers).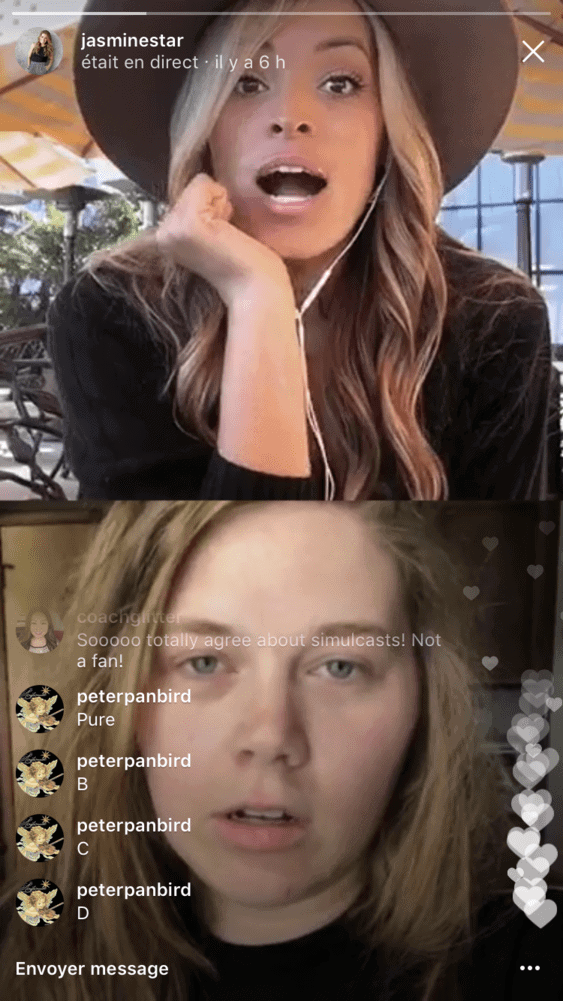 As you can see in this screenshot, you can also invite a subscriber or a partner during your Live.
This is ideal if you do not feel comfortable on your own in Live.
Like on Facebook, you can make Lives in the Stories for:
Broadcast an exclusive interview
Do a workshop
Present the news in your industry
Make a special announcement (e.g. unveiling a new product, partner, a new employee in your company, etc.)
… or anything that can be interesting for your audience!
All means are suitable to engage your community beyond the 15-second videos by Story.
9) Make an exclusive promo like J Crew
Ready-to-wear brands know that their followers are attentive to any promotion, such as a unique promo or a flash sale.
J.Crew made a beautiful teasing of their new pink sunglasses with Instagram Stories.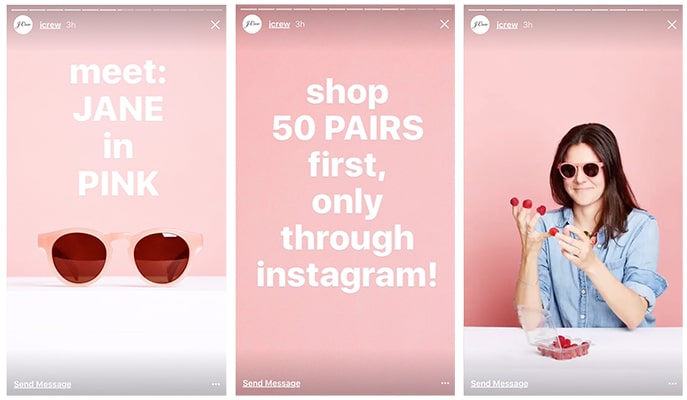 We notice the pink theme of the Story that fits perfectly with the pair of glasses.
With only 50 pairs of new sunglasses available during the presale, the company has created a strong sense of urgency around this limited time offer.
The urgency is probably one of the strongest levers to encourage sales.
Marketers know it, which is rare or scarce, is more desirable. This is even truer in the Stories that disappear after 24 hours!
For fans of sunglasses, there is no doubt that this promo quantity and limited duration had to make them think
10) Selling with Instagram Shopping in Stories
Instagram Shopping is already on all e-commerce giants Instagram posts.
The feature has recently been extended to Instagram Stories.
Now, brands can also use it in Stories, which is a boon when you know the number of daily users of Stories (300 million).
The principle is the same; you can tag one or more products on a photo and also add effects specific to Stories, which seems even more natural.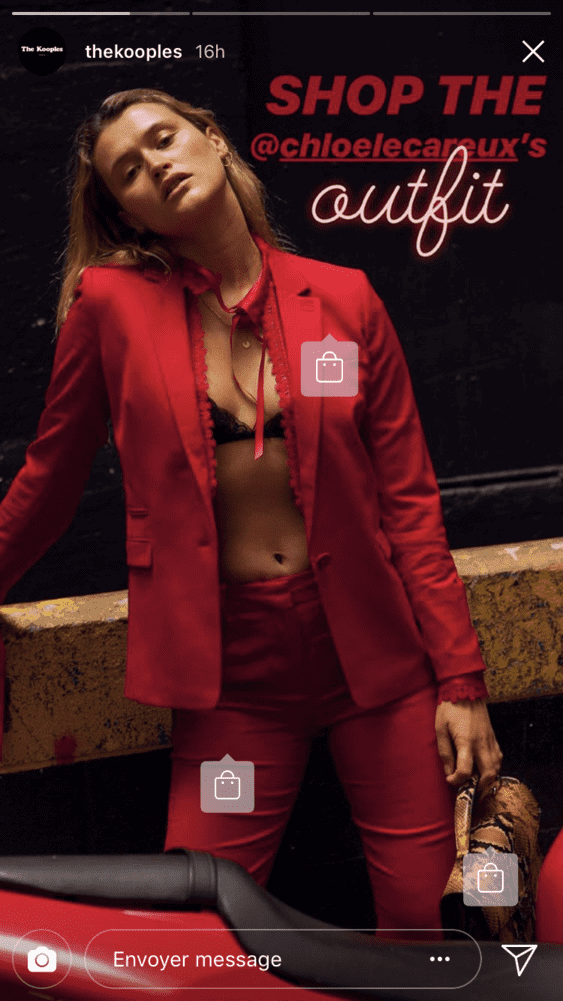 Pressing one of the icons will take you to a pane that shows specific product information. You can then go to the merchant site to make your purchase.
Some good practices for creating engaging Instagram Stories
Stories are still a relatively "new" way of communicating.
Maybe you've been reluctant to use them right out. You may have fallen behind other companies that have jumped at the opportunity to develop a special relationship with their followers.
I've given you examples so you can get inspired, but you also need to know some basic rules to make your Stories engaging.
Let it be said, whatever your objective, your Story must be engaging, in addition to capturing attention and encouraging action.
Tell a story
Instagram is primarily a social storytelling network. The more attractive your stories are, the more users engage, listen and come back to see more.
It is not for nothing that this format is called Stories!
If you are boring or too promotional, users will probably not waste their time watching your Story. After all, they have hundreds of others to watch every day.
To create stories, post multiple photos and videos that will come together as a slideshow.
Make every published media bring something new to your story and make you want to see the next story.
This will increase the completion rate of your Stories and the likelihood that the user will remember your Story.
Bring value
I was telling you that there are three great ways to engage a social media audience:
Inform
To entertain
Educate
The amount you bring to a user on social networks is created with commitment.
In other words, you can bring value to users by showing them something that will teach them something new (inform/educate) or make them feel special (entertain).
If you can inspire, inform or educate your audience in each of your stories, your audience will come back to get more.
Insert a call to action (CTA)
Last but not least, end your Stories with calls to action.
The Call to Action (CTA) is one of the essential elements of your Story because it tells users what to do next.
I would even say that each of your publications on social networks must contain one.
After all, you probably do not want your fans to do anything at all after consuming the content you have been creating so much.
You want people to interact with your content:
Like, comment or share
Reply or participate in a survey
Swiper up to visit your website or start a purchase
Anyway, the interaction will only happen if you ask it explicitly in your Story.
Most of the Stories I showed you contained a call to action in or out of the story, like this Nuoo Box Story.
From the beginning, I realized that there was something to sell when I saw the first image. I especially liked the second part of the story that teases the call to action of the next story.
Conclusion
The Instagram Stories will continue to be an integral part of our lives, and it's not about to stop.
At least before a new way of communicating comes on social networks.
In the meantime, the Stories will be THE channel of communication to privilege for your company in the next years.
You can start by sharing exciting moments that bring value (inform/educate/ entertain).
When the opportunity arises, do a small survey or ask questions with the new Sticker provided for.
From time to time, you may also want to promote your products/services. However, you can only insert an external link in your Story if you have more than 10,000 followers.