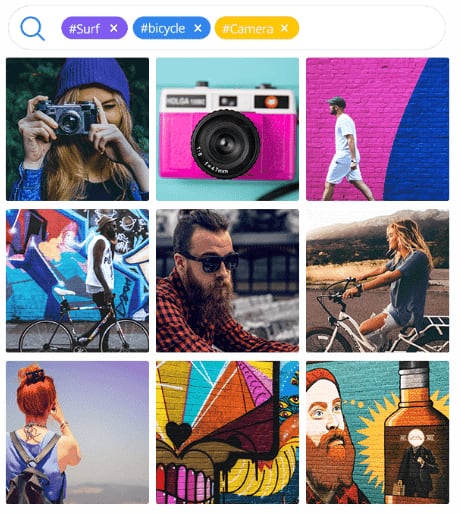 The majority of social networks and Instagram, in particular, offers the opportunity to build brand awareness and engage with customers in real-time.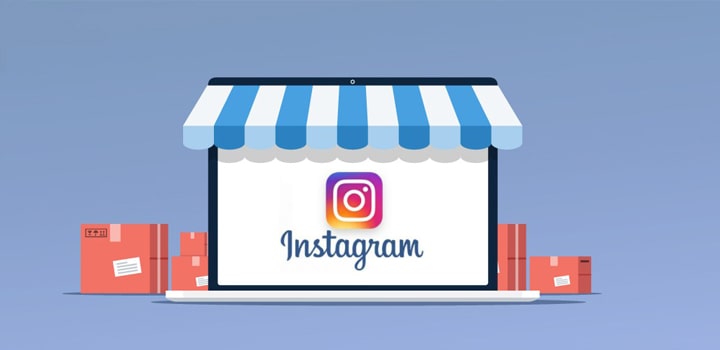 In addition to being a showcase for your products, the social image and video sharing network is one of the most effective solutions for converting passive buyers into active customers.
Because consumers are more engaged on Instagram than on any other social network, some studies have found that customers are even 60 times more likely to interact with a brand's Instagram account than Facebook. And they are 140 times more likely to interact with a brand's Instagram post than Twitter.
Before reviewing the best modules to turn your account into an e-commerce store, here are a few reminders to get the most out of your Instagram.
6 TIPS TO BOOST YOUR INSTAGRAM ACCOUNT
1 – OPTIMIZE THE CONTENT
Remember: content is king. 1.8 billion images are shared daily on social networks. To build the value of your brand, you must create better material than the average user to push people to engage by giving them a visual experience out of the ordinary.
Take advantage of the vast amount of tools and applications available to improve the content you publish:
The different filters.
Layout: to quickly create compositions by mixing your photos.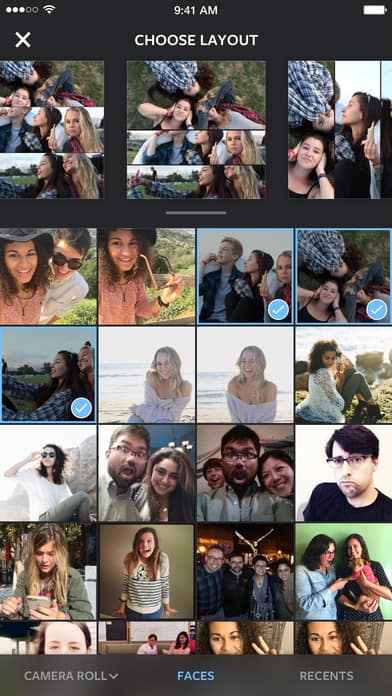 Giant Square: to create large images, panoramic photos and banners.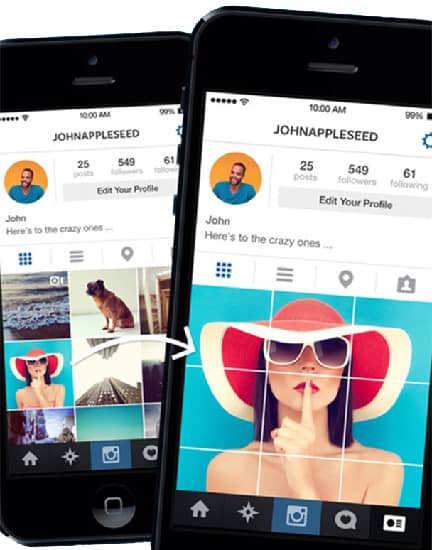 Boomerang: to create mini videos that rotate in a loop.
Hyperlapse: to easily create video time-lapse.
Overgram: to add text and illustrations to photos.
2 – ENGAGING USERS
To improve both your brand image and your online presence, it is best to use the content created by your customers.
Feel free to encourage your community to generate content about your brand. Ask them to share photos showing the products they have purchased in your shop, and then get permission to post the images on your account.
An excellent example of a brand that uses the photos of its customers to improve its Instagram profile is GoPro. Their strategy is not just to post pictures of their products, but to use their customers' photos to share the experiences they enjoy while using a GoPro camera.
Tools like Photoslurpallow will allow you to find the content that your customers publish on your products.
3 – CHALLENGE YOUR AUDIENCE
To encourage users to post photos for you, the best way is to hold a contest. The challenge and encouragement of your audience should capture their attention and increase commitment to your content.
No need to launch a difficult challenge.
Take National Geographic as an example. Last summer, @natgeotravel launched a travel photography contest open to any adult living in the United States. The challenge was to capture images capturing "people, places and unforgettable experiences".
The award was a 7-day, all-inclusive trip to Yosemite National Park, California with the National Geographic Photo Tour.
4 – USE CUSTOMER PHOTOS
Contests and photo campaigns are usually a great way to encourage engagement, but they alone are not enough to make money.
Start a photo contest via Instagram without having a gallery where posting them is a waste of time and resources. User-generated content is of little value if you do not use it.
If you want to take advantage of your customers' photos, you have to think about giving them a place to live online. You can :
Publish customer photos in a dedicated Facebook tab, without forgetting to identify the products presented in the picture. Better yet, insert a link to the product page of your e-commerce. If a user flashes on one of the products worn by the person in the photo, he can quickly finalize his purchase, instead of having to go to your website and navigate long minutes to find his favourite.
Integrate customer photos directly into the product pages of your e-commerce. Showing real customer photos on your e-commerce pages serves two purposes. First, seeing real people using your products helps build consumer confidence in you. Second, it helps to demonstrate social proof by showing that your products are desired by others, precisely at a time when a customer may be hesitant about finalizing his purchase.
Finally, make your intentions clear, vis-à-vis your customers. If your goal is to use their photos on your e-commerce pages, mention it! You will thus benefit from the enthusiasm of some customers charmed by this opportunity. Encourage them to share their best photos with your brand for the chance to appear on your product pages.
Including Instagram customer photos on your e-commerce site can increase conversions by up to 30%.
5 – USE A CLEAR CALL TO ACTION
Like any content, Instagram captions can be optimized. Best practices:
Use hashtags.
Tell a story.
To ask questions.
Add emojis.
But the best way to do this when crafting your captions is the call to action. Here are some examples :
"Tag three friends".
"Share with a loved one."
"Go to our bio".
6 – SIMPLIFY THE BUYING PROCESS
The big concern of Instagram about e-commerce is that it is impossible to share a direct link or more details about the product, except by putting it in a comment. The most popular way to work around this problem is to tell customers that a link to the product is located in the organic section of the profile.
Indeed, Instagram allows only one link in the bio, which requires you to change this link each time you share or want to put forward a new product. To make the most of this link, follow these two steps:
Keep it short: use tools that allow you to modify your relationship so that people know where they are going when they click on it.
Keep it up-to-date: Every time you have a new product, contest, or special offer, use your organic link to promote and redirect customers to the pages you want them to see.
SELL ​​WITH INSTAGRAM: E-COMMERCE MODULES & APPLICATIONS
EMBED INSTAGRAM PHOTOS INTO YOUR E-COMMERCE
According to some data, 77% of buyers prefer to see real customer photos, rather than professional images. Such statistics serve as a clear indication that social networks, led by Instagram, hold enormous potential for businesses.
The tools that allow you to embed Instagram photos into your e-commerce site, therefore directly exploit the power of the user and recommendation by peers.
Whether you choose to integrate your visuals or Instagram photos of your customers on the product pages and the home page of your e-commerce, several applications and modules can help you:
Olapic: This tool processes customer photos and videos from different social networks to help brands determine which content is most effective in terms of engagement and conversion. Olapic's algorithm selects the best-shared content and then allows you to display it on your website or in your newsletters. The tool also requests sharing rights from the content owner, labels the products, and organizes the content for you. More than 350 brands around the world would use Olapic, including Lancome or L'Oreal.

Olapic in action on a product page of the Lancome website
Social Curation by Yotpo: This tool allows brands to identify, collect and obtain the rights to use the best content generated by Instagram users. The images are selected by Yotpo's algorithms and can then be displayed on your site via the creation of an image gallery.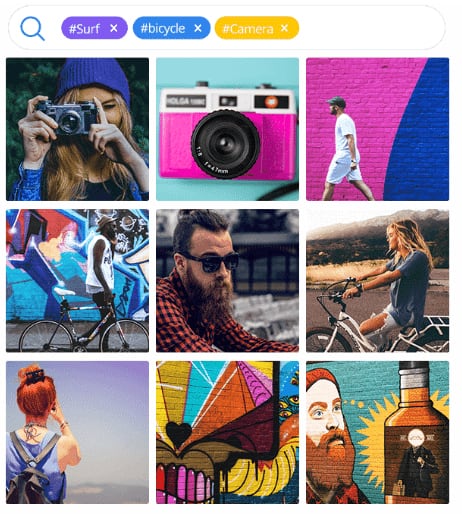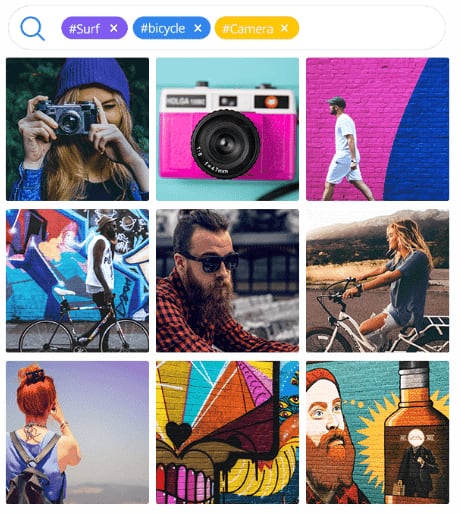 Curation of Instagram content by Yotpo
Juicer: This add-on automatically aggregates all of your brand's social media posts into one single feed displayed anywhere on your website. Juicer also allows you to set up filters, moderate messages and analyze engagement on your social networks. Brands like Ralph Lauren or Vans use this tool.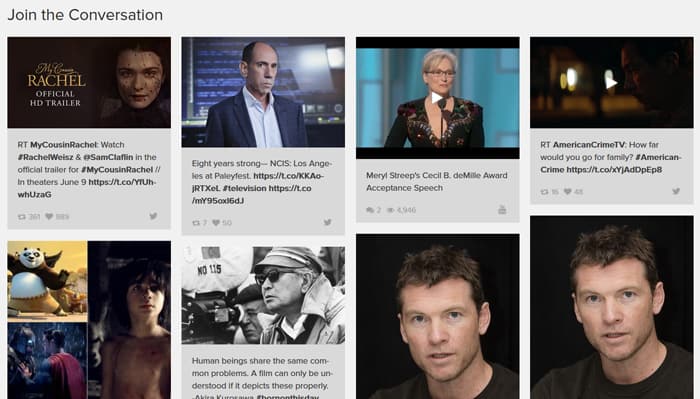 Juice in action on the home page of the Golden Globes website
INSTAGRAM SHOPPING
Instagram is currently testing a new feature, soberly named " Instagram Shopping ", in partnership with 20 US brands, most of which are not known in Europe.
In terms of user experience, "Instagram Shopping" is similar to identifying someone in a photo. It is enough for the user to fly over the image to display a label containing the name of the product and its price.
The advantage with "Instagram Shopping" is that it is possible to have multiple products in the same image and display them all by clicking on them. If the user clicks on one of the products, the feature displays a detailed picture of the product with information. From there, a "Buy" button allows you to direct the user directly to the seller's e-commerce product page.
In short, Instagram does not force customers to stay on the app. If they want to visit on Instagram, they can. But if they prefer to go to e-commerce, it is also possible.
Ultimately, Instagram Shopping will also be available for video and photo carousels.
CREATE AN E-COMMERCE GALLERY OF INSTAGRAM IMAGES
These sales modules allow you to add new features to your Instagram account by associating an e-commerce gallery. Once installed, they allow to "tag" particular products presented in the photos and connect the customer either to the product page of your e-commerce or to an informative window containing details on the product:
FourStyty : This tool allows buyers to add your products to their baskets directly from your Instagram posts. For this, the feature offers the ability to "mark" the products featured in an Instagram photo. FourSixty also allows embedding Instagram image galleries anywhere in your e-commerce site.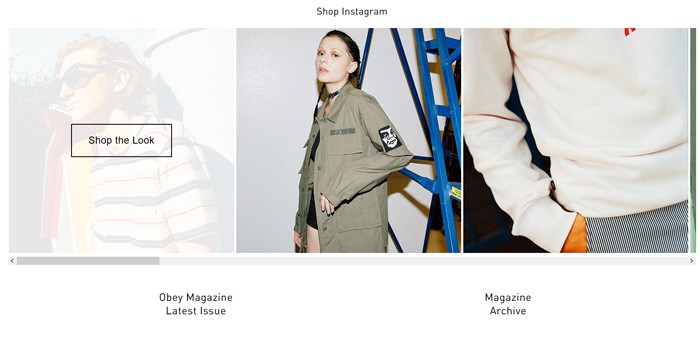 Foursixty in action on the Obey brand website
ShowCase: This module makes it easy to tag products in your photos so that customers can buy directly from an Instagram post. For this, place in the bio section of your profile a link leading to an image gallery. When people click on them, ShowCase redirects them to this gallery which highlights each product presented. The products are directly linked to their product pages.
Photoslurp Shoppable: This tool provides you with a custom link that launches a commercial replica of your Instagram feed. When someone clicks on this link, they are directed to a gallery-style page where they can see all of your Instagram photos featuring products available for purchase. A click on the image directly transfers the buyer to the product page of your e-commerce.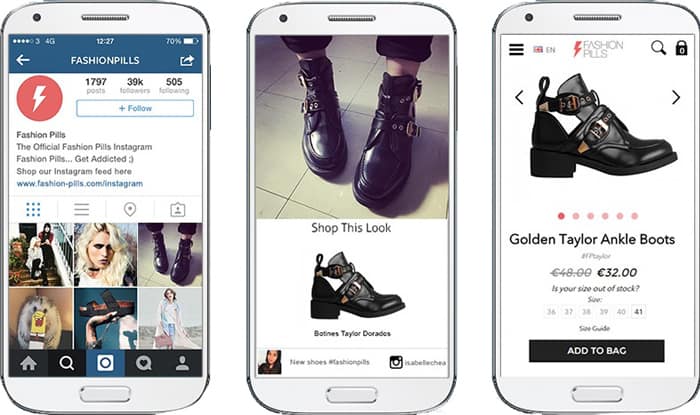 Shoppable Photoslurp in action
Instagram Shoppable by Yotpo: This tool creates an e-commerce version of your Instagram feed. Users only have to click on the link of your bio to be sent back to the "shoppable" version of your feed. Once on, they see the products of the photos as well as their evaluation by other customers and can click on them to access your product pages.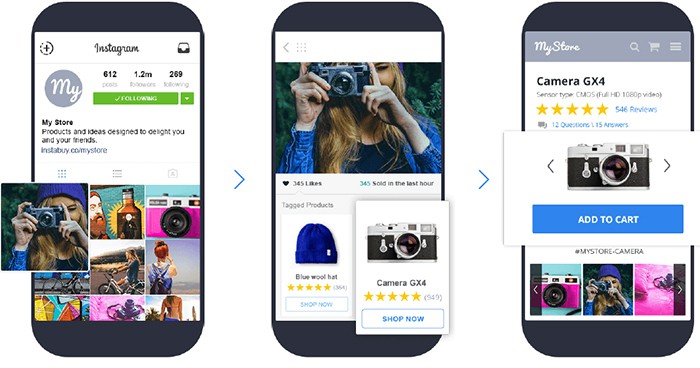 Shoppable Instagram Yotpo in action
Like2Buy by Curalate: this sales tool is designed to simplify the purchase of products via Instagram. Just add your company's Like2Buy link to your Instagram profile to redirect people who click on it to a clickable image gallery. Like2Buy lets you associate multiple products with a single image and use user-generated photos in your gallery. This app also tracks users' tastes, showing them all the pictures and products they liked on Instagram in a custom tab. And if a seller wants to increase their subscriber list, the ability to add an email form to their gallery is available. Several leading brands, including Nordstrom, use Like2Buy, Forever 21 and Sephora.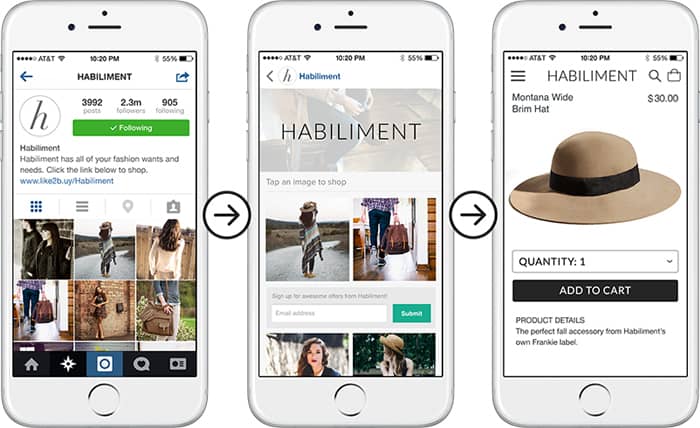 Like2Buy in action
Have2Have: like the others, this tool allows you to use the link of your profile to send customers to an e-commerce version of your Instagram feed. Just place the Have2Have. It links in your profile The Have2Have. It stores of your brand match the appearance of your Instagram feed. Have2Have also uses conversion tracking and provides advanced analytics. Also, you can schedule Instagram messages and connect multiple products to a single image.
IDENTIFY BUYABLE CONTENT WITH A HASHTAG
InSelly: This tool is a kind of Instagram Marketplace. To direct traffic to your InSelly shop, add the hashtag #InSelly in the description of a photo. Not only does this hashtag make searching for user-friendly content more comfortable, it also makes it easy for buyers to find your products. Sellers can process purchases via PayPal and buyers have the option of contacting sellers via a message, either on the app or on the InSelly website. InSelly is free for buyers and sellers, but it uses its currency, called "coins". Sellers can buy "wedges" to promote their ads in the inSelly platform.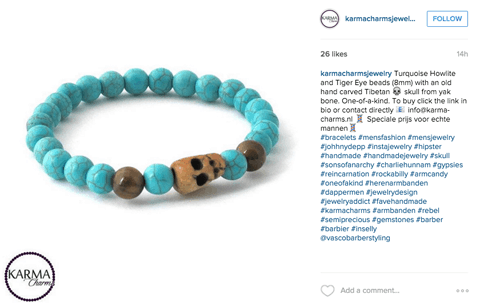 Post Instagram Example Using the #InSelly Hashtag
Spreesy: This tool uses comments to sell articles. The seller only needs to create an Instagram post using the Spreesy app. The position may contain shipping charges, available quantities and more. The user must then leave his email address in a comment to receive a secure link to the seller's page. The problem with this method is that customers must publicly publish their email addresses. However, a seller may ask customers to delete their comments after receiving the invoice. Spreesy has also developed a way to send emails to customers. Instagram users who comment "#subscribe" followed by their email address will receive a secure payment link for all products that a Spreesy seller posts.
SALE WITH THE LIKE
Like to Know: This app allows to send information via email on a product to a person who "like" the image. Thus, once installed, Like to Know allows to find the outfits worn by a person by merely loving his picture. Following the "like", the application sends an email to the user with the list of products in the photo or similar models. One of the primary users of the Like to Know service is the Vogue fashion magazine.
ShopStyle: This tool works through an affiliate link system that bloggers can use to make money. They prepare their list of products that they want to show in their Instagram post. They then share the list with ShopStyle, as well as the photo to use. ShopStyle auto-populates the Instagram description with a link to the list of related products. When a user likes a ShopStyle photo, that person receives an email with connections to buy the products on the picture. For this, buyers must register in advance on ShopStyle. When the customer clicks on a link to purchase the product, he is redirected to the product page of the e-commerce.
SALE WITH COMMENTS
Soldsie: This tool allows you to sell products through the comments section of Instagram posts. For this, buyers and sellers must first install and integrate the software to Instagram after registering with Soldsie. Next, load your products in the Soldsie dashboard and include purchase information, such as "100% cotton, available in blue and white". Users can then make purchases by leaving the comment "sold" followed by size /colour/email address information. Soldsie then sends them an invoice by email to complete their purchase.