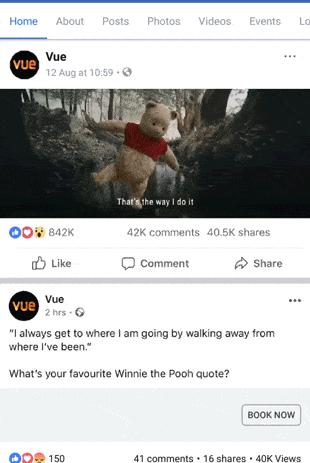 GIFs are often considered too silly or too hectic, but they also offer a chance. We explain how moving images can be used for marketing.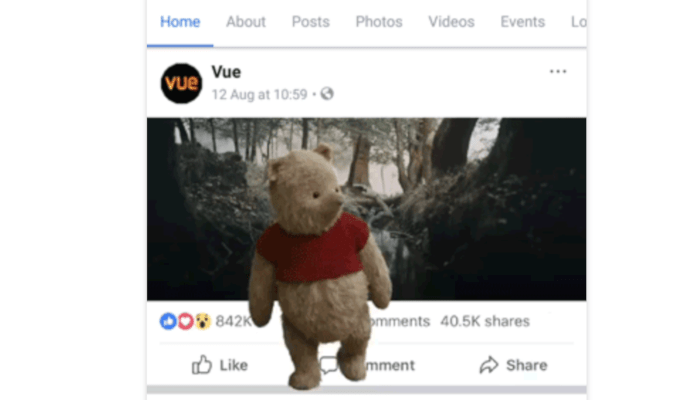 © Vue
Who thinks that the little funny moving pictures belong only in forums or Facebook comments, is wrong. GIFs have existed since 1984 and continue to evolve in their application areas. They give recipients more to see and more interactions than a picture, do less work and cost less than a self-produced video. This makes them an ingenious tool for maintaining customer loyalty.
Why are GIFs relevant?
GIFs have been around forever, but their inclusion on social media and email marketing makes them interesting for marketers. For a long time, they have been away from the image of the Tumblr contribution of a teenager. Meanwhile, a lot of communication in the network happens via the exchange of pictures; and memes are not the only content that people like to share. There is often a real GIF battle on social media. The answerer tries to outdo the previous speaker and to find the funny GIF. Companies that skillfully plugin and post their GIFs can build a valuable relationship with their customers, and in some cases, even improve their conversions.
Here you can find GIFs:
Media library of Facebook and Twitter
Reddit offers some good subreddits:
And although the videos in and out do not count directly as GIFs, they should still be mentioned in this list:
How can your business use GIFs?
GIFs can be used in emails or blog posts, and of course, on social media. It should be ensured that the GIFs are of high quality and something special because, in the meantime, the moving images are no longer as much as they did at the beginning. Often enough, for example, newsletters are annulled by annoyed recipients because too colourful or inappropriate GIFs are inserted. The mock-up Social Media Post by Vue is an excellent example of how companies can make it in the newsfeed with a single GIF to stand out.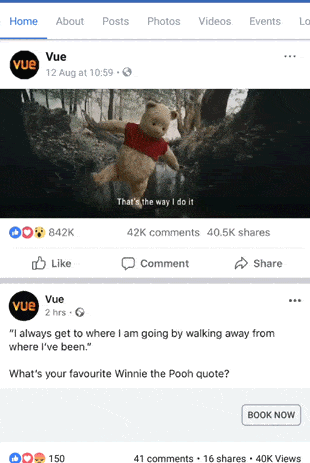 © Vue
Of course, a GIF of this kind is associated with some work. No one has to create their original GIFs right at the beginning, and that's what the GIF collections listed above are all about. To become more familiar with the format, for example, you can initially only respond to comments on GIFs on Facebook and Twitter. Very simple would be a "thank you" -GIF in response to positive feedback. By communicating with clients and followers at this level, communication will be more like friends, making them so much more personal and direct. By using trend-setting GIFs, companies are showing that they are up-to-date and know what's happening in the media world right now. It is okay not to take yourself too seriously. So Google once sent as an official answer to the question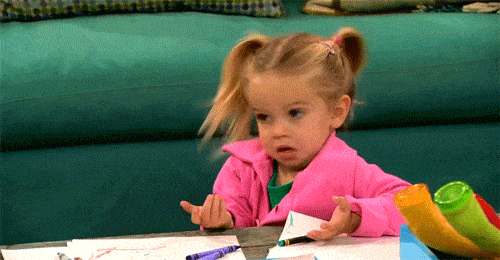 GIFs offer many possibilities
Even otherwise boring-looking information or instructions can be alive by GIFs – just by their much clearer format. A how-to, which is explained in a few steps, can often be displayed faster in pictures and usually visually appealing.
For example, many companies use GIFs in newsletters to a pamphlet or present their latest product. But also the ability to create your GIF stickers that Instagram users can use in their stories is a great way to promote your brand.
While the GIFs used need to match the tone and fundamentals of what the brand stands for, there are occasions to include a GIF everywhere. As long as the implementation is proper, pairings of elements that you would not necessarily associate with each other are also suitable. As in the following example of YO! Sushi, which brought a little sushi Pacman to life on the occasion of the National Video Game Day.
The benefits of GIFs
GIFs are flat-sounding and do not put the recipient in the same uncomfortable situation as some videos that start themselves to run and sound the office. By being just a few seconds long, they fit well into the short attention span we've gotten used to online. The production costs are usually low, and the format can now be used everywhere: on blogs, in email marketing, on Facebook, Twitter or WhatsApp. Some companies even use the form for out-of-home campaigns.
Do's and Don'ts
Even if you are now enthusiastic about the keyboard and you want to choose the best GIF for your newsletter quickly, you should always make sure not to overdo it. The GIF still has to fit the content and context of the post or your page. Also, as with imagery that is not yours, GIFs must specify the source. And most importantly, a GIF plays only when it is fully loaded, and hardly a user will wait more than a few seconds to see the GIF. Therefore, it is essential to pay attention to the approved file size, especially in emails. Also, the preview image should always be selected deliberately, as GIFs in some formats are only played after clicking.
GIFs are worth a try and can be part of a company's successful marketing strategy as a format that complies with our tips.