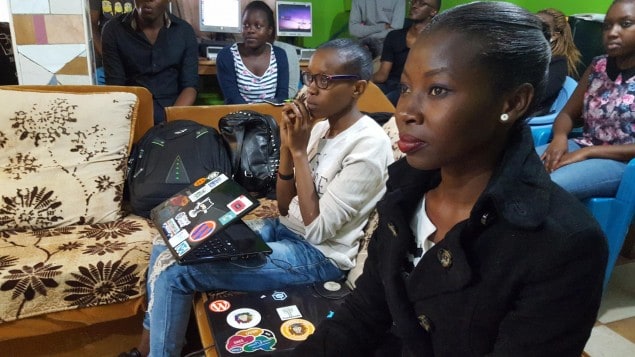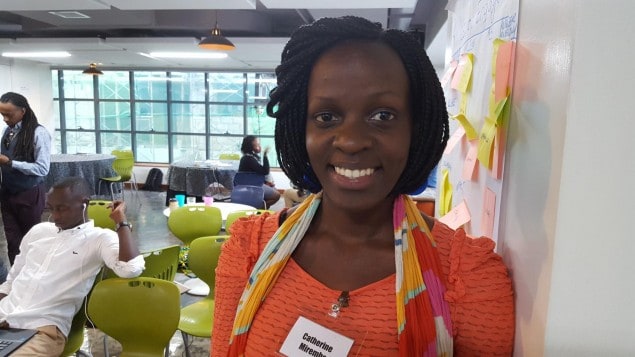 26-year-old company founder Catherine Mirembe in Nairobi's iHub.
In addition to South Africa and Nigeria, Kenya attracts the most foreign capital for young tech companies in Africa. There was broadband here early, ten years ago the first incubator in Nairobi and now 500 startups in "Silicon Savannah" – not a few with social aspirations.
About 25 founders from East Africa, mostly women in pearl tights and Tweetrock, came to the iHub this afternoon. That's the name of the unique co-working space on the Nairobi tech scene. They want to learn more about startup management.
Kathryn Mirembe, 26 years old, a computer engineer from Uganda, founded the comic, animation and games company Tamithi two years ago. While the other participants feast on the strawberry cake, the dessert of the midday buffet, she pulls her tablet out of her pocket and presents the first game of her company.
"You earn points by collecting melons, apples and pineapples for your grandmother in a certain amount of time. Also, you learn something about nutrition and health. One learns, for example, which vitamins are in the fruits. We do not just want to entertain; we always ask ourselves: why do we tell this story, is there a moral? "
Almost 70 per cent of all people in the African continent own a mobile phone; in Kenya, it is over 80 per cent. But so far, nearly all games are programmed in the US and in Europe, where you are far away from the everyday problems of Africa. Mirembe wants to close this gap. The music and scenes of their games come from Uganda – also the stories:
"The knowledge of our ancestors, our cultural heritage, has been passed on orally from generation to generation, for example, at the campfire in the evening. But today's generation is no longer dependent on this knowledge. Therefore, many have forgotten where we come from, how once was married, and what our ancestors ate. We want to revive the stories and customs of our ancestors, in a fun, entertaining way. "
Kathryn Mirembe's Tamithi company is one of the hundreds of startups that have sprung up in Africa in recent years. The iHub in Nairobi started what was soon to be continued in Nigeria, Uganda and Ghana: startup teams are developing apps, Internet platforms and services to solve their country's most pressing problems: agriculture, healthcare, finance, online commerce – and to manage crises. Some of them are used worldwide today. If you want to understand how it is that the capitals of Africa are gradually turning into technology and innovation centres, you have to turn back time by a few years.
Origin of the startup venue in Nairobi
"The tech community in Nairobi was born ten years ago. First, the programmers and web designers met in cafés – and then they founded the iHub. "
Says Lincoln Njogu, manager of the co-working space.
The meeting place for young entrepreneurs in response to the unrest in Kenya 2007/2008: The results of the presidential election appear at the end of December, and despite the backlog in the previous polls, the incumbent President Mwai Kibaki was declared the winner. This brought opposition supporters masses on the streets. There were numerous violent crimes: More than 1200 people died; hundreds of thousands were expelled. Officers from both camps were later tried before the International Criminal Court in The Hague – including current President Uhuru Kenyatta.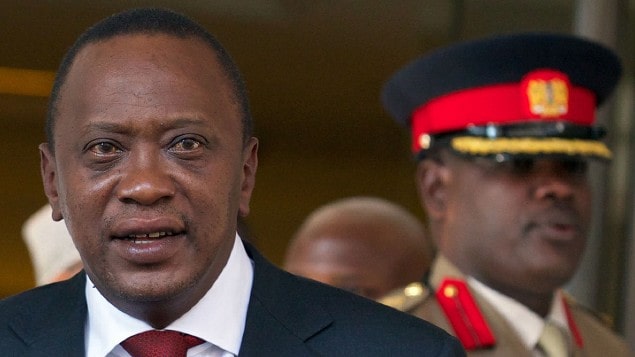 Kenyan President Uhuru Kenyatta in 2013 in London. (afp / Andrew Cowie)
The prosecutors also used the geo-mapping platform "Ushahidi" – a map that visibly documented all acts of violence against members of the opposition on the Internet. She had developed a team of bloggers, programmers and lawyers. The platform soon became known nationwide, and in 2010 the first sponsors came.
"With the money, Ushahidi opened an office, the iHub. They wanted to network the tech community in the country in the long term: everyone could come and work there. A year later, the World Bank became aware and agreed to finance a new offshoot: the M-Lab. "
The M-Lab, one floor below the iHub, hosts hackathons and idea competitions. Programmers, designers and other creative people are trying to develop technological solutions to society's problems in just a few days. As a benefit, money, a job, and mentors often turn heads to bring the products to market. International telecommunications and IT companies such as Vodafone, Safaricom and Merck invest – and soon the Kenyan diaspora. Within just three years, a startup cluster is growing around the iHub. And the founders swarm out to neighbouring countries to advise them on building their hubs.
Kenya in third place in Africa
With this strategy, Kenya now ranks third among 55 African countries. Around 100 million US dollars could attract the country in 2016 to foreign venture capital in this area. Only South Africa and Nigeria achieved more, according to a report by the venture capital firm Partech Ventures. Even in Kenya's province there are now technology founders, explains Lincoln Njogu from iHub:
"This is mainly because the government has created and promoted the right conditions for tech startups. And secondly: our payment system M-Pesa. So you can pay since 2007 in Kenya and now in many other countries worldwide by mobile phone cashless. This is a huge success story that encourages new startups. And the third reason for our tech boom is the many young, well-educated people from the high marks universities, who do not know where to go due to the weak labour market situation. Why not start your own business with your skills. "
Start-up was born from a stroke of fate
Felix Kimaru is such a well-educated college graduate. 29, muscular guy, with hearty laughter. He leans over a desk at iBiz Africa, a hub in the attic of elite school Strathmore Business School. Like all other chipboard tables, it's also surrounded by a privacy screen. So it's quiet, in the large office with about 80 jobs.
Three men and one woman work here for Felix Kimaru and "Totohealth" – in German: "Child Health" – a startup that arose from a stroke of fate.
"In December 2013, my aunt died. She was pregnant but did not know she had twins. With us, women traditionally give birth at home, with help from the village. But twins can only deliver to midwives. That's why we lost my aunt and the babies. "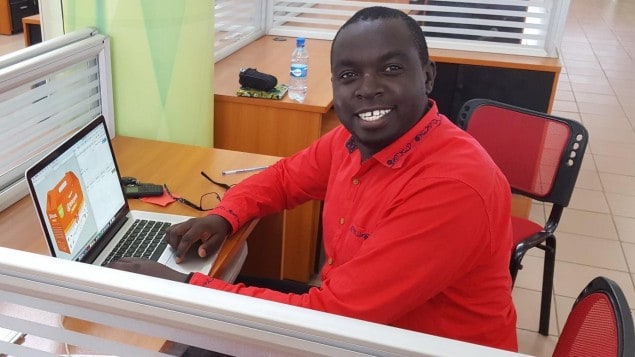 Felix Kimaru is one of Kenya's hopeful startup entrepreneurs.
Kimaru wants to prevent other women from doing the same. In Kenya, the mother dies every 200th birth. An average value which the state and international development organizations have been trying to reduce since the 1990s – with moderate success. That's why Kimaru decided to find a solution for himself:
"I've been thinking, how can I use my programming skills to get pregnant women to go to the clinic. With minimal costs. "
He visited hospitals and birth stations. There he informed himself about preventive examinations and the developmental stages of babies.
"Posters are hanging on the wall. It says, for example, what a child should be able to do with a month. Or with two months and so on. I photographed these posters and used them to develop text messages. "
With SMS service help mothers and pregnant women
In 2014, Kimaru wrote an algorithm that informs users from the date of the last period by SMS when their next doctor and vaccine appointments are. For this, he got funding, hired a doctor and three staff, hung out advertising posters in hospitals, got startup funding over $ 10,000, passed the Ministry of Health's test, and set goals:
"We want to make sure that all women give birth in the hospital. In the whole country, only 62 per cent do so. By contrast, 92 per cent of our users at 'Totohealth' go to the clinic for delivery. Seventy-seven per cent have their children vaccinated. There is still room for improvement. But we are more successful than any other organization or service in the country. "
"Totohealth" also informs its subscribers when their child should start sitting or talking. Thus, the SMS service also helps to detect undesirable developments such as club feet early – and to prevent disability.
"One subscriber noticed from our messages that her child should have been running long ago. Because she did not, she went to the hospital. There, the bone disease rickets was diagnosed. Thankfully very early, so that her child was cured with vitamin D addition. We just happened to find out about this story during one of our surveys. There are so many success stories that we know nothing about. "
Today, 145,000 mothers are registered with Totohealth, Kenya and Tanzania. They receive news three times a week. Totohealth also informs its users via SMS about epidemics such as cholera outbreaks. But soon the funds and donations are used up, and the startup has to stand on its own two feet.
"We are not an NGO; there are many in Kenya. They survive only as long as their promotion reaches. But we want to carry ourselves. That's why registered parents will pay the equivalent of $ 2 a year to use 'Totohealth'. "
Two dollars per year should also be affordable for the most impoverished families with a mobile phone. If you still have problems, you can pay the price in instalments.
From the largest slum in Kenya to software trainer
The Tunapanda Institute, a hub in a two-story home in the heart of Kibera, Kenya's largest slum. Upstairs, teenagers are cutting a video on dusty screens. Below, 30 young people present the results of their three-month course. Close together, sitting on sofas and plastic chairs, they listen to the lecture of a group. She's been busy with big data.
Maureen Mora, 26 years old, a confident woman with a bright smile, listens attentively. Her trench coat, the dark eye shadow and her red-painted lips set her apart from the others. Three years ago, she was still a participant, as two brothers from the United States just opened the Tunapanda Institute. Now she is teaching.
"When it comes to technical skills, it's all about solving problems. We are in the digital age. At least we need to know the technical possibilities and be able to deal fairly with them. "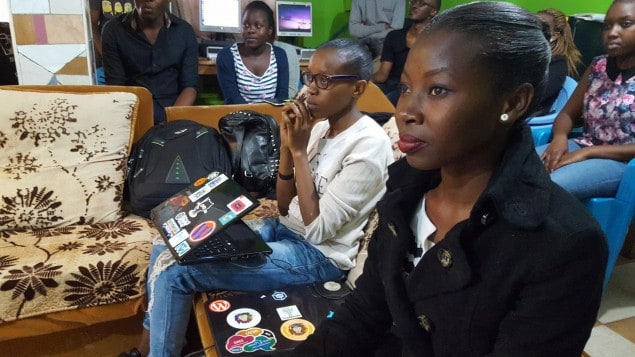 Teacher Moreen Moral from the Kenyan Tunapanda Institute.
Mora grew up here in Kibera. The "Tunapanda Institute" also gives school graduates from slums the opportunity to learn programming languages, graphic design and working in a team. The beginner and advanced courses are free; the institute finances itself through orders and donations. Every lunch is cooked. Mora piled rice with red beans and cabbage on the plates while she talked about how it all began.
"My dad is a software developer. I used to hang out with him a lot, playing around on his laptops and developing an interest in computers. "
Mora's parents invested in their education, even if money was scarce at home. The study of medical technology completed her with top marks, but she found no job. That's when the Tunapanda Institute opened, right next door. Mora applied. She was accepted – in the basic and the advanced course.
"At first, I found computers just cool. Now I know how to use computers to do something for myself, my family and my community. "
Young people in the poorest regions are supposed to program
Mora now has a job – and a mission: She also wants to teach young people in the most deprived areas of the country programming, especially women. That's why she opened another Tunapanda hub in Turkana, on the border with South Sudan, supported by an initiative from Germany. One of the participants flew from university because she got pregnant, says Mora. With appearances as a singer, she kept afloat. When the Tunapanda Institute opened, she enlisted – against the will of her parents and community.
"How is she supposed to make sure her son survives when she's taking computer classes, people have said. But she was not dissuaded; she gave her son to her cousin and came to class. Sometimes her son was ill, and she had to raise money for medicine. But she just kept going. And now she is a trainer herself. "
Mora believes in a better future through the Internet, one that she can help shape – like Mirembe with her gaming and animation company and Kimaru with the SMS service for pregnant women and mothers. Even though she grew up in Kenya's largest slum. Compared to the iHub in Nairobi the Tunapanda Institute with its slow computers acts like a Fiat next to a Ferrari. However, those who believe that only the children of wealthy parents benefit from the tech boom in Kenya are mistaken, says Mora:
"If you do not get a seat on Tunapanda, you have to take the initiative yourself. There are many free offers on the Internet. 'Coursera' or the 'Codecademy'. Just go online and teach yourself programming. "