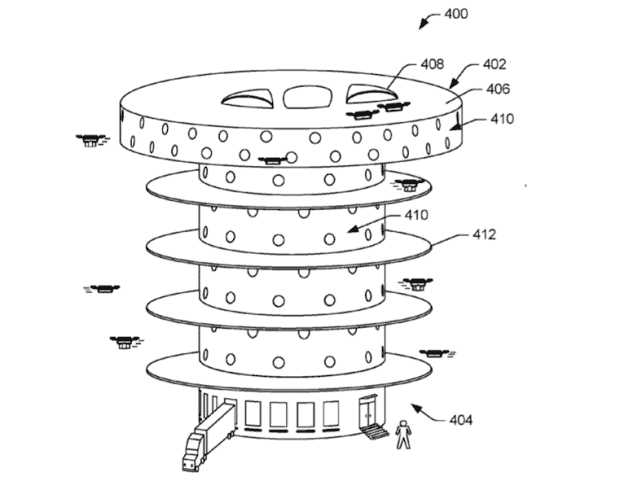 Amazon has requested permission to fly for its parcel drones in the United States. Three arguments suggest that soon the whole swarms will populate the sky.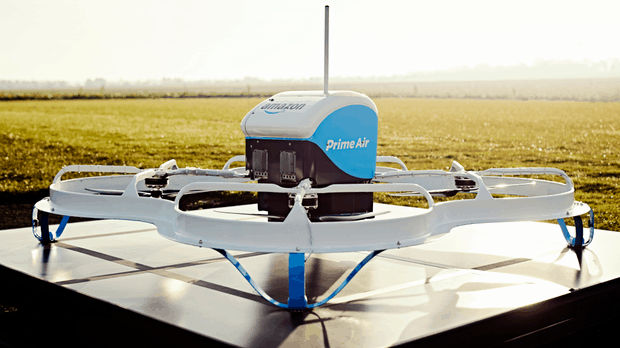 Amazon's official application to the US Air Traffic Control Authority (FAA) for a drone permit to fly out of sight of a pilot marks the start of the drone era. Over 122,000 commercial drone pilots and over 200,000 commercial drones are registered in the US, according to the FAA, mainly for real estate aerial photography, industrial applications and agricultural use. But recent developments show that this is only the beginning because now comes the transport.
Alphabet and UPS are already authorized to deploy autonomous drones, and Amazon has now applied for drone flights for the entire United States. The drone strips off its reputation as a public relations stunt and will become a dangerous part of the delivery infrastructure on the last mile. And Amazon will sooner or later use large-scale drones.
Amazon has been focusing on delivering drones for years
In a 60-minute CBS broadcast, Jeff Bezos unveiled Amazon's delivery drones in 2013 and was optimistic that it would run until 2017 or 2018. Instead of four to five years, it would take six years for Amazon to announce delivery in a few months at its Re-Mars conference in June this year.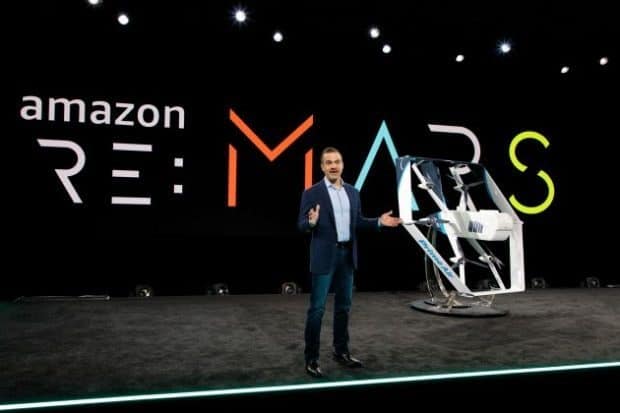 Amazon manager Jeff Wilke presents the new delivery drone. (Photo: Amazon)
How long Amazon works on the drone program as a whole is unclear in detail: assuming a realistic minimum of one year of development until the presentation of the prototypes in 2013, it would have to be at least seven years. While in the United Kingdom since 2015, intensively tested with the involvement of the aviation security authorities, at least nothing is heard or read from Germany. Since 2017, the general operating ban on drones out of sight has been lifted, and the national aviation authorities may grant permits, the theoretical basis for the testing is laid.
Amazon is focused on rural areas and suburban areas, which is most similar to our suburbs and the metropolitan regions, according to US and UK development permits. The technology consists of fully autonomous aircraft equipped with sensors that allow the drone a situational independent decision-making variety. With this, Amazon has created a kind of autopilot that can automatically avoid obstacles that suddenly get in the way – the technology should defy even manual commands that would cause damage. Say hello to the Asimov robot laws.
Amazon will undoubtedly use drones on a large scale
But it's not just Amazon's intense dispute with drone delivery that is a clear sign that the company is pursuing severe plans. Amazon faces the problem that the logistics capacities are not arbitrarily scalable. Even the last mile is challenging to scale and can not be automated – while Amazon must scale and automate to continue to grow. In detail, correctly, these three arguments speak in favour of the rapid expansion of Amazon's drone infrastructure:
1. The existing logistics capacities are limited and do not keep up with the growth of Amazon with
Yes, Amazon Logistics is building up its position. The in-house parcel service from Amazon can only rely on existing, freelance couriers and delivery drivers. In principle, a race for capacity with the parcel services. Sizes are barely increasing, as evidenced by the persistent staff shortage in the industry; it is only redeployed.
This is a temporary strategy for Amazon to retain as much free capacity as possible. The intensive attempt to "create" new positions in the form of new entrepreneurs in logistics with a kind of logistics start-up incubator and support programs for their employees, shows that Amazon is aware of the limited resources.
Amazon is still growing. Faster than the logistics industry can grow. Amazon's answer to the challenge of growth has always been efficiency growth and technological automation.
2. The last mile is so far hardly scalable and not automatable
The opening of new logistics centres has always answered growth at Amazon. As close as possible to the customer is the motto. For the distribution of goods flows between the logistics centres, Amazon has already secured every transport route except container ships, from truckloads to aeroplanes and air transhipment points. Yes, indeed, new depot structures such as micro depots in cities and retail stores (which Amazon is already working on) still provide room for further growth and further optimization. Still, the crucial bottleneck is the so-called last mile. And there can yet be optimized, but not with the conventional structures. When Amazon employees pack parcels into trucks, every Tetris junkie fades with envy; even the routes are already automated as intelligently as possible.
Without the appropriate employees and vehicles, the last mile is not scalable; And if just the existing structures are scaled, the cost structure will not change. The employees are not there anyway, and because people can not be automated, that's not a solution for Amazon.
Parcel robots and drones, however, are scalable and automatable. Parcel robots are currently an incalculable risk. To understand this, you have to take a look at the countless e-scooters in rivers. Apart from that, Amazon with its robot Scout is indeed on the subject but a few years away from the development of the drones, which had to grow after almost three years from the first pilot flight to a customer until the now announced market maturity.
That's why Amazon will put drones where it's possible. And quickly scale to relieve logistics infrastructures. Drones are well suited for this. Amazon operates in rural areas, suburbs and metropolitan areas; a combination that is well suited for the drone flight, because, with gardens and other open spaces, there are enough landing sites.
3. Amazon's selected application scale scales well, quickly relieving Amazon's logistics infrastructure
In metropolitan areas, there are often logistics centres of Amazon. The drones can cover a distance of 24 kilometres with payload, says Amazon – this would result in a radius of 12 kilometres around each logistics centre. In high-density regions, Amazon can cover so many users and many orders.
In rural areas, the delivery vehicles have to travel long distances, which binds capacities. The logistics centres can thus already save many kilometres with some deliveries and also free up positions.
The rural part eats most of the time. It is even in the densely populated with about 230 people per square kilometre Germany relatively large. There live over 25 per cent of the population in communities below 10,000 inhabitants, considering the spatial distribution of society, the Land Atlas shows that extensive Parts of the republic have a population density of fewer than 50 people per square kilometre and the majority is below 150. On the other hand, the frequency in urban areas rises to thousands of people.
The situation is similar in the USA, but much larger dimensions. On average, around 30 people live on one square kilometre. In cities, the density also increases to thousands of people, but there are rural states like Wyoming, where two people inhabit a square kilometre. The vast geographic area of ​​the US is less than 20 people per square kilometre, nine states even less than ten.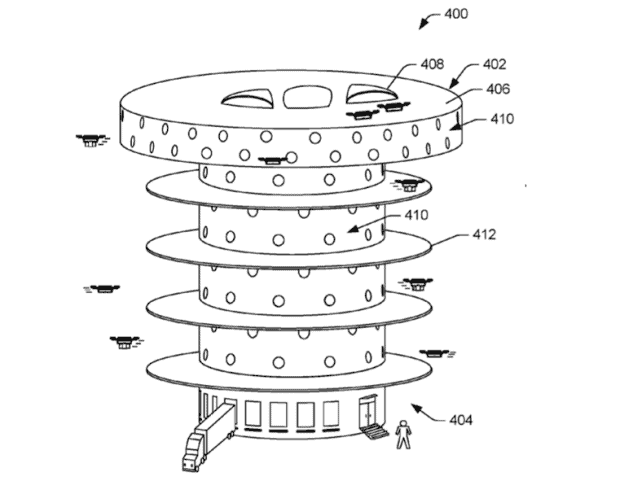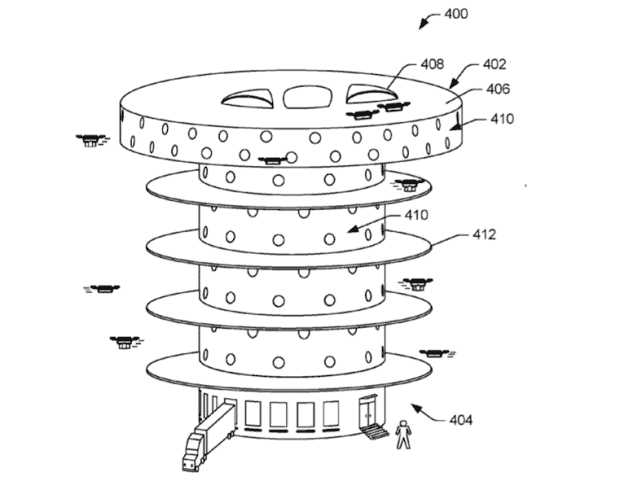 Space-saving because multi-story: a drone logistics centre in beehive design. Perfect as a hub suitable for rural areas. (Sketch: Amazon)
Amazon thus covers the two areas that can be served by drones and promise rapid scaling: long distances between delivery stops and delivery stops in areas with the highest possible population densities. The rural area will initially be confined to the immediate vicinity of the logistics centres. But it will be more: Amazon will build drone hubs to make the rural areas even better. It can not yet be ruled out that flying hubs will glide over the cornfields in the distant future. Then, drone motherships could eject a cluster of Amazon drones to land on farms in Wyoming or farms in Mecklenburg-Vorpommern.