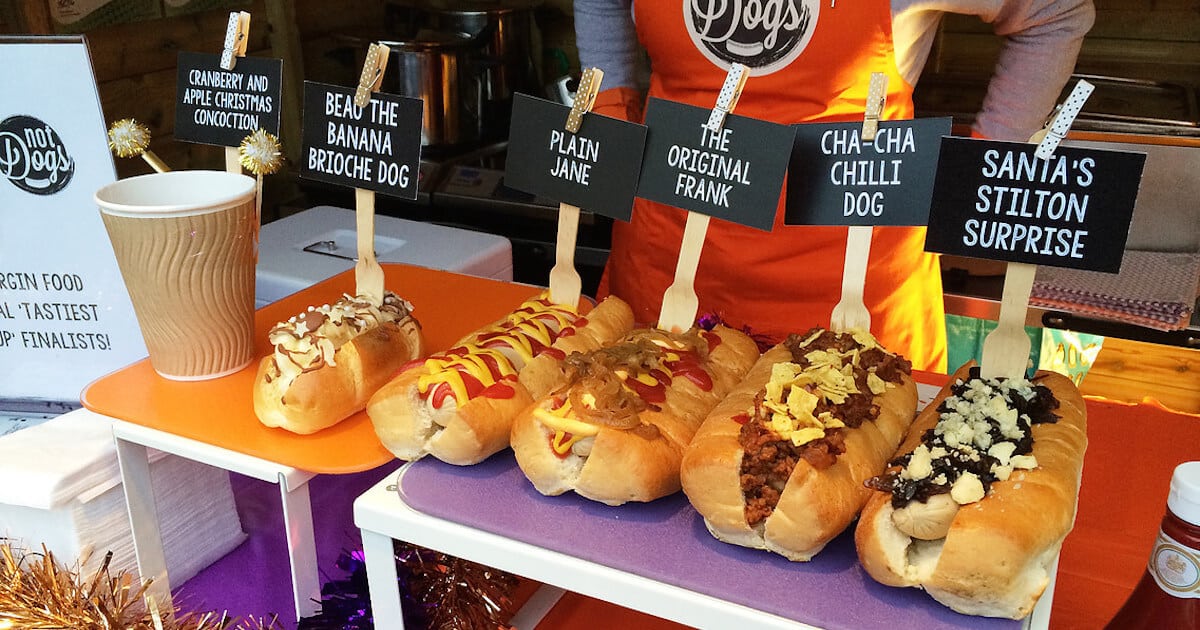 Three young companies from England show that fast food does not have to be unhealthy and rush with their concepts from one success to the next. How they do it and what exactly is behind their business ideas, you will learn in this post. It includes healthy hot dogs, reloaded Asian noodles and other types of smoothies.
Lukewarm cervisia, wild boar with mint sauce – the British comic Asterix picks up the clichés that many continental Europeans have for British cuisine. But the reality is not a comic and looks very different. Britain has one of the most diverse culinary landscapes in Europe – celebrity chefs like Jamie Oliver or Nigella Lawson have a place in it as well as the innovative food concepts we present below.
The three business ideas in a quick check
Idea # 1 – Healthy Hot Dogs: Vegan and vegetarian cuisine have evolved from a niche into a mass-market. And the number is increasing daily. Anyone who succeeds in positioning savory dishes off the beaten track of dogmatism and dusty "patty" charms has good chances of success.
Idea # 2 – Asia noodles reloaded: Market gap identified and used. Damien Lee's business idea has been to break into a fiercely competitive marketplace and re-invent a product that is commonly considered poor.
Idea # 3 – Smoothies in the modular system: Healthy nutritional products with clear benefit and convenience for the customer – with their business idea, the founders of Pack'd used this trend for their company.
# 1 Not Dogs: Making Money With Veggie Food
"You're crazy" – when Katie McDermott and Jane Yates told friends and acquaintances they were going to start their own business selling vegetarian hot dogs, they were not very enthusiastic. "How can you just give up a safe and well-paid marketing job for that?" Most people wondered. The two wanted and could – and founded their vegetarian fast food concept " Not Dogs " in 2014.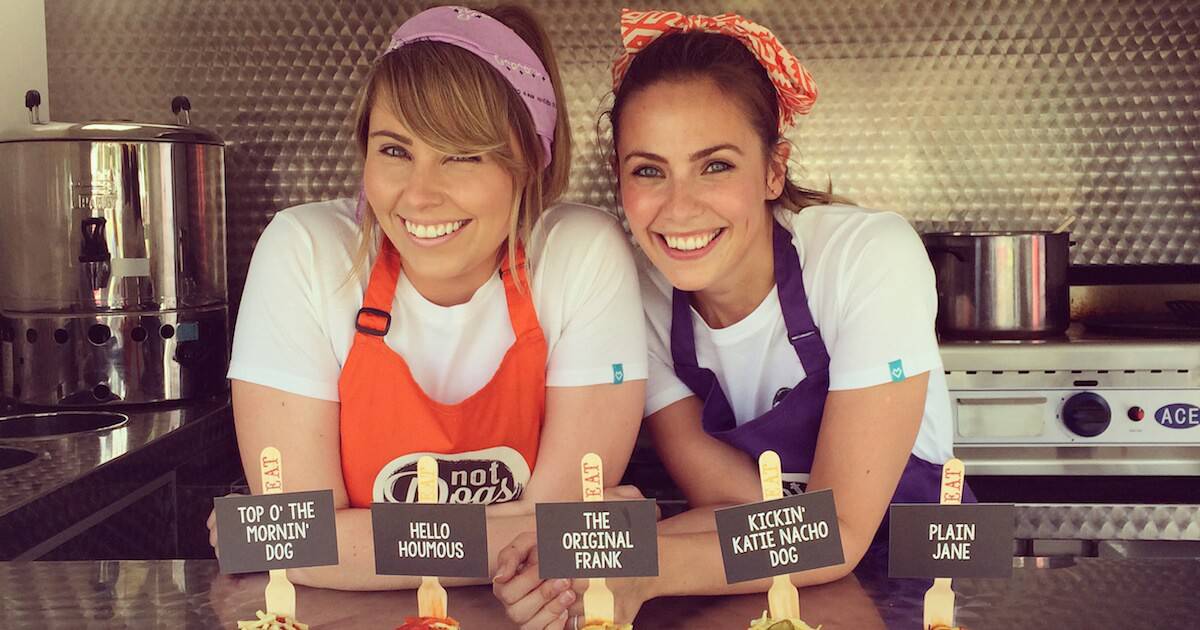 PR on wheels: Katie and Jane touring England with a pop-up food truck (copyright: Not Dogs)
With the food truck on customer catch
To spread her business idea, Katie and Jane toured England with a flashy pop-up food truck. They had customers make selfies at the respective stops, which they showed during the enjoyable consumption of the vegetarian hot dogs. Advertising for free and also the basis for viral marketing via Facebook & Co.! Also, the founders were able to receive direct customer feedback during their tour and get to know the culinary preferences of their future guests even better. The insights they gained on their journey through England were invaluable to McDermott and Yates, helping them further refine their concept and adapt it to their guests' needs.
Vegetarian hot dogs and burgers are delicious to customers and investors
The food offered by Not Dogs is purely vegetarian – but meat-eaters, according to Katie McDermott, are the burgers and hot dogs. The costs per Not Dog are around 5 Euro. Incidentally, one of the sales drivers is a sausage made based on the protein-rich food Quorn, modeled on the "German Bratwurst".
The products are not only well-received by the customers – but the founders were also able to inspire investors and secure 150,000 pounds of equity capital for the implementation of their business idea. With the money, they were able to optimize the branding and logistics processes of the facilities in their Birmingham Mall "Bullring", which opened in 2016.
The success of the pilot plant has encouraged the founders: 3,000 vegetarian hot dogs, burgers and side dishes are sold by the power women per week, and more than 6,000 restaurant visitors visit the "Not Dogs" monthly. In 2018 McDermott and Yates want to open two more clubs in England.
This advice is given by the creators of Not Dogs:
Test the concept! Do not give up before you try it and overcome the first obstacles. There are far too many people with great business ideas who do not dare to start a business and therefore do not realize their dream of being self-employed!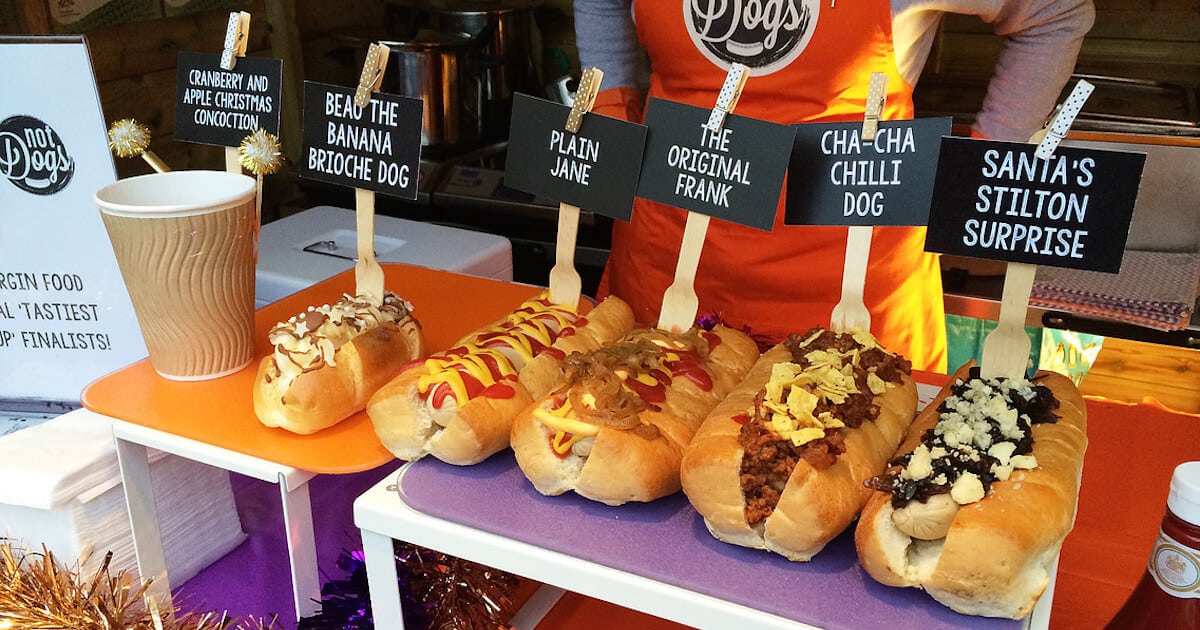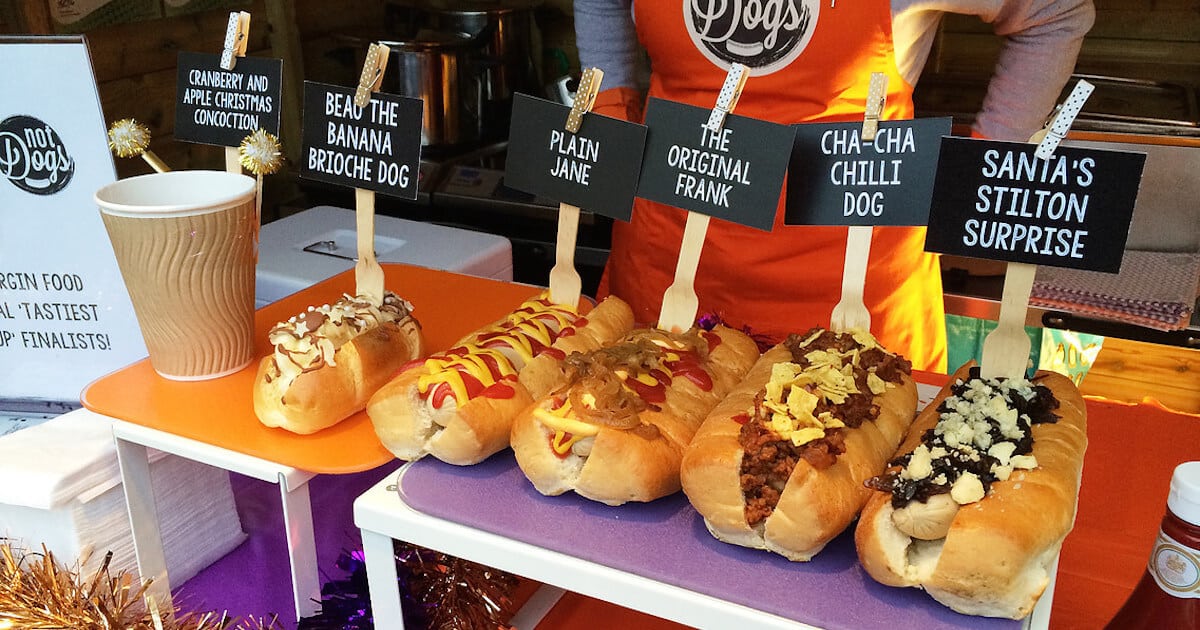 Meat? Not! The Not Dogs are 100% veggie (copyright: Not Dogs)
# 2 Mr. Lee's Noodles: Indulgence with no regrets – Asia noodle reloaded
Once again spent a sleepless night in front of the computer to finish a project, to write an offer or to brood over the latest marketing campaign? When the stomach growls, so do some Asian instant noodles. These are prepared quickly, are filling for now and do not cost much. Unfortunately, most of these products have a catch – they are full of fat, artificial flavor enhancers and salt. Healthy is different. Like, "Serial Entrepreneur" Damien Lee shows with his company Mr. Lee's Noodles.
Award-winning business idea from England: healthy noodles delight customers and juries
Based on the seaside town of Bournemouth, the company offers a healthier alternative to the usual instant noodle dishes. The rice noodles are available in six different varieties with sonorous names, such as "Tai Chi Chicken" or "Zen Garden Vegetables".
A cup of noodle soup costs between 2.27 and 2.83 euros and is thus significantly more expensive than the products of the competitors. But unlike the commercial instant noodles, Mr. Lee's noodle ready meals come with no artificial flavor enhancers. The company relies on "the real thing", that is, natural ingredients. A special freeze-drying process keeps the contained vegetables color, taste and texture. The processed rice noodles are gluten-free and also suitable for the growing market of people who have gluten intolerance.
The company, founded in 2015, was already able to collect a large number of awards for its concept and made it into the British "Startup 100".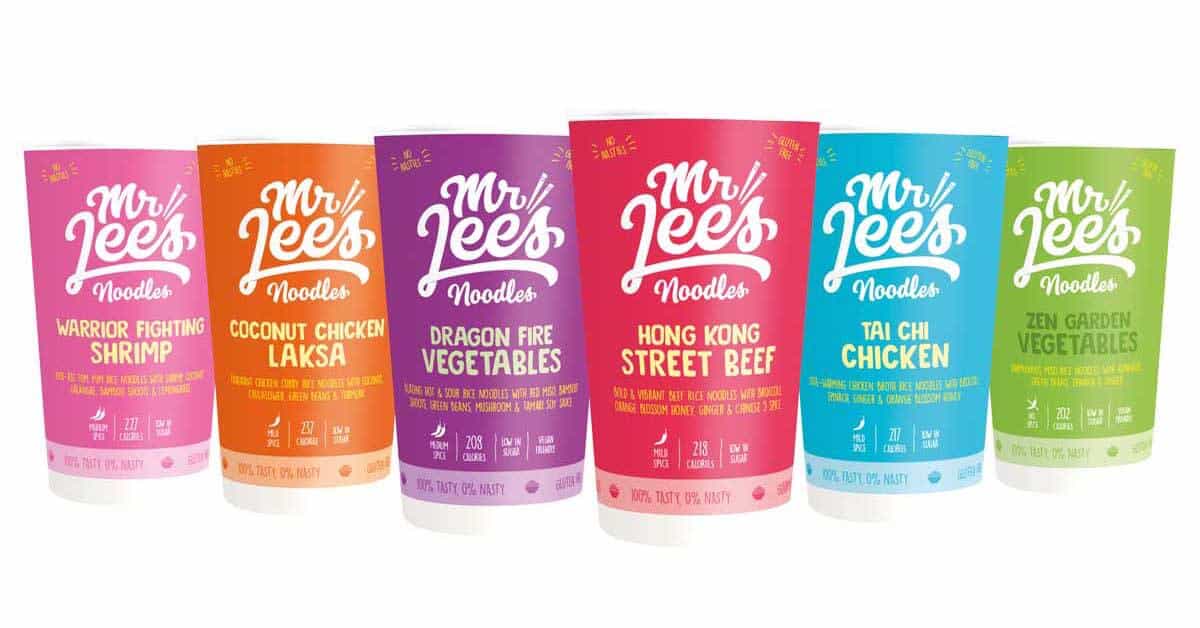 The healthy alternative to instant noodle dishes is available in 6 different varieties (copyright: Mr. Lee's)
Reasons instead of despair – the story of founder Damien Lee
Even more impressive than the outstanding performance in start-up competitions is the founding story of "Mr. Lee's Noodles ".
Giving up was not an option for Damien Lee
A diagnosis of cancer and the news that you have only a few weeks left to live would plunge most people into desperation and prepare them for their approaching death. Few would think about starting a business and implementing a new business idea. That's exactly what Damien Lee did. The now 50-year-old single father of two sons decided that giving up was not an option and underwent radical cancer therapy, which included an equally radical diet change. During this difficult time, Lee had to give up his favorite snack, instant noodles, because they contain too many artificial ingredients that were not compatible with the new nutritional concept.
Own needs give impetus to the business idea
The Australian born "Serial Entrepreneur", who has already successfully founded companies in several countries, decided to remedy the situation. He saw in the market gap the chance with his business idea, an innovative new pasta snack to conquer the market and offer customers a healthy alternative to the common instant noodles. In 2015 – just months after the cancer diagnosis – he founded "Mr. Lee's Pure Foods", the sale of Mr. Lee's Noodles started after repositioning in July 2017.
Next Stop: The sale in the supermarket
Sales are currently running through the company's website, Amazon and vending machines. Pasta specialties are also available in the snack offerings of many trains in the UK, as well as Jetstar Australia and coffee shops and hotels.
For 2018, the founder has big plans – together with his 15-member team, he wants to bring his products to the stationary retail trade and start further cooperation with travel companies.
This tip gives Damien Lee founders:
Realize that you can not do everything yourself. Find talented people you trust and enjoy working with. Give them your passion for the business and excite them for the vision you have for your business.
# 3 Pack'd: Healthy Smoothies in Kit System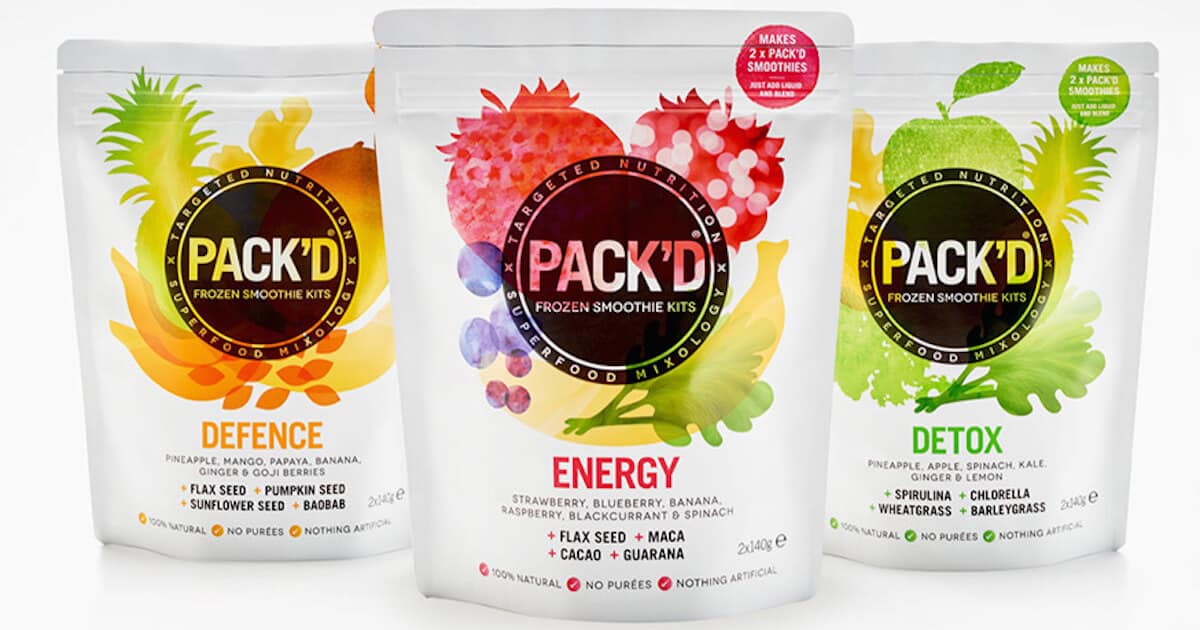 Deep-frozen smoothie "less calorie" kits – Pack'd's Business Idea (Image Rights: Pack'd)
As is well known, not everything that glitters is gold. And not everything that prides itself on being healthy is. Many a smoothie out of the bottle turns out to be a true calorie bomb because of its high sugar content. The alternative – mix the smoothie itself from fresh fruit and vegetables – is time-consuming and cumbersome. This is where the business idea of the British start-up Pack'd come in.
Since September 2015, founders Luke Johnstone and Alex Stewart have been offering frozen smoothie "kits" that customers simply defrost and mix with liquid. Just six months after launch, Pack'd was present in more than 750 stores, today it's 1,000, including some of the UK's largest supermarket chains. The concept has won multiple awards (including Best New Health & Wellness Product 2016 at the IFE World Food Innovation Awards) and has received support from the prestigious Prince's Trust, which is under the patronage of Prince Charles.
The recipe for success of Pack'd: clear benefit promise and high-quality ingredients
Who can judge the best whether a product meets the taste of the target group? That's right: the customer himself. Before Johnstone and Stewart started on a big scale, they let trial customers taste the smoothies and continuously improved the recipes. Today Pack'd offer three product variants: Detox (detoxification), Defense (strengthening the body's defenses) and Energy. Each "kit" contains two bags of fruit and vegetables and two bags of superfoods such as spirulina and wheatgrass for 4 euros. The products do not require the addition of sugar or artificial flavorings and are neither heat-treated nor provided with preservatives.