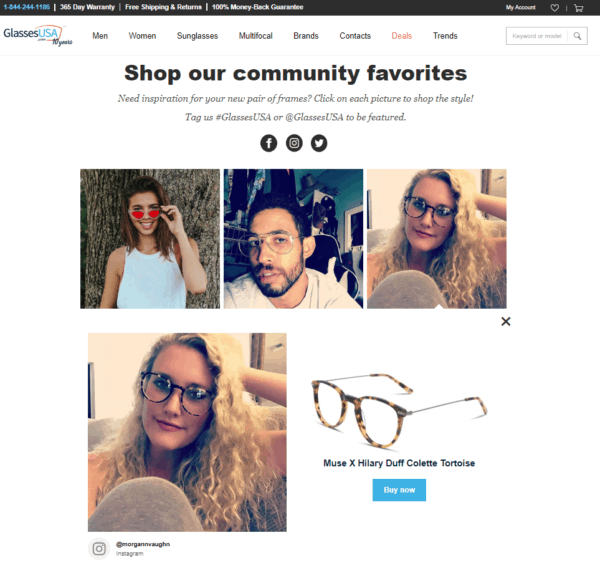 Glitz and glamor do not know her. Nevertheless, micro-influencers are among the "hidden champions" of many brands and companies: right in the middle of it, their content is so authentic that it makes paid posts look pale. Three tips and examples of how micro-influencer marketing can be realized.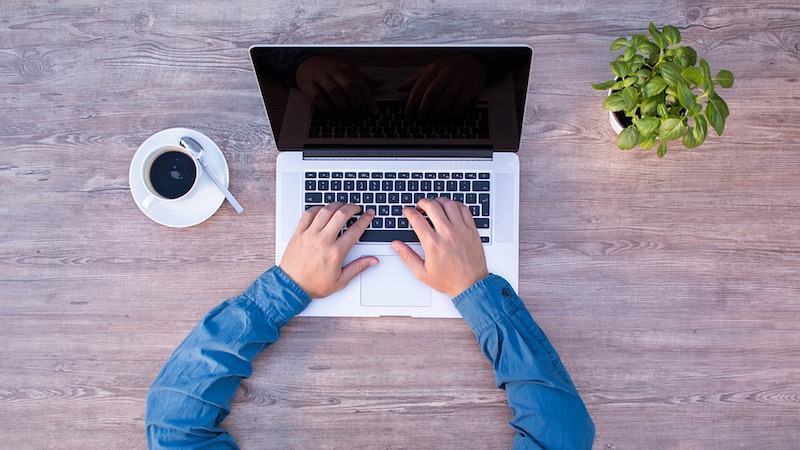 German creators such as Bianca "Bibi" Heinicke or Patrick Mayer aka "Paluten" have stylized themselves via their social media channels as a brand and have monetized their influence with the help of the advertising industry. US Instagram star Kyle Jenner is estimated to receive as much as $ 1 million per ad for brands like Puma or Calvin Klein. That equates to a third more than football idol Christiano Ronaldo scores.
The influencer marketing of the social media stars and up-and-coming newcomers has arrived in the mainstream and, with the growing professionalism of its actors, illustrates one thing in particular: reach is not everything. If a brand has looked exclusively at the level of awareness of an influencer, but not at the profile of the target group behind it, the hoped-for success usually remains. The campaign reaches many, but not the right people. As a result, more and more brands and companies are focusing on micro-influencer marketing.
Credibility grows in the familiar
Micro-influencers are usually not celebrities. They are themselves part of the target group. While macro-influencers create content according to their customers' specifications and wishes, and thus their content falls within the area of ​​paid content, the contributions of micro-influencers are uncoloured. This is real earned content. Authentic. Credible.
For micro-influencers, the number of followers is approximately between 250 and 100,000 people. However, there is no exact definition. The relatively lower range increases the likelihood that micro-influencers personally know many of their followers. Therefore, their content equals a personal recommendation among acquaintances.
But how does one find and reach micro-influencers for his brand, his company? And how do you encourage them to tell their stories and present their product experiences in real life? Here are a few ways marketers can get micro-influencer marketing up and running.
Three practical tips for micro-influencer marketing
One way to start a search engine query is to expand on the actual topic (for example, "eyewear") by adding terms such as "blog" or "community" to micro-influencers. However, this method has the disadvantage that in the next step, it must be laboriously validated whether it is a company, a macro or indeed a micro-influencer. And: It lists only influencers with their own platform or channel. Micro-influencers such as the influential customers, fans or employees posting via their personal social media profiles are difficult or even impossible to identify.
Another option is to use a social media aggregation tool to find micro-influencers. Their content is curated, categorized and presented digitally in tools such as Flockler – which in turn encourages other customers to buy the product as well.
Step 1: Build relationships through contact. In other words: Once the most dedicated customers and fans have been identified, they are invited to an interview. In this way, marketers learn how these customers and fans discovered their own brand or product, how it helped them solve a problem, or how they use it in their everyday lives. The heard wants to be transformed into content. In this way, quotes are created, which marketers can place as testimonials on the web or product page. The presentation will be particularly nice if the interviewee can contribute suitable visual material.
Step 2: Own content is beautiful, user-generated content even more effective! Those who ask their customers to share their product experiences with friends and acquaintances via social media should be careful to offer a hashtag or provide the correct link to the company's Facebook page, Instagram profile or Twitter account. The content collected and edited during the interviews can also serve as a good example of the type and tonality of the posts. One thing is certain: if the content feels authentic then other customers will follow.
Step 3: Re-posting the contributions of your customers not only increases the interaction and emotional connection between the customer and the brand. Re-posts are an effective way to increase engagement and reach of your own social media channels. The social media management tool team Buffer has used this tactic with great success: By once again sharing the best user-generated content, they were able to increase the number of Instagram followers by a whopping 400 percent in one year.
And what about others?
Three brands that increase their conversion with micro-influencers
GlassesUSA, an online retailer for eyewear and optics, has set up a so-called social shop on its website . Here he invites customers from all over the world to post their eyewear style on Facebook, Twitter or Instagram and tag him with #GlassesUSA or @GlassesUSA to be able to present themselves to the community in the social shop. The user-generated content is linked to the corresponding products, so that customers can directly buy the model that appeals to them without having to go through a long search.
The Social Shop is an excellent example of how brands can shape the path from user-generated content directly to purchase. Product feedback and reviews are a powerful driver to inspire and engage others to buy.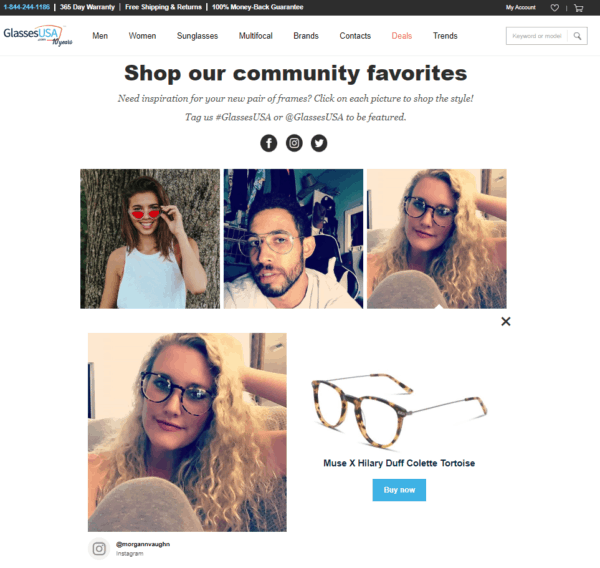 More active together
What can customers do about shrinking organic reach for branded content on social media? They ask their clients to share, like and comment on their experiences through the social channels. In addition, they re-post their customers' contributions, giving them more visibility in the community. This is the social media rhythm of the Planet Fitness Community .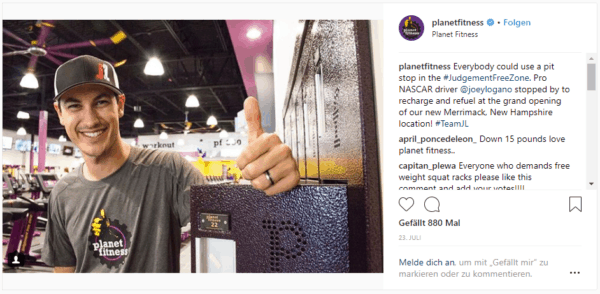 In addition to useful content from the marketing department, Planet Fitness actively supports its most dedicated customers on social media. Thanks to the higher interaction rates and better visibility of these posts, Planet Fitness can reach new audiences and build an active community. With more than 1,400 studios and over 10 million members, fresh wind is guaranteed in content creation.
Touch emotionally
Personal stories are among the substances that touch. One strategy may therefore be to ask customers to share a story about their loved one or about someone they value. These types of posts often attract a lot of attention from friends and followers. Therefore, they increase interaction and engagement. Both love the algorithms of social media platforms. In other words, the faster the interaction rate increases, the more visibility the post gets in the newsfeed.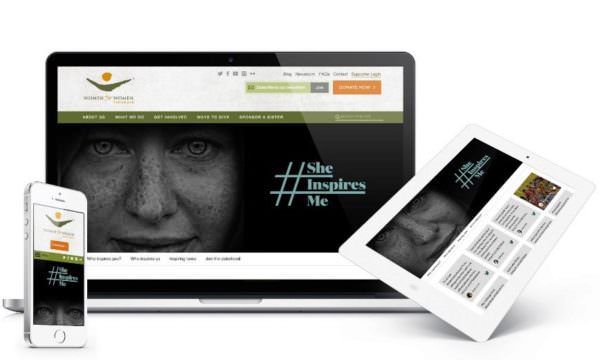 The non-profit organization Women for Women follows this approach with #SheInspiresMe . The campaign challenges women to share a story about someone who inspires them in their lives. The high interaction rates around the hashtag help Women for Women to increase brand awareness and raise funds for their engagement.