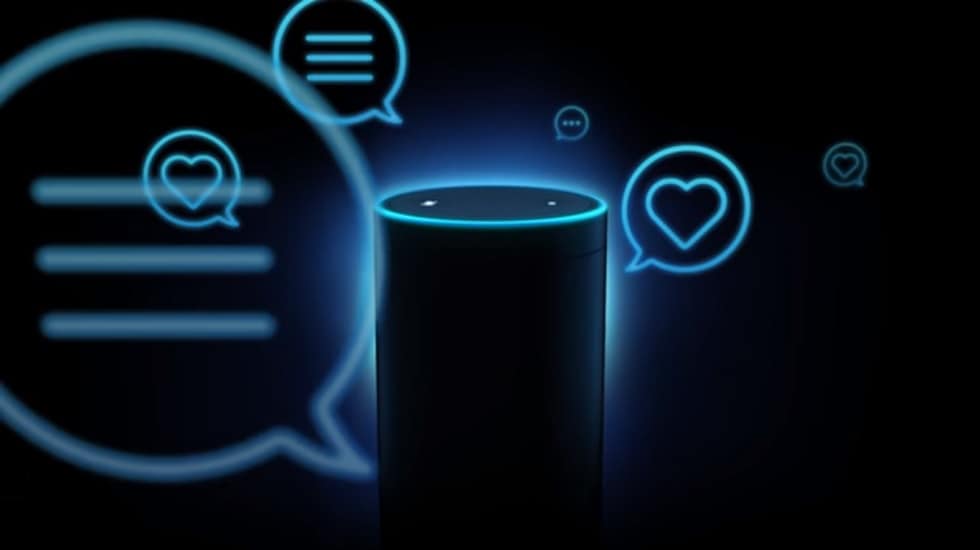 Deepened in their own smartphone, a large part of us runs as a zombie through everyday life. Tied to bright screens, we wipe our way through social networks. But this phenomenon could soon be a thing of the past if the subject of Voice continues to develop so rapidly.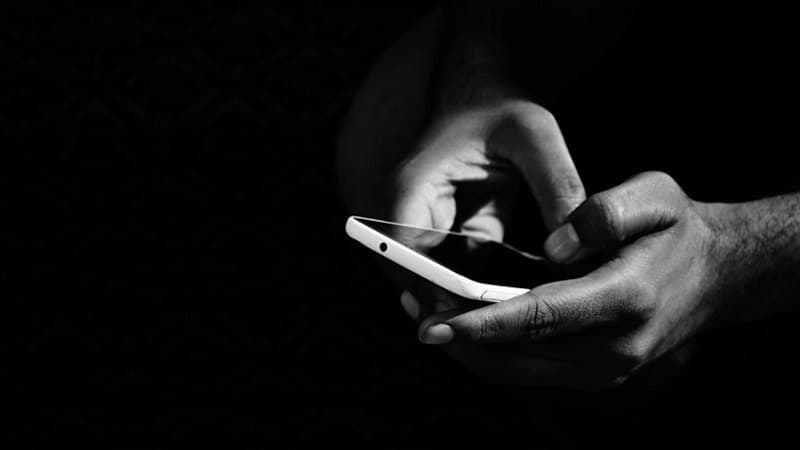 We drive the trend with our beloved smart speakers. A recent report by Juniper Research estimates that by 2023, approximately eight billion digital voice assistants will be in action.
According to the tech magazine Fast Company that would be a tripling of the estimated 2.5 billion language assistants who were already in use by the end of 2018.
But whether it's Amazon, Google or Apple, smart speakers have become part of our daily lives. They are all available around the clock.
Yesterday: Social Media first. Today: Stories early. Tomorrow: Voice first.
Still, voice interactions are limited to relatively few use cases. This applies, for example, to search, music playback and the intelligent home. Even more remarkable than their benefit is the fact that digital voice assistants are activated by people of all ages.
Even in the target group of over-50s with the lowest percentage of use, 57 per cent still speak with a voice-controlled device at least once a day. This was stated by the team of communication experts at Dialog Tech.
Why it is so natural and comfortable for us to take advantage of this new kind of technology is apparent. We have all learned communication by language. Totally natural. Since we were born, we have a voice and are learning to use it to communicate our needs, feelings and thoughts.
This type of communication as a conversation between people is fundamental and is now increasingly integrated into modern user interfaces. That's what an article in the technology magazine Information Age says.
It also states that a voice-first development methodology is that companies develop technologies that engage users through dialogue rather than code.
Studying the binary language, developing a programming language, or figuring out which gestures work best to get a job done will become obsolete.
This leads to the conclusion that interacting with machines is no longer necessary in today's world. So why should a user interface (UI) still work differently if we use our Voice first?
"Uijuijui": From GUI to VUI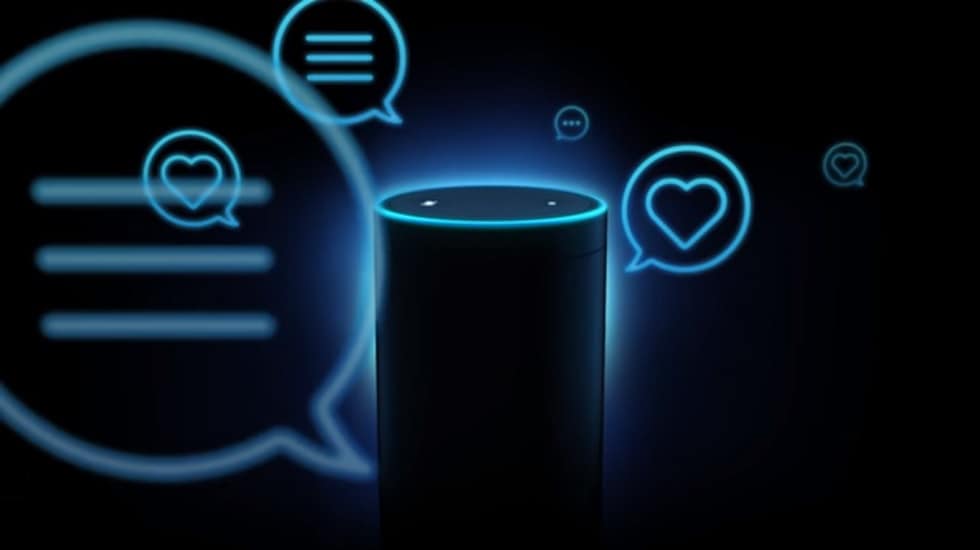 No matter if smartphone, tablet or laptop: we all know GUIs from our everyday life. A graphical user interface (GUI) in which we click, tap and swipe to perform actions.
With the Voice User Interface (VUI), however, there are no buttons, no menus and nothing that could be shown to the user visually. For a speech-based user interface to exploit its potential and really change the interaction with users, designers are needed.
Mark Webster explains this in his article at Fast Company. After all, language assistants are not people, he adds. To be effective, a voice interface must be made aware.
Ralph Eggert explained in his session at the webinar 2018 how he describes this in practice. He describes the mode of operation of a VUI quite simply and charmingly with the words: "One speaks, one hears, one speaks, one hears."
Only a more in-depth look at the weak points of a specific VUI example and how to improve it in seven steps shows the viewer what level they had been in the last year.
Ⓘ A service from Google | Privacy Policy
In the process, the relationship between Voice and social media will become even stronger in the future. So users could soon be able to post and navigate the networks by Voice.
This could make the Internet a single, sizeable voice-activated conversation. The question is: when will companies and brands react to this new technology? And: When do you plan to use Voice as an integral part of your strategy?
Tuning in to Voice starts slowly
A recent study on Uberall's voice search readiness shows that barely 4 per cent of all businesses can reach their voice users.
However, as the use of voice search increases, data suggest that voice commands are currently rarely used on the social web. An infographic of the social media management tool Sendible Insights confirms this thesis.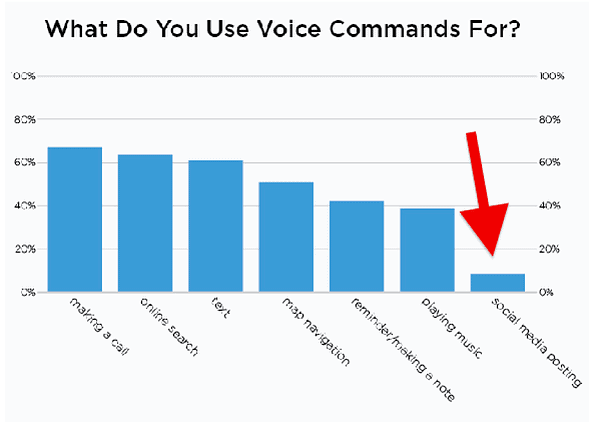 For example, only a small percentage of people use voice search and voice commands to interact with friends and family on the social web. However, this percentage will increase with the advancement of voice search.
So there's a chance we'll be able to access almost any app on mobile devices soon by just talking to her.
According to the social media agency Engage Q, brands should pay attention to two things to be able to provide their users with answers in the social web via voice search.
On the one hand, textual content should be written in the same way as one would speak.

On the other hand, correspondingly clear answers to the questions of the audience should be given.
The further development of bot technology will also help to understand accents and natural language better. This, in turn, overcomes the language barrier. Also, progress soon allows us to speak in complete sentences with smart devices.
So far, our language searches have been geared towards keywords. In the future, we will talk just as intuitively with a machine as with a real person. For the social media strategy, this means that content created answers the five W questions (who, what, where, why, how).
In this way, voice assistants would more easily find the answer to the user's question. Only then can they provide the right information. Such content would also promote engagement by giving solutions to the most common questions from the target audience.
As a side effect, you are positively forced to sound more like a person rather than a company or a brand. Behind this, of course, is the key to connecting with your own customers. A win-win situation for both sides.
The Voice becomes an experience for us all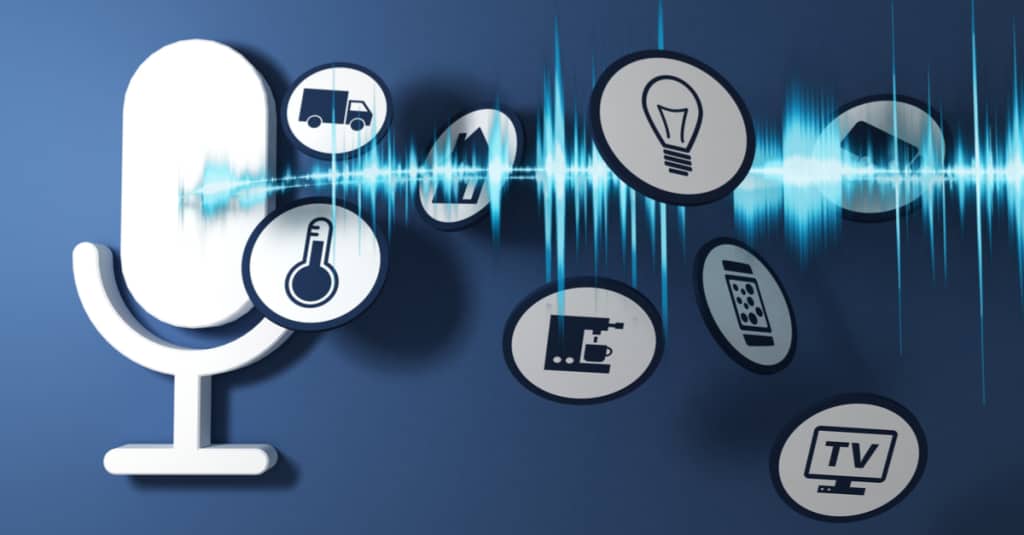 Voice-controlled, personal assistants are already heavily integrated into the social web. Because as soon as a social media platform rolls out the use of Voice, other platforms move on.
So you can already send only with the help of your own Voice in WhatsApp messages, let read the Twitter feed or post a new status update on Facebook. As a result, Voice functions significantly increase the "screen time" of the users.
And that, of course, increases the reach for advertisers, as marketing expert Jeff Bullas describes it.
Voice does not just extend users' time frames. The technology also provides easy access for the more than 256 million visually impaired people worldwide and a great way to be "social". Companies must, therefore, respond to this trend.
Because in contrast to static text or image ads, one can actually lead a conversation – even if restricted – with different language displays.
This approach to advertising is not only interactive, appealing and highly effective for brands. He is also a real competitive advantage over the competition.
A dialogue-oriented interaction would give brands an enormous opportunity to convey their messages in a completely new way. At least that's what Olivia Valentine sees in her post on the Global Web Index blog.
To fully exploit the advantages of language assistance, however, creative solutions are required as well as the courage to think outside the box.
Also, one has to think a lot about the Voice of a brand:
Which gender does she have?
What is the sound of the Voice?
How does the personality of the brand flow into the Voice?
How do you want to communicate with users? Sympathetic, informative or somewhat colloquial?
These questions are just basic examples of how brands need to redesign their thinking to optimize the voice experience.
Yes VUI can: The potential of language assistants is great
Industry expert Marcela De Vivo, in her 2017 article "How Will Voice Search Change the Social Media Landscape", looked at three skills of language assistants that we might see in the social web in the not too distant future.
The first capability is full voice control on platforms like Facebook. So we could soon do everything about Voice Search. In addition to opening and listening to dictated messages, we could also respond to comments below our posts.
The second skill describes the potential for social media marketing. Brands, influencers, and bloggers could create a voice-over advertising campaign, add a voice recording to complement the ad, and even handle the payment entirely freehand.
The latter already allows Google with the launch of "Transactions on Google". This technology allows the purchase through the Google Assistant. If the user has already deposited his address and account data with Google, the acquisition by voice command is completed in less than a minute.
The third and final capability is the combination of all innovative technologies with the help of language. This includes, for example, access to social networks via a wearable smartwatch.
Conclusion
Voice User Interfaces are everywhere. Yet there are some challenges in this evolving technology that designers and marketers alike have to deal with.
Above all, accuracy problems plague our language assistants. However, it's less about speech recognition. Instead, it is the output of the answer. For simple questions, Alexa and Co. can read the Wikipedia entry instead of a list.
Such errors are certainly minimized. But today they still lead many users to turn away.
It's about finding the right niche where Voice works best. Their brands must then play with the strengths of the vote. Also, companies must determine whether their own target group benefits from a VUI at all.
Because adding a voice-driven interface – just because it's new and trendy – is not a smart decision.
If your own product is used in predominantly public areas – such as during peak hours on the train – VUI may not be the right choice.
In times of the underlying data protection regulation companies have to check, whether the automatic reading out of a message does not even violate applicable law.