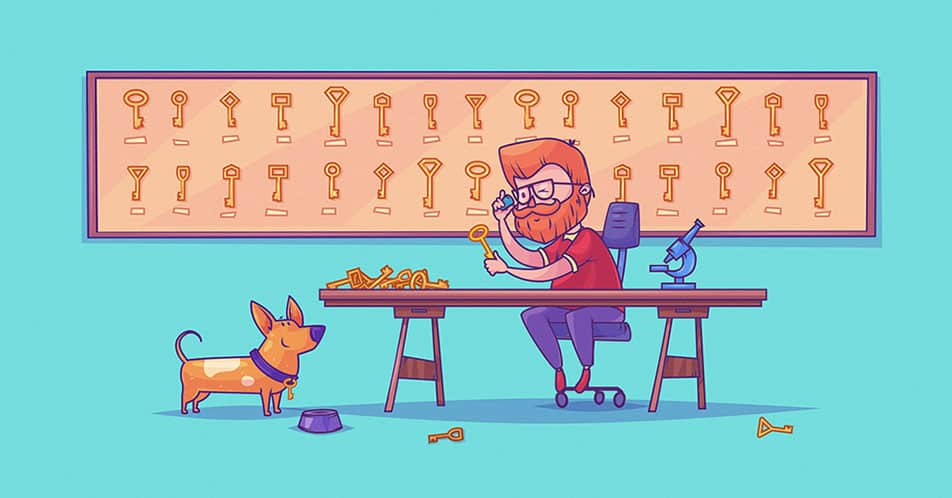 Excellent keyword research is a must for your website in many ways. I'll show you the right approach and give you the best tips on what to look for on the way to the perfect keyword record.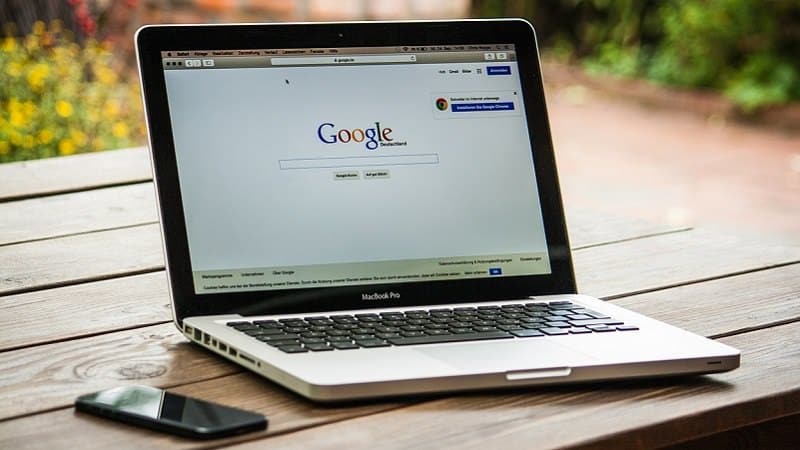 Key-what? The definition and significance of keywords
The keyword is the search term that the user types into search systems such as Google, Bing, YouTube, Amazon, or even Xing and LinkedIn.
For your site to be found in the search engines for specific keywords, and at the very top of your search results (SERPs), you need to define precisely which keywords are relevant to you.
Necessary: Although the term keyword suggests a single word, it can also be a combination. Multiple words can result in a keyword together. A query consisting of several words is called a long-tail keyword.
You then integrate them correctly into your documents – so you optimize your website for these specific keywords. Only in this way does the search engine recognize that the content of your website is relevant to the satisfaction of the intention behind the query.
The optimal keyword has the following three properties:
It has a high search volume. This refers to how often a particular keyword is searched on average per month.

It is conversion strong. This means that the highest possible percentage of visitors who come to your site via this keyword make a concrete action there. This can be, for example, the registration for your newsletter or the purchase of your products.

It is competitively weak. In other words, not many other websites are optimized for this keyword and compete with your Internet presence. This gives you a realistic chance of ranking this keyword in the top 3 search results.
Tip: Of course, I'm going from the ideal case here. It is not always possible to combine all three properties in a single keyword. Nevertheless, you should always keep an eye on them in your keyword research.
The 5 hot stages of keyword research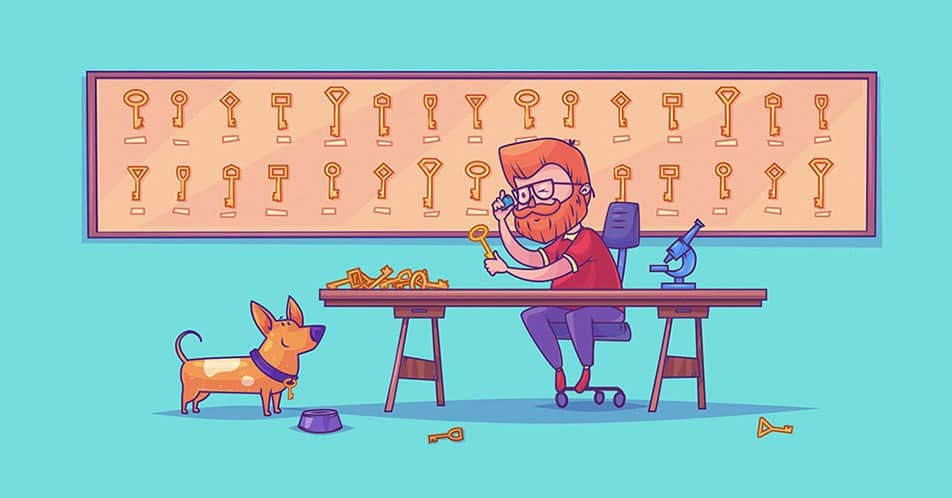 After I've explained the critical keyword basics, I continue with the exciting part and go to the practice: the keyword research.
But before you get started, you should change your perspective: moving from your corporate to the user perspective. So imagine what the potential visitors to your site would be looking for to find your offer.
Especially in the beginning, it's challenging to keep track of the full range of possible keywords and choose the right keywords for your website. Therefore, you will receive a guideline, in which we show you the individual steps of keyword research.
1. Brainstorm
As banal as it sounds, but an initial brainstorming is, in most cases, the best way to start with keyword research.
What is your website about? To which topics do you want to be found? What makes your website special? Do you serve a niche topic? What awaits the user when he comes to your website?
For such a first brainstorming, the evaluation of your marketing materials such as flyers, catalogs, and Co. can be beneficial. In such documents, many of the above questions are often answered very precisely.
Tip: Try to answer these questions as accurately as possible and always to identify synonyms and associations for different terms. Then the first keyword ideas are created automatically.
2. Status Quo Analysis
Now it's time to take a look at the Google Search Console. It is a useful tool for analyzing websites. Under " Search analytics, " you 'll find a list of searches that your site already links to on Google.
You can also see the average position in the search results and see which keywords your site is frequently clicked on by search engine users. You can compare different periods with each other.
Next, you should have a sense of whether the brainstorming keywords you found to match the keywords your page is currently displaying on Google.
3. Competitive Analysis
To identify suitable keywords, it is also helpful to look at the competition. So analyze pages that appear on Google higher than your website, and examine them for the keywords you're using.
From this, you can draw many conclusions and uncover potentials for your website. For example, you may find that your own content has more potential in principle to represent a particular search intention than that of your market companions.
As a result, gaps and weaknesses can be discovered and, as a result, one's own content can be optimized so that it can better cover the various search intentions than the content of the competitors.
One possible tool to better understand your competitors is Ahrefs. For example, this gives you an insight into how the current Google Ads look like and what keywords are being offered.
You can also look at the organic rankings of your competitors. This will give you an idea of ​​which keywords in your industry or topic may be relevant.
4. Keyword Tools
If you've got some ideas, you can use various tools to find more keywords. Your first port of call should be the Google Keyword Planner.
Unfortunately, the tool does not provide any more details on the search volume, but only indicates an approximate range. Nevertheless, you can use it to create excellent keyword lists, and you will get inspiration for new relevant search terms.
Tip: The suggestions made by Google's Auto-Suggest function and the "similar search queries" that appear at the end of the first results page are constructive.
On the Keywordtool.io page, you can research Long Tail keywords based on the auto-suggest suggestions of various search engines. These include Google, YouTube, Bing, Amazon, eBay, Play Store, Instagram, and Twitter. This will save you a lot of research time.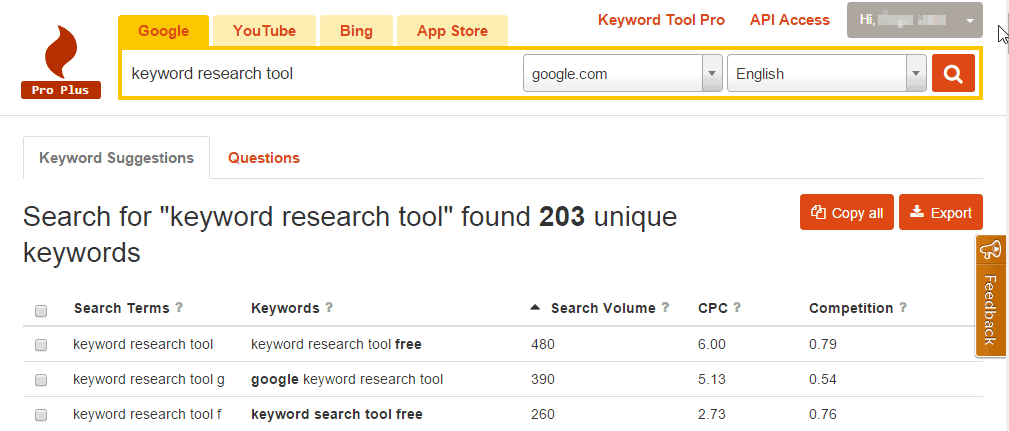 Ubersuggest works on the same principle and sorts the keyword ideas in alphabetical order. Also, the tool also provides search volumes and other interesting keyword metrics.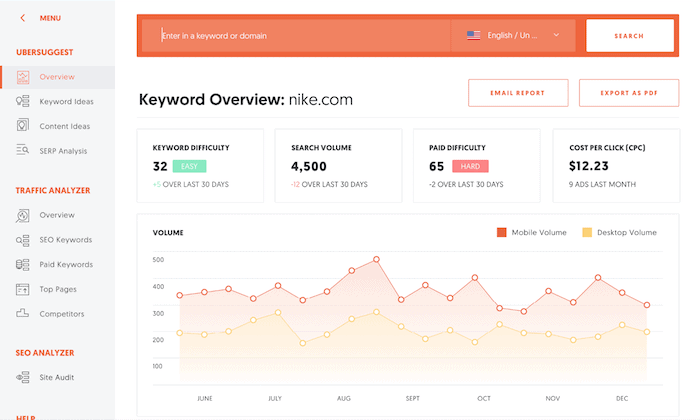 Further inspiration can be found in the Answer the Public tool.
If you enter your keyword here and choose the right country, the tool will show you a W-questions mindmap that users used to search for that keyword. So you'll immediately see what topics people are dealing with and might be relevant to your website.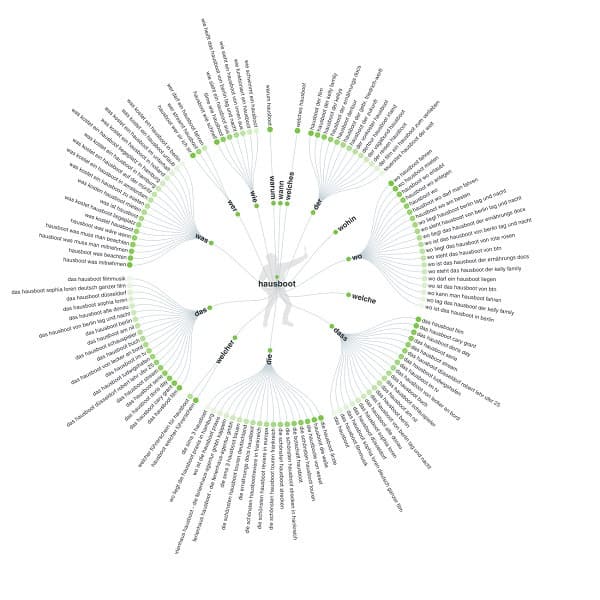 To get accurate search volume data, you can work with the KW Finder. However, the tool is only limited to free, so that unregistered users can make a maximum of three queries per day. For a brief comparison, the device is definitely suitable.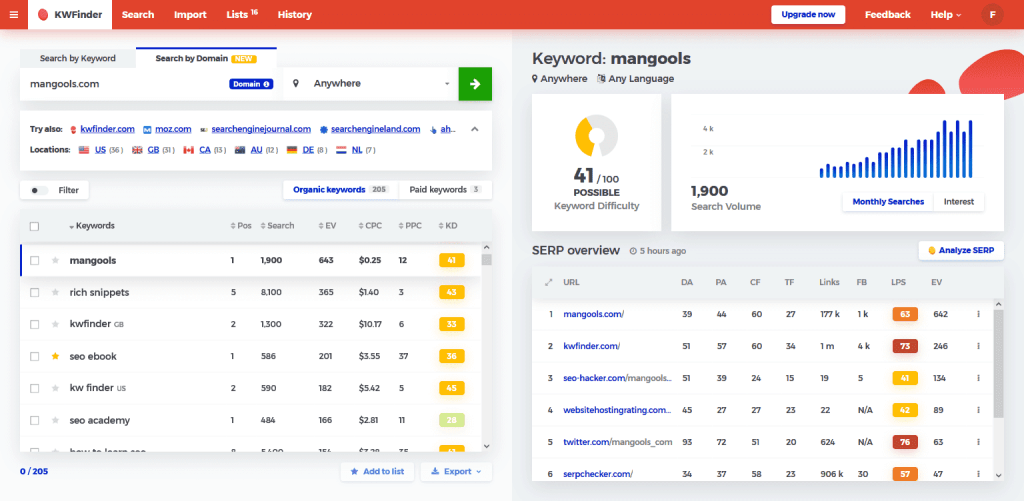 Based on the insights that you have gained from the individual tools, additional content ideas will emerge all by themselves over time. You quickly notice in this way what the user is interested in about a search term. After that, you adapt your own content specific to these intentions.
5. Create a keyword list
Now that you've collected keyword ideas using the techniques above, it's time to analyze the terms and sort them by relevance.
It makes the most sense to create an Excel file for it, in addition to the keywords also lists information on their search volume and competition. You should categorize the terms by page range and URL.
Using these metrics, you can now filter the list and, for example, color-codify which keywords are most suitable for your website.
Tip: You should always keep in mind that a keyword with a high search volume is not automatically the best choice and make sure that the search intent of the user is met.
If you look at the list for these criteria, you should end up identifying a set of keywords for each URL, including the main keyword. For these, you should then optimize your page.
In addition to these keywords, it's also essential to pick up thematically related or relevant terms, so your text is not spammed with a single keyword.
Google is now very well able to understand the relationship between similar terms so you can also use synonyms.
In addition to using your main keyword, the use of additional sub-keywords is crucial. Ideally, you are creating content that satisfies not just a single query, but different intentions from a thematic context.
The above example for the keyword "Houseboat living" could be about one page about "Houseboat living." To include as many search intentions that fit the topic, you could also go into the general costs or where to find berths in USA.
Ideally, your website depicts everything the user wants to know about houseboats. And if this is interested in a purchase, you are, of course, the one who provides the matching offers.
Conclusion
On the one hand, a successful keyword selection helps the search engine to understand which search intentions can cover the contents of your website. Only when search engines understand this, the materials tend to be high up, and that's the only way they can find site visitors.
On the other hand, you will get to know your users – including your potential customers – better. So you know what to expect from a website on a particular topic or product.
Because it is essential not only to prepare your content for the search engine but especially for the users of your site.
If your website appears in the first search results in the various search engines, then keyword research is indispensable. This will give you a robust set of information that will help you find the right direction with your website content.
In this article, I've shown you the best approach for successful keyword research and give you the best tips on the way.