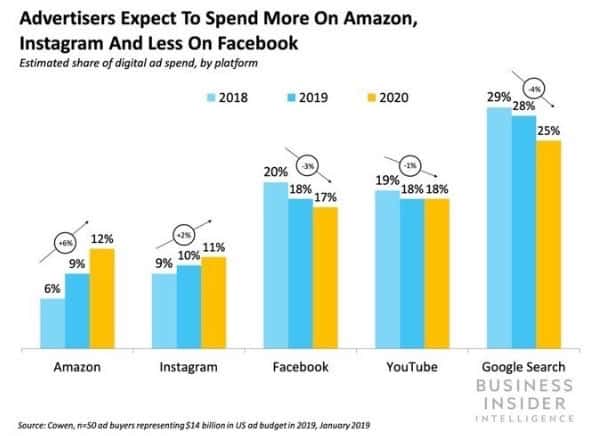 When it comes to online advertising, there is hardly a way around Google or Facebook: the two dominate the market as a duopoly. But a number three wants to make them increasingly the title controversial: Amazon.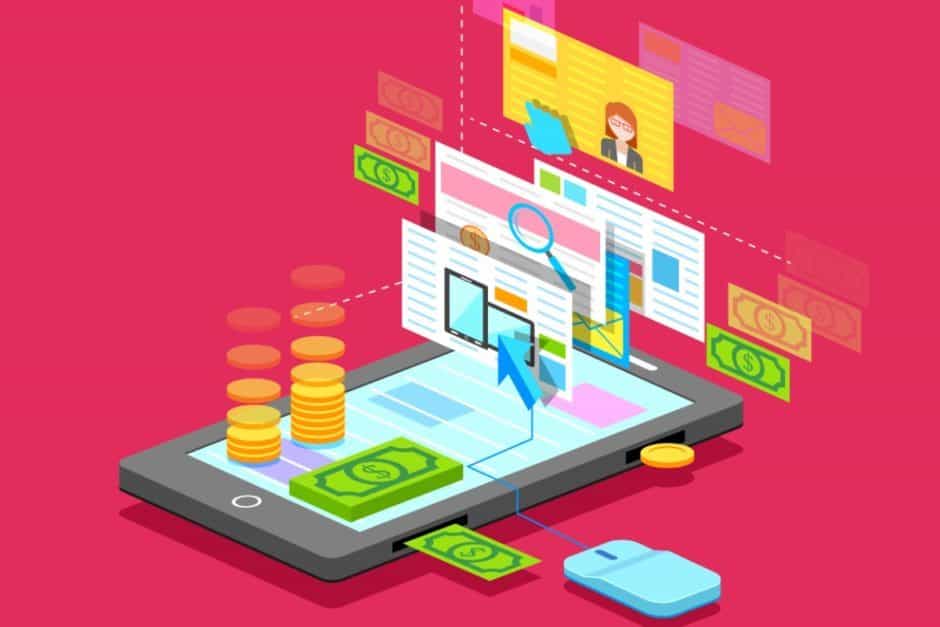 (Illustration: © vectomart, depositphotos.com)
The Initial Situation
According to a survey by British market researcher WARC, global advertising spending will continue to rise. A considerable chunk of the cake benefits the duopoly of the online advertising market: Google and Facebook. With more than 60% share of online advertising sales, these companies have absolute supremacy in the digital world and even cut a quarter of total advertising revenue.
But these two Internet giants have to be prepared for something because Amazon is not so easy to hang out here and increases with continuous optimizations of its advertising platform Amazon Advertising its attractiveness for advertisers.
The advertising revenue share of Amazon is far from the level of Google or Facebook, but you should not underestimate the e-commerce platform under any circumstances, as the following graph illustrates: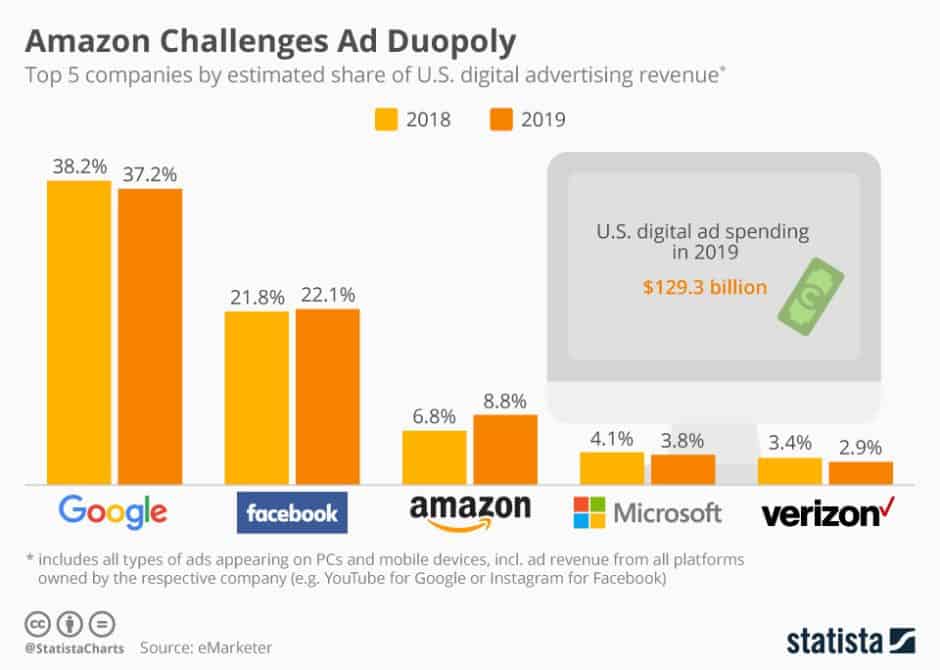 (Source: Statista )
Here you can see a significant increase in advertising revenue for Amazon compared to the calendar year 2018. Although these numbers are limited to the US market. The graph shows a trend for all those markets that are also heavily involved in advertising channels such as Google Ads, Facebook Ads, and Amazon Ads.
Experts expect that the trend will continue over the next few years, as the results of this survey illustrate: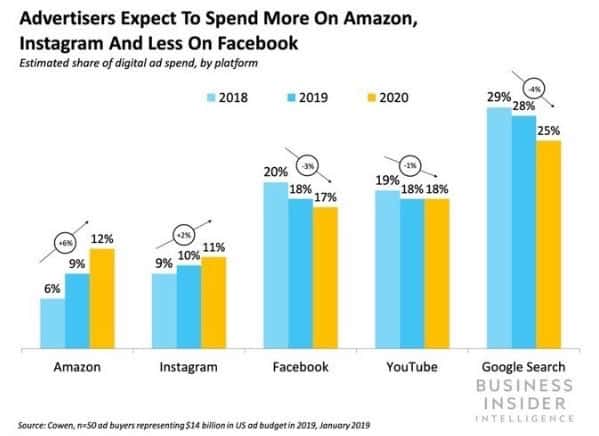 Future prospects of the advertising providers (Source: Business Insider)
In the following, we will compare these three advertising giants and discuss their key features in terms of their specifics as advertising platforms. This provides a compact overview to facilitate comparability by answering key questions such as:
What is the platform suitable for and what not?
What are the requirements for starting an advertising campaign?
What does the future of the platform look like?
Google Ads
The Ads by Google Ads (formerly Google AdWords) are barely thinkable without the online marketing measures because the points of contact with users are incredibly high. Alone, Google's market share of 94.8% in the area of ​​search engines illustrates its presence in our everyday lives. The numbers show that we Germans prefer Google search, which means that almost all users come into contact with Google ads: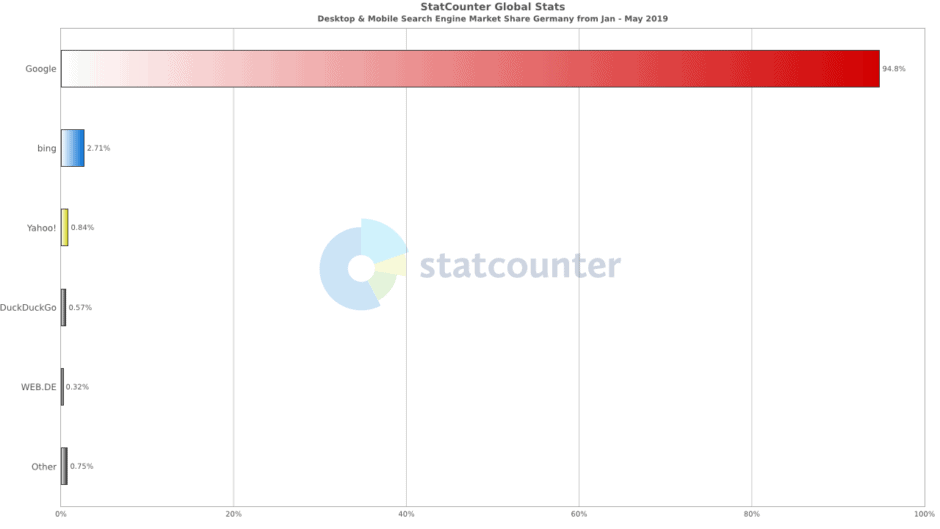 (Source: StatCounter )
On the one hand, these ads are played directly on the search results page, on the other hand, display ads can also appear on other websites whose advertising space has been "leased" to Google. This is known as Google AdSense.
To advertise, you need a Google Ads account and a website or landing page.
Opportunities with Google Ads
As just mentioned, the advertiser has different types of ad serving available. Specifically, these are:
search campaigns
Shopping campaigns
display campaigns
YouTube campaigns
Which channel should an advertiser choose? Now that depends entirely on the goal.
B2C & B2B: YouTube and display ads are a good idea, especially if a potential buyer does not even know that your product or service exists, or in other words. That you already have a solution for what the user wants had not actively searched. But when it comes to the direct sales, as is customary in e-commerce, so is the ads on the search network or the shopping channel of more significant advantage, because here the user is actively looking for a solution to his problem (both B2C and B2B ) and so converts to the buyer.
Branding: To increase brand awareness, the display campaigns and the YouTube platform can also be used well here.
Lead generation: But what about business models where direct selling is not the main focus, but where the point is that the searcher makes an appointment, downloads a document, or pursues similar processes in which he leaves his data (lead generation)?? Here, the search network is the most appropriate channel, although YouTube also recently supports direct lead generation.
Weaknesses of Google Ads
So Google Ads offers a variety of advertising opportunities for a variety of goals. Nonetheless, the Google Network is not fit for any purpose.
For example, if you have a product that no one is looking for, or where the search volume is far too low and therefore does not have enough reach, you have bad cards with search campaigns.
Another problem is the fiercely contested market because the competition for playing out on the search results page is becoming more and more difficult. The operating business still recognizes the clear trend that generic search terms are becoming more and more expensive. Without a proper placement, an ad will again have fewer chances to be clicked. Due to the high pressure on prices, it is therefore difficult, especially for smaller companies, to gain a foothold in this advertising market.
The user interface, for example, is more complicated compared to Amazon and requires a certain amount of training to be able to deliver really effective and efficient campaigns. The fine-grained attacks can also be a very time-consuming job.
And even if the app is well placed and has a lot of clicks, the performance of the campaign can still break-in on the spot if a lousy landing page has been deposited.
It is therefore absolutely necessary to deal with your own website or landing page and to optimize it so that users ultimately convert to customers. Also, a landing page with good user traffic will also be given a higher Quality Score (this will be 1 to 10) – and this will have a direct impact on the pay-per-click and ad rank.
Future Outlook
It is interesting to see how the advertising market will change due to the language assistants. Conceivable are auditory advertising formats or even more intelligent systems that allow a dialogue similar to the chatbots.
Another critical issue that every advertiser inevitably faces is power issues with Google Ads. Google is providing users with more and more automation options, including smart bid adjustments that only need to enter target values. And the algorithm behind them will optimize even the campaigns. Will such measures lead to giving up the complete control to Google, and thus unknowingly can artificially raise the click rates for all parties involved?
One thing is clear: Such automatisms make it easier to get started in the advertising platform and thus allow you to use your own time resources more effectively.
Facebook Ads
Social networking is a great way to increase traffic to your business, attract loyal customers, and generate leads or sales.
Facebook is, by far, the most crucial channel. If you switch to Facebook advertising, you also have the opportunity to instantly change to advertising on Instagram.
Here are all numbers again at a glance:

Source: Offeo
Target groups
Not only is Facebook able to generate a broad reach, but the social network also makes it possible to target a large number of target groups. You can define your audience by location, demographics, age, interests, behaviour, and connections. So you have almost endless alternatives to define your target groups.
Attention-grabbing products have it easy on Facebook.
Facebook is particularly well suited for the B2C business. Products with wow-effect and problem-solving character can be marketed particularly well because the user's attention can be easily claimed. An example is a black paste that whitens teeth.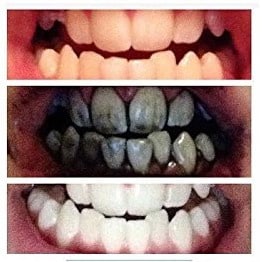 Also, the interaction rate is higher for products that amaze people. This brings two advantages:
At one point, your ad gets more attention, and it gets clicked faster.
On the other hand, the quality score of the ads increases with high interaction rates, as Facebook prefers content that has often been liked, commented or shared.
This is reflected in the click price and also ensures that the content is shown more often (Social Proof).
Another very well functioning area is lead generation topics. The more up-to-date the problem, the better.
However, it does not matter at all if your product or service does not meet these criteria. It just means that you have to be a little more creative at the time your ad is shown to get the attention of your audience.
Also, Facebook is an excellent platform for products that are not yet known because they are new to the market, for example. Why search Google for a product you do not know about yet? Facebook provides the perfect opportunity to reach the right audience and create awareness of the product or the niche through videos and images.
It is often said that Facebook is not very suitable for the B2B sector. Mostly, this statement is not valid.
It is often said that Facebook is not very suitable for the B2B sector. Mostly, this statement is not valid. It's just harder to find the right audience that converts in the end as well. We have the experience that profitable campaigns can also be used for B2B marketing. Usually, this is just a bit more time consuming and associated with many tests.
If you do not succeed in becoming profitable in the B2B sector, you still have the opportunity to consolidate brand awareness and customer loyalty via Facebook. Facebook can strengthen its image with checklists and video tutorials, and with longer advertising campaigns, it is thus possible to establish itself as an expert in its business.
Furthermore, the user can be told by ads or posts and stories about the product and the brand (storytelling). Such stories make the brand more alive and bring users and brand closer together.
Disadvantage
Especially in the B2B sector, leads can be generated at a reasonable price, but the quality of the points is not optimal. As mentioned above, it often takes some time to find the right way to make your business profitable through Facebook.
Also, most people on Facebook use their private email address. This can lead to existing customer lists on Facebook being unusable because no connection can be established from the company email to the individual email.
It is also very time consuming to advertise on Facebook. New content, images and videos are always being created, and new audiences are being tested to get the most out of the campaigns.
Future Outlook
In the future, communication with the user will become even more critical. Also, Facebook will expand its focus shortly, the advertising opportunities in stories and messaging apps. This is hardly surprising when you consider that one billion stories are shared every day, and 100 billion messages are written via the messenger.
For companies, this means they should increasingly focus on the possibilities of messenger apps to tap the new potential.
Amazon Ads
Selling on Amazon is suitable for almost every e-commerce business. Especially for companies with no or a non-conversion-optimized online shop, it is advantageous to put advertising on Amazon. Because most users on Amazon already have a clear purchase intent. This is reflected in the conversion rate, which is around 10% on Amazon.
If you decide to promote on Amazon products, you should make sure that the products are optimized in terms of Amazon SEO. In other words, care should be taken to find the most critical keywords in the product listing. Otherwise, due to the lack of indexing, they will not be findable in the Amazon search. Also, there should be several good-quality images available that depict the product in several situations.
One of the most important factors besides the price is reviews. Read reviews of your product regularly and try to respond to adverse comments on the user. Why is he dissatisfied and can I do something about it? So step by step, the product or the service can be optimized.
It also helps to place new ads. Unlike Google, this creates a positive synergy, resulting in better organic results.
This factor is particularly beneficial for brands that have not been established in the market for so long, as they can scale sales of their organic products quickly through Amazon Ads. Because getting SEO on Google on the first page of search results, depending on the topic can be a long and complicated matter.
Branding
Amazon offers vendors (manufacturers) and selected sellers (sellers) the opportunity to present their brand well. So every registered brand can create their own page on Amazon. Templates are available to represent the brand well. Sponsored brands allow you to promote the site afterwards. As shown below, sponsored brands consist of three products and the logo. You are always at the top of the search result page: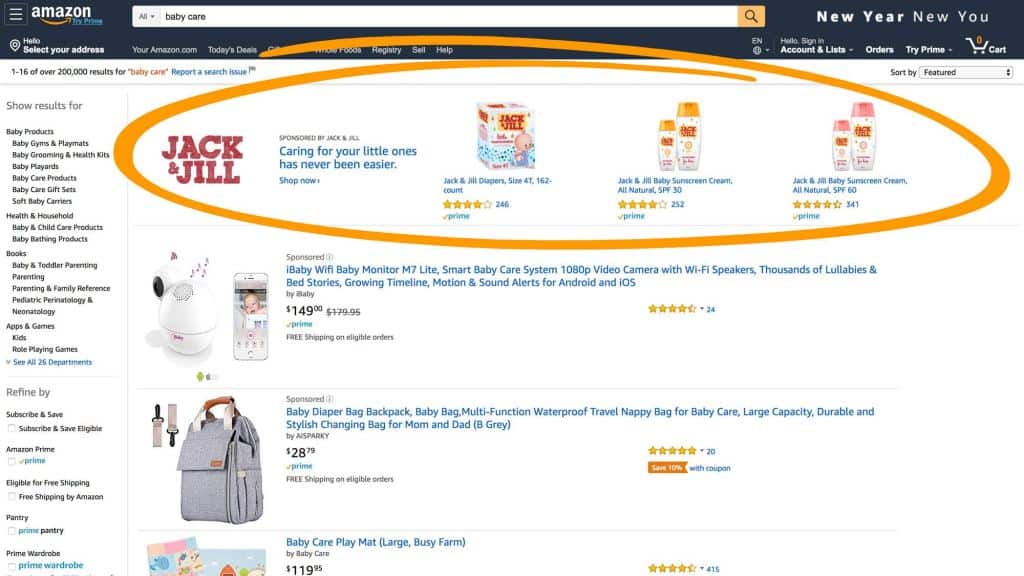 Example of sponsored brands that are still displayed above the content.
Disadvantages of Amazon
To be able to advertise on Amazon, you have to make a few compromises and meet certain conditions. If you want to sell your products on the advertising platform, you have to register your brand first. Also, a certain percentage of the purchase price goes to Amazon – depending on negotiating skills.
Vendors are also required to sell their products to Amazon in advance. Then Amazon can then set the prices for the products. This can mean that your own products are sold cheaper on Amazon than in your own online shop. As a result, the traffic in your own shop and the conversion rate can fall.
A second point that makes it challenging to advertise on Amazon is the lack of control over the "Buybox". The Buybox is located on the product listing page next to the product. It ensures that the user can simply put the products into the shopping cart. To have a good chance of winning the Buybox, it is essential to have a reasonable price and fast delivery times. In the end, however, the Amazon algorithm decides on success and failure. If the Buybox is not won, it will not be possible to switch to the "Sponsored Products" product.
Compared to the other two advertising platforms, the Amazon user interface is the most rudimentary. On the one hand, this simplifies handling for advertisers. On the other hand, the opportunities to promote a product are more limited.
Future Outlook
The Amazon user interface will become increasingly complex over time. Also, the competition will continue to increase, since it is currently not as pronounced compared to the other two advertising platforms, and there are still excellent opportunities to retract high profits.
Also, Amazon plans for the next time many new features. Amazon wants to launch its own home shopping channel called Amazon Live. Here, advertisers should get the opportunity to present their products. Also, Amazon plans to introduce video ads in the search results of their mobile shopping app.
This creates good options for companies to differentiate themselves from the competition.
Conclusion
The question of all questions is now, which platform is most suitable. We say all! Based on the business model and your goals, each advertising opportunity has its own individual advantages, which are summarized below in the abbreviated form:
If you want to promote an unknown product, we recommend that you first show on Facebook or YouTube to get your product noticed.
As soon as there is a specific search volume, you should consult other channels like Google Ads.
Lead generation can also be done in this order, because setting up a lead generation campaign on Facebook is much more comfortable, thanks to the pre-built lead forms, than anywhere else.
Google Ads and Amazon are great platforms for eCommerce and should always be in the marketing mix there.
Especially if you do not have your own online shop or the website does not convert well, it is highly recommended to advertise on Amazon. Because here the user is already looking for actual purchase intent.
Basically, you should try all the channels and also perform A / B tests to find the most suitable advertising platform for themselves.