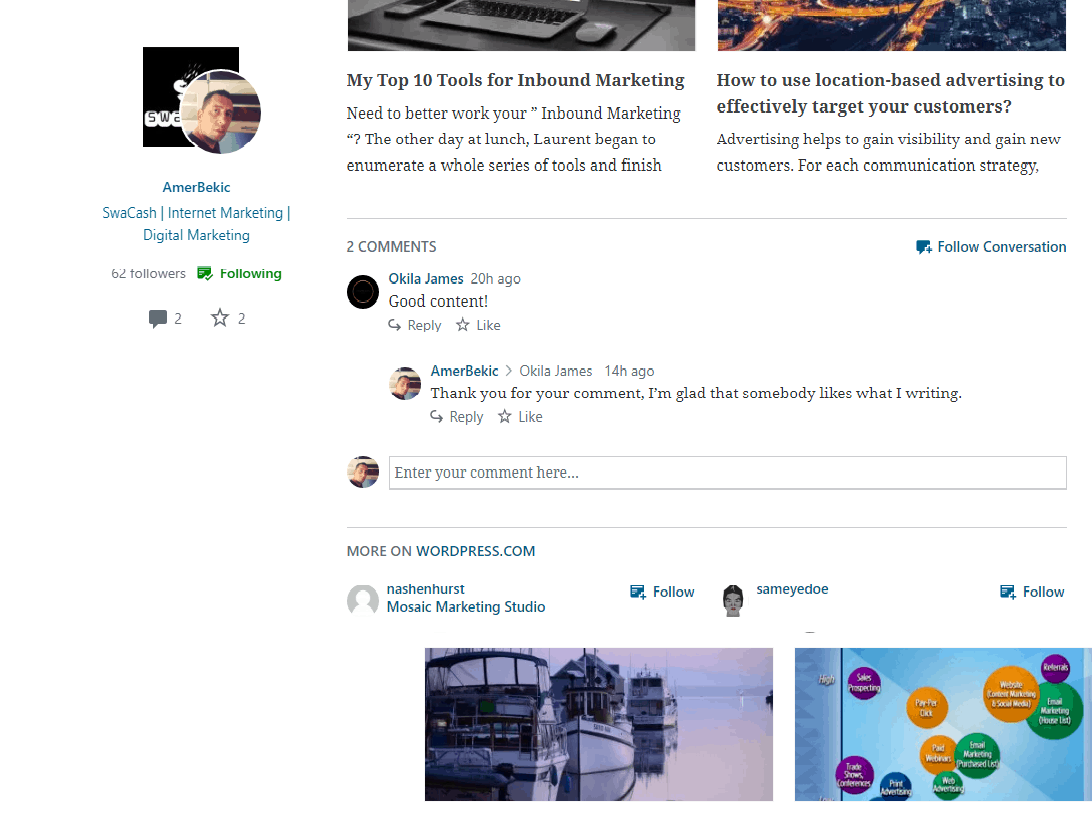 Do you also find it hard to get traffic for your niche site?
If you ask an Internet Marketer or a Webmaster, what is the most challenging task for him in building his online business? You will usually get the answer that it is traffic build-up.
Generating traffic, i.e., getting visitors to your site, is very stressful for most people and a challenge in itself.
So that your Google-Analytics visitor numbers look like this at some point: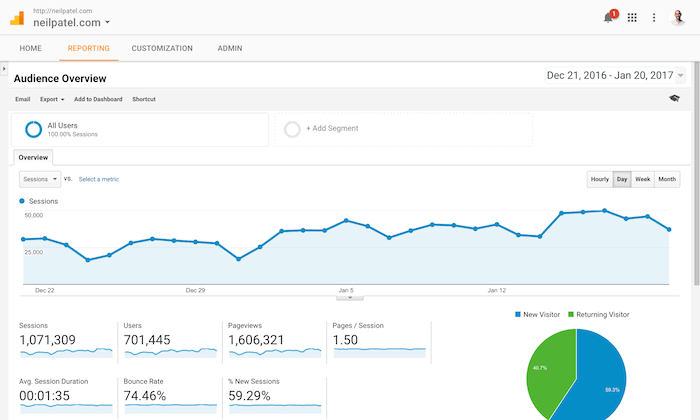 Why do you want to generate more traffic?
Possible answers would be:
because your website doesn't really exist without traffic
because you need the traffic to achieve conversions
because then more eyes will see your offer
because more traffic will add more customers to your email list
because through more traffic you can also make more sales or more affiliate sales
because more people can read your information, inspirations and helps
More traffic is equal to more visitors. Like, for example, a shopping mall in the city center that wants more visitors to sell more.
Okay, now we understand why traffic is so relevant!
What are the traffic sources?

To generate more traffic, we need to know which sources are available.
There are basically six different types.
Traffic from the search engines
direct traffic
social media
links
email
publicity
Traffic Sources

Search engines
Most niche sites get their traffic almost exclusively through search engines, especially Google.
This means that a searcher Google searches first for a keyword and then clicks on your result to become a new visitor.
Direct traffic
Direct traffic is visitors who have entered the address of your niche page in the browser search field and come to you "directly," i.e., without a stopover.
If you want to focus on direct traffic, you should choose a simple and memorable domain name in advance, which can be typed in without problems and spelling mistakes.
For direct traffic, it is also necessary for visitors to know your website in advance. For example, because they have already been visitors before (returning visitor), or because they have seen or heard the domain name somewhere.
They are also returning visitors who have saved your page (or particular articles) in their favorites or come to you via the browser's history. A memorable favicon helps to find your page faster.
This type of traffic is valuable because it is usually returning visitors or visitors who have been recommended your website by someone by word of mouth.
Social Media
Traffic via social media comes from one of the various social media platforms like Facebook, Twitter, or even YouTube and Instagram.
Links
Links to your site not only provide better rankings but can also attract more visitors.
The prerequisite for this is that it is a visibly placed link on a page with high visitor numbers.
Links to your site are also precious and good traffic.
E-mails
Traffic via email is all visitors who come to your website via an email sent by you (or someone else).
Classically, this traffic consists of the emails you send yourself. But it can also be recommendations from other sites or emails from your newsletter, which are forwarded to friends and acquaintances.
Advertising
As I promised at the beginning, I will show you in this article only free methods to get more visitors. But for the sake of completeness, paid to advertise is one of the traffic sources.
For most webmasters, paid advertising, both online and offline, is rather uninteresting, as it involves a significant administrative and financial effort. However, for larger websites or particular niches, it can also be a good idea to place advertisements to get new visitors.
These include ads on Facebook or Google, advertising videos on YouTube, and even TV commercials.
But because a trustworthy business and usually a product is a prerequisite for this, I will not go into it further in this article.
17 Steps to build traffic
Which traffic source is the right one for your niche cannot be determined in general terms.
However, I recommend that you not only rely on one traffic source but build up several pillars.
This way, you will still get visitors if one traffic source suddenly disappears.
I mainly use the following three resources for new visitors:
Search engines
social media
emails
1.# Search engine optimization
The first and most important step for more traffic is search engine optimization. A website in 1st place brings you a large amount of free and targeted traffic month after month.
An essential part of search engine optimization is on-page optimization and off-page optimization. This is certainly nothing too new for regular readers of SwaCash, but I would like to go at this point once again to the most critical components.
On-page optimization
In the beginning, there is the On-page Optimization. This includes WordPress Seo, fast loading times, internal linking, useful content, as well as meta descriptions and titles.
Off-page optimization
With the Off-page optimization, you should worry above all about the backlink construction. Backlinks, which also bring you traffic, are of course ideal, but not always feasible.
It's all about creating a reasonable basis. If you create a new niche site or optimize an existing website, the changes will not be noticeable overnight.
Consider that and be patient.
In the medium term, your goal in search engine optimization should be to have at least an equivalent link profile and an even better on-page optimization than the No. 1 position on Google to your keyword.
By the way, this doesn't always have to be the website that is already in 1st place at that time. Take the trouble to analyze each of the top 10 results thoroughly. If you want to generate more traffic via the search engines, there is no way around it.
To increase the traffic from the search engines in spite of a constant ranking position, you can try different Titles and Meta Descriptions to influence the CTR (Click-Through-Rate).
Or, you can use Google Stars to highlight your search results over other websites.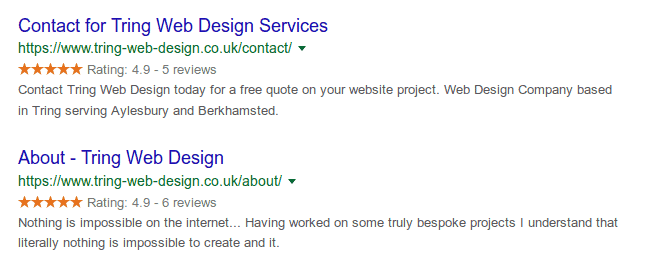 By a higher CTR again, you get more visitors and increase, thereby also indirectly higher in the search results. Because the CTR and the ranking position have a high correlation, as you can see in this graph, based on the Searchmetrics study.
Click-through rate in percent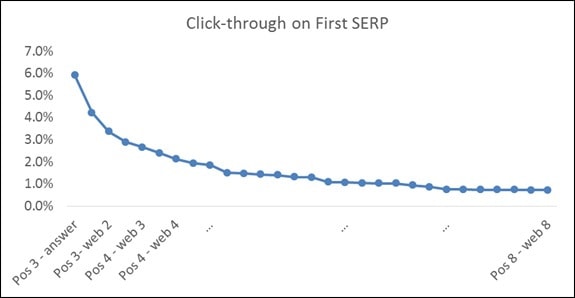 2.# Keyword Optimization
Actually, this method is still part of search engine optimization. But since the selection of keywords is so enormously important, keyword optimization deserves its own sub-item. When publishing a new article, you should choose a keyword with a high search volume as the main keyword.
In most cases, however, this main keyword will be highly competitive, so that you are not immediately in a good ranking position. To still get traffic, you should look for longtails to your primary keyword.
To find variations of your main keywords, you can use the Google Keyword Planner or the free tools Hypersuggest . In this way, you should see a lot of longtail keywords, which often add up to a search volume in the lower four-digit range.
Google prefers websites that generate traffic. Therefore, after a specific time, you will inevitably become your main keyword, because you already get traffic via the longtail keywords.
3.# Create a Brand
Brands have significant symbolic power.
We trust them and associate the term with a certain feeling.
Branding is a tedious and costly process that does not go from one day to the next. But this effort is worth it. Because not only visitors prefer brands, but also Google. If you haven't chosen your domain yet, choose a memorable and comfortable to write domain name.
If you already have a niche site, try creating a brand.
Use the website name in the SEO title and build backlinks with your brand name.
Depending on the goal of your site and whether you are in a micro-niche. It is also recommended to use your primary keyword as a domain name, then you cannot play the "brand card.
4.# Use Social Media
Social media can be a massive traffic driver. It depends a little bit on the niche whether your target group reacts to pictures or information, or even videos.
Sometimes Twitter, Instagram, or YouTube is the right medium. It also depends on whether your target group is returning visitors or new visitors. If you have a niche page where you check out, buy a product and then don't come back, a Facebook page isn't the right choice. In this case, social media sites are more suitable, where you can collect traffic. For example, Instagram or Pinterest.
If you have a niche page in the style: Product comparison XY, I'd instead use pictures and graphics than Facebook.
As a blog operator with a large number of returning visitors, Facebook is a great way to stay in touch with your target audience and keep them informed about new posts.
For example, I use Facebook and Twitter.
Think carefully about which social media platform you want to use, as you have to invest time in new posts regularly.
Social signals are also playing an increasingly important role for Google. According to Searchmetrics, the average number of Facebook shares per ranking position looks like this:
Facebook shares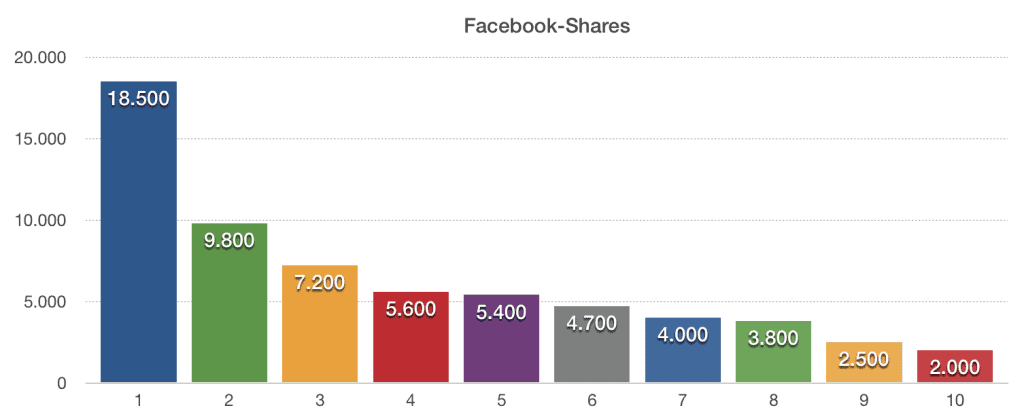 5.# E-mail Newsletter
Email newsletters are a great way to build a long-term relationship with your visitors.
Newsletters have fallen into disrepute in recent years because almost every site offers a newsletter, but in the end, only advertising or spam is sent. Most users know this, so the inhibition threshold is quite high.
Try to overcome these hurdles and create a newsletter that sends less often but high-quality e-mails.
6.# Track Your Traffic Sources
To keep track of where you get traffic from and to see how you can even increase your traffic through these sources, you can track your traffic sources.
This can be done quickly and free of charge using Google Analytics.
7.# Use Analytics
Also, for this method to generate traffic, we again use the free tool from Google.

Because Google Analytics does not only enable you to track your traffic sources.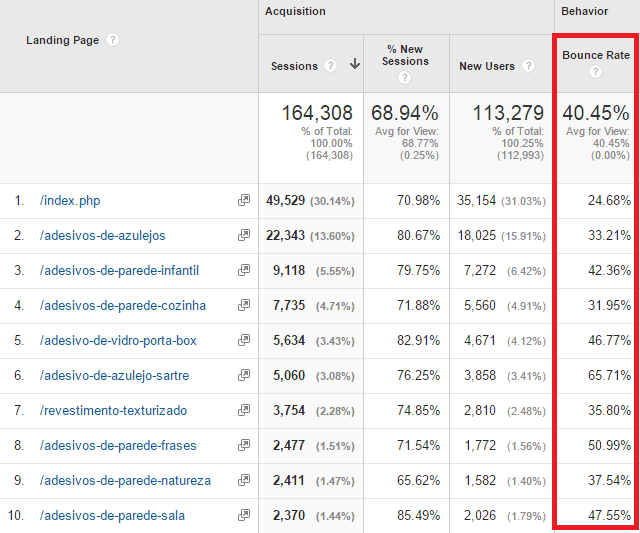 For example, you can see which sub-pages are visited most frequently and how long the visit lasts.
Conversely, you will also see subpages that only have a short visit duration or a low number of visits. A quick visit can have many reasons and is not always equal wrong.
For search terms that can be described in a few sentences, the visit duration is correspondingly short.
However, if a long and detailed article is regularly left by you after a short period, you should look up why.
8.# Number of publications/creation of a Blog
This method depends on whether you are running a blog or a website. If the latter is the case, you should also create a blog. There, you'll be dedicated to topics and keywords that aren't money keywords but bring traffic and visitors. (Who can then become buyers through your good content…)
The whole thing is also known as content marketing.
But don't make the mistake of just running an SEO blog where you publish 500-word articles from Textbroker and a few internal links to your relevant subpages.
Try to really have an exciting and exciting blog. Because even if you are not targeting any money keywords, you will still get readers who are interested in the topic. And satisfied readers can quickly become happy customers.
If you already run a blog, you can experiment with the number of posts. Most visitors come in the first 24-48 hours after posting a new job.
Try to write new articles regularly, but keep an eye on the quality.
Too frequent posts, such as every day or every few days, may cause more visitors at short notice. In the long run, your readers will blunt and no longer read the articles.
9.# Content Promotion
If you want to generate traffic, you have to promote your content.
The starting point for this is an excellent blog article.
No 0815 text, but really something that helps your readers.
Tip 1: Share articles on the social web
When I post a new article, I post it on Facebook and Twitter. I also send a short message to my email subscribers saying that an original piece is out.
This way, you can also get to your first visitors even before the relevant subpage has ranked to the keyword.
Tip 2: Allow readers to share the article
As you can see, there is a share bar end of the article. (If you are on a mobile, you can find also the share bar at the end of the article )
This allows you to share this article if you like it and it has helped you. You can do the same on your website.
An excellent article will be gladly recommended. Make it easy to share, but don't make too many buttons available at the same time. I use the three most important social media channels for myself. That's quite enough.
Tip 3: Contact Influencer
In the course of this article, you will learn more about how you can use influencers to generate traffic. The principle is simple: you contact influencers who have already reported on the topic and have a large number of followers. Indicating that you have published a new article on the subject that would be of interest to their readers/viewers.
10.# Optimize Design and Texts
When dozens of websites all trying to rank for the same keyword, you have to attract attention somehow. For this, you need a Unique-Selling-Point, something that sets you apart from the others.
This method to generate more traffic works indirectly. It's about making better use of visitors who already come to your site. So you get, for example, more e-mail entries, more sales, or more comments.
Due to a more extended stay and a lower bounce rate, your website will also be ranked better by Google in the long run.
11.# Content Recycling
Content recycling is an excellent method where you can achieve a lot in a short amount of time.
However, this method only works if you already have a website that has been active for some time. It's about recycling old posts and articles, i.e., getting them out of the sack. This is especially worthwhile for long essays in which you have invested a lot of energy and time. So that your work does not disappear untraceable in the archive, the article in question is recycled.
If you take care to produce high-quality content when creating content, even an old article still has some added value. Update what is no longer up-to-date, reformat it, and perhaps create an infographic or a helpful video.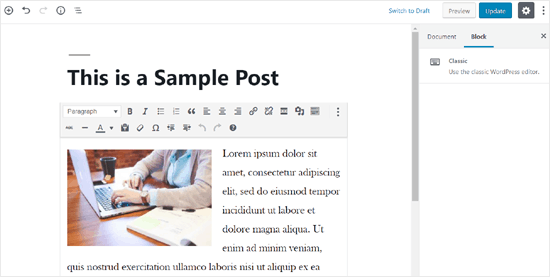 Since then, I update it regularly and improve the information.
12.# Learn From the Competition
The 12th method for more visitors works by learning from your competition.
If you create a new website today, likely, someone is already active in the same niche. This is not too bad, because old marketing wisdom is called: Competition stimulates the business.
And you can use that for yourself.
Analyze your competition thoroughly. Read through the articles, write down what you like and what is not good. See for which subpages there are the most backlinks, which posts have the most comments and were most often shared.
So you can see what is popular with your target group and what serves as a visitor magnet.
Note:
I don't advise you to simply copy the competition 1 to 1 and then expect the stream of visitors to come. As I said before, you should have a unique selling point. But the game can help you figure out what to do to generate
13.# Interaction with Visitors
As you may notice, many methods are indirect for more visitors. It is not possible at the push of a button for visitors to come in droves. To generate traffic always means to pay in advance and to take detours.
Even the interaction with visitors does not ensure that more visitors arrive abruptly. But it helps to establish a long-term relationship with your visitors.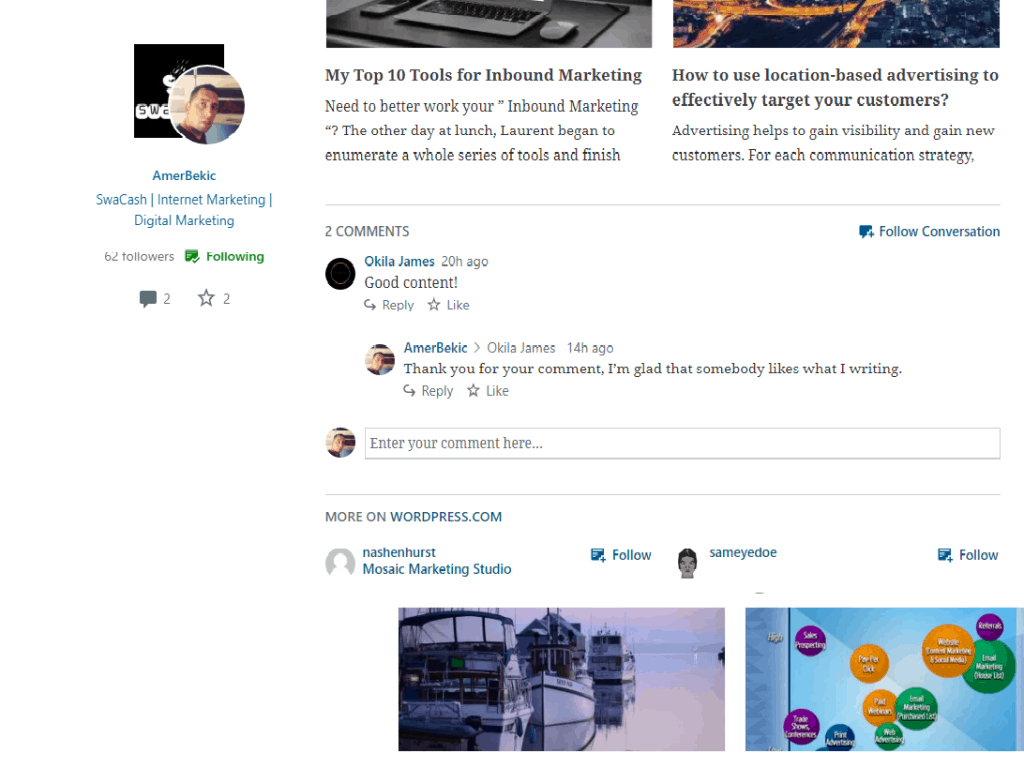 After the publication of a new article, I pay attention to precisely what questions, wishes, or suggestions there are.
In this way, I can improve the article and make it even more understandable.
But also surveys can help to get closer to your target group and to provide content that is really wanted.
14.# Publishing Freebies
A Freebie is a free bonus that a visitor gets for a specific action. In most cases, it is an e-book, but you can also provide an exclusive contribution, template, or similar as a "gift."
In return, you will receive a new email address for your email list. Valuable freebies will also be shared and distributed.
To create a freebie, you should select an interesting topic for your target group and present it clearly. If you want to create an e-book, you can have a professional cover designer on Fiverr for $5.
15.# Webinar Events
With webinars, you can show or present something to a larger group of interested people. An essential prerequisite for this is that you offer added value and also make difficult factual questions easy to understand.
Afterward, the actual webinar has to be prepared. Think about how you can interact with your listeners, for example, through surveys, right from the start.
Once you've created your webinar, you'll need to create a page where you can register for the webinar. Usually, the hosters already provide a template which you can use. Make sure that there are a few entry fields as possible. It is sufficient to have an email field. The more the user has to enter, the more likely he is to jump.
16.# Contact Influencer
Influencers are people, websites, companies, YouTube channels, or Facebook pages that have something to say in your niche. They have a large number of followers and people who trust their products and recommendations.
Influencers have reached that you can "tap."

Tweet
As a rule, you will see who generates the most traffic when you search for a keyword. Write down the websites and people in an Excel sheet so that you can have them ready later.
Alternatively, you can use the search engine Influma to find essential influencers.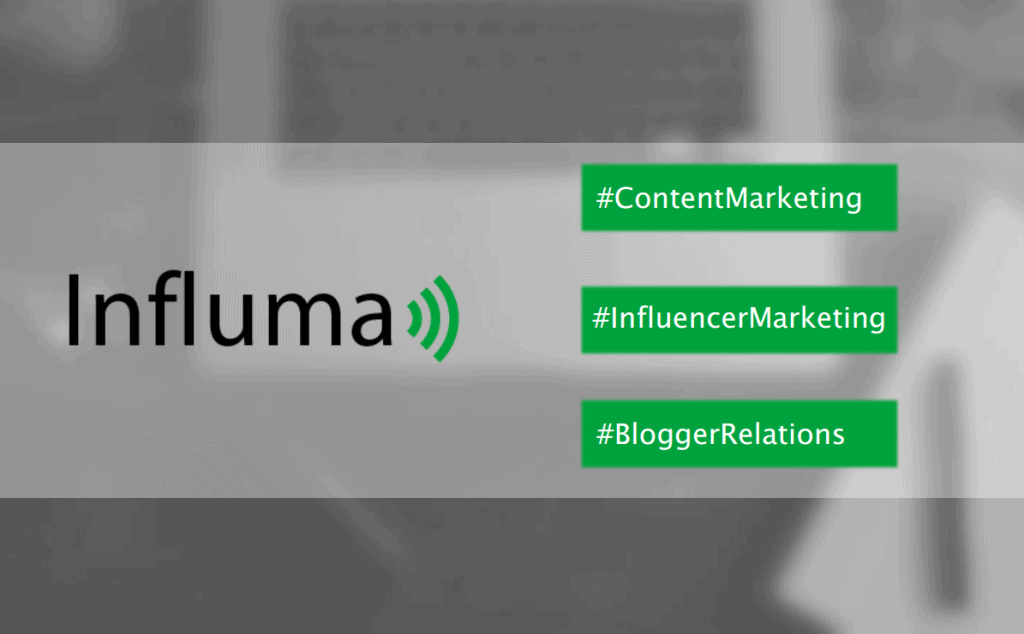 Before you contact an influencer, you should have followed its statements and activities for several weeks or months. It's best to get involved, i.e., write comments, share articles, watch videos, etc.
The next step is to contact the influencer directly. You can write him a message on Facebook, or even call him personally, but in most cases, an email is a right way. Read the article on how to write a reasonable link exchange request. Many of the rules and tips mentioned there also apply to contact with the influencer.
Because you have only one chance for the first impression. And since the big influencers usually know each other, it is important not to gamble away his bets.
Equally important is the added value you can offer the influencer. Many people want something from an influencer. If you're going to stand out, you should first offer something before you take/request something.
Tip: cooperation does not always come about. Nevertheless, remain polite and thank you for the time of your counterpart. Because of a "No" does not have to stay a permanent "No." So it is quite possible that one year later something comes off.
17.# Sweepstakes
Sweepstakes are also an excellent way to generate more traffic. What you give away depends on your niche. So it can be access to courses, but also physical products. The gift does not necessarily have to be expensive but should fit your target group.
You also have to think about the duration of the competition. The longer people have to wait for the announcement of the prize, the less inclined they are to participate in the contest. However, this is mainly due to the value of the potential award. If something is costly, you are usually willing to wait longer.
A duration of about 30 days is a good clue.
You can also determine the conditions for participation. You could choose to share the competition on Facebook or another social network.
Tip: Make sure you really share the winnings. The Internet doesn't forget, and as a blogger or niche site owner, you depend on your reputation.
More visitors through conversion optimization

Admittedly, this statement is somewhat provocative.
Conversion optimization will not get you more visitors, but you can generate more revenue with the same number of visitors.
Conversion rates are arbitrary and different for everyone. For some, high registration rates are essential for their newsletter, for others the number of clicks on their Adsense ads and for third parties the sales figures of their e-books.
The conversion rate in % indicates how many percents of the visitors have carried out a campaign.
So let's assume it's about e-book sales.
3,000 visitors/month at a conversion rate of 1% ->30 sales ->100 visitors/day
1,500 visitors/month at a conversion rate of 2 % ->30 sales->50 visitors/day
750 visitors/month at a conversion rate of 4 % ->30 sales ->25 visitors/day
Let's assume that we only have 25 visitors per day and a conversion rate of 1%. That's 7.5 sales per month. What is more difficult now? To double the number of visitors every day, i.e., to generate 25 new visitors every day, or to increase the conversion rate from 1% to 2%?
Generating traffic may actually be natural, but doubling the traffic EVERY DAY per month is very time-consuming. Why don't you focus on increasing the conversion rate? To get from 1% to 2%, it might be enough to change the headline and exchange the buy button!
Conclusion
Generating traffic doesn't work overnight. If you want to increase the number of your visitors, you should make a plan for half a year or even a whole year.
Good content for your target group serves as a basis. When the first visitors arrive, you can take steps step by step to generate more traffic.
I hope this article has helped you. For your success on the Internet.