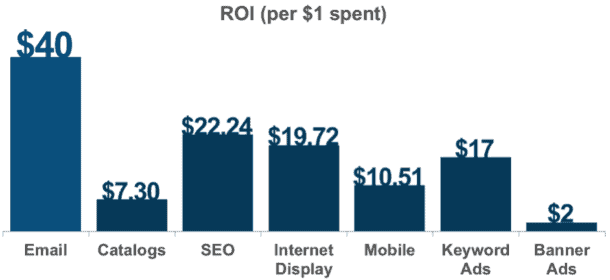 Everyone and their cat has a Facebook group.
Are you thinking about starting a Facebook group as well? You hope to get in touch with future customers, shine as an expert, and win many new customers.
You'll hear so many social media experts who are promoting these benefits to you.
Is it about time you started?
Facebook's latest announcement from January 2018 will make groups even more important. Facebook will customize what we get users to see in the news feed. Because it wants us to see more of friends and things that matter to us again. Contributions from Facebook pages will hardly be there anymore.
Which content will make it into the newsfeed in the future: Contributions from friends and groups and such contributions that trigger discussions in the comments

If you don't have a Facebook group yet, you'll be thinking about starting one now. Right?
So everything speaks for a Facebook group.
Or is it not?
I wouldn't advise you not to start a Facebook group. A group can do beautiful things for your business.
Be aware that a group is not the ultimate solution. You should do other things first before you start a Facebook group!

Tweet
Please read the following arguments to help you make the best decision for your business.
FOCUS ON LONG-TERM EFFECTIVE MARKETING
Let's just say you don't have a team yet and you're doing your marketing on your own. Then you have maybe 4 hours a week for your marketing, right?
You want to put your little time into effective long-term marketing, which works for you, even if you don't work. Sounds good, right?
What do I mean by that?
Put your time into outstandingly good content so that your website is found. Write extra helpful guest articles on prominent blogs and link back to your site. This way, you continuously attract new website visitors.
Offer your new website visitors some tasty knowledge snacks (freebies or lead magnets) and build up your email list.
Keeping a Facebook group active is a hell of a lot of work. And even if you invest an hour a day in your group, you still have no guarantee that the group will really be an active place for exchange.
YOU WIN CUSTOMERS MORE RELIABLY WITH EMAIL-MARKETING
Even if social media "experts" like to claim the opposite: Email is not dead. People still want to read emails. Your emails are the safest way to stay in touch with your people and build a long-term relationship.
Email is also the channel through which we expect to receive offers. Conversion shows that you will win your customers via email, not via Facebook.
An Adobe study shows that for every $1 spent on email, you earn $40.
Sure, email opening rates have gone down over the years. But with a small list, you can still expect the first-rate of 30 to 60%. Your Facebook posts are not seen by half of your fans or group members in life.
FACEBOOK IS UNPREDICTABLE
Facebook is loud, incredibly distracting, and you don't decide if your posts will be seen.
When Mark Zuckerberg decides tomorrow to abolish Facebook groups, you're left without your community. If you use a free Facebook group as your primary source for new contacts and customers, you obviously love the risk.
Do you really want to put your success in the hands of others?
You have no control over your Facebook group. You are only a guest on Facebook.

Tweet
That's why your focus, especially at the beginning, should be on making your website searchable and building your email distribution list. We agree on that, yes?!

Online marketing expert Kimra Luna said the reason for her group closing was that more than 90% of her new customers didn't come through her Facebook group when the group reached a specific size.
Even if a small and active group can actually bring customers at the beginning, don't rely on it. You should always keep ROI in mind.
I did my last course launch with a Challenge and Facebook group, and at the end of the Challenge, I did a classic webinar. I invited not only the Challenge and Facebook group participants to the webinar but also my newsletter readers.
My evaluation showed me that.
only just under half of the customers took part in the Challenge, and
were even less active in the Facebook group
the majority of my buyers came via the webinar and the subsequent sales emails
Before I go to such an effort again next time, I look closely at my numbers. And I advise you to do the same.
GROUP WEARINESS AND GHOST TOWNS
Then why do so many large Facebook groups close their doors? Even though more and more users are organized in groups? By 2015, it was already 1 billion.
Kimra Luna closed her group with 42,000 members because her group couldn't see her content anymore. She realized that her content would be better found on her website, Instagram, and Youtube.
The algorithm determines whether your group posts are displayed. If your group post gets no interaction, it will not be displayed. So having a group is not a reliable way to reach your people.
There are millions of groups and more every day. With Facebook's new direction, there will be more groups. Think about how many groups are you in without ever being active?
If you want your group to bring you something in the future, you're going to have to put a lot of effort into getting the conversation going.
AN ACTIVE GROUP IS REALLY A LOT OF WORK
A severe argument to a group is that you come into contact with potential customers here and build up your expert status. A group can be a great way to show your contacts what you can do.
There's nothing wrong with that.
But: People have to see you for that.
For the effort to pay off, your group must bring you a return on investment (ROI). Unless you have too much time or money…
ARE YOU READY FOR A FACEBOOK GROUP?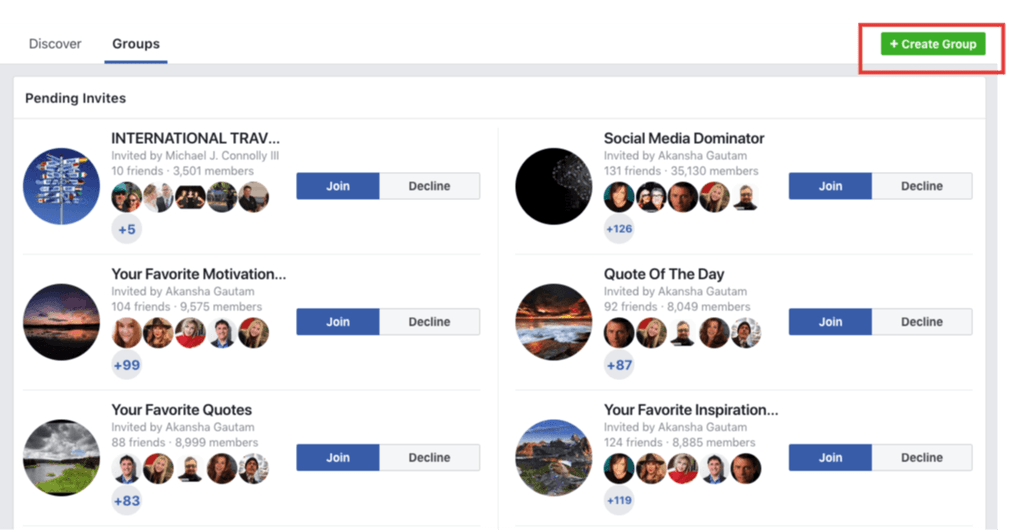 I only advise my customers to join a Facebook group if they answer these 3 questions with yes.
Do you already regularly publish content, be it blog articles, Youtube videos, podcasts, webinars, or guest articles? Do you issue the material or link it to your website?
You have at least one perfect lead magnet, collect emails diligently, and stay in contact with your email readers?
You have the time and desire to be active in your Facebook group on a daily or almost daily basis in addition to creating content and setting up email distribution lists. Or you have the budget to pay someone to become active for you.
Are you ready for a Facebook group?
Here's a quick overview of what types of Facebook groups there are.
POPUP GROUPS FOR A SHORT TIME ON A SPECIFIC TOPIC
Pop-up groups are often used for challenges that are over after a specific time. Problems are usually offered in the pre-launch phase of a course.
Participants must register with their email to join the closed group and view the exclusive content. Yup, for the successful launch of a product or course you need the email. I know, I repeat myself…
CLOSED GROUP FOR PAYING CUSTOMERS
A closed community for paying customers is the kind of group I immediately advise you to join.
If you offer an online course that costs more than 150 Euro and lasts longer than 3 weeks, offer a closed group as a bonus for participants.
Your online course or group program win enormously with a community in the form of a Facebook group:
Your participants get personal contact with you and answers to their questions.
The exchange among each other is motivating and satisfies the desire to be part of something bigger.
Supervising a course group is a lot of work. So if you think you can only manage one group correctly, choose this form of group and do it correctly.
OPEN COMMUNITY FOR ALL
These are Facebook groups that anyone can join. These are either public groups (anyone can see and join the group) or closed groups (anyone can see the group, participants must be unlocked).
I recommend a closed group, for which you need to unlock people before they come in. This allows you to decide whether they are "real" people based on their profiles. More about this in a moment.
9 RULES FOR A SUCCESSFUL FACEBOOK GROUP
1 SET CLEAR HOUSE RULES
Select a closed group and unlock new members manually.
As a landlord, you set the rules. I advise you to have clear and strict rules if you don't want your groups to be overrun by people who advertise on their own behalf.
2 HAVE A GOAL FOR YOUR GROUP.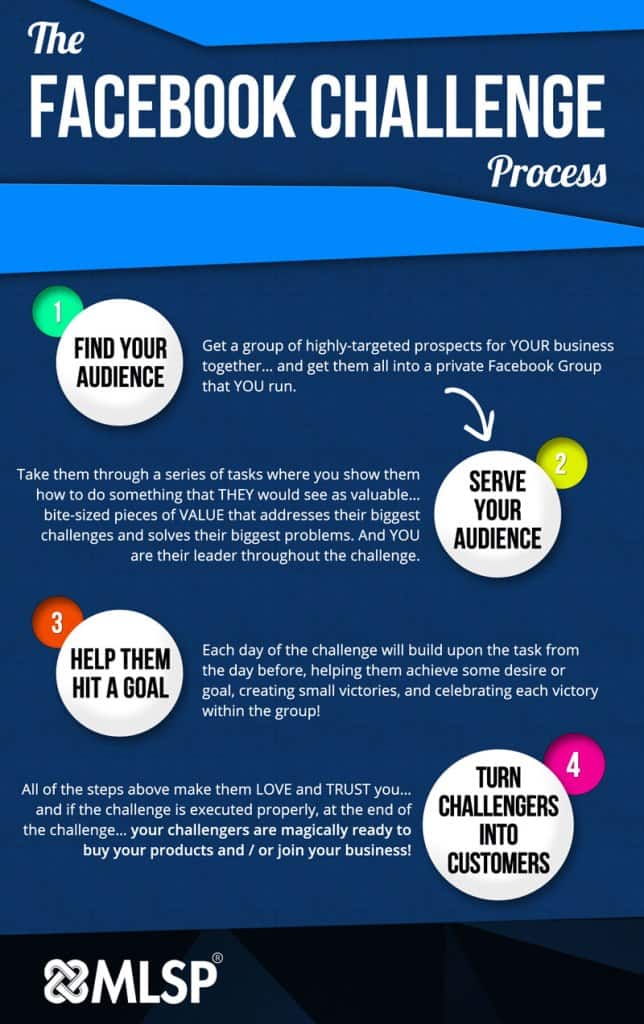 What is the goal of your group? What is the return on investment for your Facebook group? You should be able to answer this question before you put the enormous effort into a group.
Worthwhile goals for Facebook groups for paying customers are:
retain customers, e.g., for an ongoing membership program
sell more to existing customers
deliver outstanding customer service
Targets for free groups could be:
Build your email distribution list – Why your email distribution list is more important than your group, you know now.
Get to know your audience better – the questions and comments give you incredibly great ideas for your content and your offers
Win customers – Invite participants to your webinars or launches. So they land in your funnel and hopefully become customers.
3 BE PRESENT
Facebook has introduced a lot of new features for groups, including planning posts. Sounds good because you can prepare everything in advance.
However, if in the future, only those posts will end up in the newsfeed that leads to conversations in the comments, excessive automation is not the answer.
Conversations cannot be automated.

Tweet
Your members come into the group because they want to contact you. So also take the time to be present in the group. If you have shared a post, take the time to wait for the first comments, and respond immediately.
These "real-time conversations" show your members that you are there for them. And they show Facebook that your group posts are relevant.
4 MODERATE YOUR GROUP
Assume that your group will attract the inevitable spammers. They like to disguise themselves as friendly and helpful people who take every opportunity to share links to their website, blog posts, webinars, and offers.
Keep an eye on that the posts are constructive and remove members who violate your rules.
The bigger your group gets, the more time you'll have to spend moderating posts (or paying someone to do it for you).
5 GIVE PEOPLE A REASON WHY THEY SHOULD JOIN
You have to "sell" your group and explain why it is worth participating. After all, there are groups like the sand by the sea.
Here are a few possible goodies that will make your group attractive:
Facebook live sessions for the group only
Regular tips on your topic and exclusive content that doesn't exist elsewhere
Weekly mini-tasks
Question-answer rounds, e.g., as a live session
Support: Ask your questions about the issue here, and my team and I will answer…
Remember that you will also have a Facebook group for your online course. As people pay for the course, they will expect more from you there. So think carefully about where you draw the line between free group goodies and customer group.
6 PLAN YOUR ACTIVITIES AND CONTRIBUTIONS
Until your group is large enough, and members keep the group active with contributions, you need to be very busy regularly. It is best to create an editorial plan and schedule regular activities.
Share regularly tips, links, examples, photos with your community. This shows participants what content they want in the group.
Share your knowledge generously and answer questions conscientiously. Best of all, daily! This is how you build trust.
Comment on posts and tag people in your answers.
7 POST WITH YOUR PROFILE, NOT YOUR PAGE
Since 2017, you can link your groups to your Facebook page and post in the name of your page. Various group owners have pointed this out and my statistics now also show it: Contributions from your private profile get more reach than those shared by the page.
8 PROFIT EMAIL SUBSCRIBERS
There are 2 ways to build your email distribution list with your Facebook group.
1 You don't let people in until they sign up with their email.
This is quickly done by treating your group like your lead magnet and promoting it on your website.
2 You let people in and try to get the emails later via goodies.
That's the way we're going right now, but if it works, I can't tell you yet.
Mention your name and your website or landing age for your newsletter in the group description. Share your lead magnets and webinars at regular intervals. Pay attention to the correct dosage, so that you don't come across too promotional.
9 GET HELP
If your group is so active that you can't keep up with answering questions, get help. Look for group members who have a high level of content and are already very busy. Ask them to support you as an administrator.
You should transfer the unlocking of members to an assistant because your time is better invested elsewhere.
DOES YOUR FACEBOOK GROUP ADVANCE YOUR BUSINESS?
You should ask yourself this question regularly. Ask your customers if they have found you through your group. See if your traffic from Facebook goes up when you are active in your group. Check your email distribution growth.
Just because everyone has a free Facebook group doesn't mean everyone sees results. Focus on the marketing activities that bring you, customers. Everything else is a waste of time and money.